Snack Foods That Fill You Up Without Making You Gain Weight
We all experience cravings, but chowing down on chips or candy isn't ideal. So, choose a healthier snack that won't pack on pounds. If you crave something more satisfying than a boring apple or granola bar, here are some quick, tasty snacks you can enjoy without gaining weight. You'll love the superfood alternative to one popular crunchy snack (on page 10).
1. Chocolate pudding cup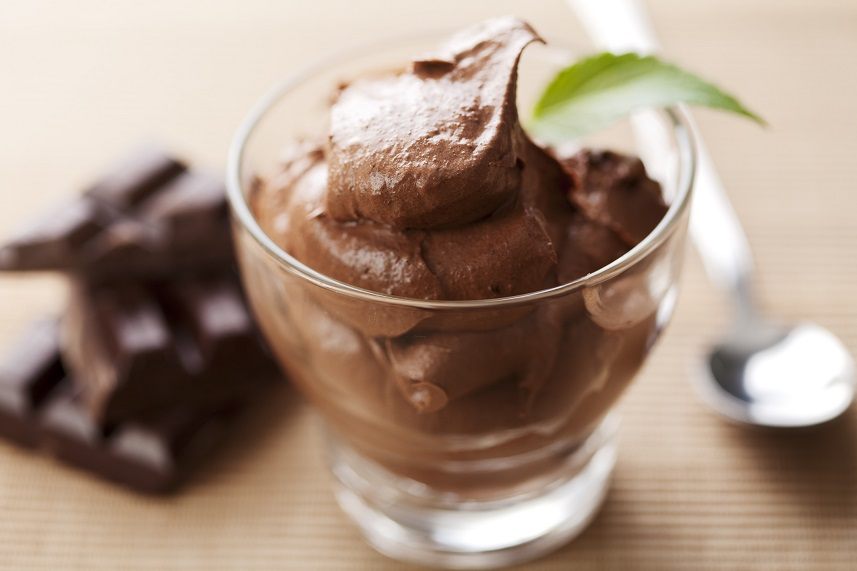 We know what you're thinking, but hear us out! Chocolate doesn't have to the enemy and, like most indulgent foods having it in moderation means you don't have to ban it from your life forever. Single-serve pudding cups make a great option, as Women's Health Magazine points out, because there's still some protein from the milk and the single-serve container means you can't overindulge — just don't open a second one! The treat also doesn't have to be loaded with sugar, depending on what brand you buy. Top your pudding cup with some fresh berries or a few nuts for a satisfying snack that only feels sinful!
Next: A classic party dip you don't have to shun
2. Whole-grain toast with guacamole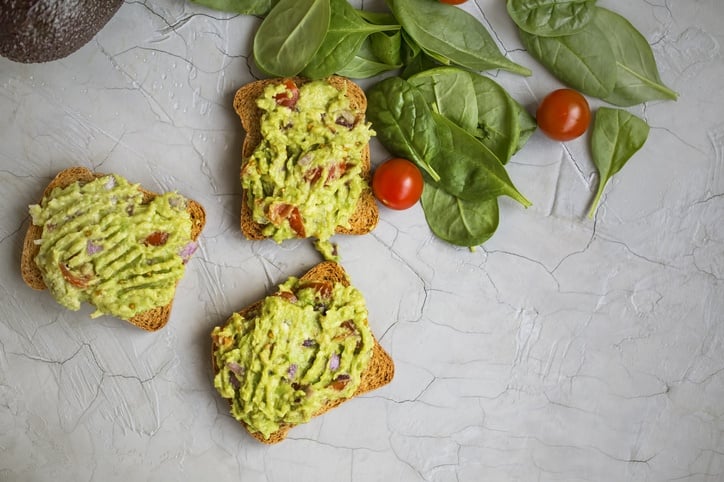 There are few people who don't love the green goodness that is guacamole. Believe it or not, this beloved party dip has a few health benefits. Avocado is a good source of healthy fat so spreading a few tablespoons of guac on a piece of whole-grain toast is a surprisingly delicious and satisying snack if you're in the mood for something savory. Think of it as avocado toast kicked up a notch.
Next: An unusual flavor pairing that's the perfect bite
3. Mango with chili powder
A strange idea, but the mango's sweetness and chili's spiciness make the perfect delectable combination. Nutritionist Amy Gorin tells Redbook spicy foods can boost your metabolism for a short amount of time, so why not spice up your fruit?
Next: The quintessential protein-packed snack 
4. Hardboiled eggs on crispbread crackers with everything bagel seasoning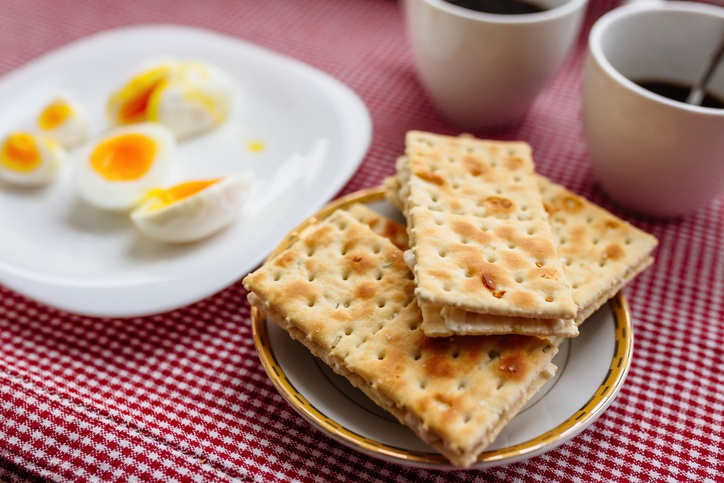 If you haven't cooked up some hardboiled eggs yet, we recommend you start. This inexpensive, low-calorie snack is the perfect food to satisfy you. Each egg contains about 70 calories and up to 6 grams of protein. Mash your egg on a crispbread cracker and top with everything bagel seasoning for a savory snack that's sure to satisfy. CookingLight reminds us hardboiled eggs last up to five days in the refrigerator, so you can make them ahead of time.
Next: A hint of sweetness perfect for your afternoon snack
5. Cottage cheese with cinnamon
You probably passed the cottage cheese in the grocery store a hundred times without buying it. But this fresh cheese is creamy, satisfying, and delicious with some added cinnamon. Healthline mentions you can eat an entire cup for only 163 calories; you'll get 28 grams of protein and a wealth of other nutrients. And Fitday says cinnamon can combat fat storage.
Next: These peas are better than the green variety.
6. Crispy roasted chickpeas
Roasted chickpeas are savory and incredibly healthy (just don't eat tons in one sitting). The Kitchn explains how to make this simple snack in the oven. Make sure you dry the chickpeas thoroughly before baking and don't skimp on the olive oil. Once they're out of the oven, you can add your choice of spices.
Next: A snack you can make ahead to have in a pinch

7. Cinnamon vanilla granola
This Allrecipes.com creation is great by itself, or served over fresh fruit or yogurt. This recipe, which yields 2 quarts, can be stored in an airtight container for several days, making it a great go-to snack when a late-night craving attacks.
Next: A popular soy snack 
8. Edamame
Edamame are just boiled soybeans that, with a little salt, are quite delicious. Health reports they're super nutritious — 1 cup has 17 grams of protein, 8 grams of fiber, and less than 200 calories. If you prefer your snacks with a little crunch, roast them in the oven with some olive oil. You'll never reach for potato chips again.
Next: A low-calorie alternative to a popular snack food
9. Sweet and spicy apple crisps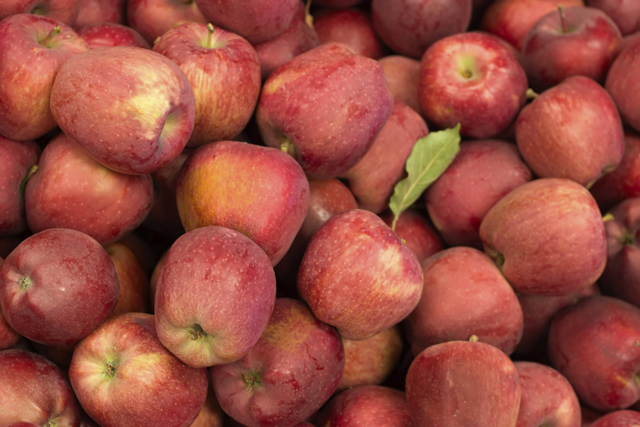 A great replacement for potato chips, these apple crisps are a healthy snack you can feel good about. Each bite is a combination of sweet and spicy, topped off with a satisfying crunch. This Better Homes and Gardens recipe yields 4 servings. You can store the apple crisps in an airtight container at room temperature for up to 1 week.
Next: The ultimate superfood
10. Kale chips
Kale chips are a crispy and versatile snack. One that you can enjoy even if you wouldn't normally opt for raw kale in a salad. According to the Minimalist Baker, this recipe can be modified to include whatever seasonings you want. This snack takes just 30 minutes to make. And it's both vegan and gluten-free, which means it's perfect for sharing with friends on a variety of different diets.
Next: A beautiful snack packed with protein and antioxidants.
11. Blueberry yogurt parfait
A yogurt parfait is a great choice when you're craving something sweet and healthy. The New York Times reports "this beautiful parfait tastes so much richer than it is." The blueberries are packed with beneficial phytonutrients called anthocyanins, a great source of antioxidants. The recipe yields 4 servings, so plan (or gather friends) accordingly.
Next: This delicious fish makes for a great snack.   
12. Smoked salmon on toast
Fish lovers, rejoice! Smoked salmon is one of the tastiest snacks for seafood fans. Throw some on toast with tomato and capers. SFGate reports just 3 ounces of the fish offers over 15 grams of protein, and it's rich in healthy fats that aid in weight loss. When choosing your toast, go for whole grain, too.
Next: A sweet treat that won't ruin your whole day
13. Honey-glazed almonds
Smoky, spicy, and sweet, these almonds will take care of any late-night craving. Cooking Light's recipe even found a way to speed up the process. Rather than baking the almonds, this recipe uses your stovetop. This savory snack — 10 servings of 138 calories each — will store well in an airtight container.
Next: A surprising flavor combination you need to try
14. Chocolate avocado milkshake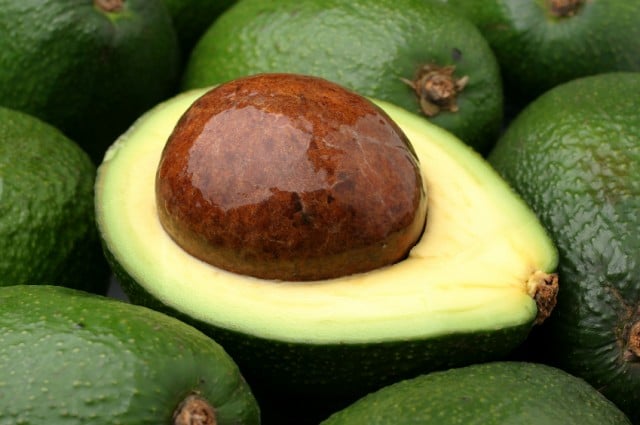 Sometimes a sweet tooth can sneak up on us late at night. Skinny Chef's chocolate avocado milkshake will cure your sugar craving while providing you with a serving of vegetables. It'll be a smooth, savory treat that will fill you up and ensure you get a healthy dose of vitamins and nutrients!
Next: Nuts don't have to be boring
15. Nut-and-seed mix with papaya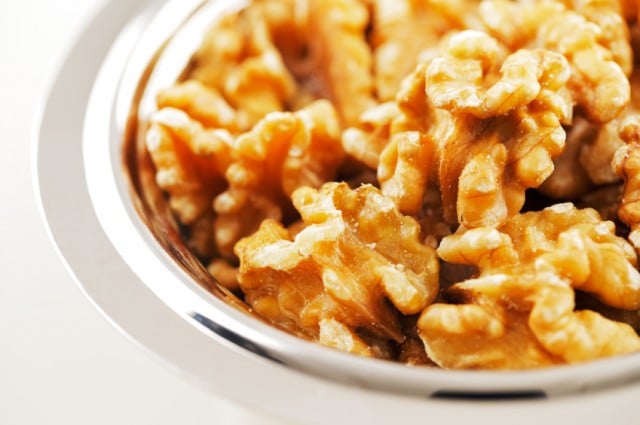 This Food Network recipe is easy, filling, and really good for you, making it the perfect treat to eat before bed. This recipe, which yields 7 servings, combines hazelnuts, pecans, almonds, and walnuts, with a few seeds and dried fruit for a deliciously healthy snack. Enjoy!
Next: A quick, easy spread recipe
16. Peanut butter raisin spread
While all-natural peanut butter is good for you, the calorie-packed snack can pack on pounds if you eat too much. Instead, try PopSugar's recipe for a peanut butter raisin spread. There is peanut butter in it, so it's not a low-calorie or low-fat food. But it has fewer calories than regular peanut butter, making it a satisfying snack by itself or on a cracker.
Next: A versatile snack
17. Whole wheat flatbread
Flatbread, especially this version with white whole wheat flour from A Beautiful Mess, is a delicious and healthy snack with a whole lot of potential. For instance, you can spread some peanut butter on top and add sliced fruit. Or you can dip it in hummus or other healthy dips. Any flatbread that you don't eat the day you make it can be stored in a plastic bag or in plastic wrap, and can be kept in the refrigerator. When you're ready to eat it again, you can slightly toast it in the oven or on the stove.
Next: Satisfy your sweet tooth with this cold treat
18. Chunky peach popsicles
Everybody loves popsicles. And a healthy popsicle — like these chunky peach popsicles from EatingWell — is a snack you can enjoy without any guilt. These popsicles are one of the rare sweet snacks that is not only low in calories, fat, and carbs, but is also vegan, diabetic-appropriate, and gluten-free. These popsicles can be stored in the freezer for up to three weeks — if you can really wait that long to finish them off.
Next: The homemade version of this popular snack is way better than store-bought
19. New crop applesauce
Applesauce is a delicious and healthy snack, especially when you make it yourself with fresh apples. The New York Times reports that new crop apples — the proper term for apples that have just been picked — aren't something you'll find at a supermarket. Instead, you're best off heading to the farmers market, a farm stand, or even an apple tree in your own backyard. This delicious apple sauce can be served warm, at room temperature, or chilled, depending on your preference.
Next: A delicious low-sodium snack
20. Whole-wheat pretzel
Mayo Clinic recommends this snack if you're looking for a low-sodium treat that's loaded with flavor. At 182 calories and only 2 grams of fat, this is a guilt-free late-night snack. It's so tasty that you'll probably find yourself reaching for these pretzels throughout the day. This recipe yields 12 servings.
Kirsten Yovino and Lauren Weiler also contributed to this article.