Searing: 6 Recipes for Perfect Tuna, Salmon, and Other Meats
Grilling is great, but it's not always an option. When you need dinner on the table in a flash, try searing it instead. Not only is this high-heat cooking method fast, but it also produces an incredibly flavorful final product. When your steak or shrimp hits the hot pan, the browning process instantly begins. That's what produces that delicious crust and rich flavor that's the unique result of searing your meat.
If you're new to searing, don't be afraid to get your pan really hot. To test if the pan's ready, sprinkle a couple of drops of water into it before you add the meat. If it sizzles, you're good to go. Make sure you pat the meat dry to remove any excess moisture before cooking and be careful not to crowd the pan, which will cause the meat to steam, not sear. Finally, resist the temptation to turn and toss like you would with a sauté or stir-fry. Depending on the meat you're using, it needs a few seconds to a few minutes of uninterrupted contact with the pan to develop the proper crust.
Ready to get started? Here are six of our favorite recipes for seared steak, seafood, and other meats.
1. Pan-Seared Salmon with Basil Vinaigrette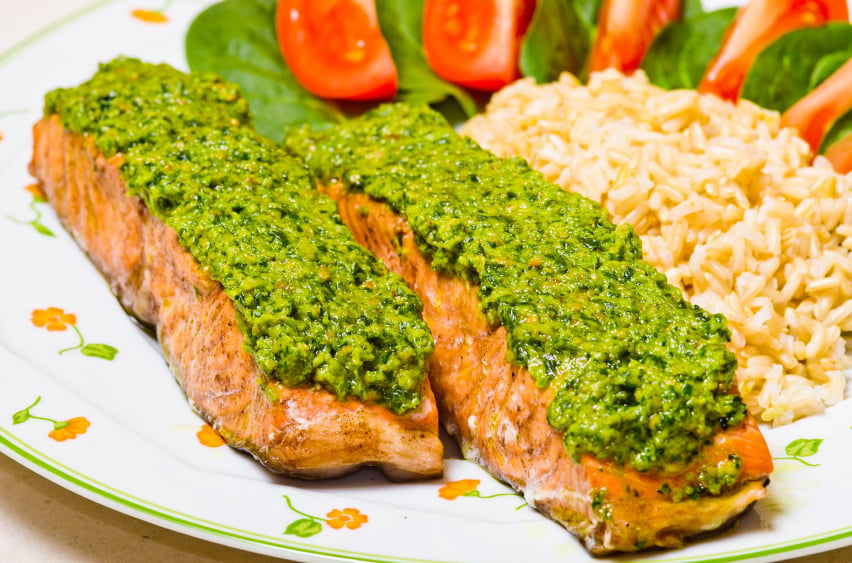 Take advantage of how much flavor herbs add to dishes by making a homemade basil pesto vinaigrette to serve with this easy seared salmon from What's Gaby Cooking. Enjoy this dish on a busy weeknight with a glass of nice wine and you'll feel like you're at a white tablecloth restaurant, even if you're just sitting at your dining room table.
Ingredients:
For the salmon
Basil vinaigrette (recipe follows)
4 (8-ounce) skin-on salmon fillets
Kosher salt and freshly cracked black pepper to taste
2 cups of rice, cooked
For the basil vinaigrette
1 shallot, roughly chopped
2 cups tightly packed fresh basil leaves, stems removed (about 4 ounces)
1 clove garlic
½ teaspoon red pepper flakes
½ cup olive oil
2 tablespoons red wine vinegar
1 teaspoon salt
Directions: To make the basil vinaigrette, combine all the ingredients in a blender and process for 60 seconds until very smooth. Taste and adjust salt and pepper as necessary. Vinaigrette can be served immediately or may be refrigerated for up to 3 days.
Prepare the rice according to package directions. To make the salmon, heat a large skillet over medium-high heat. Season both sides of the salmon with salt and pepper. Drizzle with a little olive oil. Transfer the salmon to the skillet, skin-side down. Cook for 4 to 5 minutes, then flip and cook for 4 to 5 minutes more, until the salmon is light pink in the center.
Spoon some rice onto two plates. Top with the salmon fillets and drizzle with the pesto. Serve immediately.
2. Perfect Pan-Seared Pork Chops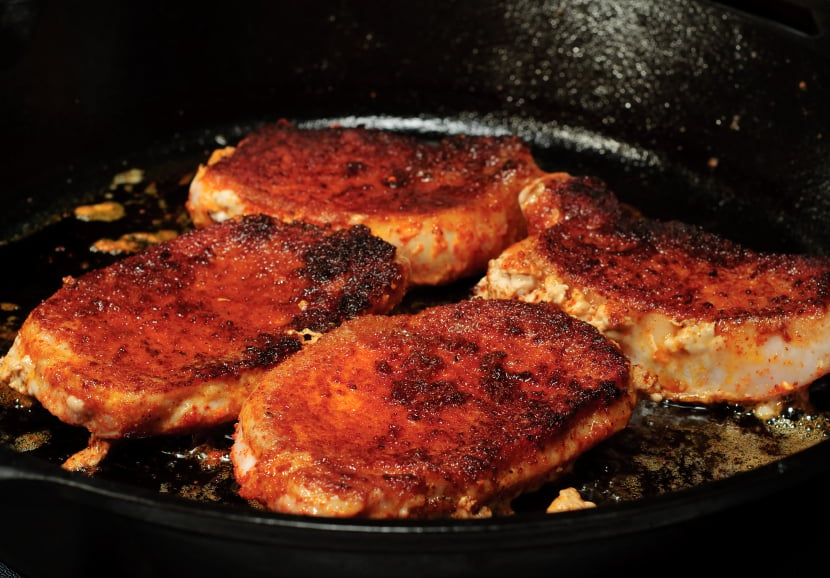 Say goodbye to bone-dry, tasteless pork chops. The food experts at Serious Eats created this recipe for pan-seared chops that are juicy and flavorful on the inside and have a crisp crust on the outside. The trick to pork chop perfection is to "dry brine" the meat the night before (i.e., coat the meat with a mix of salt and sugar and let it sit overnight), and then cook the meat in the oven before searing, rather than after. The result is a chop that's evenly cooked but not dry, with a gorgeous brown exterior that you'll love.
Ingredients:
2 bone-in pork rib chops, preferably blade-end, 1½ inches thick
2 tablespoons kosher salt
1½ teaspoons sugar
Freshly ground black pepper
2 tablespoons vegetable oil
2 tablespoons butter
1 medium shallot, thinly sliced
8 sprigs fresh thyme
Directions: Pat pork chops dry with a paper towel. Combine salt and sugar in a small bowl. Season pork chops generously on all sides with salt/sugar mixture. Transfer to a wire rack set in a rimmed baking sheet and refrigerate, uncovered, at least 8 hours and up to 24.
The next day, preheat oven to 250 degrees Fahreneheit. Place baking sheet with pork chops in oven and cook until an instant read thermometer inserted into the center of the chops registers 100 to 110 degrees Fahrenheit for medium-rare, about 30 minutes, or 110 to 120 degrees Fahrenheit for medium, about 35 minutes. To prevent overcooking, start checking temperature 5 to 10 minutes before suggested time. Remove from oven.
Heat oil in a large stainless steel or cast iron skillet over high heat until smoking. Place pork chops in skillet and cook, turning occasionally, until starting to brown, about 1½ minutes. Add butter, shallots, and thyme to skillet. Continue searing, spooning shallots and thyme on top of chops and basting with butter until golden brown on both sides and well-crusted, about 2 minutes longer. Stack pork chops with tongs, hold them on their sides, and sear the fat caps on the edges until crisp, about a minute. Remove pan from heat, transfer chops to a clean rack set in a rimmed baking sheet, and let rest for 3 to 5 minutes.
Just before serving, reheat drippings in pan until smoking. Pour hot drippings over chops. They should sizzle and crisp a bit. Serve immediately.
3. Sesame Seared Tuna Bowl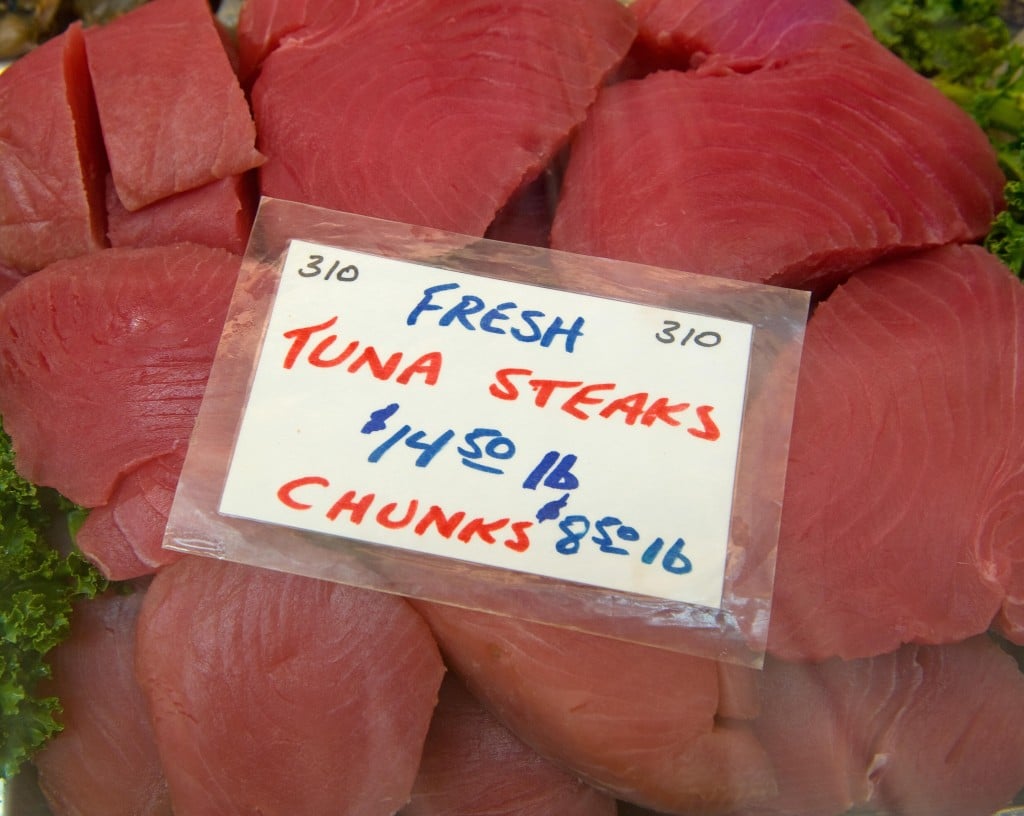 This healthy seared tuna recipe only takes 20 minutes to prepare at home. When preparing the tuna, cut the pieces about 1½ inches thick, which will help ensure even cooking. Searing for just 2 minutes total (30 seconds per side) results in a delicious fish steak that's cooked on the outside by still raw on the inside. Recipe from My Second Breakfast.
Ingredients:
For the tuna
1 tuna steak
¼ cup black and white sesame seeds
Neutral oil, such as canola, for cooking
For the bowl
¾ cup sticky rice
1 cup water
200 grams enoki mushrooms
Neutral oil, such as canola
For the sesame dressing
½ tablespoon sambal chili sauce
1 tablespoon soy sauce
1 tablespoon mirin
1 tablespoon toasted sesame oil
1 tablespoon orange juice
1 garlic clove, minced
5 green onions, sliced
For the wasabi cream
Equal parts wasabi paste and Kewpie Mayonnaise
Directions: Prepare the rice according to package instructions.
As the rice cooks, add a splash of oil to a small pan and turn heat to medium-high. When oil is hot, add the enoki mushrooms and cook until browned. Season with salt and pepper and set aside.
Spread an even layer of sesame seeds on a plate. Cut the tuna steak into log-like rectangles about 1½ inches thick (you want each of the four sides of the meat to be roughly the same size to ensure even cooking). Roll each piece in the sesame seeds.
Add oil to another pan and turn heat to high. Once pan and oil are very hot, add the tuna steaks. Cook for 30 seconds on each of the four sides. Remove from pan and set aside, then slice into ½-inch slices.
To make the sauce, add all the sauce ingredients to a small bowl and whisk to combine. In another small bowl, combine the ingredients for the wasabi cream.
To assemble, place the rice at the bottom of the bowl. Top with the mushrooms, seared tuna, and extra green onions if you have them. Drizzle with the sesame dressing and garnish with a dollop of the wasabi cream.
4. Pan-Seared Shrimp and Scallop Skewers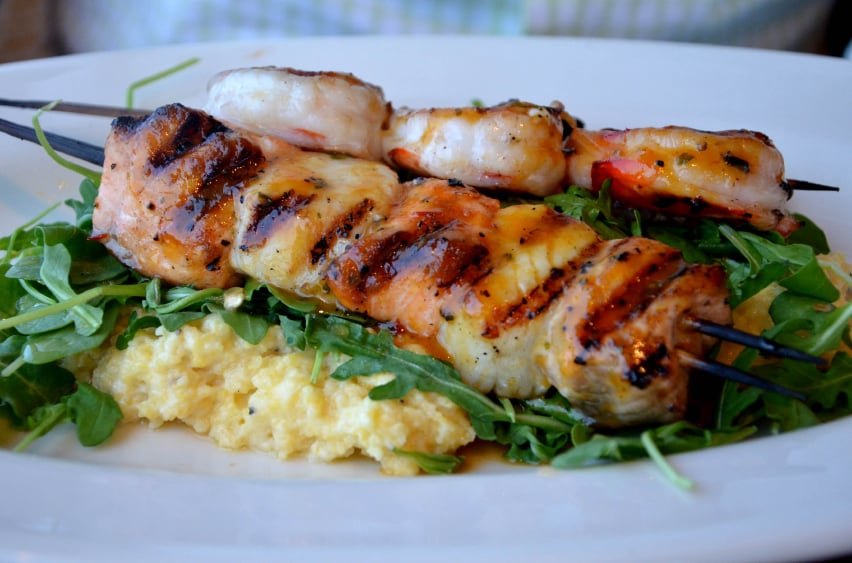 If you're trying to cut down on the fat in your diet, this recipe for pan-seared shrimp and scallops from Food Network's Rachael Ray is the perfect dinner solution. Generously seasoning the fish with lemon, crushed red pepper, and paprika before searing gives this dish a robust flavor without a lot of added fat.
Ingredients:
8 (6- to 8-inch) bamboo skewers
16 jumbo deveined, peeled shrimp
16 sea scallops
Salt and pepper
1 teaspoon sweet paprika, 1/3 palmful
½ teaspoon crushed red pepper flakes, eyeball it
1 lemon, zested and juiced
2 tablespoons chopped flat leaf parsley, a handful
1 tablespoon extra virgin olive oil, 1 turn of the pan
Directions: Preheat a large nonstick skillet over medium-high to high heat.
On bamboo skewers, thread 4 shrimp on 4 skewers, and 4 scallops on each of 4 skewers. Season both shrimp and scallop skewers with salt and pepper on both sides. Combine paprika, crushed pepper, lemon zest, and parsley in a small dish. Sprinkle combined herbs and spices over shrimp and rub.
Add a ½  of extra-virgin olive oil, (1 1/2 teaspoons), to the hot skillet and sear the shrimps 3 minutes on each side or until curled and pink. Squeeze the juice of 1/2 lemon over the pan and remove to a warm platter.
Return pan to the heat and add remaining oil. Cook scallops 3 to 4 minutes on each side or until caramel in color. Squeeze the juice of ½ lemon over the pan and transfer skewers to serving platter along side shrimp.
5. Seared Lamb Chops with Anchovies, Capers, and Sage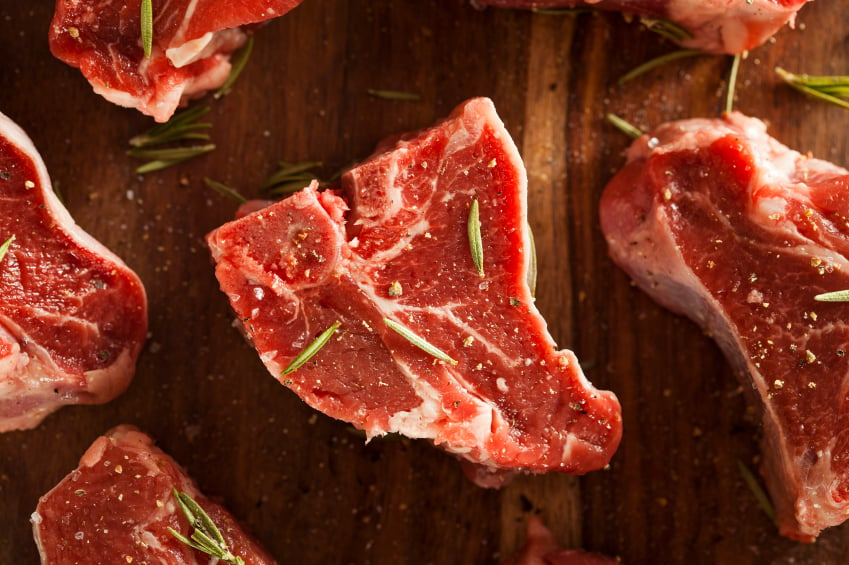 Don't turn your nose up at the anchovies in this lamb recipe from The New York Times. The little fish fillets are combined with some capers and olive oil for a delicious sauce that perfectly complements the succulent meat, along with crisp fried sage leaves.
Ingredients:
6 baby lamb chops
Salt
Pepper
3 tablespoons extra-virgin olive oil
3 anchovy fillets
3 tablespoons drained capers
15 sage leaves
⅛ teaspoon red pepper flakes
2 garlic cloves, finely chopped
Lemon wedges, for serving
Directions: Rinse the lamb chops and pat them dry. Season them with salt and pepper, and let rest for 15 minutes.
Over medium-high heat, warm a skillet large enough to hold all the chops in one layer. Add the oil and when it shimmers, add the anchovies and capers. Cook, stirring, until the anchovies break down, about 3 minutes.
Arrange the lamb chops in the skillet and fry, without moving them, until brown, about 3 minutes. Turn them over, and toss the sage leaves and pepper flakes into the pan. Continue searing until lamb reaches the desired doneness, about 2 minutes for medium-rare.
Arrange the chops on serving plates. Add the garlic to the pan and cook for 1 minute, then spoon the sauce over the lamb. Serve with the lemon wedges.
6. Cast-Iron Rib-Eye with Chimichurri Sauce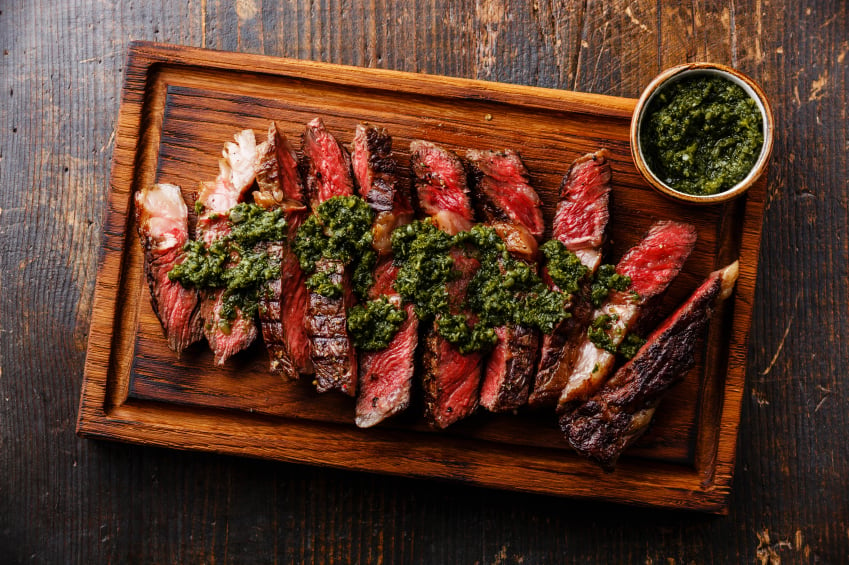 When it comes to searing meat, steak is the first thing that most people think of. Steak lovers know that a perfectly seared rib-eye or strip steak is delicious on its own, but you can make it even more enticing by topping it with a homemade chimichurri sauce for a South American spin on an all-American favorite. Recipe from Dinner, then Dessert.
Ingredients:
2 (12-ounce) rib-eye or New York strip steaks (1-inch or thicker)
2 tablespoons unsalted butter
½ teaspoon kosher salt, to taste
Cracked black pepper, to taste
1 cup firmly packed fresh cilantro leaves
1 cup firmly packed fresh Italian (flat-leaf) parsley leaves
¼ cup white wine vinegar
3 cloves garlic, cut up
½ teaspoon kosher salt
½ teaspoon ground cumin
½ teaspoon crushed red pepper
½ cup olive oil
Directions: Preheat the oven to 500 degrees Fahrenheit.
Heat a cast iron or other heavy-bottomed skillet over medium-high heat. The pan should be very hot; you may need to let it heat up for 5 minutes or more.
Add salt to the hot skillet. Pat the steaks dry with paper towels. Add steaks to the pan and cook for 1 minute without moving, then flip. Cook for 2 minutes more. Flip again using tongs, moving steak around so the meat is salted. Cook for another 2 minutes.
Top each steak with a tablespoon of butter. Transfer the pan to the preheated oven and cook for 5 minutes. Transfer steak to a cutting board and tent lightly with foil. Let rest 5 minutes.
To make the chimichurri sauce, combine cilantro, parsley, vinegar, garlic, ½ teaspoon salt, ½ teaspoon cumin, and the crushed red pepper in a food processor or blender. With processor or blender running, add oil through the opening in the lid in a thin, steady stream. Continue processing until mixture is smooth.
Top steaks with the chimichurri sauce and serve.
Follow Megan on Twitter @MeganE_CS