Secret Menu Items You Should Order at 12 Fast Food Restaurants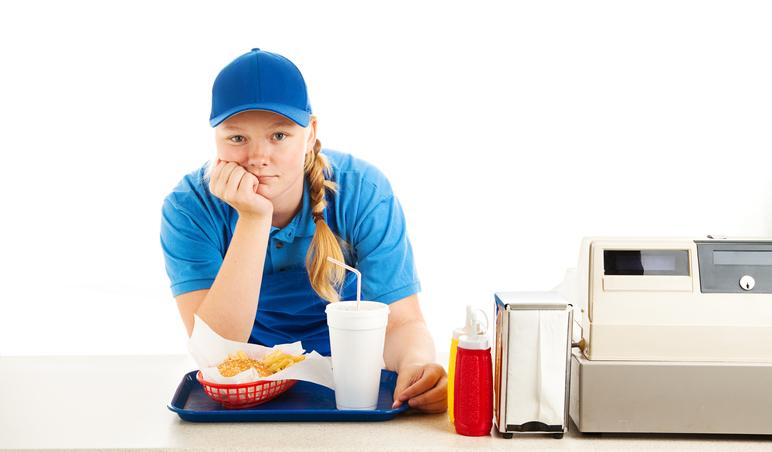 Have you ever wondered whether the "secret menu" at your favorite fast food place is a real thing? We assure you it is — perhaps because Reddit threads and websites promising to help you #hackthemenu willed it into existence. Most secret menu items don't pretend to be the healthiest options at fast food restaurants. But the fun of a secret menu is it's only available to those in the know.
Many fast food establishments don't actually invent some of their secret menu items. Instead, they result from unusual combinations a bored (or stoned) customer requested and then wrote about on the internet. Plus, any order that's too far from what's normally on the menu is one you'll probably need to assemble yourself. With those caveats out of the way, read on to check out the secret menu items you've been missing at all of your favorite fast food restaurants.
1. McDonald's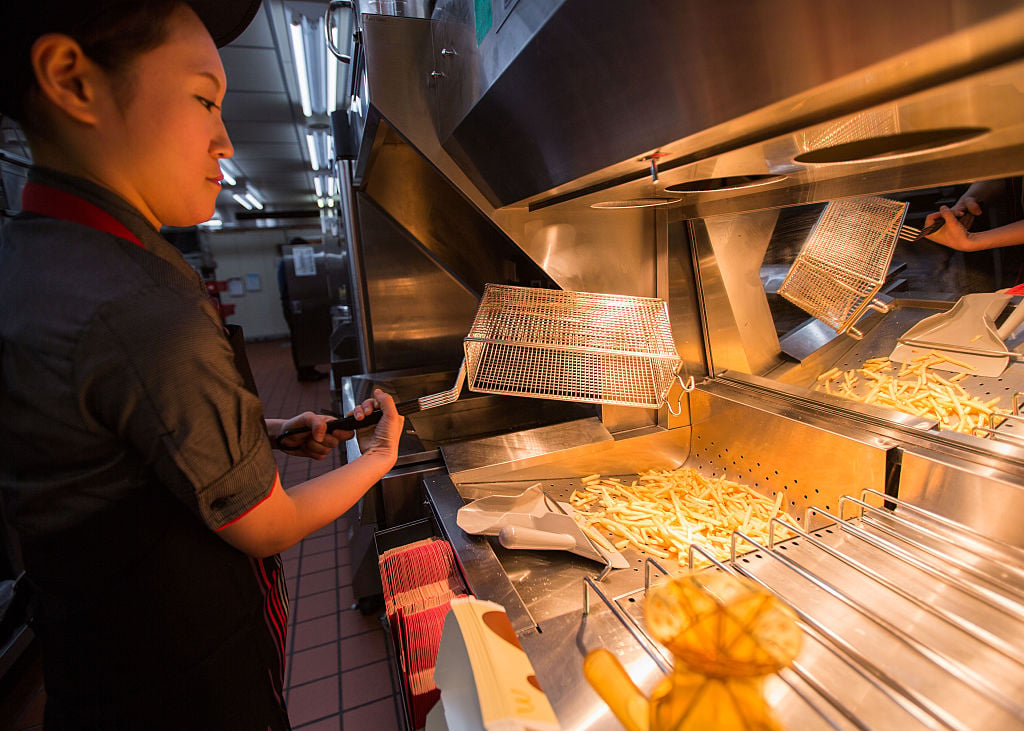 When fast food chains deny the existence of a secret menu, the off-menu options just attract more attention. Need an easy example? McDonald's maintains it doesn't have a secret menu. But according to numerous crowd-sourced websites, the often-satirized McDonald's secret menu is alive and real. Men's Journal notes what's odd about the secret menu isn't what's on it. "It's rather what it does to people that's most odd." Even people who hate fast food love being in on the secret.
Thrillist ordered 10 items from the McDonald's secret menu. A few to try? There's the Big McChicken. "Get a Big Mac and three McChickens, and then get rid of all of the buns and never look back." And the Chicken McGriddle. "Get a Bacon, Egg & Cheese McGriddle and a McChicken, and place in the chicken patty inside the McGriddle." Or the Land, Sea, and Air Burger. "Ask for a Big Mac, a Filet-O-Fish, and a McChicken. Then, put the McChicken and Filet-O-Fish patties inside of the Big Mac." However, Thrillist warns, "Most of these items are pretty hard to eat (due to size and general taste)."
Need a healthier option? Try the All American Burger, which is just a regular hamburger without onions or mustard. Or go with the Grilled Cheese, which consists of a slice or two of cheese in a hamburger bun.
2. In-N-Out Burger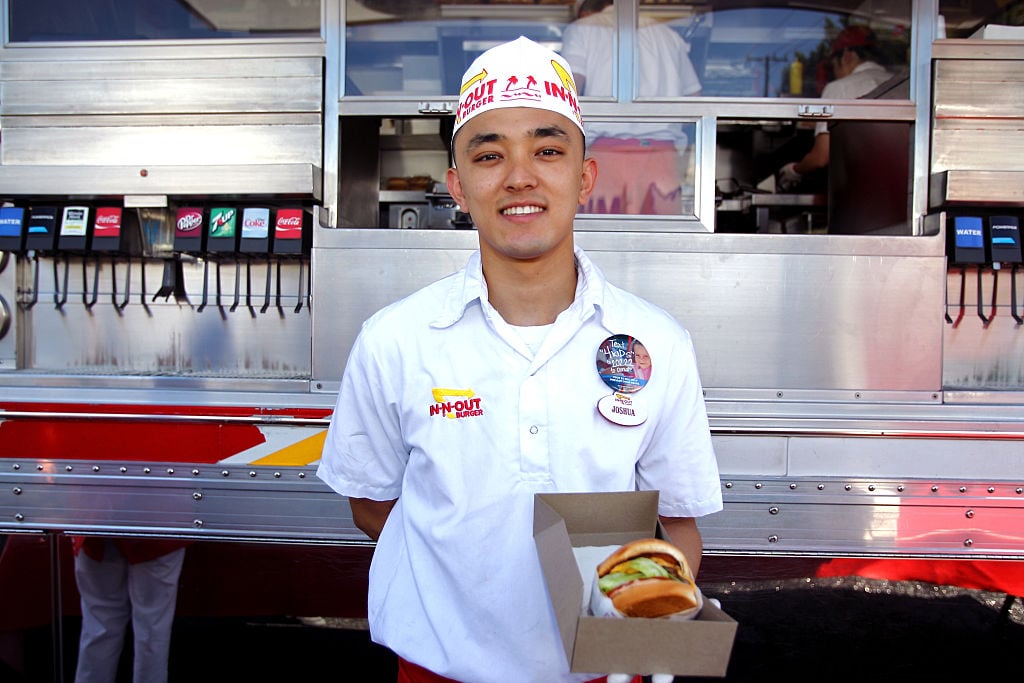 The New Yorker reports In-N-Out Burger perfectly exemplifies the kind of fast food restaurant that develops its own off-menu options, then plays "an elaborate secret/not-secret game with their customers." The chain's corporate website now acknowledges the off-menu items with a "not-so-secret menu."
Yet, according to The New Yorker, the company's vice president of planning and development denied the existence of a secret menu. That's presumably because the secret items are simply variations of regular menu items.
Still want to check them out? The Double Meat features two hamburger patties, while the 3X3 has three patties and the 4X4 has four. A Grilled Cheese includes two slices of American cheese, plus lettuce and tomato. A Protein Style gives you your favorite burger between two pieces of lettuce, no bun in sight. And order your burger Animal Style to get a mustard-cooked patty, lettuce, and tomato with Thousand Island dressing. Want menu items so secret they're not on the website? BuzzFeed spotted The Flying Dutchman, the Neapolitan Shake, the Root Beer Float, and Animal Style Fries.
3. Starbucks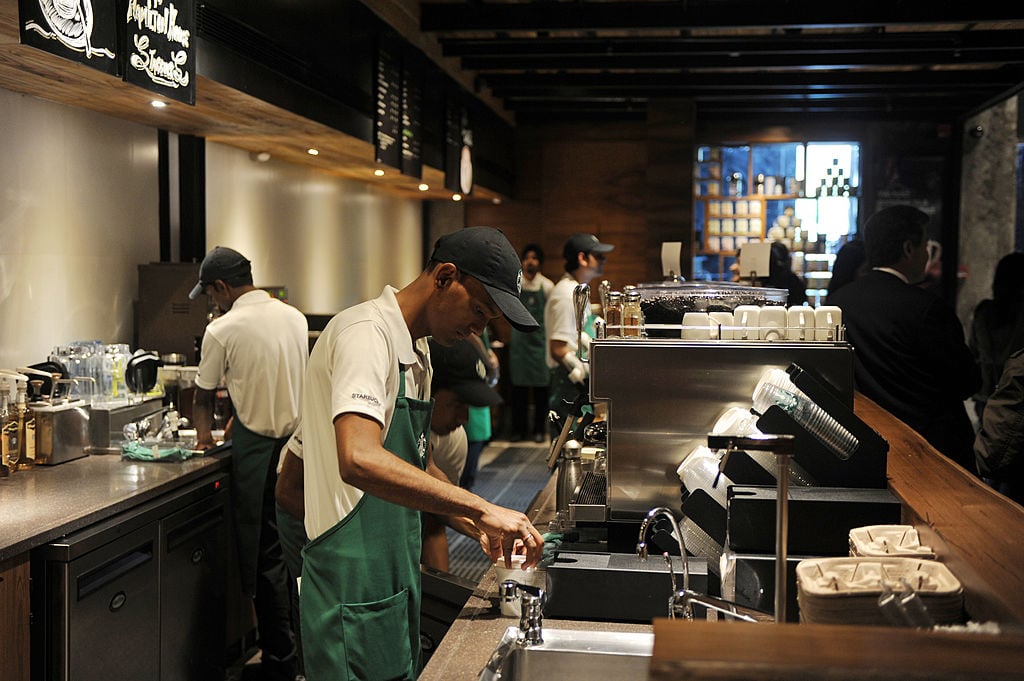 The New Yorker reports Starbucks "has probably benefited most from the secrecy gestalt, in part because its stores are built to let customers tailor their orders." Thus, it's no surprise the company's PR staff denies the existence of a secret menu. A PR director insisted, "There's no underground movement."
Yet, fans of the chain have created entire websites documenting the off-menu items that obliging baristas will serve. Quartz reports the secret menu at Starbucks (and other chains) is simply a "set of accepted menu hacks, or modifications, and some special lingo. It's customer-driven, which today also means social media-driven."
But at Starbucks, you could conceivably choose among more than 170,000 possible unique drink combinations. That means you might need to walk the barista through the process of creating your preferred drink. Some tried-and-true favorites from the secret menu? You can't go wrong with the Dirty Chai, which adds a shot of espresso to a hot or iced chai latte. Or, get a Matcha Tea by asking for unsweetened matcha tea powder mixed with hot water. If you want something sweet, try a Thin Mint Frappuccino, Cookies and Cream Frappuccino, or Butterbeer Latte. And if you need an extra dose (or four) of caffeine, just ask for Liquid Cocaine, which includes four shots of espresso and four pumps of white chocolate syrup.
4. Arby's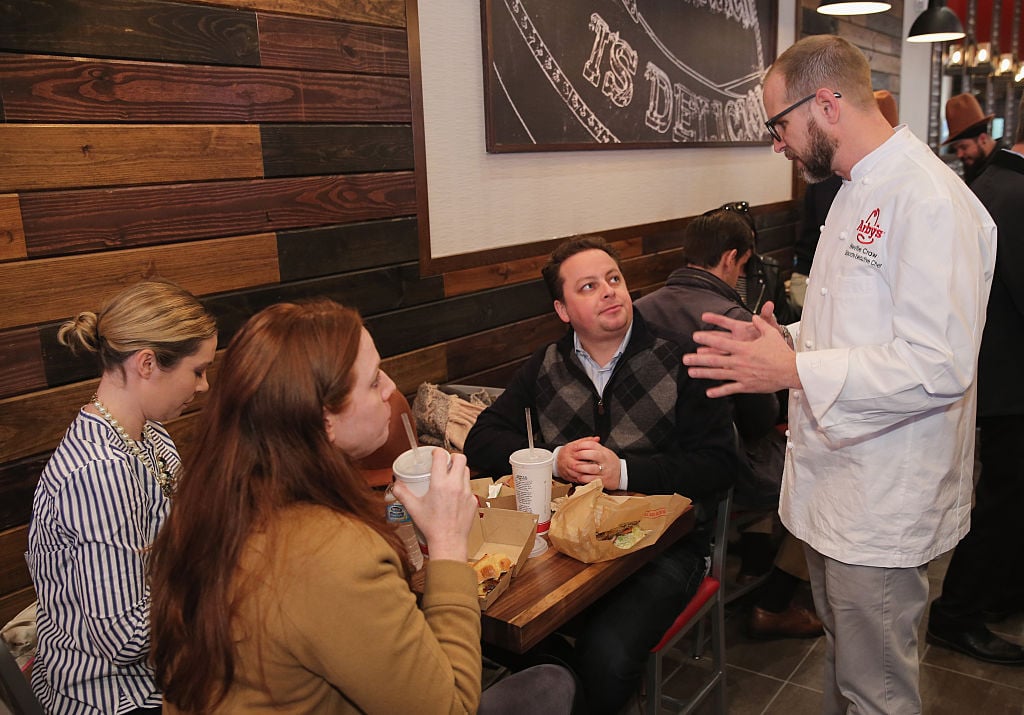 The New Yorker reports Arby's "eagerly" admitted to offering secret items. The most famous of those is the Meat Mountain, a concoction the Arby's website proudly admits includes: "Two chicken tenders, slices of roast turkey, pit-smoked ham, corned beef, 13-hour smoked brisket, USDA-choice Angus steak, roast beef, and pepper bacon." The sandwich started out as a promotional photo showcasing all of the meats Arby's offered. But the chain started making it when customers kept ordering it.
The Meat Mountain played a part in what Entrepreneur termed a "meat-heavy marketing plan" at Arby's. The same plan gave rise to a promotion called Trick or Meat, a phrase customers could use to get a free piece of bacon with any item. (The most popular seemed to be bacon in a milkshake.) But if the idea of piling on the meat doesn't appeal to you, the Arby's secret menu still has a few options you should try. The Turkey Classic is identical to the chain's Roast Beef Classic but uses 3 ounces of hot turkey instead of beef.
5. Panera Bread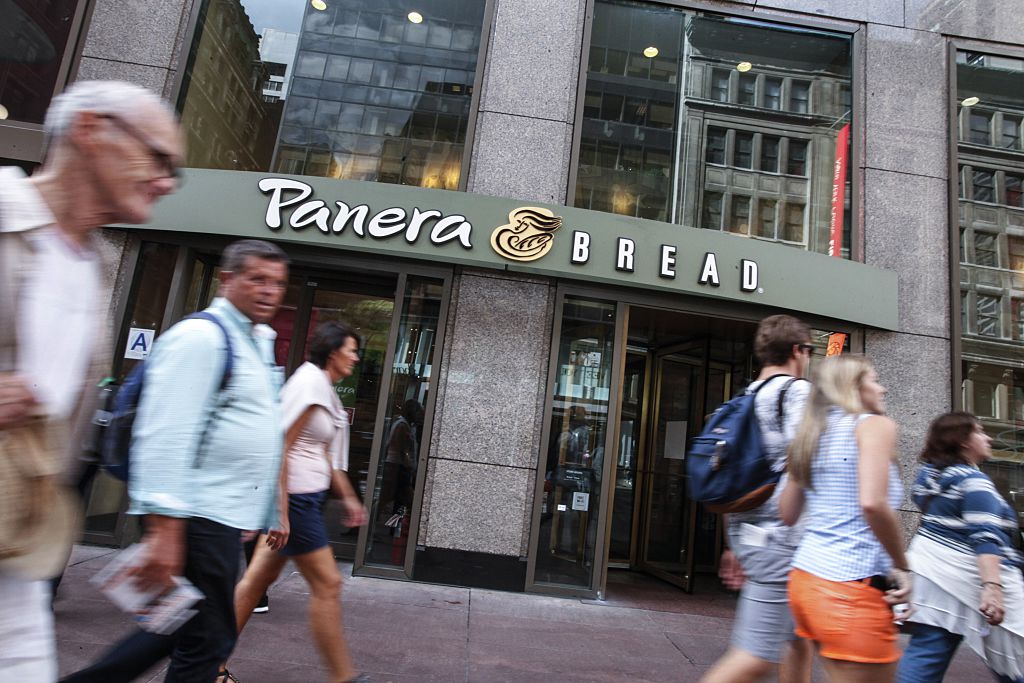 Quartz reports Panera Bread tried to capitalize on the consumer-fueled trend toward customization and flexibility by creating an official "hidden menu" that featured low-carb, high-protein items. As Quartz explains, "It was about better accommodating a supposedly small group of customers that wanted to eat at Panera without derailing their diets." But Panera drew criticism for announcing the menu "with perhaps a bit too much flair."
NPR notes the menu was aimed at customers with diabetes and those who were cutting carbs or avoiding gluten. Panera didn't print new menus or produce ad campaigns publicizing the secret menu. But, like other restaurants launching secret menus, it relied on social media to spread the word.
Panera has since removed the menu from its website. But you can still get many of the items at your local Panera. Try the Power Breakfast Egg White Bowl with Roasted Turkey to start the day off right. Or check out the Power Chicken Hummus Bowl for a delicious lunch. And consider the Power Mediterranean Roasted Turkey Salad or the Power Steak Lettuce Wraps for more great options.
6. Chipotle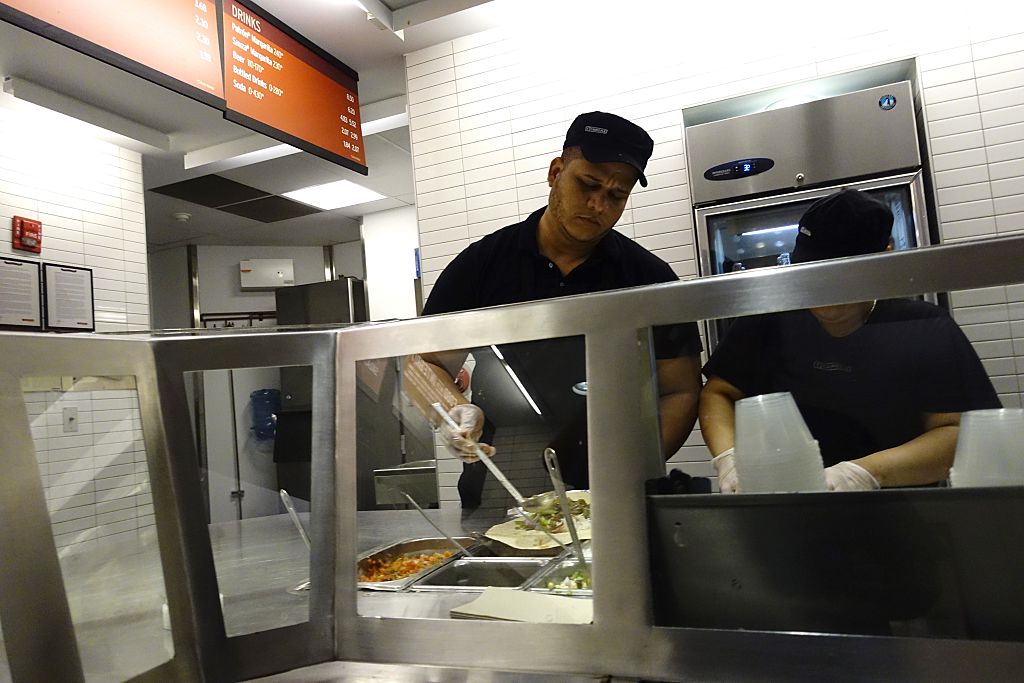 At chains, such as Chipotle, companies keep secret items off the menu at least in part so they don't need to dedicate hours to teaching employees how to make them. As The New Yorker reports, "Refutation also allows restaurant chains to avoid customer outcry when making changes and when they can't provide an item in-store." In admitting the existence of the off-menu Cheese Quesadilla and the Quesarito (a customized burrito wrapped in a quesadilla instead of a plain flour tortilla), a line cook told The New Yorker "he had learned how to make them only when people started ordering them."
Another option if you want the thrill of ordering off the secret menu? The Burritodilla. This item starts with a quesadilla and adds about half of the contents of a burrito. If Nachos are more your style, you can order them from Chipotle's secret menu. They'll come with beans, meat, vegetables, cheese, sour cream, and salsa. Another secret menu item to know if you're stopping in to Chipotle for a light snack? You can order a single taco for a lighter, lower-fat alternative to an order of three.
7. Taco Bell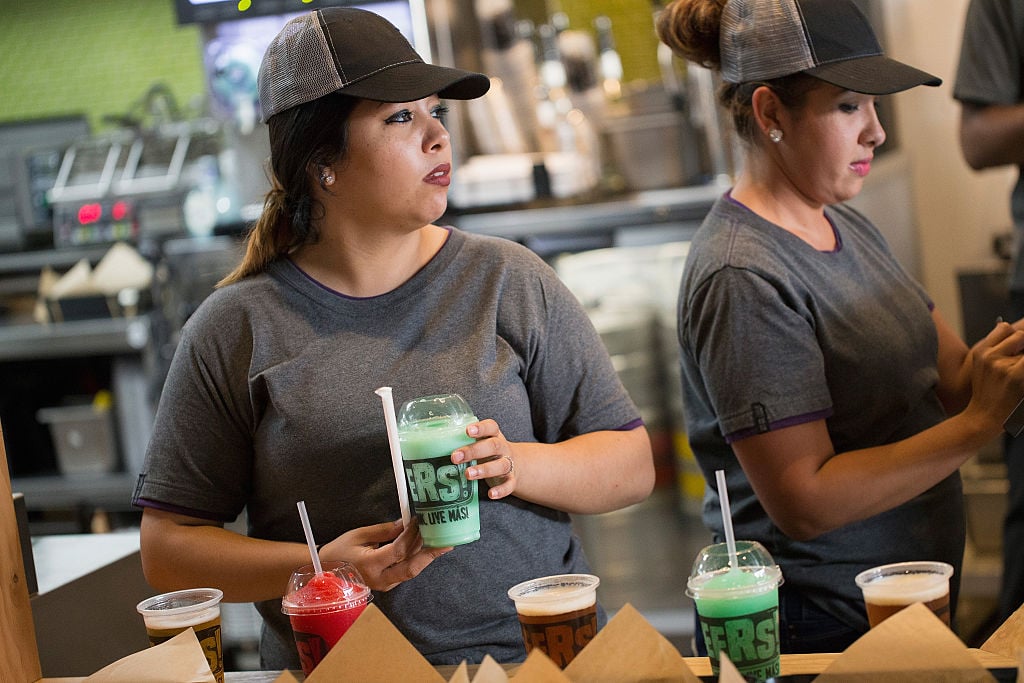 Chipotle isn't the only fast food restaurant where customers can order a Quesarito — at least if they know about the establishment's secret menu. In fact, the quesarito has long been a secret menu item at Taco Bell. And Entrepreneur reported in mid-2014 the quesarito had become so popular Taco Bell was adding it as a permanent menu item. But if you want to order something that still has the cachet of a secret menu item, you're in luck.
The Incredible Hulk sounds pretty unhealthy. But the ingredient list isn't as bad as you'd assume. This item is simply a Five-Layer Burrito made with guacamole instead of nacho cheese. But what should you order if you recognize Taco Bell isn't the place to go for health food? Try the Superman. It's a burrito with extra servings of potatoes, guacamole, and tortilla strips. Or, order the Chili Cheese Burrito, which gets filled with chili and melted cheese. And don't miss the Double-Grilled Quesadilla. It's exactly what it sounds like: a quesadilla that gets grilled twice for extra crispiness.
8. Red Robin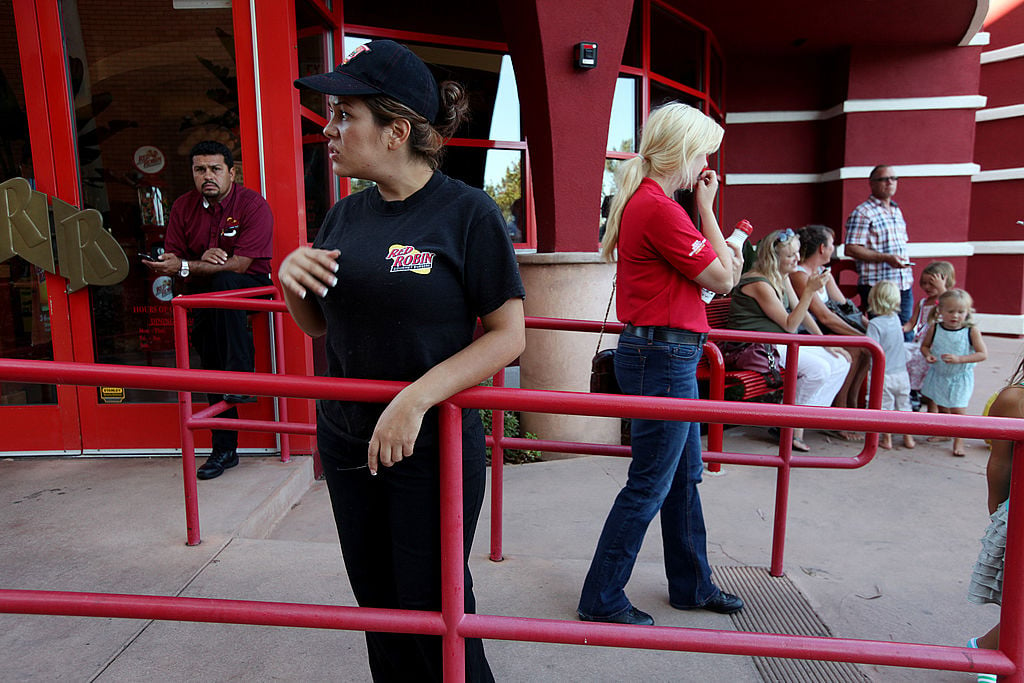 Several years ago, Red Robin introduced its first secret menu item. Entrepreneur reports the Cure Burger featured toppings of popular hangover cures, including a sunny-side up egg, bacon, and chili. The magazine explains the "burger's sales will be solely driven through media coverage, social media and word of mouth, with no mention of the Cure Burger on the menu or in advertising."
Stopping by your local Red Robin for a secret menu item might be a good idea when you have a hangover. But the chain also offers a burger Prevention cites as one of the best secret menu items. That sounds surprising — until you hear the name of the burger in question. The aptly named Petite Burger contains a quarter-pound patty. That means it packs just 136 calories, significantly less than the 300 calories you'd consume by ordering the standard-sized burger.
9. Chick-fil-A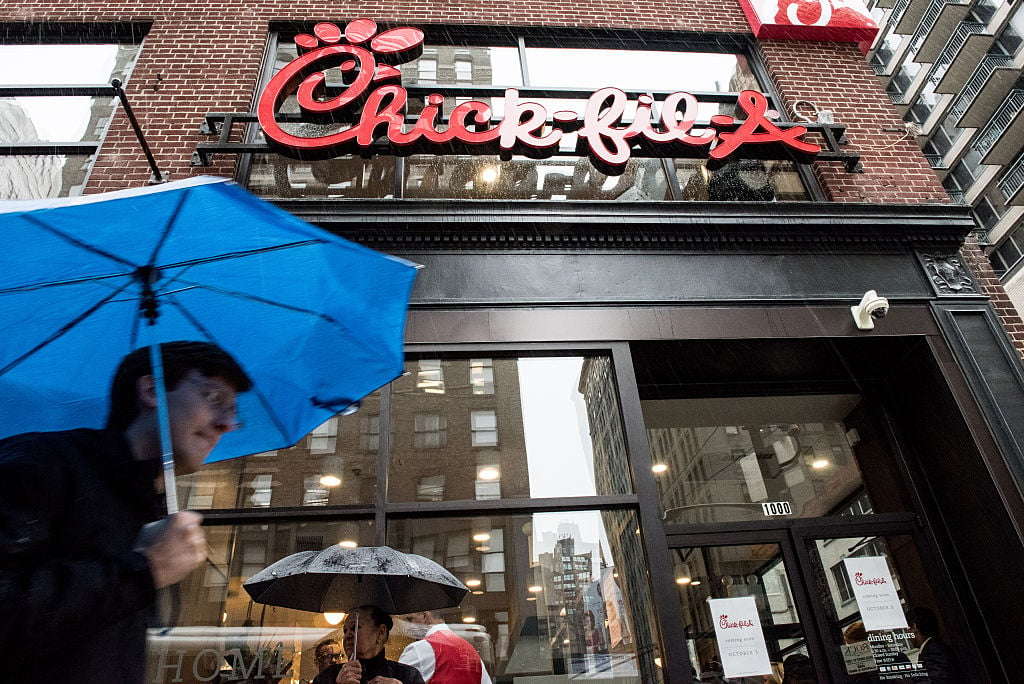 Eat This, Not That! explains on its regular menu, Chick-fil-A offers "a line of low-calorie chicken sandwiches, grilled nuggets, and healthy sides like fruit and salads." That makes it one of the best fast food restaurants for anyone trying to eat a healthy diet. But Chick-fil-A's menu is relatively small. That means you can quickly get bored with the standard fare.
That's when you should check out secret menu items, such as the Spicy Char. This sandwich features a char-grilled, unbranded chicken breast with hot and spicy seasonings. The chicken comes on a bun of your choice and is served with toasted dill pickle chips.
Other secret menu favorites? The Fried Chicken Club swaps the grilled chicken for fried chicken in a chicken club sandwich. Or try the Chicken Quesadilla. Not every location will make it for you. But if you get lucky, you'll get charbroiled chicken and melted cheese in a large flour tortilla. And you might want to try the Buffalo Chicken Sandwich, which is just a spicy chicken sandwich with buffalo sauce. Plus, you can get a Root Beer Float by asking for ice cream added to your root beer.
10. Burger King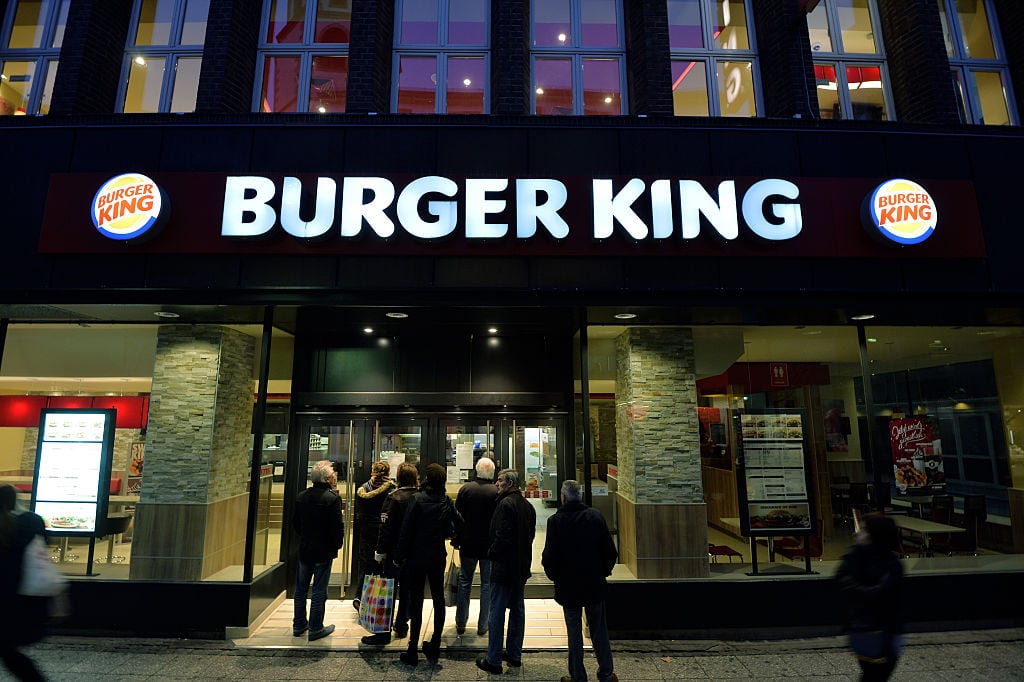 The Burger King secret menu includes an item alternately called the Suicide Burger or the Quad Stacker. The sandwich consists of four beef patties and four slices of cheese, plus bacon and special sauce. Another winner, according to fans of the chain's secret menu? Frings, a side that's half fries and half onion rings. Or you can order the BK BLT, which includes bacon, lettuce, and tomato. And if you want something at least a little on the healthier side? Try the Vegetarian Whopper. You'll just need to ask your server to replace the beef patty with a veggie burger patty.
Another surprising secret menu item your local Burger King item can make for you? The BK Ham and Cheese. It features ham and cheese on a sesame bun, as you might expect from its name. Another favorite is the Rodeo Burger, which is a cheeseburger with onion rings and barbecue sauce. Or try the BK Club. That order gets you extra bacon, tomato, and cheese on a chicken sandwich.
11. Wendy's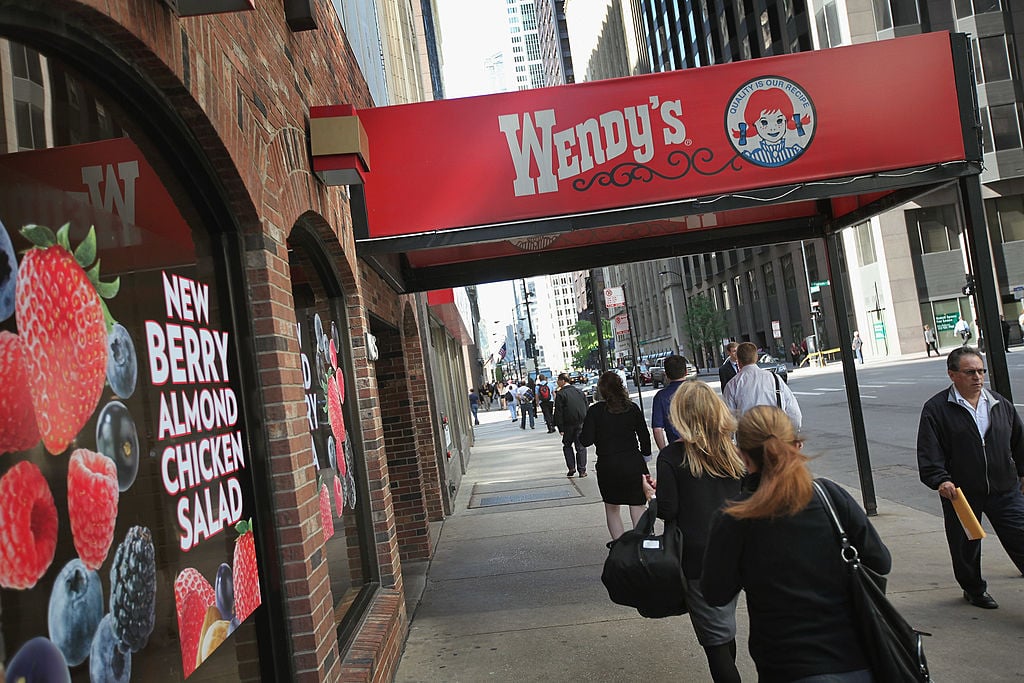 Some secret menu items get entertaining names. Others get names that tell you exactly what's in them. And still others get names that make you reconsider ordering them. The Meat Cube on Wendy's secret menu could fall into either of the latter two camps. The chain is known for its square-shaped hamburger patties. And the Meat Cube, also known as the Grand Slam, puts them to good use. It contains a full pound of meat. That means four patties, plus all of the fixings you'd normally order on your burger.
The Wendy's secret menu offers more options than just the Meat Cube, though. Another popular option is the Barnyard Burger. This concoction features a chicken patty, a beef patty, bacon, cheese, lettuce, and tomato on a bun. You can also order the Big Bacon Classic, which adds strips of bacon to a regular hamburger. Or go for the Cheeseburger Deluxe, which offers a smaller patty for a more budget-friendly (and snack-appropriate) alternative to a standard cheeseburger.
12. KFC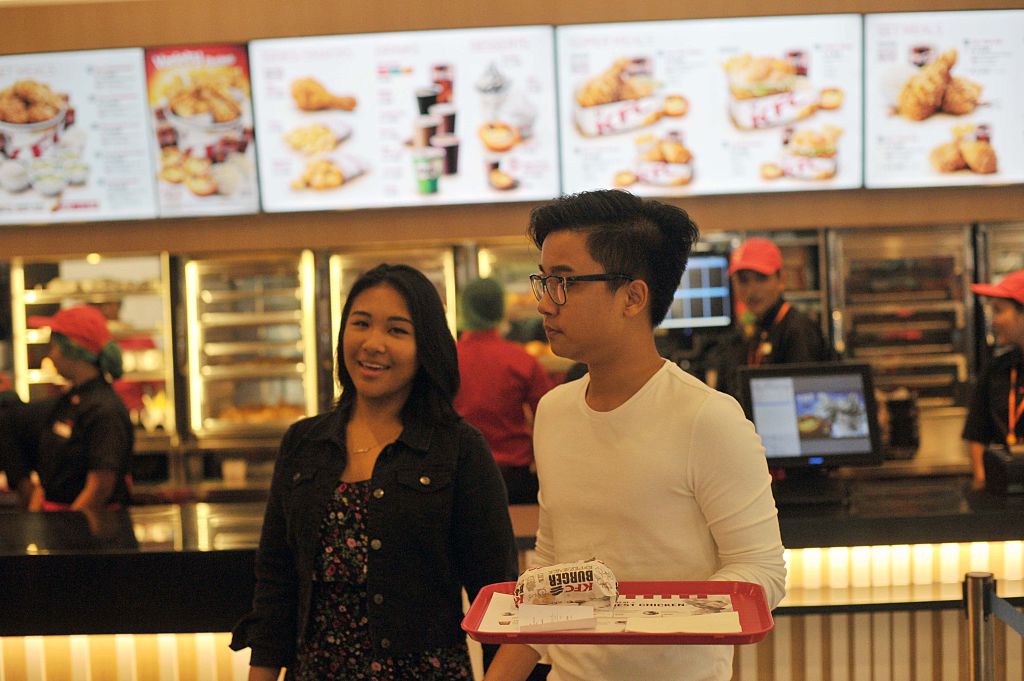 Gizmodo reports if you want the best item on KFC's secret menu, you'll definitely want to try an option called "Drown It in Mashed Potatoes." It's exactly what it sounds like. You can add mashed potatoes to just about anything on the menu. "There's nothing that KFC's mashed potatoes and gravy don't improve. All you have to do is ask," according to Gizmodo.
Alternately, ask to Baconize It. Or try the Double Down, which is a sandwich that uses chicken in the place of buns and puts bacon and melted cheese between the chicken patties. If you don't mind what Gizmodo characterizes as "an extra dash of self-loathing," you can make it a triple by requesting the Triple Down.
Eat This Not That! reports KFC's secret menu has some good options for health-conscious customers, too. The publication recommends taking advantage of the little-known fact that you can customize KFC's Famous Bowl with the ingredients you want. What does the publication recommend? Ask for "a cheeseless bowl, built upon a bed of green beans instead of mashed potatoes."