See How Disney Parks Are Celebrating Halloween 2017
If you've ever been at Disney Parks in October, or know someone who has, you likely know that the parks spare no expense to celebrate Halloween – in an elaborate, but non-scary way. Now that we're into October, the theme parks are chalk full of brightly-lit displays in orange, black, and purple, with pumpkins everywhere, of course.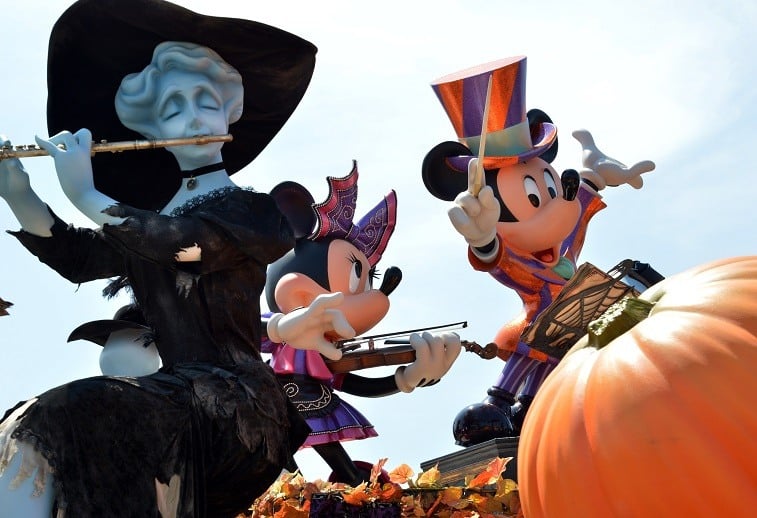 Magic Kingdom Park in Florida
Florida's Disney World is selling separate-admission tickets to its fall event on select nights through Nov. 1. Called Mickey's Not-So-Scary Halloween Party, the event features a fireworks show called HalloWishes. Adults are allowed to wear costumes into the park (which is normally not allowed), and trick-or-treat candy is distributed.
https://twitter.com/GirlfriendNotes/status/915310493396500480
Mickey's Boo-to-You Halloween parade features the likes of the evil queen from Snow White and performers straight from the Haunted Mansion.
One of the popular components of the Magic Kingdom Halloween party is Hocus Pocus Villain Spelltacular, a live show performed in front of the park castle. Featured are villains from Disney film Hocus Pocus and Maleficent from Sleeping Beauty.
If you are at Disney for the rides, many of them remain open for the Halloween party – with maybe the added benefit of shorter lines! Undercover Tourist provides a list of rides which remain open.
Disneyland Resort in California
Halloween Time has been running at Disneyland since mid-September. The park expanded the festivities in 2017. The Guardians of the Galaxy drop tower ride has a new "Monsters After Dark" theme featuring a creepier story with new scenes.
disneyland during halloween has my heart. pic.twitter.com/7eKcgGxuZO

— emily ☆ (@emilyybraga) October 4, 2017
Disney's classic characters are still on hand as usual, but are now decked out in Halloween costumes. The Haunted Mansion has been transformed into Haunted Mansion Holiday, featuring the characters from Tim Burton's The Nightmare Before Christmas.
Ain't she sweet? #Disney #DisneylandResort #DLR #Disneyland #DisneyCharacters #MinnieMouse #MickeysHalloweenParty #Halloween #HalloweenTime pic.twitter.com/9kiYxs0mYZ

— Castles Capes & Clones (@CCCDisneyUni) October 5, 2017
For Halloween season, Cars Land has a "Haul-O-Ween" feature, in which Lightning McQueen and the other cars greet guests while dressed in Halloween "car-stumes."