5 Simple Cranberry Recipes You Have to Try
It's that time of year — the apple cider is fresh, the pumpkins are picked, and the cranberries are reaching their peak harvest season. Many of us probably consume most of our cranberries in a dried or canned form (what's turkey without cranberry sauce?), meaning we have no idea what to do with the bags of fresh cranberries that are sitting in the grocery store. If you love the sweet and tart flavor of this fruit and you can't wait to wow your friends and family with a few cranberry recipes that pair perfectly with any fall meal and a nice glass of red wine, then say no more — we've got you covered with five simple cranberry recipes that are so easy to make, you'll wonder why you've never made them before.
1. Spiced Cranberry Sauce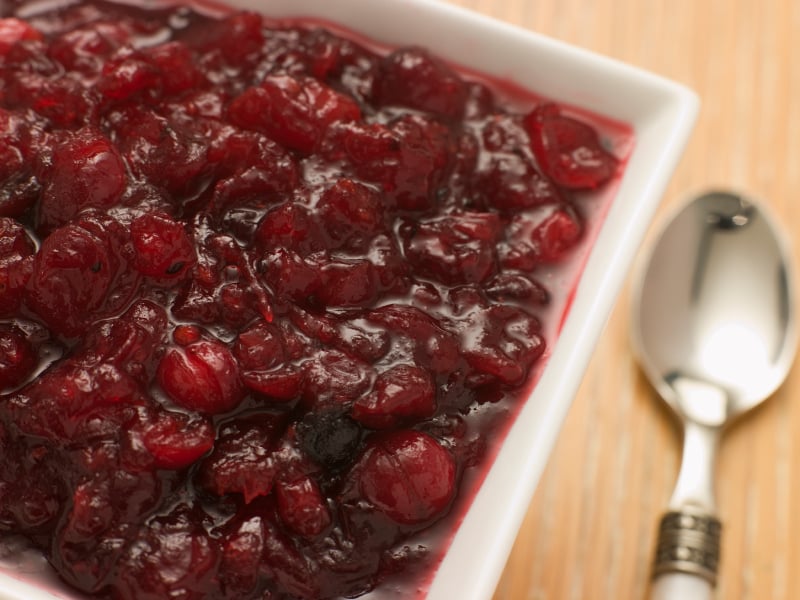 It doesn't get much easier than this, and after you taste this spiced cranberry sauce featured in Health, you'll never go back to the canned sauce again. The dark brown sugar adds a hint of sweetness to the tart berries, and the orange rind brings citrus notes to the mix that pairs perfectly with any of your favorite meats. You can even make this sauce a few days in advance so you're not rushing around the day of a party to get it finished.
Ingredients:
1 (12-ounce) package fresh or frozen cranberries, thawed
½ cup dark brown sugar
½ cup water
¼ teaspoon ground cardamom
2 (2½ to 3-inch) long strips orange rind
Directions: Add all ingredients to a large saucepan and place it over medium-high heat. Allow the mixture to come to a boil and stir occasionally. Once boiling, reduce the heat to medium-low and let the sauce simmer for 10 to 12 minutes, or until the cranberries start to burst and the sauce takes on a thicker texture.
Remove the orange rind and set the sauce aside to let it cool. Refrigerate for a couple of hours before serving, or store for up to two days in your refrigerator.

2. Cranberry-Maple Bread Pudding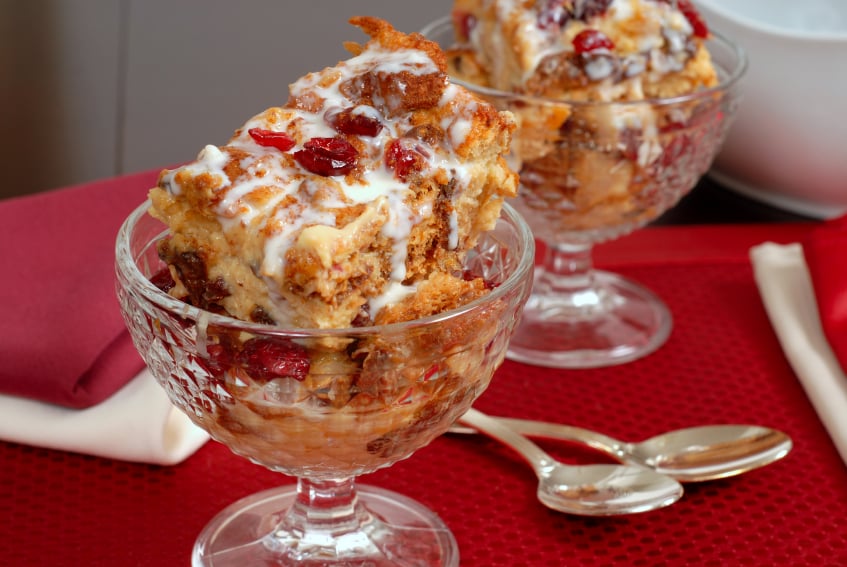 There are few desserts that are as simple, tasty, and satisfying as bread pudding, and this cranberry-maple bread pudding by Martha Stewart is packed with fresh cranberry flavor. The crème fraiche and whole milk add decadence to this dessert that you'll love, and the sweetness of the maple syrup brings the tartness of the cranberries to the forefront. Don't be intimidated by this bread pudding — it only requires a few ingredients and is super simple to throw together.
Ingredients:
7 (1-inch) thick slices of country bread, crusts trimmed
Unsalted butter (for the pan)
8 large eggs
¾ cup sugar
2 cups crème fraiche
2 cups whole milk
1½ teaspoons pure vanilla extract
Coarse salt
1½ cups (about 5 ounces) fresh or thawed frozen cranberries
2/3 cup pure maple syrup
Directions: Begin by preheating your oven to 350 degrees Fahrenheit. Place your bread on a baking sheet and toast for 5 to 7 minutes, or until golden.
While your oven is preheating, butter a 5-by-9-inch loaf pan. In a medium bowl, whisk together the eggs and sugar. In another bowl, whisk crème fraiche, and add milk gradually to avoid the formation of lumps. Whisk your crème fraiche into your egg mixture, and then whisk in vanilla and ½ teaspoon salt. Once your custard is put together, add each slice of bread and allow them to soak for a few seconds. Stand the soaked bread slices up together in the pan.
With your remaining custard, strain half of it over the bread slices and let stand for 10 minutes, allowing the bread to soak in the liquid. Add the remaining custard slowly to cover the bread. You may have some custard left over after this step.
Place your pan on a baking sheet and bake for about 1 hour and 15 minutes, or until the pudding is set and a knife inserted into the center comes out clean. If you see that the top of the pudding is browning before the pudding has had time to set, then cover the top with tin foil and continue baking. Let stand for 10 minutes out of the oven once it's finished.
While your bread pudding is cooking, bring your cranberries and maple syrup to a simmer in a heavy saucepan over medium heat. Simmer the mixture until the cranberries soften, about 5 minutes, but do not cook so long that the cranberries have popped. Remove from heat and serve warm over the bread pudding.

3. Turkey, Brie, and Cranberry Mustard Panini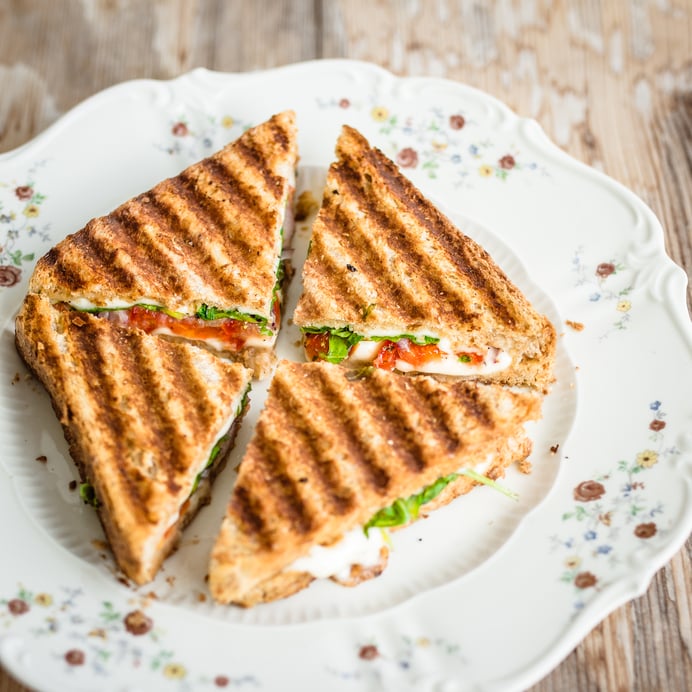 If you're not in the mood to cook with fresh cranberries but you still want that sweet and tart flavor in your meal, then you have to give these turkey, brie, and cranberry mustard panini's by Just a Little Bit of Bacon a try. These sandwiches couldn't be simpler, and they're perfect to throw together if you have some leftover cranberry sauce in your fridge. Try cutting these up into small pieces and bringing them to any gathering — your friends will love them.
Ingredients:
For cranberry mustard
1 cup whole berry cranberry sauce
1 teaspoon cider vinegar
2 teaspoons olive oil
4 teaspoons coarse ground mustard
Dash of kosher salt
For turkey panini
8 slices of bread (hearty whole-grain bread is preferable)
8 ounces turkey breast
4 ounces brie, sliced into four pieces
6 fresh sage leaves, sliced
Olive oil
Directions: Start by making the cranberry mustard. Add all ingredients for the mustard to a bowl and mix well. Add more salt or mustard as desired.
To make the sandwiches, begin by heating up a grill pan or panini press over medium heat. Lay out four slices of bread. Place one piece of brie onto each slice and layer your turkey over the brie. Top the turkey with another piece of bread, and brush the outside pieces of bread with olive oil.
Place your sandwiches on your grill pan (two at a time if possible) and toast each side until the cheese has melted and bread has turned to a golden-brown color. Press the sandwiches down as they cook.
Once the sandwiches are toasted, remove them from the heat and lift the top piece of bread from the sandwich. Add a couple of tablespoons of your cranberry mustard over the turkey and brie, and scatter the sliced sage on top, too. Put the sandwich back together, slice, and serve.

4. Spicy Turkey Quesadillas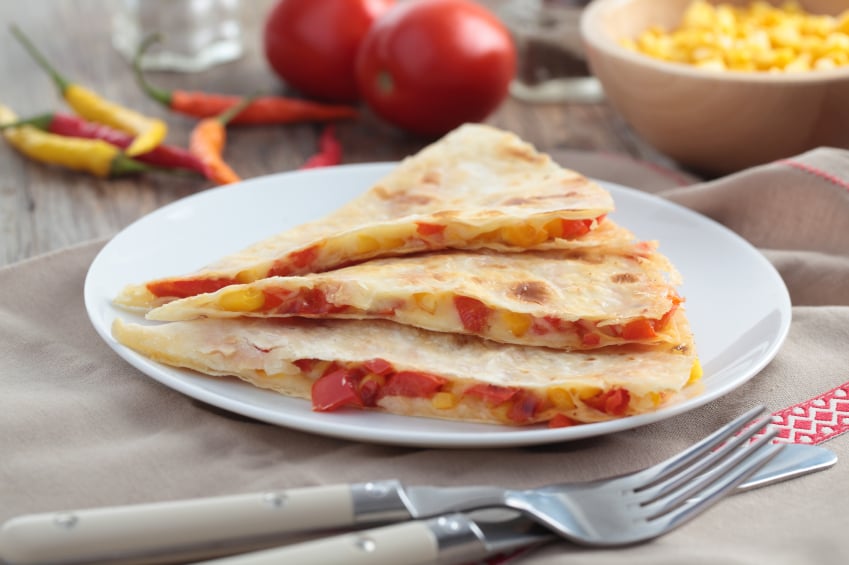 This fall take on a classic will liven up your taste buds and surprise just about anyone who tries it. These spicy turkey quesadillas by Taste of Home are a unique twist on the dish you've probably had a hundred times by now, and you may be surprised to see how well hot sauce, honey, and cranberries go together. This recipe couldn't be simpler, and everyone from adults to kids will love the fresh tart, sweet, and spicy flavors.
Ingredients:
3 ounces fat-free cream cheese
¼ cup chopped fresh or frozen cranberries, thawed
1 tablespoon chopped green chilies
1-1½ teaspoons honey
1 teaspoon Louisiana-style hot sauce
4 flour tortillas (6 inches)
1 cup diced cooked turkey breast
Directions: Add cream cheese to a small bowl and beat until smooth. Stir in your cranberries, chilies, honey, and hot sauce, and blend well. Spread the mixture over one side of each tortilla. Then, add your turkey onto two tortillas, and top with your remaining tortillas.
Heat a large nonstick skillet over medium heat, and add your quesadillas. Cook for 2-3 minutes on each side, or until lightly browned. Remove from heat, cut into wedges, and serve.

5. Cranberry Almond Chocolate Chip Quick Bread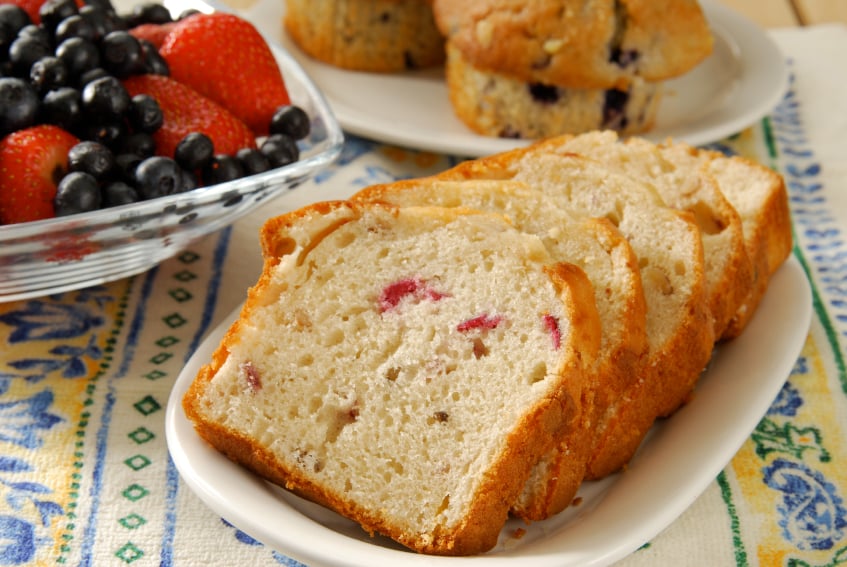 If you love the taste of fresh breads but don't want to slave away in your kitchen all day to make them, you'll have to try this cranberry almond chocolate chip quick bread as posted by the Cranberry Marketing Committee (original recipe by Marnely Rodriguez for the California Olive Ranch). This bread is simple to make but packs big flavor with fresh cranberries, chocolate chips, vanilla bean for sweetness, and the addition of olive oil cuts the sugar and adds depth of flavor. You might want to make two loaves — everyone will want a slice.
Ingredients:
½ cup almond flour
½ cup whole wheat flour
1 teaspoon baking powder
½ cup fresh cranberries
½ cup milk chocolate chips
1 cup California Olive Ranch Milk & Buttery Artois Ranch Olive Oil (if you need to swap this out for another type of olive oil, that is fine)
2/3 cup light brown sugar, packed
2 large eggs
½ vanilla bean, scraped
Directions: Begin by preheating your oven to 350 degrees Fahrenheit. Then, grab a loaf pan and grease it with olive oil or butter. Set this aside so it's ready when you are.
Add your almond and wheat flour and baking powder together in a medium bowl. Then, add in your fresh cranberries and chocolate chips, and stir to combine.
In a separate medium bowl, whisk together your olive oil, sugar, eggs, and vanilla. Once this mixture is whisked thoroughly, add your dry ingredients into the wet ingredients and stir until everything is incorporated together. Pour your bread batter into your loaf pan and bake 35-40 minutes. To test the bread to see if it is finished, touch the center of the bread, and if it bounces back, that means it's finished baking. Remove from the oven and allow it to cool before serving.