Crockpot Casserole Recipes for Easy Weeknight Dinners
Cooking is often the last thing you want to do after a long day of work, running errands, and hauling the kids to activities. It might seem easier to turn to frozen pizzas and takeout on hectic weeknights, but there's another cheaper — and healthier — way to serve your family supper. You can use your slow cooker to create hearty, home-cooked dinner casseroles.
Simply add the ingredients before you leave for work, and you'll return home to a ready-made, mouth-watering meal. Just make sure you don't oversleep on mornings when you're planning to prepare your slow-cooker dishes. You'll need a few minutes to prep each of these casseroles.
Whether you are in the mood for a cheesy, gooey ravioli casserole or prefer a nutritious quinoa and summer squash dish, we've compiled 15 recipes that will cure any casserole craving. And as a bonus, we've thrown in a couple of breakfast casserole recipes, so you can enjoy your weekend mornings rather than spending them flipping pancakes for the family.
1. Slow-Cooker Lumberjack Casserole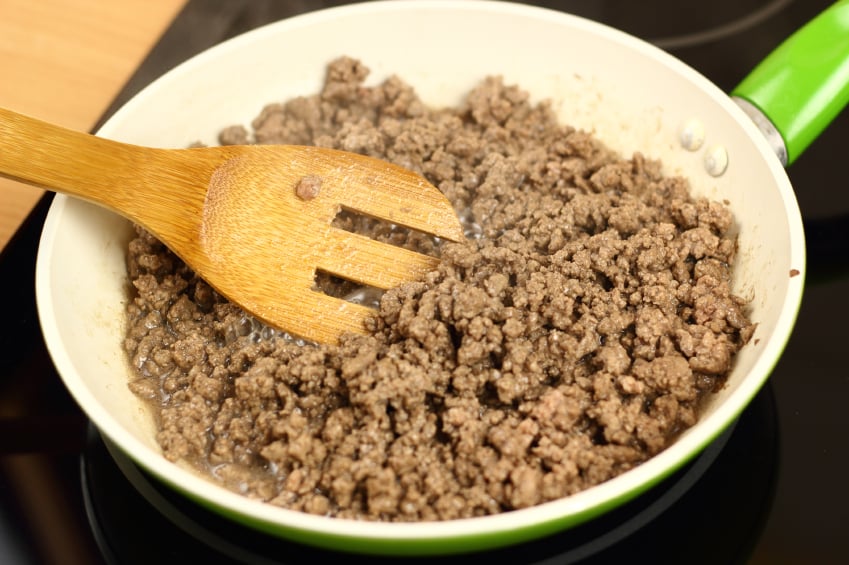 The Wilderness Wife explains this casserole is an old logging camp favorite, which has conveniently been adapted for your crockpot. Interestingly, lumberjacks used to rely on this hearty dish to fuel them after long days of intensive labor. Although you probably are not off in the woods cutting down trees, we're certain this dish will still appeal to you and your family. It combines meat, veggies, spices, and cheese, creating a filling dinner dish that is bursting with flavor. Be sure to garnish this recipe with cheese prior to serving. It yields 6 to 8 servings.
Ingredients:
1 pound ground beef
1 large onion, diced
5 medium potatoes, cut in 1-inch cubes
1½ teaspoons minced garlic (about 1 large clove)
1 (15-ounce) can of stewed tomatoes
1 (16-ounce) can kidney beans
1 can of cream of mushroom soup
½ teaspoon oregano
¼ teaspoon black pepper, freshly ground
1 teaspoon kosher salt
1½ cups grated cheese, Monterey Jack or cheddar
Head to The Wilderness Wife for the full recipe.
2. Slow-Cooker Cabbage Roll Casserole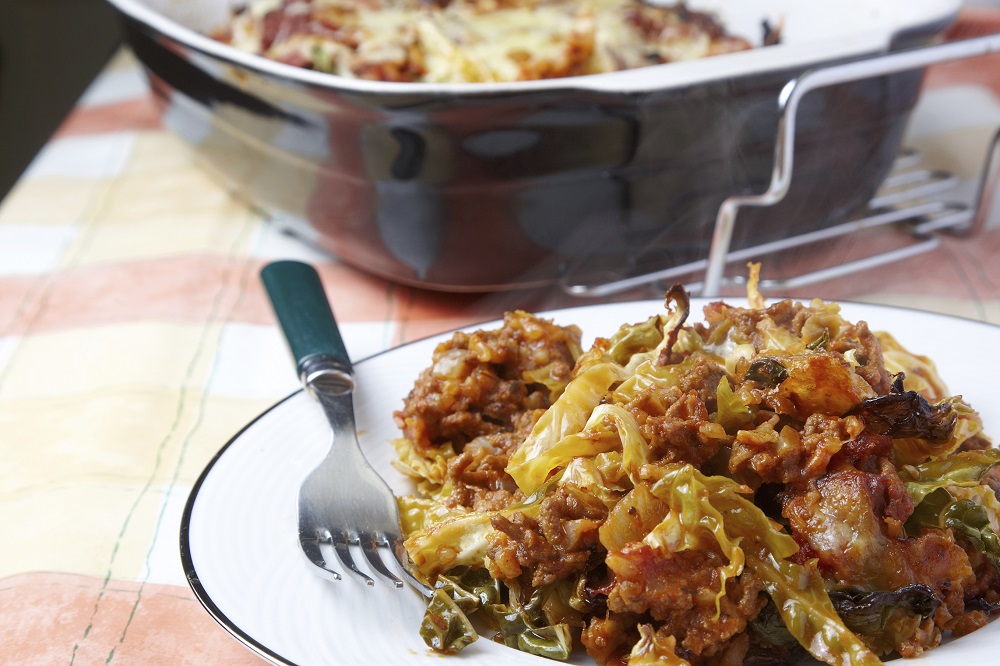 Green cabbage, lean ground turkey, veggies, seasonings, and tomatoes meld together in Food.com's recipe, ensuring you have a dinner casserole that is both flavorful and nutritious. Your family will love how tasty this dish is, and you'll love how easy it is to prepare. It yields 6 servings.
Ingredients:
1 to 1½ pounds lean ground turkey or extra-lean ground beef
2 cups chopped onions
½ cup chopped green pepper
3 garlic cloves, crushed
¼ to ½ teaspoon salt
½ teaspoon pepper
½ teaspoon thyme
1 small head green cabbage, coarsely chopped
1 (15-ounce) can diced tomatoes, undrained
½ teaspoon sugar
1 (15-ounce) can tomato sauce, or more to meet desired taste
Head to Food.com for the full recipe.
3. Slow-Cooker Cheesy Ravioli Casserole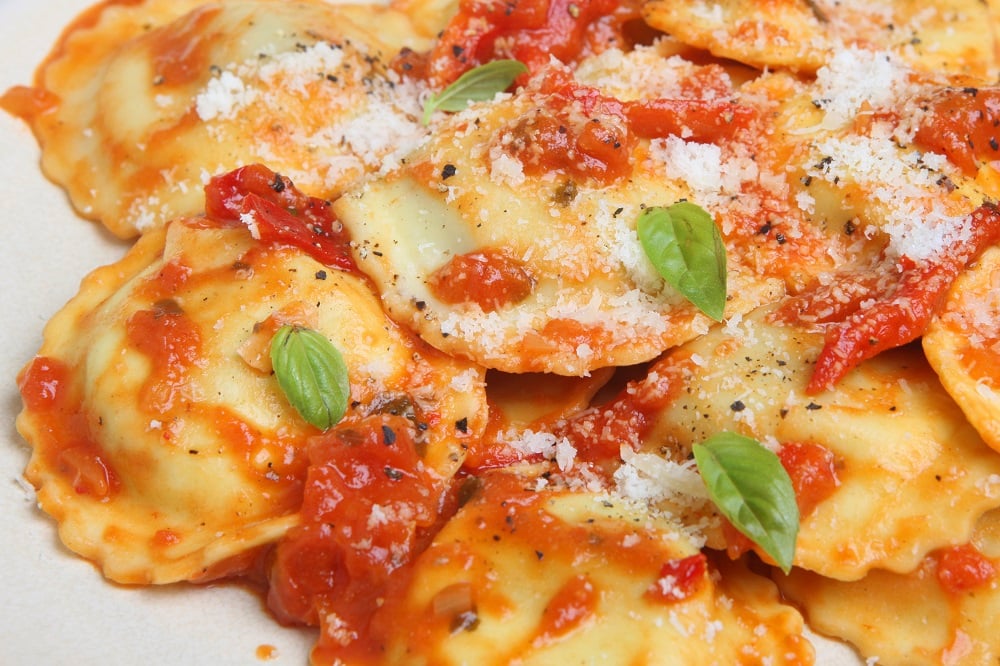 If you love ravioli but can't imagine preparing it on a typical weeknight evening, we recommend making Betty Crocker's slow-cooker cheesy ravioli casserole. The recipe calls for frozen beef-filled ravioli, meaning you won't have to spend hours preparing the filling and stuffing your ravioli. A loaf of French bread and a light green salad will complete this meal.
Ingredients:
1 tablespoon olive or vegetable oil
1 medium onion, chopped (½ cup)
1 large clove garlic, finely chopped
1 (26-ounce) can four cheese-flavored spaghetti sauce
1 (15-ounce) can tomato sauce
1 teaspoon Italian seasoning
2 (25-ounce) packages frozen beef-filled ravioli
2 cups shredded mozzarella cheese (8 ounces)
¼ cup chopped fresh parsley
Head to Betty Crocker for the full recipe.
4. Slow-Cooker Casserole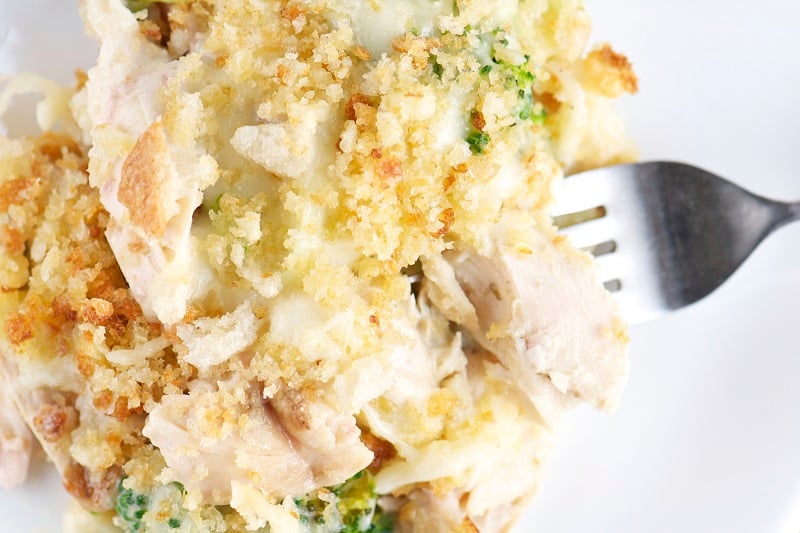 Take a look in your pantry. There's a good chance you already have most of the ingredients needed to make Allrecipes.com's slow-cooker casserole, including ramen noodles, cream of mushroom soup, and cream of chicken soup. Filled with creamy textures and rich flavors, this easy-to-make dish will appease all of your family members. The recipe yields 6 servings.
Ingredients:
½ cup butter
1 (16-ounce) package frozen mixed vegetables, thawed
2 (10¾-ounce) cans condensed cream of chicken soup
2 (10¾-ounce) cans condensed cream of mushroom soup
3 teaspoons garlic powder
3 teaspoons onion powder
3 (3-ounce) packages chicken-flavored ramen noodles
6 skinless, boneless chicken breast halves, cut into bite-size pieces
Head to Allrecipes.com for the full recipe.
5. Slow-Cooker Quinoa-Summer Squash Casserole
Eating Well's recipe requires you to slow cook tomatillo salsa, summer squash, and quinoa. Fresh oregano, feta cheese, and lime juice add even more flavor to this satisfying casserole, ensuring it is just as delicious as it is healthy. The recipe yields 10 servings, with each containing 111 calories, 3 grams of fat, 6 grams of sugar, and 5 grams of protein.
Ingredients:
12 ounces tomatillos, husked, rinsed and chopped
1 pint cherry tomatoes, chopped
1 poblano or bell pepper, chopped
½ cup finely chopped white onion
1 tablespoon lime juice
1 teaspoon salt
1 cup quinoa
1 cup crumbled cotija or feta cheese, divided
2 pounds small yellow summer squash, cut into ¼-inch slices
2 tablespoons chopped fresh oregano
Head to Eating Well for the full recipe.
6. Slow-Cooker Pizza Casserole Recipe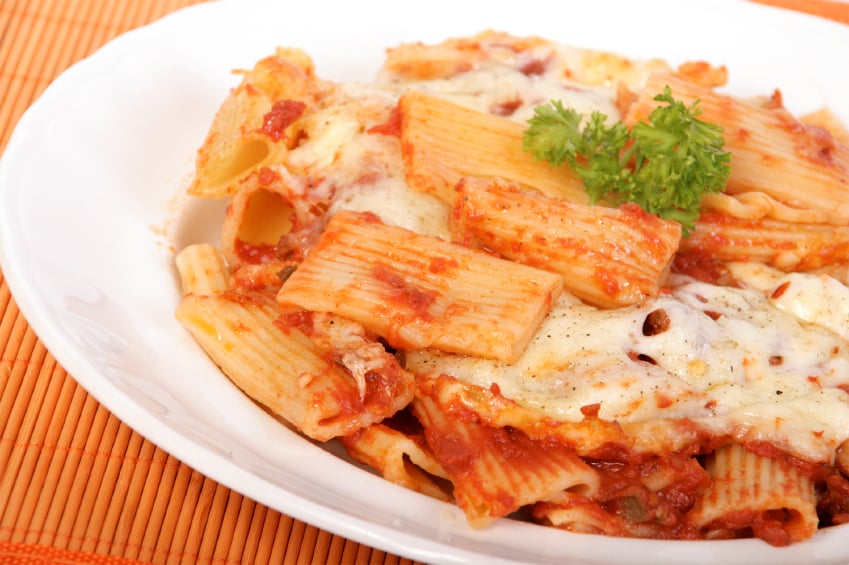 Rigatoni, ground beef, cheese, pepperoni, and pizza sauce work together to create a delicious casserole that tastes just like pizza. Taste of Home's recipe yields 12 to 14 servings, so anticipate having plenty of lunch leftovers for the week. It's also a great dish to bring to potlucks. We promise it'll be the life of any party.
Ingredients:
1 (16-ounce) package rigatoni or large tube pasta
1½ pounds ground beef
1 small onion, chopped
4 cups shredded part-skim mozzarella cheese
2 (15-ounce) cans pizza sauce
1 (10¾-ounce) can condensed cream of mushroom soup, undiluted
1 package sliced pepperoni
Head to Taste of Home for the full recipe.
7. Slow-Cooker Tater Tot Casserole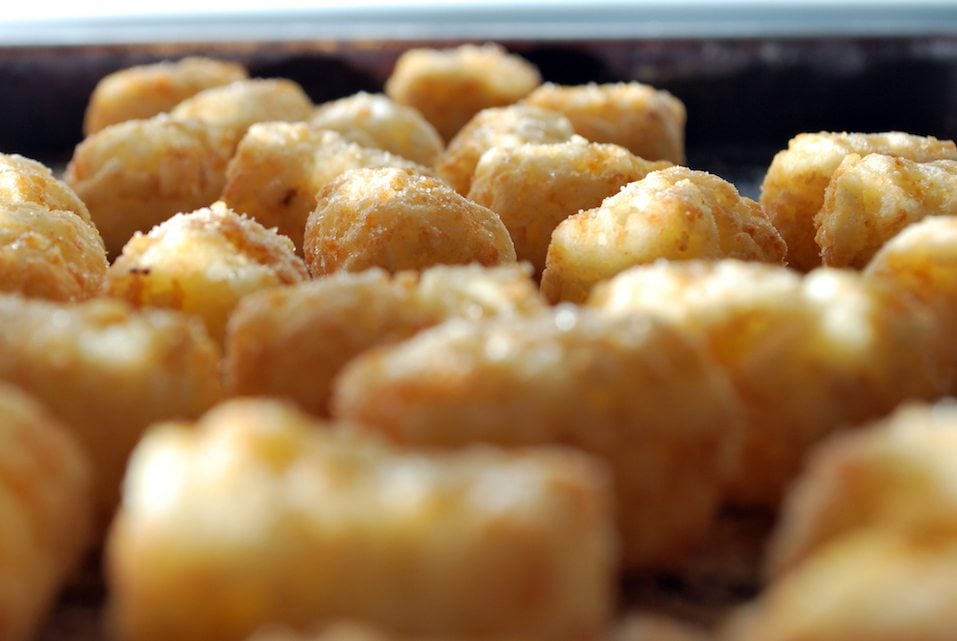 Minnesotans know tater tot casserole is a guaranteed crowd-pleaser, but people who aren't from the Upper Midwest might not be familiar with this classic comfort-food dish. Damn Delicious offers a creative, Mexican-inspired spin on a family favorite by adding taco seasoning, black beans, salsa, and green chilies. Even better, the recipe is slow-cooker friendly.
Ingredients:
1 tablespoon olive oil
1½ pounds ground beef
1 onion, diced
1 (15-ounce) can black beans, drained and rinsed
1 cup corn kernels, frozen, canned, or roasted
1 cup salsa, homemade or store-bought
1 (4½-ounce) can chopped green chilies, drained
1 tablespoon taco seasoning mix
1 (10-ounce) can mild enchilada sauce
1 (16-ounce) package frozen tater tots
¾ cup shredded sharp cheddar cheese
2 tablespoons chopped fresh cilantro leaves
Head to Damn Delicious for the full recipe.
8. Crockpot Pirogi Casserole with Kielbasa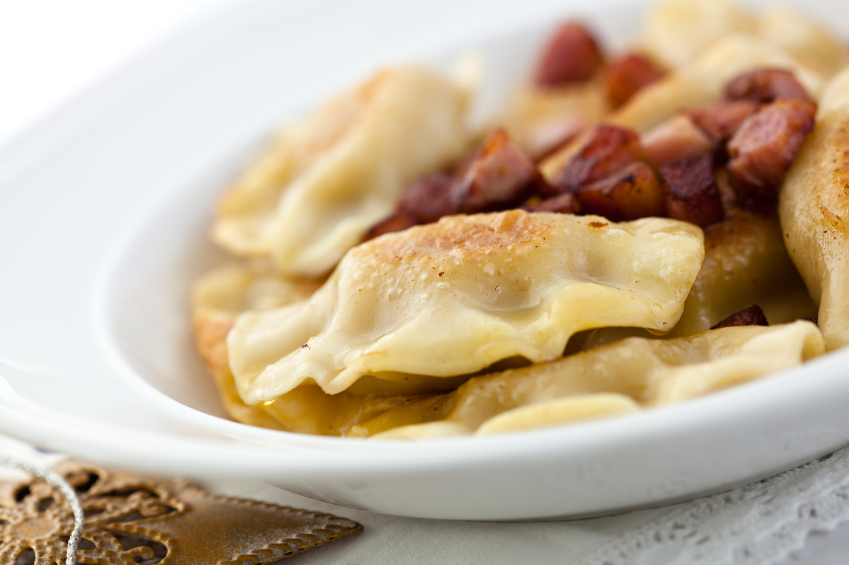 Old-world flavors come together in a simple yet delicious slow-cooker casserole recipe from Daily DIY Life. Ready-made pirogies are combined with perfectly spiced kielbasa sausage (though you can substitute chicken, bacon, or another meat if you prefer) and a cheesy sauce. Stir in some cooked broccoli or other veggies, and serve with green salad for a meal that's ideal for hectic weeknights.
Ingredients:
3 boxes frozen cheddar pirogies, preferably mini size
4 cups chicken broth
8 ounces cream cheese
1 cup shredded cheddar cheese
1 pound sliced kielbasa
Salt and pepper to taste
Head to Daily DIY Life for the full recipe.
9. Slow-Cooker Chicken Parmesan Casserole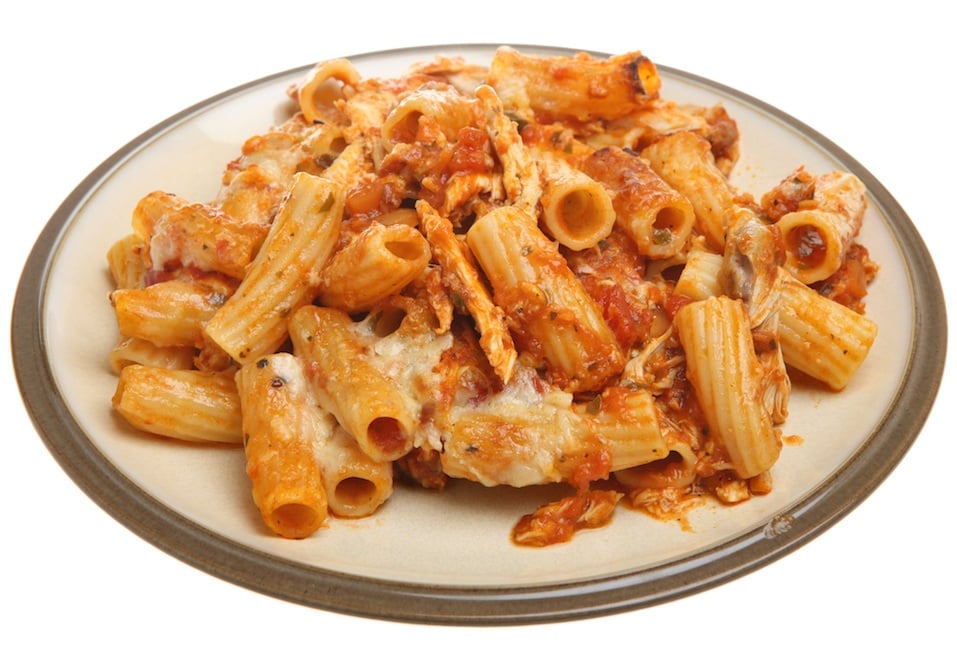 A delicious chicken Parmesan meal is a cinch to prepare when you follow Lauren Greutman's slow-cooker recipe. The chicken slowly cooks in a sauce of crushed tomatoes, basil, and garlic. About 30 minutes before you're ready to serve dinner, you shred the chicken and add the pasta. Then, sprinkle on some shredded cheese, and you have the makings of a perfect meal.
Ingredients:
2 boneless skinless chicken breasts
1 (28-ounce) can crushed tomatoes
¼ cup water
1 tablespoon dried basil
1 teaspoon minced garlic
¼ teaspoon black pepper
¼ teaspoon salt
12 ounces uncooked pasta
2 cups shredded mozzarella cheese
2 tablespoon olive oil
½ cup breadcrumbs
Grated Parmesan cheese, for topping
Head to Lauren Greutman for the full recipe.
10. Slow-Cooker Green Bean Casserole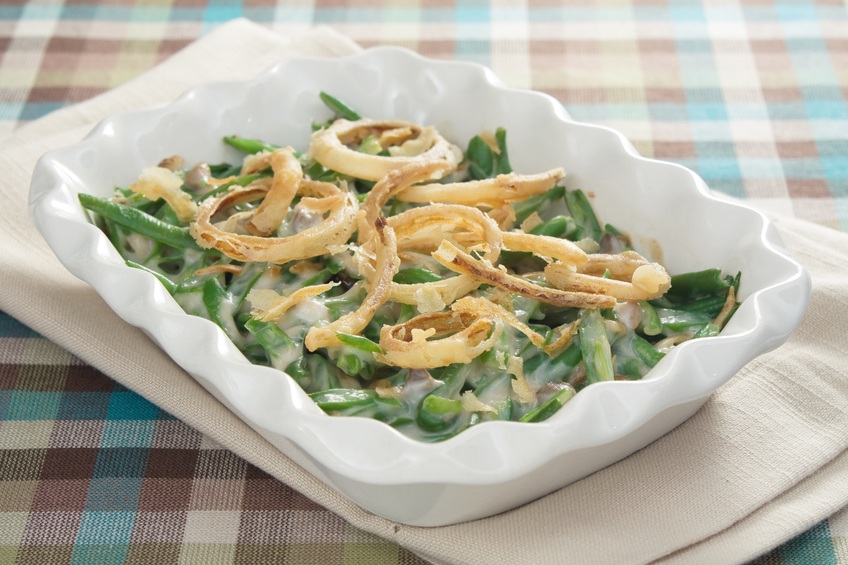 Green bean casserole doesn't have to just be a Thanksgiving side dish. Make it into the centerpiece of a weeknight meal with this slow-cooker recipe from My Recipes, which substitutes the conventional canned green beans and cream of mushroom soup for frozen green beans and Alfredo sauce. Make it a complete meal with a store-bought rotisserie chicken or quick-cooked pork chops.
Ingredients:
2 (16-ounce) packages frozen French-cut green beans, thawed
1 (10-ounce) container refrigerated Alfredo sauce
1 (8-ounce) can diced water chestnuts, drained
1 (6-ounce) jar sliced mushrooms, drained
1 cup (4 ounces) shredded Parmesan cheese
½ teaspoon freshly ground pepper
1 (6-ounce) can French fried onions, divided
½ cup chopped pecans
Head to My Recipes for the full recipe.
11. Pork Chop Rice Casserole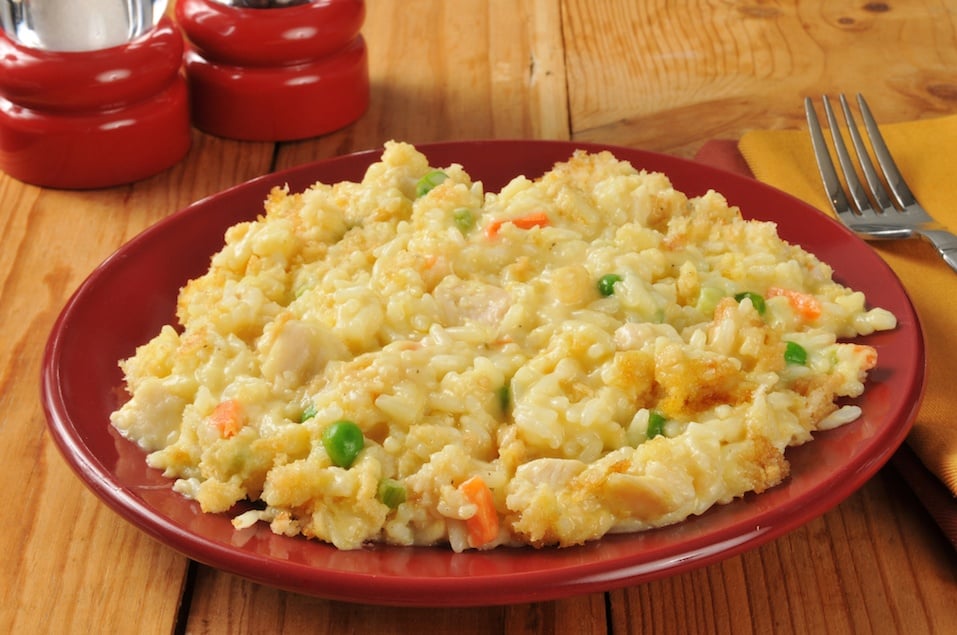 A few boneless pork chops, some rice, a couple of cans of soup, and a package of onion dip seasoning is almost all you need to make this comforting casserole meal from Recipes That Crock. When checking items of your shopping list, make sure you get regular long-grain rice, not minute rice. Also, you'll want to use a crockpot that cooks evenly and at the right temperature to avoid undercooked or too-mushy rice.
Ingredients:
2 to 3 pounds boneless pork chops
Salt and pepper to taste
1 cup long-cooking rice
10¾-ounce can cream of chicken soup
10¾-ounce can cream of mushroom soup
1¼ cups water
1-ounce package onion dip mix
½ tablespoon seasoning salt
1 teaspoon Worcestershire sauce
Head to Recipes That Crock for the full recipe.
12. Slow-Cooker Tuna Noodle Casserole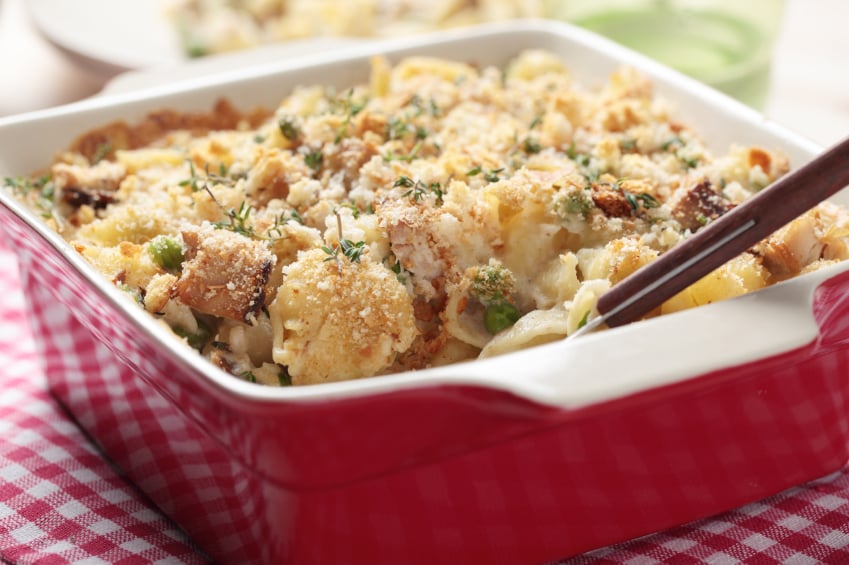 Tuna noodle casserole has long been a dinner lifesaver for busy moms and dads. The folks at The Kitchn have enhanced the old-fashioned recipe for modern tastes, adding ingredients, such as dried wild mushrooms, and skipping the canned condensed soup in favor of a quick homemade béchamel. It's a tiny bit more complicated to prepare than your mom's old recipe might have been, but a little extra effort is worth it for a dish that's the ultimate in comfort food.
If you're making this meal, make sure you choose a sturdy pasta, such as rigatoni, or wide, yolk-free egg noodles. Others types of pasta might fall apart or get too soft during cooking. You'll also want to watch the cooking time closely, and avoid stirring the ingredients once you put them in the slow cooker to keep the pasta from breaking apart.
Ingredients
½ ounce dried wild mushrooms
2 cups whole milk
2 tablespoon butter
4 tablespoons flour
2½ cups chicken or vegetable stock
4 (5-ounce) cans water-packed tuna, drained
12 to 16 ounces pasta, such as yolk-free egg noodles or rigatoni
2 cups frozen peas
8 ounces (about 2 cups) shredded part-skim mozzarella, divided
2 teaspoons Italian seasoning
1 to 2 tablespoons Worcestershire sauce
2½ teaspoons kosher salt
Salt and pepper to taste
Head to The Kitchn for the full recipe.
13. Slow-Cooker Buffalo Chicken Rice Casserole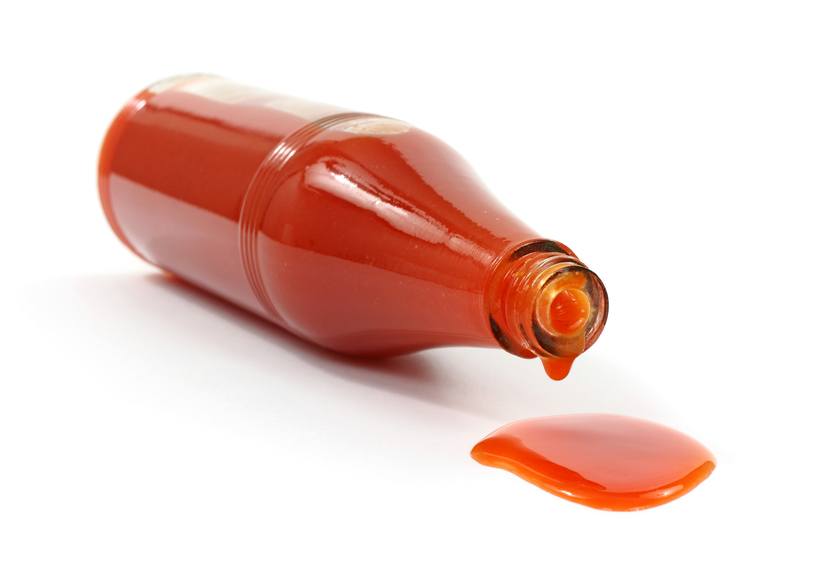 You can enjoy all the flavor of Buffalo chicken wings with less mess when you make this kid-friendly meal from 365 Days of Slow Cooking. Affordable boneless chicken thighs provide the protein, and the extra fat in the meat means it won't dry out when cooking. A half cup of Frank's Red Hot sauce adds just enough kick to satisfy adult palates without making the dish too spicy for little ones.
Ingredients:
2 cups brown rice
1 (10-ounce) can evaporated milk
1 cup water
1 (10½-ounce) can cream of chicken soup
½ cup Frank's Red Hot sauce
3 ribs of celery, sliced quarter inch thick
2 pounds frozen boneless, skinless chicken thighs (or use bone-in thighs with skin removed)
Salt and pepper
½ cup bleu cheese crumbles
Green onions, optional
Head to 365 Days of Slow Cooking for the full recipe.
14. Slow-Cooker Quinoa Breakfast Casserole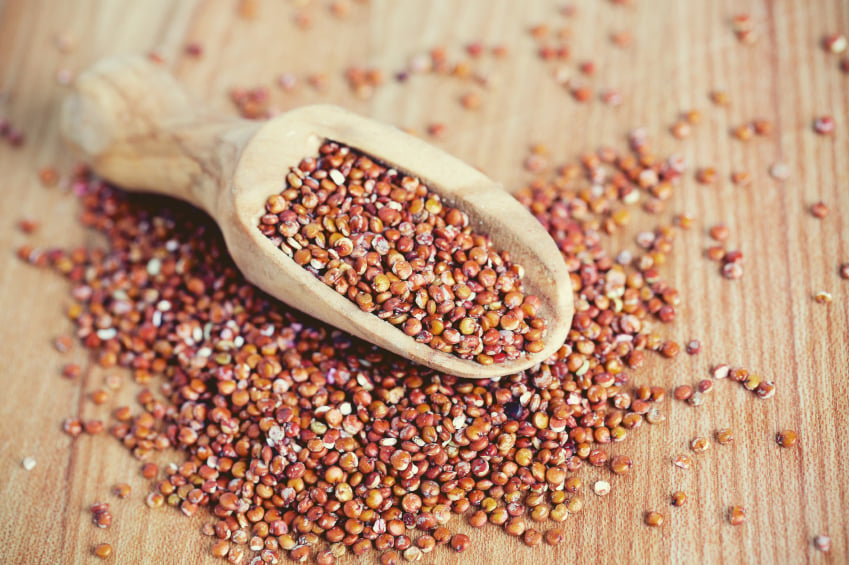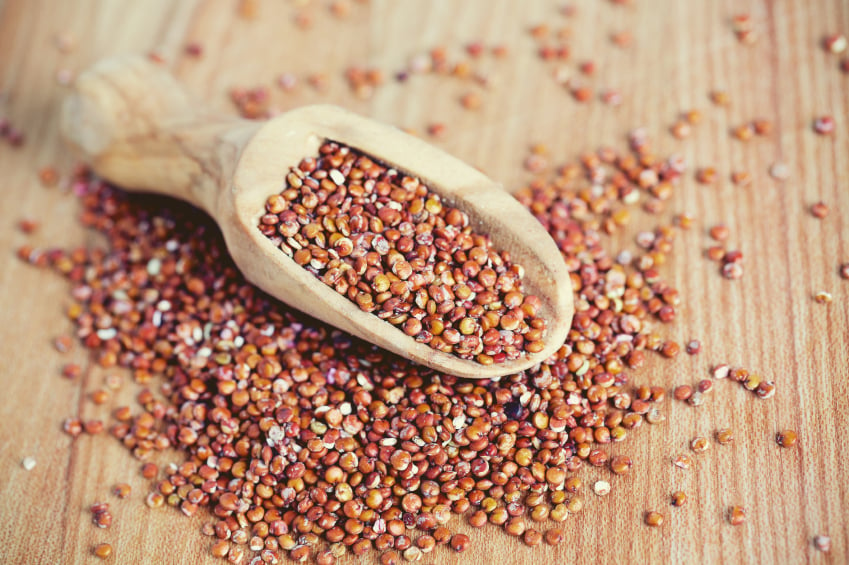 Slow-cooker casseroles aren't just for dinner, as this recipe from Slow Cooker Gourmet proves. Eggs, spinach, and cheese are combined in your crockpot, along with healthy quinoa, which sinks to the bottom as the eggs cook to from a crust. The result is a filling meal that will give you the energy you need to start your day.
Ingredients:
½ cup quinoa, rinsed well and uncooked
1½ cups milk
6 large eggs
½ teaspoon salt
⅛ teaspoon pepper
½ cup frozen cut leaf spinach (or use a handful of fresh spinach)
¾ cup grape tomatoes, halved
¼ cup shredded cheese (such as Colby Jack, Monterey Jack, or cheddar)
¼ cup shredded Parmesan cheese
Head to Slow Cooker Gourmet for the full recipe.
15. Crockpot Cinnamon Roll Casserole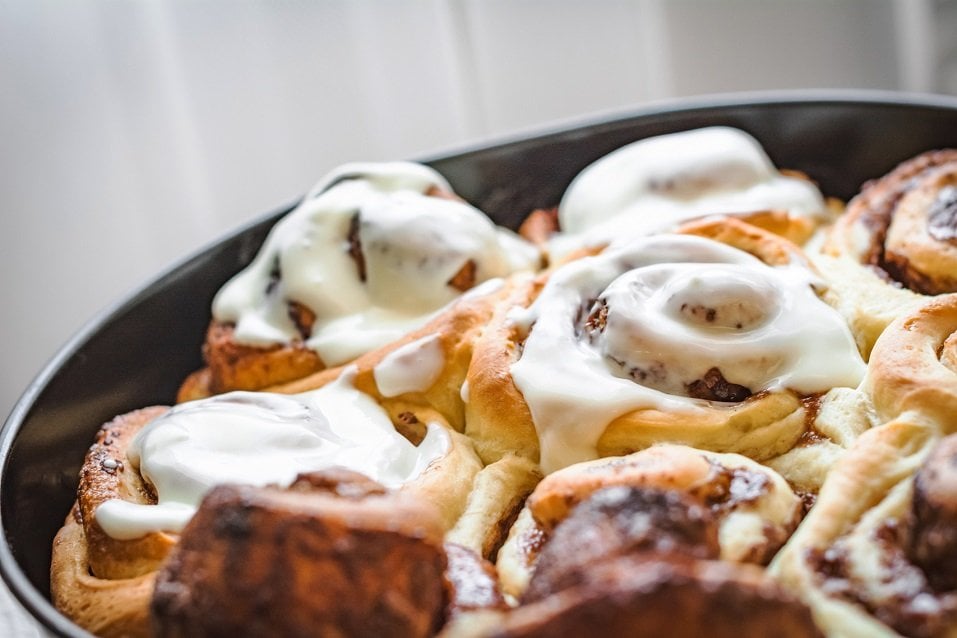 If you're hosting a sleepover, holiday brunch, or another morning gathering at your house, save yourself some stress, and whip up this sweet casserole from Spicy Southern Kitchen. Refrigerated cinnamon roll dough is combined with eggs and flavorings, such as maple syrup, vanilla, and cinnamon, for a delicious take on bread pudding. Your guests will definitely be coming back for seconds.
Ingredients:
2 (12-ounce) rolls cinnamon roll dough, each one cut in quarters
3 eggs
½ cup half-and-half or whipping cream
3 tablespoons maple syrup
2 teaspoons vanilla extract
1 teaspoon cinnamon
½ teaspoon nutmeg
⅓ cup chopped pecans, optional
Head to Spicy Southern Kitchen for the full recipe.
Kirsten Yovino also contributed to this article.