Easy Snacks You Can Make With Canned Tuna Fish
Canned tuna might be a cheap and filling source of protein, but few people would call it an exciting snack. But you don't have to settle for blah if you're eating tuna between meals. Creative mix-ins and twists on serving styles (no more boring sandwiches) can turn the humble can of tuna into a snack you actually want to eat. Plus, you'll be getting valuable nutrients like niacin, selenium, and vitamin B12, as well as essential fatty acids as you chow down on this nutritionist-approved snack.
"I always try to keep either canned tuna or canned salmon on hand. It's great for getting omega-3s," registered dietician Manuel Villacorta told Men's Fitness, adding that he eats it on rice crackers with a little lime juice when he needs a quick snack.
Adding a little citrus is one way to jazz up tuna, but it's far from your only option. From stuffing it in hard-boiled eggs to turning it into a spread for crackers, tuna is truly a versatile food. Try one of these five easy-to-prepare tuna snack recipes and see for yourself.
1. Tuna-Stuffed Avocado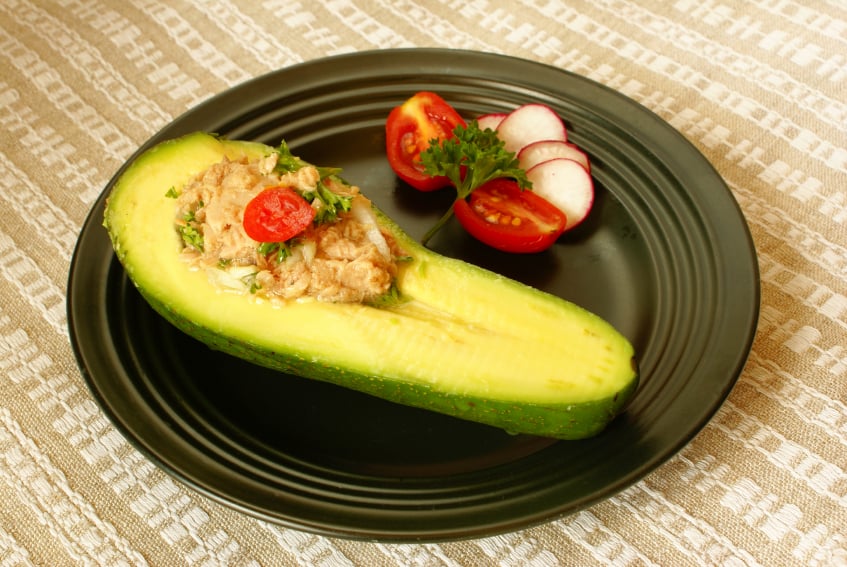 Light on carbs and full of healthy fats, this tuna-stuffed avocado snack will fill you up without weighing you down. Plus, it's so simple to prepare you can even whip this mini-meal up in the break room at work. The result is a snack that will give you the energy to power through the rest of the day. Recipe from Martha Stewart.
Ingredients:
1 ripe avocado
Zest and juice of 1 lemon
1 teaspoon extra-virgin olive oil
1 (6-ounce) can solid albacore tuna, in spring water
1 tablespoon sunflower seeds
Salt and freshly ground black pepper
Fresh basil leaves, for garnish (optional)
Directions: Halve avocado lengthwise and remove the pit. Scoop out 2 tablespoons avocado flesh from each half, and leave the shells with the remaining flesh intact.
Mash the 4 tablespoons avocado with lemon juice and olive oil until smooth. Toss with tuna, sunflower seeds, half the lemon zest, and salt and pepper to taste. Fill halves with tuna mixture, and garnish with remaining lemon zest and basil, if desired. Serve immediately with a spoon.
2. Tuscan-Style Tuna Salad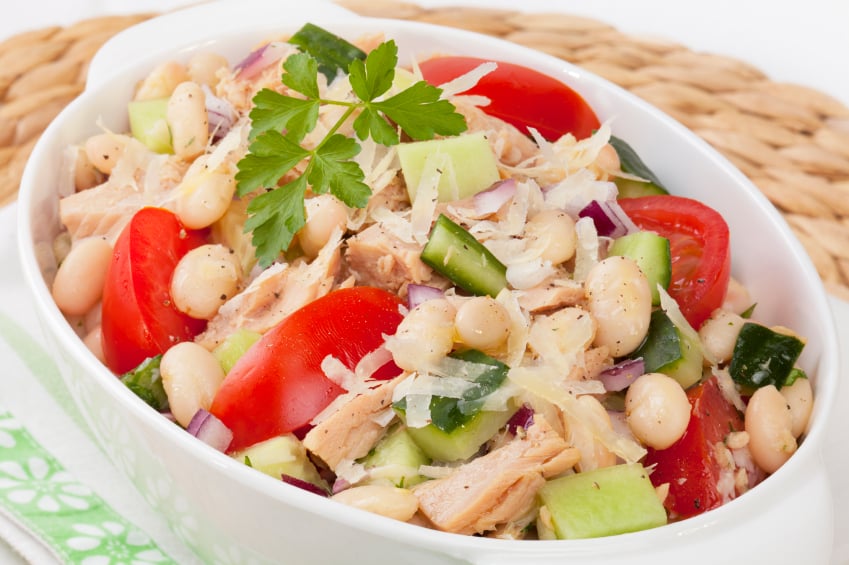 Tuna mixed with cannellini beans is a classic Italian dish. With lots of protein and some fresh veggies in the form of cherry tomatoes, this simplified version of the old standby is ready in 10 minutes and tastes delicious. The leftovers will keep in the refrigerator for two days. Recipe from Eating Well.
Ingredients:
2 (6-ounce) cans chunk light tuna, drained
1 (15-ounce) can small white beans, such as cannellini or great northern, rinsed
10 cherry tomatoes, quartered
4 scallions, trimmed and sliced
2 tablespoons extra-virgin olive oil
2 tablespoons lemon juice
¼ teaspoon salt
Freshly ground pepper, to tast
Directions: Combine tuna, beans, tomatoes, scallions, oil, lemon juice, salt, and pepper in a medium bowl. Stir gently. Refrigerate until ready to serve.
3. Tuna-Stuffed Eggs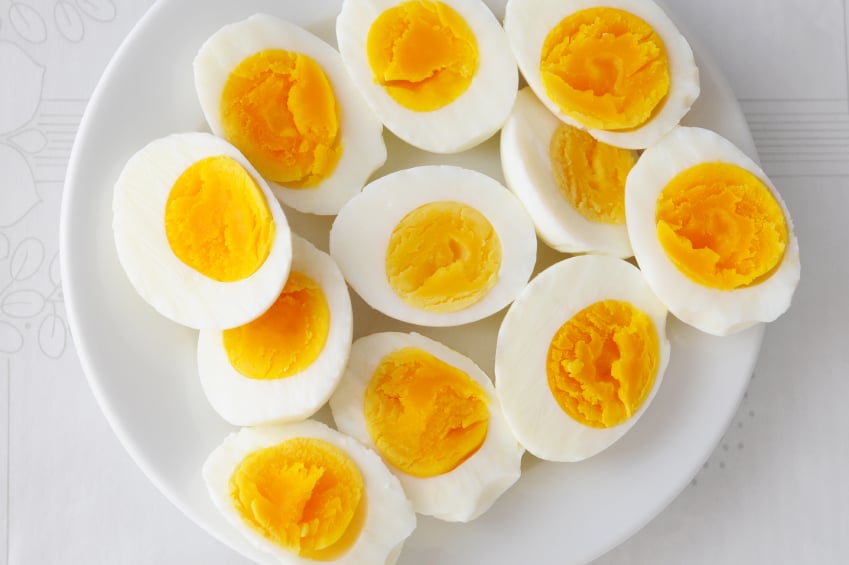 Are you craving even more protein than you can get from a can of tuna? This recipe for tuna-stuffed eggs delivers a double-dose of the muscle-building nutrient, making it the perfect post-workout snack. Recipe from Everyday Paleo.
Ingredients:
6 hard-boiled eggs
2 tablespoons mayonnaise, preferably homemade
1 green onion, diced
2 teaspoons lemon juice
2 teaspoons Dijon or yellow mustard
1 (5-ounce) can of tuna
Chopped pickles (optional)
Directions: Peel the hard-boiled eggs. Slice in half lengthwise. Remove yolks and transfer to a small bowl. Add the mayonnaise, onion, lemon juice, and mustard to the bowl and mix well to combine. Stir in the tuna and pickles (if using). Spoon into the egg halves and serve.
4. Tuna Dip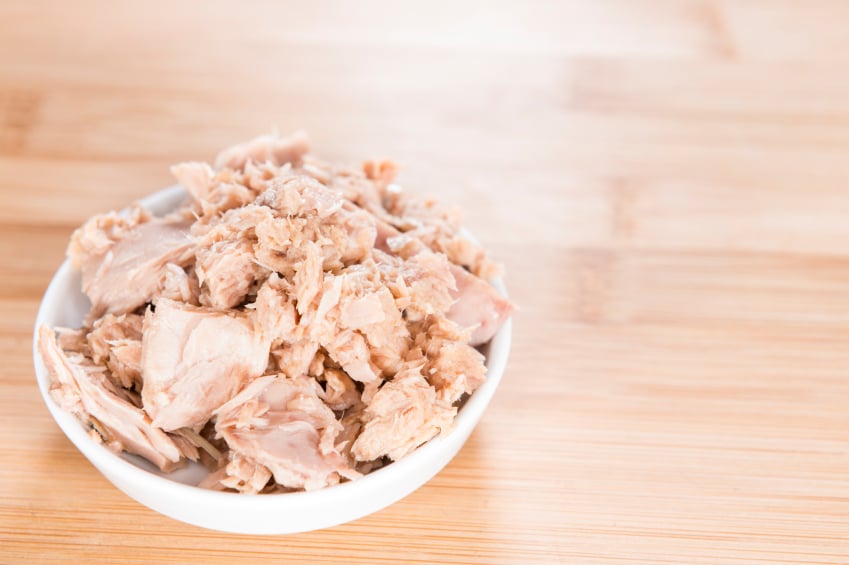 This creamy dip, made with a combination of Boursin cheese and oil-packed tuna, is the perfect simple snack for parties. Just combine all the ingredients in a food processor, then spoon into a bowl and serve with crackers or fresh-cut veggies. Recipe from Relish.
Ingredients:
1 (5.2-ounce) tub Boursin cheese with garlic and herbs
1 (5-ounce) can tuna packed in oil, drained and flaked
3 green onions, chopped
2 tablespoons chopped fresh flat-leaf parsley
2 teaspoons fresh lemon juice
Directions: Combine Boursin, tuna, onions, parsley, and lemon juice in a food processor. Pulse to combine. Chill.
5. Tuna Spread with Capers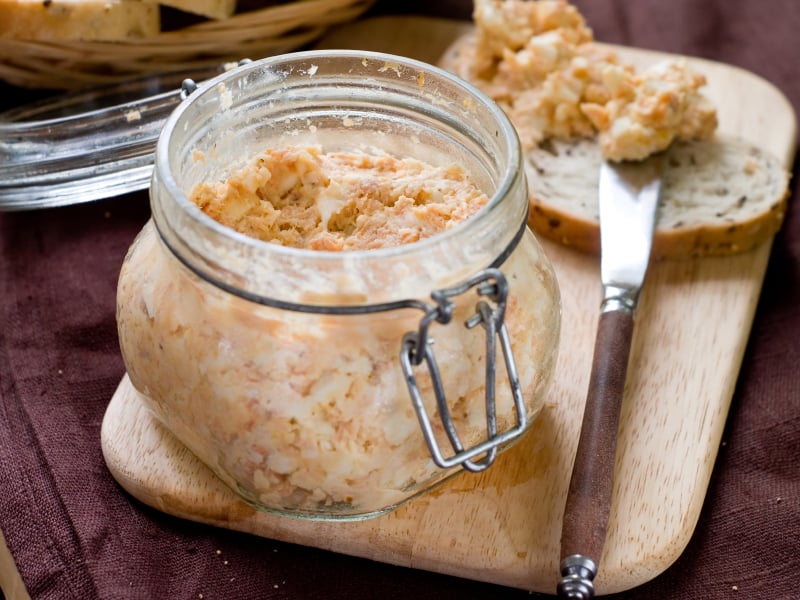 Rather than making yet another batch of uninspiring tuna salad, switch things up by trying this recipe for tuna spread with capers from Serious Eats. The simple pâté-like snack can be served on crackers or toast and is perfect for a quick mid-afternoon bite.
Ingredients:
1 can tuna, drained
1 small garlic clove, coarsely chopped
2 tablespoons olive oil
3 anchovies
1 teaspoon mustard
2 tablespoons mayonnaise
Salt and pepper
Zest and juice of 1 lemon
1 tablespoon capers, plus extra for garnish
A few pinches chopped parsley, thyme leaves, or snipped chives
Directions: Drop the first 6 ingredients in a food processor and pulse until well blended. Add a few pinches of salt, lemon zest, and a teaspoon of lemon juice, and pulse to combine. Scrape the spread into a bowl, stir in the capers, and season it to taste with pepper. Spread the tuna over toast or crackers and garnish with the additional capers and a pinch of fresh green herbs.
Follow Megan on Twitter @MeganE_CS
More from Culture Cheat Sheet: