All the Amazing Snacks You Need to Buy the Next Time You Go to Costco
Making a grocery run to Costco? You'll likely find plenty of great buys as you walk up and down those aisles. (To be fair, you'll also encounter a few buys that are a waste of your money.) But one of our favorite spontaneous purchases in Costco's grocery section? All the snacks! Whether you're looking for healthy snacks or simply want something that tastes amazing, Costco's got you covered.
Read on to check out all the delicious snacks you have to stock up on the next time you head to Costco.
1. Kirkland Signature organic roasted seaweed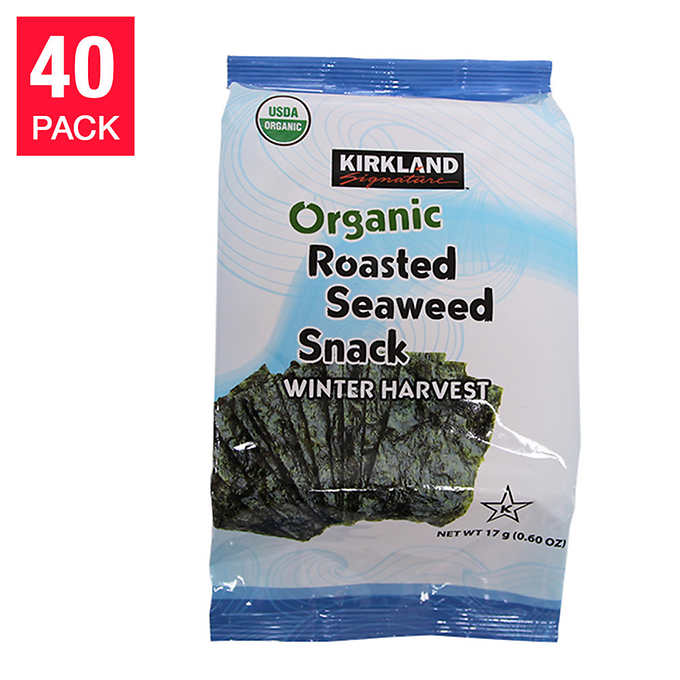 Searching for some healthy snacks? Self learned that roasted seaweed snacks are the perfect food to reach for when you want something crunchy and salty — but don't want to ingest a ton of calories. One of our favorites is Costco's Kirkland Signature organic roasted seaweed. Interestingly enough, the seaweed that goes into this delicious snack is only harvested in the winter in South Korea, since that's when the seaweed grows more slowly and has more time to absorb nutrients.
2. Organic Aussie bites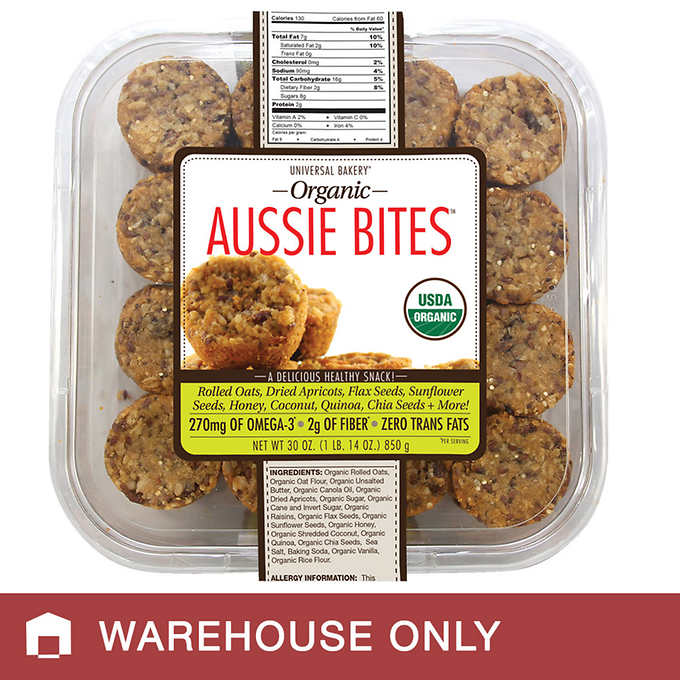 The Kitchn reports that Costco also carries plenty of healthy snacks that you can only find at the warehouse store. One of the best ones? Organic Aussie bites, small muffin bites that are packed full of nutritious nuts, grains, seeds, and dried fruits. The Kitchn characterizes the flavor as deliciously trail-mix-like. Plus, this snack is a great source of omega-3s, something you won't find in typical vending machine fare. 
3. Made in Nature figgy pops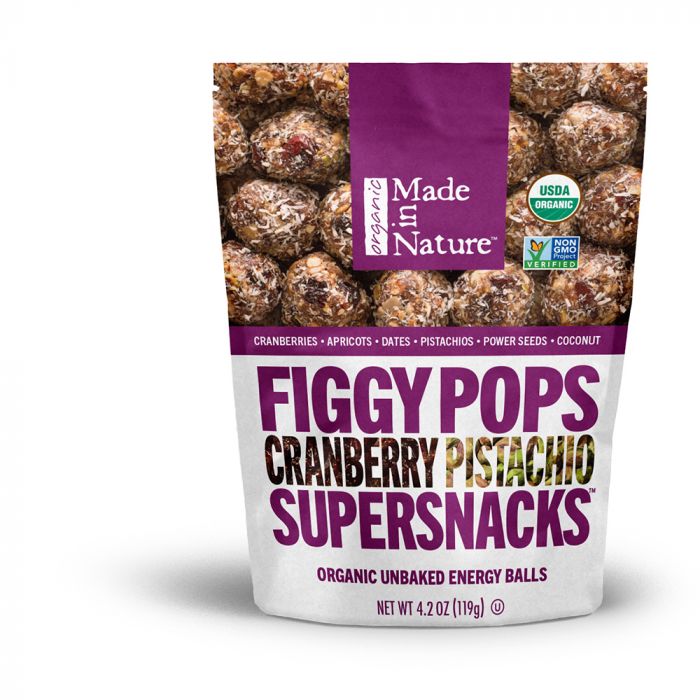 Brit + Co reports that you can find awesome snacks at Costco, even if you're trying to stick with a vegan diet. One of the publication's favorites? Made in Nature's figgy pops, which come in a variety of flavors packed with organic fruits, nuts, seeds, and spices. Brit + Co promises that the two-pack of these snacks you'll find at Costco "will keep you going for months."
4. Wholly Guacamole minis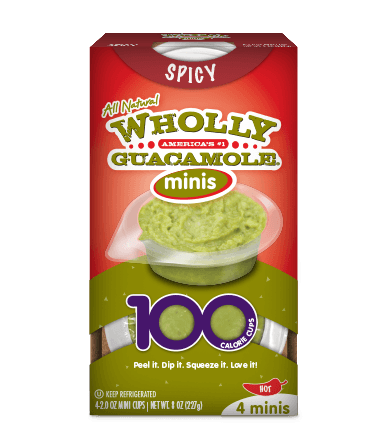 Guacamole typically isn't a very travel-friendly snack. (That's unfortunate whether you're planning a road trip or just schlepping your stuff to and from the office each day.) However, Self discovered that Wholly Guacamole minis, which you can find at a Costco near you, are the perfect way to take your guac to go. The two-ounce container keeps your guacamole fresh, ideal for spreading on your sandwich or eating with your favorite veggies or whole-grain chips.
5. Kirkland Signature organic hummus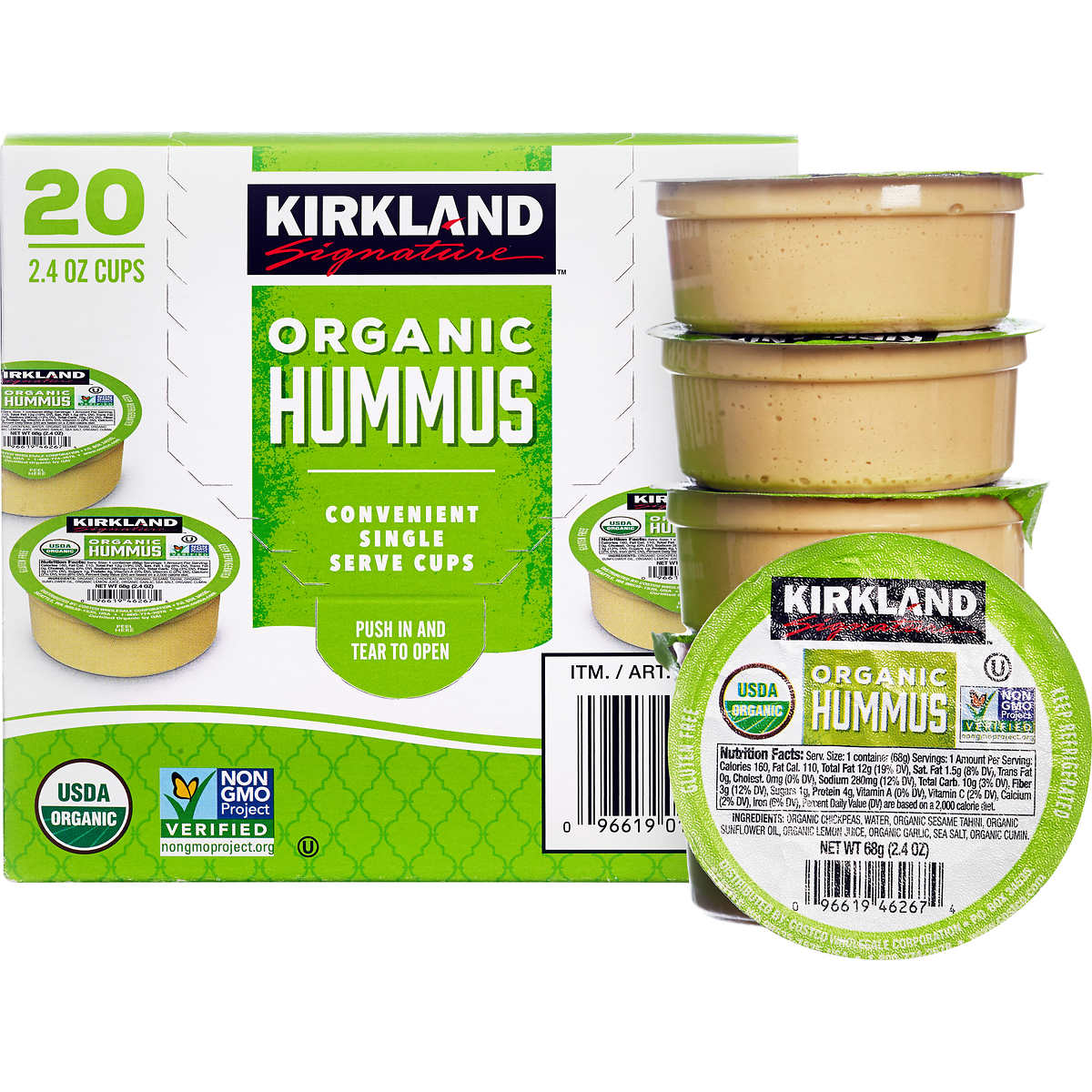 Prefer hummus to guacamole? Then you're in luck. The Kitchn names Costco's Kirkland Signature organic hummus as one of the best healthy snacks you can find at the warehouse store. The single-serving cups keep your hummus fresh but close at hand for pairing with vegetables, pita chips, a bagel, or whatever else you prefer to snack on at home or at the office. 
6. Pressed by KIND bars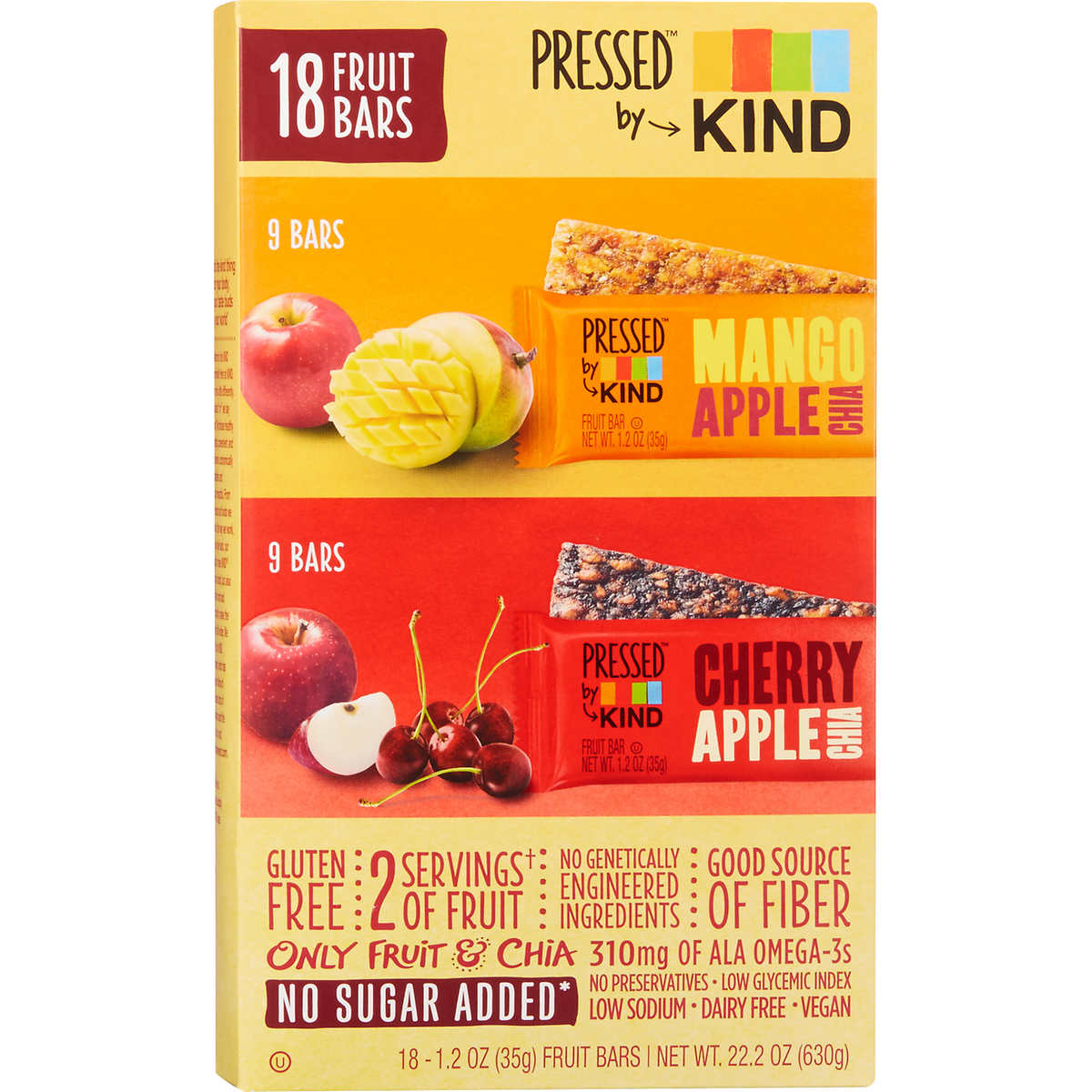 You've probably tried cereal bars, but have you given fruit bars a chance? Self learned from nutritionists that these Pressed by KIND bars make a healthy midday snack. Each bar gives you two servings of fruit and a healthy dose of fiber. KIND offers a ton of different flavors, including cherry apple chia, pineapple coconut chia, mango apple chia, and even pineapple banana kale spinach. The varieties stocked at your local Costco may vary. But plenty of stores carry a variety pack so that you don't have to choose a single flavor.  
7. Wonderful Halos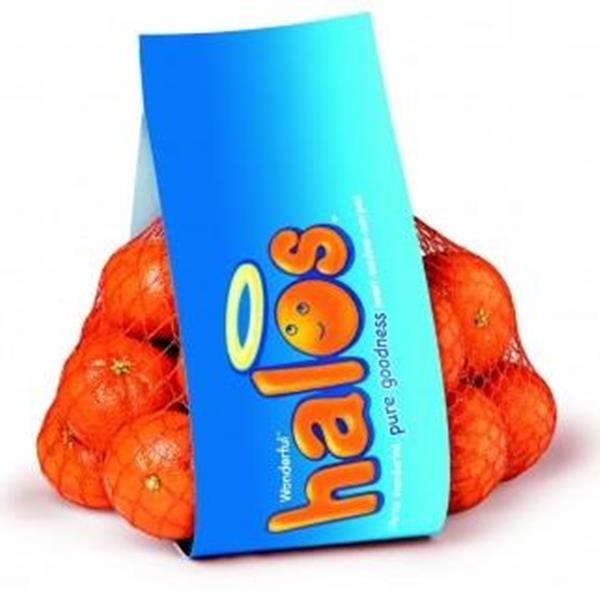 Another healthy snack Self recommends you pick up the next time you head to Costco? Wonderful Halos, the seedless mandarin oranges that you've probably noticed on the shelf at Costco (or your favorite grocery store) before. Think a mandarin orange isn't filling enough as a midday — or midnight — snack? Just hear us out. These oranges are easy to peel, and equally easy to enjoy at your desk or after a workout at the gym. A mandarin orange is the perfect snack to reach for when you're craving something sweet, and you can buy them in bulk at Costco to keep them on hand. Simply pair one with some nuts if you're looking for a little more protein.
8. Drink Chobani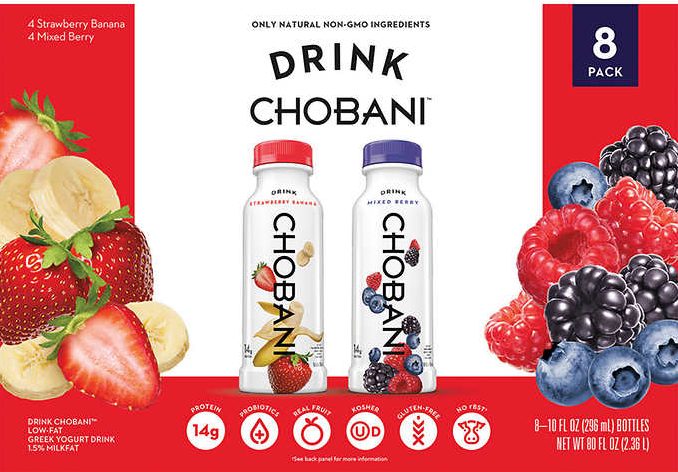 Nutritionists also recommend Drink Chobani to Self. These drinkable yogurts come in a variety of different flavors. (So what you find at your local Costco may vary!) But each flavor gives you at least 14 grams of protein and usually around 22 grams of sugar. As Self notes, that's a lot less sugar than what you'll find in many other kinds of drinkable yogurt. That makes these yogurts the perfect buy whether you need a commute-friendly breakfast or just want a mid-day pick me up. 
9. Crunchy seaweed rice bites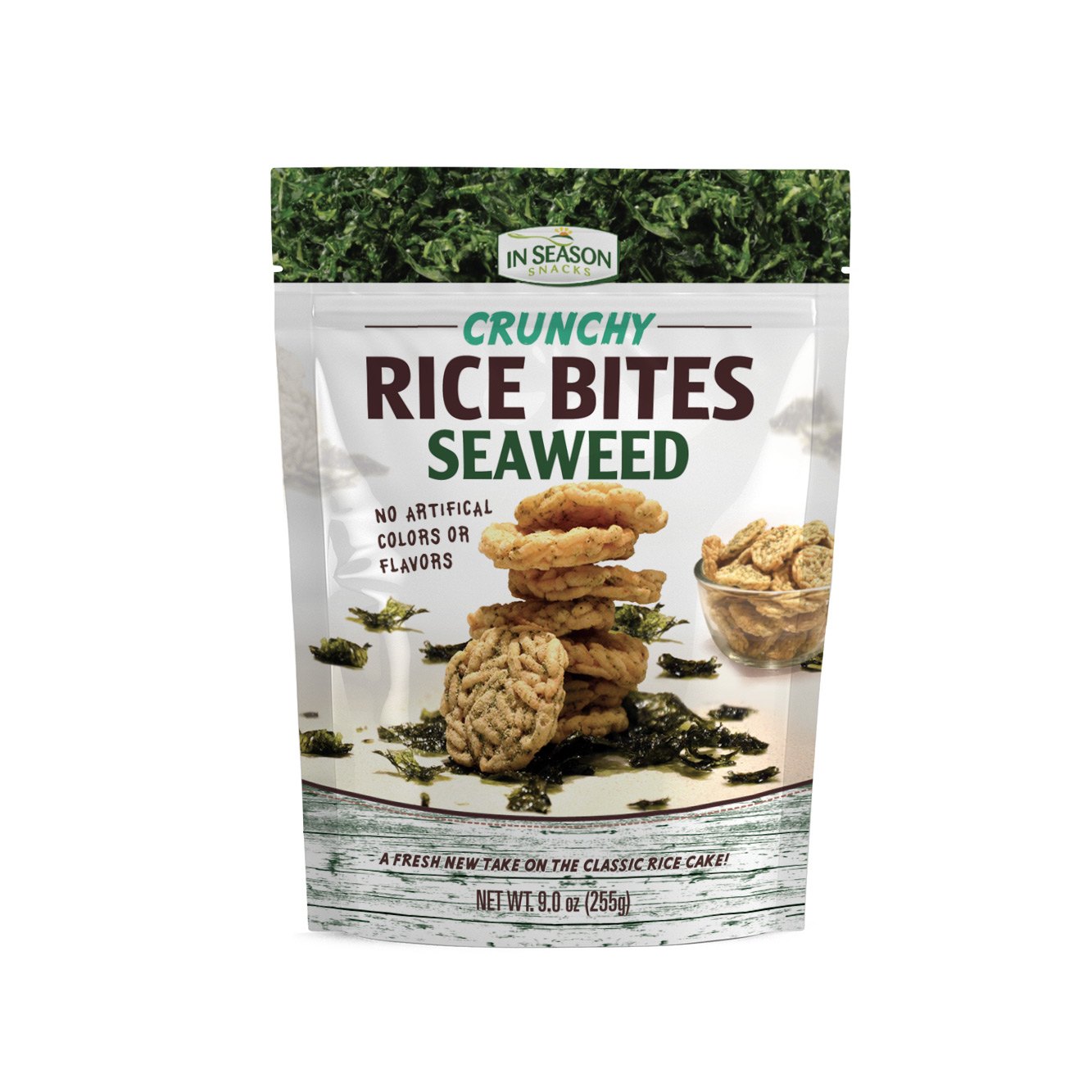 Want a snack that's savory rather than sweet? The Kitchn recommends these crunchy seaweed rice bites, which you can find at your local Costco. These rice bites contain real seaweed, and are vegetarian-friendly. The Kitchn reports that this snack has only 150 calories in a serving of 12 pieces, which makes them a great, low-calorie option for a mid-afternoon (or midnight) snack.
10. Bassé Eda Yummy crunchy mix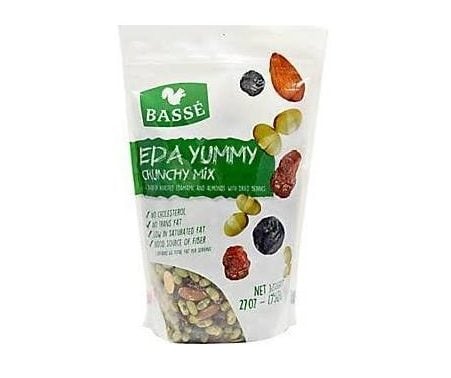 Another crunchy snack you won't want to pass up the next time you head to Costco? Bassé's Eda Yummy crunchy mix. The Kitchn recommends this healthy snack mix, which consists of roasted edamame and almonds tossed with dried berries. You'll get the perfect blend of sweet and savory flavors. Plus, this snack mix will give you a healthy dose of fiber, and you can snack without loading up on cholesterol or trans fats.
11. Kirkland Signature Marcona almonds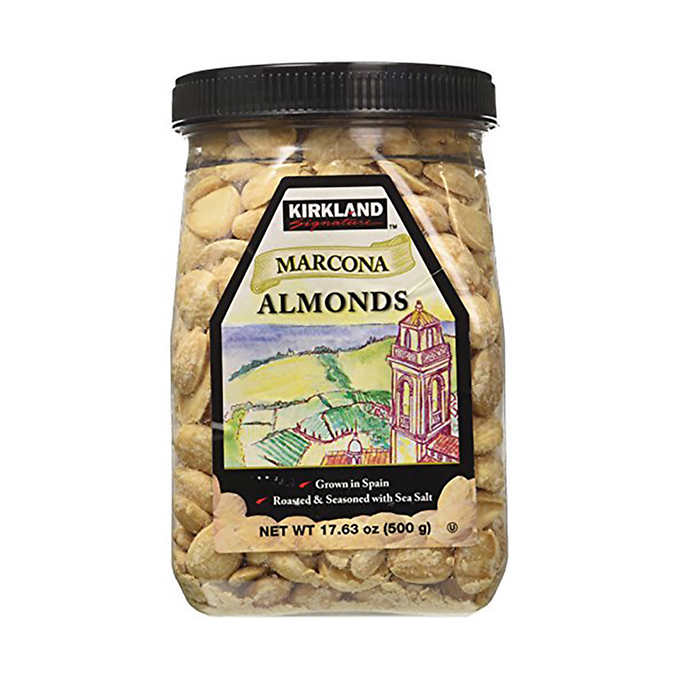 Marcona almonds have slowly gained popularity — but plenty of Costco shoppers don't know exactly what sets them apart from regular almonds. As The Kitchn explains, Marcona almonds "are more rounded and plump than the California varieties we're used to. They also seem to have a softer and somewhat 'wet' texture, similar to macadamia nuts." Self reports that Costco's Kirkland Signature Marcona almonds make a healthy snack. That's because they're roasted, not fried. They also give you a boost of protein, fiber, and healthy fats. In other words, they can easily keep you feeling full between meals.
12. Kirkland Signature nut bars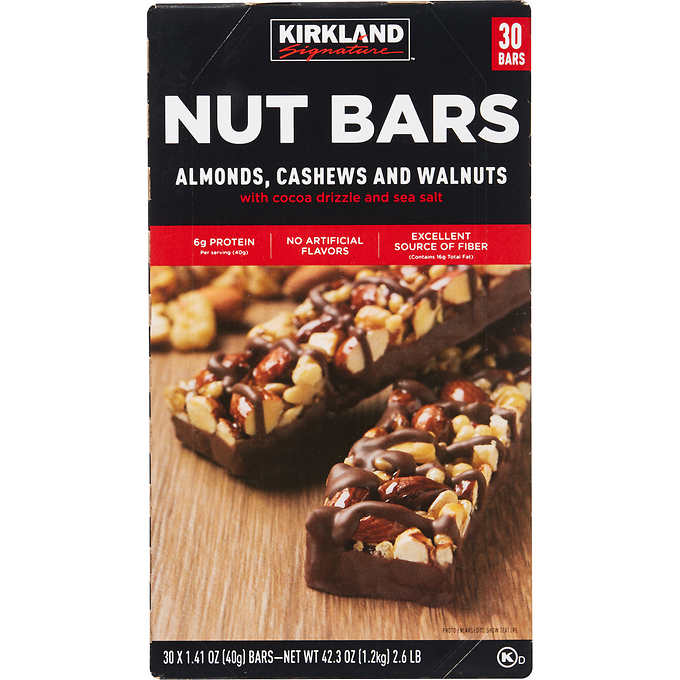 Another delicious way to add some nuts to your diet is to stock up on Costco's Kirkland Signature nut bars. The Kitchn notes that these bars are much cheaper than their competitors. They also make a great source of protein and fiber and are easy to throw in your bag when you're on the go. 
13. Crunch roasted seaweed sticks with almonds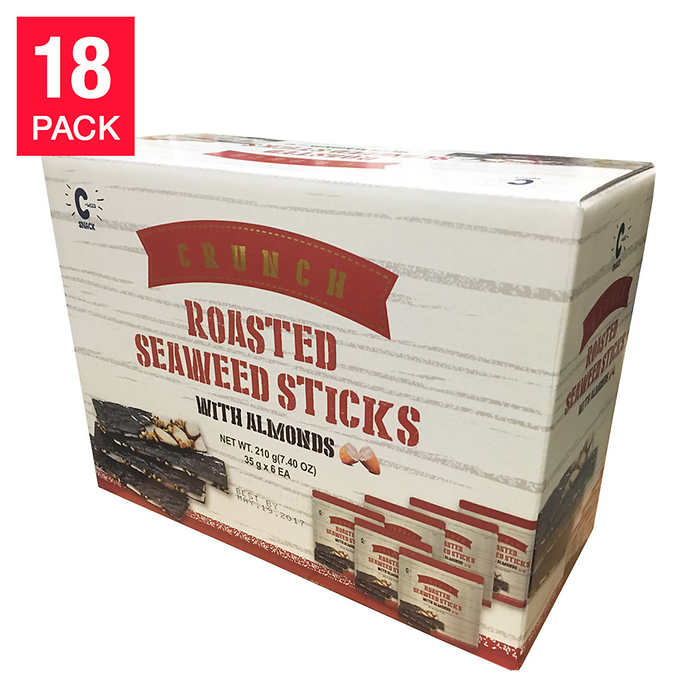 Clearly, seaweed snacks are a major trend — and Costco even has an option that's perfect for snackers on a vegan diet. Brit + Co recommends the Crunch roasted seaweed sticks with almonds. The publication notes that, unlike wafer-thin snacks made simply of seaweed, these seaweed sticks are pretty filling. They'll also give you a healthy dose of protein, which makes them a great go-to when you need something quick but nutritious. 
14. Bare Snacks apple chips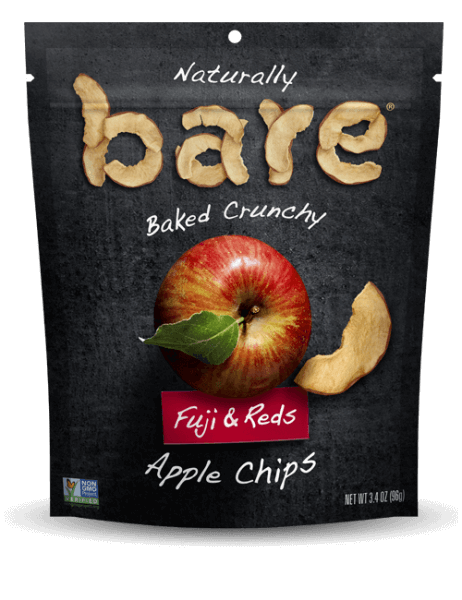 Fresh fruit makes a great snack. However, as Self notes, it sometimes feels impossible to carry an apple around with you without bruising it. The publication suggests stocking up on Bare Snacks apple chips the next time you head to Costco. These apple chips are baked, not fried (for maximum healthy-snack points!). They also taste sweet. However, they don't have any added sugar, oil, or preservatives.
15. Made in Nature organic dried fruit fusions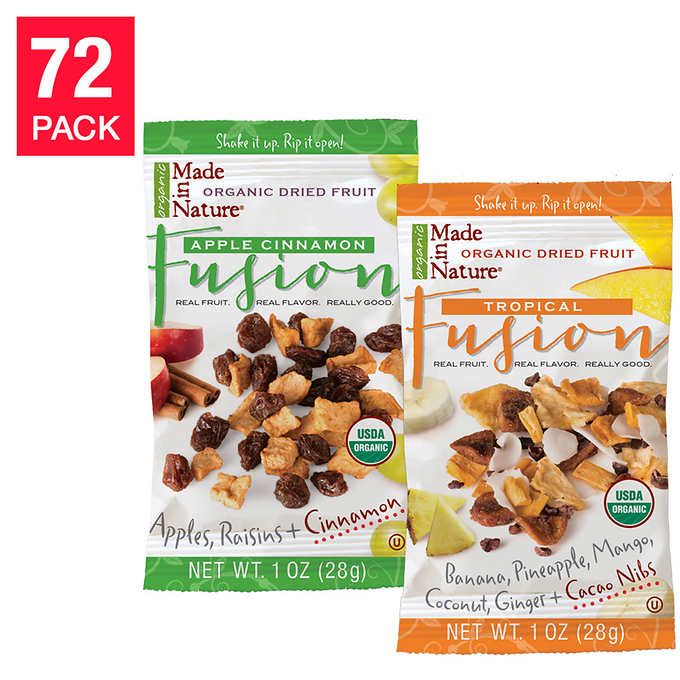 Want another delicious way to enjoy dried fruit? Then make sure to check your local Costco for Made in Nature's organic dried fruit fusions. Brit + Co recommends these snacks for vegans, but they're delicious no matter what diet you follow. As the publication notes, you can pick up a giant 72-pack at Costco, and you'll get to try out multiple flavors to keep things interesting.
16. Luna bars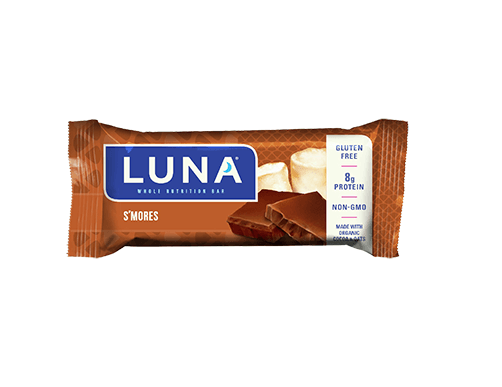 You're likely no stranger to Luna bars, considering you can find them at just about every grocery store. However, Self reports that you can stock up and buy them in bulk at Costco. Luna bars come in a practically endless array of flavors and varieties. A few fun ones? Lemon zest, white chocolate macadamia, chocolate chip cookie, and mint chocolate chip. The flavors your local Costco store stocks may vary. But you can also pick up a variety pack to test out different flavors and find a new favorite.
17. Larabars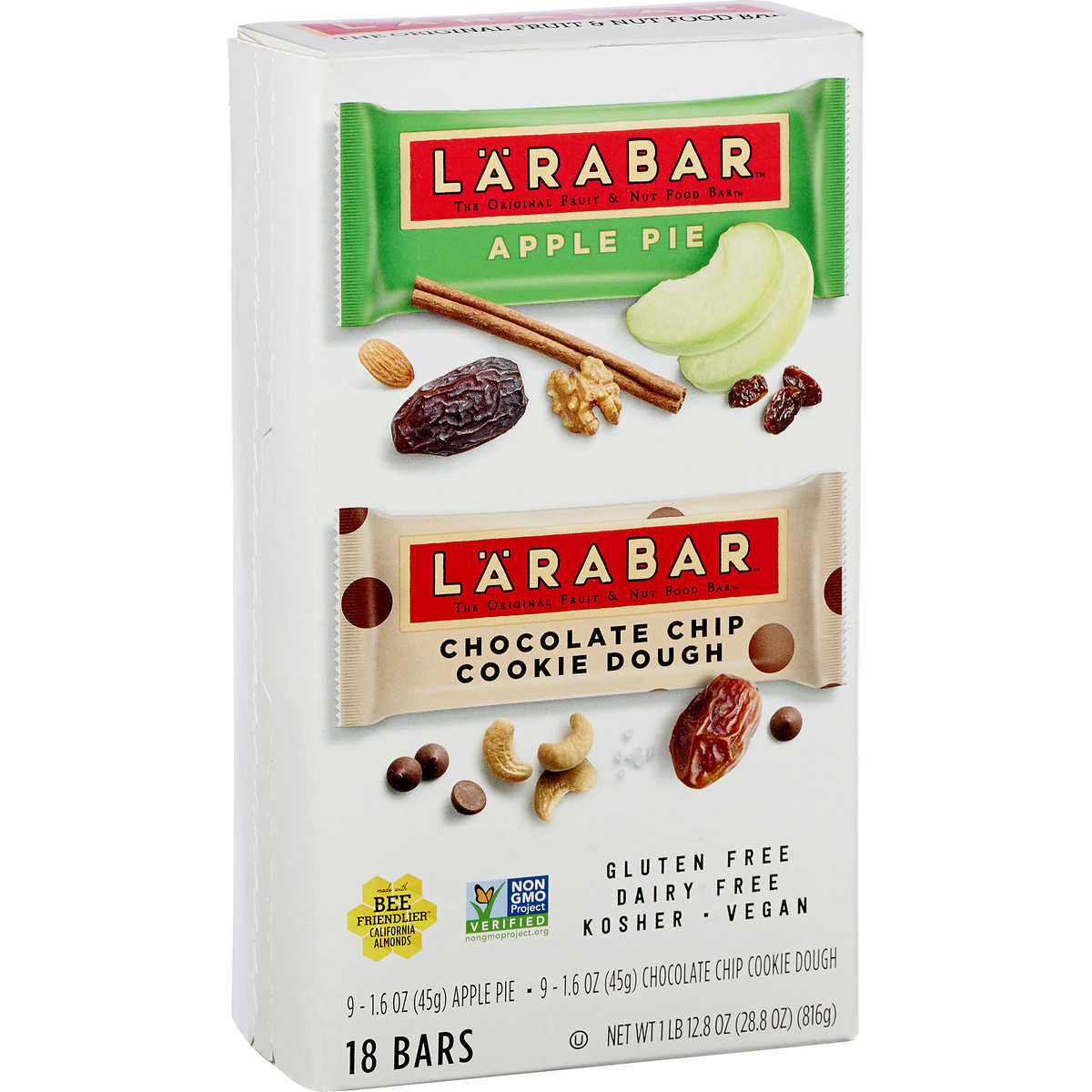 Another great bar option you can find at Costco? Larabars. They were recommended to Self because they're not only gluten-free and vegan, but they're made with a small number of ingredients. The ingredients list varies by flavor, but you can expect to find nutritious items like nuts, dates, fruit, coconut, and spices. If you want to try out several flavors to find your favorite, you can often find a variety pack at Costco.
18. Wonderful salt and pepper pistachios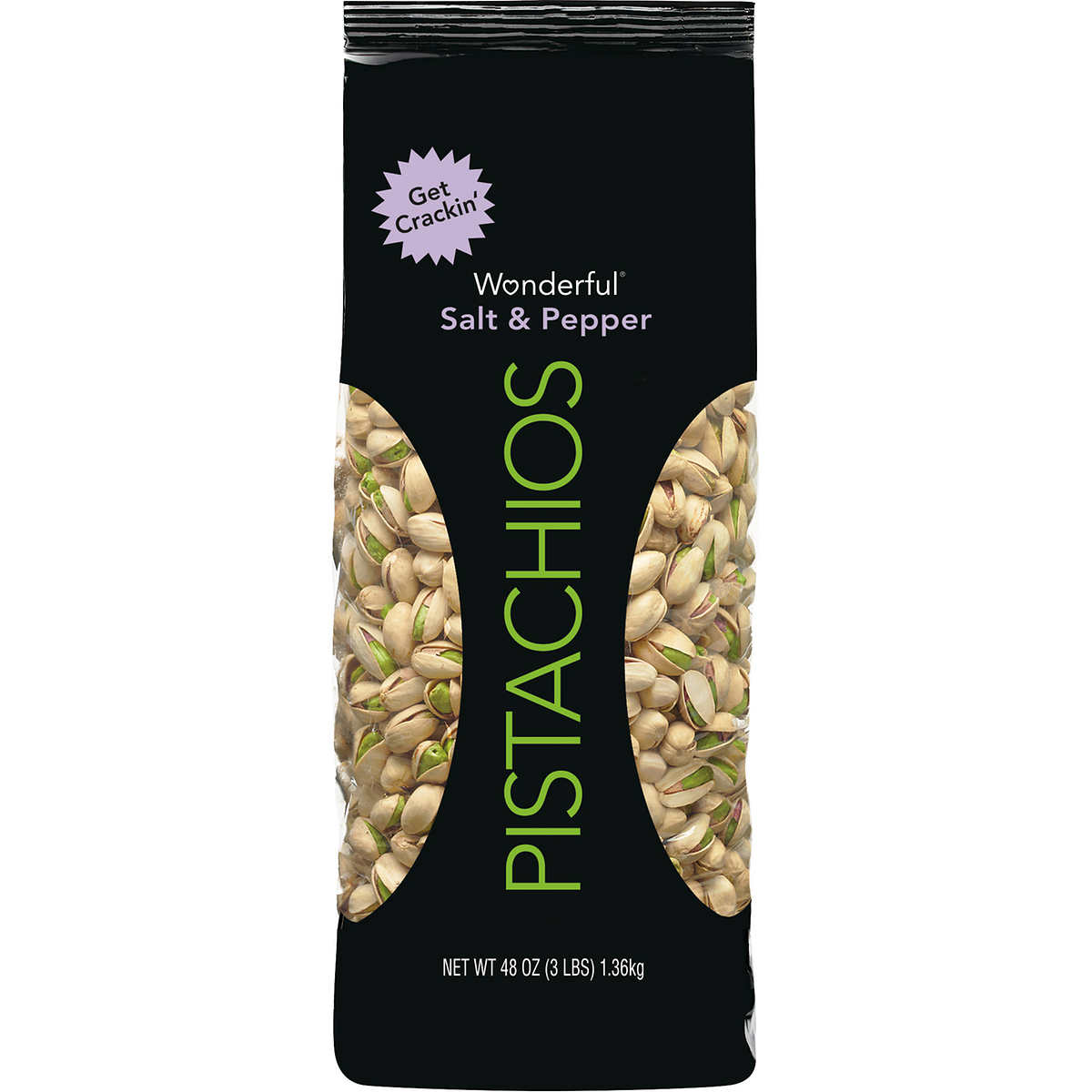 Another great recommendation from Self? Pick up a bag of Wonderful's salt and pepper pistachios on your next Costco run. You can buy a 48-ounce pack, which is perfect for keeping on your counter at home. Or you can divide the nuts into snack-sized containers that you throw in your work bag, gym bag, or handbag. Buying in-shell nuts might sound counterintuitive. However, having to remove the shells slows you down when you're snacking, which can help you feel full sooner.
19. Valencia peanut butter filled pretzel nuggets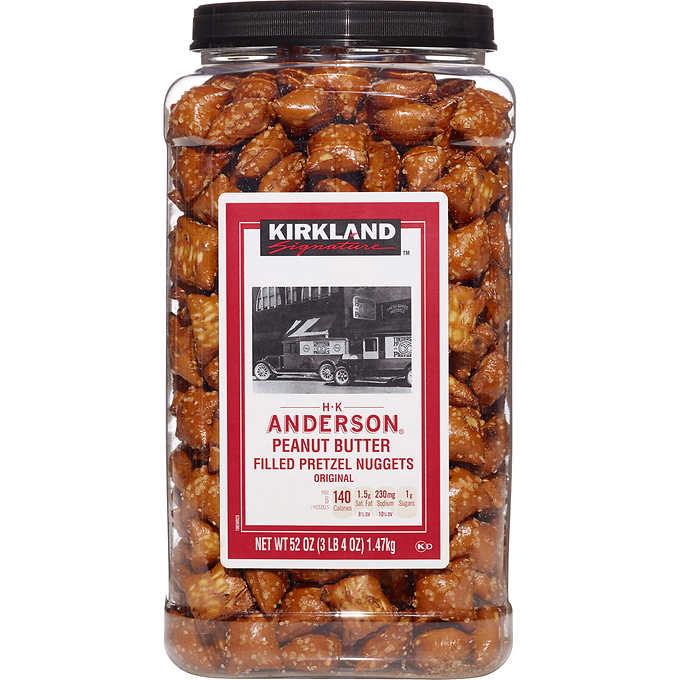 Are you a peanut butter fan? Then The Kitchn reports that you can't go wrong with these peanut butter filled pretzel nuggets. Costco typically stocks this snack food in a giant tub. While the delicious combination of peanut butter and pretzels makes these a pretty addictive snack, they actually make a pretty healthy snack food, too. As The Kitchn notes, "a serving of eight low-sugar, high-protein nuggets is also only 140 calories."
20. BoomChickaPop sea salt popcorn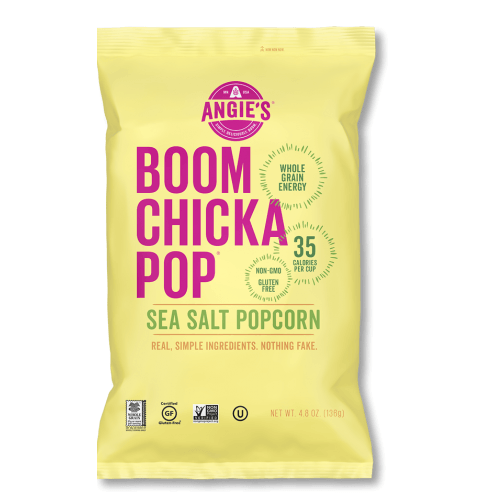 Self also recommends Angie's BoomChickaPop sea salt popcorn as one of the best popcorn options you can find at Costco. This popcorn has a healthfully short list of ingredients. (In fact, it includes just popcorn, sunflower oil, and sea salt.) It also makes a great high-fiber snack. And because it only has 35 calories in each cup, it's a snack that you can enjoy without a lot of guilt.
21. Kirkland Signature granola snack mix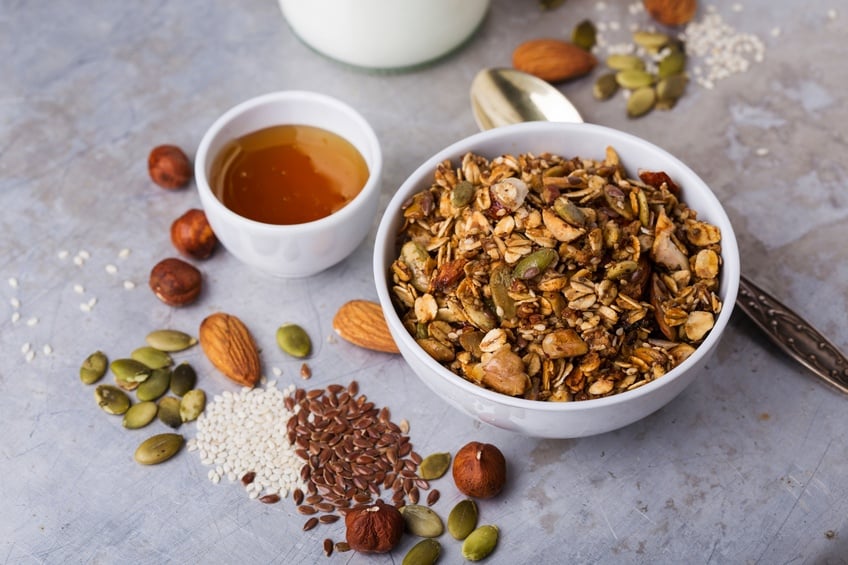 Costco's Kirkland Signature granola snack mix is another healthy snack that comes highly recommended by The Kitchn. The publication notes that you can find plenty of ways to enjoy this delicious snack food. "Add a spoonful of this fresh granola to yogurt, crumble it over baked fruit, or just eat handfuls of it when munchies strike. Not sure if you can eat it all while it's fresh? Freeze it! It'll keep."
Read More: The Worst People You'll Encounter Buying Groceries at Costco