Spicy Dinner Recipes Calling for Sriracha
Sriracha is currently one of the most popular condiments on the market, and for good reason. The spicy sauce adds a kick of flavor to everything it accompanies, and it can easily take a dish from drab to delicious. Sriracha is made from a paste of chili peppers, vinegar, garlic, sugar, and salt, and you can even make your own at home. If your dinners need a little something extra and you have a full bottle of Sriracha on your hands, check out these recipes that especially shine with the sauce. They're easy and fun, and the spice will keep your taste buds well-entertained.
1. Miso-Sriracha Glazed Salmon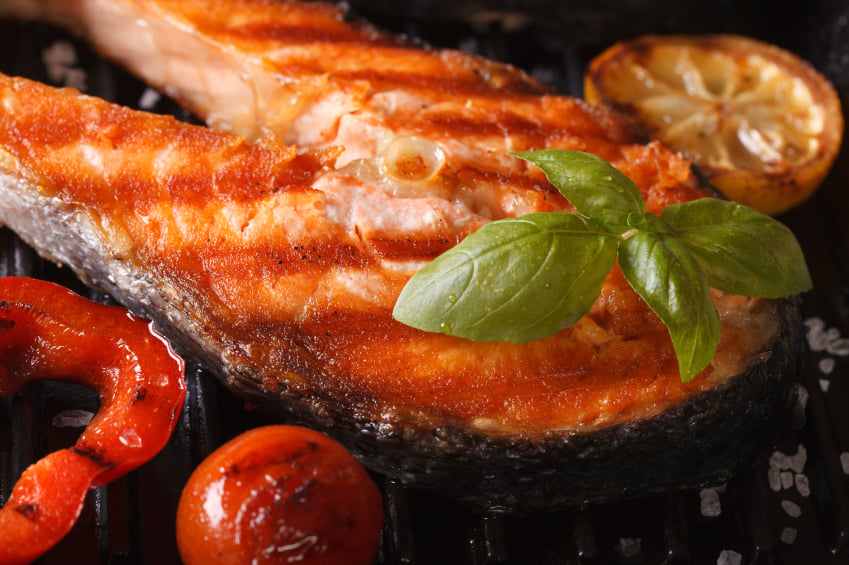 If you want to kick up your fish, serve your seafood with Sriracha. This miso-Sriracha glazed salmon featured on Epicurious is perfectly spiced and delicious, and better yet, it's simple. The glaze couldn't be easier to make, and then all you have to do is broil your salmon. With all the salmon recipes circulating around the web, it's hard to pick just one, but if you like a little chili spice with your seafood, this is the recipe for you.
Ingredients:
3 tablespoons toasted sesame oil
½ cup firmly packed light brown sugar
¼ cup soy sauce
¼ cup white miso paste
3 tablespoons Sriracha
1 clove garlic, minced
6 ounces salmon fillet
Head to Epicurious for the full recipe. 
2. Baked Honey Sriracha Chicken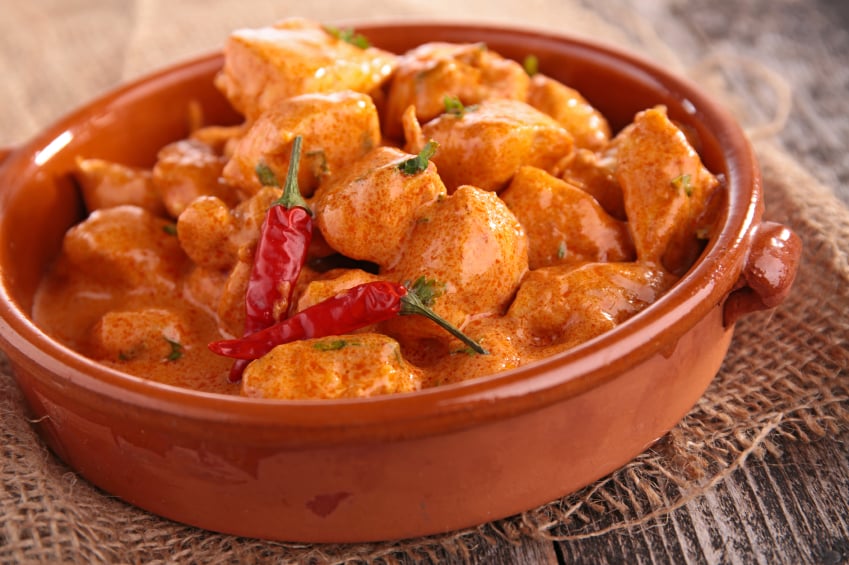 This next recipe from Kirbie's Cravings is destined to impress. This baked honey Sriracha chicken is a dish you're only used to getting at restaurants, but now with this food formula, you can make it at home and in only 35 minutes. Bread your chicken with panko breadcrumbs, and then whip up a spicy Sriracha sauce while it's cooking. The sauce stars honey, Sriracha, garlic powder, and soy sauce, and it'll coat your chicken in a delicious glaze that'll keep hungry eaters coming back for more and more.
Ingredients:
1 pound chicken breasts, cut into 1-inch cubes
2 cups panko breadcrumbs
2 extra large eggs, whisked
Sauce
½ cup honey
6 teaspoons Sriracha sauce
1 teaspoon garlic powder
2 tablespoons low-sodium soy sauce
1 teaspoon onion powder
½ cup water plus 1½ tablespoons cornstarch
Head to Kirbie's Cravings for the full recipe. 
3. Bacon and Sriracha Deviled Eggs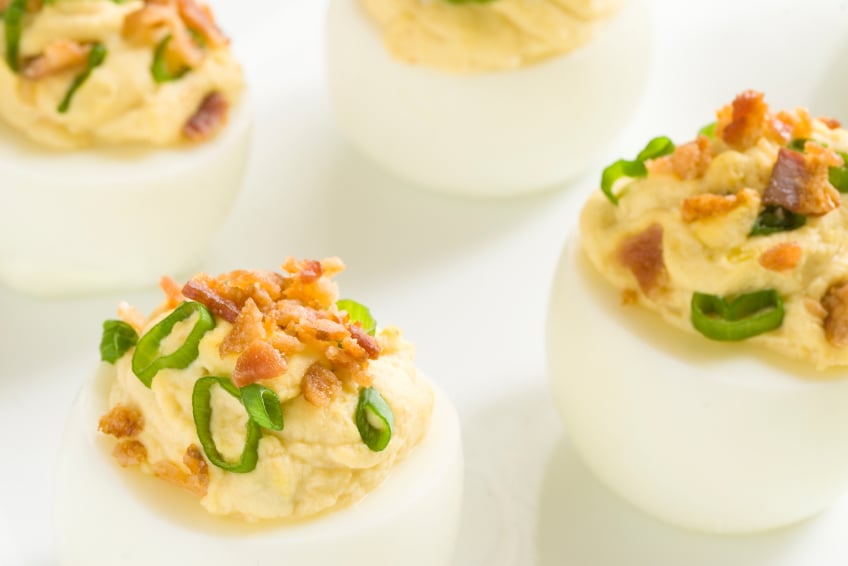 Next time you're eating appetizers for your dinner, serve these bacon and Sriracha deviled eggs from Wholefully. Everyone has tried deviled eggs, but not everyone has had the pleasure of eating the good stuff when it's topped with spicy sauce and salty bacon. The recipe for these pumped-up deviled eggs requires just a handful of ingredients, and it serves 6. Multiply the recipe if you're serving a crowed, and get ready to pipe a spicy egg salad into your egg white halves before topping with crumbled bacon.
Ingredients:
6 hard-boiled eggs, sliced in half and yolks removed and reserved
2 tablespoons mayonnaise
1 teaspoon mustard
1 teaspoon Sriracha chili sauce, plus more for garnish
¼ cup plain Greek yogurt
Salt and pepper, to taste
2 slices bacon, cooked and crumbled
Head to Wholefully for the full recipe. 
4. Sriracha Marinara and Meatballs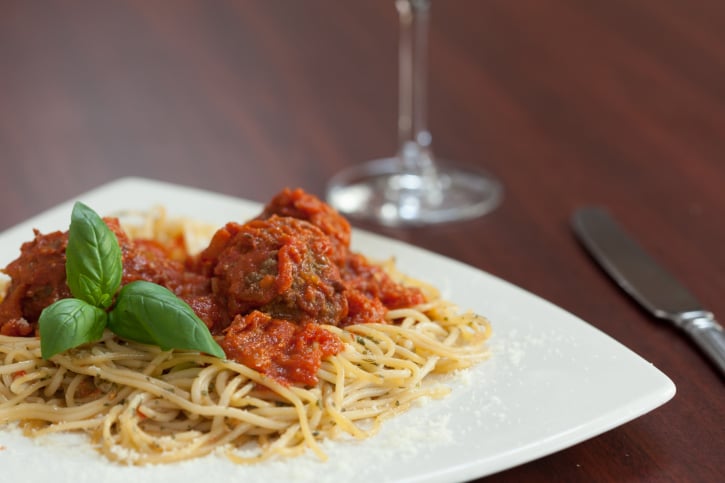 Traditional marinara sauce is a classic for a reason, but when you want a little something extra, Sriracha is the way to go. Add the chili flavor to your spaghetti sauce and enjoy the subtle kick to your favorite marinara and meatballs. Martha Stewart's recipe for the comforting dish will take you all of 40 minutes to make and it yields meatballs that are made from lean ground pork, lean ground turkey, and spinach. Thus, while this Sriracha spaghetti and meatball dish still falls into the comfort food category, it also is relatively healthy for you.
Ingredients:
Meatballs
1 pound ground pork
1 pound ground white-meat turkey
2 packages (10 ounces each) frozen spinach, thawed and squeezed dry
⅓ cup plain dried breadcrumbs
2 large egg whites
¾ teaspoon dried oregano
Coarse salt and ground pepper
Nonstick cooking spray
Sauce
2 teaspoons extra-virgin olive oil
1 small yellow onion, diced small
2 garlic cloves, roughly chopped
2 cans crushed tomatoes
¼ cup Sriracha sauce
1 pound spaghetti or other long pasta
½ cup fresh parsley leaves, roughly chopped, for serving
Head to Martha Stewart for the full recipe. 
5. Spicy Steak Salad With Sriracha Dressing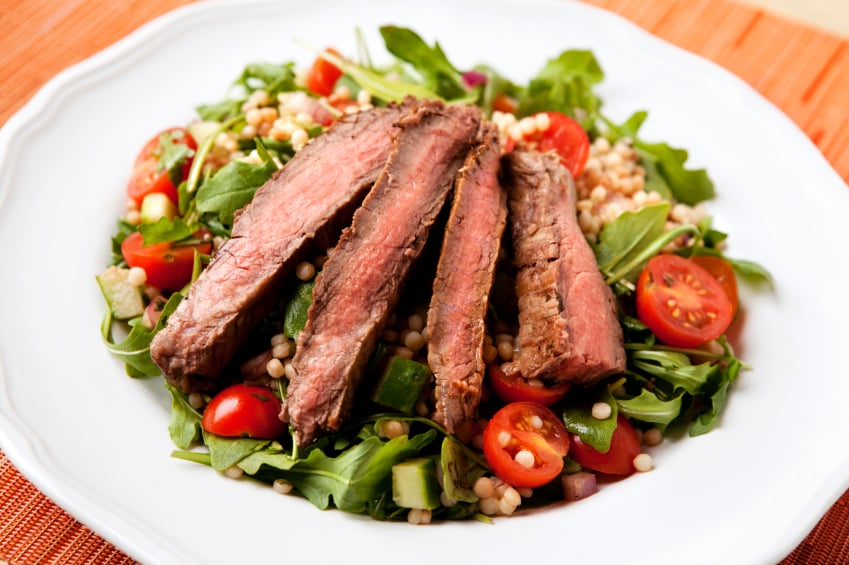 Onto the salad game, we come to this recipe from the Rachael Ray Show for a spicy steak salad with a Sriracha dressing. With this dish, you get your greens, your nuts, your steak, and your sauce with a kick. The iron-rich salad is full of nutrients and far from any usual sad dish of greens, and the handful of textures and flavors keeps your tastebuds guessing. Whip up your Sriracha sauce before grilling or griddling your meat, and then plate your salad before you get ready to enjoy a well-dressed plate of steak, veggies, and greens.
Ingredients:
1 flank steak, about 1¼ pounds
Kosher salt
Coarsely ground Szechuan peppercorns or black pepper
1 large clove garlic, grated or pasted
2 tablespoons rice wine vinegar
2 tablespoons Mirin or sherry
2 tablespoons soy sauce
3 tablespoons Sriracha sauce
½ cup olive or vegetable oil, plus some for drizzling
3 small heads butter or baby red leaf lettuce, leaves separated
½ pound snap peas, blanched in boiling water for 2 minutes then cold-shocked
4 radishes, thinly sliced
A handful cilantro leaves
½ cup dry-roasted peanuts or smoked almonds, chopped
Head to Rachael Ray Show for the full recipe.  
6. Spicy Sriracha Chicken Soup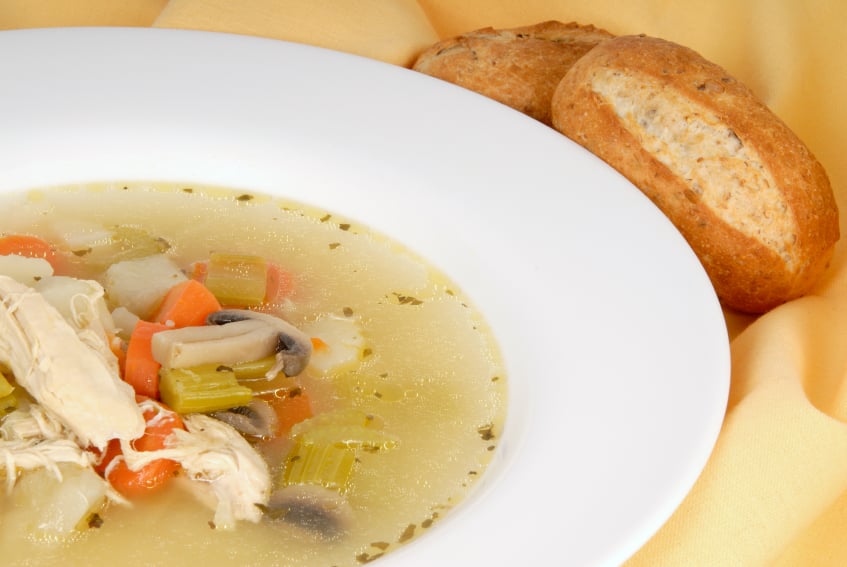 Ending things with a spicy soup, we're highlighting this recipe from Food.com. Chicken soup is good for the soul, and even more so when it's the spicy Sriracha variety. This recipe takes the traditional bowl up a notch, as it adds Sriracha sauce, garlic, and cumin to the mix. It'll clear your sinuses and keep you warm, and when it only takes you 30 minutes to make, there's no reason you should go for the canned or boxed soup kind instead. Hibernate with this spicy Sriracha chicken soup tonight.
Ingredients:
6 cups water
2 tablespoons tomato bouillon mix with chicken flavor (Knorr's is good here)
1-2 teaspoons Sriracha sauce
1 onion, chopped
2 tablespoons olive oil
8 ounces chicken breasts, diced
2 teaspoons garlic, minced
1 cup frozen potato, diced
1 cup frozen mixed vegetables
¼ teaspoon cumin
1 can diced tomatoes
¼ cup small shell pasta
Kosher salt and black pepper
Head to Food.com for the full recipe.