These Sports Stars Are Pushing for Medical Marijuana in the Big Leagues
Americans support increased access to marijuana now more than ever. And it's not just medical marijuana — which has been legal in some parts of the country for some time now — but all cannabis.
But the American people and American businesses aren't on the same page — at least not yet. While you can walk into a store and purchase cannabis legally in some states, you can still be fired for using it if you run afoul of your workplace rules. Even professional athletes in the NFL, NBA, NHL, and other leagues aren't exempt.
Like all other businesses and employer-employee relationships, pro sports leagues have rules regarding substance use. These rules are worked out between the players' unions and leagues (or teams), and they all forbid marijuana use. The problem, of course, is marijuana can be a potent and powerful medicine. Given the physically damaging nature of some sports, medical cannabis can be a valuable alternative to prescription painkillers and alcohol. But the leagues are still holding their ground against it.
That isn't stopping players from fighting for it. Here are some of the biggest names in sports fighting to make medical marijuana accessible to professional athletes.
1. Bill Walton
Bill Walton's support of marijuana was accidentally broadcast live during commentary on the NCAA football championship.
A basketball legend, Bill Walton might have inadvertently signaled his support for cannabis during a broadcast following a NCAA football championship game. During the broadcast on ESPN, a return from commercial found Walton in the middle of a rant about marijuana, in which he called for the drug to be delisted as a Schedule I substance. And he was dressed as Uncle Sam at the time, too.
Walton, though, is far from the only major figure in professional basketball to be sick of our country's stance toward weed.
2. Steve Kerr
Coach Kerr won five NBA championships as a player and now has two as coach of the Golden State Warriors.
Before long, Steve Kerr is going to have a fistful of NBA championship rings. He's a winner, and that means he knows something about how the game is played. In his opinion, it should include the ability to use medical marijuana to recover from injuries. Kerr, now a coach, has commented on his own cannabis use, which he says he uses to help chronic back pain.
It's not just basketball players, though. Many football players are voicing their support for medical cannabis, too.
3. Ricky Williams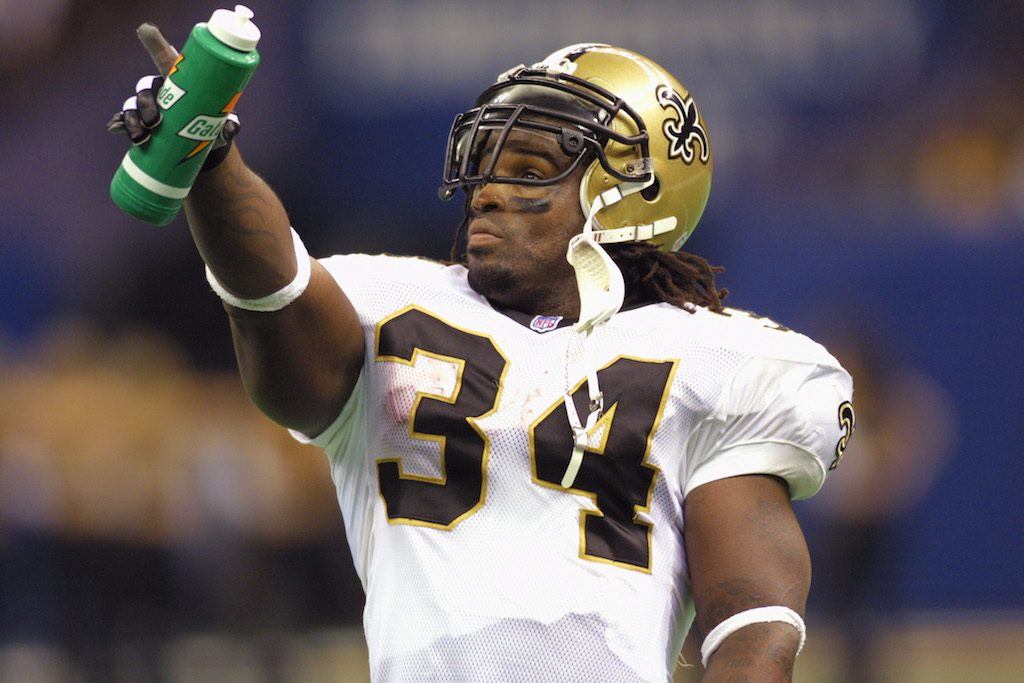 A former running back, Ricky Williams is one of the most outspoken advocates for medical marijuana in professional sports.
If there's one position in one sport that takes a beating more than any other, it's a running back. An NFL running back's job is to literally get hit, over and over, day in and day out. That's why they don't last long. Williams, a former running back, knows firsthand — and also says medical marijuana can help players recover from those prolonged beatings. Williams, now retired, is another former player looking to break into the pot industry.
But you don't need to have been a running back to push for friendlier cannabis policy.
4. Cliff Robinson
Former NBA player Cliff Robinson opened up a marijuana business called Uncle Cliffy.
Not many professional athletes retire and then go on to found businesses called Uncle Cliffy. But former Portland Trailblazer Cliff Robinson is doing just that in Oregon. Working with a Portland cannabis company, Pistil Point Cannabis, Robinson is another pro athlete on a mission to make marijuana more accessible and permissible in the big leagues.
Robinson has been backed up by another former NBA baller, Jay Williams, over the years.
5. Jay Williams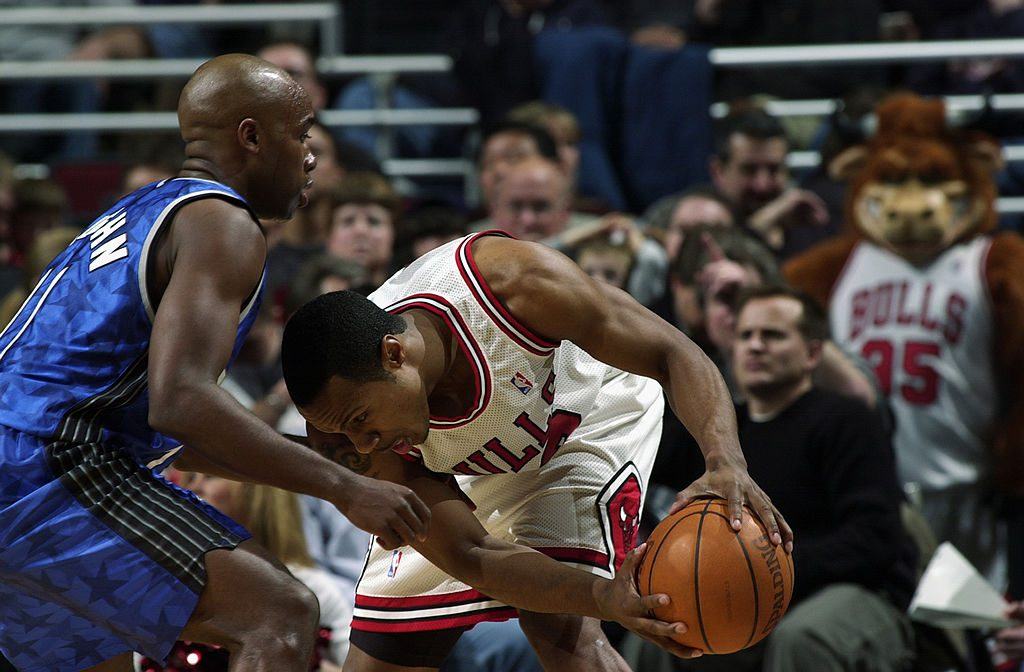 Jay Williams made waves a while back with his estimate that as many as 4 out of every 5 players in the NBA use marijuana, either recreationally or for medical purposes. He's also another player who's come out in full support of making medical cannabis available to current players. After a motorcycle accident, Williams used cannabis to heal and has since become a vocal proponent.
Next is a former quarterback who turned into a medical marijuana supporter.
6. Jake Plummer
A former quarterback, Jake Plummer is now leading the charge to convince NFL executives to change their stance on medical marijuana.
Like running backs, quarterbacks take their fair share of shots — often when they aren't looking or when they least expect it, too. Jake Plummer, who spent a decade taking snaps, is now on a marijuana crusade to help quarterbacks like himself get access to medicine that can help deal with the fallout from injuries. Plummer actually cut his career short, stopping at 10 years, due to the injuries he sustained.
It's not just players, though. Coaches are also jumping on the bandwagon.
7. Pete Carroll
Pete Carroll has expressed his desire to see the NFL adopt medical cannabis to help players recover.
Steve Kerr, as discussed earlier, isn't the only head coach who sees the benefit of medical cannabis for his players. Seattle Seahawks coach Pete Carroll has also voiced his support. "I would say that we have to explore and find ways to make our game a better game and take care of our players in whatever way possible," Carroll said during a 2014 press conference.
Next up is an MMA fighter who was suspended for half a decade for using cannabis.
8. Nick Diaz
Nick Diaz, a UFC fighter, was suspended for five years after failing a drug test.
In one of the more outrageous overreactions from a professional sports league, the UFC suspended fighter Nick Diaz for five years — in the prime of his career — for failing a marijuana test. The story is a little more complicated than that, but it shows just how outdated the thinking can be around medical marijuana. His suspension sparked more debate about the role of cannabis as a performance-enhancing drug and whether it has a spot in the world of professional sports.
Next up is an ex-NHL player who's seen the (green) light.
9. Darren McCarty
We've mentioned that NFL players take a beating. The same is true for hockey players, especially those who play an "enforcer" role, such as Darren McCarty. McCarty turned to other substances, including painkillers and alcohol, to deal with the fallout of his NHL days. But it turned his life upside down. He discovered medical marijuana and has since become a vocal advocate.
And even old-school players are getting in on the action.
10. Jim McMahon
Darren McCarty credits marijuana for helping him kick his drinking habit. Jim McMahon, a former Chicago Bear from the NFL, says it helped him stop using painkillers. McMahon is in his 50s now but has long lived with issues stemming from his 15-year NFL career, including concussions and early onset dementia. But like many others, he's found cannabis is a worthy remedy.
Next is another UFC and MMA legend who's vocally supported marijuana legalization.
11. Ronda Rousey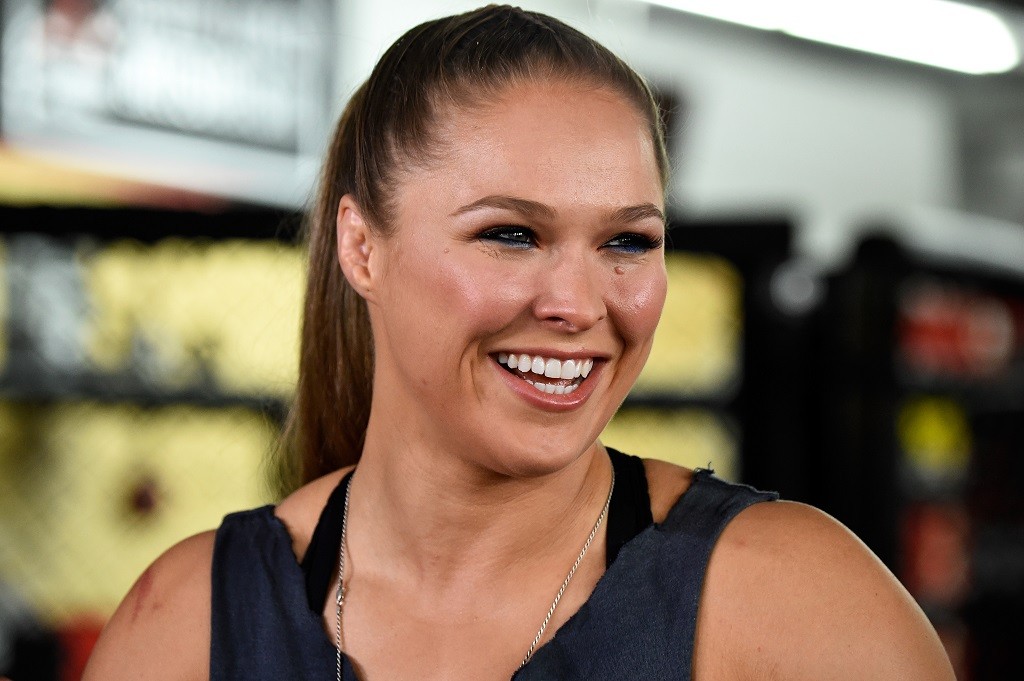 Ronda Rousey spoke up in defense of Nick Diaz after he was suspended for using marijuana.
In the fallout of the Nick Diaz suspension (mentioned earlier), a number of pro athletes came to his defense. One of them was Ronda Rousey, who is perhaps the most prolific female fighter to date. "I'm against them testing for weed at all. It's not a performance-enhancing drug, it has nothing to do with the competition, and it's only because of political reasons," Rousey said during a 2015 press conference.
Our next pro athlete is yet another who gives marijuana credit for saving his life.
12. Kyle Turley
A former NFL lineman, Kyle Turley credits marijuana with saving his life.
Kyle Turley was an NFL lineman for a decade, sustaining a number of injuries along the way. Now that he's retired, he's leading a push, along with several other NFL players, to allow medical cannabis use for current players. Turley swore off painkillers after finding marijuana, which helped him deal with migraines, memory loss, and PTSD sustained during his playing days.
The next athlete on our list had his Tour de France title stripped away after a positive drug test.
13. Floyd Landis
Floyd Landis had his 2006 Tour de France title stripped after failing doping tests.
The cycling world was rocked by a number of scandals involving doping and drug use in recent years. Among those scandals was Floyd Landis, who won the Tour de France in 2006 only to see his title stripped shortly thereafter. Landis landed on his feet (or pedals), however, and has since gotten into the weed business for himself. Landis has been developing cannabidiol oils and creams to help with aches and pains.
Next is another NHL player who's singing medical marijuana's praises.
14. Riley Cote
We mentioned NHL enforcers earlier when discussing Darren McCarty. Riley Cote also fits that mold. Cote played for the Flyers, and his job mostly consisted of hitting and fighting opposing players. As you can imagine, that takes its toll. Cote has since turned to cannabis to help him deal with post-retirement aches and pains and has started his own foundation to help spread the word.
Finally, we have a former Heisman Trophy winner turned cannaprenuer.
15. Troy Smith
Troy Smith didn't have the longest pro career, but he was a hell of a quarterback in college when he played for Ohio State. These days, he's back in Ohio. But now, he's doing what he can to help get medical cannabis into the hands of those who need it. Smith has teamed up with Ted Ginn Sr. and Eric Metcalf (other former NFL players) to open medical marijuana dispensaries.
More from The Cheat Sheet: