Starbucks Menu Prices: How Much Does a Starbucks Peppermint Mocha Cost This Year?
Halloween is barely over, and now it's time to start thinking about Christmas, at least according to Starbucks. The coffee chain unveiled its holiday drinks menu on November 2.
The return of the red cups is a big deal for Starbucks fans, heralding the start of the holiday season. This year, Starbucks has six holiday coffee beverages on the menu, including the beloved Peppermint Mocha, now in its 16th year.
What's on the Starbucks holiday menu?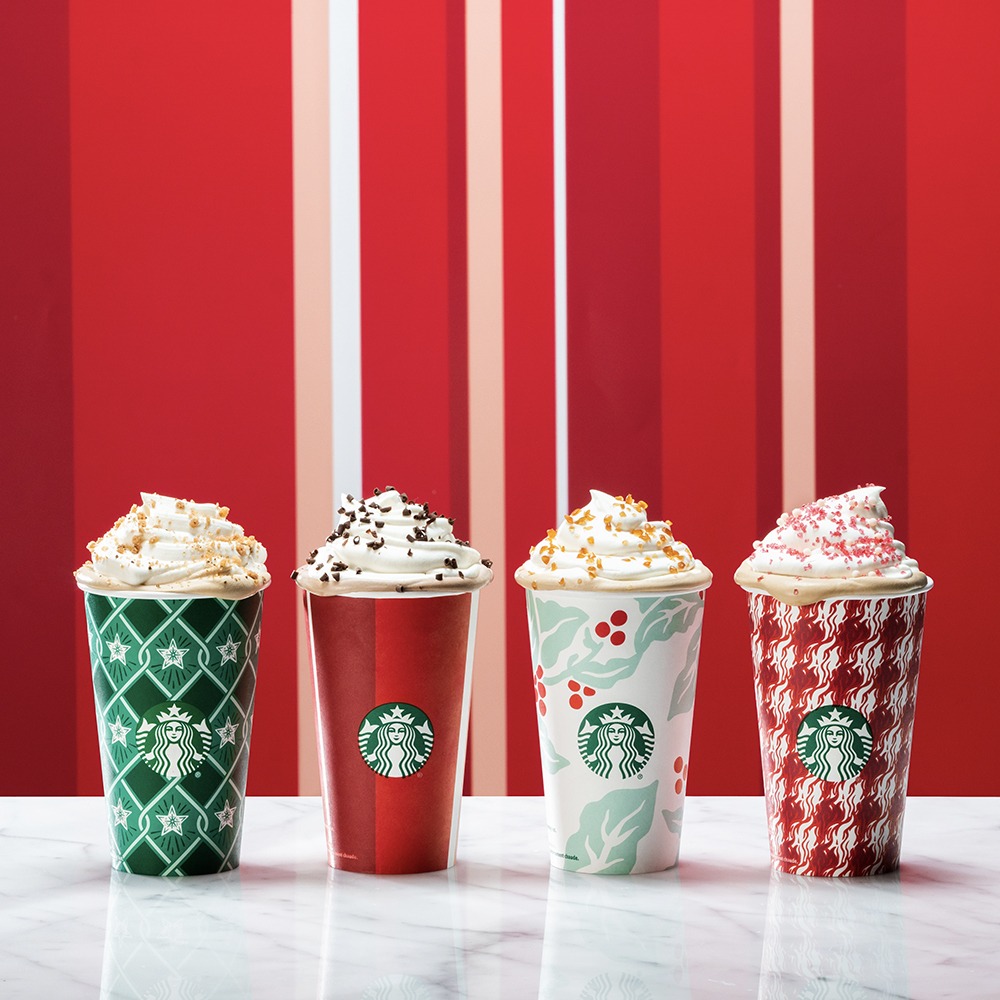 Starbucks has six seasonal beverages on its holiday menu for 2018:
Peppermint Mocha
Toasted White Chocolate Mocha
Caramel Brulée Latte
Chestnut Praline Latte
Gingerbread Latte
Eggnog Latte
Each drink is available hot, iced, or as a Frappuccino, meaning there are 18 versions of your favorite holiday drinks. There are also seasonal steamers and hot chocolate, like the Caramel Brulée Crème, Gingerbread Crème, and the Peppermint White Hot Chocolate.
New sweet treats are also on available, including Chocolate Swirl Brioche, a Pistachio Honey Croissant, and a Sugarplum Cheese Danish. Also back are favorites like the Penguin Cake Pop, Snowman Cookie, and Gingerbread Loaf.
How much does a Peppermint Mocha cost?
Starbucks prices can vary depending on location. We checked menu prices at a San Diego Starbucks to get an idea of how much it will cost to sip your seasonally appropriate coffee.
A tall Peppermint Mocha cost $4.45, a grande was $4.95, and a venti was $5.45. Prices were the same for all the other seasonal coffee specials.
You'll pay a little less for the hot cocoa. A tall Peppermint White Hot Chocolate was $3.45, a grande was $3.95, and a venti was $4.15. This drink also comes in a kid-size, which was $2.85. To save a little, you can skip the limited-time drinks and just get a regular hot chocolate – it's $3.45 for a grande.
A Gingerbread Crème – a drink made of warm, steamed milk infused with gingerbread flavors and topped with whipped cream – is the same price as the Peppermint White Hot Chocolate, and also comes in a kid-friendly size.
The holiday cups  

Starbucks is also bringing back its famous (and occasionally controversial) holiday cups, and also introducing a new twist for 2018. This year, the chain will offer limited-edition reusable holiday cups.
The 2018 holiday cups come in four designs: Stripes (a jazzed up version of the classic red cup), Flora (a pattern of mint-green leaves and bright red berries), Espresso Houndstooth (a red and white houndstooth pattern), and Stargyle (a green cup with a interlinking diamond pattern).
The reusable cup comes in red and is available for free on November 2. Customers who order a holiday drink will get a complimentary cup. Then, beginning November 3, they can bring the cup back to any Starbucks and get 50 cents off a grande beverage after 2 p.m., through January 7.
But if you don't already have one, getting a reusable holiday cup is going to be tough. Many stores have already run out. After November 2, the cups are available for purchase for $2, but only if you local Starbucks still has them in stock.
What if you're not quite ready for all this holiday cheer? Well, Starbucks hasn't totally forsaken fall fanatics. The mega-popular Pumpkin Spice Latte is still on the menu. Though it's not getting as much promotion, you should be able to order it through early December at most stores.