Starbucks-Style Coffee Recipes You Can Make At Home
If you love your coffee in the morning, we understand — coffee has become a staple in the diets of many professionals to help them get through their morning bouts of sleepiness. Starbucks has become a chosen destination spot for anyone in need of a quick pick-me-up or a sweet treat, but some of their coffee drinks are so expensive and loaded with sugar and calories — that you may feel like you're better off making them at home. To satisfy your cravings and to help you walk no farther than your own kitchen for a coffee or a blended beverage, here are five Starbucks-style drink recipes that you can make from the comfort of your own home.
1. Pumpkin Spice Latte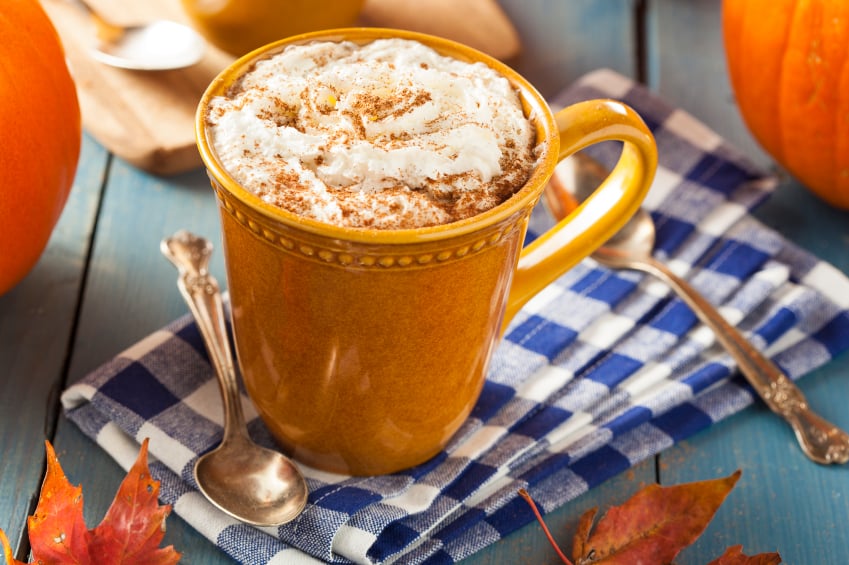 Instead of spending your hard-earned cash on Starbucks's Pumpkin Spice Latte time after time, here's an easy recipe from PopSugar for a delicious homemade version that might even beat the original.
Ingredients:
1 cup milk
1 tablespoon pumpkin spice syrup
1 teaspoon vanilla simple syrup
2 shots espresso or 1 cup coffee
Whipped cream to garnish
Spice blend (a mix of cinnamon, ginger, nutmeg, ground cloves) to garnish
Directions: Into a microwave-safe jar that has a lid, combine milk, pumpkin spice syrup, and vanilla simple syrup. Seal the jar and shake until the milk becomes frothy and twice as large in volume. Take the lid off and microwave the milk for 1 to 2 minutes, or until it has steamed. Pour the hot milk over your espresso or coffee. Top with whipped cream and a sprinkling of your spice blend.
2. Coconut Mocha Frappuccino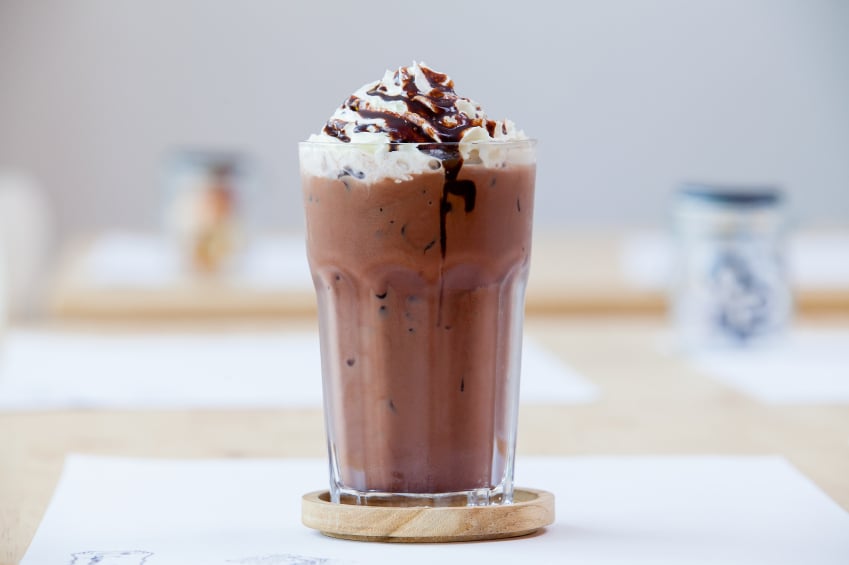 If you're looking for a coffee concoction that's a little bit decadent and definitely delicious, then this copycat Frappuccino recipe is sure to please. Shredded coconut and chocolate syrup makes this coffee drink taste more like dessert than your average morning cup. Check out Food.com's secret to creating the Starbucks drink.
Ingredients:
½ cup shredded coconut
¾ cup coffee, extra strong
1 cup milk, low-fat milk is fine here
⅓ cup Hershey's Chocolate Syrup
3 tablespoons granulated sugar
2 cups ice
Whipped cream for garnish
Directions: Start by preheating your oven to 300 degrees Fahrenheit. Then, spread your shredded coconut on a baking sheet and put it in the oven to toast, stirring the coconut every 10 minutes or so to make sure it's being evenly browned. It should take about 25 to 30 minutes for your shredded coconut to turn light brown. Take it out of the oven for cooling.
For your coffee, you'll want to make it double the strength of your normal brew — you can do this by brewing your coffee with twice the amount of grounds required by your coffee maker. Chill your coffee before using.
Combine your cold coffee, milk, ⅓ cup of toasted coconut, ⅓ cup chocolate syrup, and sugar in a blender. Blend for 15 to 20 seconds until the sugar has dissolved. Add ice and blend until the drink is completely smooth. Garnish each drink with whipped cream, a drizzle of chocolate syrup, and your remaining toasted coconut.
3. Strawberry Cream Vanilla Bean Frappuccino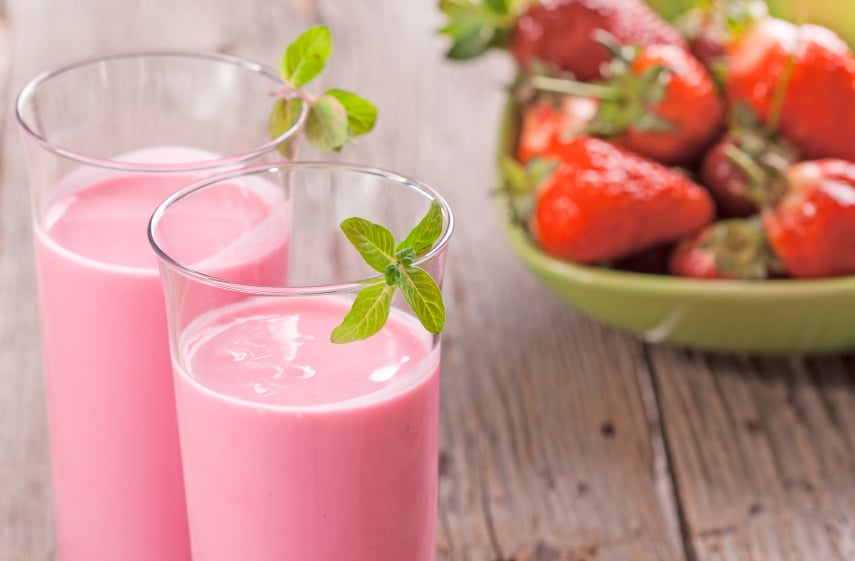 One of Starbucks' most popular drinks is the Strawberries & Crème Frappuccino, and it's no wonder why everyone loves it. Fruity, creamy, and sweet, it's the perfect coffee concoction. Admittedly, there's no coffee, but this drink is too delicious not to include. This recipe calls for strawberries and a vanilla bean simple syrup that you can make at home. Recipe from Design Eat Repeat.
Ingredients:
⅔ cup milk
2 tablespoons vanilla bean simple syrup (homemade or store-bought is fine)
1 tablespoon heavy whipping cream
¼ teaspoon vanilla extract
½ cup frozen whole strawberries
1½ tablespoons sugar
1¼ cup ice
Whipped cream for garnish
Directions: Combine all of the ingredients in a blender (excluding the whipped cream) and blend for 20 to 30 seconds until the ice is crushed. Pulsing the blender and stopping to stir the mixture will help it thoroughly blend and become creamy and smooth. You can add more ice for a thicker mixture, and add more milk if the consistency is too thick for your liking. Pour in a glass and serve immediately. Add whipped cream for garnish, and enjoy.
4. Copycat Very Berry Hibiscus Refresher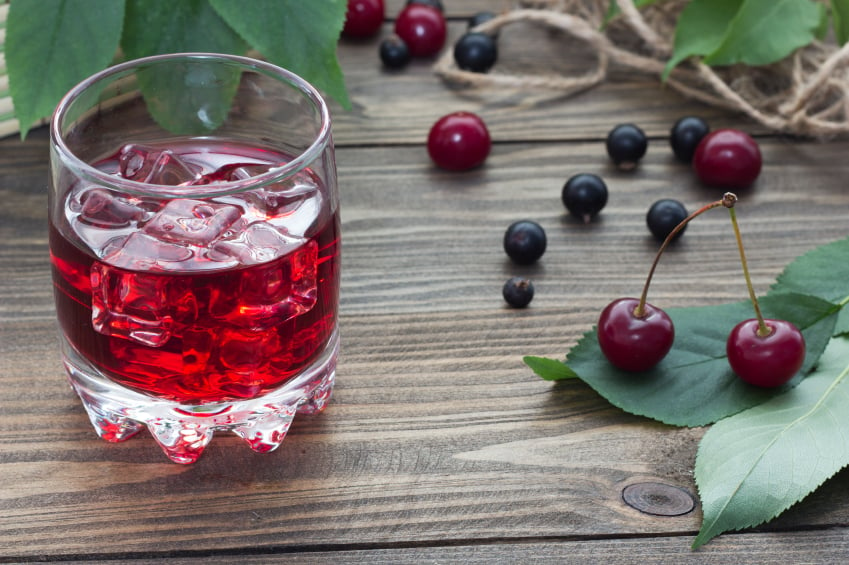 For those of you who prefer a fruity drink instead of a coffee, Starbucks refreshers are perfect. These drinks are slightly sweet with real fruit added, which doesn't come cheap when you're buying them from the store. This recipe calls for a homemade tea that you can then turn into the refresher drink, making it more versatile than what Starbucks has to offer. Check out the recipe from Lisa's Dinnertime Dish.
Ingredients:
For the tea
3 hibiscus herbal tea bags
3 green tea bags
1 quart boiling water
Ice
Cold water
For the refresher
12 ounces hibiscus-green tea
½ cup ice
¼ cup blackberries, fresh or thawed from frozen
1 teaspoon agave nectar (can be substituted for honey)
Directions: Combine tea bags and boiling water in a 2-quart pitcher to make your tea. Let the tea steep for about 10 minutes before filling your pitcher the rest of the way with ice and cold water. Refrigerate this mixture until completely chilled.
Combine the tea, ice, blackberries, and agave nectar in a shaker. Cover and shake for 20 seconds to break up the blackberries. Pour into a glass and taste for sweetness. If needed, add a bit more honey or agave.
5. Homemade Iced Mocha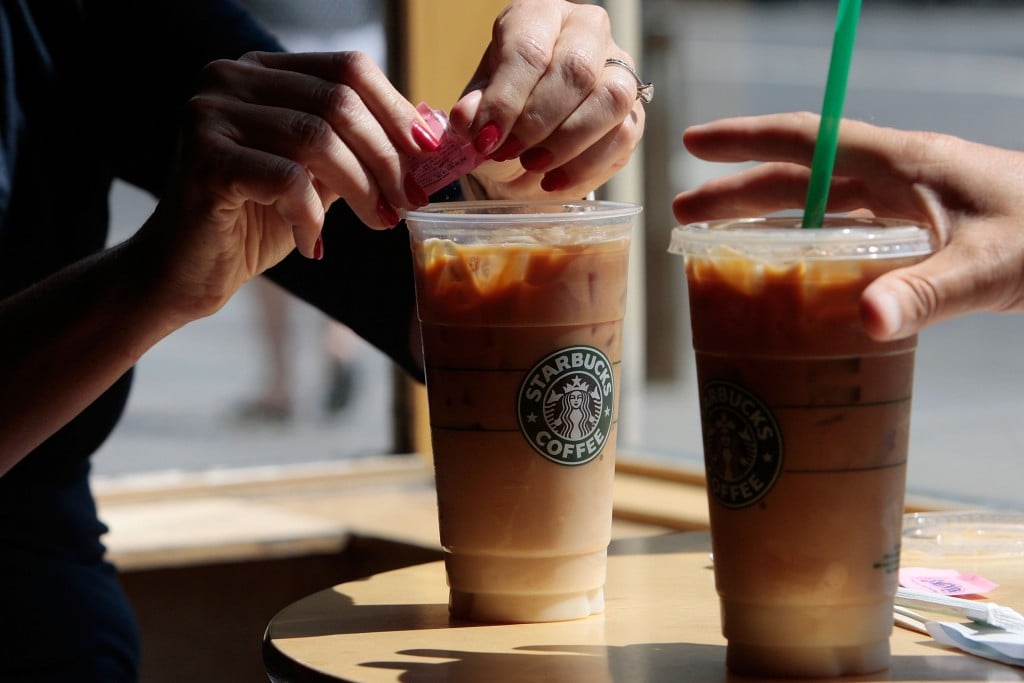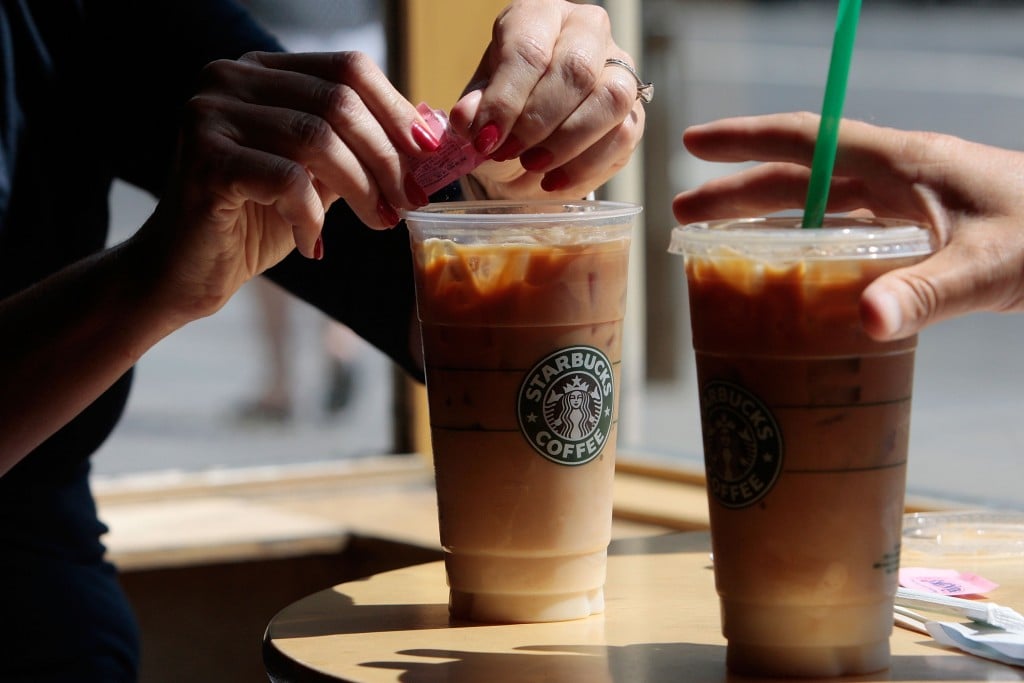 If you love your coffee on the sweeter side over ice, then this recipe is for you. Here is the recipe for a homemade iced mocha from How Sweet It Is.
Ingredients:
5 ounces brewed coffee, chilled
½ cup milk
1 tablespoon heavy cream
2 tablespoons chocolate syrup
1 teaspoon vanilla extract
1 teaspoon brown sugar, not packed
For the mocha sugar rim
1 tablespoon sugar
½ teaspoon instant coffee powder
1 teaspoon cocoa powder
For homemade whipped cream on top
½ cup heavy cream
1 tablespoon sugar
Directions: Brew coffee and allow to cool. Combine ½ cup cream and 1 tablespoon sugar in a large mixing bowl and beat until stiff peaks form. For your mocha sugar, combine sugar, coffee powder and cocoa in a small, shallow dish. Lightly dab water on the rim of your glass and dip your glass into your mocha sugar mixture.
Fill the bottom of your glass with one tablespoon of chocolate syrup and add ice cubes. Pour in your coffee, milk, vanilla, remaining cream, and brown sugar. Mix well to combine. Garnish with whipped cream and additional syrup.