An Inside Look at San Francisco's Luxury Airport Lounge and the Posh Amenities It Offers
Let's say your flight is delayed and you need to pass the time in an uncomfortable seat by the terminal, staking claim to the only available outlet left to charge your phone. Does everyone suffer like this? Well, no; well-heeled travelers get to relish in luxuries typical of extravagant airport lounges before departure. And now, the divide between economy and business-class traveling is only going to get wider.
United Airlines recently rolled out its latest plans to court wealthy customers: a luxury airport lounge. The business-class clubhouse at San Francisco International boasts 492 power outlets, a full restaurant and bar (page 5), and cozy nap pods for weary travelers (page 3). Henry Harteveldt of travel consulting firm Atmosphere Research Group tells CNBC the new Polaris lounges are "a smart move…but in some ways it's United playing catch-up" with competitors.
Play catch-up all you want, United. In fact, these photos suggest the price of a first-class ticket just might be worth access to these United Airlines luxury lounge indulgences. Let's go on a tour, shall we?
Inside United's Polaris luxury lounge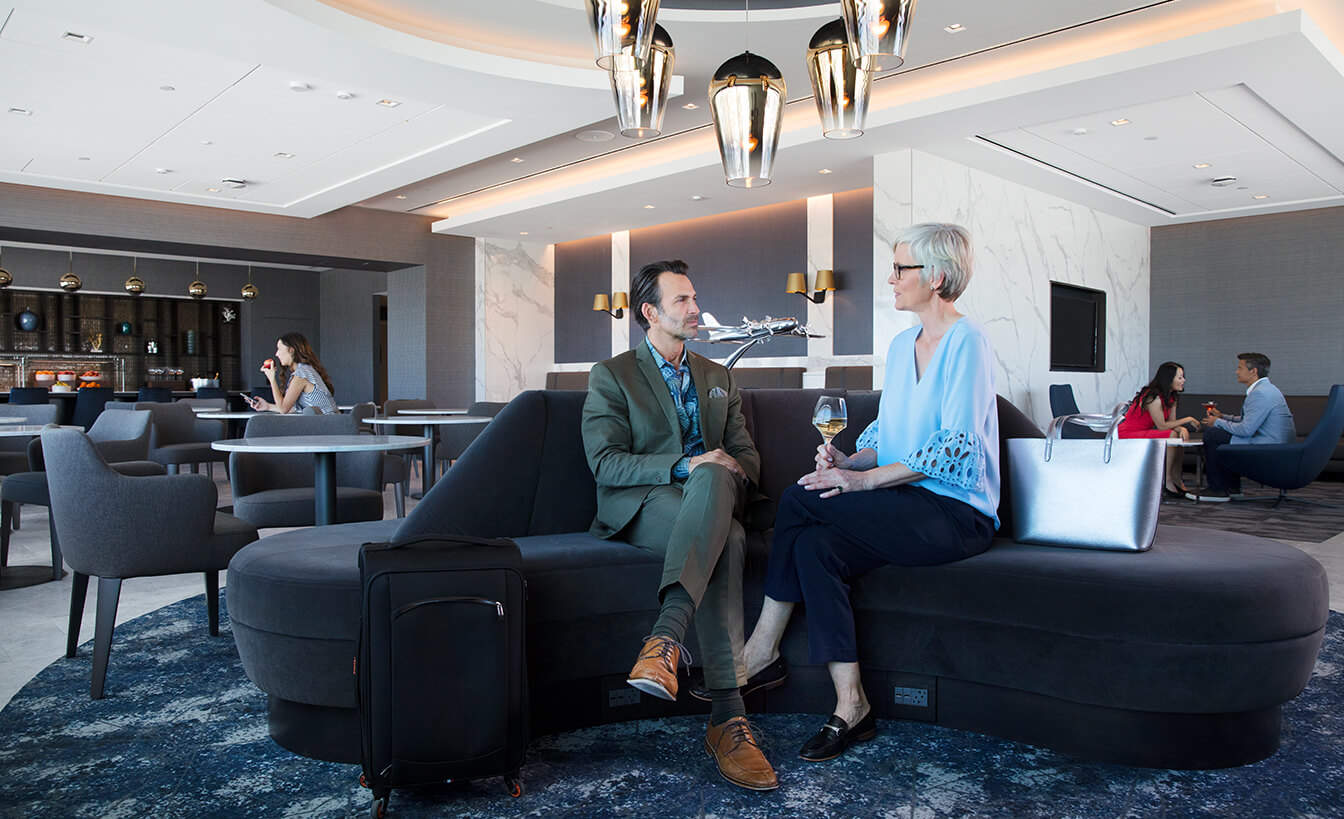 A premium experience begins well before take-off in this two-story, 28,000 square foot space
San Francisco's newest United Airlines luxury lounge will impress from the start. For one, the space is enormous. Rightfully so too, as it must accommodate passengers traveling internationally to-and-from India, Turkey, Singapore, New Zealand, China, and more. The two-floor, 440 seat Polaris Business Class lounge is so large, guests are provided a map at check-in.
If your senses go into overdrive, know it's completely normal. Polaris created a custom scent (a blend of orange peel, cedar, leather, amber, and more) to accompany a cosmopolitan music playlist and subtle mood lighting. Stop at the reception/valet area then make your way to the lounge area for rest and relaxation.
Next: Take a call or type an email in style
Oversized library cubicles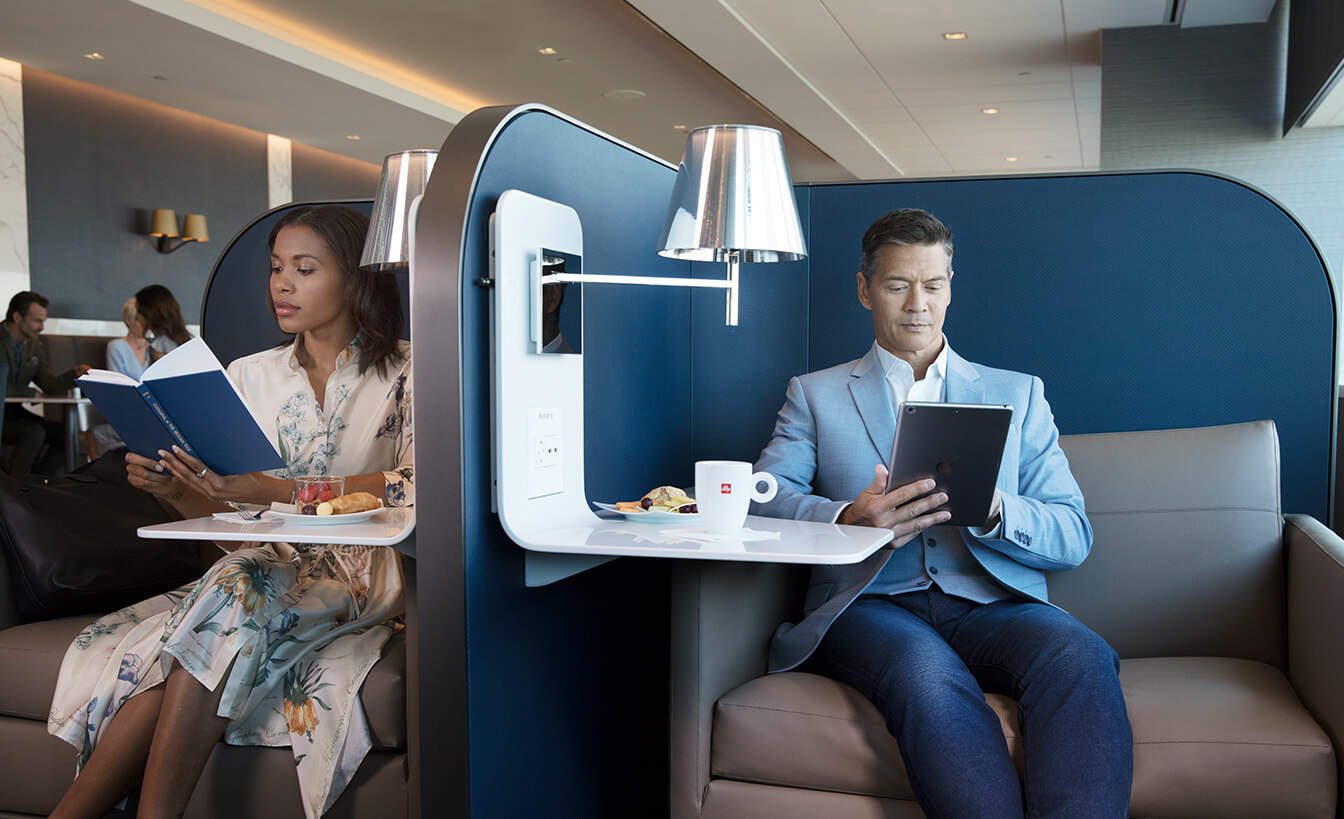 Guests have access to their own library-like cubicle to work and relax
The lounge library provides a quiet area for uninterrupted work and relaxation. This includes 49 private seating stations equipped with an integrated work or dining table, large privacy dividers, and personal table-side lamps. To keep devices charged, there are 492 power outlets and 492 accompanying USB ports scattered nearly everywhere.
United hopes you'll take special notice of their 19 different seating styles. The cubicle-style signature chair and table combo were specifically designed to be private enough for work and spacious enough for luggage. SF Gate says it's intended to mimic the cloistered feel of the new Polaris business class seat currently being rolled out on United's planes.
Next: Calling all weary travelers
Cozy nap suites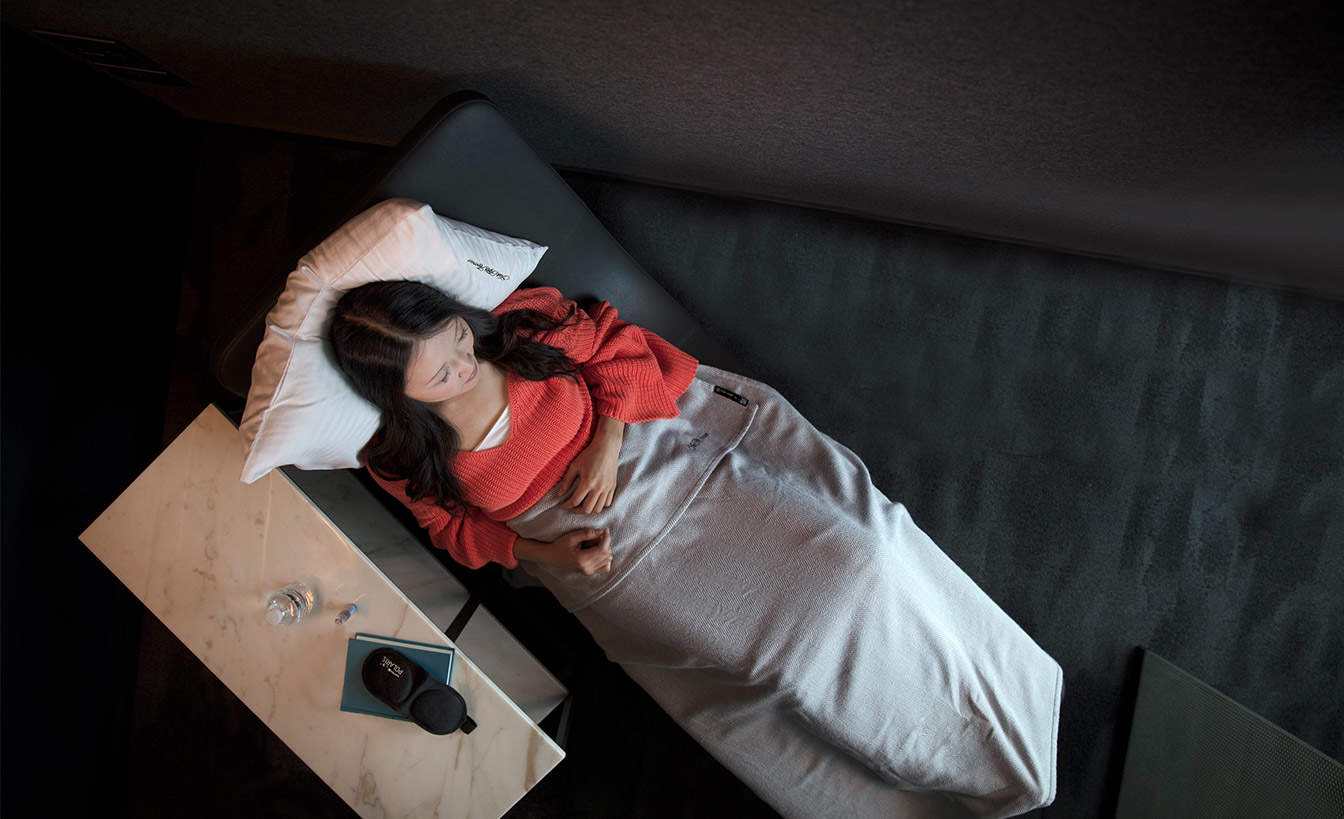 Sleeping is encouraged at any one of the five daybed stations
A short walk will lead you to the quietest part of the lounge. Cozy rest areas that United dubs as "nap pods" draw weary travelers inside. Ceiling lights glitter like stars and set the mood for a quick snooze. The lounge offers five daybeds with Saks Fifth Avenue-branded blankets (the airline said the blankets are washed on site), earbuds, eye masks, and a white noise machine which helps you forget that a bustling international terminal is just beyond the walls.
Next: Another first-floor amenity that won't disappoint
Showstopping shower suites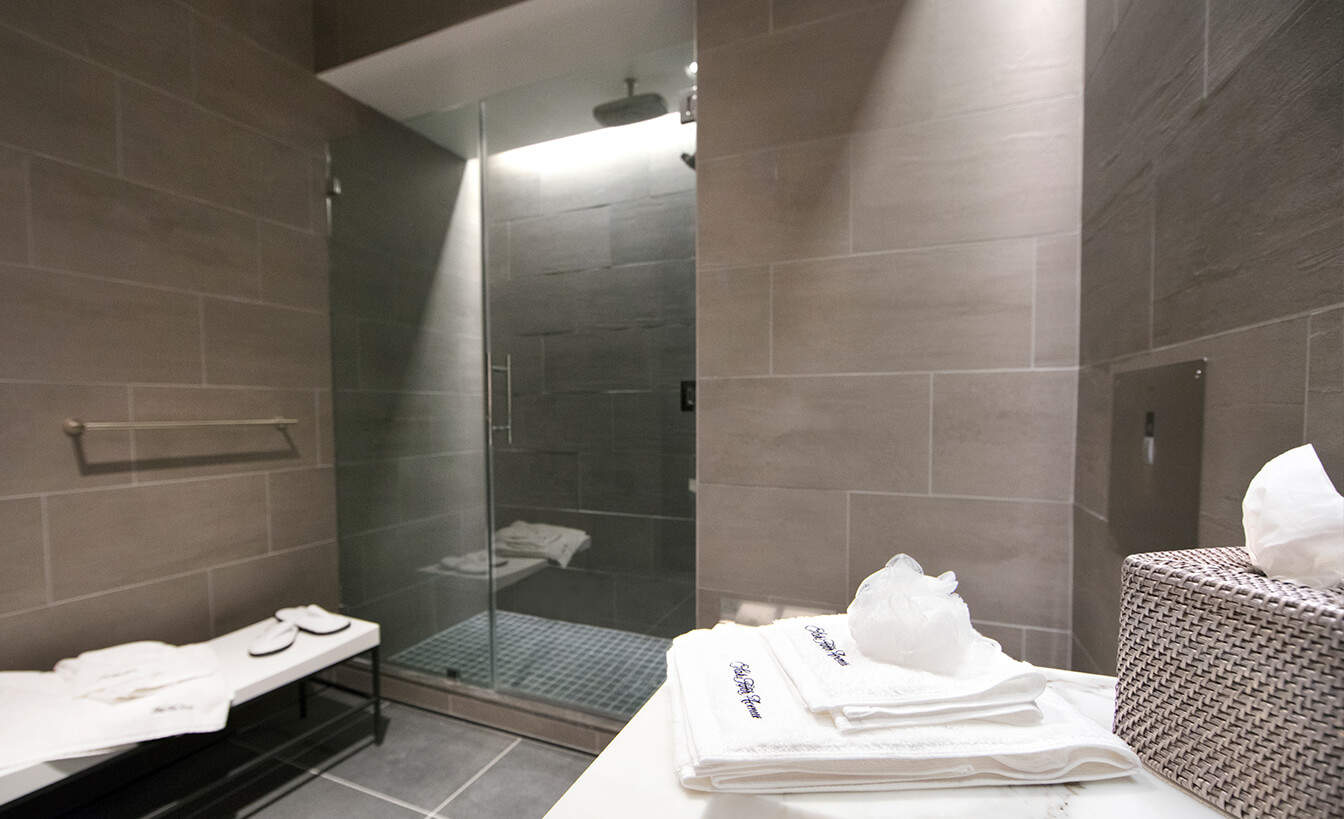 The shower facilities are bigger than some San Francisco apartments
Travelers can also clean up before jetting across the Pacific. There are eight shower suites roomy enough to fit luggage, so guests can keep personal items at hand. High-end spa products, on-site laundry, and the option for steamed shirts are among the luxury services available to you. Toiletries and pajamas are also on hand.
Next: Hope on the escalator for a surprise on the second floor
A full-service bar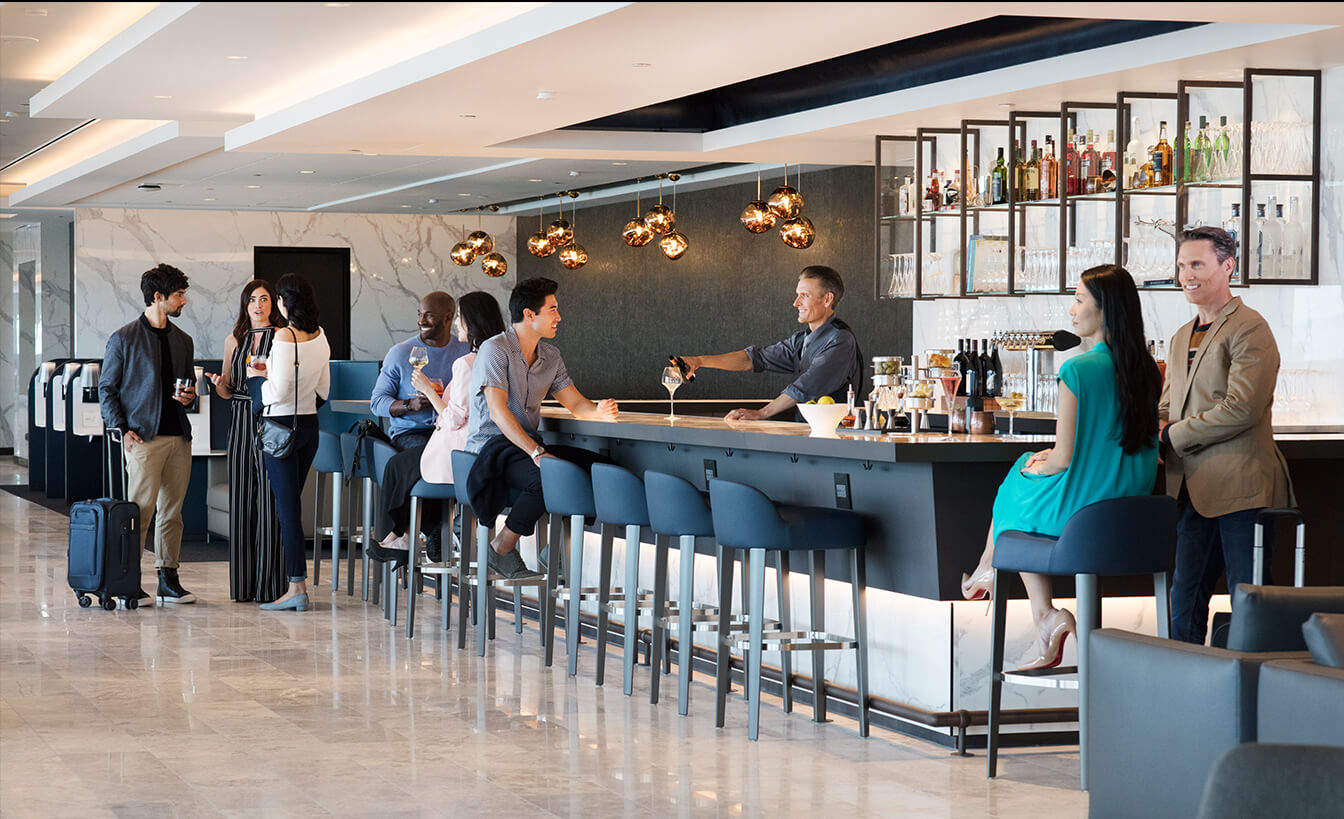 Drink specials, California wines, and local craft beers with a view.
Head on up to the second floor for refreshments. A grand bar area with a backlit Onyx countertop will (momentarily) steal the show — that is until you register the sprawling views. The main corridor is lined with windows looking north over the runways, the San Francisco Bay, and south city.
The 20-patron bar area offers a drink menu attuned to the Bay Area. Bartenders craft locally-inspired cocktails including the Mai Tai, an Oakland original. There are California wines aplenty and local staples on tap for the beer drinkers.
Next: United wants you to pull up a chair
Regionally-inspired restaurant food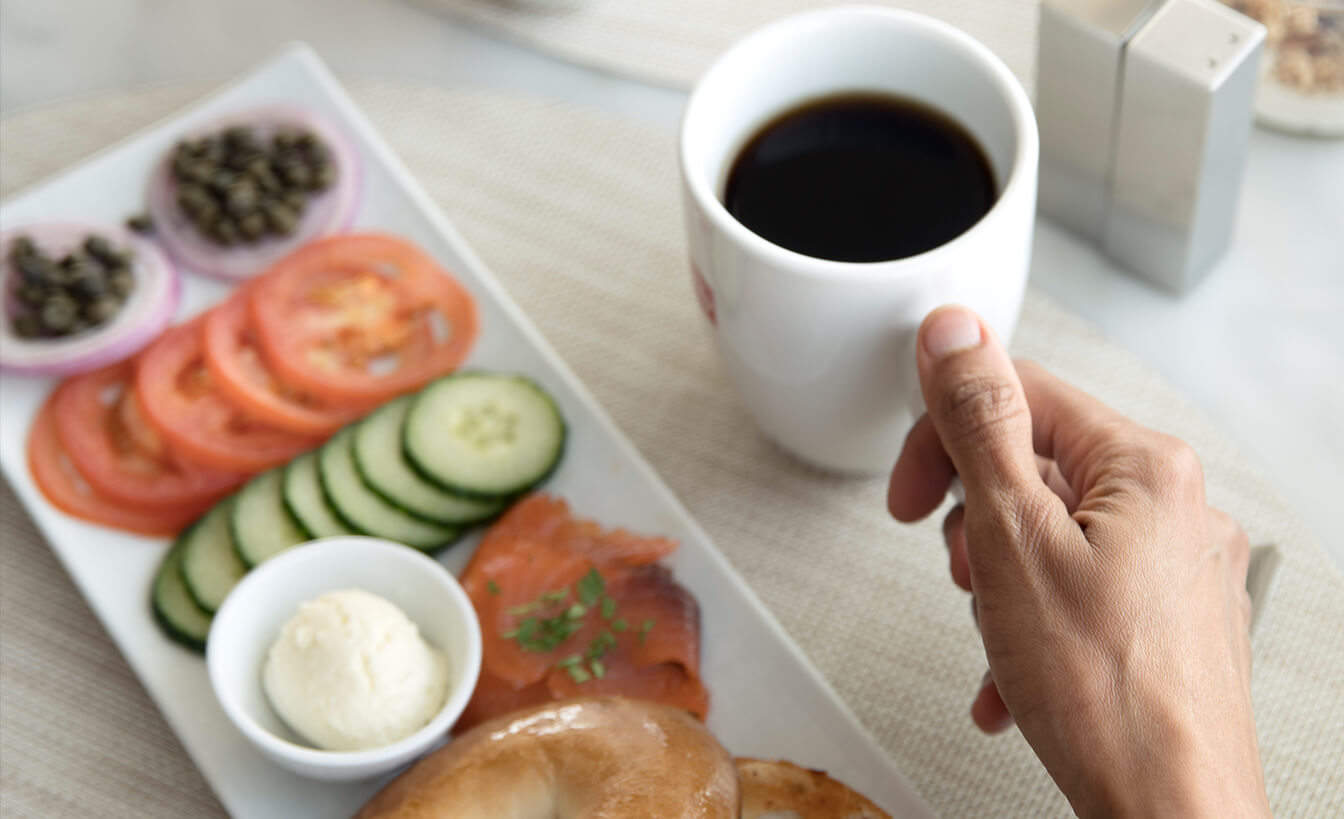 Full-course meals, chef-created small plates, and a large buffet await
The Dining Room restaurant boats a menu that fuses California cuisine with international comfort foods, such as a ramen noodle bar and hand-cut pappardelle pasta with mushroom ragout. Those with a more carnivorous appetite can enjoy a full multi-course meal inspired by regional San Francisco cooking. Chef-created small plates are available for those wishing to snack casually.
The full buffet, which the airline calls the Bistro, is brimming with light bites like deconstructed Cobb salads, a Chinese congee station, and a tempting dessert bar. Eat up, United wants you to board with a full tummy so you'll fall right to sleep after take-off.
Next: Fewer people equals heightened appreciation
Interior luxuries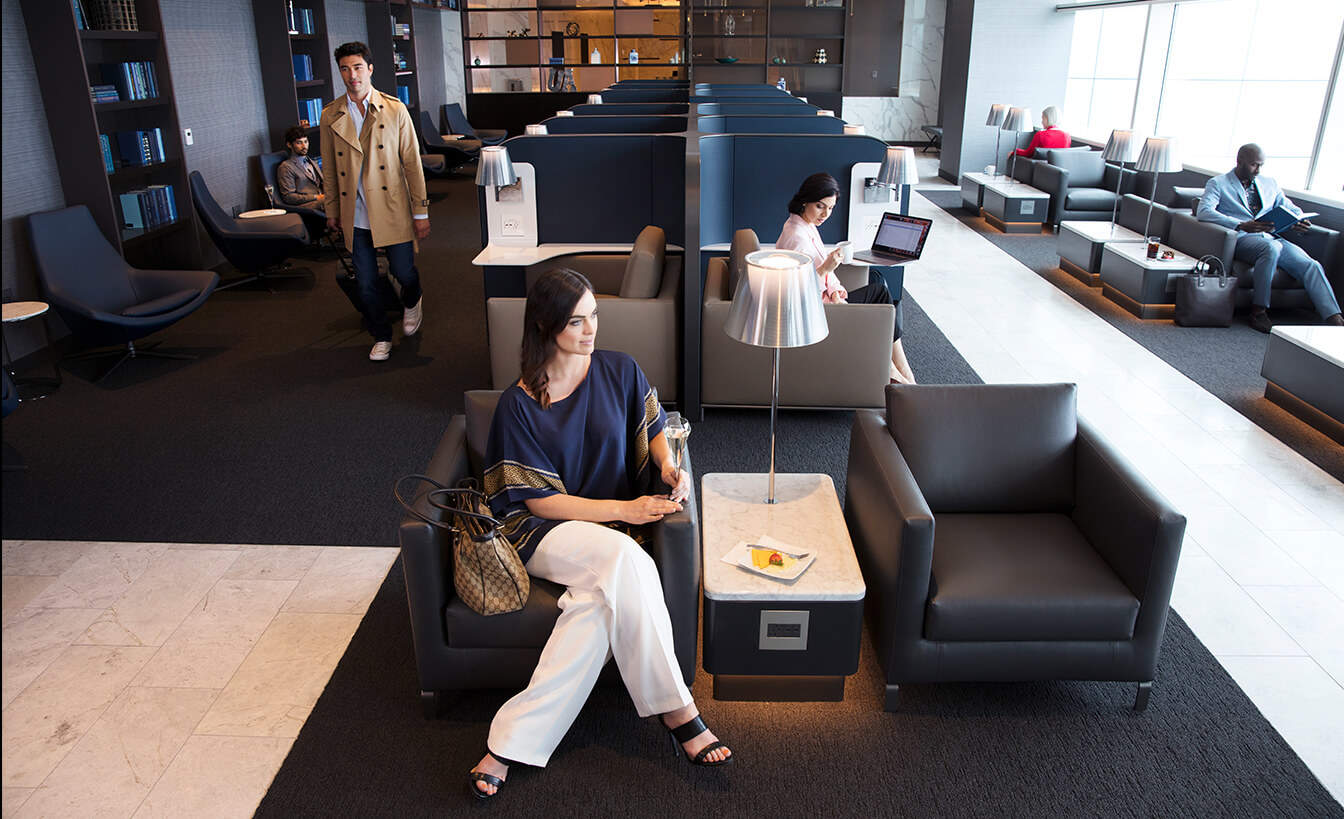 Opulence is in the details and United's Polaris lounge didn't cut any corners.
Plush facilities and lavish amenities available in the double-decker hangout spans the entire size of a football field. But that's not what lounge-goers love the most. Room to breathe in your uninterrupted personal space bubble gives guests the chance to appreciate walls dressed in white Calacatta marble and floors adorned with Turkish marble imported from Italy. The walls are lined with eight pieces of art curated by prominent Bay Area artists, on loan from the San Francisco Museum of Modern Art.
Next: The United Airlines luxury lounge is equipped with something extra
There's room for even more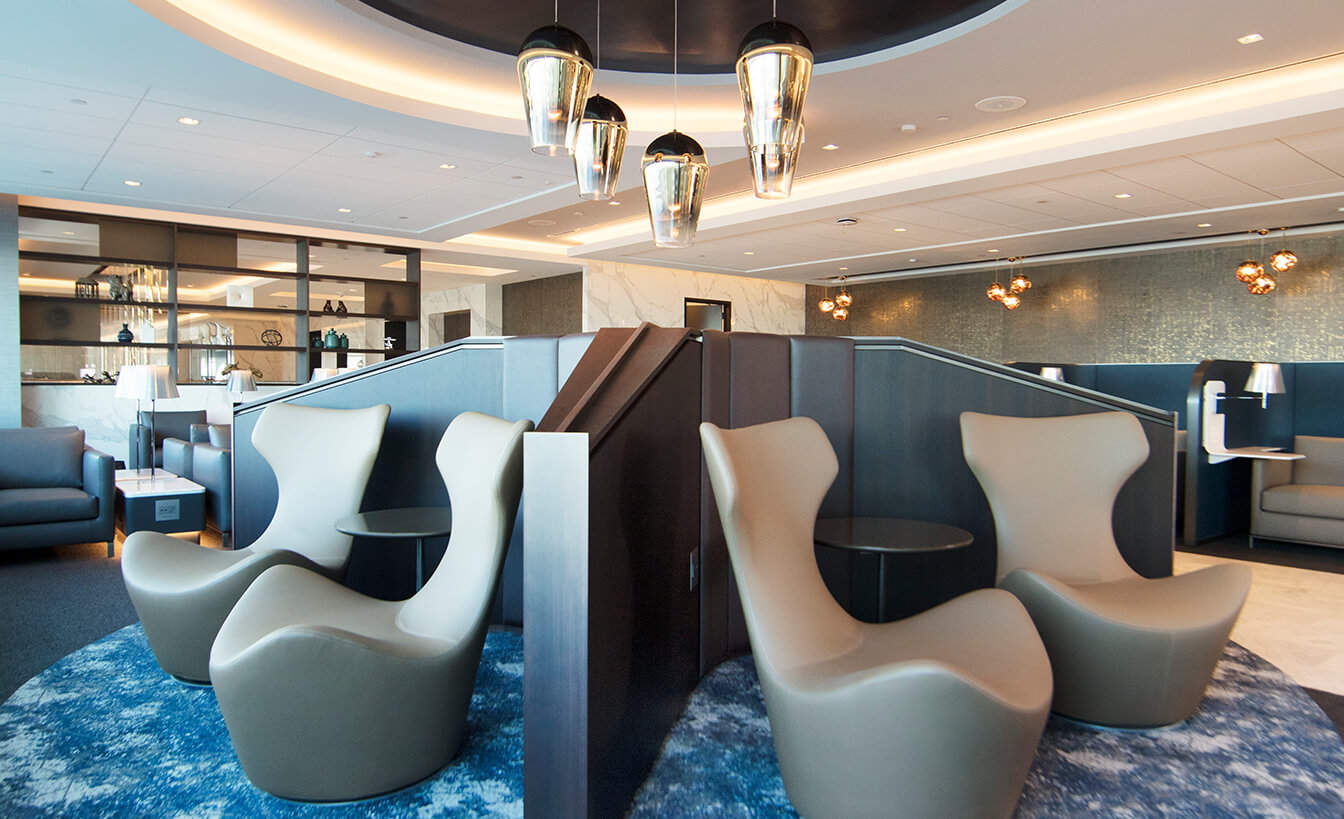 It's possible this lounge will also house an event space in the future
Perhaps what's most unique about SFO's new digs is "The Studio." United says they hope to transform this venue into an event space for travelers. Its location is primed and ready for entertainment, and the extra square footage gives United the flexibility to host pop-up wine tastings and other get-togethers as needed. However, the area will double as a sushi station on days the event calendar is blank.
Next: Here's how to gain entry into this exclusive lounge
An exclusive club with limited access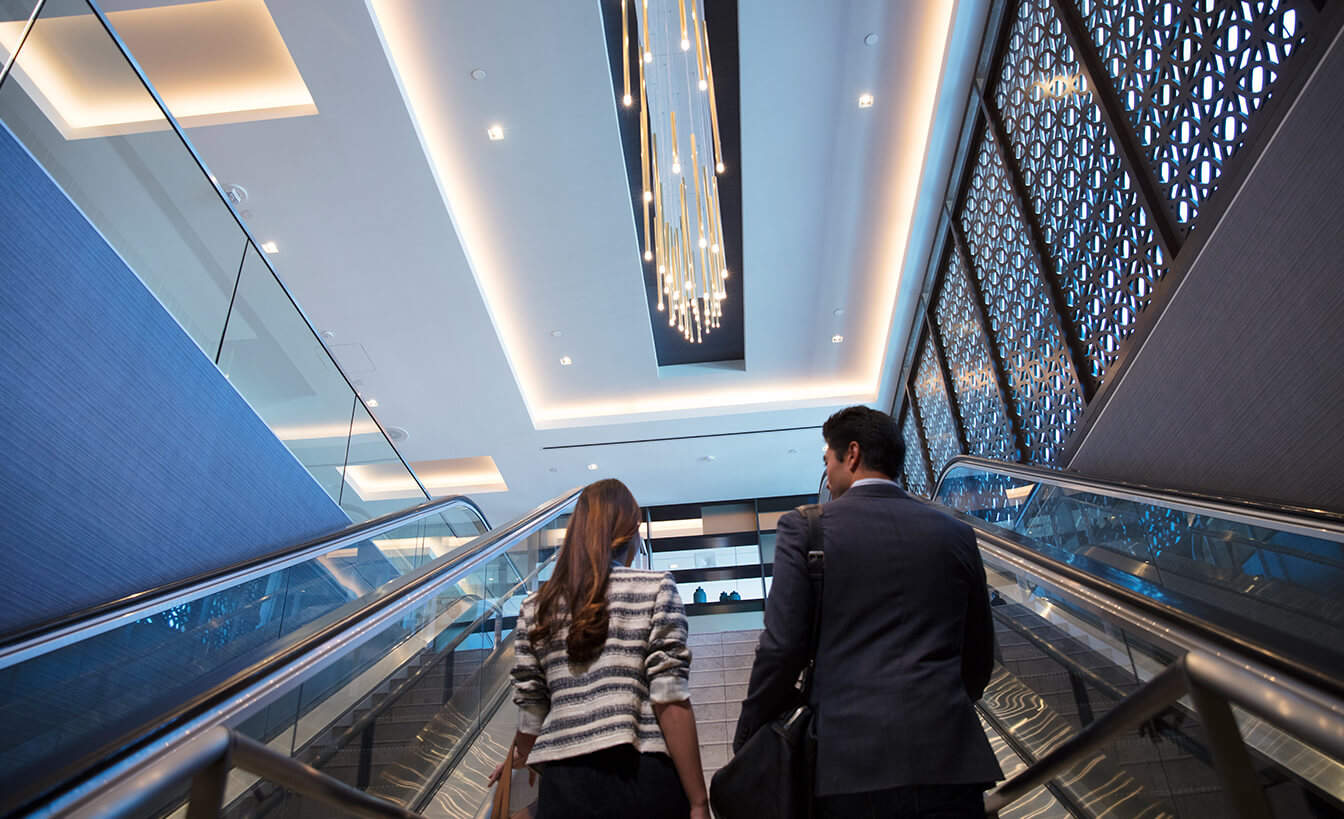 Lounge access is reserved for big spenders only
To enter San Francisco's Polaris lounge, you'll need the secret password. Just kidding. An international first class or business class flight will gain you entry into this exclusive club — which can be yours for upwards of $5,000 if London is your final destination. Booked in first class on a domestic or short-haul business class flight? You're off to the more primitive United Club lounges.
Fliers on the Star Alliance partner airlines, however, are also welcome to visit and enjoy.
Next: Coming soon to a city near you
Polaris lounges around the world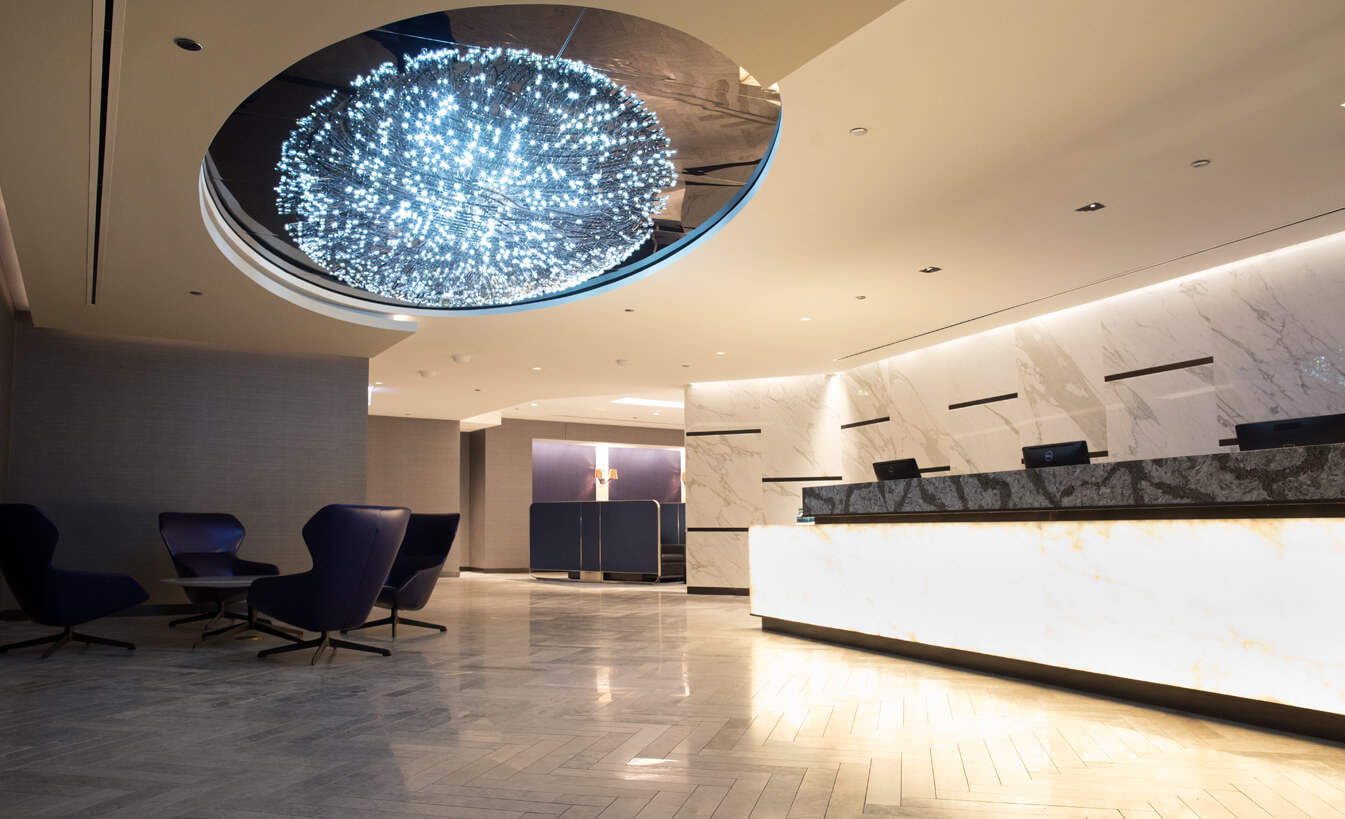 Plans are underway for Polaris lounges in Houston, London, DC, Hong Kong, and Tokyo.
If San Fran International isn't normally part of your travel itinerary, don't worry. United has plans to expand the Polaris lounge to multiple big cities worldwide. The airline unveiled a similar lounge at Newark Liberty International Airport and another at Chicago's O'Hare International Airport this year. Houston's George Bush Intercontinental Airport is up next, as is Los Angeles International Airport in the fall. London, Hong Kong, and Tokyo are also on United's global expansion shortlist.
Follow Lauren on Twitter @la_hamer.
Check out The Cheat Sheet on Facebook!