Steakhouse Recipes You Can Make at Home
Steakhouses are notorious for being expensive, and therefore inaccessible for many. Meat-eaters generally love the perfectly cooked steak, chicken, and fish that restaurants offer, but fewer are willing to break the bank for a single dinner. The good news is that you can make replicas of your favorite steakhouse meals at home, and often at half the cost. A lot of the time, most of what you're paying for is the steakhouse experience, so if you are willing to enjoy your tasty dinner on the couch, an equally delicious meal can be a lot less expensive. Check out these 6 steakhouse recipes. These prove that your next date night doesn't need to break the bank.
1. New York Strip Steak with Garlic Butter and Onions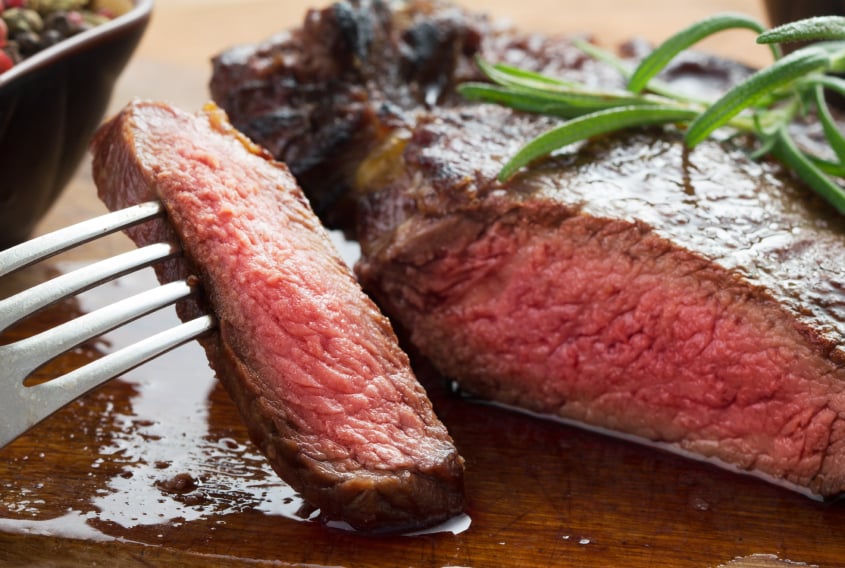 Dare to master the New York strip? You can do it with this recipe from Gimme Delicious. It's a fool-proof food formula that teaches you how to make your steak the indulgent way, garlic butter and onions included. Serving 2, this pan-seared steak will be ready in 15 minutes and doesn't even require use of your oven.
Ingredients:
2 New York strip steaks
1 onion, cut into thick circles or strips
3 cloves garlic
1 tablespoon butter
1 teaspoon salt
1 teaspoon freshly ground black pepper
1 teaspoons ground cumin
1 teaspoon ground coriander
1 teaspoons paprika
Directions: Heat grill or a grill pan on medium-high heat; before placing the steaks on the pan, heat for at least 2 minutes. Combine the dry spices in a bowl; rub spice mixture on each side of steaks.
Place steaks on pan, cook for 2 minutes, and then flip; add the onions and butter after flipping; cook for another 2 minutes. Now add the garlic and cook for 30 seconds. Remove steak from heat and allow to rest for at least 5 minutes before cutting. Serve with warm mashed potatoes or fries.
2. Filet Mignon in Mushroom Wine Sauce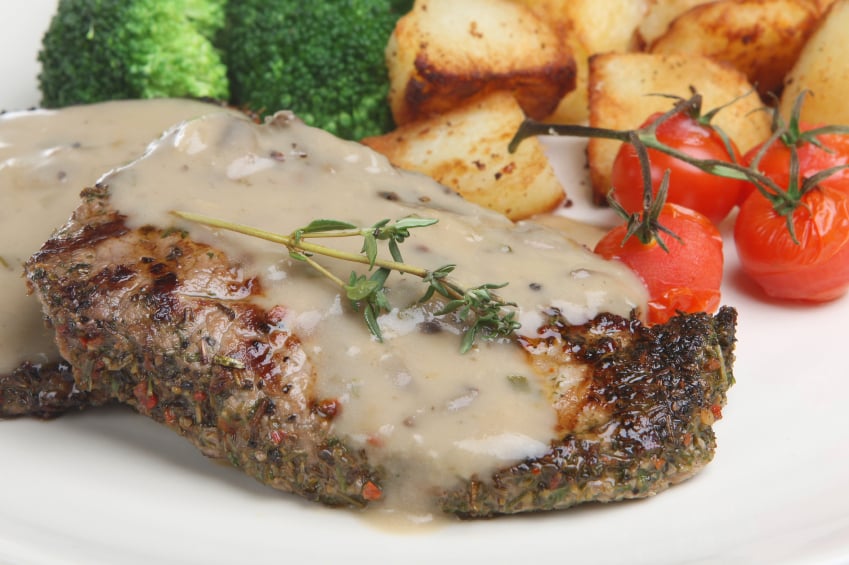 Another favorite way to enjoy steak is in the form of filet mignon. If you want a sophisticated dinner to make at home, this formula for filet mignon in mushroom wine sauce from Natasha's Kitchen is the ticket. It serves 4 as a main course and will cost you less than $40 to make, the equivalent of the price tag for one meal at a steakhouse. When you master your filets at home, not only do you get to cook them to the tenderness of your liking, you also get to drench them in a dreamy creamy mushroom wine sauce.
Ingredients:
4 tablespoons unsalted butter, divided
2 tablespoons olive oil, divided
16 ounces baby bella mushrooms, thickly sliced
1 small or ½ medium yellow onion, finely diced
4 medium garlic cloves, minced
1 tablespoons chopped fresh thyme
4 (6 ounces each) filet Mignon steaks (about 1½-inch thick)
½ cup Merlot
1½ cups low sodium beef broth
½ cup heavy whipping cream
Salt and Pepper to taste
Directions: Place a large heavy-bottomed pan over medium/high heat and melt 2 tablespoons butter and 1 tablespoons oil. Add mushrooms, cooking until soft, about 5 minutes. Stir in onion and cook another 3 minutes. Press in garlic cloves, and season with ¼ teaspoon salt, ¼ teaspoon pepper, and 1 tablespoon fresh thyme. Cook another 2 minutes, stirring constantly until garlic is fragrant, then transfer mushroom mixture to a plate. Wipe the skillet clean with a wet paper towel.
Pat dry steaks with a paper towel, seasoning all over with 1 teaspoon salt and ¼ teaspoon pepper.
Place the same pan over medium/high heat, add 2 tablespoons butter and 1 tablespoon oil. When butter is hot and finished foaming, add seasoned steaks to skillet and saute, turning over once with tongs about 3 to 5 minutes per side for medium-rare. Reduce heat if steak is browning too fast. Transfer steaks to the plate with mushrooms.
Add ½ cup merlot and boil until reduced by half, scraping the bottom with a spatula to deglaze the pan. Add 1½ cups broth and boil until about ⅔ cup liquid remains. Add ½ cup cream and boil until sauce thickens slightly. Return mushrooms and steak to the pan and heat until warmed through. Season sauce to taste with more salt and pepper if desired.
3. Veal Chops with Rosemary Butter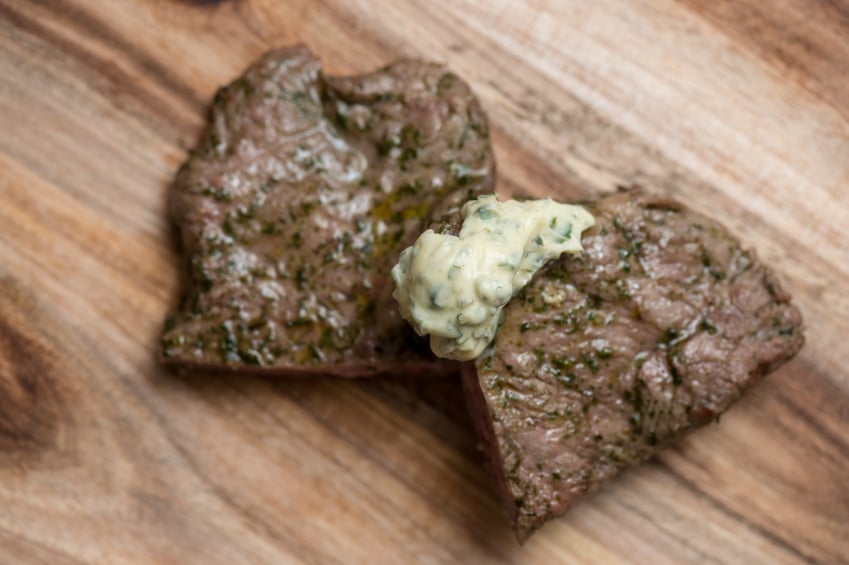 If veal chops are your meat of choice, you can skip the steakhouse and also learn to make those at home via this recipe from Epicurious. They're simple to make and can be prepped a day ahead. Topped with rosemary butter, there's no way meat eaters will be able to resist these homemade veal chops, and we can't blame them. The seasoned chops will cook in the oven before they're dressed with the rosemary and garlic drippings from the pan. Cuts of rosemary butter then tie everything together and before you know it, it's time to eat.
Ingredients:
¼ cup unsalted butter, room temperature
2½ teaspoons minced fresh rosemary, divided
1 teaspoon chopped fresh thyme, divided
Pinch of salt
4 (12-ounce) veal rib chops, each about 1 inch thick
4 tablespoons olive oil, divided
1 (4-inch-long) fresh rosemary sprig
1 garlic clove, flattened
3 tablespoons dry white wine
3 tablespoons low-salt chicken broth
Directions: Whisk butter, 1 teaspoon rosemary, ¼ teaspoon thyme, and pinch of salt in small bowl. Wrap rosemary butter in plastic wrap, forming 1½-inch-diameter log. Chill at least 2 hours.
Arrange chops in single layer in large baking dish. Drizzle with 2 tablespoons olive oil. Sprinkle with remaining 1½ teaspoons rosemary and ¾ teaspoon thyme. Sprinkle with salt and pepper. Rub oil and seasonings into chops.
Heat 2 tablespoons olive oil in heavy large skillet over medium-high heat. Add rosemary sprig and garlic. Sauté until garlic is fragrant but not brown, about 2 minutes. Discard rosemary sprig and garlic. Increase heat to high. Add chops; cook until chops are browned and meat thermometer inserted horizontally into center reads 130 degrees Fahrenheit, about 2 minutes per side. Transfer chops to plate. Pour off drippings from pan. Reduce heat to medium-high. Add wine to skillet and cook until reduced to about 2 teaspoons, scraping up browned bits, about 30 seconds. Add chicken broth; cook until reduced to about 2 tablespoons, about 30 seconds. Drizzle over chops.
Cut rosemary butter into 4 slices. Place 1 slice atop each chop and serve.
4. Red Wine-Braised Short Ribs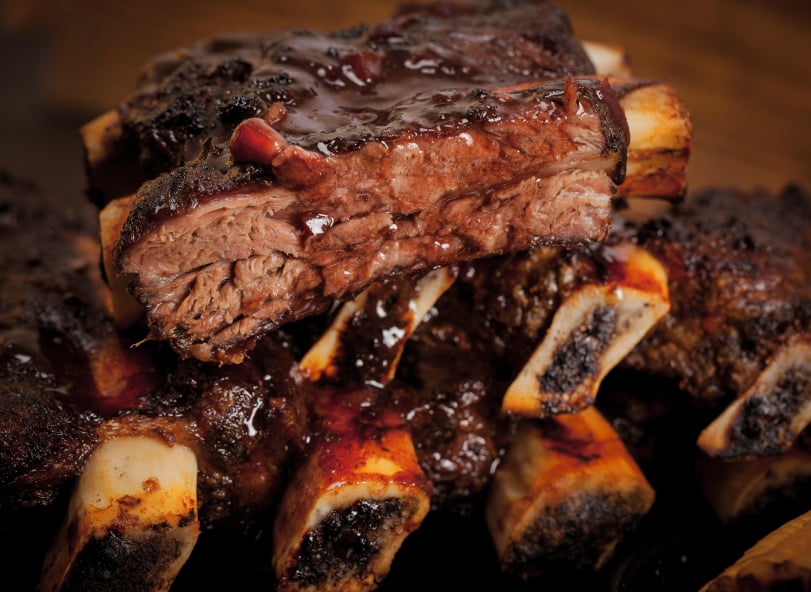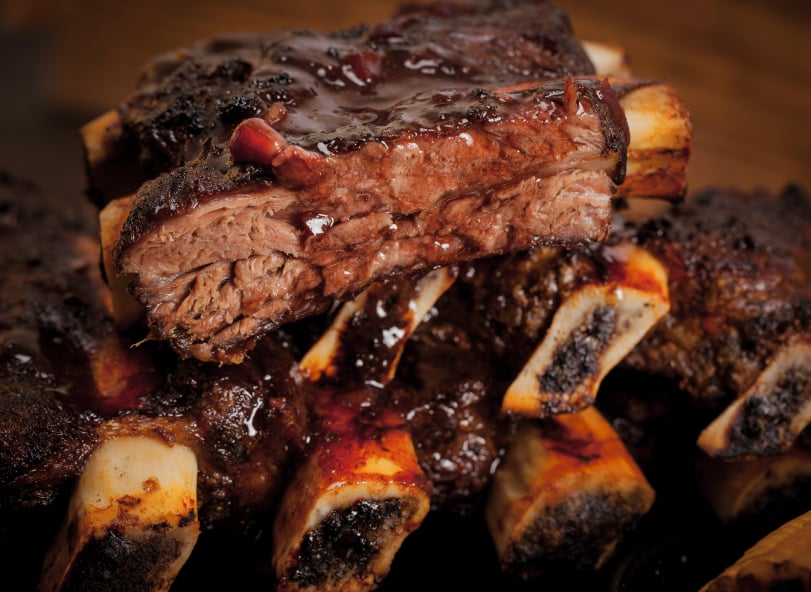 Red wine-braised short ribs are next, and these will really impress your guests. The dish is typically left to restaurant chefs, but with an easy-to-follow formula from Bon Appetit, there's no reason you shouldn't try your hand at the savory treat. As long as you leave yourself plenty of time to make the short ribs (they cook for 2½ hours), there should be very little stress involved. The oven will do most of the work for you, the onions, carrots, celery, and herbs will only add to your final product.
Ingredients:
5

pounds

bone-in beef short ribs, cut crosswise into 2-inch pieces

Kosher salt and freshly ground black pepper

3

tablespoons

vegetable oil

3

medium onions, chopped

3

medium carrots, peeled, chopped

2

celery stalks, chopped

3

tablespoons

all-purpose flour

1

tablespoon

tomato paste

1

 (

750-milllileter) bottle dry red wine 

10

sprigs flat-leaf parsley

8

sprigs thyme

4

sprigs oregano

2

sprigs rosemary

2

fresh or dried bay leaves

1

head of garlic, halved crosswise

4

cups

low-salt beef stock
Directions: Preheat oven to 350 degrees Fahrenheit. Season short ribs with salt and pepper. Heat oil in a large Dutch oven over medium-high. Working in 2 batches, brown short ribs on all sides, about 8 minutes per batch. Transfer short ribs to a plate. Pour off all but 3 tablespoons drippings from pot.
Add onions, carrots, and celery to pot and cook over medium-high heat, stirring often, until onions are browned, about 5 minutes. Add flour and tomato paste; cook, stirring constantly, until well combined and deep red, 2 to 3 minutes. Stir in wine, then add short ribs with any accumulated juices. Bring to a boil; lower heat to medium and simmer until wine is reduced by half, about 25 minutes. Add all herbs to pot along with garlic. Stir in stock. Bring to a boil, cover, and transfer to oven.
Cook until short ribs are tender, 2 to 2½ hours. Transfer short ribs to a platter. Strain sauce from pot into a measuring cup. Spoon fat from surface of sauce and discard; season sauce to taste with salt and pepper. Serve in shallow bowls over mashed potatoes with sauce spooned over.
5. Surf and Turf for Two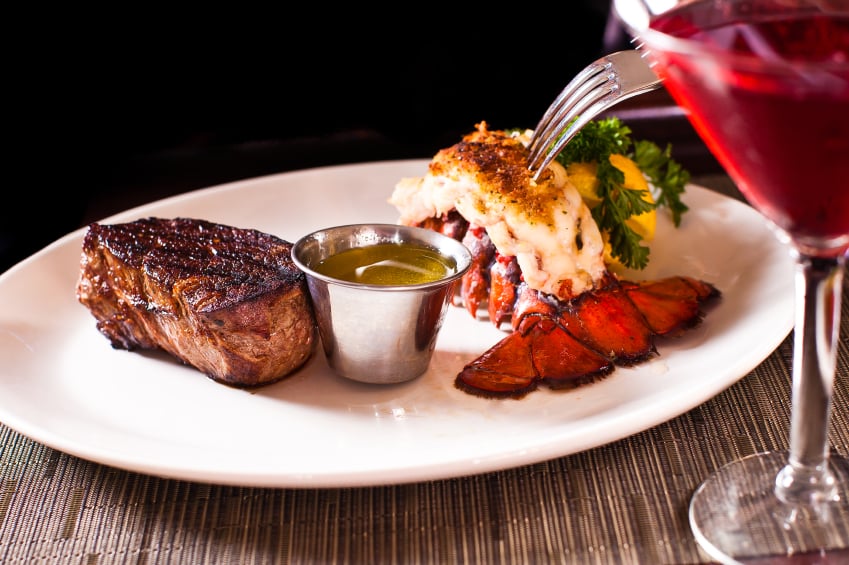 Surf and turf is a fan favorite and this recipe featured on Food Network teaches you how to make the romantic dinner for two. Quench your cravings for seafood and meat and pick up your shrimp, pancetta, beef tenderloin, asparagus, and most importantly, butter, at the grocery store. The meal will be ready in less than an hour and requires 35 minutes of prep time. Serve your surf and turf with fresh in-season asparagus and you hit all of the bases on your dinner plate.
Ingredients:
Herb oil
¼ cup chopped fresh parsley
2 tablespoons chopped fresh chives
2 tablespoons extra-virgin olive oil
Kosher salt and freshly ground pepper
For the surf and turf
6 jumbo shrimp, peeled and deveined (tails intact)
2 tablespoons extra-virgin olive oil
Juice of ½ lemon
2 teaspoons chopped fresh thyme, plus 2 to 3 sprigs
Freshly ground pepper
6 slices pancetta (about 2 ounces)
1 (10-ounce) piece beef tenderloin, trimmed
Sea salt
8 asparagus spears
1 tablespoon unsalted butter
Directions: Make the herb oil: Pulse the parsley, chives and olive oil in a mini food processor until smooth. Thin with water, if necessary, and add ¼ teaspoon each of salt and pepper. Transfer to a small bowl, cover and set aside.
Prepare the surf and turf: Toss the shrimp, olive oil, lemon juice, chopped thyme, and pepper to taste in a bowl. Wrap each shrimp with a piece of pancetta.
Preheat the broiler. Arrange the shrimp on a foil-lined broiler pan. Season the beef with sea salt and pepper, press the thyme sprigs into the meat and set aside. Snap off the tough ends of the asparagus. Put the asparagus in a microwave-safe dish with ¼ cup water and a pinch of sea salt.
Heat a medium ovenproof skillet over high heat and add the butter. When the foam subsides, sear the beef until golden brown, about 3 minutes per side. Using tongs, hold the meat and brown the sides. Transfer the skillet to the broiler and cook until a thermometer inserted into the beef registers 125 degrees Fahrenheit for medium rare, about 4 more minutes. Transfer to a cutting board to rest while you cook the shrimp.
Broil the shrimp until the pancetta is crisp, about 2 minutes per side. Meanwhile, microwave the asparagus until tender, about 2 minutes. Slice the beef into 4 pieces. Serve with the shrimp, herb oil and asparagus.
6. Chili Honey-Glazed Salmon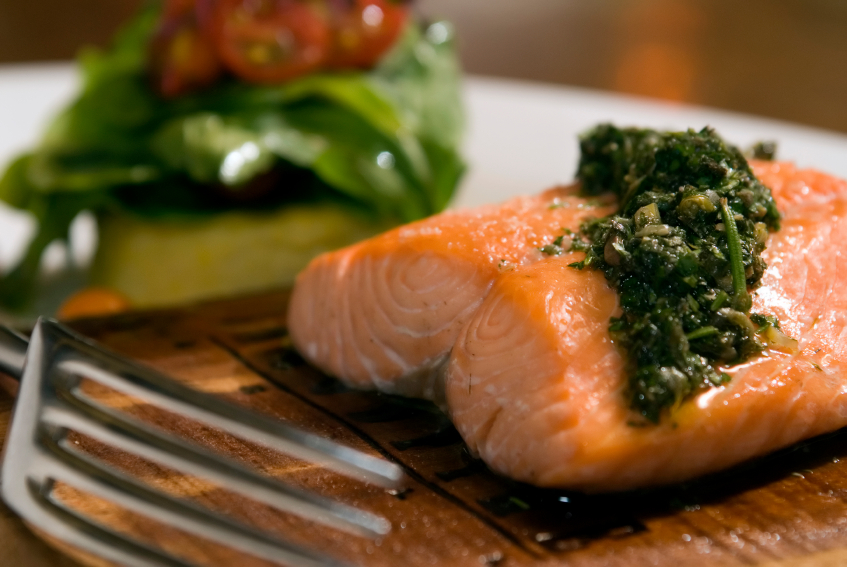 Salmon is the last dish on our steakhouse roundup list and we're going out big with a mouth-watering recipe from Food & Wine. Salmon is fortunately very easy to make, but when you take things up a notch and master chili honey-glazed salmon, you can officially commence your boycott on the steakhouse. Because who needs to drop a paycheck on dinner when you can easily make this decadent dish at home? Paired with decadent sauces, the homemade salmon packs the heat and the big flavor, and it has hints of both savory and sweet. Serving 4, make this for 3 dinner guests or save it all for yourself.
Ingredients:
1 pound tomatillos, husked
1 red onion, coarsely chopped
8 garlic cloves, 2 chopped
2 large jalapeños, stemmed
¼ cup canola oil, plus more for brushing
Salt and freshly ground pepper
¼ cup fresh lime juice
¼ cup chopped cilantro, plus sprigs for garnish
¼ cup honey
1 canned chipotle in adobo, chopped
1 teaspoon ground cumin
1 (19-ounce) can black beans with their liquid
1½ teaspoons pure ancho chile powder
1½ teaspoons Dijon mustard
4 (8-ounce) center-cut salmon fillets, with skin
Sour cream, for serving
Directions: Preheat the oven to 375 degrees Fahrenheit. Spread the tomatillos on a roasting pan along with half of the onion, the 6 whole garlic cloves and the jalapeños. Toss with 2 tablespoons of the oil and season with salt and pepper. Roast for about 35 minutes, until tender.
Transfer the vegetables to a blender and puree until smooth. Add the lime juice, chopped cilantro and 2 tablespoons of the honey and pulse to blend. Season the tomatillo salsa with salt and pepper and transfer to a bowl. Rinse out the blender.
In a medium saucepan, heat another 2 tablespoons of the oil. Add the chipotle, cumin, chopped garlic and the remaining onion and cook over moderate heat, stirring occasionally, until the onion is softened, about 5 minutes. Add the beans with their liquid and ¼ cup of water and cook over low heat for 15 minutes. Transfer the black bean mixture to the blender and puree until smooth. Season the sauce with salt.
Light a grill or preheat a grill pan. In a small bowl, combine the remaining 2 tablespoons of honey with the ancho chile powder and mustard and season with salt. Brush the salmon with oil and season with salt and pepper. Grill the fish skin side down over moderately high heat until very crisp, about 3 minutes. Cook the fish on the remaining 3 sides just until lightly charred, 3 minutes longer. Brush the salmon with the chile-honey glaze and grill skin side up until lightly caramelized, 2 minutes.
Spoon the tomatillo salsa on plates and top with the salmon. Garnish with sour cream and the cilantro sprigs and serve with the black bean sauce.