Stuffed Pepper Recipes That Make a Quick and Easy Dinner
Stuffed pepper recipes are easy, affordable, and versatile. Whether you fill your bell peppers with beef, chicken, beans, quinoa, or cheese, you can ensure they'll be appetizing when they come out of the oven, and they'll fill you up without filling you out. Even better, not only do bell peppers have high amounts of vitamin C, they also are packed with caretenoids, which offer important antioxidant and anti-inflammatory benefits, according to the World's Healthiest Foods.
So if you need an easy weeknight meal that packs a flavor and nutrient punch, look no further than those inexpensive, ripening bell peppers on your countertop. There are a number of ways to prepare stuffed peppers, whether you're serving them to vegetarians, vegans, or meat-eaters, so check out these six recipes to make sure you're not missing out on any good methods.
1. Ground Beef Stuffed Peppers
Perhaps the most popular way to prepare stuffed peppers is by packing the bell peppers with ground beef, and adding some cheese into the mix. This recipe from Food.com is a classic and serves three, giving each eater two whole green bell peppers. If you're serving the peppers as a side dish, this recipe feeds even more. Combining beef, tomatoes, rice, Worcestershire sauce, and cheddar cheese, this food formula hits the nail on the head and will become your eaters' next favorite meal.
Ingredients:
6 large green peppers
1 pound beef, Ground
½ cup onion, Chopped
1 (16-ounce) can tomatoes, diced
½ cup long grain rice
½ cup water
1 teaspoon salt
1 teaspoon Worcestershire sauce
1 cup cheddar cheese, Shredded
Directions: Cut tops from green peppers; discard seeds and membranes. Chop enough of the tops to make ¼ cup; set aside. Cook the whole green peppers, uncovered in boiling water for about 5 minutes; invert to drain well. Sprinkle insides of peppers lightly with salt.
In a skillet cook ground beef, onion and ¼ cup chopped pepper until meat is browned and vegetables are tender. Drain off excess fat. Add undrained tomatoes, uncooked rice, water, salt, Worcestershire, and a dash of pepper. Bring to boiling, reduce heat. Cover and simmer about 20 minutes or till rice is tender. Stir in cheese. Stuff peppers with meat mixture. Place in a 10-by-6-by-2 baking dish. Cover and bake in the oven at 350 degrees Fahrenheit for 30 minutes.
2. Turkey and Quinoa Stuffed Peppers
Pointing the spotlight on another popular ground meat, we come to this next recipe for turkey and quinoa stuffed peppers from Spache the Spatula. This recipe yields a healthy and hearty easy weeknight dinner that takes less than 1 hour to bake and prepare. Quinoa is the current big grain on campus, and you can never go wrong with lean ground turkey, so give these stuffed peppers a try and see how delicious nutritious can taste.
Ingredients:
½ cup uncooked quinoa
1 cup water and a pinch of salt
1 tablespoon olive oil
2 small yellow onions, chopped
2 to 3 garlic cloves, minced
20 ounces extra lean ground turkey
2 teaspoons Italian seasoning
salt and pepper
1 (8-ounce) can tomato sauce
2 ounces baby spinach
4 bell peppers, halved with seeds and membranes removed
fresh basil, chopped, torn, or sliced
shredded mozzarella cheese
Directions: Preheat oven to 350 degrees Fahrenheit. Place quinoa in a fine mesh strainer and rinse well. Add to a small saucepan with a pinch of salt and the water. Bring to a boil, cover, reduce to a simmer, and let cook for 15 minutes. Remove lid and cook just until remaining water evaporates.
Heat oil in a large skillet over medium-high heat. Add onion and garlic. Cook, stirring, until translucent, about 5 minutes. Add turkey and Italian seasoning. Cook until no pink remains, then stir in tomato sauce and spinach. Transfer to a large bowl along with quinoa and mix to combine.
Fill each pepper half with mixture and top with mozzarella, if desired. Bake for 30 minutes, or until heated through and peppers are tender. Serve garnished with basil.
3. Quinoa-Stuffed Peppers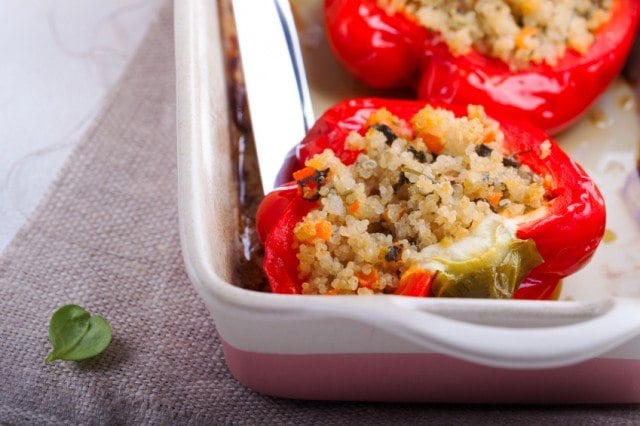 And if you're interested in going the vegetarian route, you can also stuff your peppers with the popular grain quinoa, and leave out the meat completely. This quinoa-stuffed peppers recipe from Yoga Journal shows you how. The peppers are lacking in meat, but they're not lacking in flavor thanks to the tomatoes, black beans, quinoa, cheese, and carrots that go into the mix. And even better, thanks to all the aforementioned ingredients, this dinner also packs a healthy serving of protein.
Ingredients:
1 medium onion, finely chopped
2 tablespoons olive oil
2 ribs celery, finely chopped
1 tablespoons ground cumin
2 cloves garlic, minced
1 (10-ounce) package frozen chopped spinach, thawed and squeezed dry
2 (15-ounce) cans diced tomatoes, drained, liquid reserved
1 (15-ounce) can black beans, rinsed and drained
¾ cup quinoa
3 large carrots, grated
1½ cups grated reduced-fat pepper Jack cheese, divided
4 large red bell peppers, halved lengthwise, ribs removed
Directions: Heat oil in saucepan over medium heat. Add onion and celery, and cook 5 minutes, or until soft. Add cumin and garlic, and sauté 1 minute. Stir in spinach and drained tomatoes. Cook 5 minutes, or until most of liquid has evaporated. Stir in black beans, quinoa, carrots, and 2 cups water. Cover, and bring to a boil. Reduce heat to medium-low, and simmer 20 minutes, or until quinoa is tender. Stir in 1 cup cheese. Season with salt and pepper, if desired.
Preheat oven to 350 degrees Fahrenheit. Pour liquid from tomatoes in bottom of baking dish. Fill each bell pepper half with heaping ¾-cup quinoa mixture, and place in baking dish. Cover with foil, and bake 1 hour. Uncover, and sprinkle each pepper with 1 tablespoon of remaining cheese. Bake 15 minutes more, or until tops of stuffed peppers are browned. Let stand 5 minutes. Transfer stuffed peppers to serving plates, and drizzle each with pan juices before serving.
4. Mexican Stuffed Peppers
Next up are Mexican stuffed peppers from Taste of Home. This recipe proves that not all Mexican food has to be unhealthy, as one serving of this dinner only yields 301 calories. These peppers are packed full of lean ground beef, tomatoes, cheese, and (shhh!) Mexican-style rice and pasta mix. We won't tell anyone if you won't. Enlist this shortcut and master your easiest weeknight meal yet.
Ingredients:
8 medium green peppers

1 pound lean ground beef (90% lean)

1 can diced tomatoes and green chilies, undrained

1½ cups water

1 envelope Mexican-style rice and pasta mix

2 cups shredded Mexican cheese blend
Directions: Preheat oven to 375 degrees Fahrenheit. Cut tops off peppers and remove seeds. In a Dutch oven, cook peppers in boiling water 3 to 5 minutes. Drain and rinse in cold water; set aside.
In a large skillet, cook beef over medium heat until no longer pink; drain. Add diced tomatoes, water, and pasta mix. Bring to a boil. Reduce heat; cover and simmer 6 to 8 minutes or until liquid is absorbed.
Place ⅓ cup rice mixture in each pepper; sprinkle each with 2 tablespoons cheese. Top with remaining rice mixture. Place in a greased 13-by-9-inch baking dish. Cover and bake 25 minutes. Sprinkle with remaining cheese; bake 5 to 10 minutes longer or until the cheese is melted and peppers are tender.
5. Italian Mac and Cheese Stuffed Peppers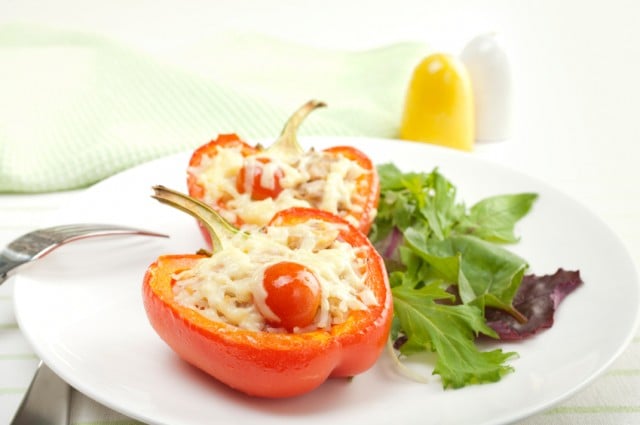 We've covered the Mexican version of stuffed peppers, and now it's time to master the Italian variety. Enter: Italian mac and cheese stuffed peppers from The Comfort of Cooking. Read this recipe and weep, because all of your stuffed pepper dreams just came true. Who says you have to put meat in your bell peppers? Leave out the animal protein and instead leave room for the noodles and cheese. This recipe calls for two different types of cheeses, macaroni noodles, and a healthy amount of butter. Your next mac and cheese combo needs a vessel and bell peppers are the perfect kind.
Ingredients:
12 ounces elbow macaroni
1 stick unsalted butter
½ cup plus 1 tablespoon all-purpose flour
3 cups milk
2 cups (8 ounces) Wisconsin cheddar cheese, shredded
½ cup (2 ounces) Wisconsin mozzarella cheese, shredded
½ teaspoon Italian seasoning
1 teaspoon kosher salt
¼ teaspoon freshly ground black pepper
6 red and/or green bell peppers, tops removed and seeds scooped out.
2 tablespoons fresh basil or parsley, chopped, for garnish
Directions: Preheat oven to 350 degrees Fahrenheit. Cook pasta according to package directions in a large pot of boiling salted water until al dente. Drain well and set aside.
Melt butter in a medium saucepan set over medium heat. Add flour and cook, stirring, until bubbling, about 3 to 4 minutes. While whisking constantly, slowly stream in milk. continue to cook and whisk until thickeend, about 5 to 6 minutes. Remove from heat and add both cheeses, Italian seasoning, salt, and pepper. Stir until smooth. Add pasta and mix to coat.
Set peppers in a baking dish and spoon macaroni mixture into each pepper, filling to the top. Pour ½ inch of water into baking dish, being careful not to splash into the filling. Bake peppers for 40 to 45 minutes, or until tender. Let stand for about 5 minutes, then serve garnished with basil.
6. Slow Cooker Stuffed Peppers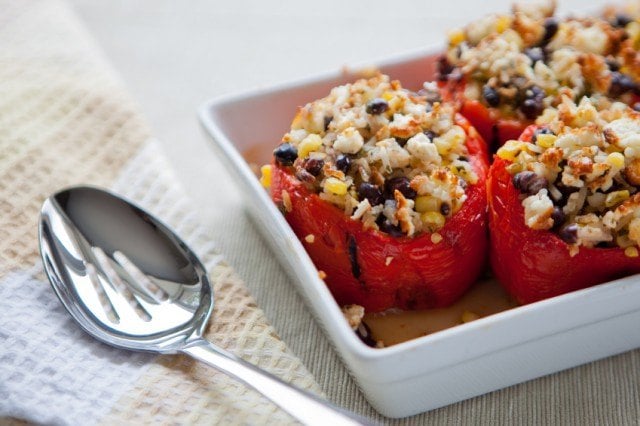 The last stuffed pepper recipe on our list calls for the slow cooker, making weekday dinners even easier. This dish, developed by The Girl Who Ate Everything, highlighted on Tablespoon, is vegetarian and can even be made vegan if you leave out of the cheese. Just prepare your peppers in the morning and let them simmer in the crockpot for 4 to 6 hours. The dish promise to deliver and will have your house smelling delicious.
Ingredients:
4 large (or 6 small) bell peppers, any color, tops removed and seeds scooped out.
2 cups cooked minute rice
1 (11-ounce) can corn
1 (15-ounce) can black beans, drained and rinsed
½ cup pasta sauce
¼ teaspoon onion powder
¼ teaspoon salt
¼ teaspoon pepper
1½ cup shredded cheddar cheese, divided
½ cup water
Directions: Add the rice, corn, black beans, pasta sauce, onion powder, salt, pepper, and 1 cup of the cheese to a large bowl and mix well to combine. Carefully fill each pepper with the mixture, then transfer to the slow cooker. Pour the water in the bottom of the slow cooker, cover, and cook for 4 to 6 hours on low. Peppers should be tender. Just before serving, sprinkle remaining cheese over top. Cover and cook until cheese melts, about 5 minutes. Serve.