6 Stuffed Veggie Recipes To Replace Your Old Stuffed Peppers
People have developed a certain obsession with stuffing tasty ingredients inside their favorite foods. In Minneapolis, cheese-filled hamburgers have ruled the bar scene for decades. Though no one knows for sure who invented the Juicy Lucy, or Jucy Lucy depending on who you ask, locals go crazy for the hearty sandwich. And don't forget the frenzy that ensued when Pizza Hut introduced stuffed crust pizza. On the healthier side of the scale, stuffed peppers have been a classic for generations. For some reason, a side of rice with diced peppers just isn't as much fun as an entire veggie filled with grains. While there's nothing wrong with the standard, tons of other produce take to fillings just as easily. We've searched the web to bring you six delicious stuffed veggie recipes.
1. Southwestern Stuffed Sweet Potatoes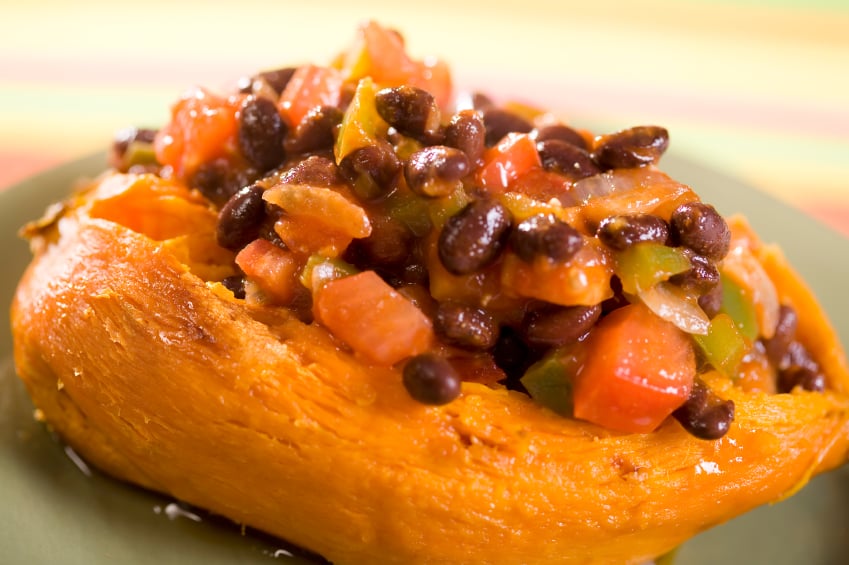 You might not think of sweet potatoes as a vegetable, but their nutritional content would argue otherwise. The orange tubers pack a hefty dose of fiber, vitamins A and C, and potassium. Take your orange spuds to the next level with these Tex-Mex sweet potatoes from What's Gaby Cooking. Black beans add even more fiber and a dose of protein, while guacamole and salsa ensure plenty of zesty flavor.
This recipe is vegetarian, but feel free to add some meat along with the beans. Just brown some ground beef, chicken, or turkey, season it with salt, then mix with the black beans. A squeeze of lime and a dollop of sour cream also make nice finishing touches.
Ingredients:
4 large sweet potatoes
Kosher salt and freshly ground black pepper
1 cup cooked black beans
½ cup salsa
½ cup shredded cheese
Chopped red onions
Chopped fresh cilantro
Directions: Preheat oven to 425 degrees Fahrenheit. Wash sweet potatoes, scrubbing exterior well. Prick skin of each sweet potato several times with a fork, and set on a sheet pan. Bake sweet potatoes about 60 minutes, or until a knife easily slides through the flesh.
Remove from oven, and let cool slightly. Slice sweet potatoes lengthwise down center, and push ends to open. Season with salt and pepper. Fill with beans, guacamole, salsa, cheese, onions, and cilantro. Serve.
2. Greek Stuffed Tomatoes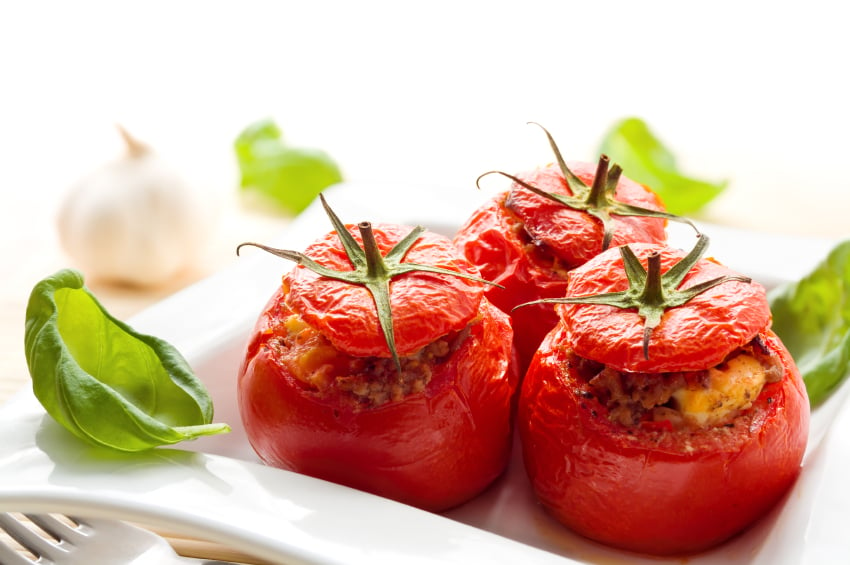 Tomatoes need very little work in order to taste phenomenal. Let the juicy fruits shine in The New York Times' Greek stuffed tomatoes, brimming with herbed grains. Inspired by versions made in the Mediterranean, these tomatoes will make you feel like you're on a European vacation.
Just core the tomatoes, squeeze out some of the seeds, then fill with a mixture of rice, zucchini, and herbs. After 45 minutes in the oven, the tomatoes will be perfectly delicious and tender. Add a sprinkle of feta for a little more richness.
Ingredients:
6 large, firm tomatoes
1 small zucchini, shredded
Salt
3 tablespoons olive oil
1 to 2 garlic cloves, minced
¼ cup chopped fresh mint
2 tablespoons chopped fresh dill or parsley
½ cup rice or bulgur
Freshly ground pepper
Directions: With a sharp knife, cut off tops of tomatoes. Cut away core, and reserve tops. Using a small spoon, scoop out interior, making sure to leave sides of tomato intact. Place tomato seeds in a strainer over a bowl, and reserve flesh. Rub seeds against strainer to extract juice, and discard seeds. Chop flesh, and add to juice. Salt tomato shells, and set upside down on a rack set over a baking sheet to drain.
Toss shredded zucchini with a generous amount of salt, and let drain in a colander for 10 minutes. Squeeze liquid from zucchini, and transfer to bowl with tomato pulp. Add garlic, minty, parsley or dill, and rice or bulgur. Season with salt and pepper. Stir in 2 tablespoons olive oil, and let sit 30 minutes.
Preheat oven to 350 degrees Fahrenheit. Oil a large baking dish. Fill tomatoes almost to top with stuffing, and top with tomato caps. Place in prepared baking dish. Drizzle remaining oil over top. Bake tomatoes 45 minutes to 1 hour, until tomatoes are just about collapsing. Remove from heat, and let cool. Serve.
3. Stuffed Eggplant with Lamb and Pine Nuts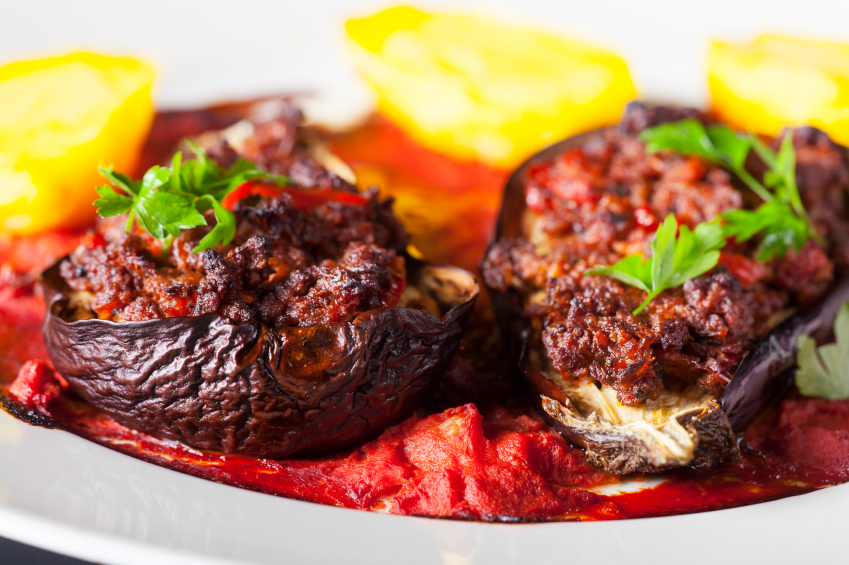 If you think you don't like eggplant, this could be the dish that converts you. Jerusalem's fragrant recipe, featured on Serious Eats, is brimming with spiced lamb and toasty pine nuts. The vegetable basically serves as a blank canvas for all those bold flavors, making it a great choice for skeptics. Not a lamb fan? Try using ground pork or beef instead.
Ingredients:
4 medium eggplants, halved lengthwise
6 tablespoons olive oil
1 teaspoon cumin
1 tablespoon sweet paprika
1 tablespoon ground cinnamon
2 medium onions, finely chopped
1 pound ground lamb
7 tablespoons pine nuts
⅔ ounces chopped flat-leaf parsley
2 teaspoons tomato paste
3 teaspoons superfine sugar
⅔ cup water
1 tablespoon freshly squeezed lemon juice
1 teaspoon tamarind paste
4 cinnamon sticks
Salt and freshly ground black pepper
Directions: Preheat oven to 425 degrees Fahrenheit. Place eggplant halves, skin side down, in a large roasting pan that allows them to fit snugly. Brush flesh with 4 tablespoons olive oil, and season with 1 teaspoon salt and some black pepper. Roast 20 minutes, until golden, and remove from oven to cool.
While eggplant cooks, heat remaining olive oil in a large skillet. Mix together cumin, paprika, and ground cinnamon. Add half of spice mix to pan, along with onions. Cook over medium-high heat about 8 minutes, stirring often. Then, add lamb, pine nuts, parsley, tomato paste, 1 teaspoon sugar, 1 teaspoon salt, and some black pepper. Continue cooking, stirring, for another 8 minutes, until meat is fully cooked.
Place remaining spice mix in a bowl, and add water, lemon juice, tamarind, and remaining 2 teaspoons sugar, cinnamon sticks, and ½ teaspoon salt. Mix to combine.
Reduce oven temperature to 375 degrees Fahrenheit. Pour spice mix into bottom of eggplant pan. Spoon lamb mixture onto each eggplant half. Cover pan tightly with foil, and return to oven. Roast 1½ hours, removing foil to baste with sauce twice during the process, until eggplant is completely soft and sauce is thick. You may need to add a bit of water as the eggplant cooks. Serve warm, or room temperature.
4. Sausage-Stuffed Zucchini
Cooking zucchini can be kind of tricky. It's either cooked to death and mushy, or completely underdone and chalky. Martha Stewart Living's recipe avoids both issues by keeping the vegetables in large pieces, and scraping out some of the watery seeds. Filled with savory sausage and topped with shaved Parmesan, this meal is a great way to get a taste of Italian comfort food.
Ingredients:
1 teaspoon extra-virgin olive oil, plus more
4 medium zucchini, halved lengthwise
1 pound spicy Italian sausage, removed from casing
1 small onion, coarsely shopped
3 garlic cloves, minced
1 cup coarse fresh breadcrumbs
2 teaspoons lemon zest
1 tablespoon lemon juice
1½ ounces grated Parmesan cheese, plus shavings
1 teaspoon coarse salt
1 large egg, lightly beaten
Directions: Preheat oven to 350 degrees Fahrenheit. Drizzle a large baking dish with oil. Scrape seeds and soft flesh from zucchini, reserving ½ cup. Place zucchini, cut side up, in a baking dish.
Heat oil in a large skillet over medium-high heat. Add sausage and onion. Cook, breaking up meat, until sausage is browned and onion is softened, about 5 minutes. Add garlic and reserved zucchini flesh. Cook until garlic is fragrant, about 1 minute. Remove from heat, and stir in remaining ingredients. Divide mixture among zucchini. Bake until filling is firm and each zucchini is tender and wrinkled at the edges, 35 to 40 minutes. Garnish with shaved Parmesan, and serve.
5. Chicken and Blue Cheese-Stuffed Portobellos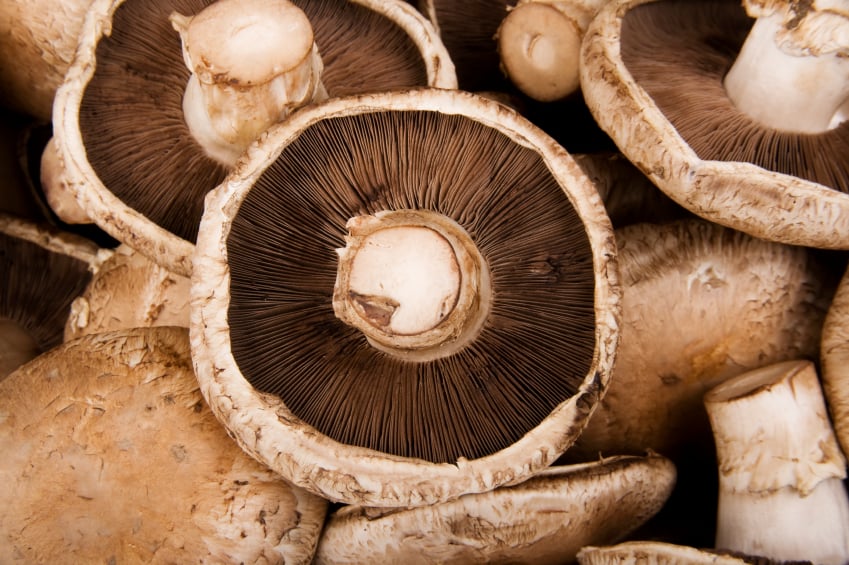 No cocktail party would be complete without an appetizer spread featuring stuffed mushroom caps, because almost everyone loves them. Turn the party snack into the main attraction with Clean Eating's stuffed portobellos. The meal might sound decadent, but these mushrooms are packed with good-for-you ingredients that will supply plenty of fiber and protein. But don't worry, these definitely don't taste like health food.
Ingredients:
1¼ pounds boneless, skinless chicken breast
Sea salt
⅛ teaspoon freshly ground black pepper
½ cup balsamic vinegar, divided
1 tablespoon extra-virgin olive oil
¼ cup chopped fresh chives, divided
6 portobello mushroom caps, stems and gills removed, brushed clean
½ cup quinoa, rinsed
3 cups chopped, packed baby spinach
1½ ounces roasted unsalted walnuts, chopped
2 ounces blue cheese, crumbled, divided
2 shallots, diced
3 garlic cloves, minced
2 tablespoons Dijon mustard
2 scallions, chopped
Directions: Preheat oven to 375 degrees Fahrenheit. Place chicken on a large, rimmed baking sheet lined with foil. Season chicken with salt and pepper. Cover with foil, and bake until chicken is fully cooked, about 25 minutes. Let cool, then shred or chop into bite-size pieces. Place chicken in a large bowl. Reduce oven temperature to 350 degrees Fahrenheit.
Meanwhile, whisk ¼ cup vinegar, oil, and 1 tablespoon chives. Generously brush mixture over all sides of mushrooms, and place on two large baking dishes, cap sides down. Pour remaining mixture over top, and set aside for 20 minutes.
Cook quinoa according to package directions. Add to bowl with chicken along with spinach, remaining chives, walnuts, 1½ ounces cheese, shallots, garlic, and mustard. Drizzle in remaining vinegar, and toss to combine.
Fill each portobello with 1 cup of chicken mixture, packing tightly. Sprinkle with remaining cheese. Cover with foil, and bake 15 to 20 minutes. Serve.
6. Cumin Orange Shrimp-Stuffed Cucumbers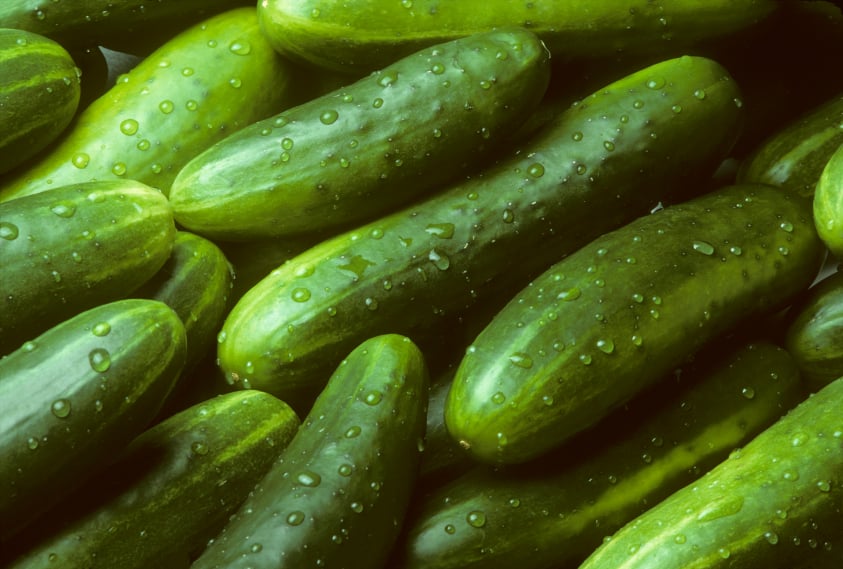 Crisp cucumbers are great in salads and on crudité platters, but they're capable of so much more. Cookin' Canuck's stuffed veggies put the green produce in the spotlight, and the results couldn't be more delicious.
This method requires hardly any cooking, just a quick trip to a sauté pan for the shrimp. If you're dealing with a real scorcher, you can turn the dish into a heat-free recipe by purchasing already cooked shrimp from the store. You could even substitute crab meat, if you prefer.
Ingredients:
Dressing
2 tablespoons fresh orange juice
2 tablespoons olive oil
½ teaspoon ground cumin
⅛ teaspoon salt
⅛ teaspoon ground pepper
Cucumbers
2 English cucumbers
1 teaspoon olive oil
¾ pound shrimp, peeled, and roughly chopped
¼ teaspoon salt
¼ teaspoon ground pepper
½ red bell pepper, diced
½ avocado, chopped
Directions: Whisk orange juice, 2 tablespoons olive oil, cumin, ⅛ teaspoon salt, and ⅛ teaspoon pepper to combine. Set dressing aside.
Cut each cucumber in half crosswise, then lengthwise to end up with 8 pieces total. Using a small spoon, scoop seeds out to form boats.
Heat 1 teaspoon olive oil in a large nonstick skillet set over medium heat. Add shrimp, and sauté until just cooked, 2 to 3 minutes. Season with salt and pepper. Transfer to a bowl, and stir in bell pepper, and avocado. Add 3 tablespoons dressing, and toss to coat.
Brush insides of cucumbers boats with 1 tablespoon dressing. Divide shrimp mixture among cucumber boats. Serve.
More from Culture Cheat Sheet: