7 Recipes You Can Make During Summer and Fall
The seasons are turning and with that comes an inevitable change in appetites. The summer is all about the grill and the winter is all about comfort food, but what about fall? We're not yet ready to give up on outdoor weather and give into carbs, yet we are craving more warm, comforting dishes, and that's where summer-to-fall transition meals come in. These transition meals still take advantage of the late summer produce but also can be made in the oven or on the grill, and can be served warm. Check out these seven summer recipes that also double as fall recipes.
1. Summer Corn Soup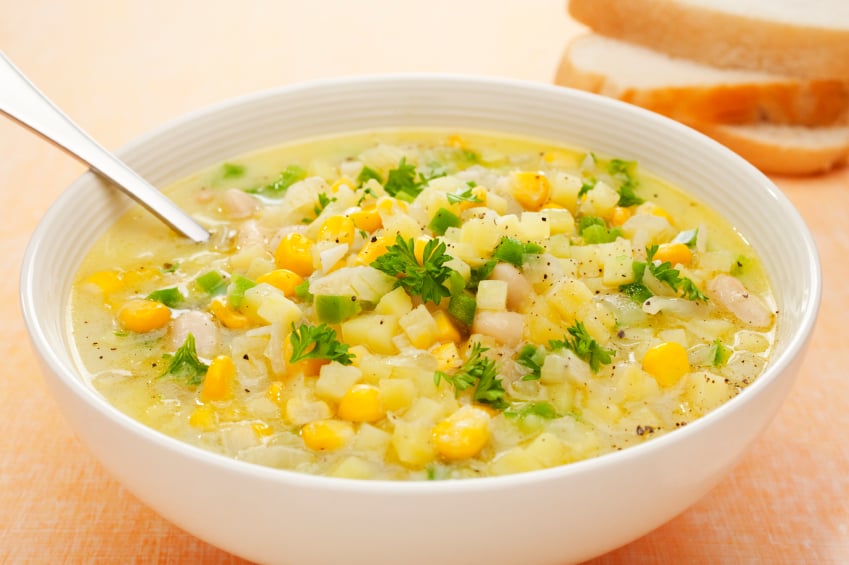 This summer corn soup from Minimalist Baker is a good example of a transition dish because while the recipe enlists the most prized crop of the summer season, corn, it also is served warm, which is characteristic of a fall recipe rather than a summer one. This soup can warm you on those uncharacteristically cool days that often crop us as we transition from summer to fall, but it can also help you reap the benefits of the end of the sunny season harvest. Slurp away your end-of-summer blues with this supper.
Ingredients:
2 to 3 tablespoons olive oil
½ large white onion, chopped
2 cloves garlic, minced
4 small red potatoes, quartered
Sea salt and ground black pepper
3 ears corn, kernels sliced off
2 cups low sodium veggie broth
2 cups unsweetened plain almond milk
2 to 3 green onions (garnish), chopped
Optional: 1 to 2 tablespoons nutritional yeast for a cheesy flavor
Directions: To a large saucepan over medium heat, add olive oil, onion, and garlic and sauté for 3 to 4 minutes. Add potato, season with a little salt and pepper, and cover to steam for 4 to 5 minutes. Add most of the corn, reserving a little for garnish, and stir.
Add broth and almond milk (if using), cover, and bring to a low boil. Reduce heat to low. Cook until the potatoes are soft and slide off of a knife when pierced, about 5 minutes.
Transfer soup back to the saucepan and bring back to a simmer. Taste and adjust seasonings as needed. Cook for at least 10 minutes to let thicken. The longer it simmers, the more flavorful it will be. To serve, top with chopped green onion, remaining fresh (or lightly sautéed) corn, and black pepper. Add a sprinkle of paprika for color.
2. Lasagna Stuffed Zucchini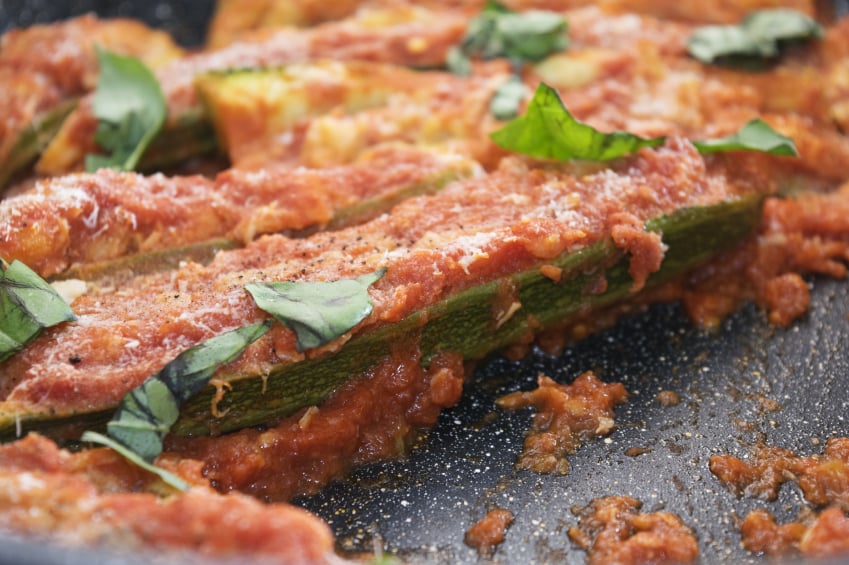 This next recipe gives you the best of both seasons. Enter: Lasagna stuffed zucchini from A Couple Cooks. Use up the end of the summer harvest and get ready for your favorite comfort food. This recipe serves 4 and should be made in a baking dish. Grab your zucchini, cheese, marinara sauce, and preheat the oven. This zucchini dish is a fun twist on a winter dish that still works as a summer recipe.
Ingredients:
4 medium zucchinis
1 bunch fresh spinach
½ cup chopped almonds
1 tablespoon fresh oregano
12 ounces part-skim ricotta
¼ cup plus 2 tablespoons Parmesan cheese
1 egg
¼ teaspoon red pepper flakes
1 teaspoon kosher salt, divided
Fresh ground black pepper
1 jar marinara sauce
½ cup shredded mozzarella or Italian blend cheese
Olive oil
Directions: Preheat the oven to 425 degrees Fahrenheit. Wash the zucchini; cut them each in half and scoop out the insides with a spoon. Chop the spinach; place it in a dry skillet and cook it down for a few minutes until wilted. Chop ½ cup almonds and 1 tablespoon fresh oregano.
In a medium bowl, mix 12 ounces ricotta cheese, ¼ cup Parmesan cheese, 1 egg, ¼ teaspoon red pepper flakes, oregano, chopped almonds, ½ teaspoon kosher salt, and fresh ground black pepper. Stir well.
Place the zucchini halves in a baking dish and lightly drizzle with olive oil, then sprinkle with kosher salt and pepper. Fill each half with spinach, then the cheese mixture, then top with marinara sauce, shredded mozzarella cheese, and additional Parmesan cheese.
Cover with foil and bake for 15 minutes covered, then 5 minutes uncovered. Let stand a few minutes before serving.
3. Tomato Ravioli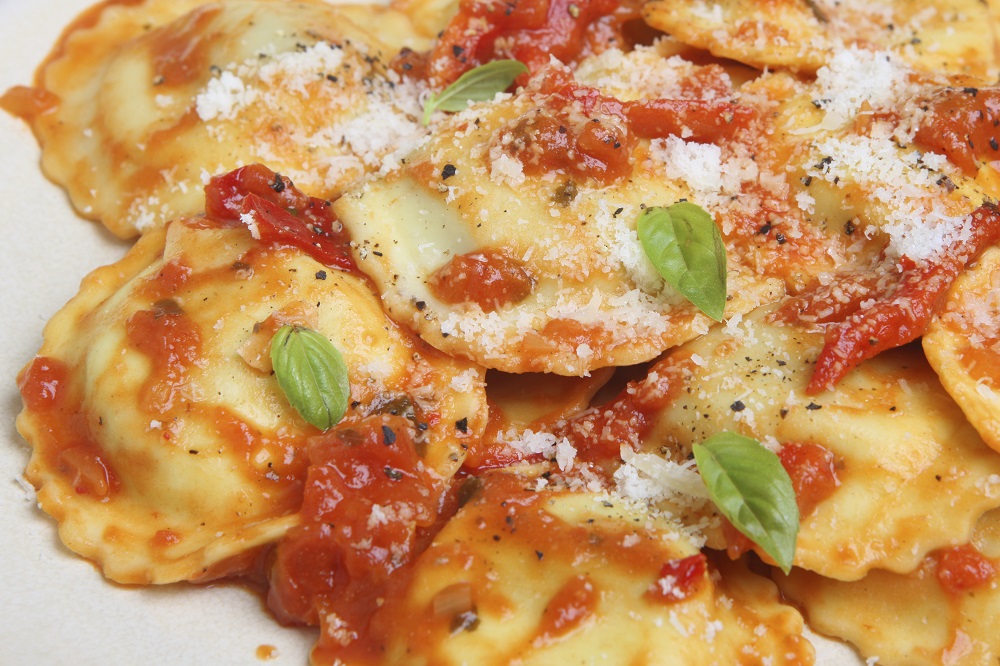 Dare to try your hand at seasonal ravioli? Follow this formula for ravioli featured on Cooking Light and use up the final tomatoes of the summer while also tucking in some carbs. The dish takes less than an hour to make and is easy thanks to ready-made ravioli and simple ingredients. Get your cheese, carbs, and a little fresh produce, too, and ease your way into fall.
Ingredients:
1 pound cherry tomatoes
2 shallots, cut into wedges
Cooking spray
3 tablespoons extra-virgin olive oil, divided
2 tablespoons balsamic vinegar
¼ teaspoon kosher salt
¼ teaspoon black pepper
12 ounces cheese ravioli
2 tablespoons chopped fresh basil
Directions: Preheat oven to 425 degrees Fahrenheit. Halve half of tomatoes. Arrange cut tomatoes, whole tomatoes, and shallots on a jelly-roll pan coated with cooking spray. Drizzle with 1 tablespoon oil; toss. Bake at 425 degrees for 35 minutes.
Add 2 tablespoons oil, vinegar, salt, and pepper to pan. Bake 10 minutes.
Cook ravioli according to package directions, omitting salt and fat. Drain ravioli, reserving ¼ cup cooking liquid. Add ravioli to tomatoes; toss. Add cooking liquid, if needed. Garnish with chopped basil.
4. Cherry, Wild Rice, and Quinoa Salad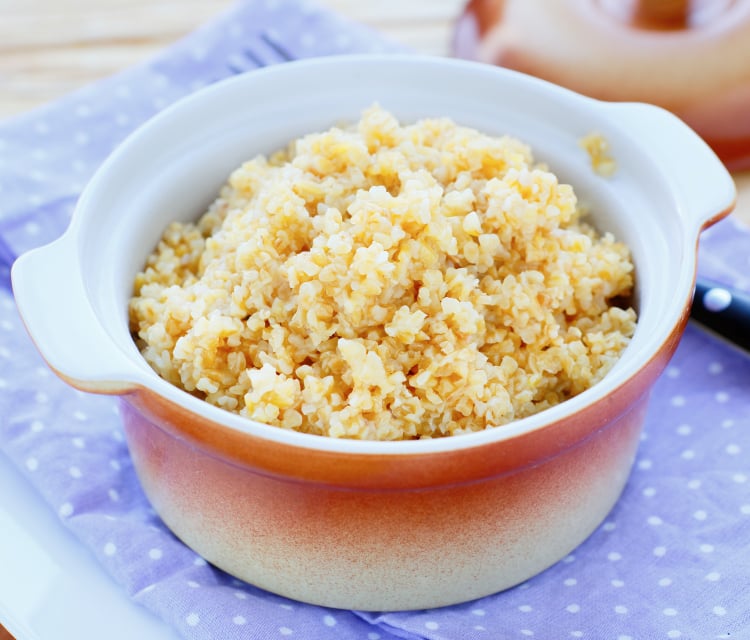 Here's another recipe from Eating Well that straddles the seasons. This cherry, wild rice, and quinoa salad is the best of both worlds as it takes advantage of cherry season while also helping you get your grains fix. Into the mix goes sweet cherries, tangy goat cheese, nuts, wild rice, and quinoa, and this salad can easily be transported to late-summer parties or enjoyed solo. Before you launch into full-out comfort food mood, take a bite out of this healthy yet hearty dish.
Ingredients:
¾ cup wild rice
½ cup quinoa, rinsed if necessary
¼ cup extra-virgin olive oil
¼ cup fruity vinegar, such as raspberry or pomegranate
¾ teaspoon salt
¼ teaspoon freshly ground pepper
2 cups halved pitted fresh sweet cherries
2 stalks celery, diced
¾ cup diced aged goat cheese, smoked Cheddar or other smoked cheese
½ cup chopped pecans, toasted
Directions: Bring a large saucepan of water to a boil over high heat. Add wild rice and cook for 30 minutes. Add quinoa and cook until the rice and quinoa are tender, about 15 minutes more. Drain and rinse with cold water until cool to the touch; drain well.
Meanwhile, whisk oil, vinegar, salt, and pepper in a large bowl. Add the rice and quinoa, cherries, celery, cheese, and pecans and toss to combine. Serve at room temperature or cold.
5. Basil Pesto Pasta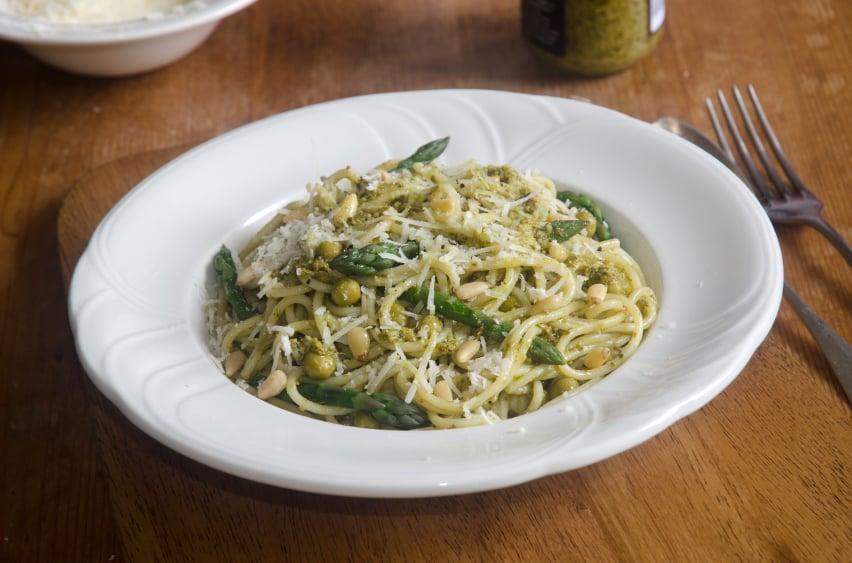 But speaking of comfort food, if you're interested in a dish in that department, look no further than this basil pesto pasta from Real Simple. The recipe teaches you how to make homemade pesto from the fresh basil that is still in season, and then it's time to spoon your green good stuff over a plate full of warm carbs. This dish couldn't be easier to make, and it'll take only 20 minutes.
Ingredients:
1 pound dried pasta
1 small clove garlic
¼ cup pine nuts
3 cups loosely packed fresh basil leaves, washed
kosher salt and pepper
⅔ cup plus 1 tablespoon extra-virgin olive oil
¼ cup grated Parmesan
Directions: Cook the pasta according to the package directions. Place the garlic, pine nuts, basil, ½ teaspoon salt, and ¼ pepper in the bowl of a food processor and pulse to combine. While the machine is running, drizzle in the oil through the feed tube, stopping occasionally to scrape down the sides. Transfer to a bowl and stir in the Parmesan. Divide the pasta among bowls and spoon the pesto over the top.
6. Heirloom Tomato Soup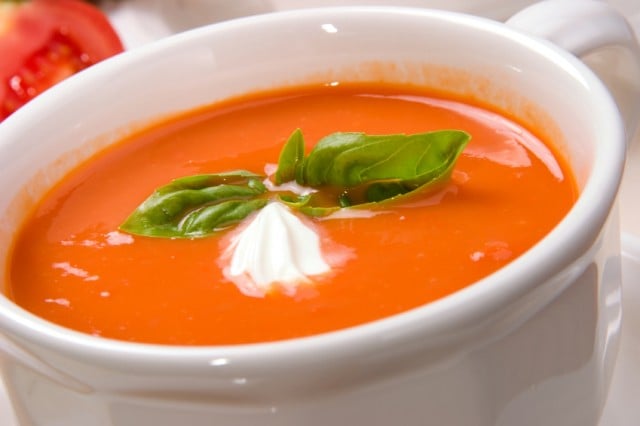 Back to the soup game, we come to this tomato soup from Marin Mama Cooks. Take advantage of summer's plump juicy tomatoes while you still can. Tomato season only lasts until mid-fall so make this warm, comforting, and rich soup before then. Marin Mama Cooks's recipe enlists tomatoes, thyme, basil, oregano, and garlic, and it serves 6. The heirloom tomato soup promises to taste like summer while still readying your cravings for fall.
Ingredients:
1 medium yellow onion, medium diced
½ cup extra-virgin olive oil, divided
1 bunch fresh basil
5 sprigs of fresh thyme
5 sprigs of fresh marjoram or fresh oregano
2 garlic cloves, microplaned
5 overripe heirloom tomatoes, cored and cut into large chunks
½ tablespoon salt
1 teaspoon balsamic vinegar
Directions: Wash your herbs, chop up your onion, peel your garlic, and core your tomatoes. Chop up your tomatoes into large chunks. Take your bunch of basil, your 5 sprigs of thyme, and 5 sprigs of oregano or marjoram, and tie them up tightly together with some kitchen twine. To microplane garlic, all you need to do is get a cheese or small grater and rub the peeled garlic against it to grate it.
Heat ¼ cup olive oil, the diced onion and herb bunch in a dutch oven or soup pot over medium low heat, until the onion is soft, tender and translucent, but not browned.  Stir in the garlic and then quickly add the tomatoes and ½ tablespoon of salt. Bring to a gentle simmer and cook for about 10 to 15 minutes, or until the tomatoes are broken down. Make sure to occasionally stir the tomatoes.
Once the tomatoes have broken down, remove the herb bunch and compost them. Stir in the 1 teaspoon of balsamic vinegar and the ¼ cup of olive oil. Turn off the heat.
Puree the soup either using a hand held immersion blender or a regular blender. Keep warm until ready to serve.
7. Corn, Pesto, and Goat Cheese Pizza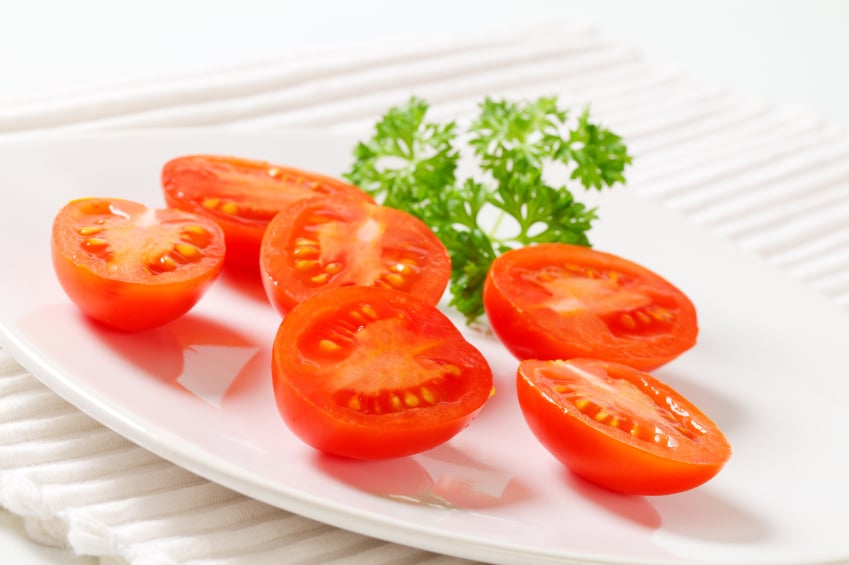 We're rounding out our list with a pizza recipe from Inquiring Chef. This pie comes packed with summer veggies and rich goat cheese, and it can be made in 25 minutes or less. Whether you make fresh pesto and homemade dough or go the store-bought route, this corn, pesto, and goat cheese pizza will taste like a treat and still help you get in your servings of veggies. The pie is meat-free but full of other summer and fall flavors.
Ingredients:
1 recipe of pizza dough
2 tablespoons extra-virgin olive oil
½ cup pesto
2 ears of corn shucked, kernels cut off
4 ounces goat cheese, crumbled
20 cherry tomatoes, halved
1 small red onion, finely chopped
Directions: Preheat the oven to 450 degrees Fahrenheit. If using a pizza stone, place it in the oven as it heats up. Stretch the pizza dough into rounds and drizzle with olive oil. Top each pizza with pesto, corn, goat cheese, tomatoes, and red onion. Bake until the goat cheese is and the crust turn golden brown, about 10 to 12 minutes.
More from Culture Cheat Sheet: