14 Healthy Snacks Made With Fruit to Eat This Week
Your mom had the right idea when she handed you some fruit to snack on rather than letting you eat an entire bag of potato chips. Munching on an orange or pear isn't just a good way to get more fiber, vitamins, and minerals in your diet. It can also help lower your blood pressure, reduce your risk of heart attack and stroke, and may even cut your chances of developing certain types of cancer.
Many fruits are also convenient, ready-to-eat healthy snacks. Yet just grabbing a plain banana or apple can get boring after a while. If you're looking for new ways to get more fruits in your diet, check out these 14 delicious recipes for fruit-focused snacks.
1. Peanut butter and banana ice cream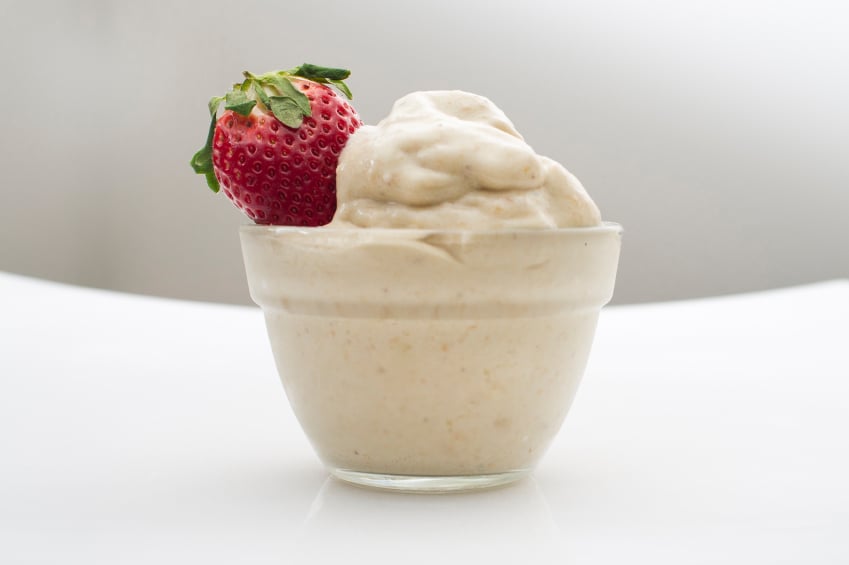 Ice cream that's actually good for you? It's a real thing, we promise. Frozen, pureed bananas make a pretty good substitute for the traditional frozen treat, and they don't come with a ton of added sugar and fat. This is definitely one sweet snack you can enjoy without blowing your diet. Recipe comes from Pinch of Yum.
Ingredients:
3 large, ripe bananas
3 tablespoons natural peanut butter
¼ teaspoon vanilla extract
Dash of cinnamon
Sea salt to taste
Chopped roasted peanuts for topping
Directions: Slice the bananas into small chunks. After you're done slicing, place them in the freezer for 1 to 2 hours, until solid. Take your frozen banana chunks, and gently place them in a heavy-duty blender for processing. Now turn the blender on. The consistency you're aiming for is smooth and creamy.
Once the bananas develop an ice cream texture, add the peanut butter, vanilla, cinnamon, and salt. Pulse to combine. Serve immediately. If desired, you can top your snack with additional peanut butter and chopped roasted peanuts.
2. Thai-style pineapple snack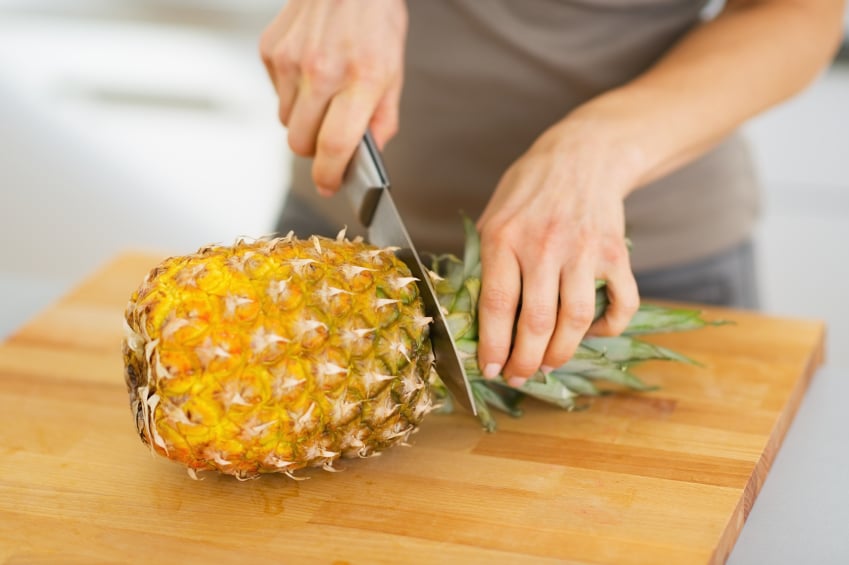 Juicy, refreshing pineapple gets a spicy upgrade in this Thai-inspired snack from the Food Network. All you need to do to prepare this treat is season your fresh pineapple wedges with a little lime juice, mint, cilantro, and cayenne pepper. For an even more authentic Thai flavor, dip the fruit in a little fish sauce.
Ingredients:
½ a ripe pineapple, peeled and cored
Kosher salt
Cayenne pepper
2 tablespoons chopped fresh mint leaves
2 tablespoons chopped fresh cilantro leaves
Lime wedges
Directions: Cut the pineapple into bite size wedges or slices.
Put the salt, cayenne pepper, mint, cilantro, and limes into small bowls. Squeeze a bit of lime juice onto the fruit. Then lightly dip the pineapple into a little salt and as much cayenne as you like and finish with the mint and cilantro. Serve with fish sauce for dipping (optional).
3. Apricot-lime fruit leather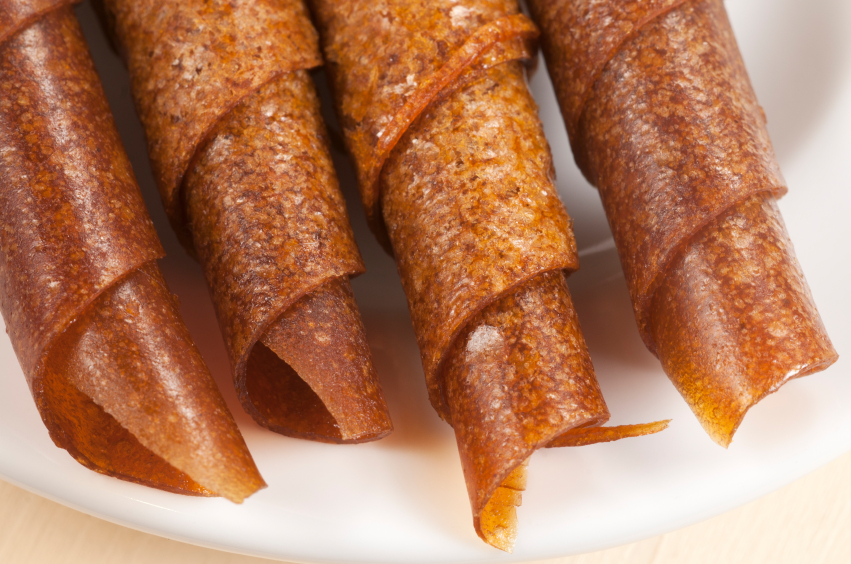 Making a batch of fruit leather is the perfect way to clear out an overflowing fruit basket. This Lebanese-inspired recipe turns fresh apricots into a convenient snack that both adults and kids will enjoy. Once prepared, the fruit leather will keep in the fridge for about a week. Recipe borrowed from Rose Water and Orange Blossoms.
Ingredients:
2 cups pitted, chopped apricots
Juice of 1 lime
¼ cup water
⅓ cup agave nectar or granulated sugar
Directions: Line a heavy-duty baking sheet with parchment paper or a nonstick baking mat. Place the pan on the middle rack of the oven and preheat the oven to the lowest temperature (between 140 and 170 degrees Fahrenheit).
Combine the fruit, lime juice, and water in a small heavy saucepan and bring to a boil over medium-high heat. As the fruit begins to break down, add the sugar or agave nectar, 1 tablespoon at a time. Taste after each addition until the mixture reaches desired sweetness. Reduce heat to medium-low and let simmer for 10 minutes.
Pour the warm fruit mixture into a blender or food processor and puree for about 1 minute, until smooth. Remove prepared pan from the oven and pour the fruit mixture onto the pan, spreading so that it forms an even layer. Leave about a 1-inch border around the edge of the pan.
Return pan to oven and bake for about 4 hours. The leather is done when it is mostly dried out but still a bit sticky to the touch. If leather is already on parchment paper, cut into strips (without removing the paper) and roll up. If leather is on a nonstick baking mat, carefully peel it off and transfer to a large sheet of wax paper. Cut leather and paper into strips and roll up. Store in an airtight container in the refrigerator.
4. Dried fruit cookies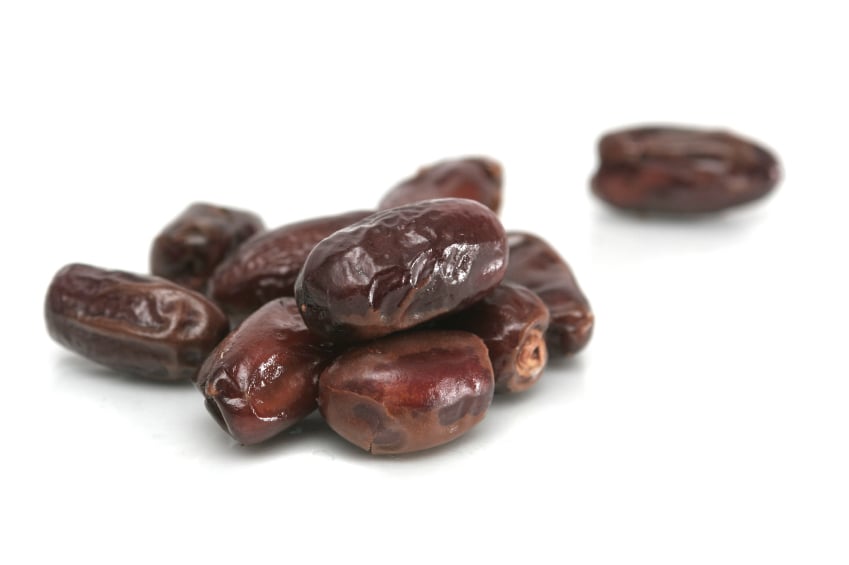 Cookies don't seem like quite so much of an indulgence when they come packed with dried fruit, as in this recipe from Oprah. Feel free to use a mix of whatever dried fruit you have on hand, like raisins, cranberries, or dates, when making these cookies.
Ingredients:
6 tablespoons unsalted butter, at room temperature
½ cup sugar
1 egg
2 tablespoons sour cream
1½ cups all-purpose flour
¼ teaspoon baking soda
¼ teaspoon salt
½ teaspoon cinnamon
½ cup plus 2 tablespoons ground or finely chopped fruit such as raisins, apricots, cranberries, dates, and prunes
Sugar, for rolling
Directions: Preheat oven to 375 degrees Fahrenheit.
Cream together the butter and sugar until light and fluffy. Add the egg and mix again to incorporate. Add the sour cream and mix until no traces of white remain.
Sift the flour, baking soda, salt, and cinnamon together. Pour in the flour mixture half at a time, beating until it's fully mixed in. Then stir in the dried fruit pieces with a spoon.
Wrap the dough in plastic wrap and refrigerate 1 hour.
Roll 1-inch balls and place them 2 inches apart on a lightly greased or parchment-paper-lined cookie sheet. Roll them in the sugar, place them on the cookie sheets about 2 inches apart, and flatten them using two fingers (the cookies will rise, so press down firmly). Bake the cookies until they fully set up, 10 to 12 minutes.
5. Pear and sharp cheddar grilled cheese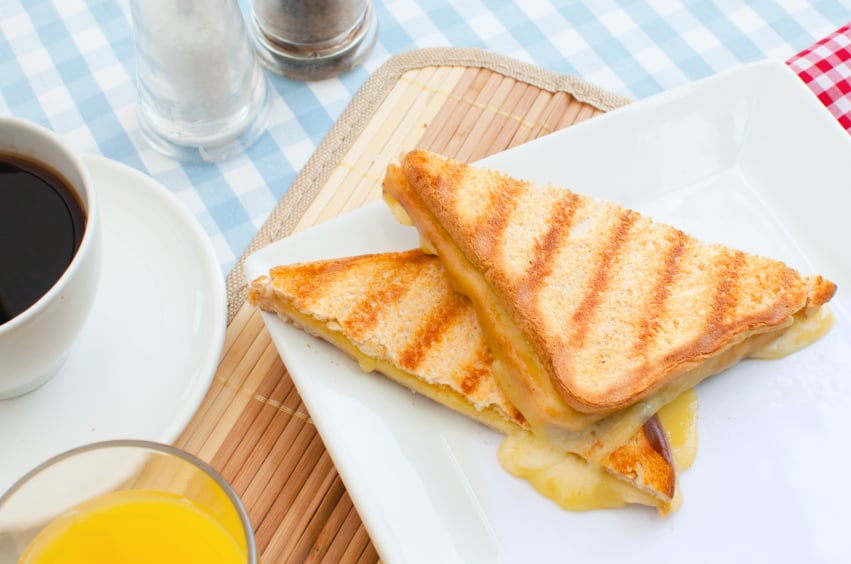 Sate your post-workout hunger with this simple pear and cheddar grilled cheese sandwich. For the best results, choose a perfectly ripe pear (it should feel a little soft when you press the neck of the fruit) and good-quality sharp cheddar cheese. Recipe from Oh My Veggies.
Ingredients:
1 ripe pear, cored and sliced
2 to 4 ounces shredded sharp cheddar cheese
1 tablespoon butter, softened
4 slices hearty bread
Directions: Heat a skillet or griddle over medium-high heat. Butter two slices of bread and place in the warmed skillet, butter side down. Sprinkle half the cheese on the two slices of bread, top each slice with half the sliced pear, and sprinkle with remaining cheese. Butter the remaining two slices of bread and place butter side up on top of the slices in the pan.
Cook until the bottom of each sandwich is lightly browned and the cheese is melted, about 3 to 5 minutes for each side. 
6. Kiwi-mango salsa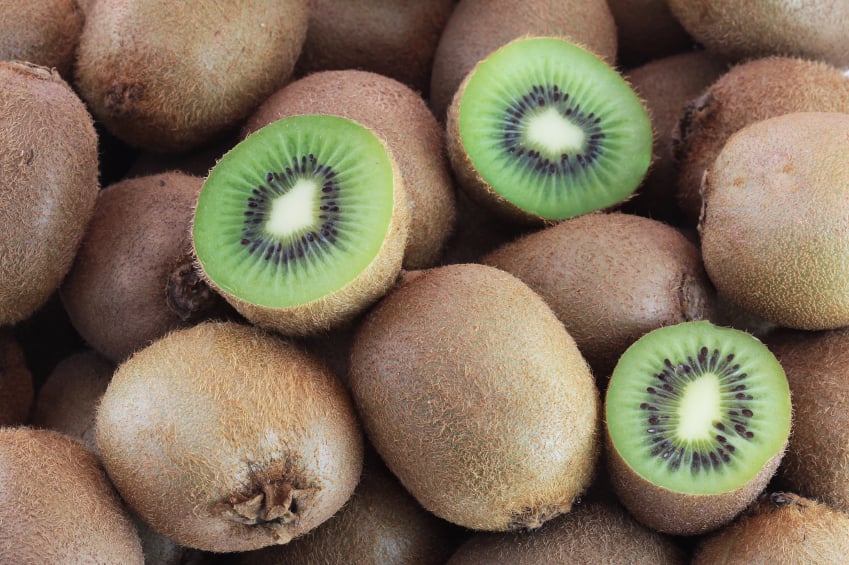 Salsa gets a fruit-flavored twist in this recipe from How Sweet It Is, which combines kiwi and mango with creamy avocado and crunchy bell peppers for a dip you won't be able to resist. Make sure you have plenty of chips on hand.
Ingredients:
2 kiwis, chopped
½ mango, chopped
½ orange bell pepper, chopped
¼ red onion, chopped
½ avocado, chopped
1/8 cup chopped cilantro
Lime juice to taste
Salt and pepper to taste
Directions: Combine the kiwi, mango, bell pepper, red onion, avocado, and cilantro in a bowl. Stir to combine. Add the lime juice and salt and pepper, stir and taste. Adjust seasoning as necessary. Serve with chips.
7. Swirled berry yogurt popsicles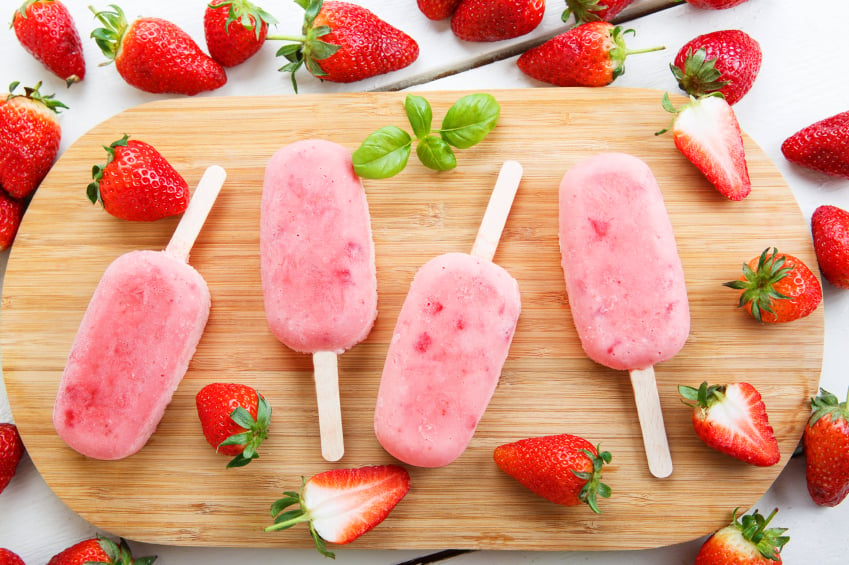 You'll feel like a kid again when you grab one of these berry yogurt popsicles from your freezer. Yet unlike the sugar bombs you probably ate in your youth, these frozen snacks are actually pretty good for you, since they're made with a combination of protein-rich Greek yogurt and fiber-packed berries. Recipe from Smitten Kitchen.
Directions:
2 level cups fresh blackberries, or other berries of your choice
2 tablespoons (40 grams) honey
½ lemon or 1 small lime
½ cup (120 grams) water
½ cup (100 grams) granulated sugar
1½ cups (340 grams) plain unsweetened Greek-style yogurt
Directions: If berries are large, cut them in half. Place berries in a nonreactive (not tin or aluminum) bowl. Squeeze the lemon or lime over and set the peel aside. Add honey and stir to combine. Set aside.
Combine the lemon or lime peel, water, and sugar in a small saucepan. Cook over medium-high heat, stirring constantly, until the mixture comes to a boil and the sugar dissolves. Continue to simmer for 5 more minutes. Remove peel and chill syrup. You can do this by transferring the syrup to a bowl and placing that bowl in a large bowl of ice water; it should take about 15 minutes to cool. Otherwise, cool in the refrigerator.
Whisk together the yogurt and chilled syrup. Place the berry mixture in a blender and blend until the berries reach your preferred texture (it's fine to leave a few chunks). Strain out seeds through a fine mesh strainer if you like.
Pour some of the yogurt mixture into the popsicle molds, then top with some of the berries. Repeat until the molds are nearly full (leave about ¼ of an inch at the top, since the popsicles will expand as they freeze). Gently swirl mixture together with a skewer. Place cover on popsicle mold and freeze until solid, about 3 to 4 hours. Serve.
Note: If you don't have a popsicle mold, you can freeze the pops in glasses instead. In that case, follow the directions above to prepare the pops. Transfer glasses to freezer and let popsicles set for 45 minutes to 1 hour. Insert the popsicle sticks and freeze until solid, another 3 to 4 hours.
8. Goat cheese and blackberry crisps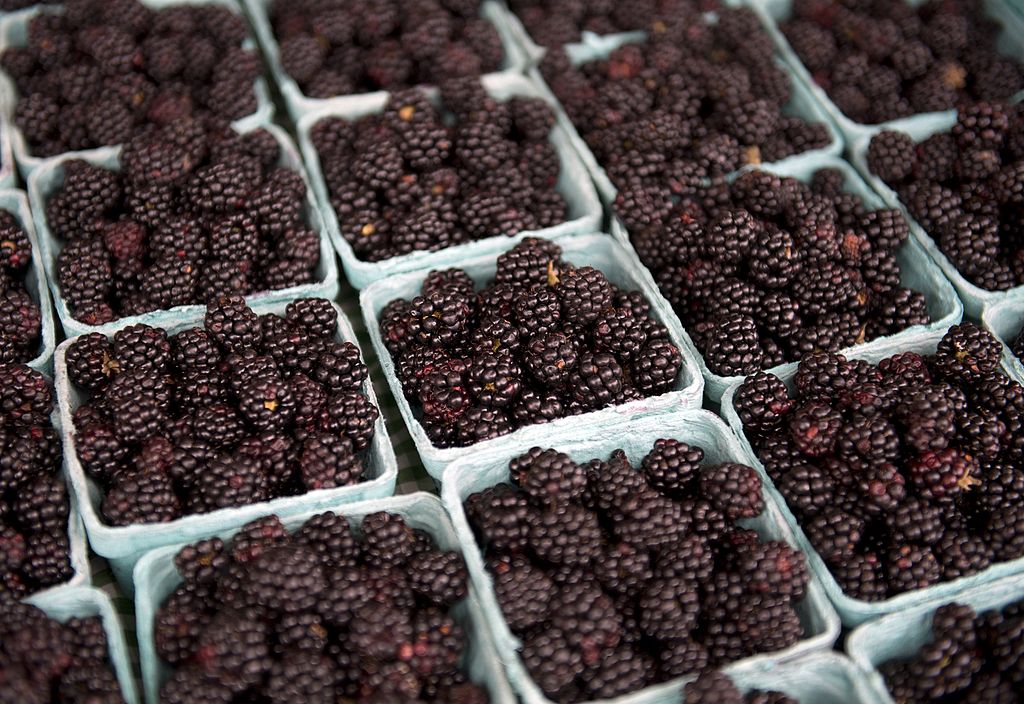 A dollop of tangy goat cheese complements the sweet tartness of blackberries in this simple snack recipe from Foodie with Family. Serve the fruit and cheese on a crisp cracker that's drizzled with honey for a perfect mid-afternoon pick-me-up or as a pre-dinner appetizer.
Ingredients:
1 package of thin crackers or crispbread
Goat cheese
Fresh blackberries
Mild honey
Directions: Wash the blackberries and let dry on a paper towel. Place the crackers on a plate. Spread the goat cheese evenly on each cracker, topping them with a blackberry or two. Finally, drizzle some honey on top.
Note: The crackers will get soggy if assembled too far in advance. If you plan to serve this snack as an appetizer, place all the ingredients on a serving platter and let your guests assemble their own crisps.
9. Chocolate covered figs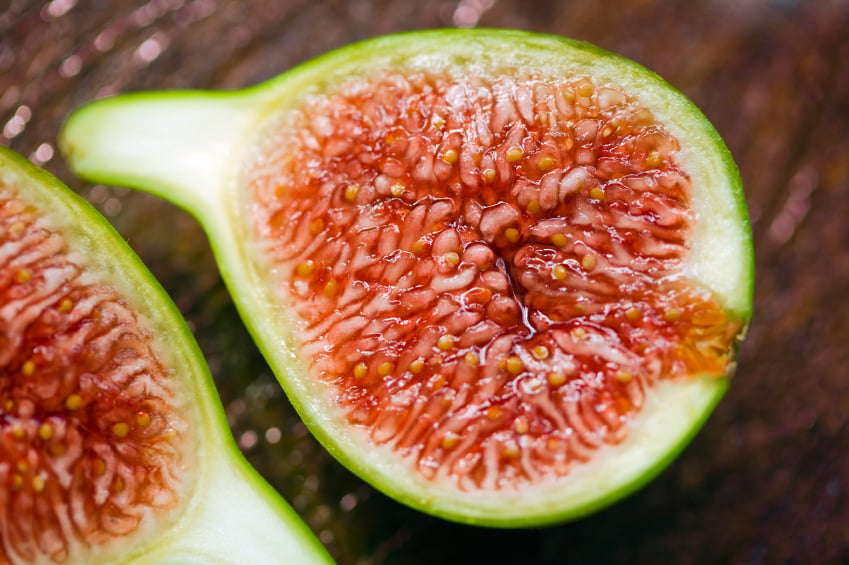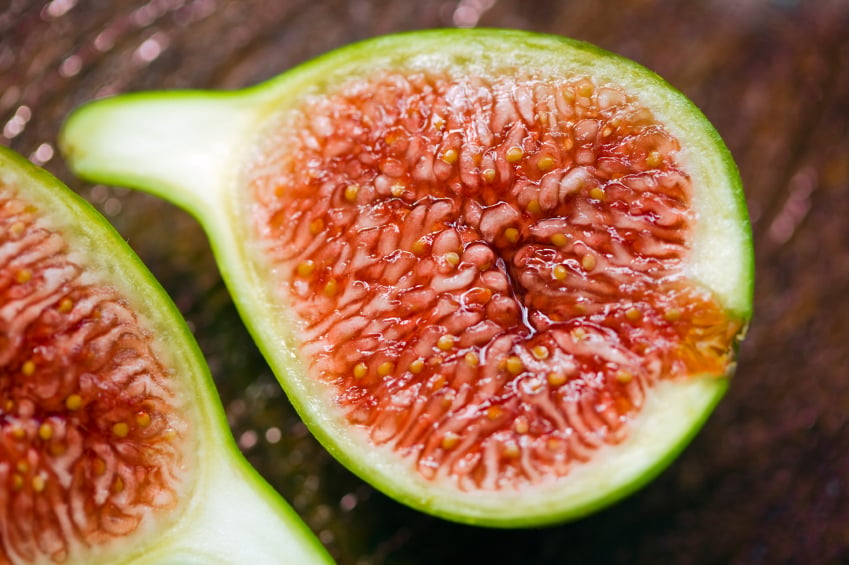 Fresh figs are only available in the summer and early fall, but if you can get your hands on them, they make for delicious healthy snacks. They're a good source of potassium, calcium, and magnesium, and they're also rich in soluble fiber. While the fruit is delicious on its own, it's even sweeter when dipped in dark chocolate (which is high in antioxidants) and coated with walnuts. Recipe from Kids Eat Right.
Ingredients:
½ cup dark chocolate chips (choose chips without milk fat)
12 fresh figs
¼ cup finely chopped raw walnuts
Directions: Line a baking sheet with parchment paper. Melt the chocolate chips in a double boiler, or place them in a bowl and microwave until soft. Dip a fig into the chocolate. Sprinkle with the chopped walnuts and place on the baking sheet. Repeat these steps with the remaining figs. Once completed, refrigerate your figs for about 30 minutes, or until the chocolate is set. Serve.
10. Frozen yogurt blueberry granola bites
It's easy to go overboard when snacking, but this bite size frozen yogurt snack makes practicing portion control simple. Greek yogurt is mixed in with a little coconut oil, spooned into a muffin tin, and then topped with granola and blueberries. Once frozen, you can eat these snacks straight from the freezer. It's best to use wild blueberries in this recipe from I Heart Vegetables, since they are smaller and won't overwhelm your yogurt cups. Makes 8 servings.
Ingredients:
1 cup vanilla Greek yogurt
1 tablespoon coconut oil (optional)
½ cup wild frozen blueberries
½ cup granola
Directions: Place 8 silicone cupcake liners in a muffin tin. (You can also use paper cupcake liners.)
Stir the coconut oil into the yogurt. Next, spoon 1½ tablespoons of Greek yogurt into each muffin cup. Top with 1 tablespoon of blueberries. Cover the berries with 1 tablespoon Greek yogurt, then sprinkle on some granola, pressing lightly into the yogurt so it sticks.
Transfer muffin pan to the freezer. Chill for 3 hours. Remove yogurt bites from the muffin liners and store in an airtight container in the freezer until they're ready to eat.
11. Apricot-blue cheese celery sticks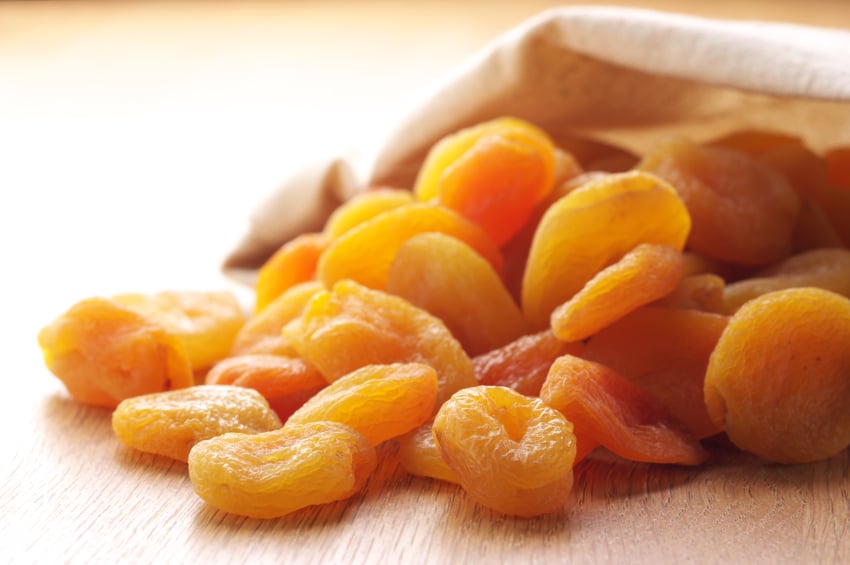 Think of these as the more grown-up version of the ants on a log snack you used to eat at day camp. You can make the blue cheese and apricot-date spread ahead of time. Then, when you're ready to eat, just spread it on the celery sticks and chow down. Recipe from Fruits & Veggies – More Matters. Makes enough spread for 4 servings.
Ingredients:
2 tablespoons crumbled blue cheese
3 tablespoons fat-free cream cheese
½ cup plain, fat-free yogurt
4 dried apricots
4 dried figs or dates
¼ cup pecans
8 stalks celery
Directions: Place all the ingredients except the celery sticks in a food processor. Pulse just until the fruit and nuts are chopped. Store, covered, in the refrigerator until ready to eat. Before serving, cut the celery stalks into 3- to 4-inch sticks. Spread cheese and fruit mixture onto the celery. Serve.
12. Chocolate-banana snack cake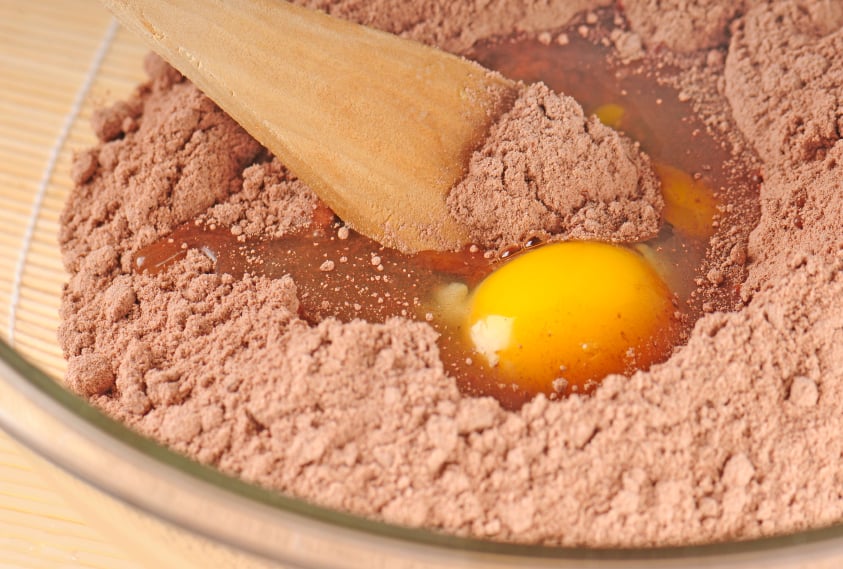 Devil's food snack cakes definitely look indulgent, but these treats from Betty Crocker contain two secret healthy ingredients — bananas and Greek yogurt. It's the perfect way to use up ripe bananas, and to sneak a bit more fruit into your diet.
Ingredients:
1 box moist devil's food cake mix
1 (5.3-ounce) container of Greek vanilla yogurt
1 cup mashed ripe bananas (2 to 3 medium)
¼ cup vegetable oil
3 eggs
¾ cup plus 2 tablespoons miniature semisweet chocolate chips
Directions: Preheat oven to 350 degrees Fahrenheit. Spray only the bottom of the 13-by-9-inch pan with cooking spray.
In a large bowl, stir the cake mix, yogurt, bananas, oil, and eggs with a spoon until the ingredients are well blended. Add ¾ cup chocolate chips; mix to distribute evenly in batter.
Spread in pan. Sprinkle evenly with 2 tablespoons chocolate chips.
Bake 30 to 34 minutes or until toothpick inserted in center comes out clean. Cool completely, about 1 hour. Cut into 6 rows by 3 rows before serving.
13. Watermelon, feta, and balsamic pizza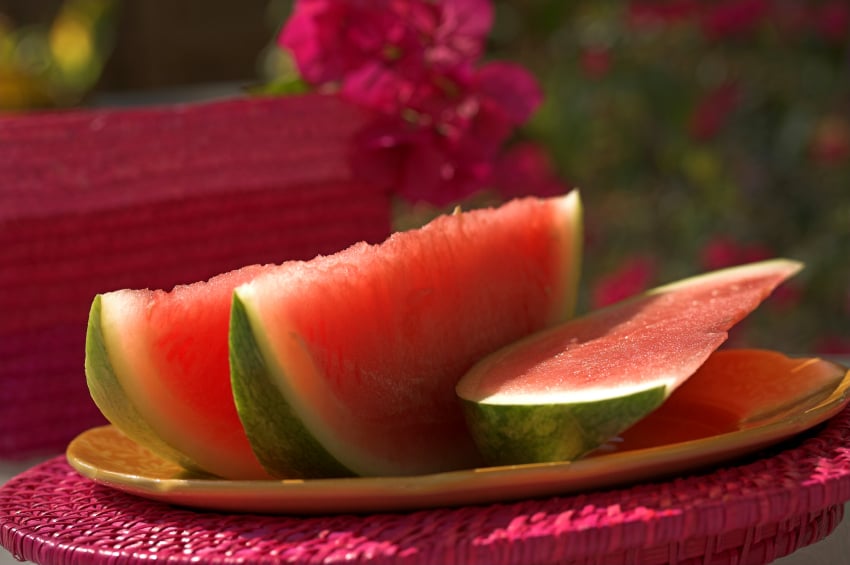 Juicy watermelon takes the place of traditional crust in this fruity spin on pizza from Skinny Taste. The watermelon is topped with olives, feta cheese, mint leaves, and a drizzle of balsamic vinegar for a summery snack that's light on calories and big on flavor. Makes four, 90-calorie servings. (Each serving size is two slices.)
Ingredients:
1 watermelon slice, cut 1-inch thick from center of the widest part
1 ounce crumbled feta cheese
5 to 6 Kalamata olives, sliced
1 teaspoon mint leaves
½ tablespoon balsamic glaze
Directions: Slice the widest part of a round watermelon in half. Lay the flat side down on a cutting board and cut a 1-inch thick slice from each half. Cut each half into 4 wedges. Place the watermelon wedges on a round plate and top with the feta cheese, olives, balsamic glaze, and mint leaves. Serve immediately.
14. Cinnamon-sugar apple chips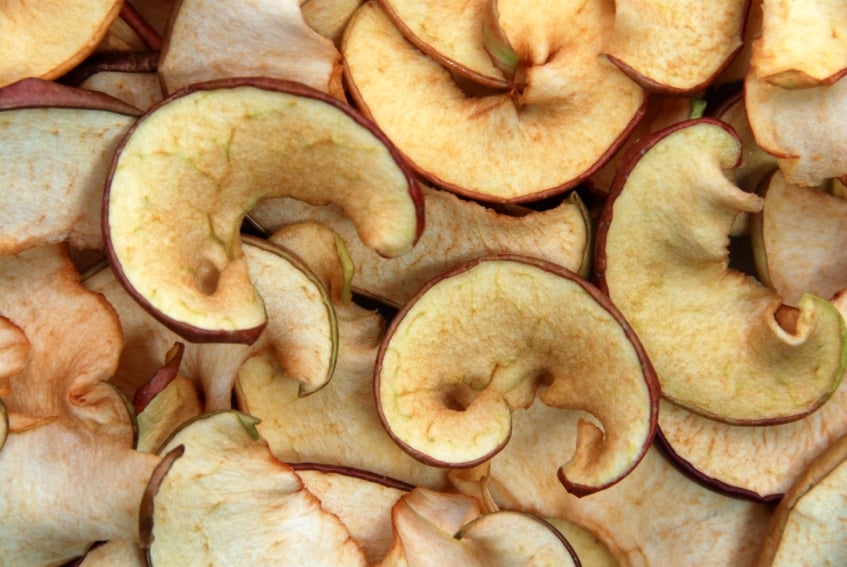 You don't need a food dehydrator to make these cinnamon-sugar apple chips. And you don't need an oven either. These super simple snacks can be made in minutes using a microwave, and they're perfect for lunchboxes, hiking, and other snacking needs. Recipe from The Cookie Rookie.
Ingredients:
3 to 4 apples thinly sliced
½ tablespoon cinnamon
½ tablespoon sugar
Directions: Thinly slice the apples using a mandoline slicer or a knife. Sprinkle the slices with the cinnamon and sugar. Next, cover a microwave-safe plate with a sheet of parchment paper. Place the apples in a single layer on the parchment. (You will probably need to work in batches.)
Microwave apples on high for 5 minutes, until the edges of the fruit start to curl. Remove plate from oven, flip each apple slice over, and microwave for 1½ minutes more. Let cool for at least 2 minutes before serving.