Surprisingly Delicious Broccoli Recipes That Are Super Healthy
Pretending you were a monster eating little green trees probably got you to eat broccoli as a kid. Since acting so savagely during dinner isn't quite as acceptable for grown adults, you need to find a new reason to chow down on the cruciferous vegetable. Consider this one: Broccoli is a nutritional superstar. According to the USDA's nutrient database, it's brimming with potassium, vitamins, and filling fiber. And with just 31 calories per chopped cup, you can load up without worrying about filling out your waist.
But the thought of a plate filled with steamed florets probably doesn't sound very appealing. When treated with a little bit of care, though, broccoli can taste every bit as good as your favorite eats. These delicious broccoli recipes will get you to finally enjoy eating your veggies.
1. Broccoli Frittata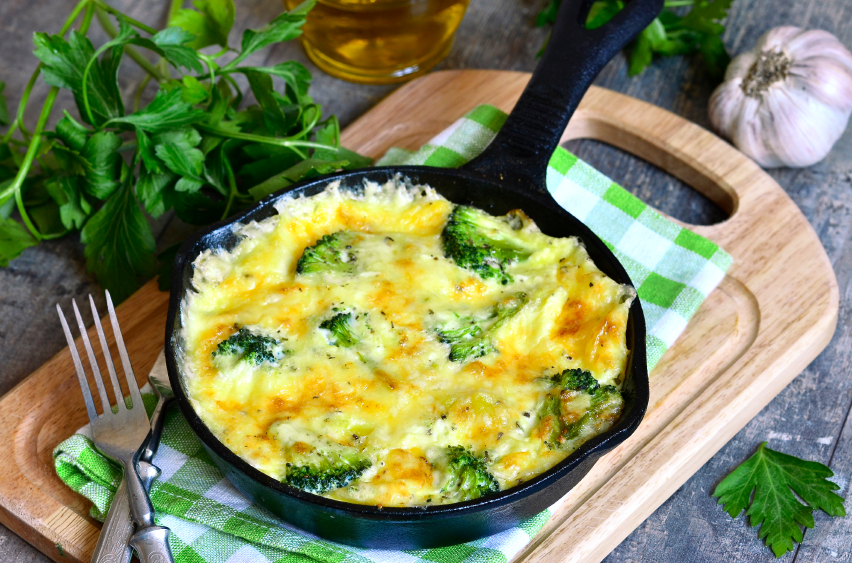 Not many people eat veggies with their breakfast, yet it's probably one of the smartest strategies for healthy eating. SFGate said a morning meal with broccoli is great for slimming down because it helps you feel satisfied without adding tons of calories. Give the vegetable even more staying power by working it into Food & Wine's delicious frittata. The eggs are a great source of protein to give you long-lasting energy, and it doesn't hurt that they taste great.
One of the most delicious broccoli recipes, this dish is a blank canvas for tons of different ingredients. Try swapping cheddar or Gruyère for the Parmesan. You can also add some fresh herbs, sun-dried tomatoes, or caramelized onions for even more flavor.
Ingredients:
1 garlic clove, thinly sliced
2 tablespoons olive oil
3½ cups broccoli florets
¼ teaspoon crushed red pepper
Salt
Black pepper
8 large eggs
½ cup grated Parmesan cheese
Directions: Preheat oven to 350 degrees Fahrenheit. In a 10-inch ovenproof, nonstick skillet, heat 1 tablespoon olive oil. Add garlic, and cook over medium-high heat, 30 seconds. Add broccoli and crushed red pepper, and cook 1 minute. Add 2 tablespoons of water, and season with salt and pepper. Cover, and cook over medium heat until broccoli is crisp-tender, about 2 minutes. Let cool.
In a medium bowl, whisk the eggs with ¼ teaspoon of each salt and pepper. Stir in broccoli. Return skillet to the stove, and heat remaining 1 tablespoon oil. Pour in egg mixture. Cook over medium-low heat until set around edges, about 3 minutes. Sprinkle with cheese, and transfer to oven. Bake until center is just set, about 12 minutes. Serve warm or at room temperature.
2. Sweet Potatoes and Broccoli with Olive Oil-Fried Egg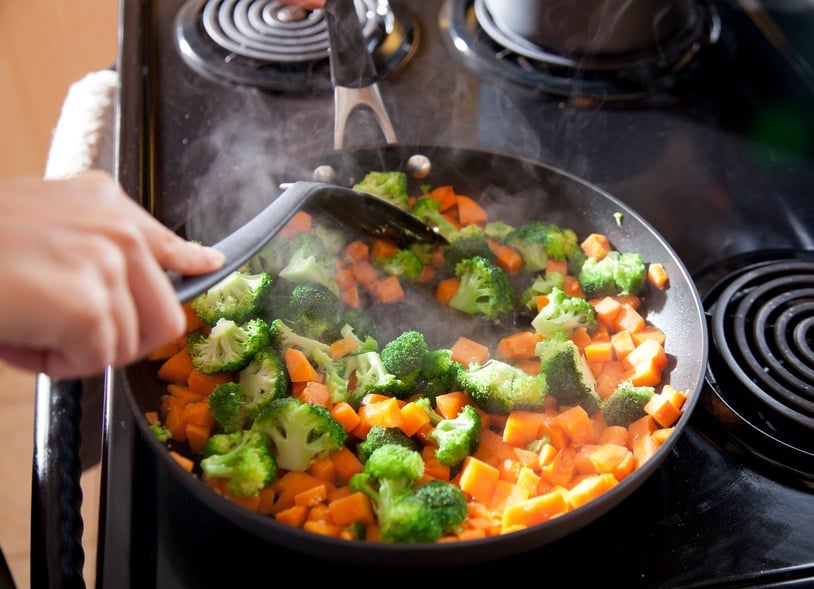 Breakfast hash is often a heavy dish that leaves you feeling like napping for the rest of the day. When you swap out the standard ingredients for sweet potatoes and broccoli, it turns into an energizing meal that will keep you going all day. Try it for yourself with this delicious dish from My California Roots. If you don't like eggs, try topping it with a few slices of smoked salmon.
In addition to keeping you full with a big dose of fiber, broccoli may be able to reduce your risk of obesity. A number of studies, including one from 2012, reported a type of compound found in broccoli could prevent weight gain and metabolic disorders. All such research involves rodents, but we may eventually find the same to be true for humans.
Ingredients:
1 medium sweet potato, cut into ½-inch pieces
1 medium broccoli head, top cut into florets, stem peeled and cut into ¼-inch-thick slices
¼ onion, halved, and cut into strips
2 teaspoons plus 1 tablespoon olive oil, divided
2 eggs
Salt and pepper
Salsa
Directions: Heat 2 teaspoons oil in a large, heavy skillet over medium heat. Add sweet potatoes and cook, stirring occasionally, until beginning to char on the outside, about 10 minutes. Add onion and broccoli and season with salt and pepper. Continue to cook, stirring occasionally, until onions are soft and broccoli is bright green, about 7 to 8 minutes.
Transfer vegetables to a plate and keep warm. Reduce heat to medium-low and add remaining 1 tablespoon olive oil to pan. Add eggs and cook until whites are set. Flip and cook until top is set, but yolks remain runny. Season with salt and pepper. Serve eggs over vegetables with salsa.
3. Roasted and Charred Broccoli with Peanuts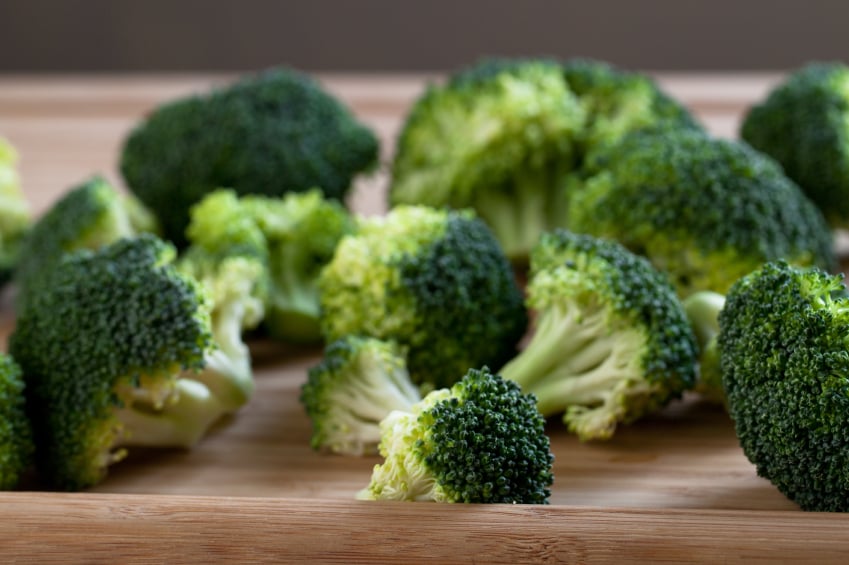 Everyone goes gaga for cauliflower, yet broccoli hasn't reached the same level of fame, which is a complete shame. While cauliflower is certainly healthy, broccoli might beat it in the nutrition department. In a side-by-side comparison, Prevention declared broccoli as the champion of floret-filled vegetables.
Give broccoli the toasty treatment with Epicurious' unique recipe. The charred vegetables, crunchy peanuts, and sliced scallions give this side tons of great texture and flavor. You'll never go back to broccoli with a squeeze of lemon.
Ingredients:
1½ pounds broccoli, ends trimmed, stems peeled
3 tablespoons olive oil
Kosher salt and freshly ground pepper
2 tablespoon unseasoned rice vinegar
¼ cup coarsely chopped unsalted, roasted peanuts
½ teaspoon sugar
2 tablespoons nutritional yeast, plus more
4 scallions, thinly sliced
Flaky sea salt
Directions: Preheat oven to 450 degrees Fahrenheit. Slice broccoli stems diagonally into ¼-inch-thick slices. Transfer to a rimmed baking sheet, and toss with oil. Season with salt and pepper. Finely chop florets. Roast stems until browned around edges, 15 to 20 minutes. Add vinegar, and toss to coat.
Meanwhile, heat a medium skillet, preferably cast iron over medium-high heat. Add florets to dry pan, and season with salt and pepper. Cook, stirring often, until bright green and lightly charred in spots, about 5 minutes. Reduce heat to low, and add peanuts and sugar. Cook, stirring, until nuts are golden. Stir in nutritional yeast, and season with salt, to taste.
Serve stems and florets topped with scallions, sea salt, and additional nutritional yeast.
4. Healthy Broccoli Slaw with Yogurt-Mint Dressing and Radishes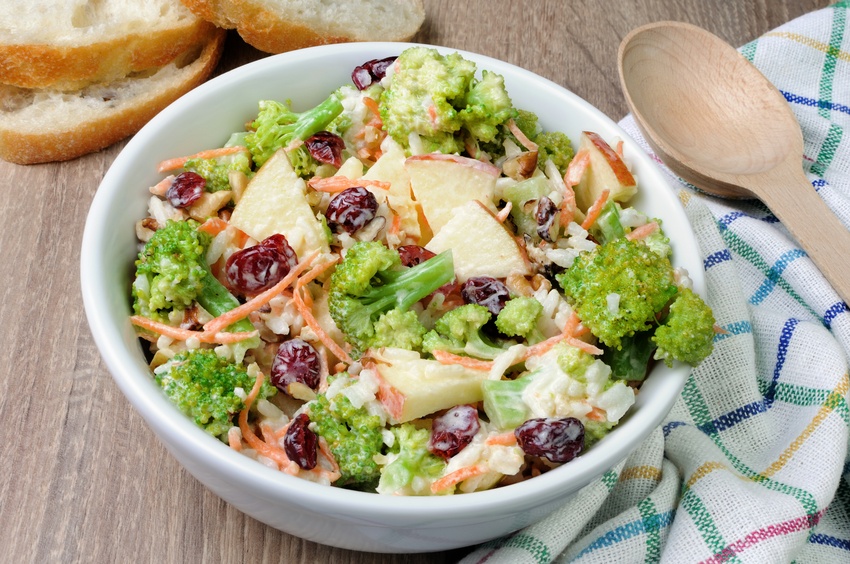 Digging into a plate of broccoli is always a smart bet, but raw may be best. In a side-by-side comparison of raw and cooked florets from Fooducate, the heat-free veggie proved to offer the most nutrition. Since munching large pieces of raw broccoli can be pretty bland, try turning the veggie into this flavorful slaw from Feed Me Phoebe. Serve this dish with some simply grilled chicken for a light meal.
Ingredients:
1 pound broccoli
6 radishes, quartered and thinly sliced
1 jalapeño, seeded and thinly sliced
2 tablespoons golden raisins
¼ cup coarsely chopped mint
¼ cup Greek yogurt
¼ cup mayonnaise
3 tablespoons lemon juice
1 teaspoon salt
¼ cup slivered, toasted almonds
Directions: Finely chop broccoli florets with a sharp knife or by carefully using a mandoline. Remove tough exterior from broccoli stems and thinly slice with a knife, mandoline, or vegetable peeler. Add all prepared broccoli to a large bowl along with radishes, jalapeño, raisins, mint, yogurt, mayonnaise, lemon juice, and salt. Toss to combine. Taste and adjust seasoning. Transfer to a platter and serve garnished with almonds.
5. Sweet Sesame Noodles with Chicken and Broccoli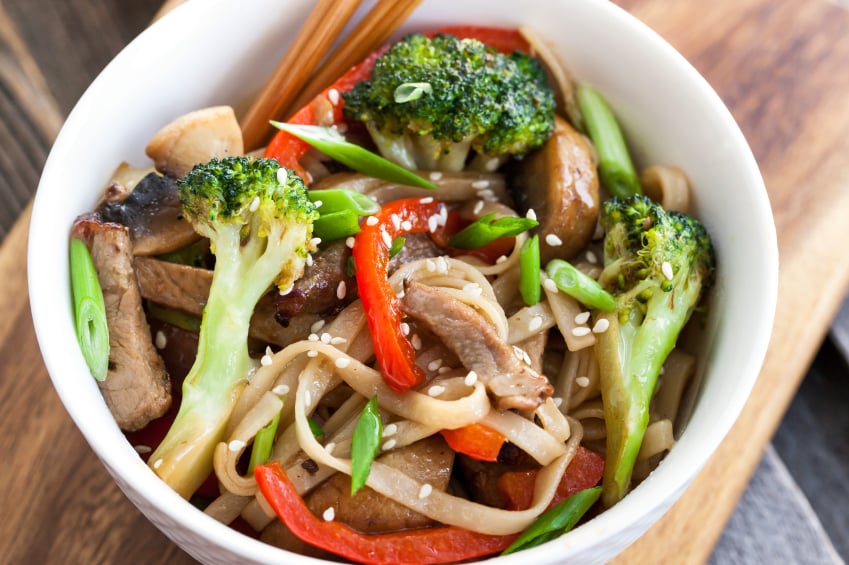 We all know takeout isn't the healthiest dinner option, but it's hard to resist at the end of a busy day. Cooking Light's sesame noodles are so much healthier and also super easy. You'll be chowing down on a delicious meal in about the same time it would have taken to pick up your order from a restaurant. This dish is also just as tasty cold as it is hot, making leftovers great for lunch the next day.
Ingredients:
8 ounces soba noodles
8 ounces broccoli florets
Cooking spray
2 (6-ounce) boneless, skinless chicken breast halves
⅛ teaspoon salt
¼ teaspoon freshly ground black pepper
2 tablespoons rice vinegar
2 tablespoons dark sesame oil
2 tablespoons low-sodium soy sauce
1 tablespoon creamy peanut butter
2 teaspoons toasted sesame seeds, divided
1 teaspoon brown sugar
¼ teaspoon crushed red pepper
1 garlic clove, minced
3 green onions, chopped
Directions: Bring a large saucepan of water to a boil. Add soba, and cook 3 minutes. Add broccoli, and cook 3 minutes longer, or until both are just cooked. Drain.
Heat a grill pan over medium-high heat. Coat with cooking spray. Sprinkle chicken with salt and pepper. Cook chicken about 6 minutes on each side, or until just cooked through. Remove from pan, and let rest several minutes. Cut into 1-inch pieces.
Combine vinegar, sesame oil, soy sauce, peanut butter, 1 teaspoon sesame seeds, sugar, crushed red pepper, and garlic in a large bowl. Whisk to combine. Add noodles and chicken, and toss to coat. Serve garnished with remaining sesame seeds and green onions.
6. Skinny Broccoli Cheese Soup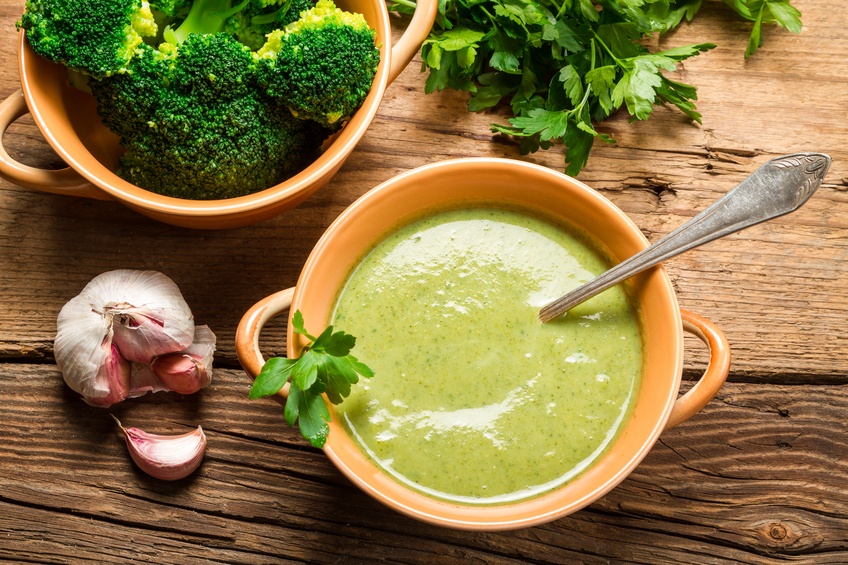 Broccoli cheese soup is usually among the foods we avoid when trying to eat well since it's often brimming with cream and cheddar. With a few smart swaps, the dish can be perfectly healthy. The Picky Eater proves it with this slimmed-down version, adapted from a Cooking Light recipe, using vegetable stock and just a bit of dairy. Add a side of crusty, whole-grain bread to round out the meal.
Ingredients:
3 cups unsalted vegetable stock
4 cups broccoli florets, coarsely chopped
1 cup diced yellow onion
1 chopped carrot
½ teaspoon salt
¼ teaspoon pepper
3 garlic cloves, minced
6 tablespoons half-and-half
4 ounces shredded, reduced-fat sharp cheddar cheese, divided
¼ cup fresh flat-leaf parsley leaves
Directions: Combine stock, broccoli, onion, carrot, salt, pepper, and garlic in a saucepan. Bring to a boil, reduce heat, and let simmer until broccoli is tender, about 10 minutes.
Turn off heat. Using an immersion blender, or working in batches with a regular blender, purée soup until smooth. Set pan over low heat, stir in half-and-half and 2 ounces of cheese. Stir just until melted. Serve garnished with remaining cheese and parsley leaves.
7. Green Pizza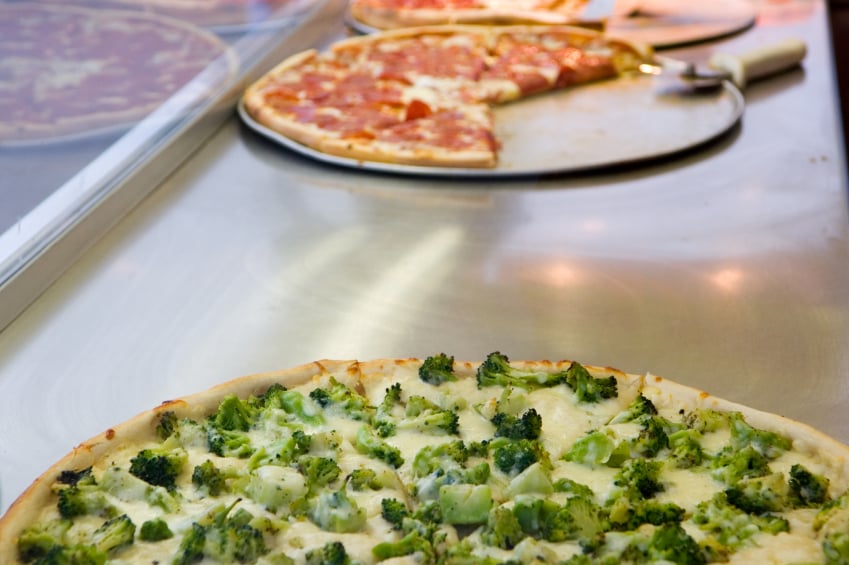 Just because you're trying to eat better doesn't mean you have to give up all of your favorite foods. Eating Well's veggie-packed pizza replaces the usual sausage and pepperoni with broccoli and arugula for a version that's surprisingly satisfying. Both of these green veggies are packed with folate, which the University of Maryland Medical Center cited as a key nutrient for brain function.
To make this pizza, steam some broccoli and mix in the arugula just until it wilts. Top the par-baked crust with pesto, the cooked veggies, and some cheese, then let it bake until it's golden and crispy. You can also add some shredded chicken or pork to give the pizza a dose of protein.
Ingredients:
1 pound prepared pizza dough, preferably whole wheat
2 cups chopped broccoli florets
¼ cup water
5 ounces arugula, stems removed, chopped
Pinch of salt
Freshly ground pepper
½ cup prepared pesto
1 cup shredded mozzarella cheese
Directions: Position oven rack to lowest position, and preheat oven to 450 degrees Fahrenheit. Coat a large baking sheet with cooking spray. Roll dough on a lightly floured surface until it's about the size of the baking sheet. Transfer dough to sheet, and bake until puffed and lightly crisped on bottom, 8 to 10 minutes.
Meanwhile, cook broccoli and water in a large skillet over medium heat, covered, until broccoli is crisp-tender, about 3 minutes. Stir in arugula. Cook, stirring, until just wilted, 1 to 2 minutes longer. Season with salt and pepper.
Spread pesto evenly over crust, top with broccoli mixture, and sprinkle with cheese. Bake until crust is golden and cheese is melted, 8 to 10 minutes.
8. Easy Avocado and Broccoli Salad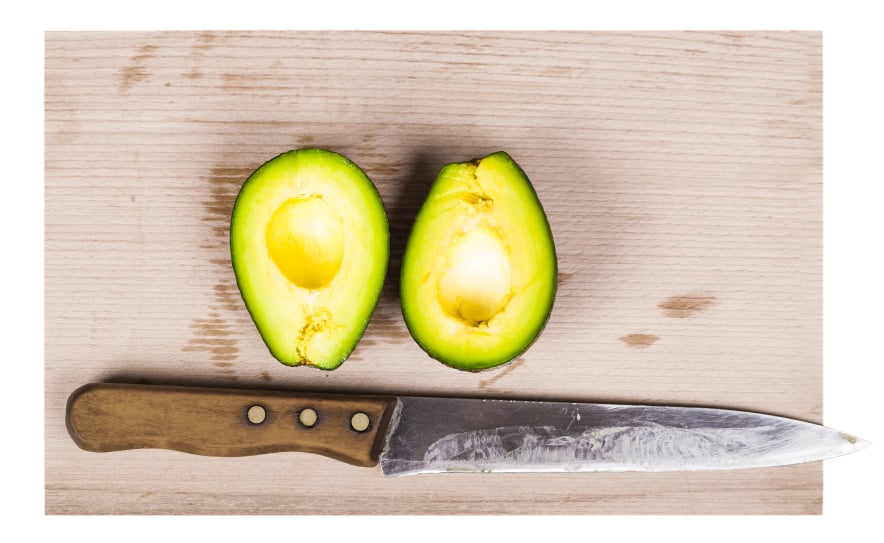 This broccoli salad from Food Republic definitely isn't the version you grew up eating, but it might be better. A creamy avocado and yogurt dressing is way more flavorful than the standard mayo, and it also gives you plenty of healthy fats and calcium. Toss in some sweet cherry tomatoes, salty bacon, and crunchy broccoli for a salad you'll happily include in your lunch and dinner.
Ingredients:
3 slices thick-cut bacon
½ large avocado, pitted and peeled
1 teaspoon grated lemon zest, plus 4 teaspoons lemon juice
½ cup plain nonfat Greek yogurt
2 teaspoons Dijon mustard
¼ to ½ teaspoon salt
¾ cup halved cherry tomatoes
½ small red onion, finely diced
Directions: In a large, heavy skillet, cook bacon over medium heat until crisp on both sides. Remove to a paper towel-lined plate.
Process avocado, lemon zest, lemon juice, yogurt, mustard, and salt in a food processor until smooth. Pour dressing into a bowl with broccoli, tomatoes, and onion. Toss to combine. Crumble bacon on top, and serve.
9. Roasted Chickpea and Broccoli Burrito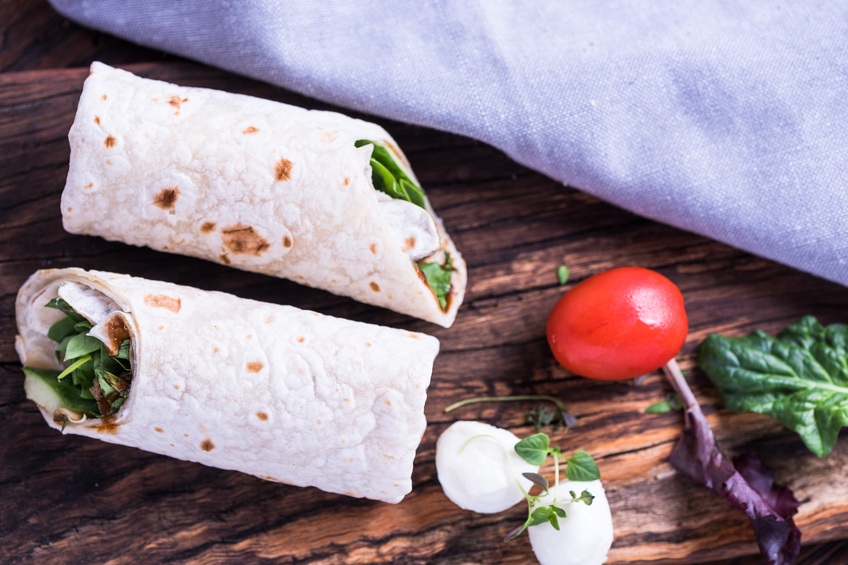 If you're trying to work more meatless meals into your life, think burritos. They're endlessly adaptable, taking on just about any ingredient you could imagine. We especially like these bean and broccoli ones from Thug Kitchen because they're full of flavor and completely satisfying. Feel free to add any of your favorite toppings as well. We like a mix of pickled jalapeños, salsa, cilantro, and a squeeze of lime.
Ingredients:
3 cups cooked chickpeas
1 large yellow onion, chopped to size of chickpeas
1 red bell pepper, chopped to size of chickpeas
1 large broccoli head, chopped to size of chickpeas
4 garlic cloves, minced
1 lime
3 tablespoons olive oil
1 to 2 tablespoons soy sauce, tamari, or liquid aminos
2 teaspoons chili powder
1 teaspoon ground cumin
1 teaspoon smoked paprika
½ teaspoon ground coriander
Black pepper
Cayenne pepper
Tortillas
Optional toppings:
Salsa
Spinach
Sliced avocado
Cilantro leaves
Directions: Preheat oven to 425 degrees Fahrenheit. Combine all vegetables and beans in a large bowl with oil and soy sauce. Stir to combine, then add chili powder, cumin, paprika, coriander, and both peppers to taste. Toss once more, then transfer to a rimmed baking sheet. Bake for 20 minutes. Add garlic and bake for 15 minutes longer. Broccoli should be charred around edges.
Cut lime in half and squeeze half of juice over vegetables. Make burritos with roasted beans and vegetables. Add desired toppings and roll to form burritos.
10. One Sheet Pan Parmesan-Crusted Salmon with Roasted Broccoli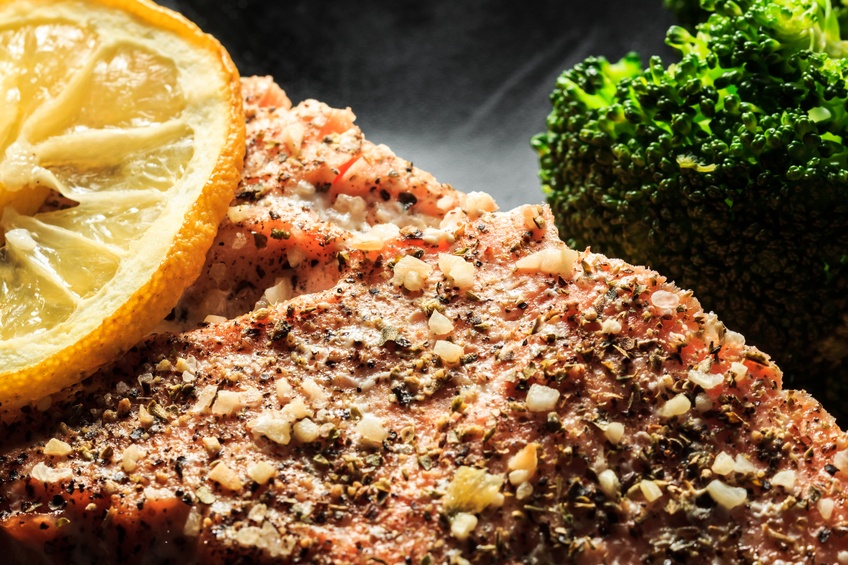 Salmon gets a lot of attention for its major dose of heart-healthy omega-3 fatty acids. Add broccoli to the equation, and you have a seriously nutritious meal. According to research published in The Journal of Nutrition, eating broccoli several times a week may help ward off liver cancer. The study involved mice rather than humans, but it definitely fits with broccoli's already healthy reputation.
Our favorite way to combine these ingredients? This simple fish and veggie supper from Cooking Classy. Everything cooks on one pan, so it's easy and won't leave you with a pile of dishes.
Ingredients:
Broccoli:
1¼ pound broccoli crowns, stems removed and reserved for another use, florets cut into bite-size pieces
2½ tablespoons olive oil
1 garlic clove, minced
Salt and pepper
Salmon:
4 (6-ounce) skinless salmon fillets
1½ tablespoons mayonnaise
1½ teaspoons lemon juice
1 garlic clove, minced
Salt and pepper
¼ cup grated Parmesan cheese
¼ cup breadcrumbs
1 tablespoon chopped fresh parsley
1½ teaspoons lemon zest
¼ teaspoon dried thyme
1½ tablespoons olive oil
Directions: Preheat oven to 400 degrees Fahrenheit. Line a rimmed baking sheet with aluminum foil. Grease with nonstick cooking spray. Add broccoli, 2½ tablespoons olive oil, and 1 minced garlic clove. Season with salt and pepper and toss to coat. Spread to edges, leaving room for salmon. If you prefer more charred broccoli, roast for 5 minutes before proceeding.
Season bottom side of salmon with salt and pepper and arrange in center of baking sheet, leaving about ¾ inch between each fillet. In a small bowl, whisk mayonnaise, lemon juice, and garlic. Brush about ½ tablespoon over each fillet. Season lightly with salt and pepper.
In a medium bowl, mix cheese, breadcrumbs, parsley, lemon zest, and thyme. Drizzle with remaining olive oil and mix to combine. Press breadcrumb mixture onto top of each salmon fillet. Bake until cooked through, about 12 to 15 minutes. Serve.
Follow Christine on Twitter @christineskopec