Surprisingly Delicious Recipes Using Kale
It's not breaking news that kale is the current cool green on the block, but it's at least for good reason. According to Medical News Today, kale is one of the world's healthiest foods, as its vitamins and minerals have been shown to help control diabetes, support heart health, lower blood pressure, lower the risk of cancer, and improve bone health. If those facts alone aren't reason enough to jump on the kale bandwagon, we don't know what is. And fortunately, kale tastes great, too, as long as you know how to prepare it.
Even if you have a big appetite, kale dishes can satiate you, and we're rounding up seven kale recipes today that will do the job. Some of these food formulas are salads, while others go a different route, but they all are hearty and healthy, and will make you feel good about what you're eating.
1. Whole-Wheat Pasta with Bacon and Kale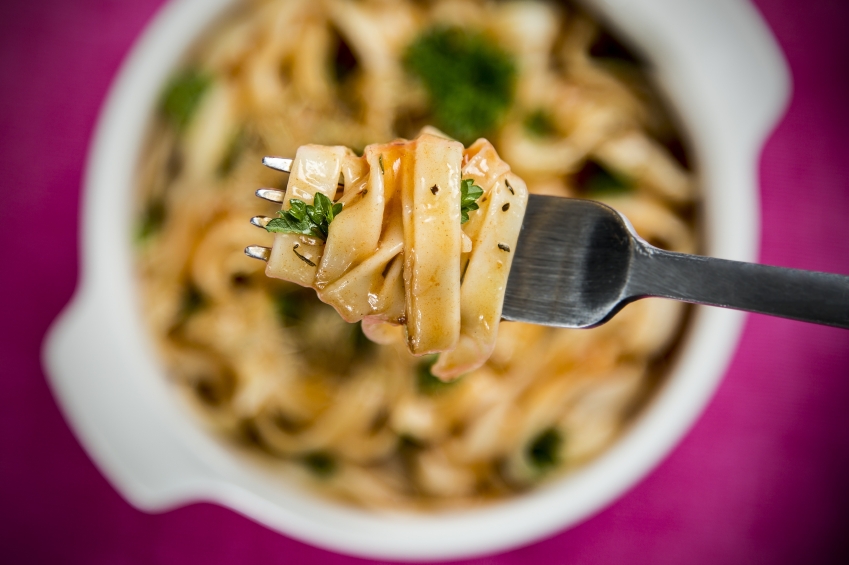 This first recipe from Martha Stewart proves that just because kale is nutritious, doesn't mean it can't be delicious. Whole-Wheat Pasta with Bacon and Kale is the perfect blend of healthy and heavenly, and it can be whipped up in only 35 minutes. Serving 6, this pasta dish is one you can make on a weekday night and know everyone will enjoy. It'll even fill your house with the smell of bacon.
Ingredients:
4 slices bacon, cut into ½-inch strips
3 garlic cloves
1 bunch kale, thick stems trimmed, leaves coarsely chopped
Coarse salt and freshly ground pepper
2 cups reduced-sodium canned chicken broth
1 pound whole-wheat spaghetti
½ cup coarsely grated fontina cheese, plus more for serving
See the recipe directions at Martha Stewart. 
2. Sausage and Kale Soup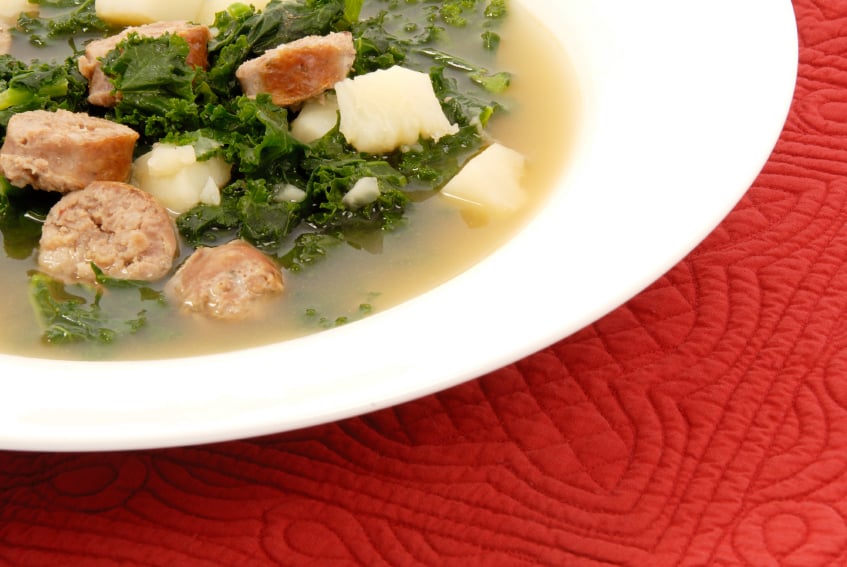 Say goodbye to the bacon and hello to the sausage. This Sausage and Kale Soup recipe from Taste of Home is also hearty and healthy, and it's the perfect dinner for when the summer temperatures retire for the season. The great thing about this supper is you can hide the greens in your soup so your picky eaters won't even detect the health benefits they're consuming, as they'll be much too busy enjoying the smoky sausage, potatoes, beans, and tomatoes.
Ingredients:
1 pound smoked kielbasa or Polish sausage, cut into ¼-inch slices

3 medium Yukon Gold or red potatoes, chopped

2 medium onions, chopped

2 tablespoons olive oil

1 bunch kale, trimmed and torn

4 garlic cloves, minced

¼ teaspoon pepper

¼ teaspoon salt

2 bay leaves

1 can diced tomatoes, undrained

1 can garbanzo beans or chickpeas, rinsed and drained

1 carton chicken broth
See the recipe directions at Taste of Home. 
3. Kale Caesar Salad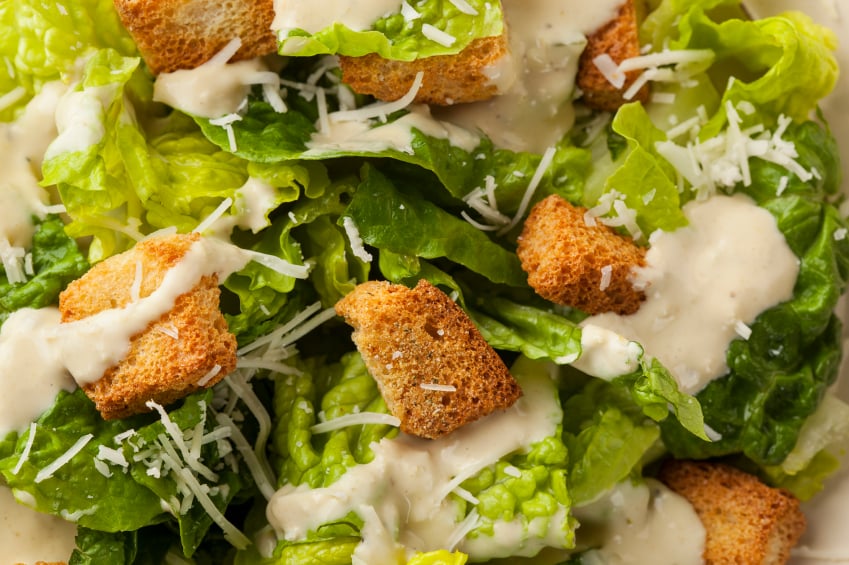 You knew this one was coming. Kale Caesar Salad is a popular green dish to order at restaurants, but with this recipe from Cooking Light, you can make it at home on the cheap. If you're committed to eating kale but still want your creamy dressing, this salad is for you. The salad tastes indulgent thanks to its iconic dressing, and the baguette croutons don't hurt either.
Ingredients:
2 tablespoons hot water
2 tablespoons canola mayonnaise
1 tablespoon olive oil
1 tablespoon lemon juice
½ teaspoon anchovy paste
¼ teaspoon pepper
1 garlic clove, grated
2 tablespoons grated Parmesan cheese
5 ounces baby kale
2 ounces toasted cubed baguette
See the recipe directions at Cooking Light. 
4. Kale Turkey Burgers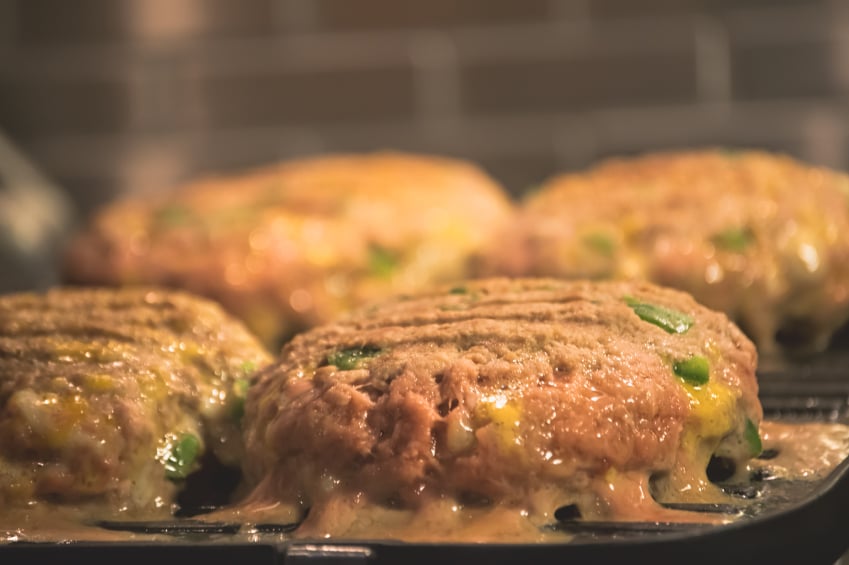 Kale can also be incorporated into burgers, and this recipe from Runners Feed is key. These Kale Turkey Burgers are healthy, high in protein, and satisfying, and as the recipe developer highlights, the addition of kale to the patties provides vitamin A, vitamin C, and vitamin K. You can easily whip up 8 homemade burgers from this food formula and finally feel good about eating hearty patties that pack a protein and nutrition-packed punch.
Ingredients:
2 pounds ground turkey
3 cups kale, finely chopped
1 large egg
4 tablespoons Worcestershire sauce
1 tablespoon garlic powder
2 teaspoons onion powder
1 teaspoon thyme, dried
½ teaspoon rosemary, dried
3 tablespoons Dijon mustard
1 teaspoon salt
See the recipe directions at Runners Feed. 
5. Sweet Potato and Kale Pizza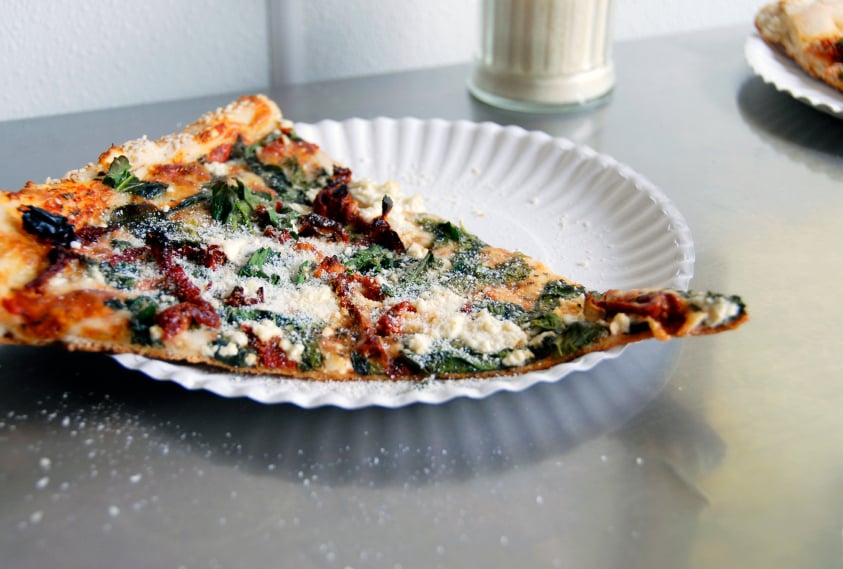 Our next recipe, from Epicurious, features two superfoods on one carby pie. This Sweet Potato and Kale Pizza proves pizza can be healthy, and when you have kale and sweet potatoes on your dough, there's no room for guilt. Did we mention there's also cheese? Grab your mozzarella, goat cheese, superfoods, and you're good to go. This nutritious twist on traditional pizza makes the idea of eating healthy much more palatable.
Ingredients:
1 medium sweet potato, peeled and cut into ½-inch cubes
1½ tablespoons olive oil, divided
⅛ teaspoon crushed red pepper flakes
1 package prepared whole-wheat pizza dough
1 bunch curly kale, stemmed and torn into bite-size pieces
¼ cup crumbled goat cheese
2 tablespoons shredded Parmesan
1 tablespoon crushed walnuts
See the recipe directions at Epicurious. 
6. Kale and Wild Rice Casserole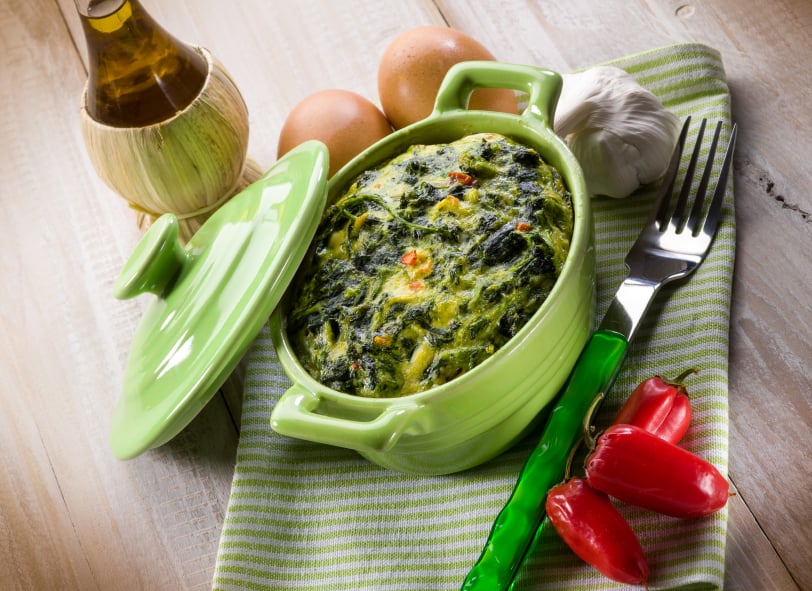 A Kale and Wild Rice Casserole is taking the No. 6 spot on our list. This recipe from Half Baked Harvest is hearty and filling, and it is packed full of wholesome ingredients including kale, wild rice, mushrooms, garlic, and cheese. It takes just 50 minutes to make but yields 6 to 8 servings, meaning leftovers will last for days. Casseroles are easy to make, easy to pack, and easy to enjoy, and when they come with the health benefits that superfoods like kale provide, you really can't go wrong.
Ingredients:
2 large bunches of kale, leaves torn
1 pound cremini mushrooms, sliced
2 tablespoons olive oil
1 tablespoon butter
2 cloves garlic, minced or grated
2 tablespoons fresh thyme, chopped
¼ teaspoon nutmeg
¼ teaspoon salt
½ teaspoon pepper
4 tablespoons flour
1 cup milk
1 cup chicken broth
¼ cup heavy cream or canned coconut milk
4 cups cooked wild rice
1½ cup gruyere cheese, shredded
2 tablespoons olive oil
2 large sweet onions, sliced into thin rings
Salt and pepper
See the recipe directions at Half Baked Harvest. 
7. Quinoa and Kale Salad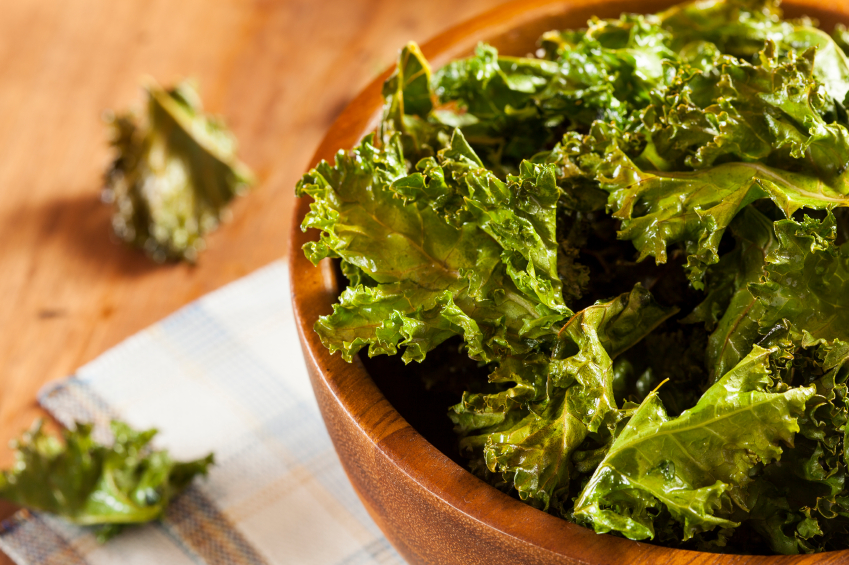 Concluding with one more salad recipe, we come to this Quinoa and Kale Salad from Hummusapien. This salad goes heavy on the greens but is still hearty thanks to the addition of quinoa, nuts, and avocado. The healthy fats from those ingredients make this salad a satisfying and satiating one, and it's also full of flavor thanks to a homemade dressing that's simply made from lemon juice, maple syrup, and olive oil. Pack yourself a kale salad for lunches this week, and pat yourself on the back for happy healthy eating.
Ingredients:
Dressing
1½ lemons, juiced
¼ cup plus 2 tablespoons extra-virgin olive oil
1 tablespoon pure maple syrup
¾ teaspoon salt
freshly ground black pepper
Salad
2 bunches curly kale, destemmed and finely chopped
1½ cups cooked quinoa
½ cup golden raisins
½ cup roasted almonds, chopped
1 large bell pepper, chopped
1 avocado, cubed
See the recipe directions at Hummusapien. 
More from Culture Cheat Sheet: