Taqueria-Style Recipes You Can Make at Home
If you're lucky, you live close to a great taqueria where you can get excellent tacos, tostadas, tortas, and other Mexican favorites whenever your heart (or stomach) desires. But if not, don't despair. There's no need to settle for Taco Bell when you need a Mexican fix since it's possible to recreate your favorite taqueria-style recipes in the comfort of your own kitchen. Whether you're craving creamy guacamole, spicy pickled veggies, or tacos al pastor, these five recipes will make your food dreams a reality.
1. Guacamole Taquero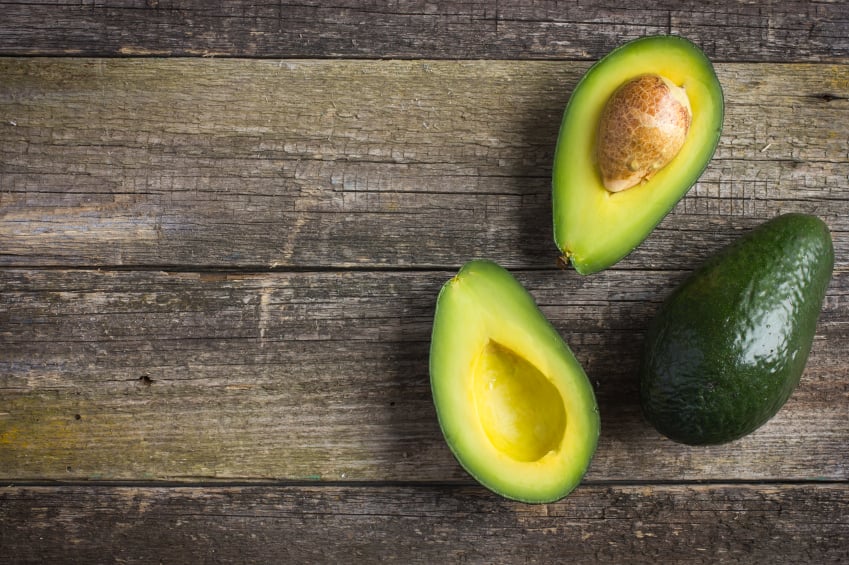 This smooth, creamy guacamole, which is made with a mix of avocado, tomatillo, and cilantro, is the perfect dip for chips or for finishing off tacos or burritos. Rather than the chunky-style guacamole many people make at home, this taco-shop version is thinner and salsa-like. This recipe from Saveur makes about 2½ cups.
Ingredients:
8 ounces tomatillos, husked, rinsed, and chopped
½ cup packed cilantro leaves
1 tablespoon fresh lime juice
1 teaspoon kosher salt
2 cloves garlic, chopped
2 serrano chiles, stemmed and chopped
1 ripe avocado, pitted, peeled
½ small white onion, chopped
Directions: Purée all ingredients in a blender until smooth.
2. Taqueria-Style Pickled Carrots and Jalapeños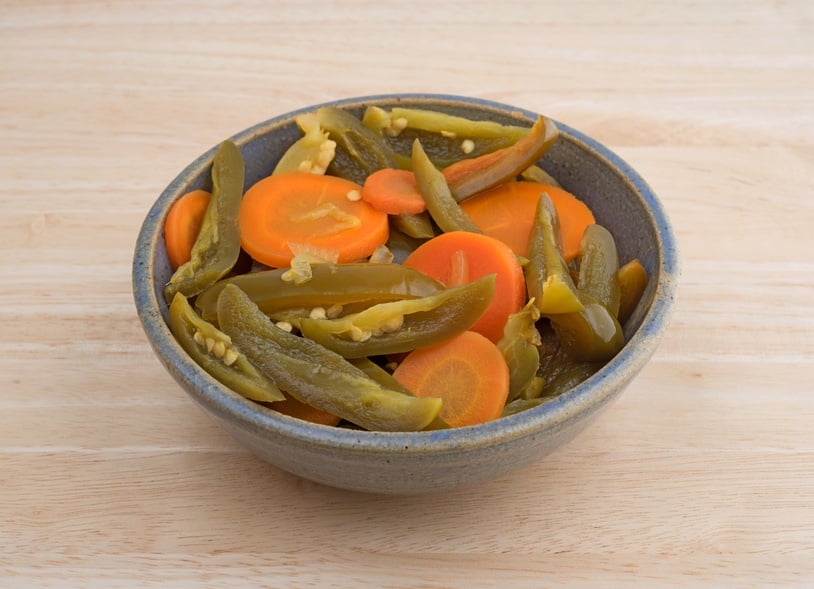 If your favorite part of hitting your favorite taco shop is munching on the free pickled carrots and jalapeños, you're going to love this recipe from Tasting Table. These spicy veggies are delicious on their own and also make a great topping for tacos and other dishes.
Ingredients:
½ teaspoon cumin seeds
2 cups white wine vinegar
2 cups water
2 tablespoons plus 1 teaspoon kosher salt, divided
2 teaspoons dried Mexican oregano (or dried oregano)
½ teaspoon black peppercorns, lightly crushed
1 small red onion, peeled and cut into ⅛-inch slices
2 to 4 jalapeño chiles, quartered (seeded for less heat)
2¾ pounds carrots, peeled and cut on a bias, ½-inch thick
8 garlic cloves, peeled
4 small dried red chiles (optional)
Directions: Add 4 pint-size jars and lids to a large, deep stock pot. Cover the jars with water, turn heat to high, and bring to a boil. Boil for 15 minutes. Using tongs, remove the jars and lids from the water and turn upside down onto a clean kitchen towel.
As the jars boil, start preparing the vegetables. Add the cumin seeds to a small skillet and toast over medium-high heat, stirring frequently, until golden and fragrant, about 1 to 2 minutes. Remove to a small plate and let cool. Add the vinegar, water, oregano, crushed peppercorns, and 1 tablespoon plus 1 teaspoon of the salt to a medium saucepan. Turn heat to high and bring to a boil. Add the onions and jalapeños and remove from heat.
Fill a large saucepan with water. Add the remaining 1 tablespoon of salt and bring to a boil. Add the carrots and simmer until they're starting to soften but are still fairly crisp, about 3 minutes. Drain the carrots and immediately add to the pan with the vinegar and onions. Bring to a boil, then turn off the heat.
Divide the toasted cumin seeds, garlic cloves, and red chiles (if using) among the jars. Transfer the carrots and onions among the jars using a slotted spoon. Pour in the hot vinegar, leaving ½-inch of space at the top. Fasten the tops onto the jars and refrigerate for up to 1 month.
3. Tacos al Pastor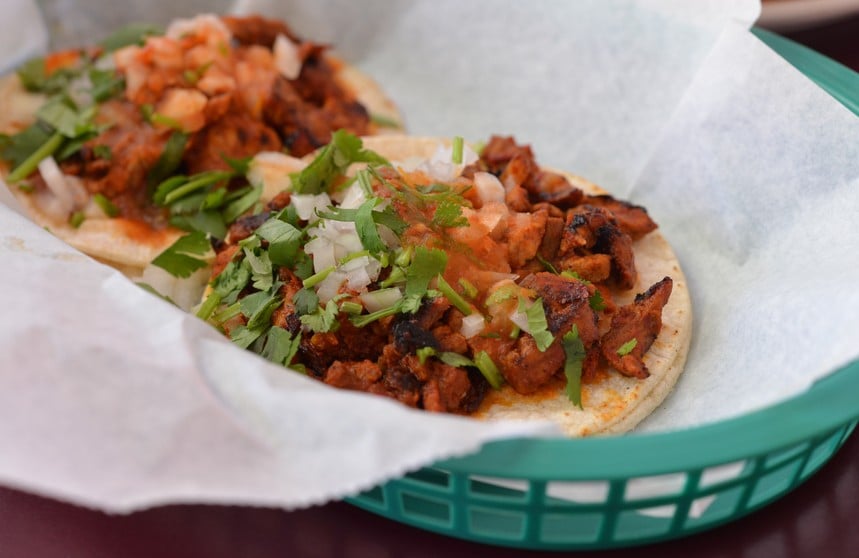 You can thank Lebanese immigrants for tacos al pastor. When tens of thousands of people from the Middle East relocated to Mexico in the 19th and 20th centuries, they brought their culinary traditions with them, including the habit of cooking meat for shawarma on a rotating spit. They substituted readily available pork for the traditional lamb and the flavorful meat eventually found its way into tacos, giving birth to an enduring fusion dish. Home cooks can try this simplified recipe from Food & Wine, which skips the long marinating time and spit roasting for a faster process that still yields tasty results.
Ingredients:
1 tablespoon canola oil, plus more for brushing
3 garlic cloves
1 teaspoon dried oregano
½ teaspoon ground cumin
½ teaspoon pepper
¼ teaspoon ground cloves
4 guajillo chiles, stemmed, seeded, and cut into 2-inch pieces
⅓ cup pineapple juice
¼ cup distilled white vinegar
2 tablespoons achiote paste
Sea salt
2 pounds boneless pork shoulder, sliced ¼-inch thick
½ medium pineapple, peeled and sliced ½-inch thick
1 medium red onion, sliced crosswise ½-inch thick
Warm corn tortillas, chopped cilantro and lime wedges, for serving
Directions: In a medium saucepan, heat the 1 tablespoon of oil. Add the garlic and cook over moderately high heat, turning occasionally, until lightly browned, about 1 minute. Stir in the oregano, cumin, pepper, and cloves, and cook until fragrant, about 1 minute. Add the chiles and cook, stirring, until blistered in spots, about 30 seconds. Add the pineapple juice, vinegar, and achiote paste and bring to a boil. Remove from the heat and let stand for 5 minutes.
Transfer the chile mixture to a blender and purée until smooth. Season with salt. Scrape the marinade into a large, sturdy plastic bag. Add the pork and turn to coat. Set the bag in a small baking dish and refrigerate overnight.
Light a grill or preheat a grill pan. Brush the pineapple and onion with oil. Grill over high heat, turning once, until lightly charred and softened, 3 to 5 minutes. Transfer to a carving board and tent with foil.
Remove the pork from the marinade. Grill over high heat until lightly charred and just cooked through, 2 to 4 minutes. Transfer to the carving board and let rest for 5 minutes. Cut the pineapple, onion and pork into thin strips and transfer to a bowl. Season with salt. Serve with corn tortillas, chopped cilantro, and lime wedges.
4. Carne Asada Burrito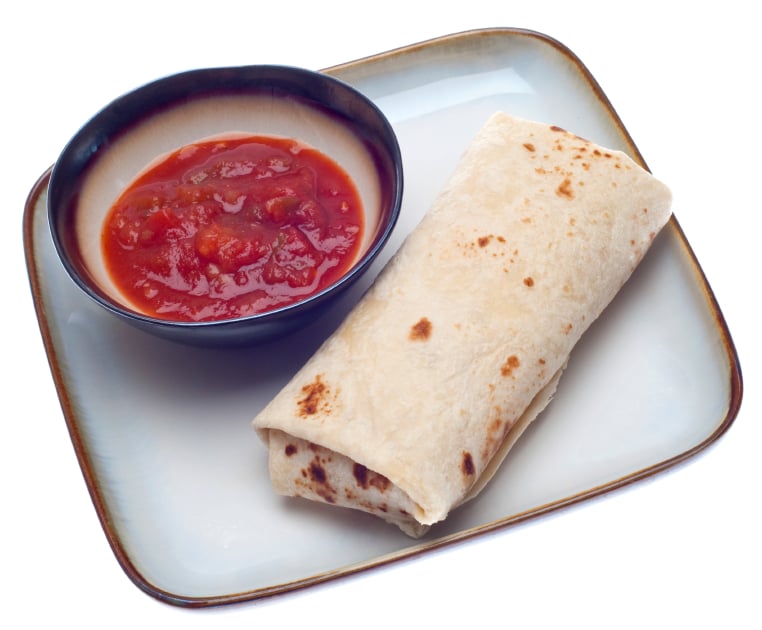 Carne asada burritos are a taco shop staple in Southern California. Unlike the Mission-style burritos you'll find at Chipotle and other restaurants, these burritos skip the rice and beans. Aside from meat, the only fillings are guacamole, cheese, and pico de gallo. This recipe is from Carne and Papas and serves 5.
Ingredients:
4 pounds steak tips chopped (use flap steak with fat in it)
1 tablespoon garlic salt
1 tablespoon soy sauce
3 tablespoons olive oil
1 teaspoon freshly ground pepper
Burrito-sized tortillas (the largest size you can find)
Guacamole
Pico de gallo
Green onions, diced (optional)
Shredded Mexican cheese
Chipotle mayo
Queso fresco
Hot sauce, for serving
Directions: Chop the steak. Add the garlic, salt, soy sauce, and olive oil and let sit for 15 minutes.
Heat a cast iron pan over high heat. Once the pan is very hot, add some of the meat to pan. You'll need to work in batches to ensure the meat browns. Let the meat cook without stirring for a few minutes, stir, then cook for another 1 to 2 minutes. Some of the steak pieces should be charred. Remove from the pan and cook the remaining steak.
Heat a griddle to 300 degrees Fahrenheit. Place a tortilla on the griddle and cook for 30 seconds. Flip and top with some shredded cheese and a pinch of green onions. Cook for another 30 seconds, just until the cheese starts to melt. Transfer to a plate, then top with the steak, guacamole, pico de gallo, queso fresco, and chipotle mayo. Fold the burrito. Serve with hot sauce.
5. Horchata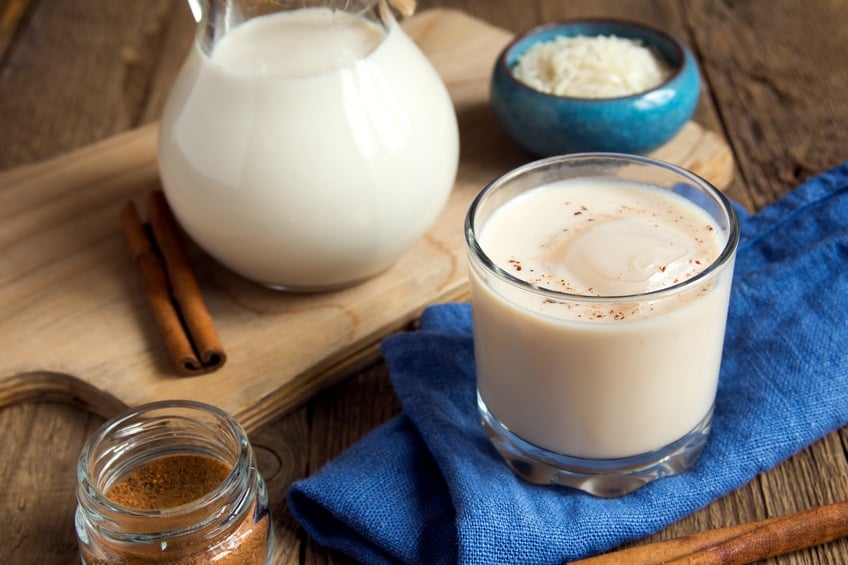 A refreshing glass of sweet horchata is the perfect accompaniment to a plate of spicy tacos. It's often made with almonds and rice (like the recipe below), but numerous variations exist. Making your own isn't hard, though you'll need to plan ahead since some of the ingredients need to soak overnight. This recipe is from The Kitchn.
Ingredients:
1 cup long grain white rice
¾ cup blanched almonds
1 (1-inch to 3-inch) piece of cinnamon stick
5 cups water, divided
¼ cup sweetened condensed milk
¼ teaspoon vanilla
Ice for serving
Ground cinnamon for garnish
Directions: Soak the rice, almonds, and cinnamon. Place the rice and almonds into a bowl. Break up the cinnamon stick into several pieces and add to the rice and almonds. Cover with 4 cups of hot (but not boiling) water. Cover the bowl and refrigerate at least 2 hours but preferably overnight.
Using a stick or regular blender, blend the rice, almond, and cinnamon mixture until it is very smooth. This may take up 2 to 3 minutes.
Pour the rice and almond mixture into a strainer set over a pitcher. Strain out as much liquid as possible, pushing on the solids with a spatula or spoon. Stir the remaining cup of water, sweetened condensed milk, and vanilla into the pitcher. Taste and add more sweetener or water as needed.
Add ice to the pitcher, stir again, and serve in glasses garnished with the ground cinnamon.
Follow Megan on Twitter @MeganE_CS