Tasty Pork Dishes That Are Surprisingly Healthy
Indulgent dishes like pulled pork poutine and bacon-studded everything have led many to add "the other white meat" to the list of foods they avoid. While it's not a good idea to eat pounds of pork, a little bit of pulled shoulder meat now and again certainly isn't going to destroy your diet. Opt for leaner cuts, and you can eat it just as often as you do chicken or turkey. According to Men's Fitness, pork tenderloin actually has less fat than skinless chicken breast and provides loads of B vitamins, zinc, and potassium.
Because chops and tenderloin are so lean, they can turn dry and mealy if you aren't careful. Invest in an instant-read thermometer to monitor the temperature. Remove whatever cut you're cooking from the heat when it hits an internal temperature of no higher than 140 degrees Fahrenheit. Carryover cooking will take it the rest of the way, leaving you with perfectly moist meat. Try the technique with these five fantastic recipes to stay both slim and satisfied.
1. Prosciutto-Wrapped Roast Pork Loin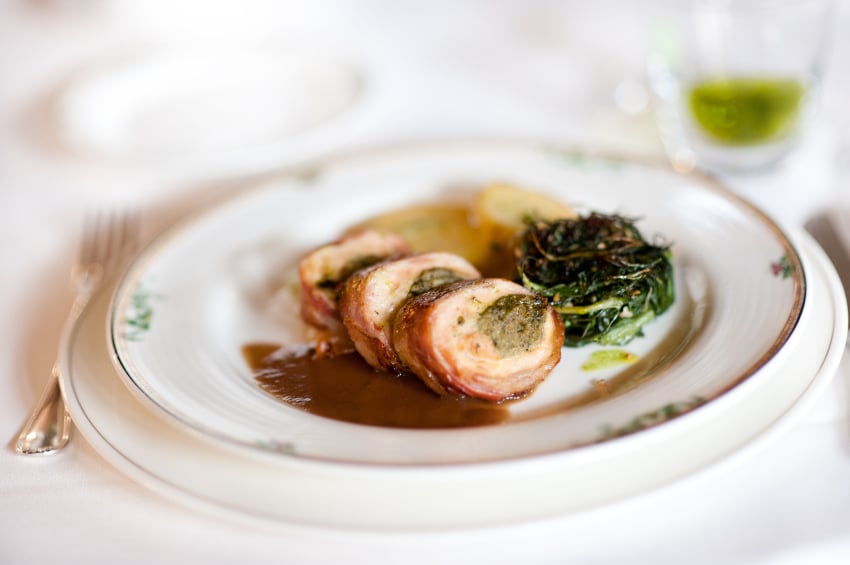 Using prosciutto for a healthy recipe might seem like an odd choice, but it's actually pretty smart. Since the cured meat is so flavorful, Saveur's recipe only needs 3 ounces to cover an entire roast. That comes out to just a tiny portion per person. Wrapping the roast in prosciutto also eliminates the need to add tons of butter or oil since it helps to keep the meat incredibly juicy.
As for the pork loin? It's full of muscle-building protein and pretty light on calories. A 3-ounce portion is just 147 calories with a little over 5 grams of fat. Pair the protein with some sautéed green beans or spinach for an easy way to round out the meal.
Ingredients:
1 lemon, zested, and sliced in half
5 tablespoons chopped fresh rosemary
25 fresh sage leaves, minced
12 garlic cloves, minced
1 (4-pound) boneless pork loin, trimmed
Kosher salt and freshly ground black pepper
12 thin center-cut slices, about 3 ounces, prosciutto
2 tablespoons extra-virgin olive oil
1 large onion, cut into thick rings
Directions: Preheat oven to 375 degrees Fahrenheit. Pile lemon zest, rosemary, sage, and garlic on a cutting board, and chop together until thoroughly combined. Set aside.
Using a knife, butterfly pork loin. Season both sides with salt and pepper. Rub both sides with herb mixture, then roll loin into a log. Wrap pork in prosciutto, and secure with kitchen twine.
Heat oil in a 12-inch skillet over medium-high heat. Sear pork, turning occasionally, until browned all over, about 12 minutes. Transfer to a plate. Add onions to skillet along with ½ cup water. Set pork on top of onions. Roast, occasionally basting with juices, until an instant-read thermometer inserted into the center registers 140 degrees Fahrenheit, 45 to 50 minutes. Transfer pork to a cutting board, and let rest for 20 minutes. Slice pork and transfer to a platter along with onions. Squeeze lemon juice into skillet, and whisk to combine with juices. Serve pork with pan juices on the side.
2. Thai Pork and Peanut Curry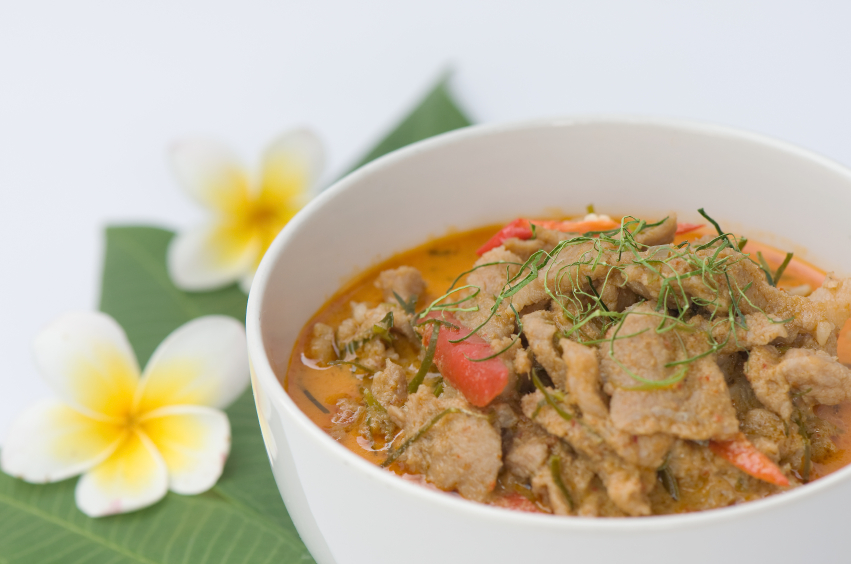 Curries can sometimes be a disaster when they take the healthy route. They're often so low in fat that the spices can taste harsh and unbalanced. This flavor-packed pork version from BBC Good Food avoids the issue by adding a scoop of creamy peanut butter. In addition to adding great flavor and healthy fats, the sweet and salty spread also gives an extra boost of protein to the dish.
Though this recipe calls for baby corn, not everyone is a fan of the canned veggie. Feel free to swap in anything from peppers to peas. We also like to add a little bit of mint to the finished dish.
Ingredients:
1 tablespoon vegetable oil
1 bunch green onions, sliced
1 small bunch cilantro, stalks finely chopped, leaves picked
14 ounces pork tenderloin, sliced
4 tablespoons Thai red curry paste
4 tablespoons peanut butter
1 tablespoon brown sugar
1 tablespoon soy sauce
1 (14-ounce) can light coconut milk
1 (6-ounce) can baby corn
Juice of 1 lime
Steamed jasmine rice
Directions: Heat the oil in a large saucepan. Add the green onions and cilantro stems, and cook 1 minute. Add the pork slices and cook 5 minutes, until the pork begins to brown. Stir in the curry paste and peanut butter. Cook 30 seconds, then add sugar, soy sauce, coconut milk and about 1 cup water. Mix well, and cover with a lid. Let simmer 15 minutes, stirring occasionally.
Remove lid and add baby corn. Increase heat, and simmer 3 minutes, until corn is cooked and sauce has thickened. Stir in lime juice. Taste, and adjust seasoning. Serve with cilantro and rice.
3. Pork Chops with Grits and Red-Eye Gravy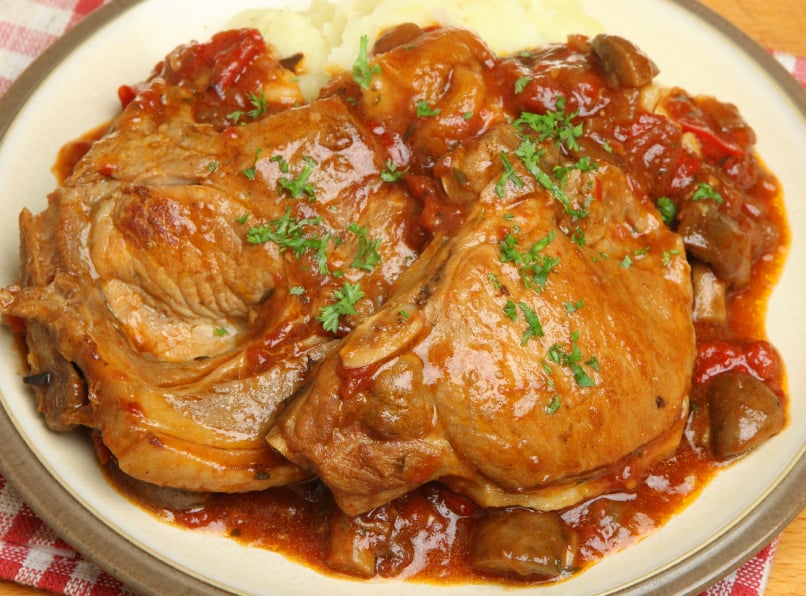 Cooking Light's pork and grits dish is about as southern as it gets. Though food from the lower half of the U.S. is usually labeled as unhealthy, this recipe is anything but. With around 153 calories for every 3 ounces, pork chops are a great protein choice. Red-eye gravy is also smart sauce, because it relies on calorie-free coffee for most of the flavor. This version gets even better with the addition of savory mushrooms and a splash of Madeira. Complete your southern spread with this nutritious take on collard greens from The New York Times.
Ingredients:
1 tablespoon extra-virgin olive oil
4 (6-ounce, ½-inch-thick) bone-in, center-cut pork loin chops, trimmed
½ teaspoon salt divided
½ teaspoon black pepper, divided
¼ cup chopped shallots
2 teaspoons chopped fresh thyme
4 ounces sliced wild mushrooms
¼ cup Madeira or dry sherry
½ cup hot, strong coffee, divided
½ cup low-sodium tomato juice
2 teaspoons sherry vinegar
⅛ teaspoon cayenne pepper
2 teaspoons cornstarch
2¼ cups plus 2 tablespoons 2% reduced-fat milk, divided
½ cup quick-cooking grits
1 tablespoon butter
Directions: Heat a large skillet over medium-high heat. Add oil to pan, swirling to coat. Season pork with ⅜ teaspoon salt and ¼ teaspoon pepper. Cook chops 3 minutes on each side, then remove from pan, and keep warm. Add shallots, thyme, and mushrooms to pan. Cook 4 minutes. Stir in wine and cook 30 seconds, scraping the bottom of the pan to release browned bits. Stir in remaining pepper, ¼ cup coffee, tomato juice, vinegar, and cayenne. Bring to a simmer, and cook 3 minutes. Combine cornstarch with remaining coffee. Whisking constantly, add cornstarch mixture to pan. Cook 2 minutes, or until slightly thickened, stirring.
Bring 2¼ cups milk and remaining salt to a boil in a medium saucepan. Gradually stir in grits. Cover, and reduce heat. Simmer 5 minutes, or until liquid is absorbed, stirring frequently. Remove from heat. Mix in remaining milk and butter. Serve with chops and gravy.
4. Spanish Pork Burgers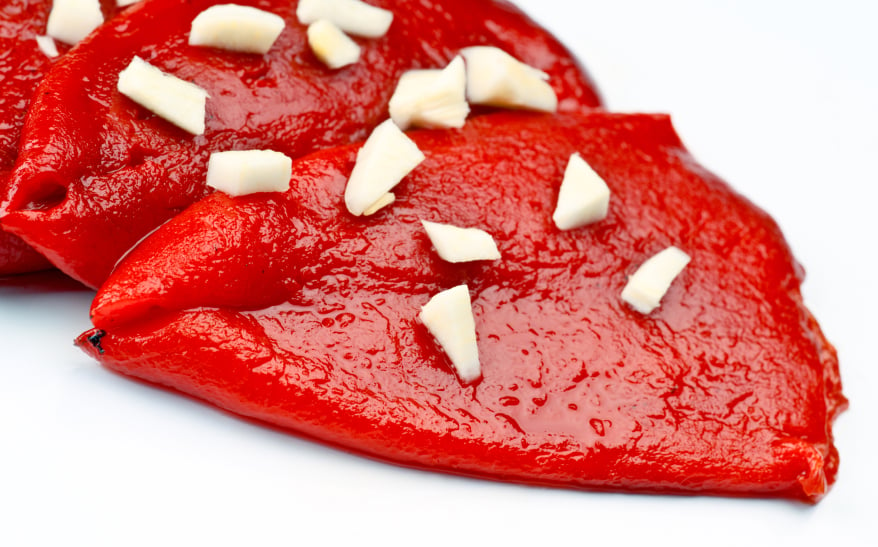 Beef isn't the only meat that makes a great burger. Eating Well's Spanish-inspired sandwiches load ingredients like olives, paprika, and garlic into the pork patties to give them tons of flavor while a little bit of cooked onion keeps the meat moist. Topped with nutty Manchego cheese, fragrant saffron mayo, and some smokey-sweet piquillo peppers, this could become your new favorite way to eat a burger. And those peppers do more than add great taste. They pack an impressive amount of vitamin C into the sandwich for a pretty small calorie count.
Ingredients:
1 tablespoon extra-virgin olive oil
3 cups thinly sliced Spanish onion
¾ teaspoon freshly ground pepper, divided
¼ teaspoon salt, divided
1 pound lean ground pork
1 tablespoon finely chopped Spanish green olives
2 teaspoon minced garlic
2 teaspoons Spanish or Hungarian paprika
¼ cup reduced-fat mayonnaise
2 teaspoons freshly grated lemon zest
1 tablespoon lemon juice
Pinch of saffron
¼ cup shredded Manchego cheese
4 whole-wheat hamburger buns, toasted
2 jarred piquillo peppers, halved
Directions: Heat oil in a large skillet over medium-high heat. Add onion, ¼ teaspoon pepper, and ⅛ teaspoon salt. Cover and cook, stirring occasionally, until soft and translucent, about 10 minutes. Set aside half of onions, and finely chop the other half.
Preheat grill to medium. Place chopped onion in a large bowl with pork, olives, garlic, paprika, remaining pepper, and remaining salt. Gently combine, being careful not to overmix, until evenly incorporated. Form into four ½-inch-thick patties.
Combine mayonnaise, lemon zest, lemon juice, and saffron in a small bowl. Set aside.
Oil grill grate. Cook burgers, turning once, until an instant-read thermometer inserted into the center registers 165 degrees Fahrenheit, 10 to 12 minutes. Top with cheese and cook just until it melts, about 1 minute longer.
Assemble burgers on buns with mayo, onions, and piquillo peppers. Serve.
5. Grilled Pork Tenderloin and Plums with Creamy Goat Cheese Sauce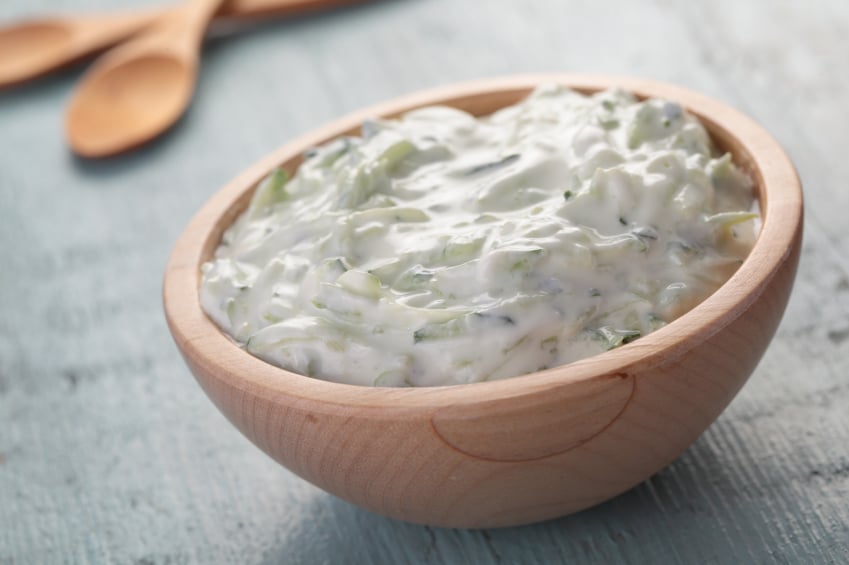 Fruit and pork are always a winning combination. Break away from the usual chop and apple pairing by making Food Network's tenderloin and plum recipe. Using the grill gives the meat a hint of smoky flavor and helps develop a great caramelization on the fruit. A creamy sauce made with Greek yogurt and goat cheese tastes indulgent without going overboard on fat and calories. All you need is a bit of arugula to complete the dish.
Ingredients:
¼ cup Greek yogurt
4 ounces goat cheese, at room temperature
½ cup extra-virgin olive oil
¼ cup fresh flat-leaf parsley leaves, roughly chopped
2 scallions, thinly sliced
Kosher salt and freshly ground black pepper
1 (1-pound) pork tenderloin
2 large, ripe plums, halved, and pitted
5 ounces baby arugula
½ lemon, juiced
Directions: Whisk yogurt, goat cheese, and ⅓ cup water in a mixing bowl until smooth. Whisk in 3 tablespoons of oil, parsley, and scallions. Season sauce with salt and pepper.
Heat an outdoor grill or grill pan over medium-high heat. Brush pork tenderloin with 1 tablespoon oil, and season with salt and pepper. Grill until charred on all sides and an instant-read thermometer inserted into the center registers 135 degrees Fahrenheit, 12 to 16 minutes.
Brush cut side of plums with 1 tablespoon oil and season with salt and pepper. Grill plums, cut-side down, until charred and top of flesh just begins to soften, 3 to 4 minutes. Transfer to a plate.
Remove pork from grill, and rest for 10 minutes. Thinly slice pork against the grain. Season slices lightly with salt. Toss arugula with lemon juice and remaining oil. Season with salt and pepper. Divide arugula among four 4 plates. Add a smear of sauce, pork slices, and one plum half to each plate. Serve, passing remaining sauce.
More from Culture Cheat Sheet: