Tasty Ways to Cook Healthy Tuna Steaks for Dinner
Tuna doesn't just come in a can. Fresh or frozen tuna steaks are a healthy source of protein that is also easy to prepare. This fatty, filling fish can be grilled, pan-fried in a skillet, or baked, and it absorbs flavors well when marinated.
If you've been avoiding cooking tuna at home because you're worried you'll screw it up, don't be intimidated, say experts. "The trepidation most people feel about cooking seafood at home is really unfounded," chef Barton Seaver, author of For Cod and Country, tells Men's Health. "The key to a great seafood meal is simply this: buying good quality seafood." (Fine Cooking has some tips if you're shopping for fresh tuna.) Also, keep in mind that tuna can have a high mercury content; check out this guide from Men's Health to get an idea of how much tuna is safe for men to eat.
Once you have your tuna steak in hand, here are five different ways to prepare it for a delicious dinner.
1. Tuscan-Style Grilled Tuna Steaks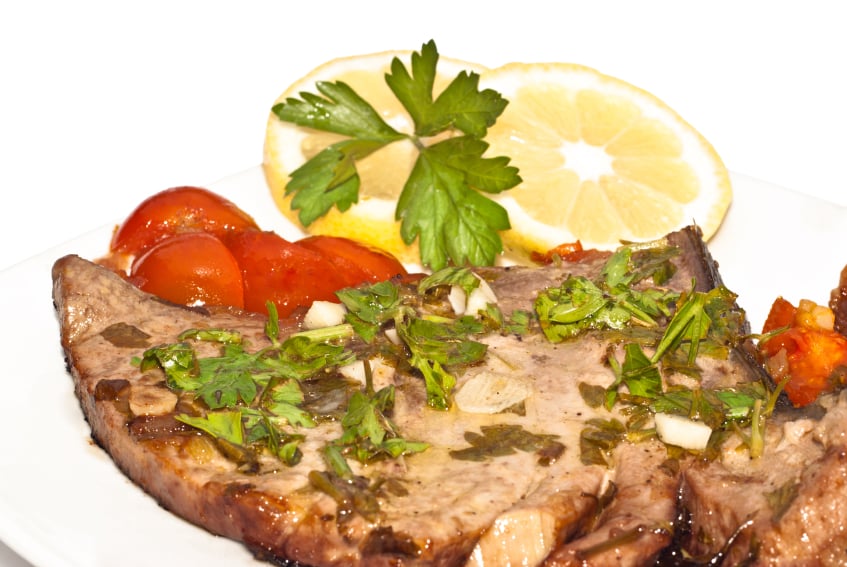 These grilled tuna steaks take about a half hour to prepare, making them a good choice for a quick weeknight dish. Try serving with grilled stuffed portobello mushrooms or a mixed green salad for a complete meal. This recipe from Rachael Ray, featured on Food Network, serves 4.
Ingredients:
4 (8-ounce) 1-inch-thick tuna steaks
1 lemon, zested
3 sprigs fresh rosemary (about 2 tablespoons leaves stripped from stem)
Handful flat leaf parsley
3 cloves garlic, crushed
Coarse salt and black pepper or grill seasoning
Extra-virgin olive oil, for cooking
Directions: Rinse and the tuna steaks and pat dry. Place zest on top of cutting board. Pile rosemary and parsley leaves on top of zest. Pile garlic and some coarse salt and black pepper or grill seasoning on top of herbs. Finely chop the garlic, herbs, and spices. Drizzle the olive oil over the tuna steaks (just enough to coat each side). Rub herb and garlic mixture into fish, coating pieces evenly on each side. Let stand 10 minutes.
Grill tuna steaks 6 minutes on each side (4 minutes on each side if you want your tuna pink at the center). If using an indoor electric grill, cook over high setting. If using an outdoor gas grill, cook over medium high heat. If using charcoal grill, cook 6 inches from hot, prepared charcoal.
2. Tuna Steak with Avocado and Cilantro Marinade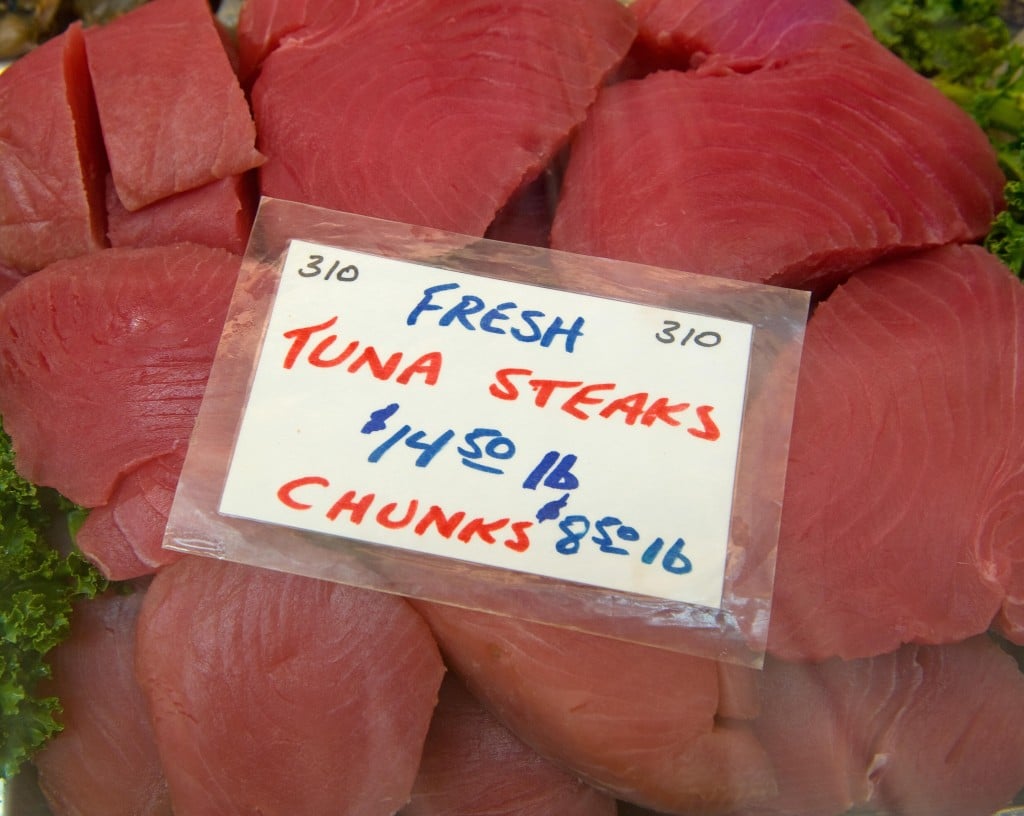 Tuna, cilantro, spinach, and avocado are combined for a fresh, paleo-friendly main course. To make this dish, you'll need to let the tuna marinate for a few hours, so be sure to plan ahead. Recipe from Paleo Leap.
Ingredients:
1 tuna steak
3 tablespoons animal fat, coconut oil, or clarified butter
1 teaspoon ginger, minced
2 cloves garlic, minced
½ cup cilantro, finely chopped
Juice and zest of 1 lime
½ avocado, sliced
4 cups fresh spinach
Sea salt and freshly ground black pepper, to taste
Directions: Combine the fat or oil, ginger, garlic, cilantro, lime zest, and juice to make a marinade. Season with salt and pepper to taste. Pour the mixture over the tuna steak and let it marinate in the refrigerator for a minimum of 2 hours.
Remove the fish from the refrigerator and scrape off any excess marinade, setting aside any extra for later. Turn your grill to medium-high and cook the tuna for about 4 minutes per side. (You can also cook the steaks in a skillet over medium-high heat for the same length of time.)
As the tuna cooks, heat a small amount of fat in a skillet. Cook the spinach in the pan until wilted. Add salt and pepper to taste and remove from the skillet.
In the same pan you used to cook the spinach, heat the leftover marinade. You want it to warm through and thicken slightly.
Place the cooked spinach on a plate, top with the tuna steak, and cover with the sliced avocado. Drizzle the warmed marinade on top and serve.
3. Charcoal-Grilled Tuna Steaks with Red Wine Vinegar and Mustard Vinaigrette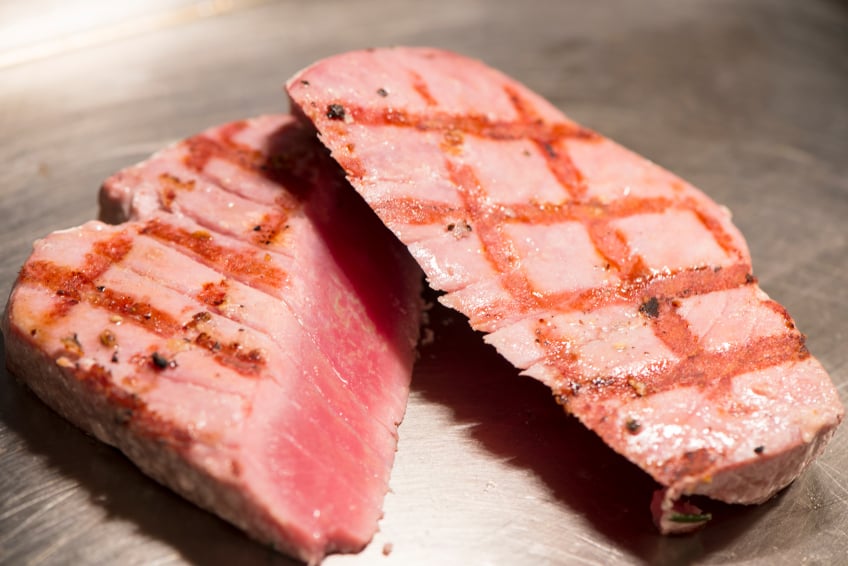 Brushing the tuna steaks with a vinaigrette before grilling helps keep them tender, according to Cook's Illustrated (via KCET). This recipe, which serves 6, is great it you're feeding a crowd, or you can halve the ingredients for a simple meal for a smaller group.
Ingredients:
Vegetable oil for cooking grate
3 tablespoons plus 1 teaspoon red wine vinegar
Table salt
2 tablespoons Dijon mustard
2 teaspoons honey
2 tablespoons chopped fresh thyme or rosemary leaves
¾ cup olive oil
6 tuna steaks, 1-inch-thick (about 8 ounces each)
Ground black pepper
Directions: Light large chimney starter filled with charcoal (6 quarts, about 100 briquettes) and allow to burn until coals are fully ignited and partially covered with thin layer of ash, about 20 minutes. Build modified two-level fire by arranging all coals in even layer over half of grill, leaving other half empty. Loosely cover cooking grate with large piece of heavy-duty aluminum foil; position grate over coals, cover grill, and heat grate until hot, about 5 minutes. Remove foil with tongs and discard; scrape grate clean with grill brush. Lightly dip wad of paper towels in oil; holding wad with tongs, wipe grate. Continue to wipe grate with oiled paper towels, redipping towels in oil between applications, until grate is black and glossy, 5 to 10 times. Grill is ready when coals are hot (you can hold your hand 5 inches above grate for 3 to 4 seconds).
While grill heats, whisk vinegar, ½ teaspoon salt, mustard, honey, and thyme or rosemary together in large bowl. While whisking constantly, slowly drizzle oil into vinegar mixture until lightly thickened and emulsified. Measure out ¾ cup vinaigrette and set aside for cooking fish. Reserve remaining vinaigrette for serving.
Brush both sides of fish liberally with vinaigrette and season with salt and pepper to taste. Grill fish without moving until grill marks form and bottom surface is opaque, about 1½ minutes. Carefully flip, cooking until grill marks form on second side, about 1½ minutes longer for rare (opaque at perimeter and translucent red at center when checked with tip of paring knife) or 3 minutes for medium-rare (opaque at perimeter and reddish pink at center). Transfer to large plate and serve immediately, passing reserved vinaigrette.
4. Sesame-Crusted Tuna Steaks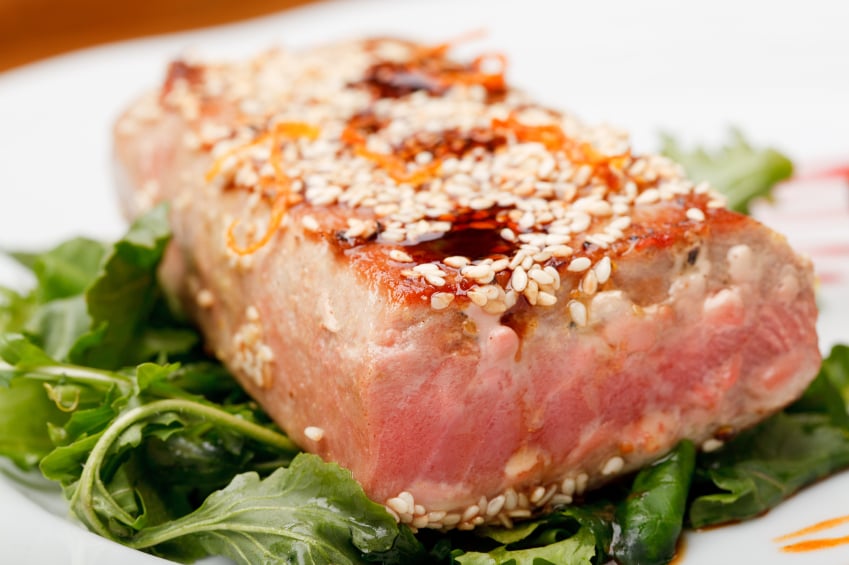 A sesame-seed crust kicks this simple grilled tuna steak recipe up a notch. Best of all, it takes just 10 minutes to prepare and 5 minutes to cook — perfect when you're in a rush. Consider serving with a homemade avocado peach salsa or mango pineapple salsa. Recipe from A Bachelor and His Grill.
Ingredients:
2 ahi tuna steaks
2 tablespoons olive oil
1 teaspoon sesame oil
3 tablespoons black sesame seeds
3 tablespoons white sesame seeds
Kosher salt and freshly ground black pepper, to taste
Directions: Preheat your grill to high. Combine the sesame oil and olive oil in a small bowl. Brush the mixture onto the tuna steaks.
Combine the black and white sesame seeds in a shallow bowl. Press the steaks into the seeds until all sides are completely covered.
Place the tuna steaks on the hot grill and cook on each side until medium rare, about 45 seconds to 2 minutes. (The fish should still be pink in the middle.)
Remove steaks from the grill and season with salt and pepper. Serve with the salsa or mixed greens.
5. Pan-Fried Honey and Soy-Glazed Tuna Steak with Stir-Fry Vegetables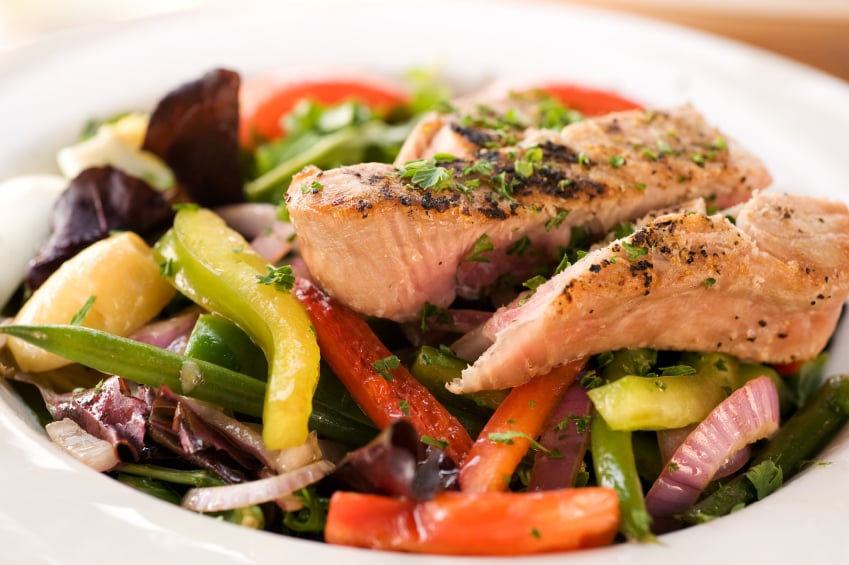 A soy sauce and honey glaze plus stir-fried mushrooms and peppers make for a healthy, Asian-inspired meal. This recipe from King Fish, an Irish fishmonger, serves 4.
Ingredients:
Tuna steaks and marinade
4 tuna steaks
1 tablespoon honey
1 tablespoon soy sauce
1 tablespoon olive oil
Stir-fry vegetables
1 red pepper
1 green pepper
1 red onion
4 spring onions
6 to 8 button mushrooms
1 tablespoon sesame oil
1 tablespoon soy sauce
2 cloves garlic
¼ ounce fresh ginger, cut into strips
Directions: Mix together the honey, soy sauce, and olive oil in a shallow bowl. Dip the tuna steaks in the mixture, coating both sides thoroughly.
Brush a frying pan or griddle with a small amount of oil. Heat the pan, and then sear the tuna for approximately 3 minutes per side.
Slice the vegetables. Heat the oil in a large pan or wok. Add the ginger and all the vegetables and stir-fry until tender-crisp. Add soy sauce and gently mix. Serve with tuna steaks.
Follow Megan on Twitter @MeganE_CS