Team USA's Biggest Olympic Scandals
Hardly an Olympic Games goes by without at least a minor scandal. Teams and athletes from around the world have found themselves in hot water for what went on at various Games over the years. But Team USA, especially, is no stranger to turning heads and making headlines — and not always for stellar athletic performance. In fact, American Olympians have created their fair share of Olympic scandals over the years.
Read on to check out Team USA's biggest Olympic scandals, from medals stripped to wins unacknowledged to attempts at sabotage and subterfuge.
10. Jim Thorpe was stripped of his Olympic medals for having played minor league baseball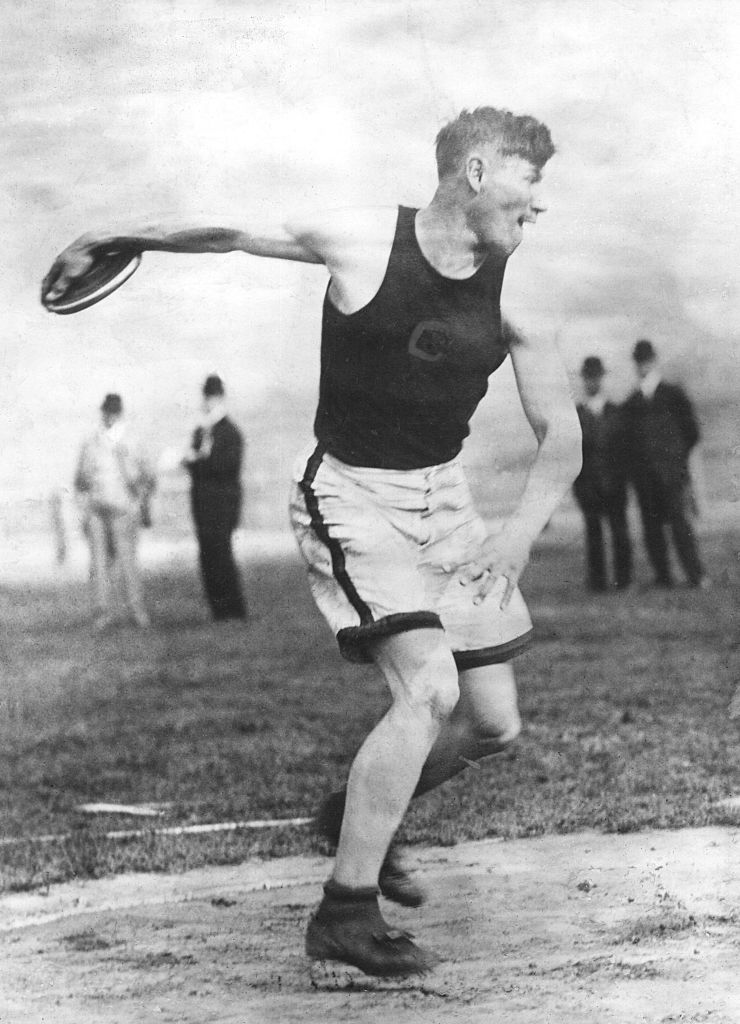 Sport: Athletics
Year: 1912 Olympic Games in Stockholm
Jim Thorpe, a legendary native American athlete, won gold medals in Stockholm for his performance in the 15 events that made up the pentathlon and decathlon. But as Smithsonian Magazine explains, the International Olympic Committee soon stripped Thorpe of his medals. The reason why? The committee learned "that he had violated the rules of amateurism by playing minor-league baseball in 1909-10."
The discovery constituted a major Olympic scandal. Eventually, the committee restored Thorpe's medals posthumously. But the damage was done. The Olympic records — which proved his prowess as an athlete — had been expunged. And as Smithsonian Magazine explains that in the absence of those official records, many Americans stigmatized Thorpe as "a 'lazy Indian' whose gifts were entirely bestowed by nature." Yet even today, many historians think that Thorpe's performance in 1912 establishes him as the greatest athlete of all time.
Next: One of the most disgraceful Olympic scandals involved a change made to appease Adolf Hitler. 
9. Marty Glickman and Sam Stoller were prevented from competing because they were Jewish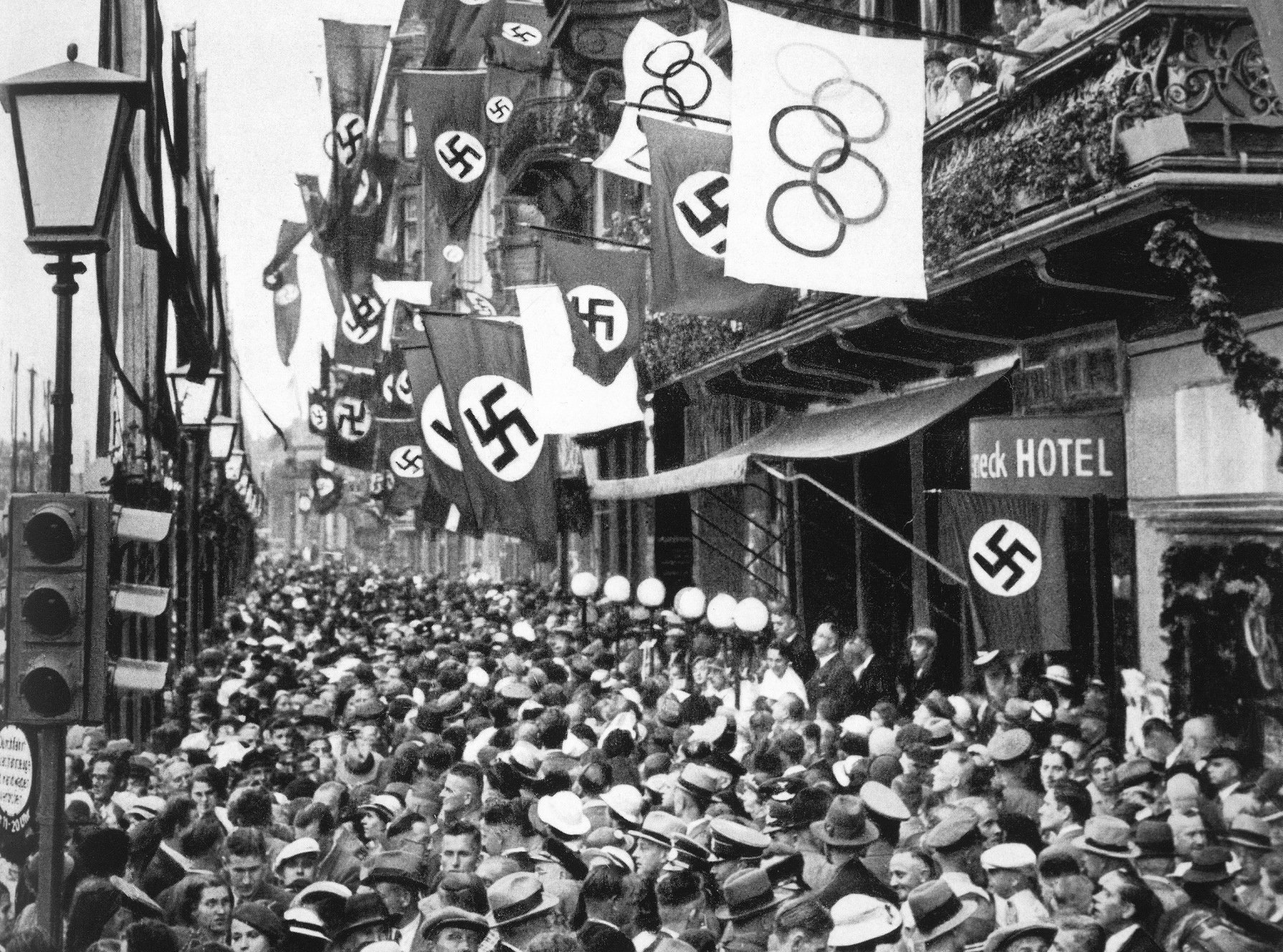 Sport: Track
Year: 1936 Olympic Games in Berlin
Most people don't know this story. But at the 1936 Olympic Games in Germany, young runners Marty Glickman and Sam Stoller didn't get to compete because they were Jewish. Bleacher Report notes that Glickman and Stoller qualified for the Games and traveled overseas. They should have competed on the 4×100 meter United States Olympic relay team. The games took place in Germany — Nazi Germany. And just before the trials, Glickman and Stoller got replaced.
Their replacements? Jesse Owens and Ralph Metcalfe, two famous African-American athletes. As Bleacher Report explains, "The 1936 games created the legend of Jesse Owens because he won a stunning four gold medals, earning the distinction as the most decorated athlete in the Olympiad." But it went unacknowledged for decades that Glickman and Stoller didn't compete thanks to antisemitism.  They were reportedly replaced at the last minute to appease Adolf Hitler himself — a huge Olympic scandal if we've ever seen one.
Next: These athletes created one of the biggest Olympic scandals by taking a stand. 
8. Tommie Smith and John Carlos raised their fists in a Black Power salute on the Olympic podium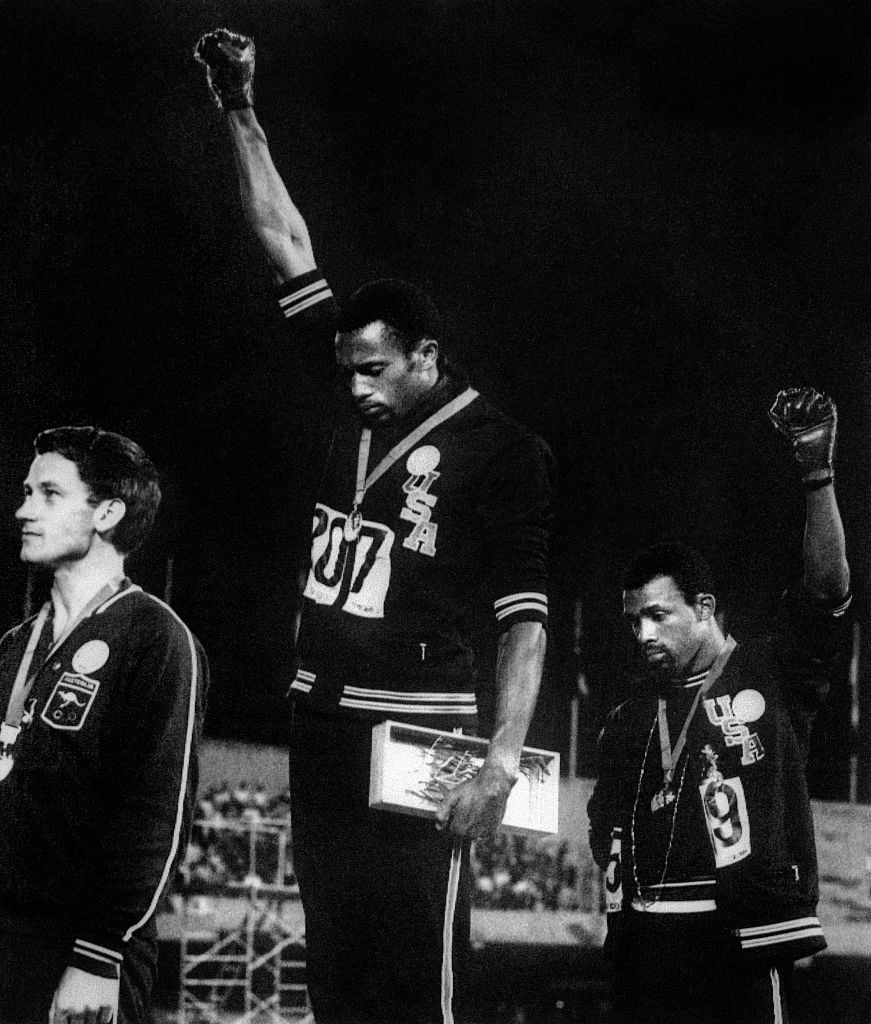 Sport: Track
Year: 1968 Olympic Games in Mexico City
Sometimes, Olympians create a scandal by standing for what they believe in. The Washington Post reports that when Tommie Smith and John Carlos won gold and bronze medals in the 200-meter sprint, they raised "black-gloved fists during the medal ceremony" to take a stand against racial injustice. As they walked to the podium, they removed their shoes to protest poverty. They wore beads and a scarf to protest lynchings. And as the national anthem played, they lowered their heads and raised their fists in a Black Power salute. They each wore a black glove to symbolize African-American strength and unity.
The crowd booed them.  So Smith and Carlos were quickly ordered to leave the Olympic Stadium. In an America divided by the civil rights movement and the Vietnam war, the protest constituted a major scandal. The U.S. track team suspended Smith and Carlos. The athletes also received death threats when they returned to the U.S. But they stepped up to protest injustice. And they made history doing so.
Next: One of the most notorious Olympic scandals involved the Soviet Union — and silver medals that went unclaimed.
7. The Team USA basketball team refused to acknowledge the Soviet Union's win
Sport: Basketball
Year: 1972 Olympic Games in Munich, West Germany
You may not remember this one. But it remains one of the most infamous Olympic scandals to touch Team USA. The Huffington Post reports that "Officially, the Soviet Union beat the United States, 51-50, in the gold medal game at the 1972 Summer Olympic Games in Munich." But the U.S. team has never recognized that its opponents won. In fact, the American team never claimed its silver medals. The reason why?
The Soviets made an unsuccessful attempt at scoring "during the last three ticks of the clock." They got another chance "because of reasons still disputed to this day," the Post reports. They failed on their second attempt. So Team USA began to celebrate. But "as the American team rejoiced, the head of FIBA, basketball's international ruling body, ordered that the Soviets be given a third chance to take the ball out of bounds." They managed to score and were declared the winners. And the Americans insist to this day that they don't want the silver medals.
Next: This athlete's steroid use became responsible for one of the biggest Olympic scandals of all time.
6. Marion Jones admitted to using steroids to prepare for the Games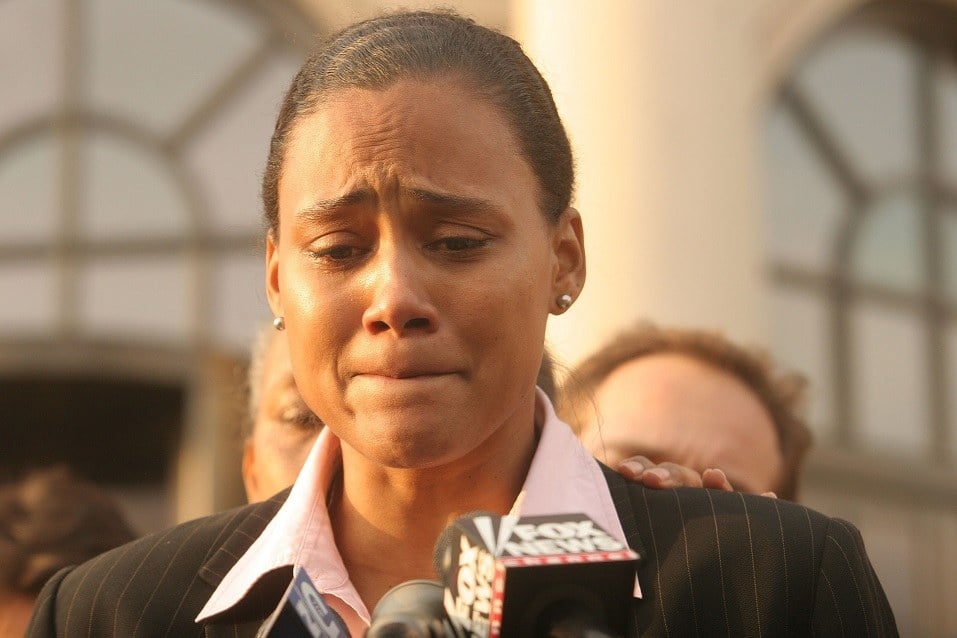 Sport: Track
Year: 2000 Olympic Games in Sydney
Another of the most notorious Olympic scandals played out after the 2000 Games in Sydney. Jones won five medals — three gold — at the Games. But in 2004, the Washington Post reports, the International Olympic Committee opened an investigation into allegations that Jones had used steroids to prepare.
In the past, Jones had "vehemently denied using steroids or any performance-enhancing drugs." And she continued to do so. But she later admitted to using tetrahydrogestrinone, a powerful anabolic steroid, supplied by former coach Trevor Graham. Jones also pled guilty to two counts of lying to federal agents. She was stripped of her medals and erased from Olympic records. Plus, she was sentenced to six months in prison for lying to prosecutors.
Next: A list of the biggest Olympic scandals wouldn't be complete without mention of this once-beloved athlete. 
5. Lance Armstrong used performance-enhancing drugs throughout his career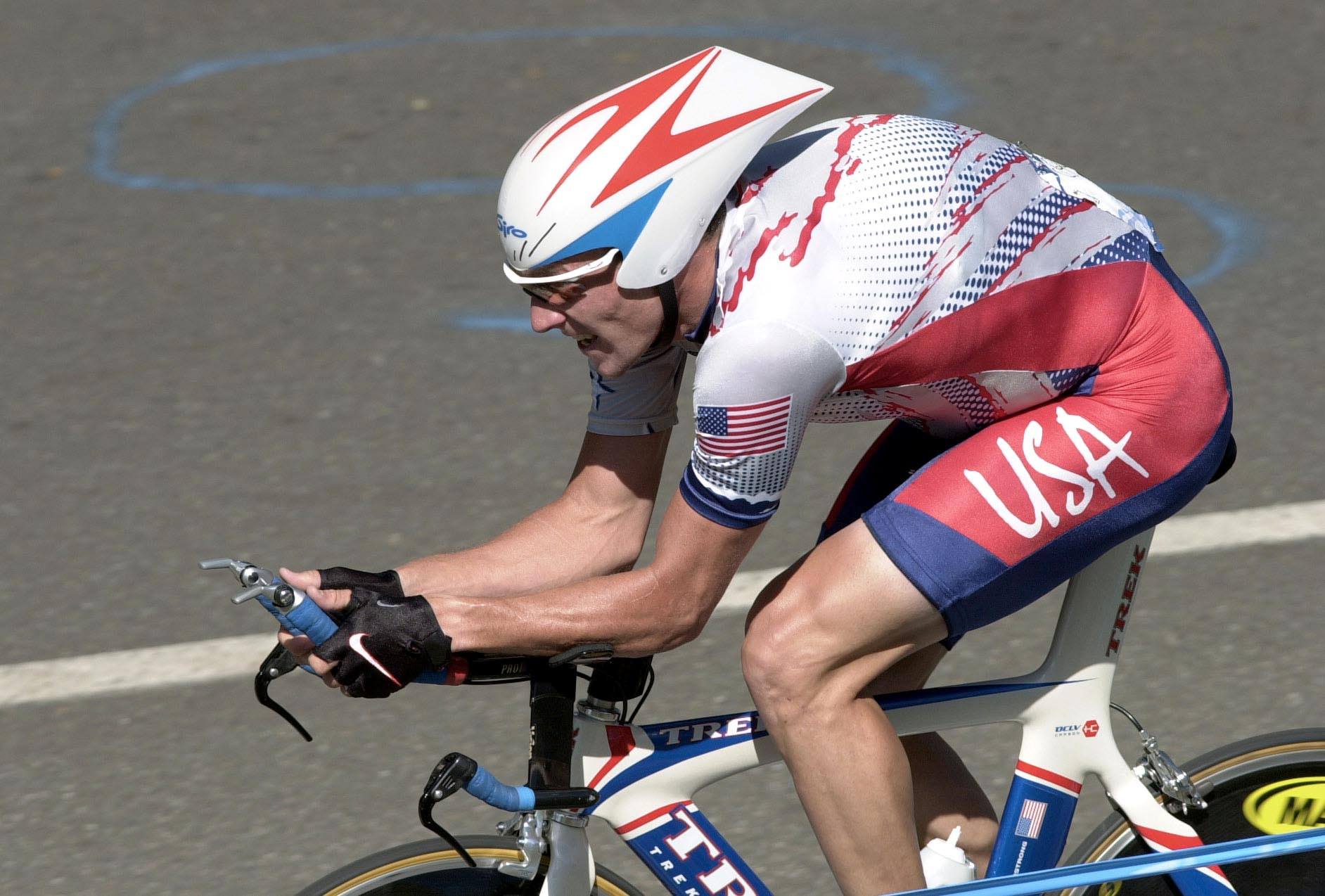 Sport: Cycling
Year: 2000 Olympic Games in Sydney
Beloved cyclist and cancer survivor Lance Armstrong found himself in the midst of one of the worst Olympic scandals ever. It came to light that the seven-time Tour de France winner used performance-enhancing drugs throughout his celebrated career. Time notes that Armstrong was stripped of his titles " and exposed as having apparently lied and intimidated others into keeping his secrets."
NPR reports that Armstrong had to return the bronze medal he won at the 2000 Olympics. In doing so, he lost "another link to his once-legendary cycling career." The International Olympic Committee expunged Armstrong's third-place finish in the men's time trial in Sydney. (That win had represented his only podium finish in two Olympic games.) A report by the United States Anti-Doping Agency characterized Armstrong as a chronic doper who "ruthlessly" made his teammates take drugs, too.
Next: This scandal involved a city, and not a particular athlete. 
4. Salt Lake City used bribery to buy the Olympics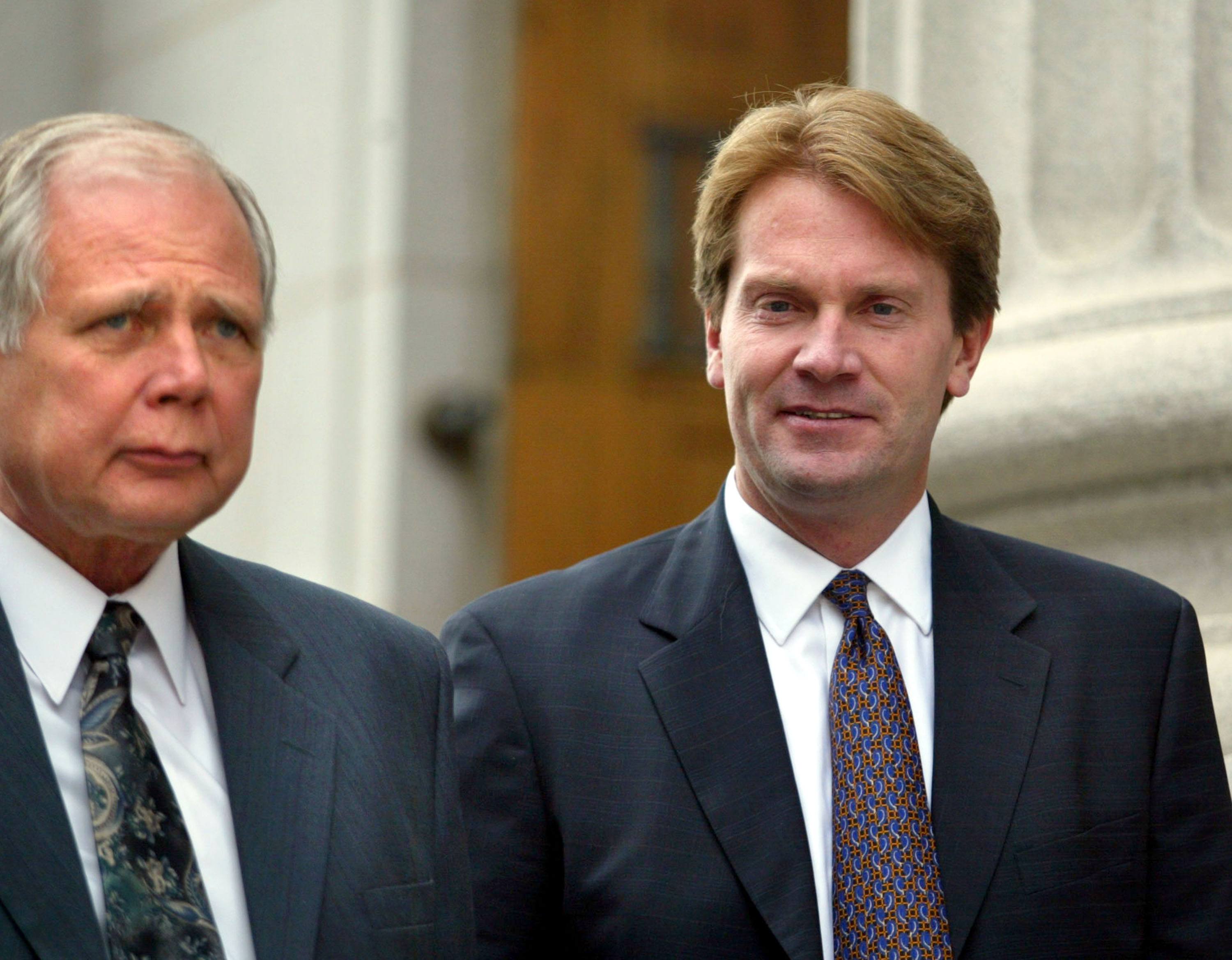 Year: 2002 Olympic Games in Salt Lake City, Utah
This is undoubtedly one of the biggest Olympic scandals in American history. (Even if it didn't directly involve Team USA.) Tom Welch and Dave Johnson, chief organizers of Salt Lake City's bid for the 2002 Olympics, were charged with 15 counts of fraud, conspiracy and racketeering, charges that were eventually thrown out, for using more than $1 million in cash, scholarships, and gifts to get the International Olympic Committee to choose Salt Lake City's bid for the 2002 Olympics.
Deseret News notes that the case set a precedent for the government's scrutiny of corruption at international sports organizations. Some worried that the government's actions sabotaged the United States' chances of hosting the Olympics again. But that hasn't stopped Salt Lake City from making a bid for the 2030 Winter Olympics.
Next: Of all the biggest Olympic scandals, this probably counts among the dumbest.
3. Ryan Lochte lied about a drunken night out
Sport: Swim
Year: 2016 Olympic Games in Rio de Janeiro, Brazil
Like other Olympic scandals, the figure at the center of this one, Ryan Lochte, lied about what happened. The New York Times reports, "Ryan Lochte's drunken night out with three other members of the United States Olympic swim team at the Rio Olympics — and his ever-shifting story about an armed robbery that the authorities in Brazil say never happened — resulted in no physical injuries." But Team USA's reputation definitely took a hit.
Lochte lied about what occurred when he and his teammates left the athletes' village for a night out. The athletes asked the taxi driver on their return trip to pull over at a gas station. The Times reports, "What happened next remains murky but involved public urination, vandalism and money changing hands between the swimmers and security guards brandishing weapons." Lochte received a largely symbolic 10-month suspension from competition.
Next: This incident goes down in history as one of the most infamous Olympic scandals of all time.
2. Tonya Harding feuded with Nancy Kerrigan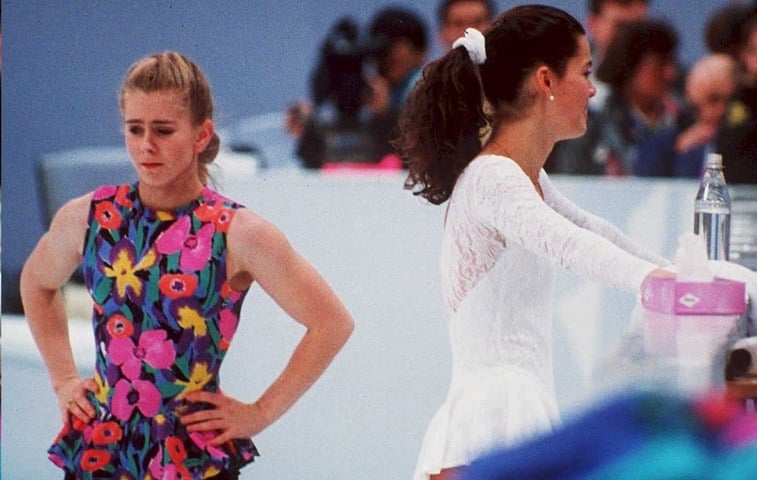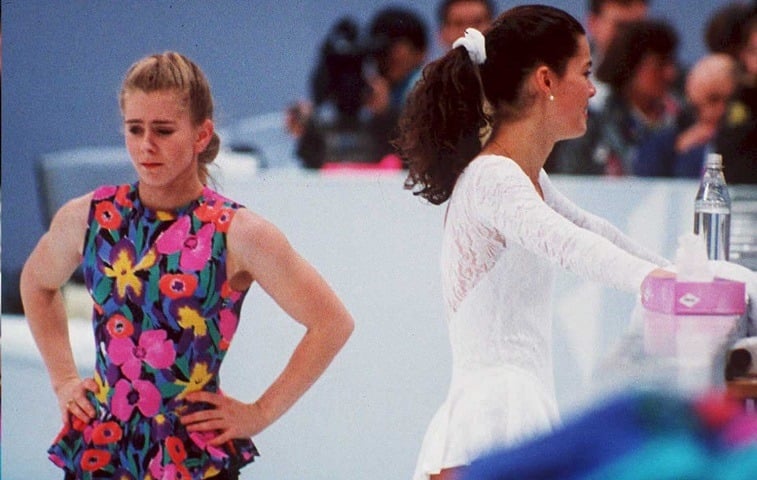 Sport: Figure skating
Year: 1994 Olympic Games in Lillehammer, Norway
Everybody's heard the story. At least in part because Tonya Harding is still talking about it. As The New York Times reports, one of the most infamous Olympic scandals of all time occurred in 1994. Six weeks before the Lillehammer Olympics and two nights before the end of the U.S. Figure Skating Championships, Nancy Kerrigan got clubbed on the knee by a man with a collapsible baton. His goal? To sabotage her chances at qualifying for the Olympics.
Both Harding and Kerrigan went to the Olympics. But only Kerrigan medaled. An FBI investigation revealed that the man with the baton was hired by Shawn Eckardt, a friend of Jeff Gillooly, Tonya Harding's ex-husband. Harding eventually pleaded guilty to hindering the prosecution. Among other punishments, she had to surrender her membership to the United States Figure Skating Association, which eventually barred her for life.
Next: The very worst scandal is actually still playing out.
1. Larry Nassar pled guilty to decades of sexual abuse of Team USA gymnasts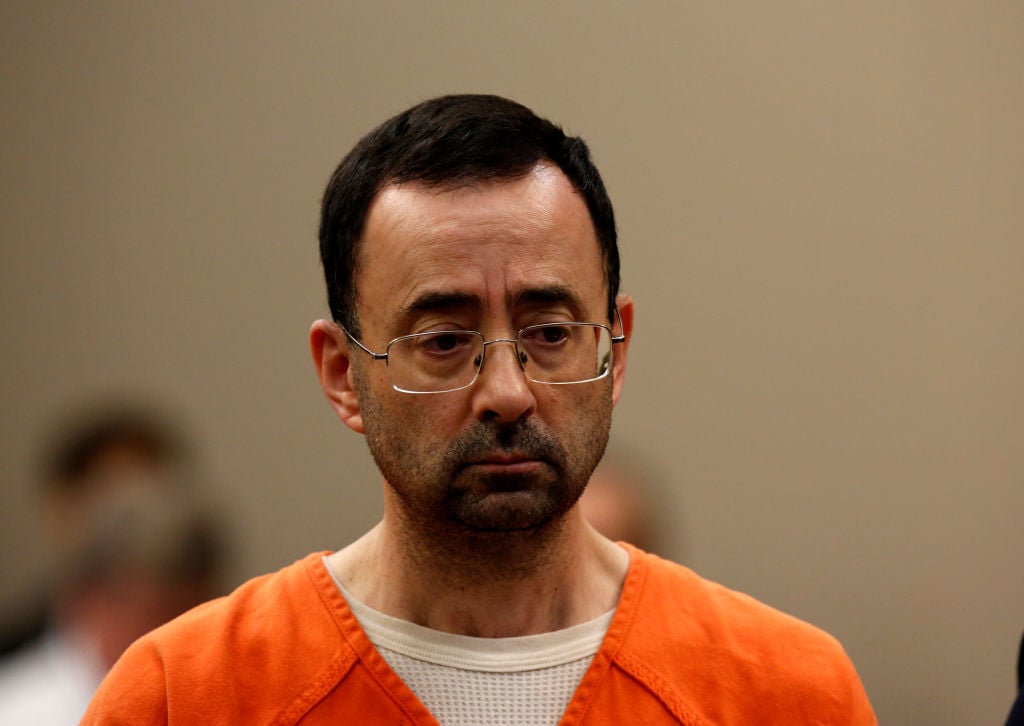 Sport: Gymnastics
Year: 2017
One of the biggest Olympic scandals of all time hasn't yet concluded its moment in the spotlight. More than 150 women and girls said in court that Larry Nassar, a sports physician who worked with Team USA's gymnasts, abused them over two decades. CNN reports that Nassar pleaded guilty to seven counts of criminal sexual conduct. He also "admitted to using his trusted medical position to assault and molest girls under the guise of medical treatment." Nassar was sentenced to 40 to 175 years in prison for sexual abuse. He also got a 60-year sentence for child pornography.
Vox reports that young women reported Nassar for years. Yet nobody took them seriously until recently. "The tendency to disbelieve women when they report sexual violence is deeply ingrained in American society," the publication adds. "Because of #MeToo, the girls and women who faced Nassar at his sentencing hearing spoke at a moment when America was primed and ready to hear them. The best way to honor their courage is to keep listening."
Read more: 7 Olympic Athletes Who've Been Busted for Serious Crimes
Check out The Cheat Sheet on Facebook!