Tequila Cocktails That Are Better Than a Margarita
Many have a love/hate relationship with tequila. The potent Mexican spirit goes down easily but the morning after isn't always pain-free. Still, consumers keep coming back for more, and that's thanks to tequila's smooth taste, and its ability to pair well with other spirits and food. Tequila is especially known for its relationship with salt and lime and the starring role it plays in margaritas, but it has the potential for even more.
Instead of only turning toward the good stuff when you're enjoying guacamole and chips, try your mixology hand at these other cocktails that star tequila. They play on the earthy taste of tequila in different ways, and the different flavor combinations prove that tequila is more versatile than you may think.
1. Agave Negro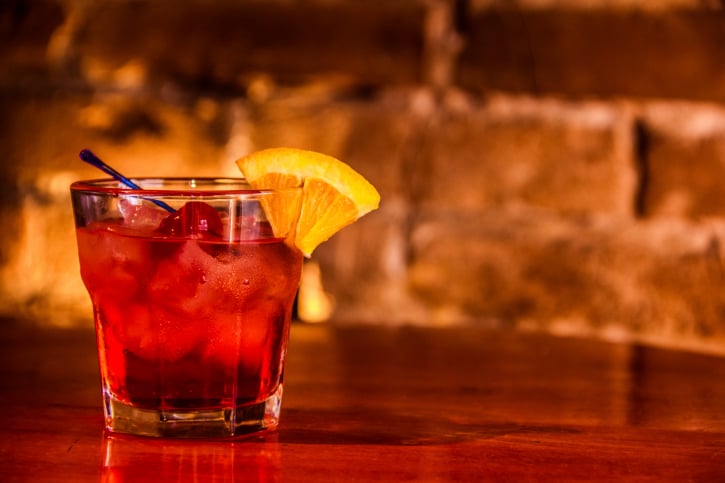 We're kicking things off with a pink drink. Grab your tequila, fruit, and limes, and get going. This recipe from Food & Wine is worth putting down your margarita for because you'll be picking up a cocktail that is made of tequila, Chambord, club soda, and simple syrup. The drink might not come frozen, but it is a sophisticated drink you can feel good about serving.
Ingredients:
3 blackberries
1 lime wedge
1 cup ice
1½ ounces reposado tequila
¾ ounce fresh lime juice
¾ ounce simple syrup
½ ounce Chambord
1 ounce chilled club soda
Directions: Skewer one blackberry and the lime wheel on a pick. In a cocktail shaker, muddle the remaining 2 blackberries. Add the ice, tequila, lime juice, simple syrup, and Chambord. Shake well and pour into a rocks glass. Stir in the club soda and garnish with the skewered blackberry and lime wheel.
2. Lemon-Thyme Tequila Spritzer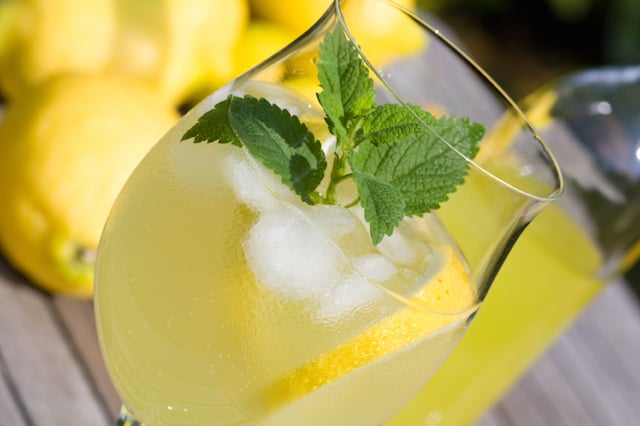 Buckle up: your lemonade is about to get a lot more interesting. This recipe for a lemon-thyme tequila spritzer from Tasty Kitchen yields the refreshing end-of-summer cocktail your last soiree needs. Spiked with tequila and bubbles from club soda, the drink takes on a tart and herbal taste thanks to the surprisingly satisfying combination of lemons and thyme.
Ingredients:
Syrup
1 whole lemon, zest only
3 sprigs fresh thyme
1½ cups granulated sugar
1½ cups water
Cocktail
4 whole lemons, juiced
½ cups silver tequila
3 cups club soda or seltzer water
4 sprigs fresh thyme, for garnish
4 slices lemon, for garnish
Directions: For the lemon-thyme simple syrup: In a medium saucepan, add lemon zest, thyme sprigs, sugar, and water. Bring to a low boil and reduce heat to simmer for 5 minutes. Remove from heat and let the syrup cool for 10 minutes.
For the cocktail: Strain the syrup into a 1-liter pitcher and add the fresh lemon juice and tequila. Add a handful of ice cubes and fill the rest of the bottle with seltzer water. Stir well to combine. Add ice cubes, 1 sprig of thyme, and a slice of lemon to a tall glass and top with the cocktail.
3. Tequila-Cranberry Cooler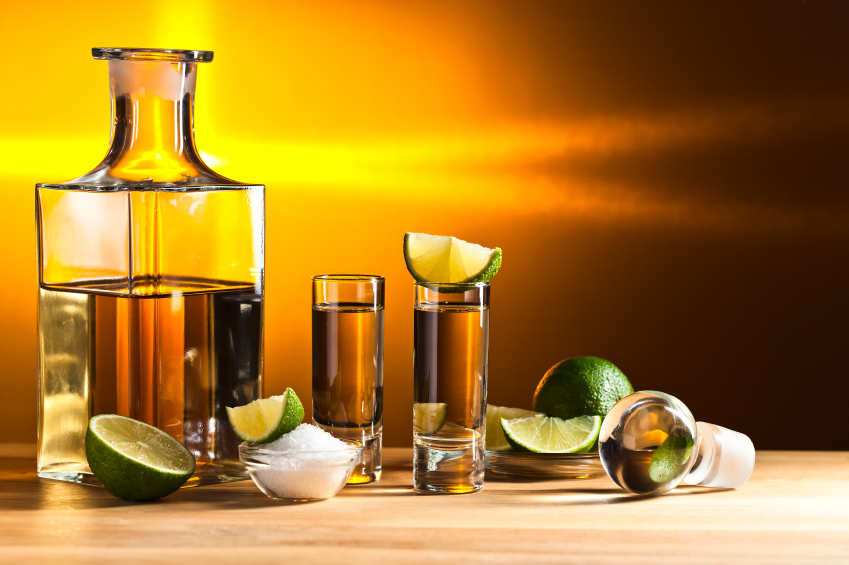 Speaking of tart, this drink fits that bill, too, but instead of enlisting lemons or limes in our next recipe, we're going the cranberry route. As its name suggests, this tequila-cranberry cooler from Martha Stewart will cool you right down, and it proves that orange juice, cranberry juice, lime juice, tequila, and Campari pair perfectly together. Serve up your cooler in a sugar-rimmed glass and go to town on a sweet drink that goes down just a little too easily.
Ingredients:
¼ cup sugar
Lime wedge
Ice
6 ounces silver tequila
2 ounces Campari
1 cup cranberry-juice cocktail
½ cup fresh orange juice
¼ cup fresh lime juice
Directions: Place sugar in a shallow dish or saucer. Rub a lime wedge around the rims of four glasses, then dip glasses in sugar to coat; fill with ice. In a 4-cup liquid measure, combine tequila, Campari, cranberry-juice cocktail, orange juice, and lime juice. Divide drink among glasses.
4. Tequila Sunrise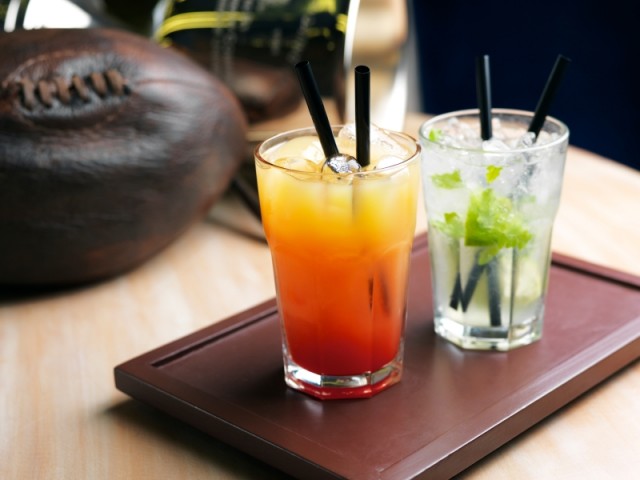 One tequila-based cocktail that will have you dreaming about summer all throughout the winter is the Tequila Sunrise. The Tequila Sunrise is composed of three ingredients — tequila, orange juice, and grenadine — and Chowhound breaks down the recipe for you. You don't have to be on a beach in Mexico to enjoy this refreshing cocktail — make it at home, close your eyes, and think warm weather thoughts.
Ingredients:
1½ ounces silver, 100 percent agave, tequila
4 ounces freshly squeezed orange juice
1 ounce grenadine
Orange slice for garnish
Directions: Pour the tequila into a chilled old-fashioned glass, followed by the orange juice. Add the grenadine slowly, by dribbling it from a bar spoon. Garnish with the orange slice and serve.
5. The Paloma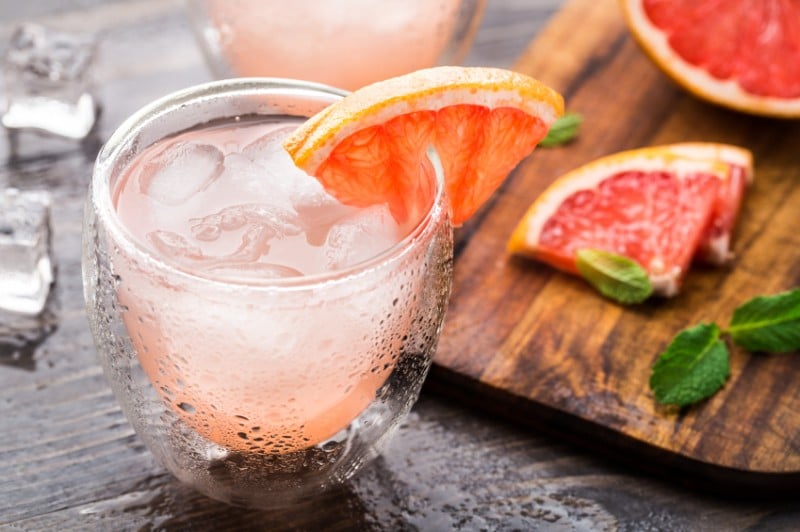 Have you ever tried a Paloma? Aside from the margarita, it's one of the most popular Mexican cocktails, and it plays on the combination of tequila, grapefruit juice, orange juice, and seltzer. Follow this recipe from Saveur and serve the tart Paloma to your guests at your end-of-summer get-together. There's no time like the present to take advantage of good weather, fresh fruit, and tequila.
Ingredients:
2 ounces tequila blanco
Juice of half a lime
3 ounces grapefruit juice
3 ounces seltzer
1 pinch salt
Lime wedge, for garnish
Directions: Combine tequila, lime juice, and a pinch of salt in a highball or Collins glass. Add ice and top with grapefruit and soda. Stir gently, then serve with a lime wedge garnish.
6. Tequila Mojito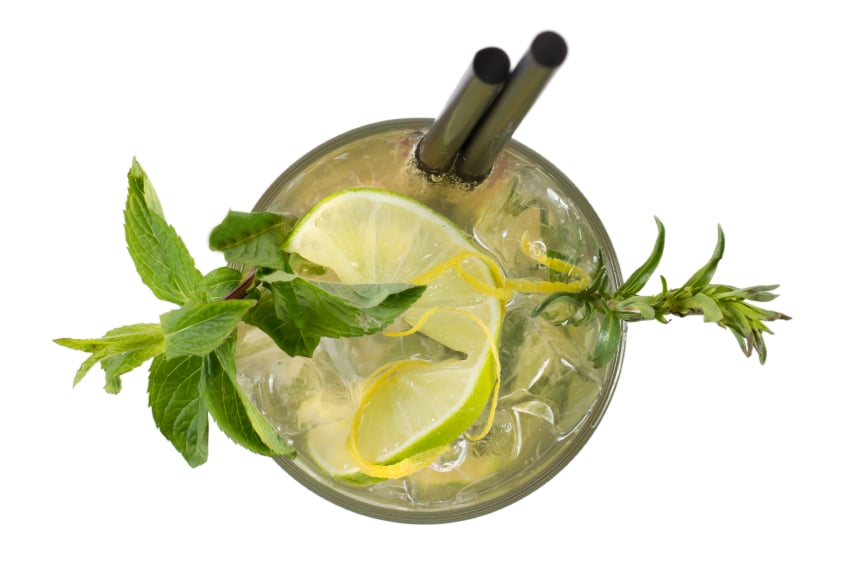 This last recipe is for those who like their mojitos but like tequila, too. This cocktail recipe from Delicious Everyday is just what you're looking for. It holds the gin, goes heavy on the tequila, and still enlists mint into the mix. As long as you have a blender or cocktail shaker you're good to go — simply throw your handful of ingredients together, and top with soda water and fresh mint. The recipe serves 2 but get ready to multiply because we guarantee you'll need more.
Ingredients:
Big handful of fresh mint leaves
1½ limes, quartered
30 milliliters simple syrup
60 milliliters tequila
2 cups ice cubes
Soda water
Sprigs of mint for garnish
Directions: Place the ice cubes, mint leaves, Tequila, and simple syrup in the blender or cocktail shaker. Squeeze in the juice from the limes and divide the limes between each glass. Blend or shake until well combined. Divide between the glasses and top with soda water and sprigs of mint.
More from Culture Cheat Sheet: