The 10 Best Bloody Mary Recipes You Can Make (and Drink)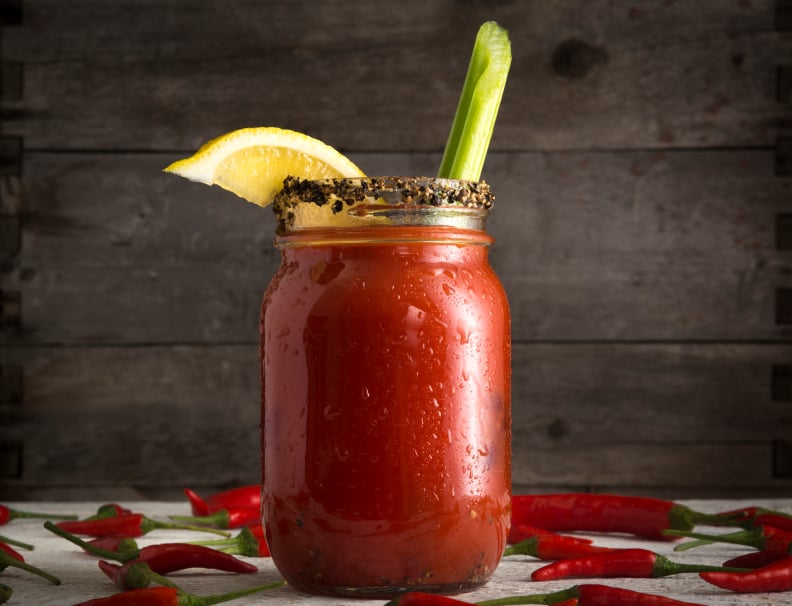 A stellar bloody mary is a gift that keeps on giving. It's an excuse to drink vodka (when you're not drinking whiskey, that is) any time of day  — especially at Sunday brunch — and it's also an acceptable way to take the edge off any ill effects you may experience after an enthusiastic night. Plus, it'll help you get your daily dose of vitamins. Cheers to your health, and all that.
But the best gifts from a perfectly concocted bloody mary are the flavors in the drink itself. The perfect amount of spice paired with the freshness of tomato juice, a kick from your alcohol of choice, and seasonings that blend in layers of flavor in every sip. And the best gift of all? Those delectable garnishes. Any brunch cocktail had better have something to munch on while we wait for our eggs or waffles, and those celery stalks, peppers, olives, and even bacon are just the ticket.
Acccording to Eater, the first bloody mary was served in the United States by Fernand Petoit in 1934 at the St. Regis New York's King Cole Bar. It was originally called The Red Snapper. Some say you can find better versions elsewhere — or at least new variations — but the bar continues to serve the original cocktail today. What's more, other St. Regis locations offer their own house versions of the popular drink, each inspired by regional tastes.
Whether you're looking to make a standard brunch cocktail, change up some ingredients, or assemble the bloody mary bar of your dreams, we've compiled some of the best variations out there. The next time you're craving one, bartend for yourself instead of paying $15 for someone else to stick a pickle in your drink. The key bonus here: Extra garnishes for you.
1. Bloody Mary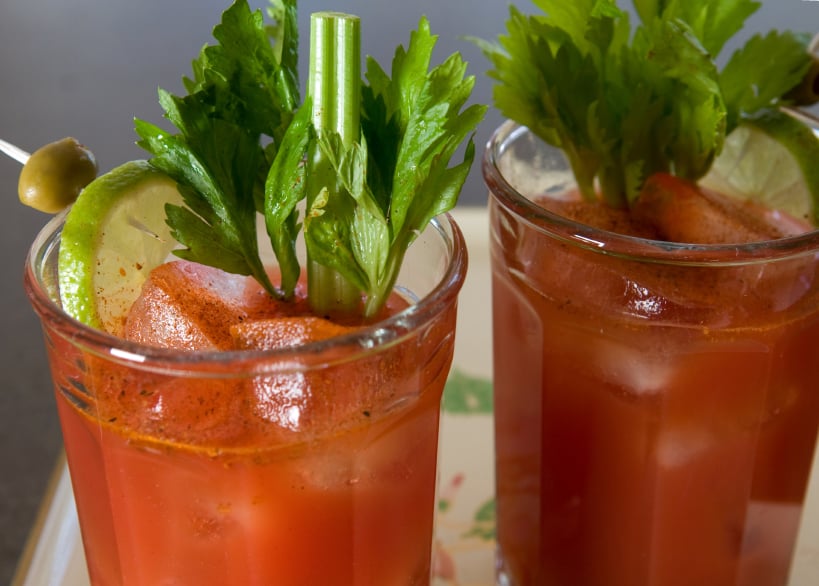 Classic recipes for our favorite drinks abound everywhere, but we like this recipe from Epicurious for a standard bloody mary. Bartender Eben Freeman was generous enough to lend his recipe to the publication. The only unique twist is using freshly grated horseradish in the bloody mary mix, although Freeman told Epicurious that a prepared version will get the job done. For a twist, he suggests adding a dash of curry powder or some wasabi to amp up the flavor.
Ingredients:
¼ cup tomato juice
3 tablespoons vodka
1 teaspoon Worcestershire sauce
¾ teaspoon freshly grated horseradish
3 dashes hot pepper sauce, such as Tabasco
1 pinch salt
1 dash freshly ground black pepper
About 1 cup ice cubes
¼ teaspoon fresh lemon juice
1 stalk celery
1 lemon wedge (optional)
Directions: In an 11-ounce highball glass, stir together tomato juice, vodka, Worcestershire sauce, horseradish, hot sauce, salt, and pepper. Fill glass with ice, then pour mixture into second glass. Pour back and forth 3 to 4 times to mix well, then sprinkle lemon juice over. Garnish with celery stalk and lemon wedge and serve.
2. The Downhill Snapper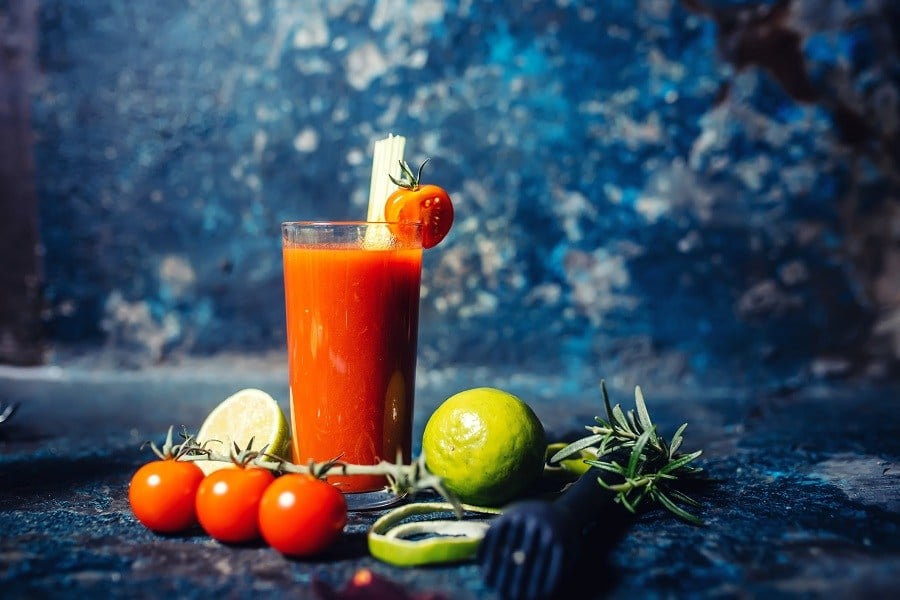 As we mentioned before, various St. Regis hotels offer their own spin on the original Red Snapper cocktail. This version, which comes from the St. Regis in Aspen, adds infusions of citrus and fresh herbs as a nod to the hotel's garden. If you're looking for an extra fresh take on the classic, give this recipe a try. (Every Day with Rachael Ray provides the full recipe.)
Ingredients:
¾ cup

fresh lime juice

6

sprigs fresh dill

2 tablespoons

honey

1 (46-ounce) container 

tomato juice 

6 ounces

vodka

⅓ cup

fresh lemon juice, plus 6 lemon wedges for garnishing

¼ cup W

orcestershire sauce

1 tablespoon

black pepper

2 teaspoons

cayenne

1 teaspoon

celery salt

5

dashes hot sauce

Ice
Directions: In a large pitcher combine fresh lime juice, fresh dill and honey. Using a muddler or wooden spoon, lightly crush the dill.
Stir in tomato juice, vodka, lemon juice, Worcestershire sauce, black pepper, cayenne, celery salt and hot sauce. Stir well to combine. Serve in six ice-filled glasses and garnish each with a rosemary sprig.
3. Elixir Bloody Mary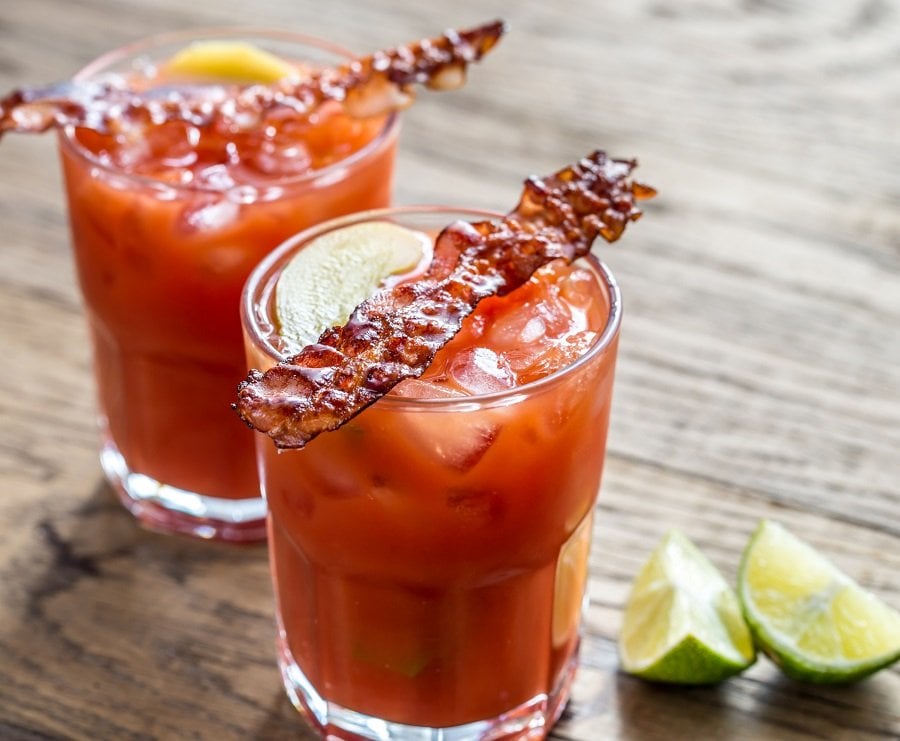 If the salty, briny flavors of a bloody mary are what keep you coming back for more, check out this recipe from San Francisco-based bartender H. Joseph Ehrmann. Not surprisingly, he claims this is the world's best bloody out there, but given that he's also a Liquor.com advisory board member, we're somewhat inclined to believe him.
Many of the ingredients follow a standard recipe, but Ehrmann rims each glass with Old Bay (sip from the glass instead of using a straw). Added to that is Elixir juice, a blend of olive, dill pickle, and other brines. You might not have Ehrmann's proprietary blend, but we're thinking a dash of quality olive or pickle brine will have a similar effect. On top of it all, add a dill pickle and a slice of thick-cut bacon to complete the brunch-worthy cocktail.
Ingredients:
Old Bay Seasoning
2 ounces vodka
1 teaspoon dried dill
1 teaspoon ground white pepper
1 teaspoon celery salt
2 dashes Worcestershire sauce
2 dashes Tabasco Sauce
½ ounce Elixir Juice (a mixture of olive brine, dill pickle brine and various other pickle brines)
Juice of 1 lemon wedge
1 teaspoon prepared horseradish
4 ounce tomato juice
Dill pickle and slice of cooked thick-cut bacon, to garnish
Directions: Coat the rim of a pint glass with Old Bay Seasoning. Add the remaining ingredients to a shaker and fill with ice.
Shake lightly; —you want to mix the ingredients without melting too much of the ice— and pour into the prepared glass. Garnish with a kosher dill pickle spear and a cooked slice of thick-cut bacon.

4. The Publican's Bloody Mary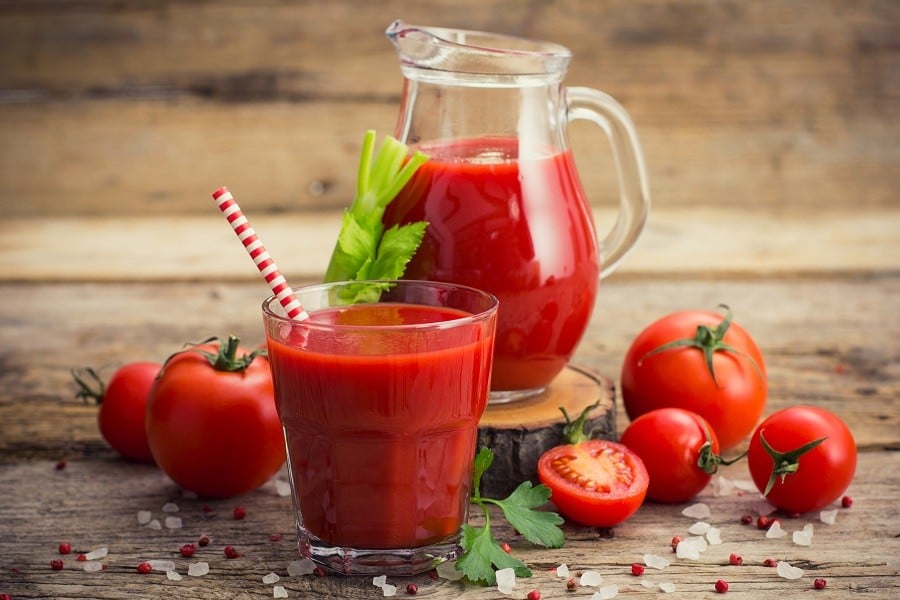 The Publican is one of Chicago's most famous eateries, and the restaurant shared its famed bloody mary recipe with Esquire. The secret to their cocktail? Allowing the tomato juice mixture to marinate for a few days before serving, so the flavors blend together. "All of the flavors need to settle together," Chase Bracamontes, the wine and spirits director at The Publican, told the magazine. "It needs to be the right amount of fresh — and also not fresh." Esquire agrees that the garnishes make the drink, but they suggest sticking with pickles and oil-preserved vegetables like mushrooms or pearl onions — pretty much anything that looks good to you on the olive bar at your local grocery store.
Ingredients:
1 quart tomato juice
¼-inch horseradish, chopped
½ anchovy
1 teaspoon Sriracha
½ tablespoon Chinese hot mustard
1½ teaspoon Worcestershire sauce
½ lime, fresh squeezed
½ lemon, fresh squeezed
1 tablespoon vodka
Dash of black pepper
Dash of sea salt
Dash of celery seeds
To make the drink
2 ounces vodka
6 to 8 ounces bloody mary mix
Directions: Blend horseradish, Worcestershire, anchovies, sriracha, mustard, and spices until completely smooth.
Add lemon, lime, and tomato juice and blend. Adjust the mix to taste depending on how spicy, salty, or citrusy you like it. Add a tablespoon of vodka to stabilize the mix and keep the juices fresh. Refrigerate and let marinate for at least 24 hours, ideally three days, but no more than five.
Combine 6 to 8 ounces of the mix with 2 ounces of vodka. Garnish as desired.

5. Bloody Maria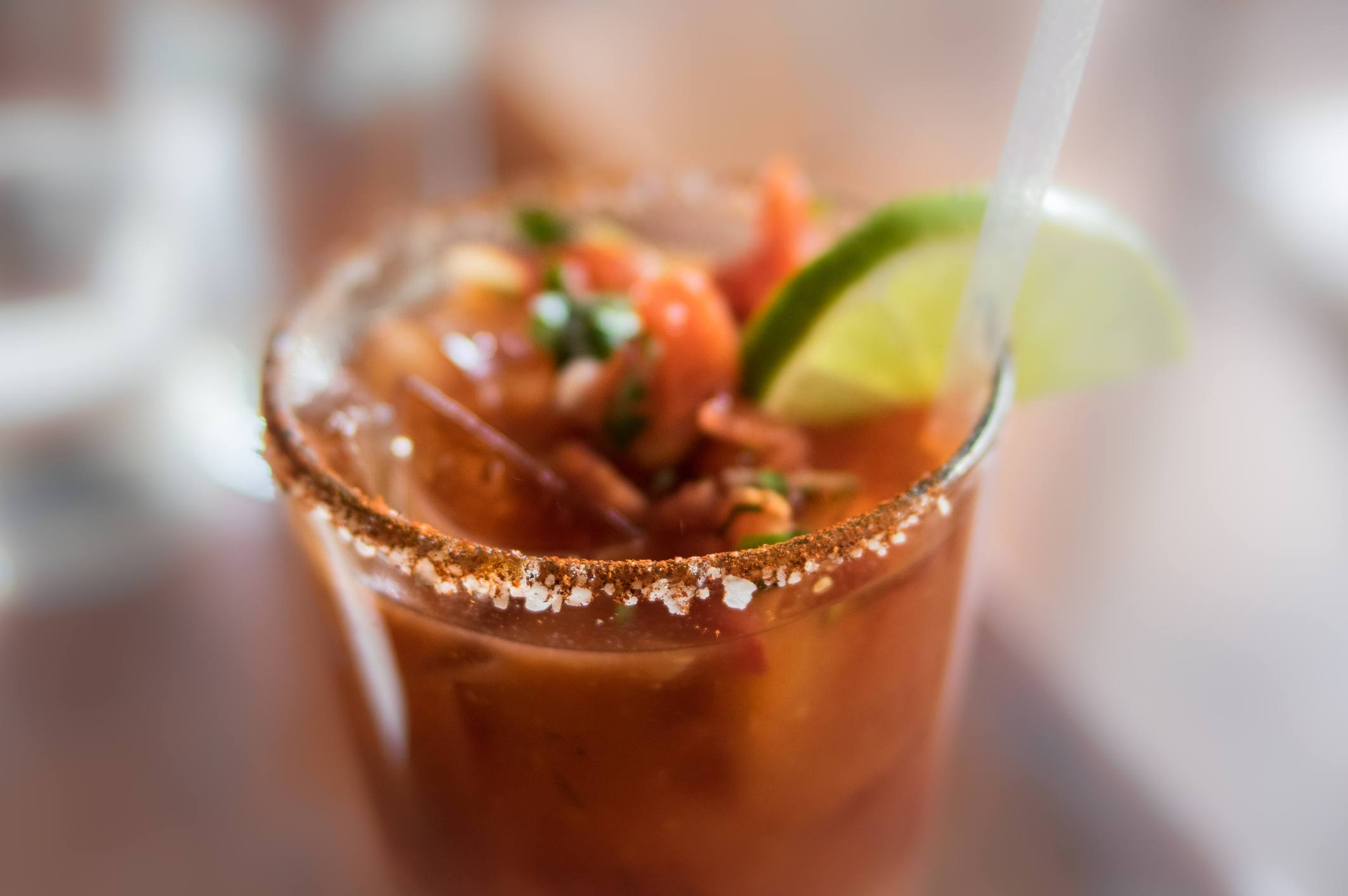 The bloody mary can speak for itself, but other variations have solidified themselves in the brunch cocktail cannon. The bloody maria, a spicier, tequila-infused version, is one of them. Aside from the tequila, Chowhound spices things up an extra notch or two by adding pickled jalapeños and a pinch of cayenne pepper. Whether you're brunching in Mexico or just wishing you were, this cocktail has the kick you need to carry you through the rest of the day.
Ingredients:
Ice cubes
2 ounces tequila blanco
4 ounces tomato juice
½ teaspoon prepared horseradish
3 dashes Worcestershire sauce
4 to 6 dashes hot sauce, such as Cholula
½ teaspoon brine from pickled jalapeños
Pinch of kosher salt
Several twists of black pepper from the pepper mill
Generous squeeze of fresh lemon juice
Pinch of cayenne pepper
Pinch of celery seeds
1 whole pickled jalapeño, for garnishing
1 celery stick, for garnishing
Directions: Drop a handful of ice cubes into a cocktail shaker. Add the tequila, tomato juice, horseradish, Worcestershire, hot sauce, jalapeño brine, salt, black pepper, lemon juice, cayenne, and celery seeds. Shake until chilled, about 15 seconds.
Strain into a large Old Fashioned glass half-filled with ice cubes. Garnish with the pickled jalapeño and celery stick and serve.

6. Michelada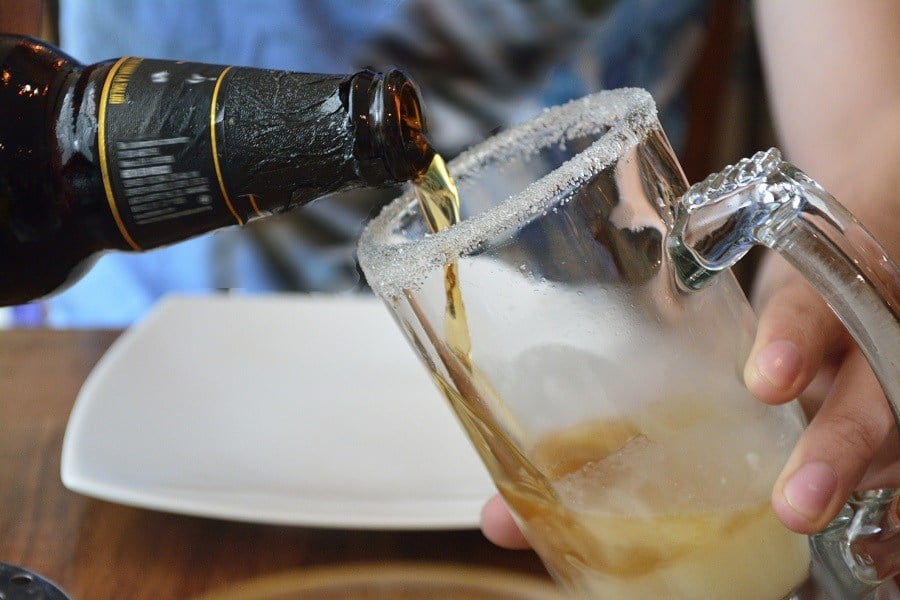 Sticking with the Mexican influences for a minute is this take on a bloody mary, which typically switches out the vodka for beer. Micheladas can be made with tomato juice, but are also commonly made with Clamato, the tomato-clam juice blend. Clamato itself offers up this michelada recipe, which has all the traditional flavors of a bloody mary without the hard liquor. Of course, the habanero pepper sauce will add quite a bit of heat, so tame it down with milder hot sauce if necessary.
Ingredients:
1 Key lime or other lime juice
4 ounces of Clamato
1 dash Worcestershire sauce
2 dashes habanero pepper sauce
1 (12-ounce bottle) of beer
Ice
1 lime wheel
Rimming spice blend
4 tablespoons kosher salt
2 teaspoons chili powder
Lime juice
Directions: To prepare the rimming spice blend, combine kosher salt and chili powder onto small plate. Pour lime juice onto another small plate. Dip rim of glass into lime juice, then dip carefully into spice blend.
To prepare the drinks, combine Key lime juice, Clamato, Worcestershire sauce and habanero pepper sauce in a shaker with ice; shake well to chill. Serve in a rimmed tall glass with ice; fill with beer. Garnish with lime wheel.

7. Green Tomato Bloody Mary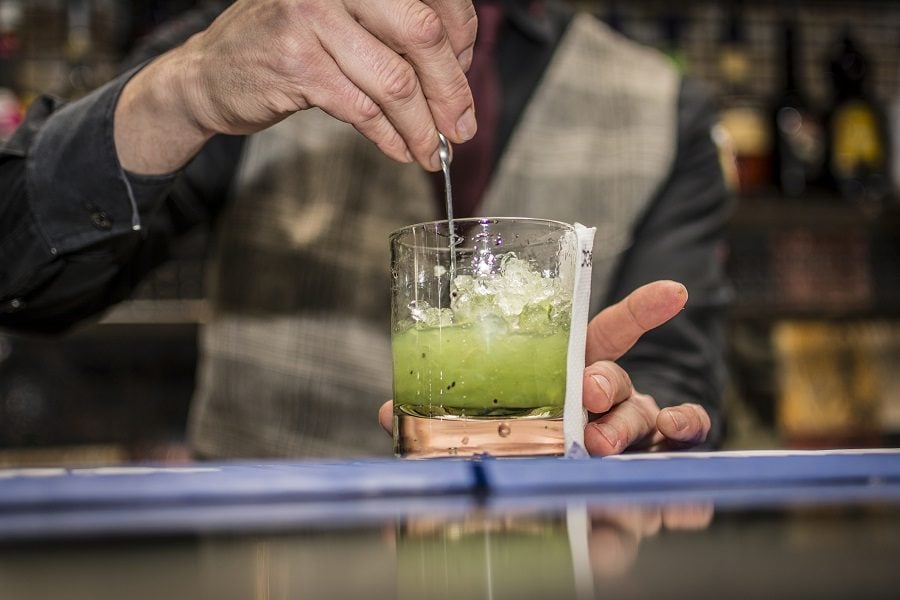 Most unique twists on a bloody mary recipe have something to do with the alcohol involved, the seasonings, or the garnishes. A truly creative take on the drink, however, is when you switch out the standard tomato juice for green tomatoes and tomatillos. It's only fitting that Southern Living has the details for creating this green cocktail, since green tomatoes are a staple in the South. To balance out the tartness of the tomatillos, an assortment of fresh herbs and citrus come into play, too.
Ingredients:
4 medium-size green tomatoes, cored and quartered
10 fresh tomatillos, husks removed and cored
2 green onions
¾ cup vodka or tequila
½ cup loosely packed assorted fresh herbs
3 tablespoons lime juice
3 tablespoons green hot sauce
1 garlic clove, minced
1 teaspoon celery salt
½ teaspoon salt
Optional garnishes
Halved pickled okra
Lemon slices
Directions: Cook tomatoes and tomatillos in boiling salted water and cover for 3 minutes; drain. Plunge into ice water to stop the cooking process; drain.
Process tomatoes, tomatillos, green onions, and next seven ingredients in a blender until smooth. Pour mixture through a fine wire-mesh strainer into a pitcher, discarding solids. Serve over ice. Garnish, if desired.

8. Sriracha Bloody Mary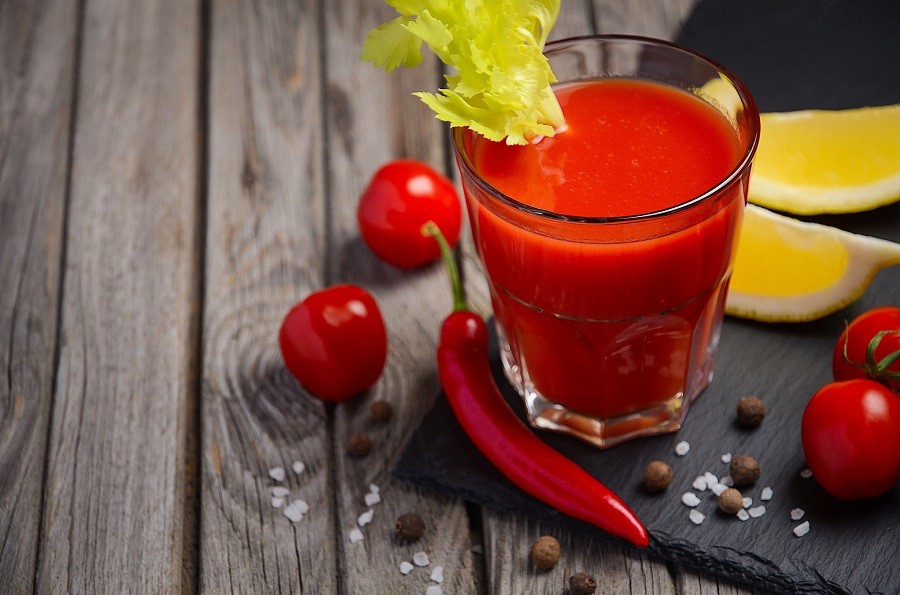 If you'd rather stick with a more traditional version but want to switch out the spice factor, try using Sriracha instead of your typical hot sauce. That's the key to this recipe from the blogger at A Beautiful Mess, who writes adding the hot sauce to each individual glass is a great way to meet the spice preferences of everyone you're serving. That way, your guests won't feel like they're either drinking a glass of hot sauce or a cup of plain V8. You're welcome to use any of the standard bloody mixes mentioned above, although this blogger simplifies things by picking up a bottle of store-bought mix.
Ingredients:
1 standard glass bloody mary mix
2 ounces vodka
Dash Worcestershire sauce
Sriracha, to taste (½ teaspoon for mild spice, up to 2 teaspoons for very spicy)
Juice of half a lime
2 drops liquid smoke
Directions: In a tall glass, combine bloody mary mix, vodka, Worcestershire sauce, two drops of liquid smoke, and lime juice over ice. Add sriracha to taste and mix until combined. Garnish as desired.

9. Al Fresca Mary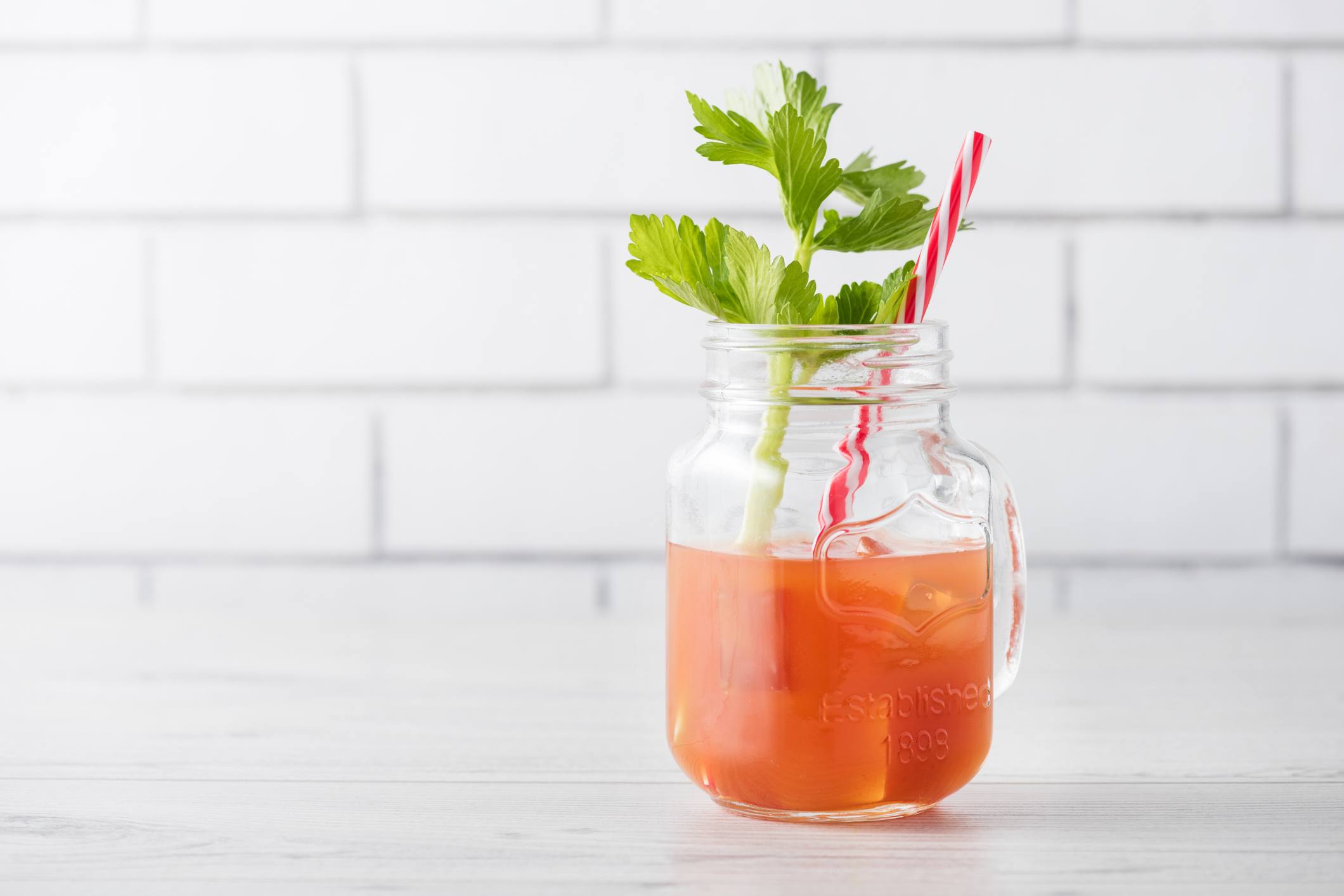 In 2014, chef Jose Garces partnered with Renaissance Hotels to curate a variety of bloody mary recipes, based on flavors from popular regions in the U.S. and around the world. Fox News Magazine published those recipes, including this one, which takes its flavor profile from Tuscany, Italy. A combination of strawberries, tomatoes, and pepperoncini peppers make up the bulk of this cocktail, which gets finished off with a balsamic syrup. For a fresher take on a classic, give this drink a try.
Ingredients:
1½ ounces peppered vodka
3 ounces strawberry/tomato juice
½ ounces balsamic syrup
Pepperoncini pepper
Strawberry
Strawberry/tomato juice
4 ounces fresh tomatoes
4 ounces fresh strawberries
4 pepperoncini peppers
1 ounce water
Balsamic syrup
1½ cups sugar
½ cup water
1 cup balsamic vinegar
Directions: Blend all ingredients for the strawberry/tomato juice until pureed.
For the balsamic syrup, bring the sugar and water to a boil, then simmer until sugar dissolves and turns amber in color. Simmer the vinegar in a separate sauce pan in the meantime. Once the sugar syrup is ready, slowly add the vinegar. Simmer together for about 5 minutes to thicken the syrup.
In a mixing glass, begin preparing the cocktail. Add the vodka, juice and syrup, then shake and pour into a wine glass. Garnish with a pepperoncini and a strawberry.

10. The ultimate DIY Bloody Mary bar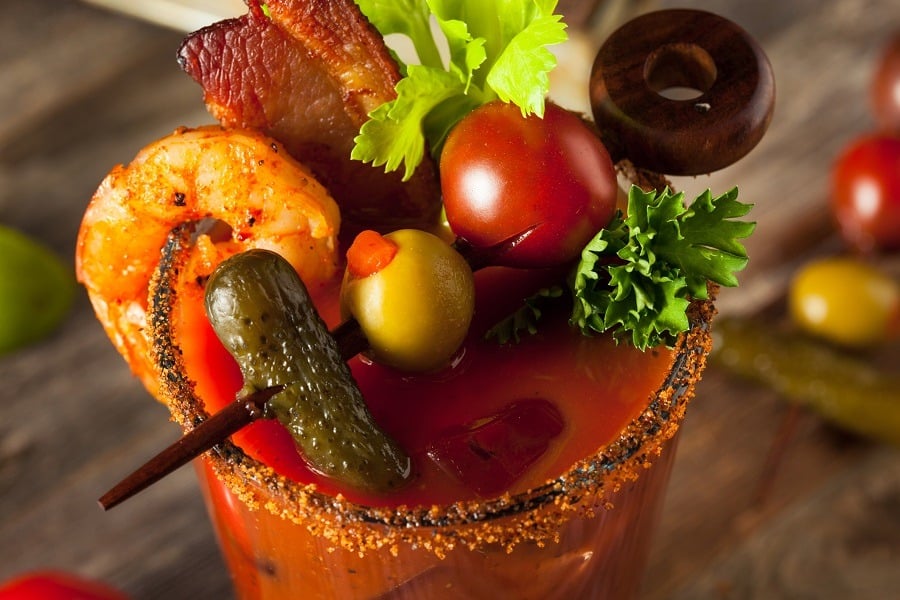 If you're hosting a brunch on your own, have your guests make their own cocktails. They'll thank you when they get to choose the spice level, the rimming spices, and how many olives and shrimp they choose to stick on a toothpick as a garnish. The blogger at Foodie Crush provides some tips for building the perfect DIY bloody mary bar, along with a recipe for her own standard mix with pickle-infused vodka, which serves 6 people.
Ideas for rimming spices: Make all three easy rim salts, and have guests choose for themselves. Mix together 1 tablespoon of celery salt and 1 tablespoon of kosher salt on one plate; 1 tablespoon of paprika and 1 tablespoon of kosher salt on a second; and set out another plate with 2 tablespoons of lemon pepper.
Add "salad" ingredients: The blogger basically suggests your entire garden can go into a bloody mary mix. Impress your guests with an array of olives, peppers, marinated artichoke hearts, celery, cucumber slices, lemons, limes, baby corn, and pretty much any other pickled vegetable you like.
Punch it up with protein: You've covered the veggies; now it's time for the charcuterie. I'm personally a fan of pepperoni or salami slices, but the blogger also suggests bacon, oysters, cooked shrimp, hard-boiled eggs, and cheese cubes can take your bloody mary to the next level.
Sprinkle in some spices and seasonings: At this point, just set your whole spice rack on the bar to give the people what they want. Smoked paprika, garlic salt, Old Bay seasoning, celery salt, black pepper, and any seasoned salts you have will do. Pickle juice and olive brine are also great additions here. You should have already flavored your bloody mix, but setting out a variety of hot sauces — and even a barbecue sauce or two — will top it off with flavor.
Ingredients:
1 (48-ounce) can of tomato juice
3 tablespoons prepared creamy hot horseradish
3 tablespoons Worcestershire sauce
2¼ teaspoons celery salt
3 teaspoons garlic salt
Hot sauce
Freshly ground black pepper
1 tablespoon celery salt
1 tablespoon kosher salt
Pickle-infused vodka or regular vodka
Directions: In a large pitcher, mix the tomato juice, horseradish, Worcestershire sauce, celery salt, garlic salt, and black pepper. Season with 10 to 15 shakes of hot sauce, or to desired spice level. Refrigerate until ready to serve.
To create drinks, dip each 8-ounce glass into a shallow amount of water or lime juice, then dip into preferred rim salt mixture and twist. Fill to the top with ice, then add 2 ounces of preferred vodka and top with bloody mary mix. Garnish as desired.