The Best Chicken Wing Recipes You Can Make This Weekend
Does your wing game need some work? Chicken wings always go first at parties, but the dish is one that needs to be perfected and whose losing taste can easily be detected. Carnivores know a good chicken wing when they eat one, and that's why you need to follow the right formulas if you're going to serve them. Check out these recipes that break down your different flavor options for you. Follow them closely, and you'll have yourself an appetizer or dinner dish that will be the hit with all of your guests.
1. Classic Buffalo Wings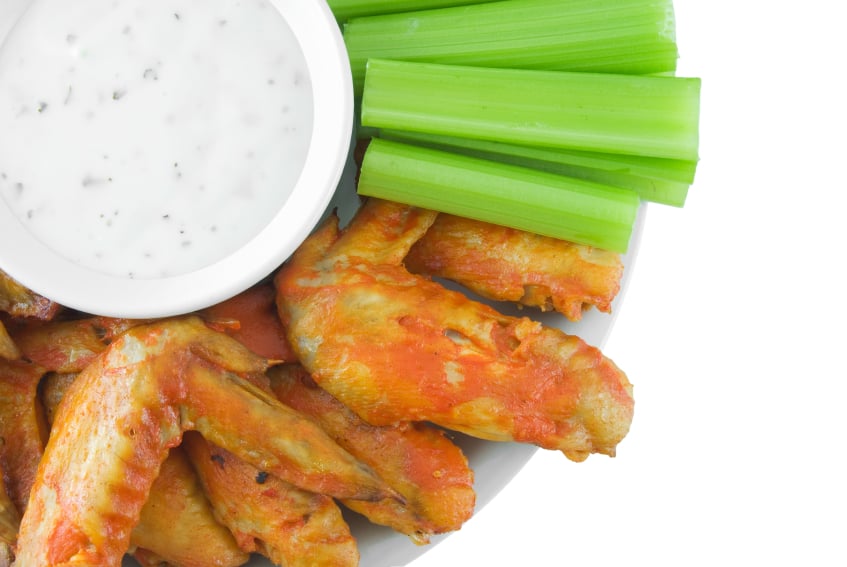 We're starting out with a Rachael Ray recipe that yields the classic Buffalo wings everyone imagines when they hear you're serving the dish. Chicken, hot sauce, butter, and flour are all you need to perfect the iconic dish, and if you're going for fancy, feel free to serve your wings with celery sticks and blue cheese. This recipe will serve 8 and takes 30 minutes to make.
Ingredients:
3 pounds

chicken wings, joints separated, tips discarded

2 quarts

vegetable oil

½ teaspoon

salt

½ cup

flour

4 tablespoons

butter, melted

½ cup

hot sauce

Celery sticks and blue cheese dressing, for serving
See full recipe directions at Rachael Ray.
2. Baked Parmesan Garlic Chicken Wings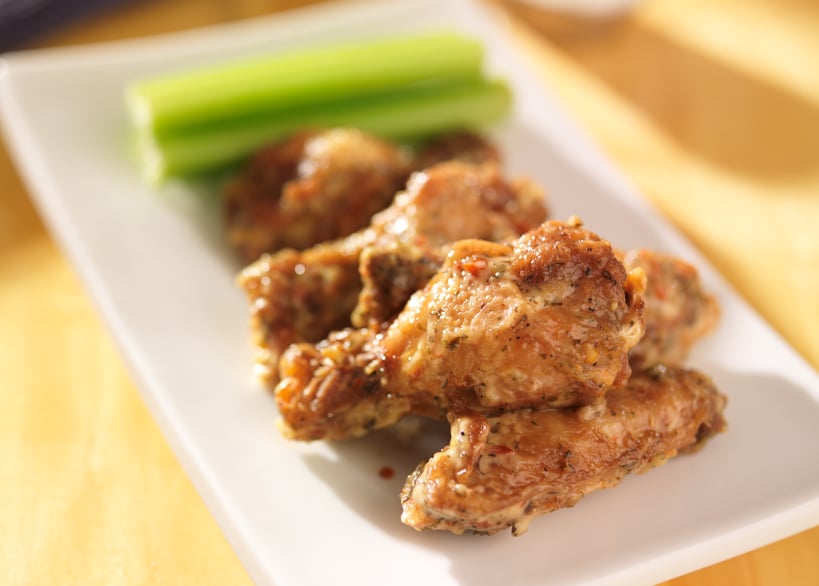 If you want to go baked rather than fried, try this recipe for baked Parmesan garlic chicken wings from Steamy Kitchen. Some would argue this dish blows Buffalo wings out of the water, but that's for your guests to decide. The recipe for the baked wings requires more herbs and seasonings than the aforementioned formula, but they're ones you likely already have in your pantry, and aside from those, all you need is your cheese and chicken.
Ingredients:
1 teaspoon dried oregano
1 teaspoon dried rosemary
½ teaspoon ground cumin
1 teaspoon kosher or sea salt
2½ pounds chicken wings
2 tablespoons extra-virgin olive oil
2 tablespoons minced fresh basil
2 garlic cloves, finely minced
¼ cup grated Parmesan cheese
½ teaspoon seasoning salt
1 cup blue cheese dressing
1 to 2 teaspoons Dijon mustard
See full recipe directions at Steamy Kitchen.
3. Bourbon Maple Glazed Chicken Wings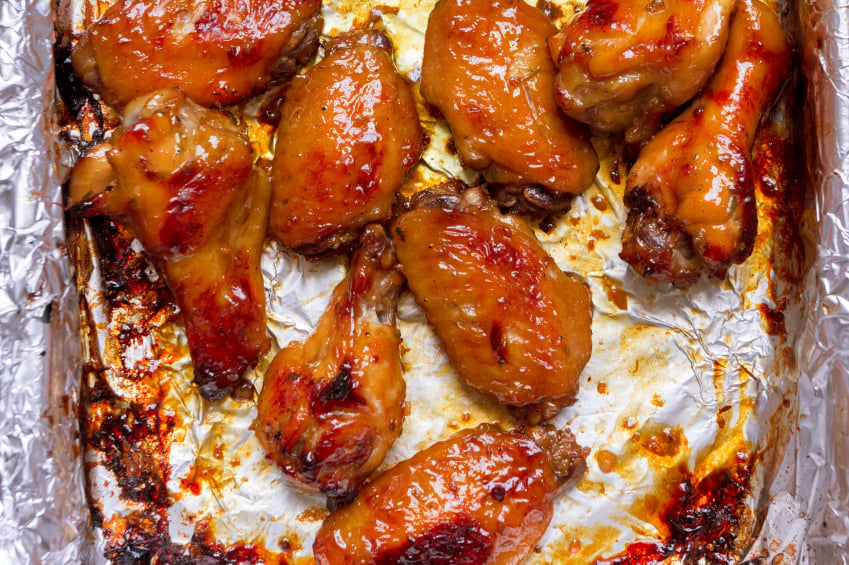 The next recipe on our list will yield a dish that is messy, but well worth it. These bourbon maple glazed chicken wings from Simply Recipes are addicting in the best way possible, and while they'll give you sticky fingers, you still won't be able to keep your hands off of them. The bourbon gives the chicken wings a smoky full-bodied flavor but boils away while cooking so the chicken wings are still kid-friendly.
Ingredients:
2 pounds chicken wings
1 tablespoon butter
2 tablespoons grated onion
½ cup bourbon whisky
¾ cup maple syrup
2 tablespoons tomato paste
2-inch sprig fresh rosemary
¼ teaspoon salt
¼ teaspoon black pepper
See full recipe directions at Simply Recipes.
4. Crispy Baked Thai Chicken Wings with Peanut Sauce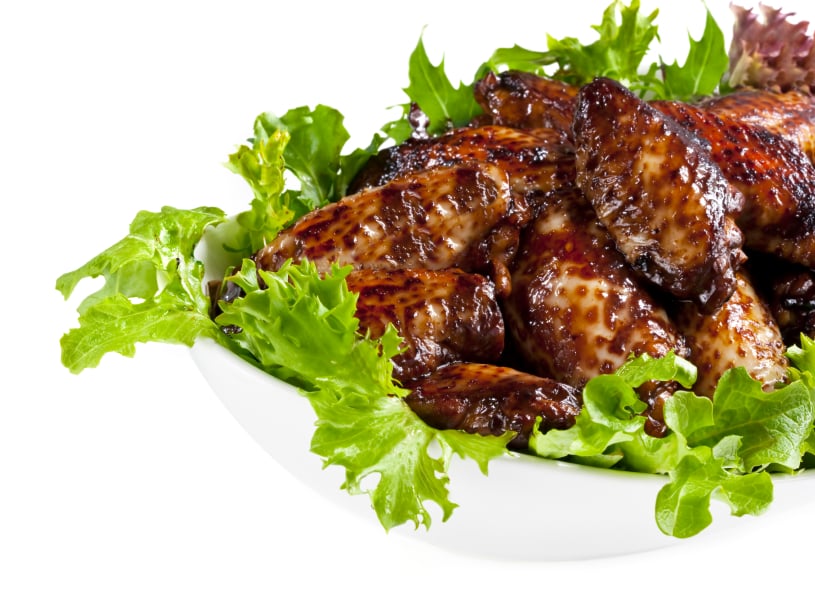 Are you ready for a new favorite flavor of chicken wings? Check out these baked Thai chicken wings from Just a Taste. The chicken is served crispy and with a tangy peanut sauce, leaving nothing to be desired. To make your sauce, you'll combine peanut butter, ginger, lime juice, fish sauce, soy sauce, and honey, and then you'll generously coat your chicken with said sauce after the wings have cooked for 45 to 50 minutes. This decadent dish serves 4 to 6 and will be the star of the show at your next soiree.
Ingredients:
2½ pounds chicken wings, drumettes and flats separated
2 teaspoons vegetable oil
1 teaspoon sesame oil
1 teaspoon salt
½ teaspoon black pepper
Peanut sauce
⅔ cup chunky peanut butter
¼ cup hot water
1 teaspoon grated fresh ginger
1 tablespoon fresh lime juice
1 teaspoon fish sauce
1 tablespoon low sodium soy sauce
1 tablespoon honey
½ teaspoon crushed red pepper flakes
See full recipe directions at Just a Taste.
5. Crab Fat-Caramel Wings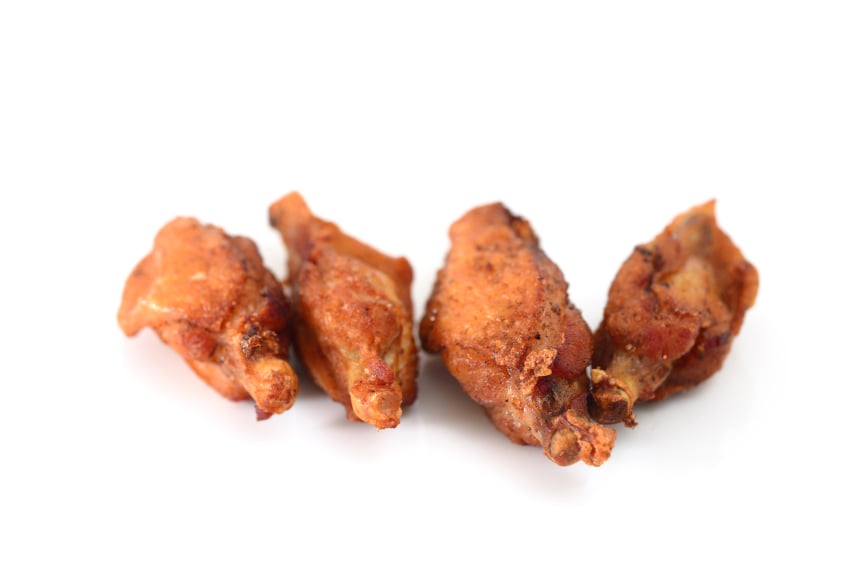 This next recipe from Bon Appétit will definitely take your chicken wing game up a sophisticated notch. Say hello to crab fat-caramel wings, and prepare to impress your guests with this one. But before you head to the seafood store, take a stroll to the Asian market instead. This dish gets its crabby flavor from crab paste, a jarred condiment easily found at Asian markets. Fish sauce is also on the ingredients list, as are flour, vodka, chicken wings, roasted peanuts, and cilantro leaves. Follow Bon Appétit's fool-proof formula for these wings, and welcome some spice into your life.
Ingredients:
½

cup

fish sauce

1½

cups

sugar

¼

cup

Thai crab or shrimp paste with bean oil

Peanut or vegetable oil 

1

cup

all-purpose flour

1

teaspoon

baking powder

1½

cups

cornstarch, divided

½

cup

vodka

2

pounds

chicken wings, tips removed, flats and drumettes separated

Kosher salt and freshly ground black pepper

¼

cup

chopped salted, roasted peanuts

Fresh cilantro leaves with tender stems
See full recipe directions at Bon Appétit.
6. Chili Garlic Chicken Wings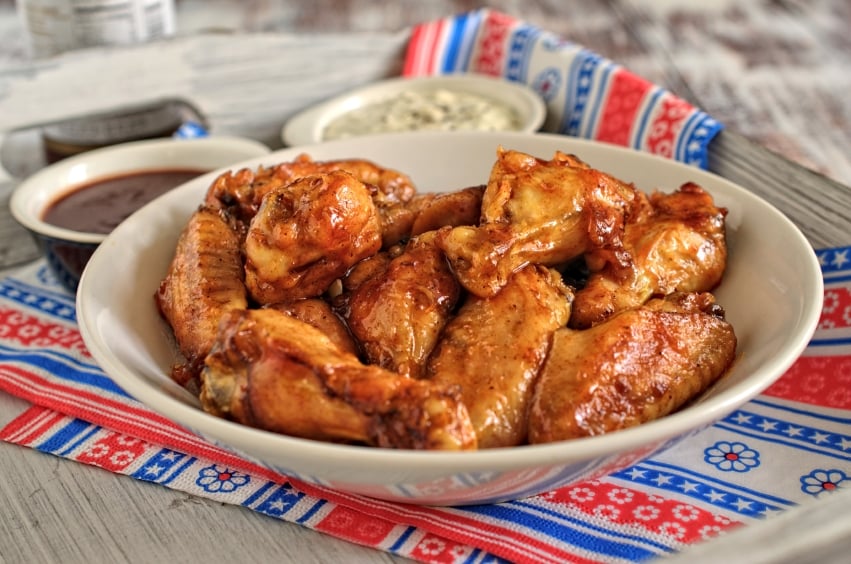 Here's another Asian-inspired chicken wing recipe from Food & Wine. Chile garlic chicken wings are a tasty twist on traditional wings, as these come coated with a dressing made from the combination of  tomato sauce, chile-garlic sauce, soy sauce, rice vinegar, and brown sugar. Fry up your wings and serve this dish to 4 lucky dinner guests or multiply the recipe to serve more.
Ingredients:
1 tablespoon extra-virgin olive oil
4 cloves garlic, minced
1 cup tomato sauce
3 tablespoons chile-garlic sauce
1 tablespoon soy sauce
1 tablespoon rice vinegar
2 tablespoons brown sugar
2 pound chicken wings, split
Kosher or sea salt, to taste
Fresh cracked black pepper, to taste
1 cup all-purpose flour, for dredging
Vegetable oil, for frying
Sliced green onions, for garnish
See full recipe directions at Food & Wine.
7. Baked Honey Sriracha Wings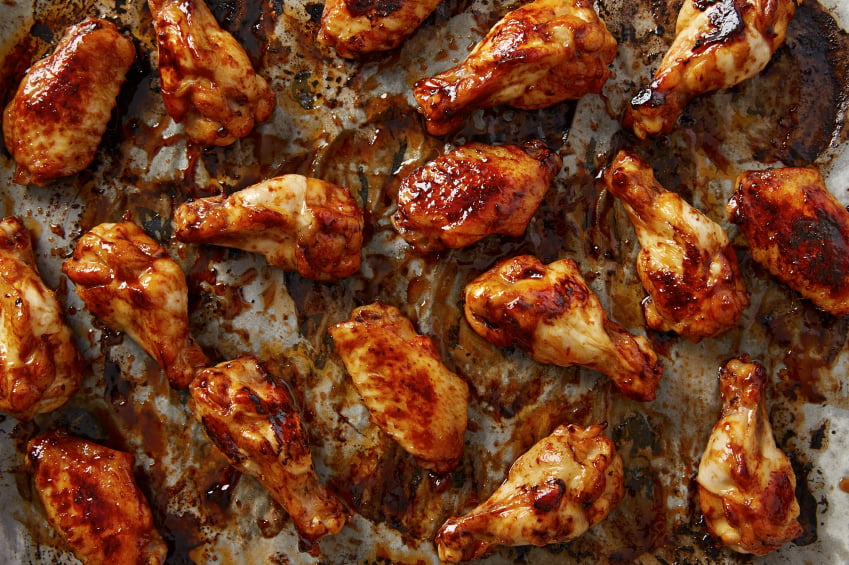 If you like your wings hot, baked honey Sriracha wings are for you. The recipe for these baked wings comes from Damn Delicious, and it yields the perfect chicken dish that is full of sweet and spicy flavor. These wings will take you less than 1 hour to make and require only 15 minutes of prep time.
Ingredients:
2 pounds chicken wings
2 tablespoons unsalted butter, melted
1 tablespoon vegetable oil
1 teaspoon garlic powder
Kosher salt and freshly ground black pepper, to taste
1 tablespoon chopped fresh cilantro leaves
Sesame seeds, for garnish
Honey Sriracha glaze
5 tablespoons unsalted butter
1 tablespoon all-purpose flour
¼ cup honey
¼ cup Sriracha
1 tablespoon soy sauce
Juice of 1 lime
See full recipe directions at Damn Delicious.
8. Sticky Honey Soy Chicken Wings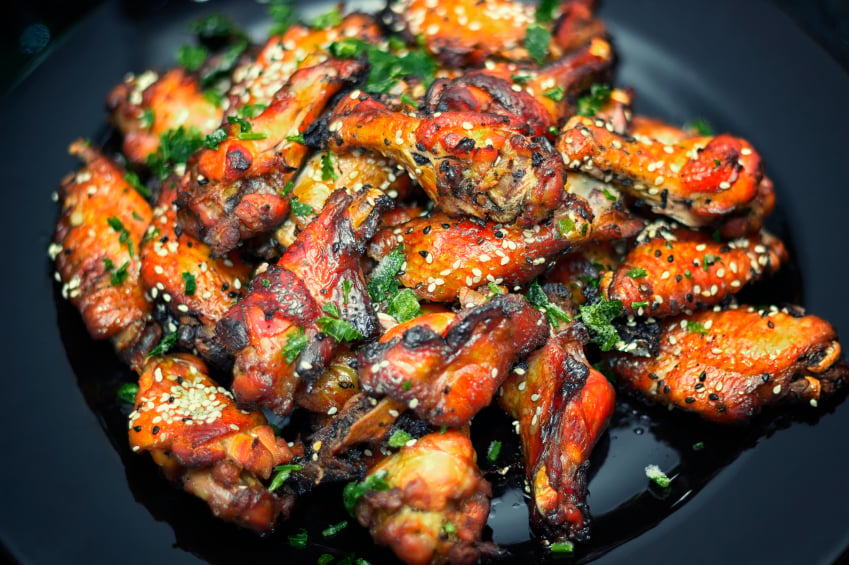 Next up is a gingery chicken wing recipe featured on Food Network. Prepare these decadent sticky honey soy chicken wings, and bring the napkins. Your hands will get coated in the buttery honey glaze, but we don't think you'll mind. The chicken is first soaked in a marinade made from soy sauce, ginger, cilantro, garlic, and lemon juice, and then it's time to fry.
Ingredients:
2 pounds chicken wings
1 cup low sodium soy sauce,
1 tablespoon grated fresh ginger
2 tablespoons chopped fresh cilantro leaves
2 cloves garlic, minced
½ lemon, juiced
Kosher salt and freshly ground black pepper
2 tablespoons extra-virgin olive oil
2 tablespoons butter
½ cup honey
Sesame seeds, for garnish
See full recipe directions at The Food Network.
9. Mario Batali's Big Game Wings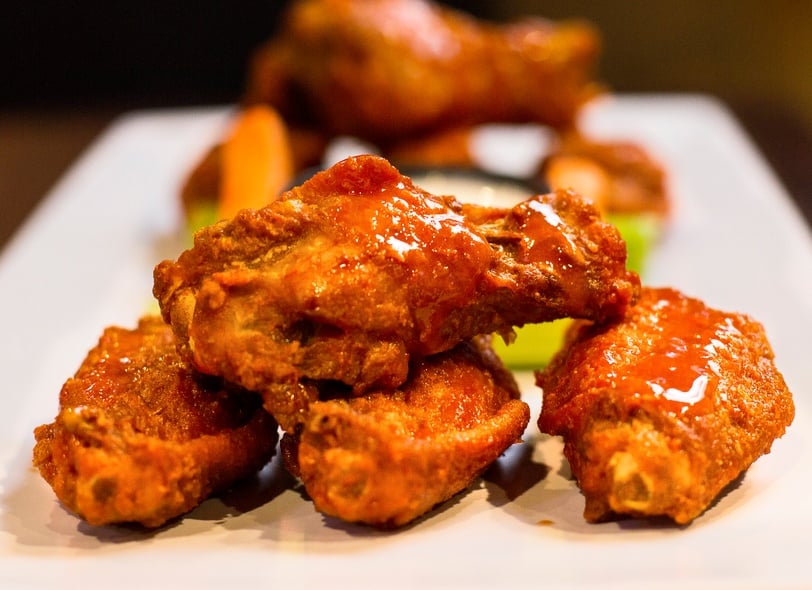 Chef Mario Batali's reputation precedes him, and you don't have to tell us twice that these wings will steal the show on any occasion. The recipe calls for a white barbecue dipping sauce and grilled wings seasoned to perfection. The wings get their heat from Tabasco sauce, a diced jalapeño pepper, and several seasonings, but you'll cool each bite with the yogurt-based dipping sauce. If you're looking to impress a crowd, these wings are the ticket.
Ingredients:
For the dipping sauce: 
1 cup Greek yogurt
¼ cup apple cider vinegar
Zest and juice of 1 lemon
1 tablespoon Tabasco Chipotle Sauce
2 tablespoons molasses
1 teaspoon salt
For the wings:
2 tablespoons ancho chili powder
2 tablespoons smoked paprika
1 teaspoon cayenne
1 tablespoon ground cumin
3 tablespoons Chinese 5 spice powder
1 teaspoon salt
1 jalapeño finely chopped, with seeds
¼ cup extra-virgin olive oil
¼ cup Tabasco Original Red Sauce, plus ¼ cup
24 chicken wings
1 bunch scallions, thinly sliced
See full recipe directions at Delish. 
10. Balsamic Glazed Chicken Wings
If a touch of sweetness is a little more your style when it comes to your wings, try this balsamic-glazed version from the Cooking Channel. The recipe was created by chef Robert Irvine and calls for seasoning blends he's created over the years — though similar cajun and chicken seasoning would likely to the trick just fine. Prep time is minimal for these — all you have to do is mix a marinade, allow the wings to soak up the flavoring for an hour, and pop them in the oven.
Ingredients:
¼ cup soy sauce
¼ cup honey
⅓ cup balsamic vinegar
4 tablespoons Irvine Spices Cajun Blackening Spice
2 tablespoons Irvine Spices Smokey Rotisserie Blend Seasoning
40 small chicken wings, wing tip removed and separated at joint
See full recipe directions at the Cooking Channel.
Nikelle Murphy also contributed to this article. 
More from Culture Cheat Sheet: