The Best Creamy Pasta Dish I've Ever Had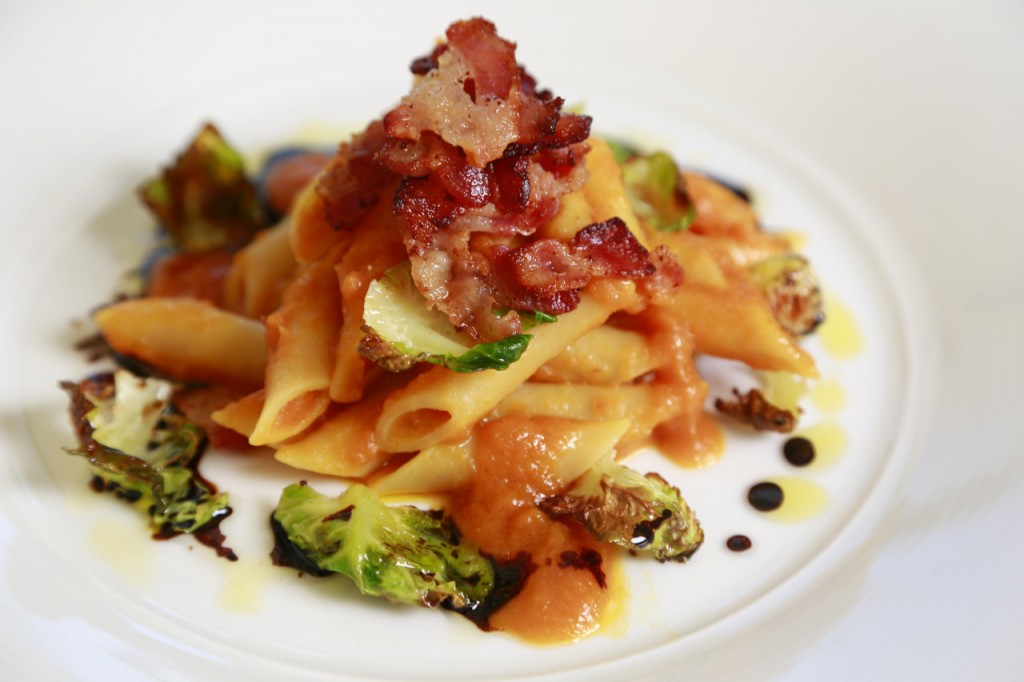 Spaghetti and meatballs. Baked ziti. Fettuccine Alfredo. Orecchiette with sausage and broccoli rabe. The list goes on and on. However, with National Pasta Month wrapping up (which if you ask us, should be celebrated 12 months a year), we want to bid adieu in style with something a little different. We reached out to Passion for Pasta for their favorite fall recipe — and now we can't get enough of it. Perfect for cooler weather, this seasonal dish spotlighting Mostaccioli (an angled, tube-shaped pasta) gives you that creamy, Alfredo mouthfeel from a surprise ingredient: pumpkin!
In lieu of heavy cream (which also happens to be heavy in calories and fat), this recipe gets a slim-down with pumpkin puree, but still gets a hit of bacon from a crumbled bacon topping. Vegetarian? Swap the chicken stock for vegetable stock, and omit the bacon or use soy bacon or make-your-own shitake bacon (yes, you read that right), like this one from Olives for Dinner.
To round out this meal, pair it with a side salad and some crusty French bread to sop up the extra sauce. We also love tossing this vibrant sauce with steamed broccoli, or even using it as a topping for a baked potato. Not a Brussels sprouts fan? Swap 'em for some wilted spinach or another green of your choice.
Read on for the recipe from Passion for Pasta, which will have you leaping with autumn glee from pumpkin patch (or pureed pumpkin can) to table. Whether you want to indulge in a carb-y heaven to reward yourself for a week of hard work at the gym or just want to dazzle your lady with something different, this flavor-packed dinner is sure to impress.
Mostaccioli with Pumpkin & Brussels Sprouts
Ingredients:
1 box mostaccioli
2 cups pumpkin puree
1½ cup chicken broth
5 tablespoons extra-virgin olive oil, divided
2/3 cup bacon, rendered and crumbled
Leaves from 10 Brussels sprouts
2 tablespoons balsamic reduction (Place 4 tablespoons of balsamic vinegar in a small pan and reduce to half over medium heat.)
Salt and black pepper, to taste
Directions: Turn on the oven to 400 degrees Fahrenheit. Rub the leaves of the Brussels sprouts with olive oil, salt, and pepper, and bake in the oven until slightly crispy, about 10 minutes. Boil a pot of water, and cook pasta according to directions. Meanwhile, bring the pumpkin puree to boil with the stock, and season with salt and pepper. Drain pasta and toss with sauce. Fold in Brussels sprout leaves and crispy bacon. Drizzle with balsamic reduction before serving.
For more healthy pasta recipes, check out these seven healthy, delicious pasta sauce recipes from scratch.
More from Culture Cheat Sheet:
Want more great content like this? Sign up here to receive the best of Cheat Sheet delivered daily. No spam; just tailored content straight to your inbox.