This Is the Best Dessert Joanna Gaines Serves at the Silos Baking Company
You probably started paying attention to Joanna Gaines thanks to her starring role on HGTV's Fixer Upper. But like the rest of her fans, we're guessing you love that she's a lot more than a TV star.
She excels as a mom, as a designer, and as an entrepreneur. One of her sweetest new ventures? The Silos Baking Company, a bakery that joins the retail store, food truck park, and garden at Chip and Joanna's Silos property in Waco, Texas.
Below, check out the most decadent desserts and scrumptious treats that you can sample at the Silos Baking Company.
9. The Silo cookie
A perennial favorite among Fixer Upper fans who make a pilgrimage to the Silos Baking Company is the Silo cookie. This sweet treat is a chocolate chip cookie, but with an important twist. It also features peanut butter chips and walnuts for a delicious nutty flavor. It's so popular that it consistently sells out. (So if you have your heart set on this sweet treat, you might want to visit the Silos early in the day!)
Of course, if peanut butter or walnuts aren't quite your style, you can also order a classic chocolate chip cookie or a decadent sugar cookie. And if you need a gluten-free option, you can order the oatmeal chocolate chip cookie, which features gluten-free chocolate chips, oats, and vanilla.
8. The Prize Pig
Country Living notes that cupcakes are the star of the show at the Silos Baking Company. Of course biscuits, cookies, cinnamon rolls, muffins, and other pastries are also on the menu!
In addition to all the sweet treats, Joanna also added a few savory dishes to the menu. Like the "Prize Pig," a biscuit with cheddar, bacon, and chives, which is made from scratch. It makes the perfect breakfast if you want to check out the bakery but aren't in the mood for a sky-high swirl of buttercream icing.
But if you are in the mood for a sweet treat? Head to the next page to get the lowdown on Joanna's signature cupcakes!
7. The seasonal cupcakes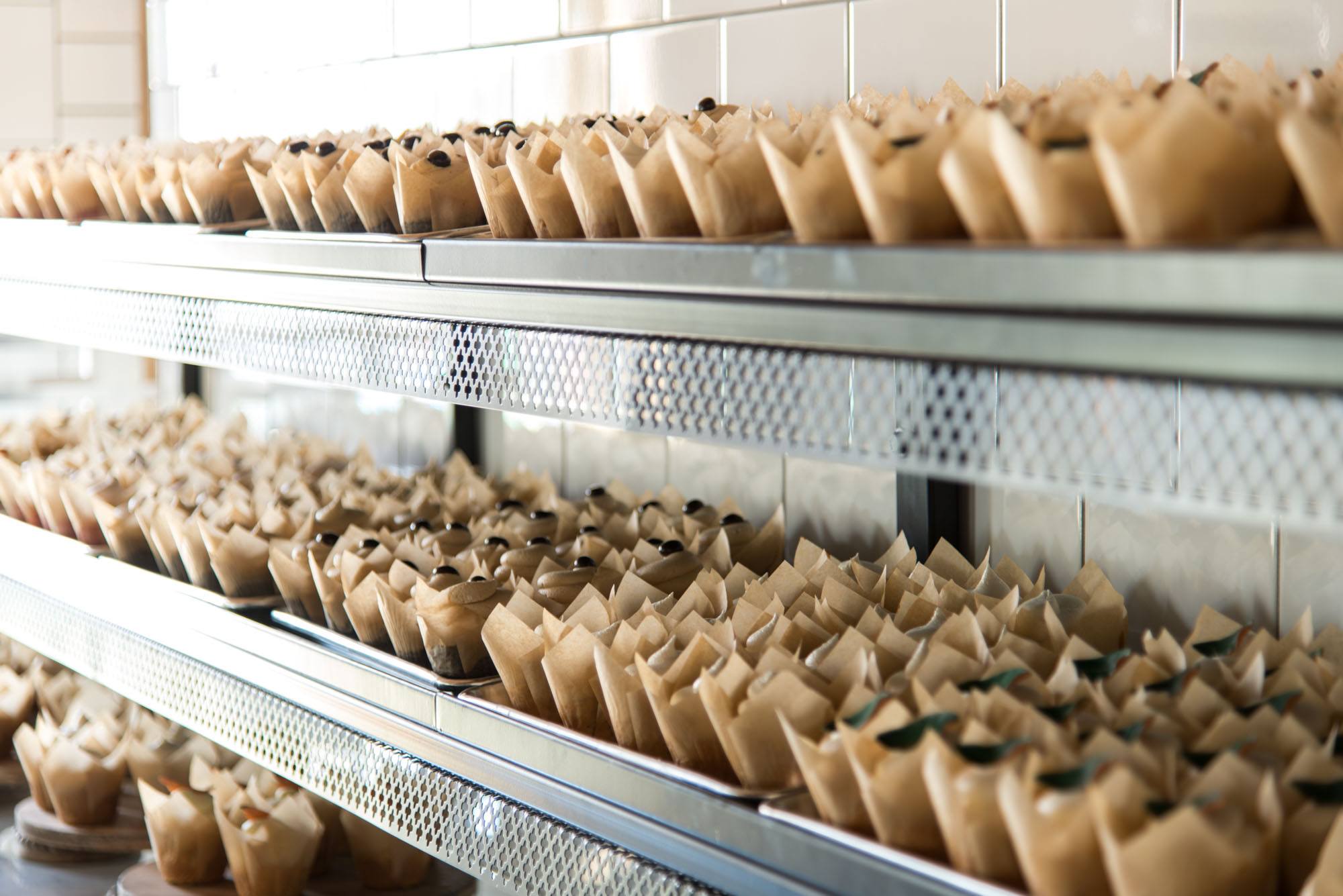 According to Delish, the Silos Baking Company sells more than 3,500 cupcakes every day. So it's no surprise that the Silos Baking Company menu features a few seasonal cupcake flavors. You might get to taste the Carrot Cake or Toasted Coconut cupcakes in the spring. Or, stop by in the summer to order the Peach Pie cupcake, which features fresh peach puree mixed with a vanilla cake and peach cream cheese icing. Summer's also the time of the Banana Pudding cupcake.
If you visit in the fall, you might get to try the Campfire cupcake, which features graham crackers, chocolate chips, and a hand-toasted marshmallow on top, or the Pumpkin Spice cupcake, which features vanilla bean cream cheese icing. Or, plan a visit to the Silos Baking Company during the winter time to try the Wonderland flavor, which features red velvet cake and peppermint icing. 
6. The Nuts n' Bolts cupcake
It's been widely reported that Chip loves the Strawberries 'n Cream cupcake. (Who could blame him? It features strawberry cake and vanilla buttercream icing!) But Joanna tells Today that Chip also loves the Nuts n' Bolts cupcake. This cupcake features vanilla cake filled with pecans and walnuts and topped with cream cheese icing.
Having a tough time narrowing down your favorites? So are we! But as Joanna tells Today of the Silos Baking Company, "You really can't go wrong in there. It might be easier to choose if you just close your eyes and point to the menu."
5. The Cup o' Jo cupcake
Today also learned that Joanna herself is partial to the Cup o' Jo, a chocolate cupcake with chocolate espresso icing. She tells Today, "The chocolate cupcake with the chocolate espresso icing is rich, but there's no such thing as too much chocolate for me." That works out perfectly, because the Cup o' Jo also gets topped with a chocolate-covered espresso bean.
The Cup o' Jo also sounds like the perfect indulgence if you plan to drag yourself out of bed to get to the Silos Baking Company when it opens. (The doors open at 7:30 a.m.) While you can always order a cup of coffee at the bakery, you may not have to if you get your espresso via this delicious cupcake!
4. The Lemon Lavender cupcake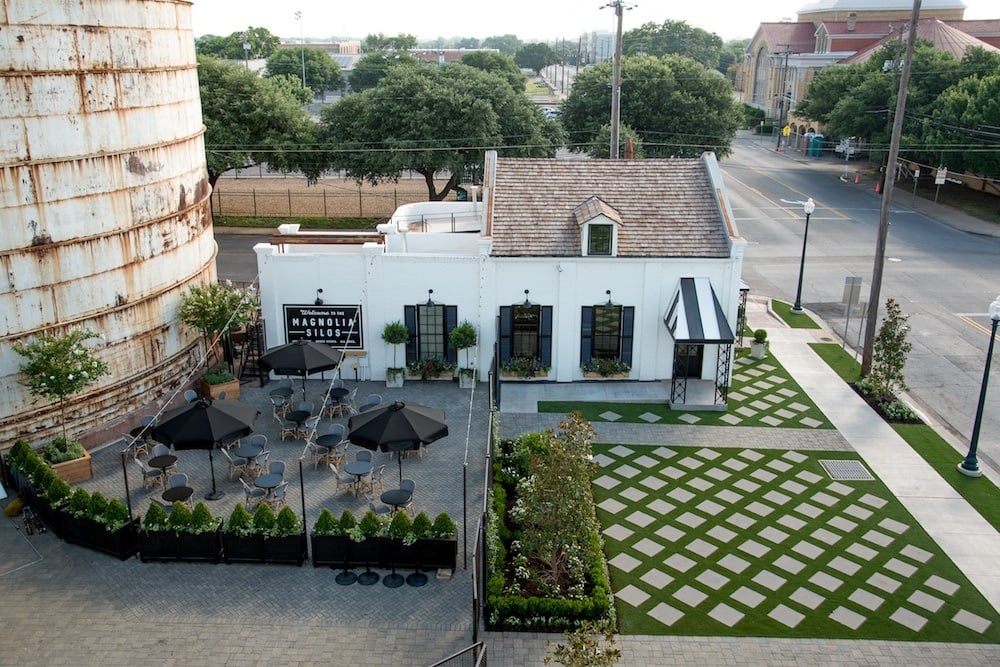 Ask a group of Fixer Upper fans what they loved most at the Silos Baking Company and at least one person is sure to name the Lemon Lavender cupcake. This deliciously nuanced cupcake features lemon and lavender vanilla cake, along with lemon buttercream icing.
Though it's not the most conventional cupcake flavor, it's been a fan favorite ever since the Silos Baking Company opened. Delish reports that the Lemon Lavender cupcake has become an unlikely bestseller at the bakery, right along with the Strawberries n' Cream cupcake that Chip seems to love so much. If you want to try something different when you visit Waco, this may be the perfect flavor for you!
3. The Classic
Some people love their cupcakes with fruity flavors or nutty additions. But if you're looking for something a little simpler, you can't go wrong with the aptly-named Classic cupcake at the Silos Baking Company. According to HGTV, the Classic features chocolate cake topped with vanilla buttercream icing, and the staff even puts a tiny magnolia leaf on top.
As explained on Chip and Joanna's website, each of their four children has a favorite cupcake flavor. Duke chose the Classic as his favorite. But he added that he loves "anything chocolate," which makes us think that there are a couple of other cupcakes on the Silos Baking Company menu that he'd love just as much!
2. The Silobration cupcake
Want to go all-in with the Fixer Upper puns? Then the strongest contender is the Silobration cupcake, which tastes just as festive as it sounds. The Silobration cupcake features vanilla cake with chocolate buttercream icing. Then, it's dusted with small, pearlized nonpareils, according to Delish.
As the publication notes, the name "Silobration" nods to the annual multi-day party at the Silos. At this weekend-long festival, friends, family, and Fixer Upper fans alike gather to enjoy food truck fare, shop goods handmade by artisans, and enjoy live music. Sounds like the perfect occasion to enjoy a delicious cupcake!
1. The Shiplap cupcake
The Shiplap cupcake features vanilla cake with vanilla buttercream — exactly what you'd expect from the cupcake version of one of Joanna's airy, white interiors. Plus, the Shiplap is a favorite for Chip and Joanna's son Drake. (That must mean it's good!)
Anybody who's watched even an episode or two of Fixer Upper knows that shiplap is one of Joanna's design signatures. Sure, antique shiplap might not be quite as exciting as fancier wall treatments, just as a vanilla cupcake isn't quite as flashy as some other options on the Silos Baking Company menu. But if shiplap — both the wall treatment and the cupcake named after it — is good enough for Joanna Gaines, it's definitely good enough for us!
Read More: You Won't Believe What Chip and Joanna Gaines' Kids Can't Have Until College