The Best Mountain Towns in the United States
Mountain towns seem to be the newest trend in too-cool-for-your-typical-beach-vacation travel, and for good reason. After all, who could blame anyone who wants to trade the beach for the mountains? Crisp mountain air tends to trump highly irritating beach-goers every time.
While we absolutely love the beach, it's time we join in on the mountain-travel trend often overlooked during off-peak times. One simple Google search of top mountain towns, and it's clear to see there's no shortage of spots to love.
In narrowing down our selection, we considered other curated lists, such as this one from U.S. News & World Report (don't worry, we only pulled legit mountain towns from their list of small towns). We also investigated the social scene, along with the scenery. And, of course, we accounted for our personal opinions, in as unbiased a way as possible.
When it comes to high-alpine living, these are the top mountain towns to post up in, or at the very least, drop by for a visit. (Because there was no clear, definitive ranking published, we've listed the top 15 places alphabetically, by state.)
1. Homer, Alaska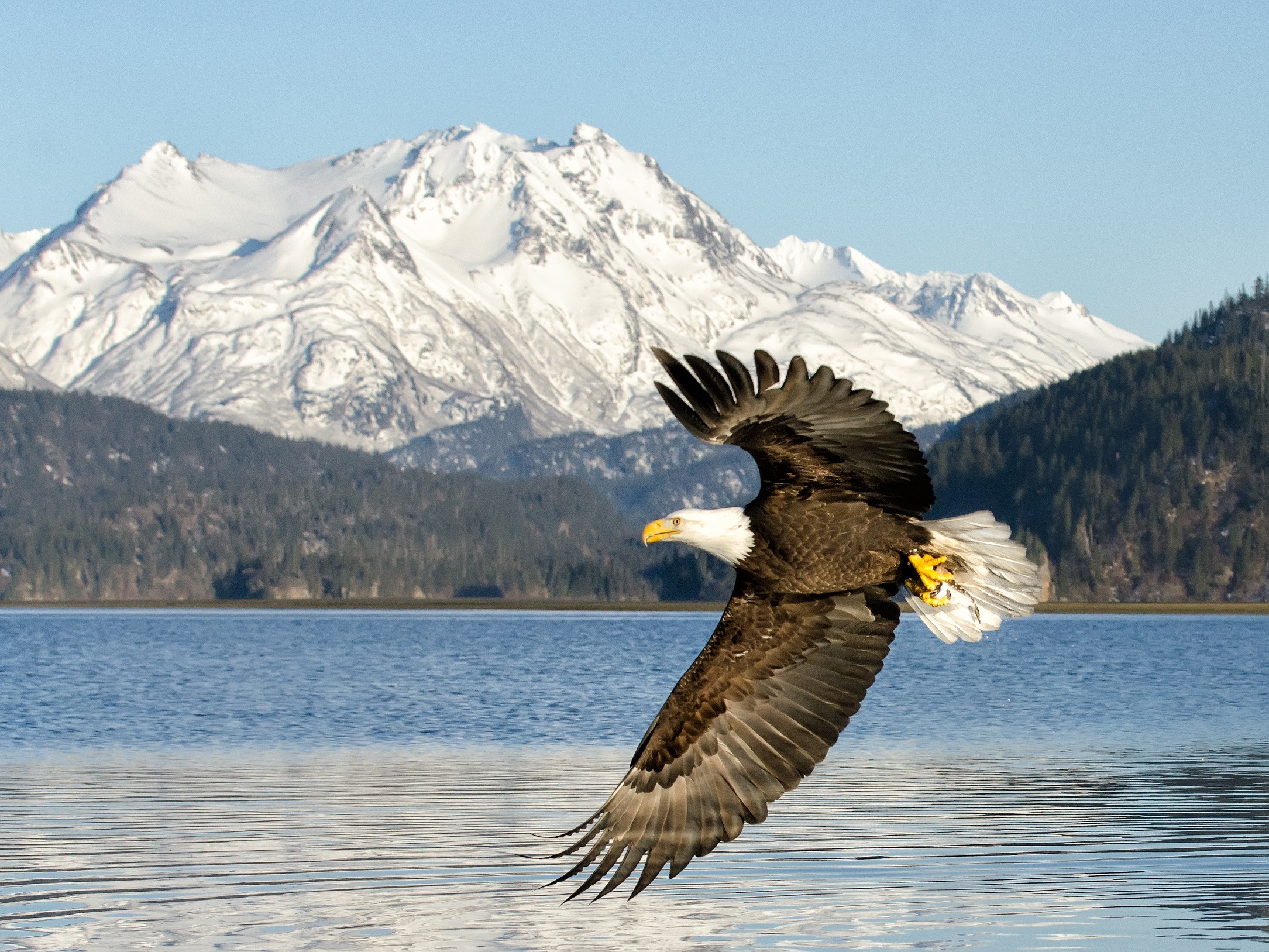 We recommend: Visiting the Homer Spit
Alaskans know a thing or two about living on the burly side. Their rugged and wild terrain is a mere playground for their outdoor pursuits, so it's no wonder a mountain town from the great state of Alaska made the list. Situated on the tip of the Kenai Peninsula, Homer's location makes it easy for adventure-loving folks to explore some of the region's greatest natural assets, like the Chugach National Forest, Kenai Fjords National Park, and Kachemak Bay State Park. And if that's not enough, the Homer Spit — a 4.5 mile long stretch of land jutting out into the Kachemak Bay — draws locals and tourists alike with activities such as fishing and kayaking.
Next: A noteworthy spot in the heart of the Ozarks
2. Eureka Springs, Arkansas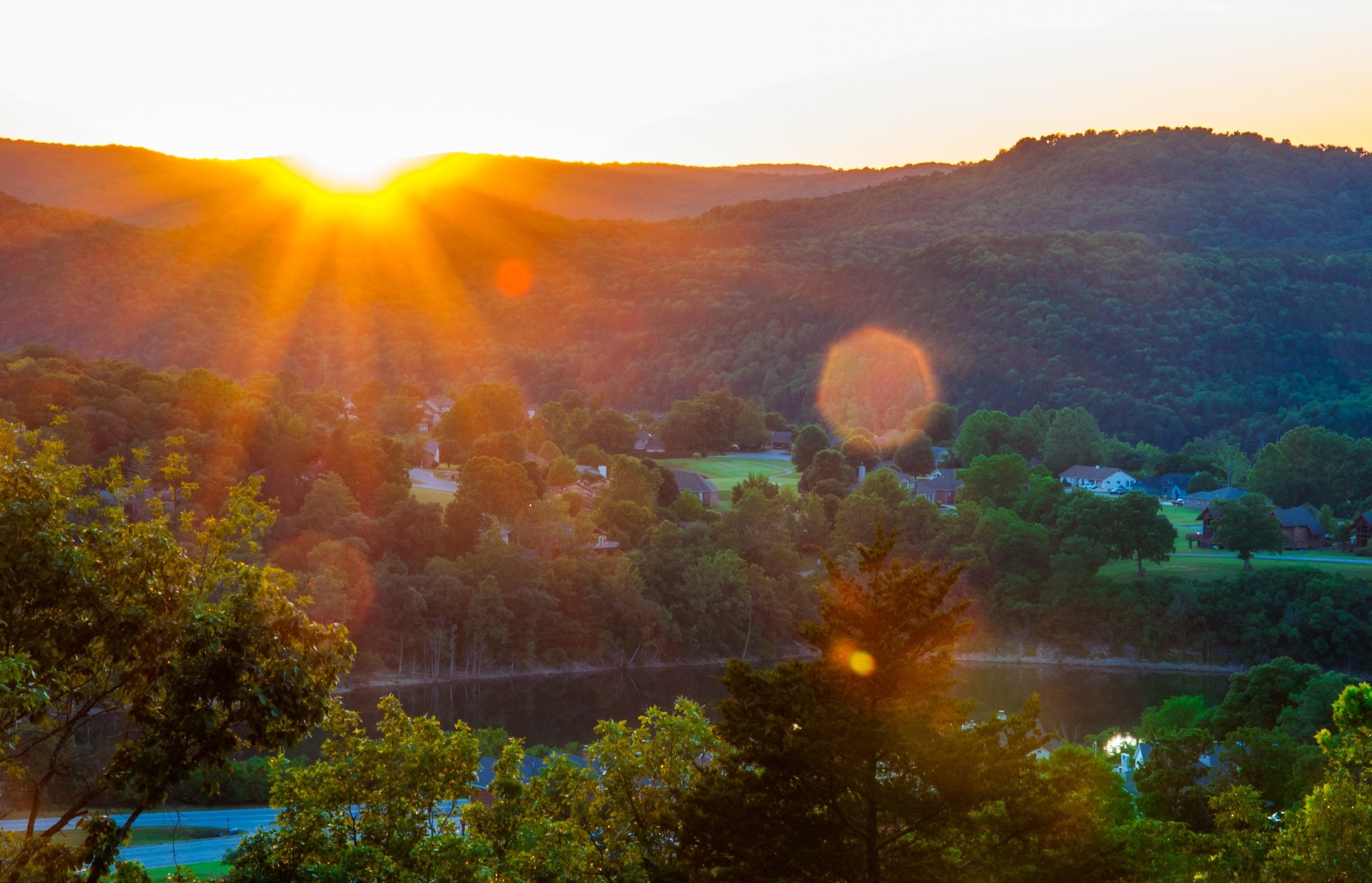 We recommend: Staying at the Arsenic and Old Lace Bed & Breakfast
Eureka Springs has no shortage of character, and what the town lacks in size, it more than makes up for in charm. The town oozes old world sophistication, with rustic, laid-back vibes. As opposed to most other typical mountain towns, you won't find any bulky log cabins lining the streets. Rather, Victorian architecture lends a subtle elegance to Eureka Springs.
Its setting is nothing short of stunning, with the Ozark Mountains serving as the backdrop for this quaint Arkansas town. But don't let Netflix's hit show, Ozark, steer you away from visiting the region — surely your family won't be met with terror upon arrival to the Ozarks.
Next: A well-know lake town takes the next spot. 
3. Lake Tahoe, California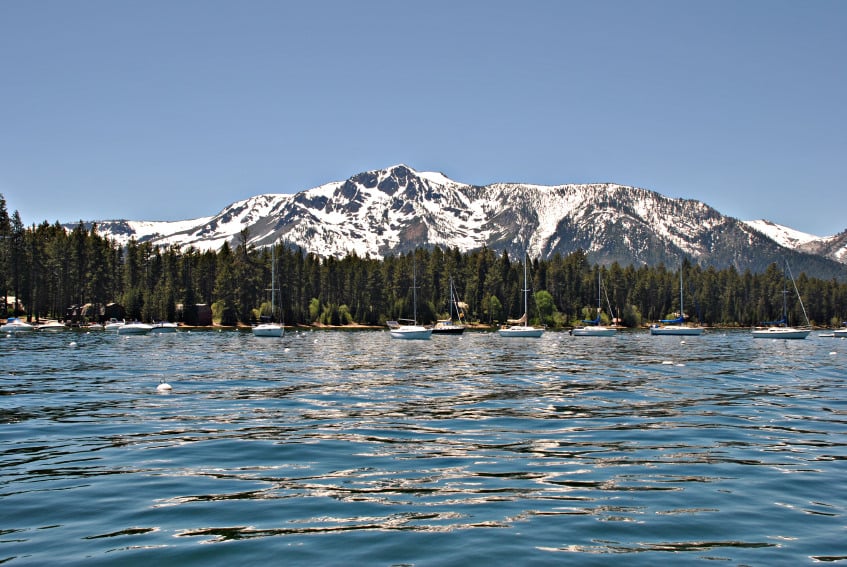 We recommend: Staying at The Ritz-Carlton, Lake Tahoe (located just six miles from historic downtown Truckee and the North Shore of Lake Tahoe)
The real secret to navigating your way around Lake Tahoe is knowing north from south. Literally. Vast in size, Lake Tahoe's name alone isn't really enough to explain the layout of the place. In our humble opinion, it's imperative you be aware of important, differentiating factors.
In South Lake Tahoe, a glitzy, more upscale scene steals the show, where there's no shortage of casinos and high-traffic tourist areas. North Lake Tahoe, however, is home to a more laid-back atmosphere, and it's where you want to be. More specifically, it's in Truckee that you'll find the heart and soul of the mountains, complete with a historic town and lake views for days.
Next: A Colorado classic that makes just about every list of top mountain towns 
4. Telluride, Colorado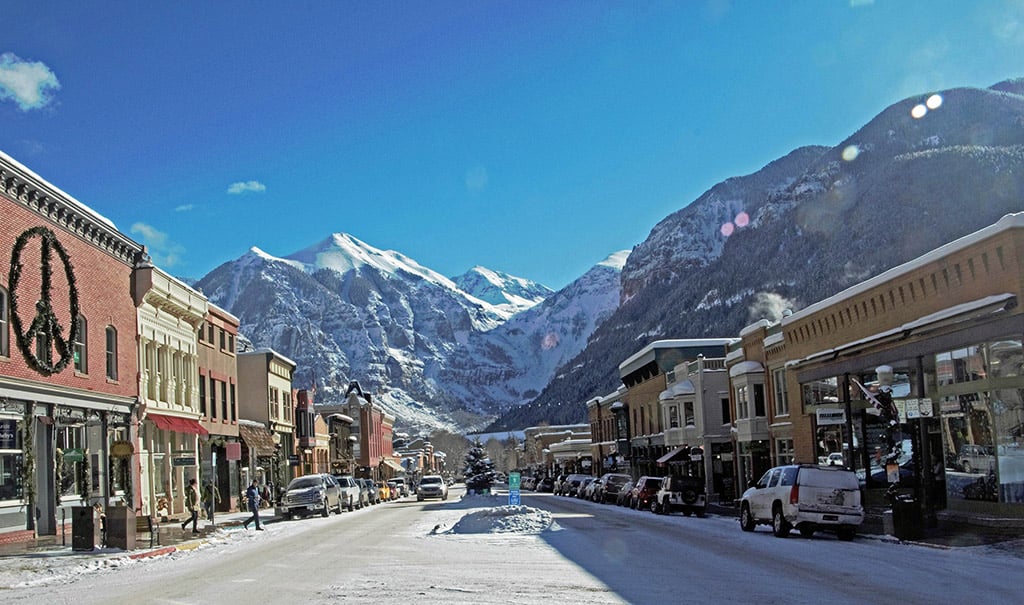 We recommend: Ordering a Flatliner at the New Sheridan Bar
In a town where the Alley Walk is actually a thing, it's no wonder Telluride is known for oozing mountain town culture at its very best. (Hoping to dodge everyone you know in town because you're in a rush? Better take the alleys, as there's an unspoken rule that no more than a "hello" will do.) It may be a bit of a pain to get to this small box canyon, but once you're there, you'll soon realize that the six and a half hour drive from Denver was all worth it.
Towering peaks at the end of Main Street greet visitors upon arrival, and there's no escaping the majestic beauty the surrounding San Juan Mountains provide. The area dates back to the early mining days. And while some shops are new, the spirit of the San Juans is as timeless as ever.
Next: A little-known Montana gem
5. Whitefish, Montana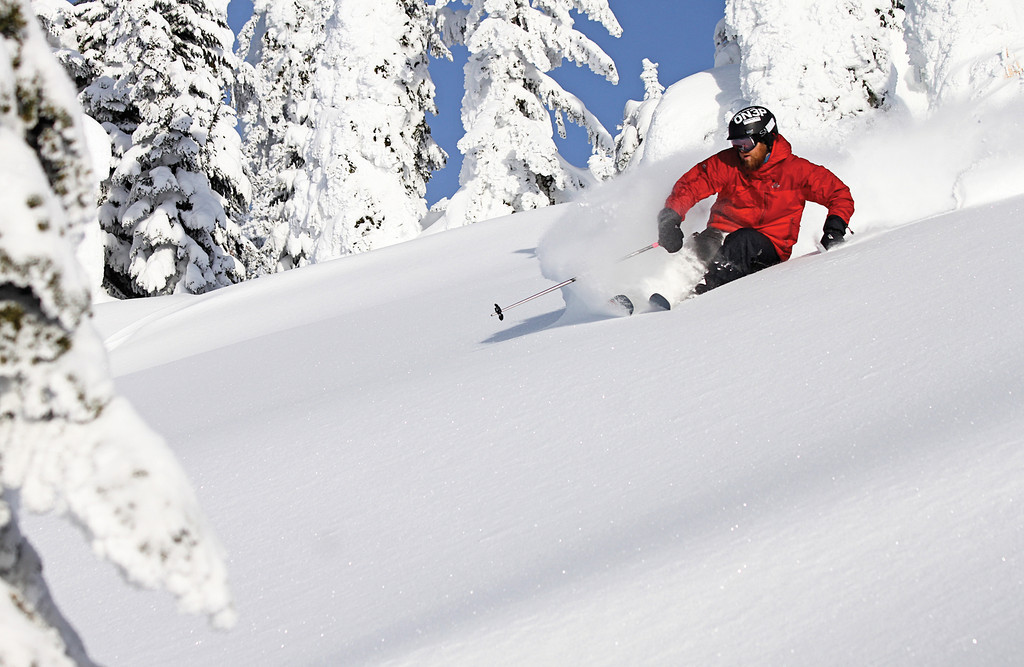 We recommend: Strolling Whitefish's main street during Christmas, when it's transformed into a snow-capped winter wonderland.
Whitefish, Montana is a place that's not necessarily too high on people's bucket lists, but it has its share of must-see attractions. In particular, it's home to a resort that's harder to ski than most others. But don't let that deter you from visiting this simply majestic setting. There's plenty of other mountain charm to experience for non-skiers. Located about 30 miles west of Glacier National Park, Whitefish will stun you in the warm and cold months alike.
Next: This storied town deserves a visit. 
6. Taos, New Mexico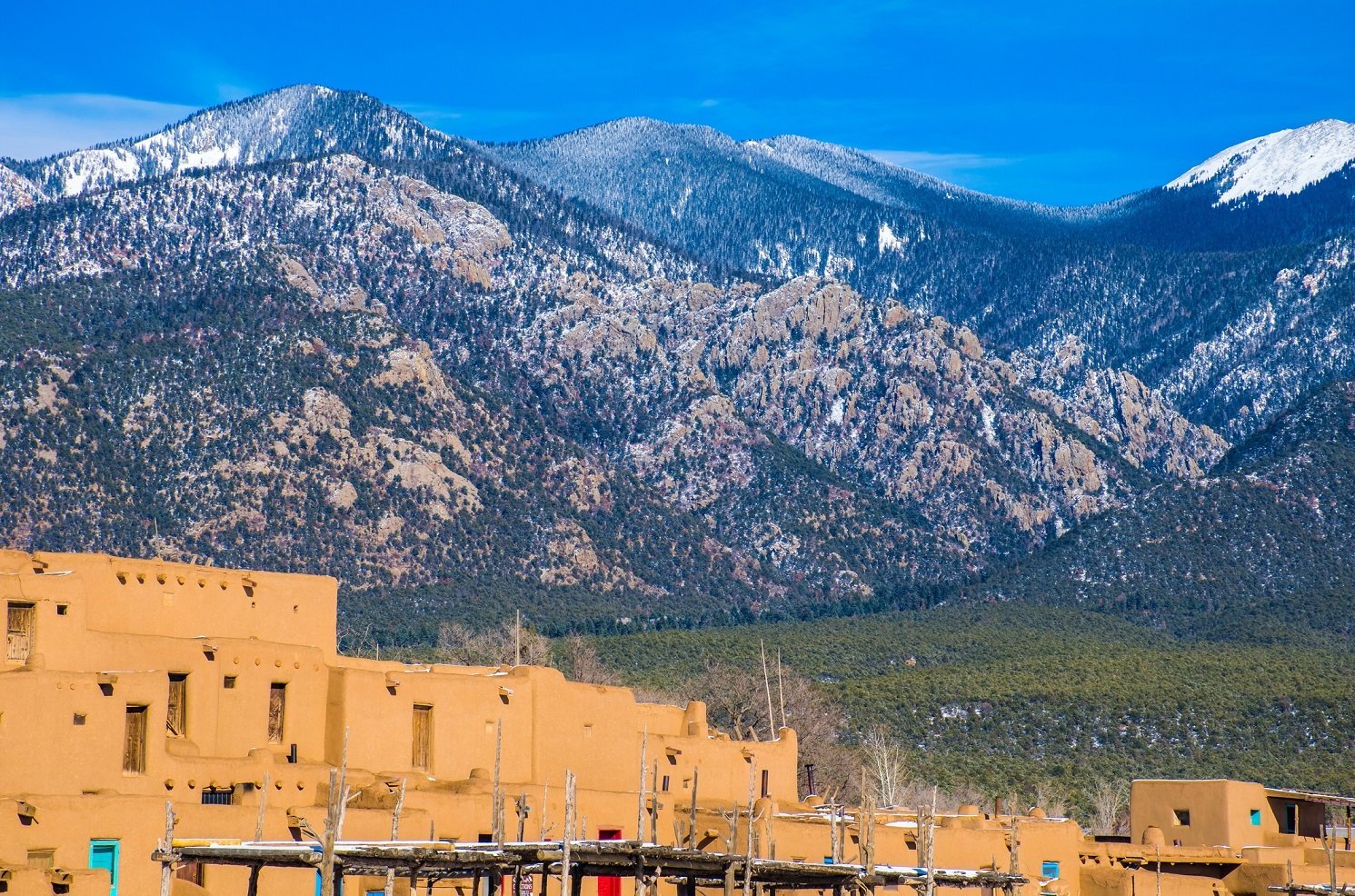 We recommend: Staying at El Monte Sagrado
People often consider Taos a more authentic ski destination. Basically, the tiny town hasn't sold out to the likes of Vail. Located along the Sangre de Cristo Mountain range, Taos is home to the Taos Ski Valley, as well as an impressive culture scene. Traditional adobe structures house restaurants, shops, and art museums, while activities range from mountain biking to — wait for it — llama trekking. This artsy town also boasts over 80 galleries and, of course, incredible margaritas.
Next: Another lake town makes the list. 
7. Lake Placid, New York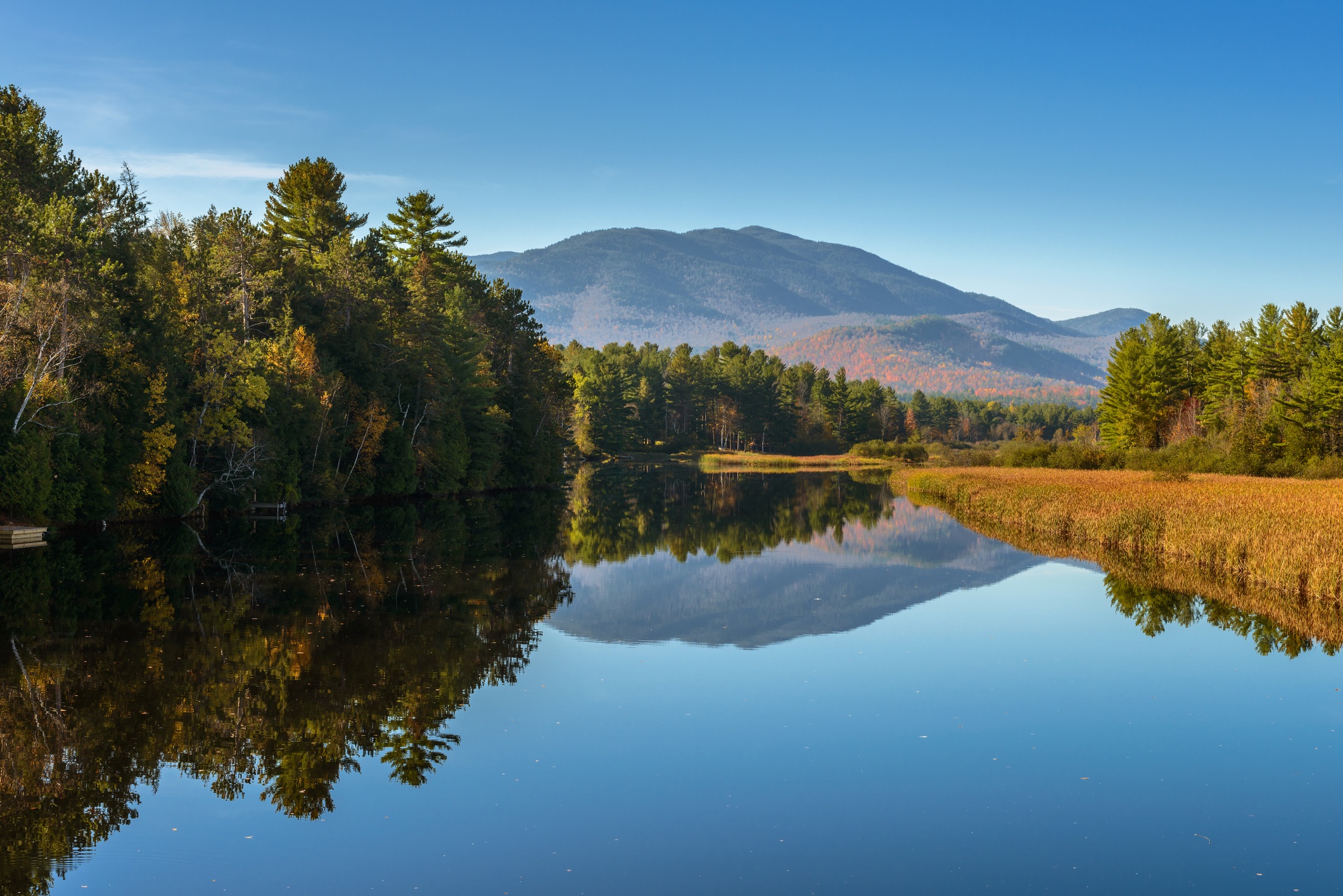 We recommend: Staying at the Golden Arrow Lakeside Resort, and hopping on the gondola or railway for a scenic ride.
Lake Placid is known for being host to some incredible sporting events. The 1932 and 1980 Olympic Games took place there, and of course, the annual Lake Placid Ironman draws huge crowds every year.
But perhaps the most noteworthy event occurred during the 1980 Winter Olympics. During the "Miracle on Ice," the world played witness to one of the greatest upsets of all time, when the U.S. men's hockey team — made up of amateur players — defeated the defending gold medalists, the Soviet Union, whose team consisted of seasoned professional players.
So, it's no surprise that this picturesque Adirondack town is something special. If you like to be adventurous on vacation, you can test your hand — and harness — at climbing the 46 High Peaks of the Adirondacks. And of course, there's always bobsledding the Olympic Complex.
Next: This No. 8 spot shouldn't surprise anyone. 
8. Asheville, North Carolina

We recommend: Taking a drive along the Blue Ridge Parkway
As one of the most well-known heavy-hitters on our list, there's no denying Asheville's overwhelming popularity in recent years. While this bustling North Carolina town may not be the first that pops into your head for a list of mountain towns, there's no question that it deserves its spot here. While we can often get caught up in the uber-hip foodie destination that is Asheville, lest we forget that this mountain town has no shortage of sweeping views and outdoor adventures galore, too.
So, forget about all the hipster bars, live-music venues, and abundance of breweries located within Asheville's city limits. For the sake of this article, we're highlighting the beauty that's right outside the coolest new eatery where you're enjoying that locally-farmed cuisine. Before there was an art scene and a trendy bar on every corner, there were the Blue Ridge Mountains. Lucky for us, they'll likely outlast the next best restaurant that comes through the mountain town everyone loves.
Next: Across the country, there's a town that rivals Asheville's brewery scene. 
9. Bend, Oregon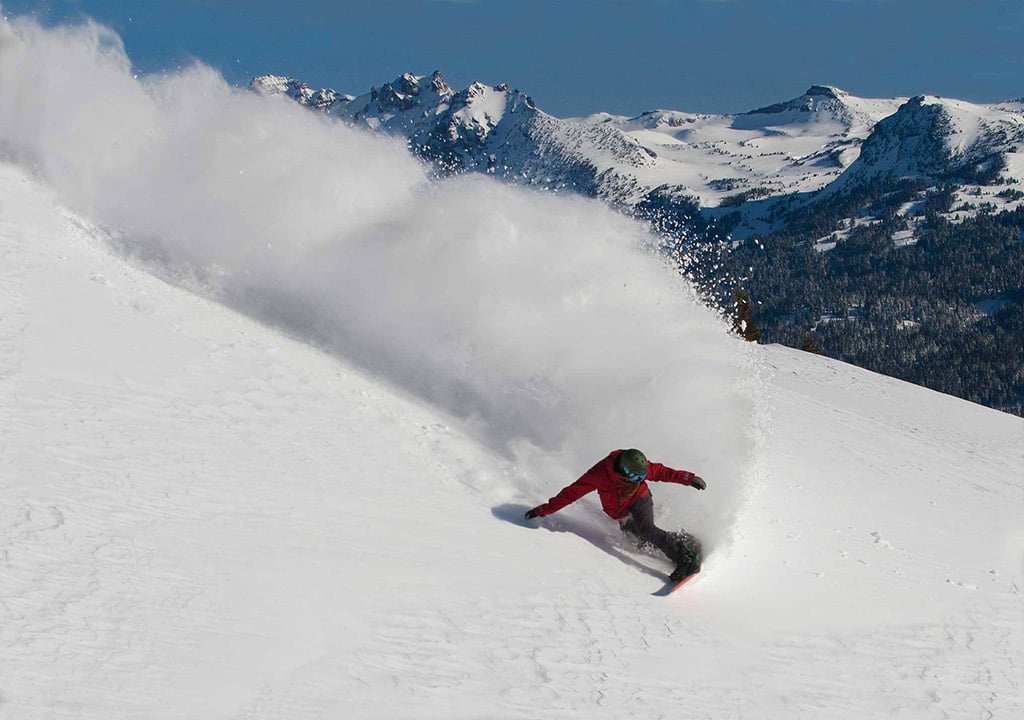 We recommend: Making your way along the Bend Ale Trail
Bend has had no trouble attracting its fair share of attention in the travel and tourism world. And it's well deserved. Of course, we had to include a town in Oregon, and this one, situated in the central part of the state, is worthy of the spot. Sweeping views of Mount Bachelor and a convenient location to Deschutes National Forest are just the beginning.
Whether you're interested in exploring the rugged badlands, or you have your heart set on spelunking, Bend is nothing short of beautiful. And oh, like any other good Pacific Northwest adventure hub, it's home to a bevy of breweries as well. You know, if you're into that kind of thing.
Next: This town was home to gunslingers and made famous by its namesake TV series. 
10. Deadwood, South Dakota
We recommend: Taking a walking tour through Deadwood's main street
Following the discovery of gold, the Wild West town of Deadwood was born. While the town has come leaps and bounds since its early days of gamblers and gunslingers, on the right night, the South Dakota town still feels like a time machine. In fact, visitors can catch re-enactments of shootouts right on the town's main street.
While the town is rich in history, there's more to it than the infamous Black Hills gold rush that took place there in the late 1800s. Deadwood, which was at one point home to outlaws like Calamity Jane and Wild Bill Hickok, offers easy access to a plethora of outdoor activities, such as mountain biking, rock climbing, and fly fishing.
Next: Now, back to the East Coast for a well-loved mountain town.
11. Gatlinburg, Tennessee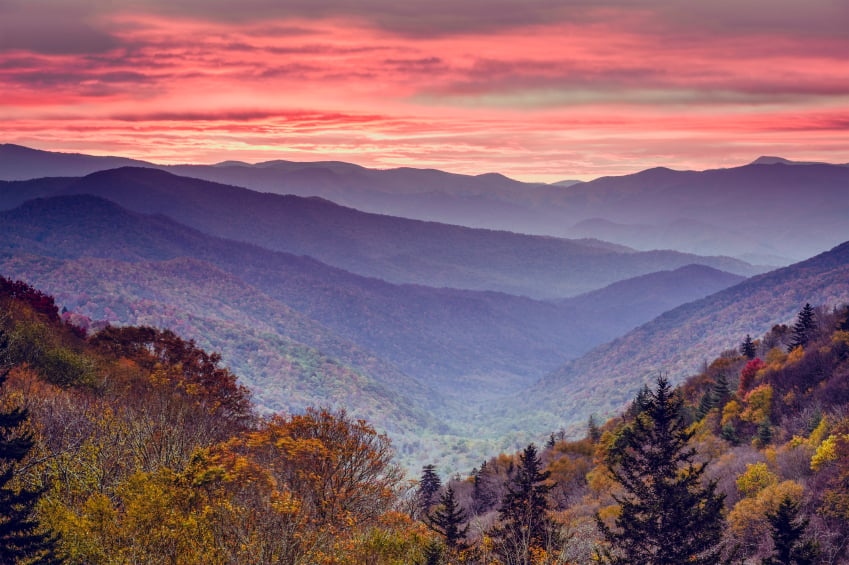 We recommend: Stopping by the Sugarlands Distilling Company for a tour and a tasting.
If being located on the border of the Great Smoky Mountains National Park doesn't scream mountain town, we don't know what does. In fact, the town has three different entrances to one of the most visited national parks in the U.S. Does this mean the town stands to swell significantly in population during peak tourist times? Yes. But that doesn't mean you should rule out a visit. If you're not into crowds, perhaps a winter trip is more your style.
And if skiing is your thing, you're in luck. Gatlinburg is home to the state's only ski resort, Ober Gatlinburg. Other outdoor enthusiasts will have no trouble keeping themselves busy here, as the town boasts activities such as whitewater rafting, fishing, horseback riding, and hiking. Not to mention, when you're beat after a long day on the trail, there's a handful of wineries and a brewery downtown. Or, maybe moonshine's more your thing. Yeah, they've got that too.
Next: A well-known favorite among avid skiers 
12. Park City, Utah
We recommend: Bringing your own booze into the state if you're driving. Utah's liquor laws are a little wacky!
As one of the country's premier ski destinations, Park City has no problem attracting visitors from near and far. And if you're thinking the town flies under the radar of the Hollywood types, think again. In addition to hosting the 2002 Winter Olympics, Park City is home to the annual Sundance Film Festival.
Offering easy access to two world-class ski resorts, Park City Mountain Resort and Deer Valley Resort, it's clear why many consider this mountain town one of the best. A quick drive from Salt Lake City International Airport, and you'll be breathing in that fresh mountain air in no time.
Next: The home state of Ben & Jerry's
13. Stowe, Vermont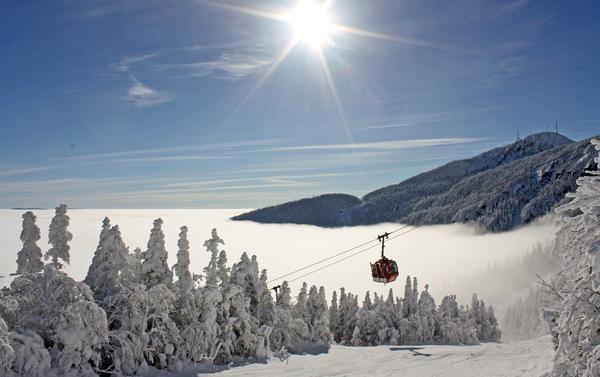 We recommend: Visiting the Ben & Jerry's Waterbury Factory
Vermont's known for being a pretty cool state. Seriously. The folks there pride themselves on doing their own thing and living among some of the most scenic landscapes the country has to offer. And if you've ever experienced Stowe in the fall, you know exactly why the place attracts so many visitors during leaf peeping season.
Obviously, there's Stowe Mountain Resort. But besides that, there's plenty to keep busy when it's not ski season. Meander through tree-lined pathways, gorgeous scenery, and state parks in this picture-perfect Vermont town.
Next: A town that feels more European than American
14. Leavenworth, Washington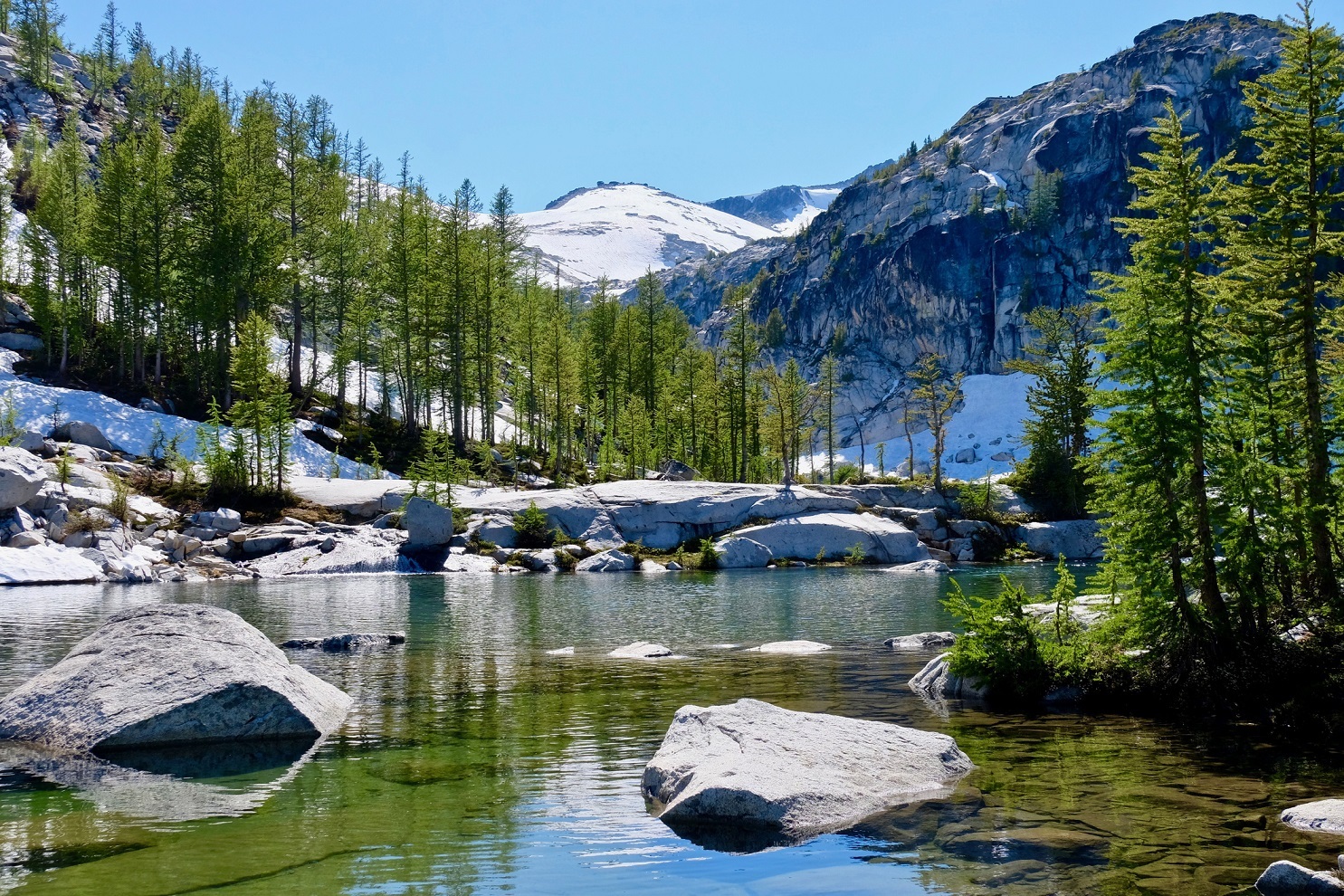 We recommend: Hitting up the Leavenworth Oktoberfest. You'll feel like you're in Germany, without the pricey airfare.
This little-known spot is a real treat. As a town that was modeled after a Bavarian village in an effort to attract more visitors, the town of Leavenworth, Washington is truly a gem worth the trip. Located about two hours east of Seattle, Leavenworth transports tourists with its European style and stunning mountains.
Next: A world-class mountain town that's also a gateway to Yellowstone
15. Jackson Hole, Wyoming
We recommend: Visiting during shoulder season, as Yellowstone attracts the biggest crowds during the summer months.
We probably don't need to do much convincing on why you should visit Jackson Hole. Beyond the world-class skiing and majestic Tetons, this town has a lot more to offer than its winter wonderland persona alone.
No matter what season it is, Jackson Hole is authentic Western culture at its finest. One step inside the famous Million Dollar Cowboy Bar, and there's no mistaking this town for anything less than the very best the Wild West has to offer. Offering a playground for outdoor-lovers, Jackson is also a gateway to Yellowstone National Park, and Grand Teton National Park is just five miles from town.
Read more: The Best Beaches in the United States