The Best Wine and Spirits for Fall Drinking
Life is better when there's beer. Or bubbly. Or heck, booze, period. With fall in full swing, maybe you're mourning the loss of mojitos, sangria, and crisp grapefruit ales. But quicker than you can say A-B-V, erm, A-B-C, there's a whole new slew of brewskis, wine, and spirits to enjoy this season. Read on for the best drinks to sip on this autumn, for every kind of drinker.
Wild Turkey 81 Bourbon
There's nothing like bourbon after a hard day's work. Or heck, after a laid-back morning of flipping eggs for a group brunch. This incredible bottle uses Wild Turkey's famous high-rye mash bill for a spicy kick that is aged longer than others in the category; primarily six to eight years in hand-selected American oak barrels from the Ozark Mountains. Perfect for fall drinking, it's got a nose full of fruit, butterscotch, toffee, and toasted oak. It might beckon for a cigar pairing, but we think it's begging for a warm, savory fall chili spiked with beans and hot sauce. As for cocktail inspiration? Look no further.
The 81 Old Fashioned
Created by Franky Marshall
Ingredients:
2 ounces Wild Turkey 81 Bourbon
1 barspoon Demerara syrup
2 dashes Angostura Bitters
1 dash Fee's Orange Bitters
1 dash Regan's Orange Bitters
Directions: Stir and strain over ice into an Old Fashioned glass. Garnish with lemon and orange twists.
Suggested retail: $19.99
Wild Turkey 81 Rye
Rye whiskey, rye whiskey, rye whiskey, we cry, if we don't get rye whiskey, we surely will… clamor for more. Wild Turkey 81 Rye offers a smooth taste and warm smokiness. Try adding it to your favorite classic cocktail for a vibrant punch. Or enjoy it on the rocks for happy hour. Not sure what the "rye-it" move is for your new libation?
Rye Whiskey Old Fashioned
Created by Masahiro Urushido, AVROKO Hospitality
Ingredients:
2 ounces Wild Turkey 81 Rye
¼ ounce Pineapple-IPA Syrup (see below)
3 dashes of orange bitters
Pineapple IPA syrup
12 ounces Lagunitas Little Sumpin' Sumpin' Ale
12 ounces white sugar
5 ounces finely chopped pineapple
Peel of ½ lemon
Peel of ¼ pink grapefruit
Directions: Combine ingredients. Stir and strain over ice in a double rocks glass. Garnish with a grapefruit twist and a pineapple leaf.
Suggested retail: $22.99
Russell's Reserve 10 Year Old Bourbon 
The hand-crafted, small batch bourbon from Russell's Reserve, created by Wild Turkey's legendary Master Distiller Jimmy Russell and his son, Master Distiller Eddie Russell, is not to be missed this autumn. Russell's Reserve Bourbon is a beautiful, deep amber color with a nose rich in flavors such as vanilla, oak, and toffee (and yes, a touch of old leather). Expect the intoxicating warmth to be offset by a huge body. The spicy palate has notes of chili peppers, tamarind, almonds, and cumin. P.S. Russell's Reserve 10 Year Old received 93 Points (Excellent, Highly Recommended) from the Ultimate Spirits Challenge in 2013, and 92 points from Wine Enthusiast Magazine in 2013. File that under "gotta get us some bourbon."
Suggested retail: $36.99
Russell's Reserve Kentucky Straight Rye Whiskey
Wisconsin called. It's glad you're loving this small-batch wonder in your Manhattan, but thinks you ought to give a classic Old Fashioned a whirl with it too. Russell's Reserve Kentucky Straight Rye Whiskey is matured in the deepest No. 4 char barrels, which results in complex flavors of allspice, pepper, and almonds.
Suggested retail: $41.99
American Honey
Perfect to up the game during fall tailgates (or for extending the summer backyard BBQ dream while you can), America Honey will enhance simple, classic libations — sure to transform you from host to mixologist. Bourbon blended with pure honey showcases the rich, textural flavor in a "Honey Mule," complete with ginger beer, lime juice, and a dash of bitters. Or combine the bourbon with soda water and hard cider for a harvest-worthy cocktail.
Suggested retail: $20.99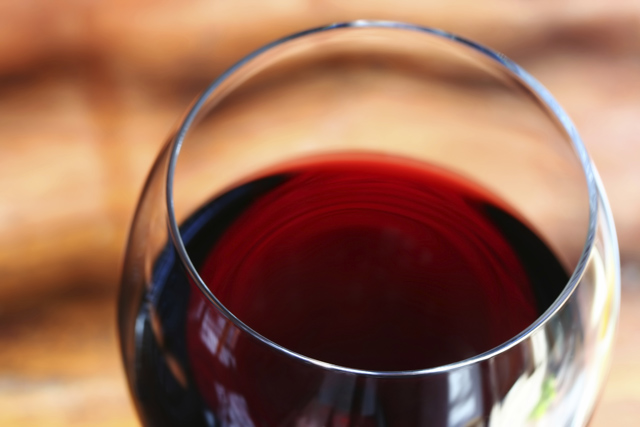 SIMI Alexander Valley Landslide Cabernet Sauvignon
It's one of the most popular red wines for good reason: Cabernet Sauvignon is darn tasty. With notes of red plum, cherry, vanilla, and more, this 2012 varietal will keep your happy buzz going through that Netflix marathon or a Friendsgiving potluck dinner. Perfect for fall, the wine luxuriates in hints of lavender, tarragon, and white pepper. Enjoy it with roasted chicken or spaghetti bolognese. Let it soak in creamy red wine risotto with wild mushrooms and sage. Who are we kidding, leftovers?
Suggested retail: $38
The Dreaming Tree Pinot Noir 
It might not quite take you back to last summer's adventures on the lawn of Alpine Valley or Saratoga Springs with Dave Matthews, but fans and non-fans alike will enjoy this captivating Pinot Noir as a new regular in their vino rotation — brought to the masses by Dave Matthews himself. Flavors and aromas of ripe cherry, wild strawberry, and caramel along with subtle tannins? Sign us up. This Pinot Noir was sustainably created; the bottle's cork closure is both natural and recyclable, the label is made with 100% recycled kraft brown paper, and the bottles are a quarter pound lighter than the average wine bottle. Eat, drink, and be merry, we will, Mr. Matthews.
Suggested retail: $15
The Dreaming Tree Chardonnay 
For the Chardonnay fans among us, we dare you to find a better bottle for your buck. With a golden straw hue, expect the flavors of crisp pears and white peach in this fantastic, medium-bodied white wine. Winner of Sunset Magazine's 2015 International Wine Competition, you might make this your signature host thank-you gift, before you realize you just want to keep these bottles to toast to cool fall evenings. (No porch and rocking chair required, but it allows us to recommend the album, Crash.)
Suggested retail: $15
SKYY Barcraft
Better than the mile-high club, SKYY Barcraft puts you in the pilot seat of no-effort entertaining with dazzling, two-ingredient cocktails. White sangria? Watermelon fresca? Margarita lime? Don't mind if we do. Brilliant when you're entertaining or feeling lazy on a casual weeknight, you can throw together a full-flavored cocktail experience using only two ingredients — SKYY Barcraft and club soda. Feeling really ambitious? We hear a lime garnish works wonders for overachievers.
Suggested retail: $13.99
Chandon Limited Edition Sparkling Wine
It's always a good time for sparkling wine. This limited-edition holiday bottle is draped in a chic winter white with shimmering gold script. A gift that every girl will love (your lady will be impressed you even knew about it), this luscious, complex sparkler brings joy to all gals and their glasses too! Pop the cork and enjoy the golden Blanc de Noirs cuvée to get your night started on a good note. The Chandon Holiday Limited Edition will be available nationwide and on chandon.com from October 15, 2015 to January 31, 2016.
Suggested retail: $24
Nicolas Feuillatte Land of Wonders Champagne
Ring in a chilly fall evening at home with your lady by pouring two glasses — or more — of this fantastic bubbly. With this limited edition "Land of Wonders" sleeve and tin, Nicolas Feuillatte spotlights the remarkable richness and singular uniqueness of the Champagne terroir (that's wine speak for earth and soil conditions). Try it with some fresh-squeezed orange juice for a festive mimosa, or for a seasonal treat, swap OJ for apple cider and garnish with apple slices.
Suggested retail: $36
Strongbow Hard Apple Cider
Nothing quite says fall like a sip of crisp, cool, hard cider. And this variety pack has something for everyone. Whether you pick gold apple, honey, red berries, or ginger as your sipper of choice, try one of these refreshing ciders as a welcome reprieve from Sunday beer, erm, we mean football marathons.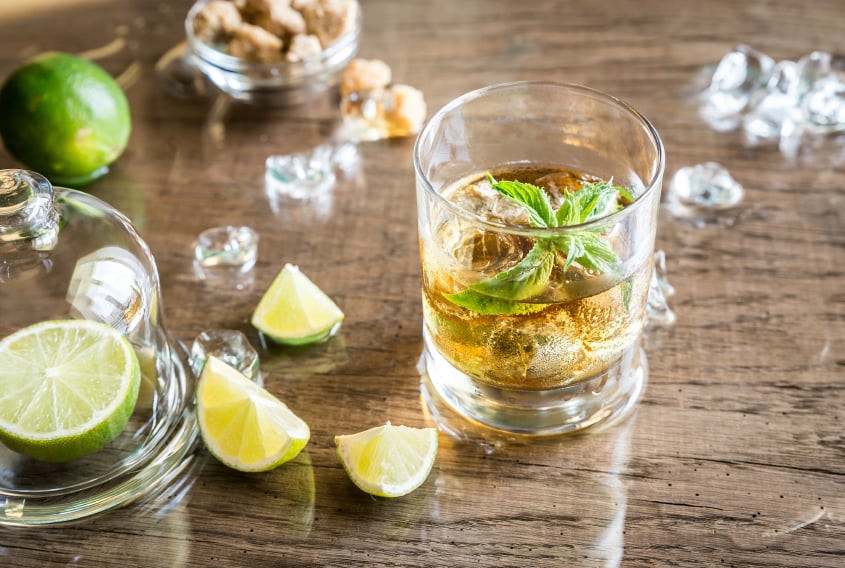 Appleton Estate Reserve Jamaica Rum
Rum aficionados, rejoice! At the heart of this stunning rum lies two very old, rare marques of rum set to age in American oak barrels for up to nine years. This limited batch of Reserve stock rum is monitored carefully through to maturity. Once the Reserve stock is at its prime, it is blended with 18 (yes, you read that right) other aged rums, creating the perfect balance of flavors to tantalize your taste buds. The result? A smooth, complex blend with notes of delicate nutmeg, ginger, and vanilla — all wrapped  in the warm embrace of orange peel notes, and unlike any rum you've ever tried.
Suggested retail: $25.99
Appleton Estate 12 Year Old Rum
Skip the tacky frozen drinks and enjoy this incredible sipper. Every drop of Appleton Estate 12 Year Old is aged a minimum of 12 years, adhering to the Scottish-English "minimum aging" law, which means that all the rums contained in the blend must reflect, at a minimum, the specific age noted on the bottle. A bold and confident drink, enjoy it straight up, on the rocks, in a cocktail infused with coffee, or garnished with orange to riff on its complex flavors.
Suggested retail: $36.99
Flor de Cana Single Estate Rum
There's good reason this stuff has been called the most-awarded rum in the world. With a historic legacy, Flor de Caña Rum celebrates 125 years of rum production in 2015, with their Nicaraguan, high-quality, naturally-aged rums. Distilled and crafted from estate-grown sugar cane, you can choose from a diverse selection of aged rums, but we love Centenario 12 for its gorgeous reddish-amber color, semi-sweet flavor, and hits of almond butter and molasses — spiked with a pepper finish. Sip on it neat with an orange garnish or as a refreshing twist on a standard white rum mojito.
Suggested retail: $15.99 to $144.99
Appleton Estate Signature Blend Rum
Beeline to your bar if you've got a bottle of this at the ready. This award-winning blend of 15 hand-selected, premium aged rums was the first member of the Appleton Estate family of aged rums. With a sophisticated flavor profile, your palate will be delighted by its hints of orange peel, dried apricot, molasses, and fresh peach. Looking to switch it up from the standard rum and coke? Allow us to make a suggestion:
Tia Mia
Created by Ivy Mix (Leyanda, Brooklyn, NY)
Ingredients:
1 ounce Appleton Estate Signature Blend
1 ounce Del Maguey Vida
¾ ounce lime juice
½ ounce toasted almond orgeat
½ ounce Pierre Ferrand Curacao
Directions: Shake, strain, top with pebble ice, garnish with mint leaves, and serve.
Suggested retail: $20.99
T1 Excepcional Reposado Tequila
The bottle is so pretty that you almost won't want to sip on this sophisticated tequila. Almost. But thankfully, it's that good. T1 (basically a hand-crafted version of Patron) is crafted from 100% blue agave. This is far from just-another-margarita-mixer; it's a true crowdpleaser that will turn even the most tequila-adverse into new fans. Available in three varities, we love that the T1 Excepcional Reposado Tequila is aged for six to nine months in Scotch casks. A potent mix of aromatic notes consisting of spiced citrus and apple muddled with agave, try it on the rocks or slipped into your favorite cocktail  recipe.
Suggested retail: $75
Milagro Tequila
Uno, dos, tequila. These sleek and masculine bottles deserve a prime spot in your liquor cabinet. Milagro Tequila, an award-winning tequila from William Grant & Sons, captures the heart of the spirit's Mexican origin — the blue agave — with a burst of flavor and freshness balanced by smoothness you only find in a premium spirit. The Milagro Tequila collection consists of six stellar renditions, with Silver, Reposado, and Añedo expressions of the Core and Select Barrel Reserve ranges respectively. All Milagro tequilas are distilled in both pot and column stills for a harmony of smoothness and agave flavor (yes, it's from 100% blue agave).
Suggested retail: $24.99-98.99
More from Culture Cheat Sheet:
Want more great content like this? Sign up here to receive the best of Cheat Sheet delivered daily. No spam; just tailored content straight to your inbox.