The Easiest Fridge Organization Hacks
If you can't find anything to eat in your over-packed refrigerator, you're not alone.
Sadly, about ⅓ of the food produced in the world goes to waste, with fruits and vegetables being the most likely culprits. But, by keeping your refrigerator organized, you can fight back against this trend. A well-organized fridge makes it easier to know what you have on hand, so you only buy what you need.
Stop playing fridge Tetris for good, and start making your fridge work for you. First, take everything out and do a complete inventory of what you have. Toss anything that's expired, moldy, or otherwise questionable, and combine half-eaten condiments whenever you can to maximize space. Thoroughly clean all the shelves and drawers with soap and water. Next, it's time to get organized!
Another perk of having an organized fridge? One that's not too full functions better since it allows for air circulation. So stop wasting time hunting for the pickles (again) and keep everything neat and tidy by trying some of these simple organization hacks.
1. Store leftovers in mason jars
Rather than keeping your leftovers in oversized plastic containers, try mason jars instead. Compact and stackable, these glass jars are also cost-effective and reusable, they and don't contain BPA or other potentially harmful chemicals like plasticware does. They're also safe to microwave (just remove the lid first) or throw in the dishwasher. Stack them up and save some room!
2. Keep an inventory of leftovers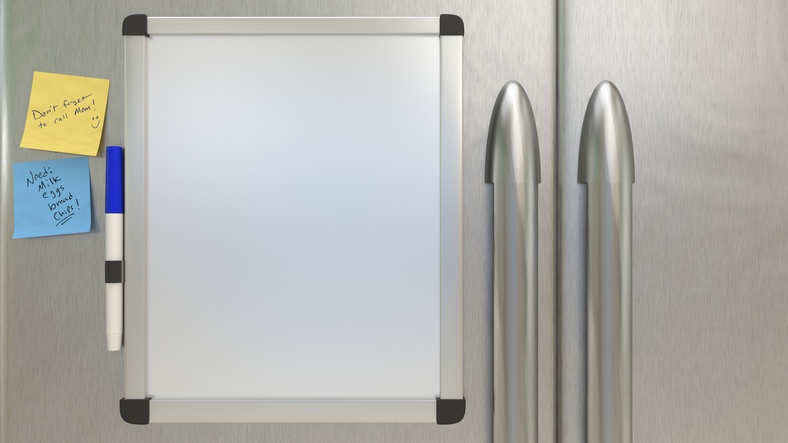 Hang a basic dry erase board somewhere near the fridge and keep a running list of leftovers (with dates) so you can easily see what you have on hand without digging. You can also make a column for anything that's expiring soon and needs to get eaten first, like produce. Visual cues like these can help you prioritize what to eat first, which helps to cut down on wasted food.
3. Use your crisper drawers properly
Vegetables and fruits fall into two categories: those that are prone to rot, and those that are not. The low humidity crisper drawer is better suited to vegetables that are prone to rot faster. The high humidity drawer — the one that's completely closed up — is better suited to protecting greens and veggies that tend to wilt like lettuce. Stop mixing up these two drawers to minimize spoilage.
4. Keep condiments in an egg carton
Keeping almost-empty condiments stored upside down is a pain — but throwing them away with usable product still inside is worse. To solve this dilemma, cut the lid off of an old egg carton and keep your inverted condiments upright by storing them in the little pockets.
5. Add a lazy Susan
Forgetting what you have is a huge contributor to food waste. To make sure you can always access your stuff, try putting a simple spinning lazy Susan on your fridge shelf so you can always access all of your refrigerated items.
6. Create a snack zone
Have kids at home? Keep their snacks accessible by storing them all together in a drawer or a low shelf that they can reach. Just be sure they know to close the door behind them.
7. Use dollar store baskets to create groups
Load up on plastic baskets at the dollar store so you can inexpensively group like items together and keep everything from getting scattered all over. Some ideas for basket groups include a deli basket with all the sandwich fixings, a sauce basket, or a salad dressing basket.
8. Add a shelf
Not enough shelves? Don't bother contacting the manufacturer to get more. Instead, purchase a basic wire shelf (be sure to measure first) to create a second tier. The more shelves you have, the less you'll have to stack items and risk losing them in the mess.
9. Line your shelves with contact paper
Cleaning up spills is a breeze when you line shelves with peel and stick paper. When it gets too yucky, simply remove and discard.
10. Stock up on binder clips
Binder clips have multiple uses in the fridge. Use them to suspend resealable bags directly underneath wire shelves or to create a "fence" and hold up stacked bottles, like beer.
11. Label everything
The best way to know what you have is to make it completely clear. Whether you're adding dates to leftovers or carefully categorizing storage baskets, the more labeling you have in the fridge, the better. That way, you can never use the excuse of not knowing what you have.
12. Only refrigerate what you must
Save major space by only storing what you absolutely must in the fridge. Potatoes, honey, peanut butter, bananas, onions, apples, baked goods, and many other commonly refrigerated items actually fare better at room temperature. So free up precious real estate by only storing the stuff that needs to be cold.
13. Store condiments in squeeze bottles
Rather than trying to neatly store differently sized and shaped condiment bottles, stock up on a few identical plastic squeeze bottles at the store and transfer condiments like ketchup, mustard, and salad dressing when you buy it. Just be sure to label them clearly!
14. Make an 'eat me first' basket
Designate a specific spot for any items that are going to expire soon so you can eat them first instead of throwing them away. Train your family to check that basket first before eating anything else, and plan meals around what's in there.
15. Try some magnets
Use every part of your fridge wisely by installing magnets. You can purchase products specifically made for this purpose. For example, try magnetic bottle holders that stick to the refrigerator ceiling and keep beer from taking up shelf space. Or simply get some inexpensive magnets and attach them to just about anything to suspend them from the sides of the fridge.