The Easiest Pie Recipes You'll Ever Make
It's a good season for pie lovers. The seasonal dessert is about to take center stage at parties and holiday celebrations. But for home bakers, pies can be intimidating. You can either perfect the pie crust, or ruin it, and the fear of the latter keeps many party hosts going the store-bought route. Luckily, there are easy pie recipes that call for both homemade and pre-prepared crusts. We're highlighting the ones that anyone can master. There are a number of simply seasonal pie recipes you can put on your dessert table alongside the other traditional sweets, and they may outshine the classics. When chocolate, pecans, caramel, apples, and hazelnuts are involved, cake and cookies are not options. Here are the pie recipes for those who want to serve their seasonal pies homemade.
1. Chocolate Pecan Pie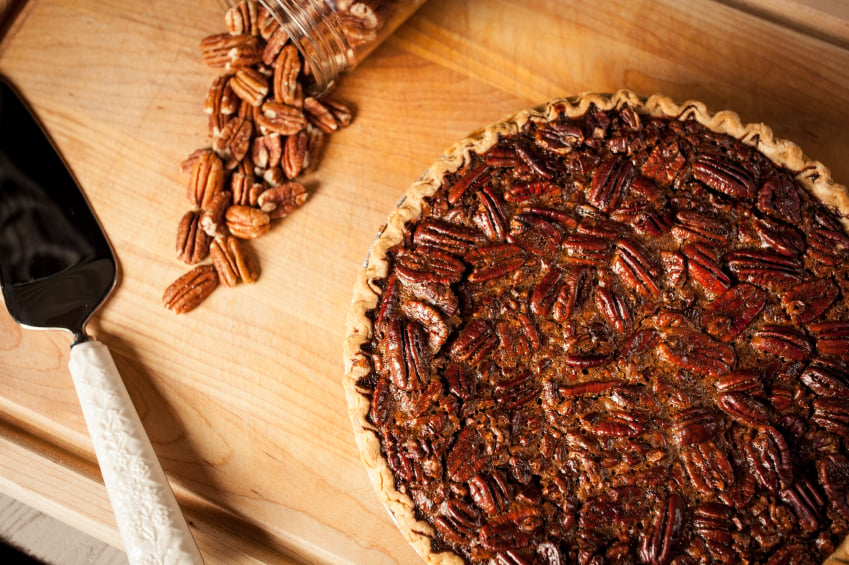 Pecan pie is up there next to pumpkin pie when it comes to classic fall desserts, but this recipe from Food Network stars chocolate, making it that much more decadent. The chocolate pecan pie is as easy as they come, and only requires a handful of ingredients and 35 minutes from start to finish. Pumpkin pie is great, but it can't promise the chocolatey crunch that this pecan pie does.
Ingredients:
1 (9-inch) unbaked pie shell
2 cups pecan halves
3 large eggs, beaten
3 tablespoons butter, melted
½ cup dark corn syrup
1 cup sugar
2 tablespoons good-quality bourbon
3 ounces semisweet chocolate, chopped
Directions: Preheat the oven to 375 degrees Fahrenheit. Cover bottom of pie crust with pecans.
Whisk together the eggs and melted butter in a medium bowl. Add the corn syrup, sugar, bourbon, and the chopped chocolate. Stir until all ingredients are combined. Pour mixture into the pie shell over the pecans and place on a heavy-duty cookie sheet.
Bake for 10 minutes. Lower the oven temperature to 350 degrees and continue to bake for an additional 25 minutes or until pie is set. Remove from oven and cool on a wire rack.
2. Maple Hazelnut Pie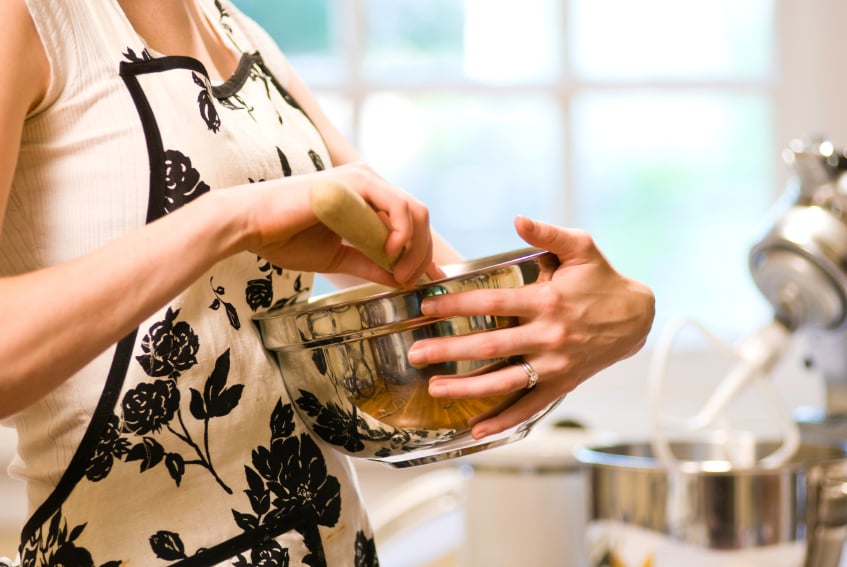 Here's another nutty pie from Bon Appetit. This time, hazelnuts are the star of the show, and they pair with pure maple syrup for a natural sweetener in addition to brown sugar, corn syrup, bourbon, butter, vanilla extract, and eggs. The maple-hazelnut pie is perfect for those who have the sweetest of teeth, and it can be served on its own or with whipped cream. We're going the refrigerated pie crust route, keeping the prep time for this recipe capped at 30 minutes.
Ingredients:
¾

cup

pure maple syrup 

½

cup

(packed) golden brown sugar

½

cup

light corn syrup

¼

teaspoon

salt

2

tablespoons

bourbon

¼

cup

 unsalted butter, cut into ½-inch cubes

Nonstick vegetable oil spray

1

refrigerated pie crust (half of 15-ounce package)

1

large egg white, lightly beaten to loosen

1

cup

hazelnuts, husked, coarsely chopped (about 5 ounces)

3

large eggs

1

teaspoon

vanilla extract
Directions: Preheat oven to 350 degrees Fahrenheit. Bring maple syrup, brown sugar, corn syrup, and salt to boil in medium saucepan over medium heat, stirring until sugar dissolves. Continue boiling 1 minute, reducing heat as needed to prevent mixture from boiling over. Remove pan from heat. Add bourbon, then butter; whisk until butter melts. Let cool to lukewarm, whisking occasionally, about 20 minutes.
Spray 9-inch-diameter glass pie dish with nonstick spray. Unroll pie crust. Line dish with crust. Crimp edges decoratively. Brush crust with enough egg white to coat. Scatter hazelnuts over.
Whisk eggs and vanilla extract in medium bowl until blended. Whisk cooled maple-sugar mixture into egg mixture. Pour mixture over hazelnuts in crust.
Bake pie until filling is set and slightly puffed, about 50 minutes. Cool completely on rack.
3. Chocolate Ginger Chess Pie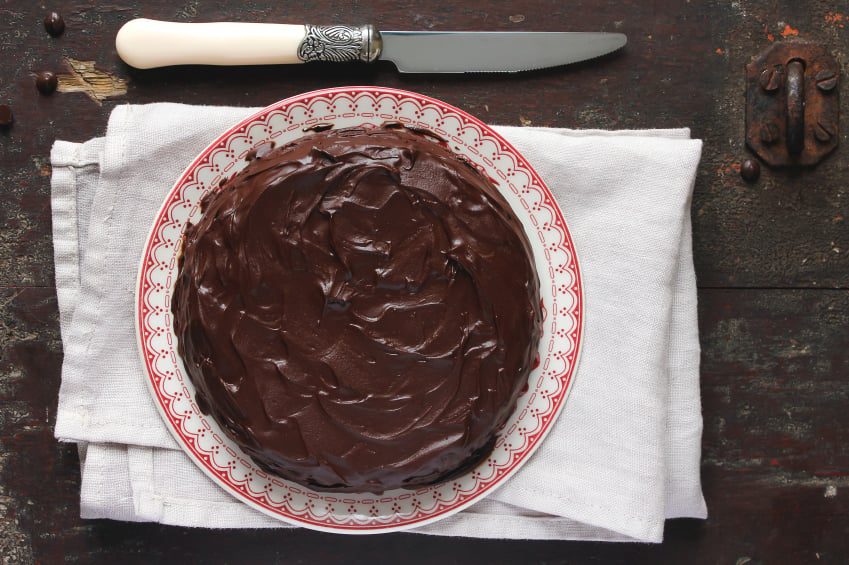 Make Saveur's chocolate ginger chess pie for those guests you're trying to impress, and they're guaranteed to love the decadent spin on the classic Southern pie. The mix of chocolates and ginger yields a dessert that is sweet but sophisticated, and is as easy on the eyes as it is on your taste buds. Ginger and chocolate make for a tasty (and spicy!) combination, and the pie's decadent filling will outfit your butter dough crust before it's topped with whipped cream.
Ingredients:
Flour, for dusting
Pre-packaged pie dough
2 cups heavy cream
1 (3″-piece) ginger, peeled and thinly sliced
4 tablespoons unsalted butter
2 ounces bittersweet chocolate, minced
1 ounce unsweetened chocolate, minced
½ cup sugar
3 eggs
2 tablespoons yellow cornmeal
1 teaspoon ground ginger
1⁄8 teaspoon Kosher salt
3 tablespoons confectioners' sugar
2 tablespoons finely chopped candied ginger
Directions: Preheat oven to 375 degrees Fahrenheit. On a lightly floured surface, roll dough into a 12-inch round. Fit into a 9-inch pie plate. Trim edges and crimp; chill 30 minutes. Using a fork, prick the dough all over.
Line dough with parchment paper and fill with pie weights or dried beans; bake until golden, about 20 minutes. Remove paper and weights; let cool. Reduce oven to 325 degrees. Bring 1⁄2 cup cream and ginger to a simmer in a 1-quart saucepan over medium heat; set aside and cool to room temperature. Strain cream, discarding ginger, and set aside.
Place butter and chocolates in a bowl and set over a saucepan of simmering water. Heat, stirring until melted, 1-2 minutes. Remove from heat and set aside to cool slightly. Whisk sugar and eggs in a bowl until light and fluffy. Whisk in cornmeal, ground ginger, and salt until smooth. Pour in melted chocolate in a thin stream, whisking constantly. Whisk in reserved cream. Pour filling over dough; using a rubber spatula, spread into an even layer. Bake until just set in the center, 30-35 minutes. Transfer pie to a rack; let cool completely.
Whip remaining cream with confectioners' sugar until stiff peaks form. Spread whipped cream over surface of pie, leaving a 1-inch border; garnish with candied ginger.
4. Autumn Harvest Pie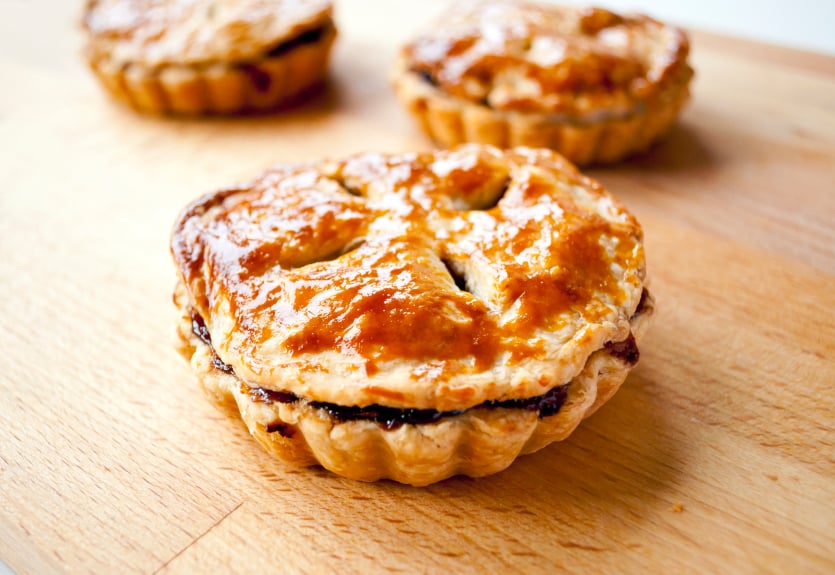 Back to the fall fruit game, we come to this autumn harvest pie from Martha Stewart. Why only enlist apples into your pie when you can also throw pears and cranberries into the mix? All three fruits are mixed with flour, sugar, nutmeg, and lemon juice to make up the filling, and the pie will then bake for 20 minutes at 400 degrees and then for 90 minutes at 350 degrees.
Ingredients:
7 baking apples,  peeled, cored, and sliced ½ inch thick
7 Bosc pears, peeled, cored, and sliced ½ inch thick
4 tablespoons all-purpose flour
1 1/3 cups sugar, plus more for sprinkling
½ teaspoon freshly ground nutmeg
Juice and zest of 1 lemon
3 cups (12 ounces) fresh cranberries
1 single-crust Pie dough
4 tablespoons unsalted butter, cut into small pieces
2 tablespoons heavy cream
Sugar, for sprinkling
Directions: Preheat oven to 400 degrees Fahrenheit. Line a baking sheet with a Silpat baking mat or parchment paper; set aside. In a large mixing bowl, combine apples and pears. Add flour, sugar, nutmeg, lemon juice, and zest, and mix. Add cranberries, and toss gently. Set aside.
On a lightly floured surface, roll out dough to a rough 18-inch circle about 1/8 inch thick. Line a 12-inch pie dish with the dough.
Transfer apple and pear mixture into pastry-lined pan. Dot the top with butter. Fold and overlap the pastry over the fruit. Brush pastry with cream. Sprinkle sugar lightly and evenly over the top of pie. Transfer to prepared baking sheet.
Bake for 20 minutes. Lower the oven temperature to 350 degrees; continue to bake until juices are bubbling, about 1 ½ hours more.
5. Mocha Silk Pie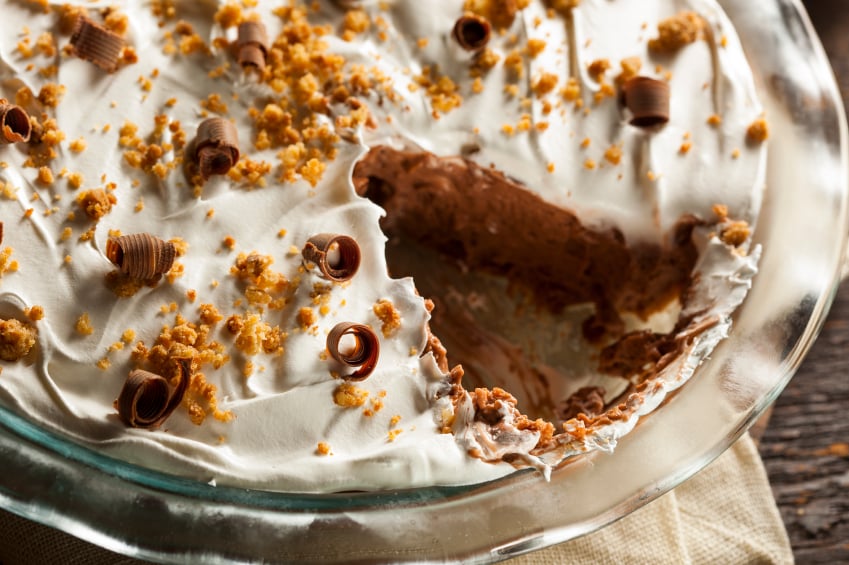 Last is a dessert that will give you a nice caffeinated zip. Everyone knows that chocolate and coffee are a tasty match when it comes to dessert, and this mocha silk pie from The Pioneer Woman stars that combination while also enlisting Kahlua. It has all the makings for a perfect pie, including a homemade pecan crust and a velvety smooth cream chocolate filling. The mocha silk pie is as decadent as they come, and it's the perfect fall dessert to enjoy when you need a break from the endless pumpkin treats. You can even make your own crust by easily combining chopped pecans, brown sugar, chocolate, and Kahlua in a pie pan.
Ingredients:
Crust
1 cup pecans, finely chopped
½ cup packed brown sugar
2 ounces, weight semi sweet chocolate grated
2 tablespoons Kahlua
Dash of salt
Filling
2 sticks butter (salted)
1½ cup sugar
2 teaspoons instant coffee granules
1 teaspoon Kahlua
3 ounces, weight semi-sweet (or bittersweet) chocolate
1 teaspoon vanilla extract
4 whole large eggs
Directions: To make the crust, combine chopped pecans, brown sugar, grated chocolate, and salt. Stir with a fork to combine, then pour in Kahlua, stirring until combined. Press mixture into a pie pan. Melt 3 ounces of unsweetened baking chocolate until stirrable in a microwave-safe bowl. This will take 45 seconds on high power. Set aside to cool.
In a large bowl of an electric mixer fitted with the whisk attachment, beat butter, sugar, 2 teaspoons instant coffee, and 1 teaspoon Kahlua for about 1½ minutes. Once melted chocolate is cooled, slowly pour it into the butter/sugar mixture that will be beating on medium speed. Add 1 teaspoon of vanilla extract. Continue mixing until combined.
On medium speed, add the four eggs one at a time over a period of 20 minutes. After each egg, wait about 5 minutes before adding another. Scrape sides of bowl throughout this process. Pour filling into the pie crust. Smooth the pie filling and place pie in the refrigerator to chill for at least two hours. Serve with whipped cream and grated chocolate.