The Meat-Free Sandwich That May Just Be Better Than a Burger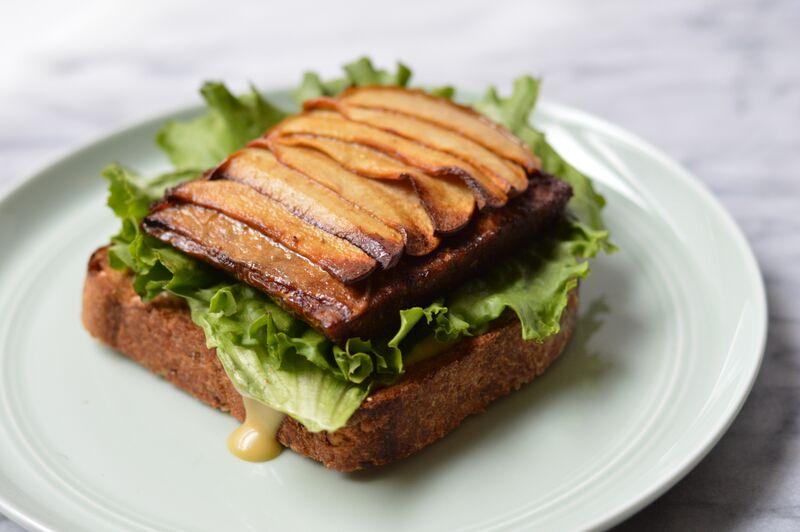 There's no denying it: Food cravings are a powerful thing. And when a burger hankering strikes, it can sometimes be difficult to emerge a victor, unless you relinquish yourself to its beefy, fatty form, wedged sloppily between bun halves. Think again.
If you're trying to be virtuous or tend to be a plant-based eater anyway, you might consider whipping up or grabbing a pre-made veggie burger. Funny thing is, that just doesn't seem to quite satisfy the craving. Instead, reach for meaty tempeh (seitan works great too) which hits that chewy, textural note you crave. In this braised apple-tempeh open-faced sandwich from Natural Gourmet Institute, a health-supportive culinary school in New York City, you'll find that healthy and virtuous can go hand in hand. And once you've sunk your teeth into this fantastic sandwich, melding the flavors of crisp apples with savory tempeh into one seamless, delicious bite, you'll wonder why every day can't be a Meatless Monday.
To accompany dinner, try serving the following dish with a side of nutrient-dense sauteed purple cabbage (for some inspiration, check out our guide to cooking with budget-friendly cabbage) or a fall salad with greens, roasted squash, and walnuts for an added crunch. If you're feeling adventurous, the sandwich also pairs wonderfully with a heaping helping of caramelized onions on top (and to use up any leftover onions, try one of these amazing recipes using caramelized onions) or a sprinkling of lightly toasted pumpkin seeds, which provides a nice contrast with the tempeh. Now, remind us again why you didn't befriend tempeh sooner? Prepare to have your taste buds erupt in happiness, folks. Don't say we didn't warn ya.
Braised Apple-Tempeh Open-Faced Sandwiches
This open-faced sandwich utilizes micronutrient- and protein-packed tempeh as the star ingredient. In contrast to tofu, tempeh is made by fermenting whole soybeans, which makes it a great source of fiber since the entire bean is included. The apples soften and mellow as they roast and — along with the creamy honey mustard sauce — complement the tempeh perfectly. The recipe yields 4 servings.
This recipe is from Natural Gourmet Institute's $5 Dinners Cookbook. Click to download your free copy.
Ingredients:
1 8-ounce package tempeh, halved lengthwise, then crosswise to make 4 squares
1 small Fuji apple, cored, halved, and thinly sliced
½ cup apple cider
¼ cup extra-virgin olive oil
2 tablespoons apple cider vinegar
2 tablespoons tamari
1½ teaspoons honey
½ teaspoon ground cumin
¼ teaspoon freshly ground black pepper
4 slices whole wheat bread, toasted
2 tablespoons Dijon mustard
1 teaspoon honey
1 tablespoon organic mayonnaise
4 leaves green leaf lettuce
Directions: Preheat to 350 degrees Fahrenheit. Arrange tempeh on a baking sheet in a single layer, and top with overlapping apple slices. In a medium bowl, whisk together juice, oil, vinegar, tamari, honey, cumin, and pepper, and then pour mixture over tempeh and apples. Bake until most of the liquid is evaporated, tempeh is golden brown, and apples are softened, 40 to 45 minutes. Set aside to cool slightly. In a small bowl, whisk together mustard, honey, and mayonnaise. Spread mustard sauce on bread, cover with lettuce, and top with baked tempeh.
More from Culture Cheat Sheet:
Want more great content like this? Sign up here to receive the best of Cheat Sheet delivered daily. No spam; just tailored content straight to your inbox.