The Most Iconic Royal Family Commemorative China, Including Prince Harry and Meghan Markle's Wedding Pattern
When it comes to weddings, the British royals go all out. Not only do these events pull major crowds and boost the economy, but they are wildly expensive. Prince Harry and Meghan Markle's wedding stands to cost nearly as much as Prince William and Kate Middleton's — around $34 million. But for all of these milestone royal events, commemorative china is created.
No matter the occasion, a pattern is created and the commemorative china becomes available to the public for purchase. Take a look at some of the most iconic royal china, including Prince Harry and Meghan Markle's new pattern. 
1. Queen Elizabeth II and The Duke's 70th-anniversary china
When Queen Elizabeth II and the Duke of Edinburgh were wed in 1947, celebrating their 70th wedding anniversary in 2017 was but a very distant notion. Yet, it happened. The British celebrated the couple's marital achievement with an adorable portrait of the happy couple in their 90s, as well as a lovely 70th-anniversary china set.
Next: Here's what they made for the longest-running monarch
2. The Queen's longest-running monarch china
Before Queen Elizabeth II celebrated her 70th-anniversary, she began wearing the crown of the longest-living reigning monarch in the entire world on September 5, 2015. She took the throne when she was only 21 years old after her father King George VI passed. The deep-blue hue of the Queen's commemorative china set was made by hand in Stoke-on-Trent.
Next: Prince Charles and Princess Diana's popular china 
3. Queen Victoria and Albert's 1840 wedding china
In 1840, Queen Victoria married her first cousin, Prince Albert at Chapel Royal at St. James Palace. Back then, cousin marriage wasn't so weird. Nevertheless, the couple went on to have nine children during their relatively short time together — 21 years. Fortunately, the couple's commemorative wedding china lives on.
Next: The style back in the early 1900s was a little different. 
4. Prince William and Kate Middleton's wedding plate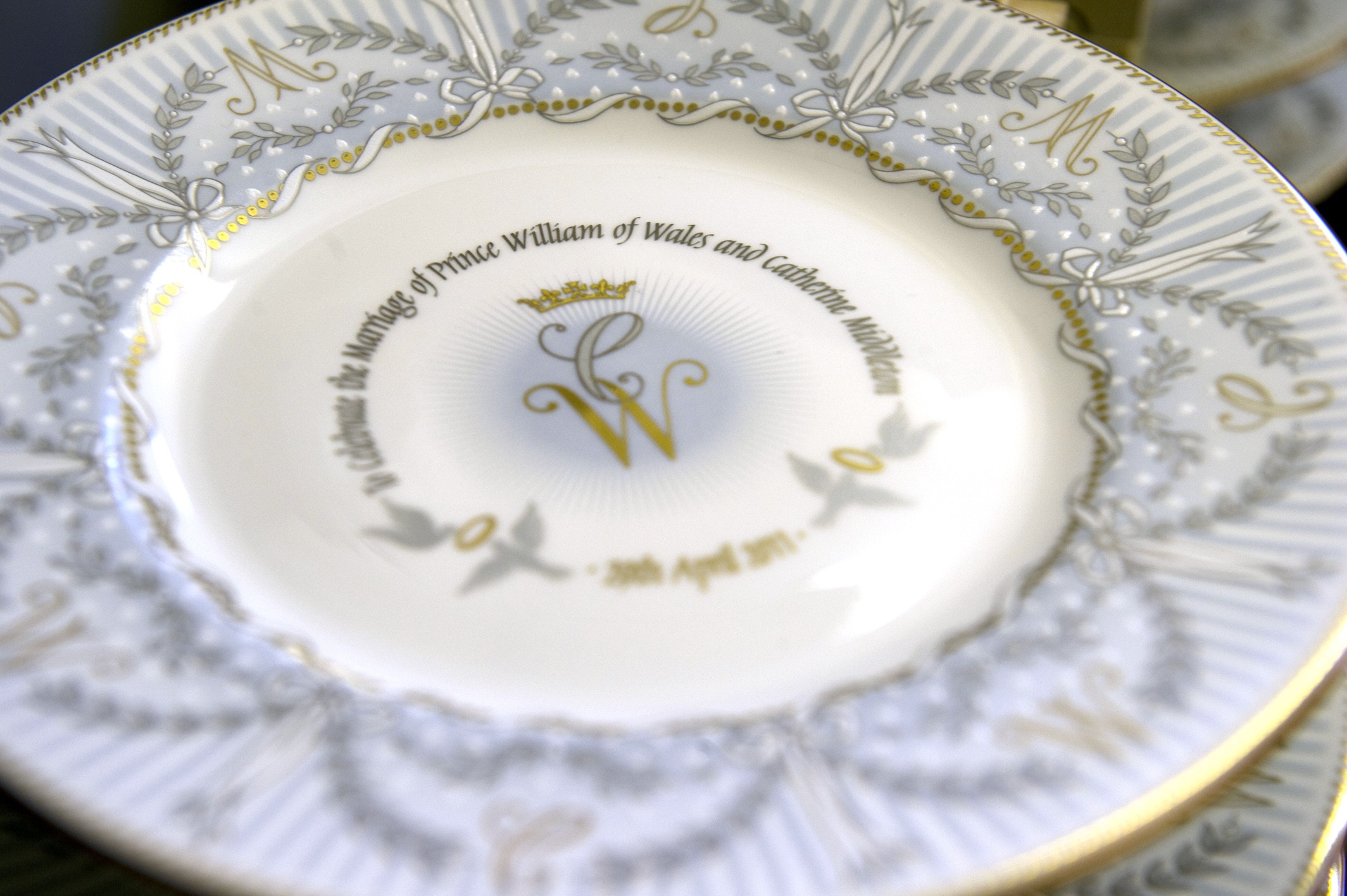 The awe-inspiring royal wedding of the Duke and Duchess of Cambridge was a true sight to see. Prince William and Kate arrived at Westminster Abbey on a horsedrawn carriage, and everyone watching was entranced. Everything about the wedding was gorgeous, including their china pattern. Surrounded a border of gray and white stripes, the couple's first initials are intertwined to perfection.
Next: Your other favorite royal couple designed their own wedding china.
5. Prince Harry and Meghan Markle's wedding china
The wedding between Prince Harry and Meghan Markle is expected to be nothing short of amazing. Each and every detail has been so thoroughly thought through that it will take a full-on disaster to ruin their special day. Don't worry, that won't happen. All 2,640 wedding guests will enjoy Windsor Castle nuptials and hopefully snag the gorgeous commemorative china set.
Next: Let's hope Prince Harry and Markle's wedding is as beautiful as their china. 
6. The entire Queen Victoria china set
Queen Victoria was only 18 years old when she took the throne as the Queen of England in 1837. And until her great-great-granddaughter, Queen Elizabeth II took the title in 2015, Victoria was the longest-reigning monarch regnant. As a commemoration and ode to Queen Victoria, the Royal Collection created a beautiful floral pattern and set of china for the late queen.
Next: The Queen's silver jubilee china was classy.
7. Queen Elizabeth II's 60th coronation set
The responsibility that comes with running a country for 60 years deserves way more than commemorative china, but it certainly is beautiful. The rich red borders surrounding the rim of the teacups and border of the plates are vibrant against the 22-carat gold finish.