The Nastiest Things That Donald Trump Said in 2017
Donald Trump's presidency is well under way, which means that the next election is getting closer by the minute. With every mean-spirited comment and overly-aggressive tweet, the American public — and rest of the world, for that matter — can rest assured knowing that we're on our way to the end of Trump's time in the Oval Office.
Because it's been such a bumpy ride so far, we're calling out some of the nastiest things that the president has said this year alone — and trust us, it took a lot of sorting.
1. He called Hillary Clinton a loser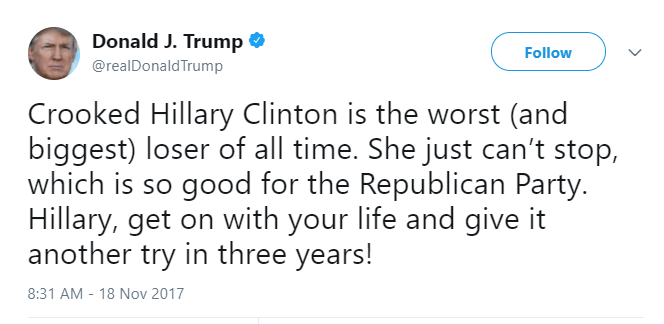 The president's negative opinions of Hillary Clinton have been well-publicized. And this is just one instance when Trump took to Twitter to put down his former opponent. "Crooked Hillary Clinton is the worst (and biggest) loser of all time: She just can't stop, which is so good for the Republican Party. Hillary, get on with your life and give it another try in three years!"
Mature, Mr. President. Really mature.
Next: Trump can't help but fire away at powerful women.
2. He referred to Elizabeth Warren as "Pocahontas"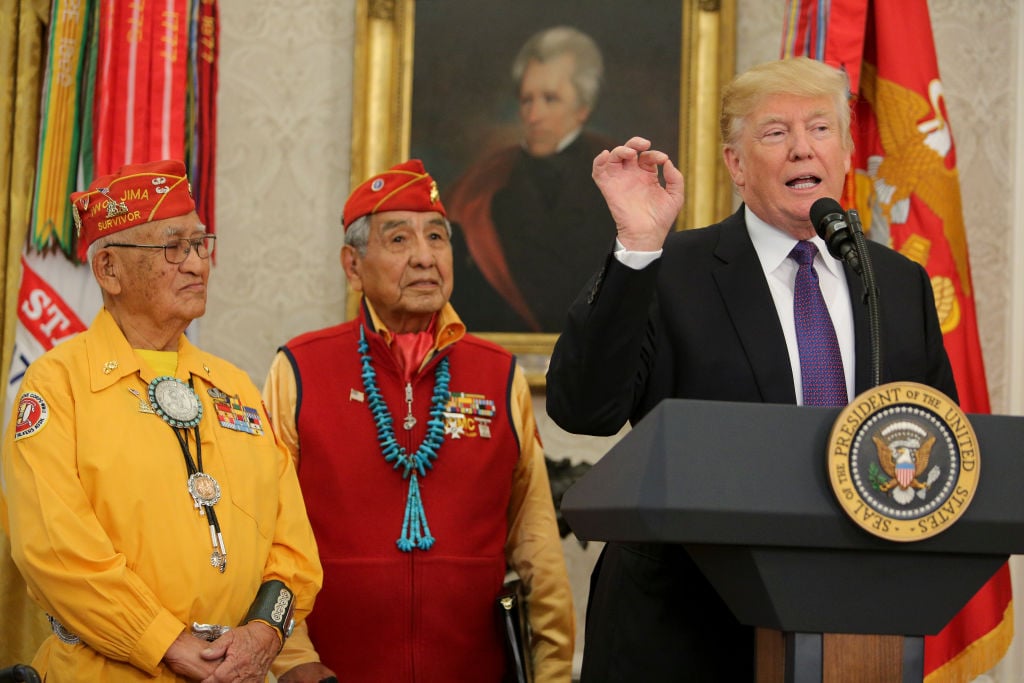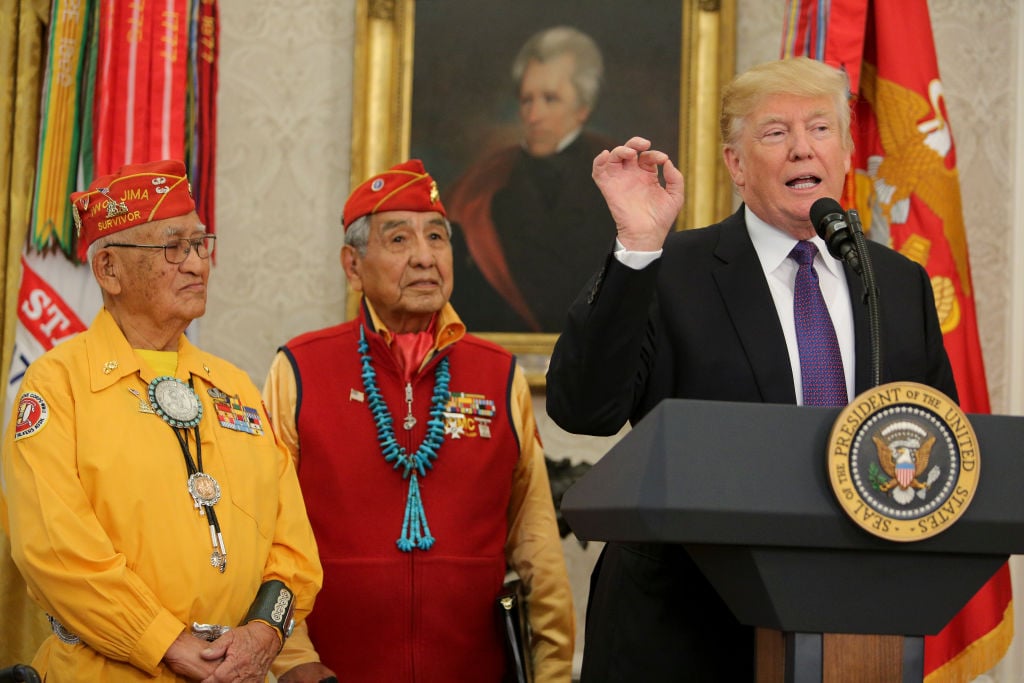 Trump once referred to Massachusetts Senator Elizabeth Warren — who also happens to be one of Trump's many outspoken critics — as "Pocahontas." He originally came up with the not-so-clever, super offensive nickname prior to 2017; during her academic career, Warren had identified herself as having Native American roots.
Although a November 2017 event had nothing to do with Warren in the least, Trump couldn't help but bring back the slur. The president was honoring three Navajo code talkers who served during World War II. According to The New York Times, "Russell Begaye, the president of the Navajo Nation, called the president's mention of Pocahontas 'derogatory' and 'disrespectful to Indian nations.'"
Next: Disaster strikes, but Trump's ego is more important  
3. He criticized the mayor of San Juan after Hurricane Maria

When Hurricane Maria tore through Puerto Rico, 3.4 million American citizens were left without electricity, water, and fuel. Although one might expect the President of the United States to have sympathy and spring into action, Trump had another idea — to fire back.
Calling out Trump for his lack of response, San Juan Mayor Carmen Yulín Cruz had some honest words for the unresponsive president. "We are dying, and you are killing us with the inefficiency," Cruz said as millions struggled to recover. "I am begging, begging anyone that can hear us, to save us from dying."
In true Trump form, he responded, "Such poor leadership ability by the Mayor of San Juan, and others in Puerto Rico, who are not able to get their workers to help. They … want everything to be done for them when it should be a community effort. 10,000 Federal workers now on Island doing a fantastic job."
Next: It's a free country, but not according to Trump.
4. He called NFL national anthem protesters a nasty name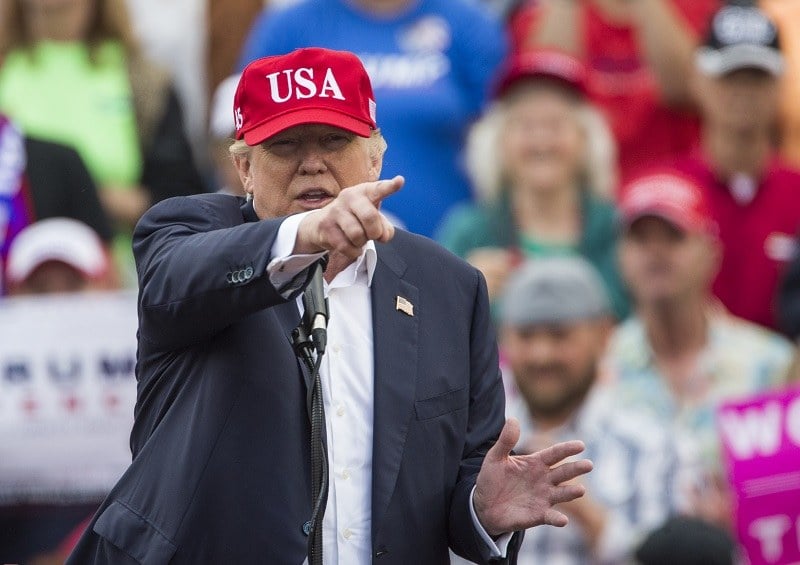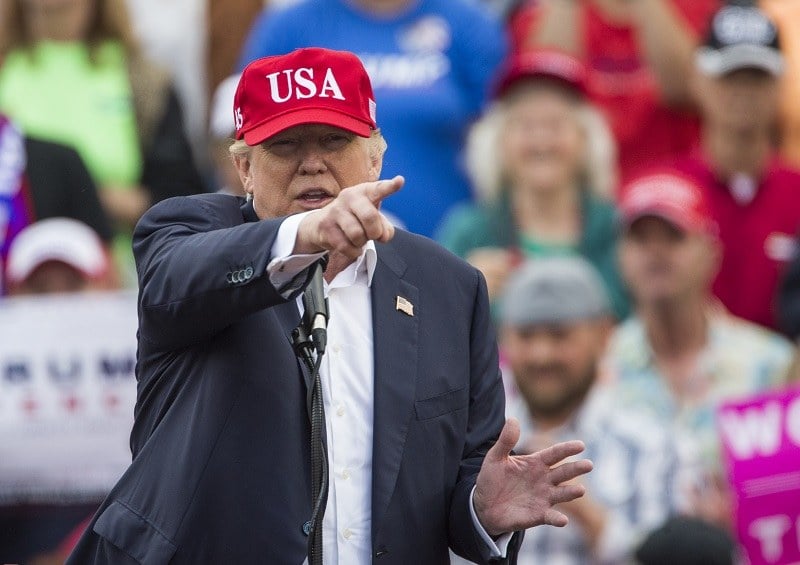 During the 2016 NFL season, San Francisco 49ers quarterback Colin Kaepernick refused to stand during the national anthem that played before professional football games. Why? To protest racial inequality and police brutality in the U.S. Fast forward to September 2017, and the movement caught on. Naturally, Trump wasn't happy about it.
During a political rally in Alabama, Trump said, "Wouldn't you love to see one of these NFL owners, when somebody disrespects our flag, to say, 'Get that son of a b—- off the field right now. Out. He's fired. He's fired!'"
Next: Isn't America supposed to welcome all people looking for a safe haven?
5. He called the DACA program "unconstitutional"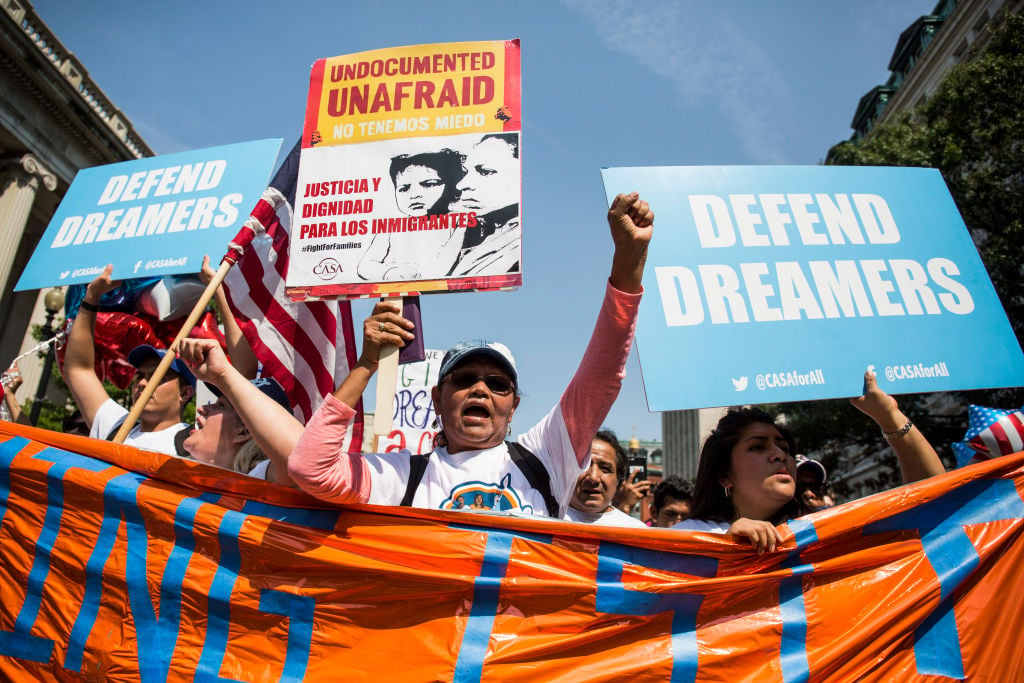 One would think that "dreamers" — the term given to young immigrants who entered the U.S. illegally when they were children — could count on the U.S. government to keep them safe. Unfortunately, that's no longer the case.
Having called it "unconstitutional," Trump is determined to do away with the Deferred Action for Childhood Arrivals (DACA) program, which granted two-year work permits to the dreamers. But just like everything else that Obama did during his presidency, Trump is convinced that it should be overturned.
According to The Washington Post, "About 690,000 immigrants are enrolled in DACA, but their work permits are set to begin expiring in March." Because of this, hundreds of thousands of dreamers are living with the threat of being deported to dangerous countries.
Next: This was pure hatred.  
6. He blamed the Charlottesville tragedy on "both sides"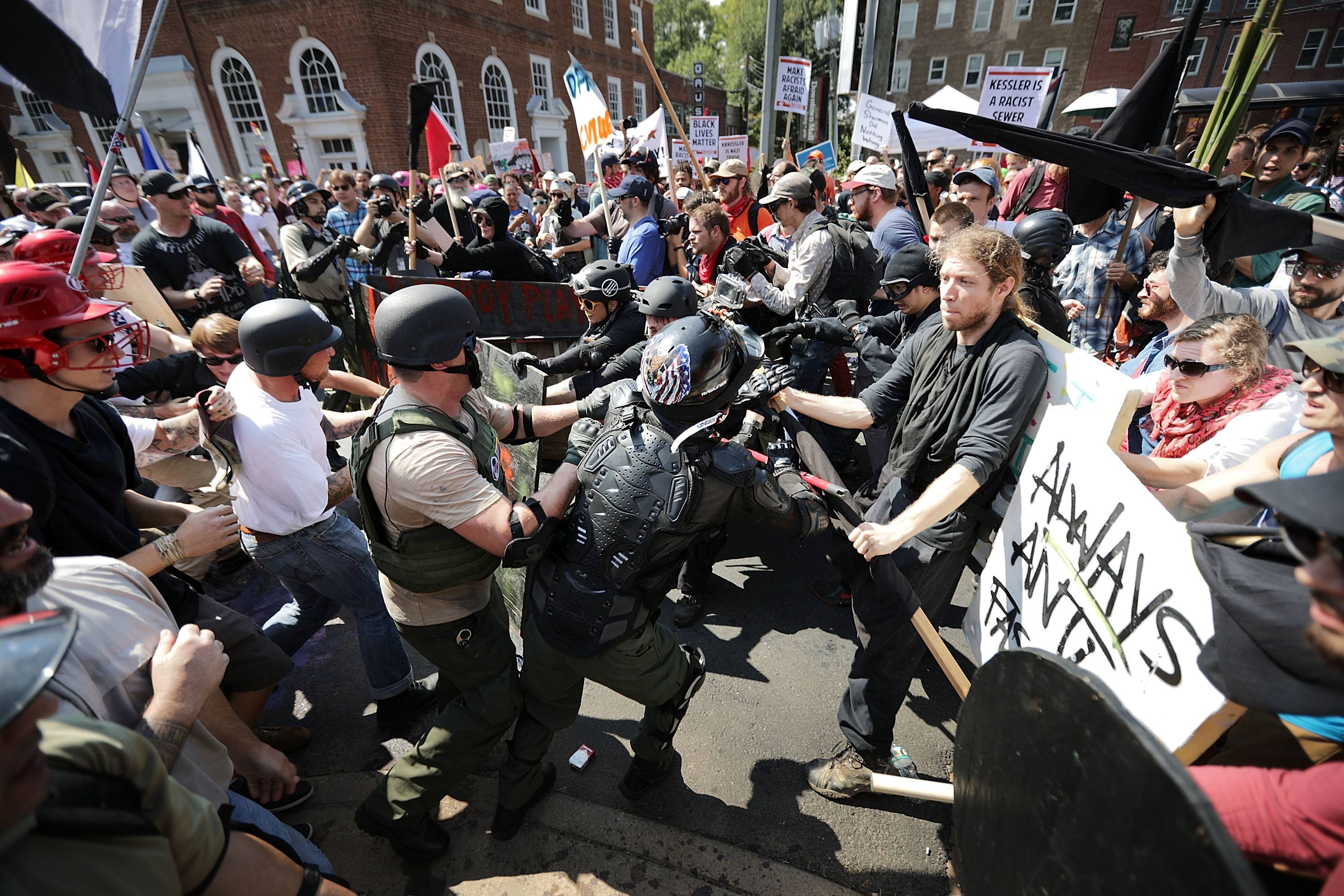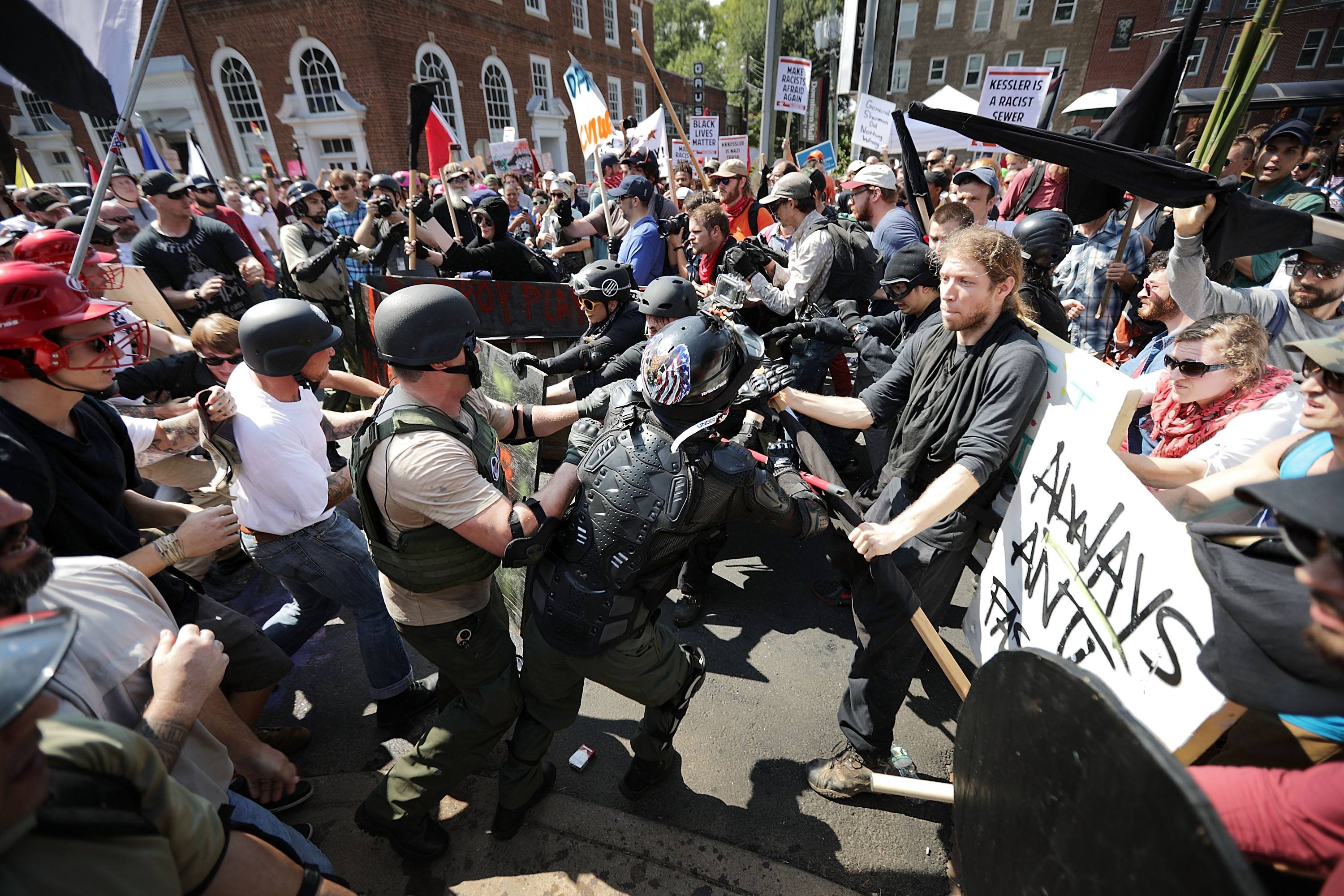 In the presidential response heard round the world, President Trump actually said that there was "blame on both sides." As we all know, he was referring to the unspeakable events that occurred in Charlottesville, Virginia in August, 2017.
Far right groups were protesting the removal of a confederate statue, which attracted counter protestors. A white nationalist killed one of the counter-protestors, and injured 19 others. As CNN reported, Trump was "equating the white supremacists on one side with the "alt-left" on the other side …" Once again, the world saw through to Trump's true, ugly colors.
Next: If Trump really believes he's not a bigot, he's seriously delusional. 
7. He tried to forbid transgender people from serving in the military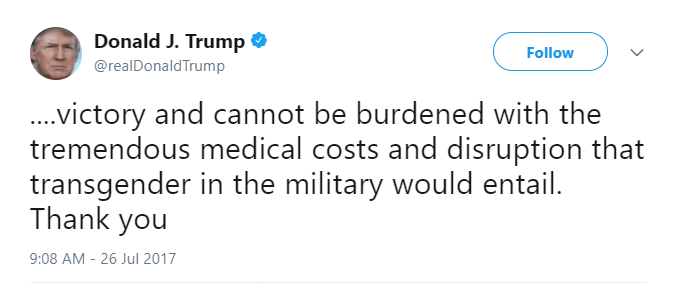 Yet again, Trump took to Twitter to spit even more hate, this time against the LGBT community (despite the fact that during the 2016 campaign, he claimed to be a huge supporter of LGBT rights). In July, 2017, Trump announced that transgender people would be banned from the military due to "tremendous medical costs and disruption."
Not surprisingly, these hateful tweets sparked quite the debate. However, there's one person in a position of power, Judge Kollar-Kotelly, who's refuses to let the ban stick. Furthermore, The Atlantic wrote, "Whatever leeway Congress may have in setting qualifications for service, the Constitution can't possibly allow the president unilaterally—without legislation, consultation, or review—to purge the service of a group he just happens to dislike." Well said.
Next: The guy really has no heart. 
8. He told Gold Star family that "he knew what he signed up for"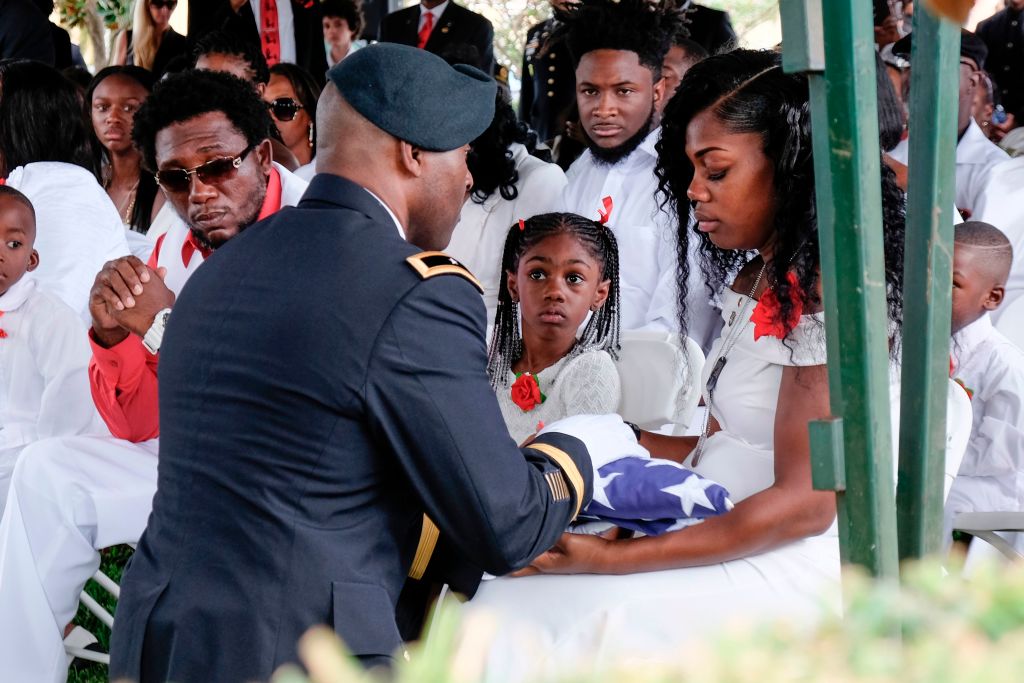 Whenever a loved one dies, the only acceptable response is one of genuine sympathy. But as we know, genuine sympathy isn't exactly Trump's style.
In October, 2017, four U.S. soldiers were killed in a military operation in Niger. One of those soldiers was Army Sgt. La David Johnson. During President Trump's condolence call to Myeshia Johnson, the grieving widow only felt worse.
According to Johnson, Trump said, "that 'he knew what he signed up for, but it hurts anyways.'" Johnson was also bothered by Trump's tone, and the fact that he couldn't seem to remember her husband's name. We are seriously shaking our heads on this one.
Next: No, he didn't. 
9. He claimed to have coined the term "fake news"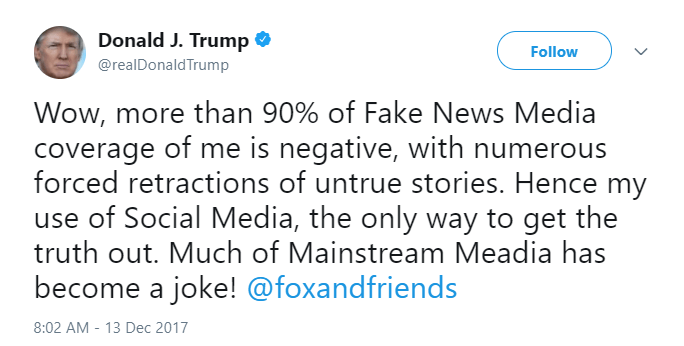 If we've learned nothing else from the Trump presidency, we've learned that the term "fake news" has certainly had its 15 minutes. More importantly, it seems that Trump believes he's responsible for coining the term. In fact, he actually said it during an October episode of Mike Huckabee's talk show. "One of the greatest of all terms I've come up with is 'fake,'" he said.
Much to Trump's dismay, the term has actually been around for over a century. "Judging from the President's tweets, his definition of 'fake news' is credible reporting that he doesn't like," The New Yorker writes. "But he complicated the matter by issuing demonstrably false statements of his own, which, inevitably, make news."
Next: Try not to laugh.
10. He said that the white house is functioning perfectly

Ha! This one makes the list because it's an outright lie — like most of Trump's statements — and lies are nasty. More specifically, the delusional president posted the inaccurate statement in July. "The W.H. is functioning perfectly, focused on HealthCare, Tax Cuts/Reform & many other things. I have very little time for watching T.V." Okay Trump, whatever makes you sleep at night.
Next: He's so sincere — not.  
11. He condescendingly wished his "enemies" a Happy New Year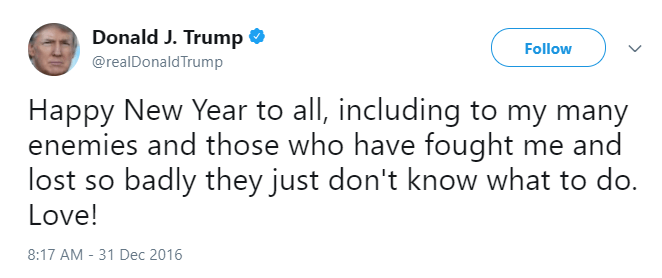 "Happy New Year to all, including to my many enemies and those who have fought me and lost so badly they just don't know what to do. Love!"
'Nuff said.
Next: Classically not-at-all-classy Trump 
12. He called Meryl Streep an "overrated" actress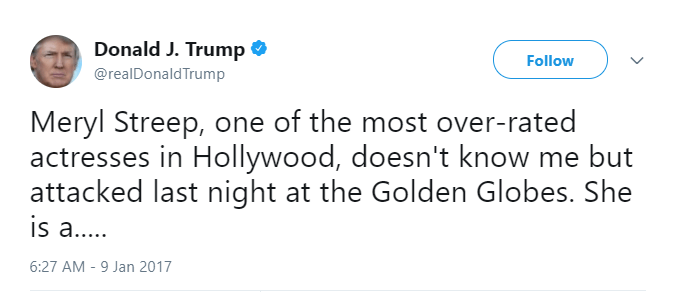 Trump, let anyone attack his ego? Of course not. During Meryl Streep's speech at the 2017 Golden Globes, the celebrated actress called Trump out for his ridiculous antics and hateful behavior. We're sure you can guess what happened next.
In a string of nasty tweets, Trump called Streep "one of the most over-rated actresses in Hollywood," among other things.
Next: The hits just kept on coming in 2017. 
13. He called Mexicans "bad hombres"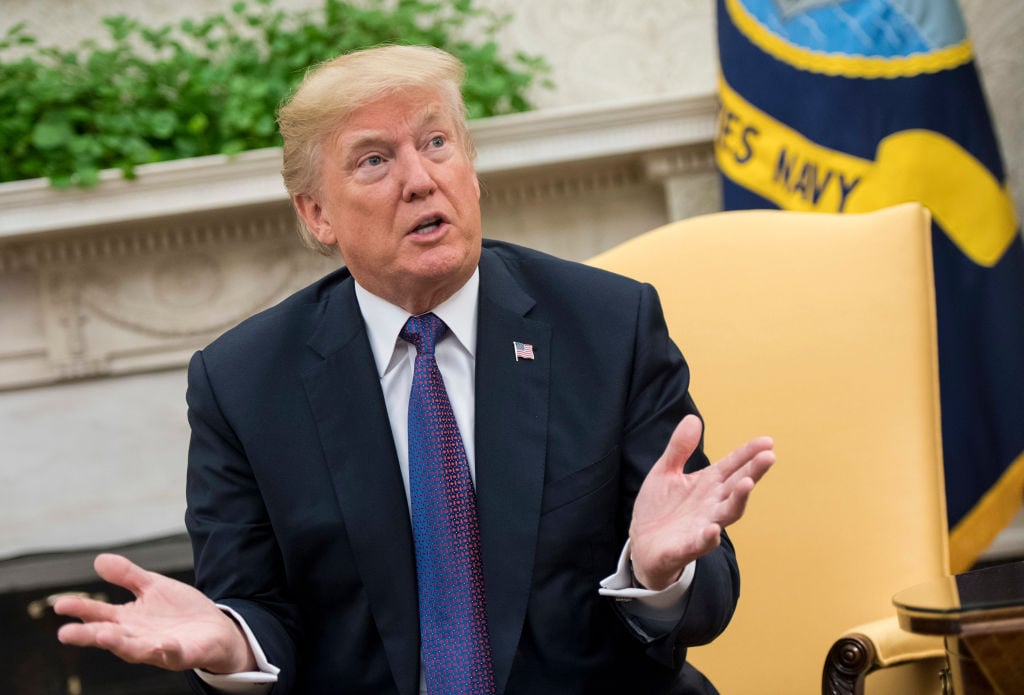 During the 2016 campaign, derogatory and slanderous language was Trump's M.O. And not much has changed since then. In late January 2017, Trump had some choice words during a call with Mexican President Enrique Pena Nieto.
According to a transcript of the conversation, Trump threatened to "send U.S. troops to stop 'bad hombres down there' unless the Mexican military does more to control them itself," Politico reported.
Next: Well isn't this the pot calling the kettle black.
14. He attacked democrats as being "obstructionists"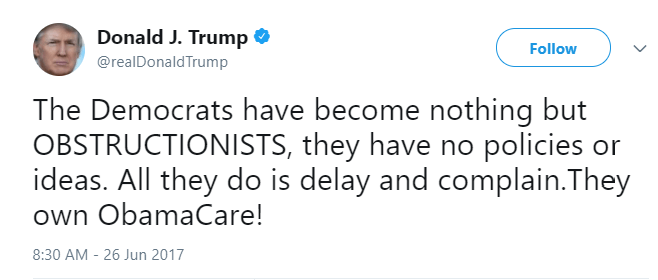 It doesn't take a political analyst to know that Trump hates pretty much every democrat who's ever been alive. And he's certainly not afraid to shy away from criticizing them with every chance he gets. In June, 2017, for instance, he tweeted, "The Democrats have become nothing but OBSTRUCTIONISTS, they have no policies or ideas. All they do is delay and complain. They own ObamaCare!"
To that, we'd challenge Trump to tell us what changes he's made for the better during his first year in office. And we won't be not holding our breath.
Next: Get a life, Trump. 
15. He slammed Snoop Dogg's video and turned himself into the victim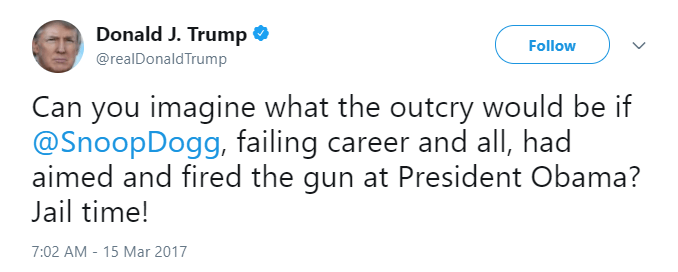 The event that sparked this ridiculous response? Snoop Dogg's music video that shows the rapper firing a toy gun at a clown who, of course, bears a striking resemblance to Trump. Trump tweeted, "Could you imagine what the outcry would be if @SnoopDogg, failing career and all, had aimed and fired the gun at President Obama? Jail time!"
Well, no one would ever do that to Obama, because he's done nothing to deserve it.
Read more: 20 of Trump's Worst Tweets (So Far)
Check out The Cheat Sheet on Facebook!