The Next Guy Fieri? Meet a New Generation of Celebrity Chefs You'll Love to Hate
Celebrity chefs have become the darlings — and devils — of television. It's hard to turn the channel and not see a few cooking shows hosted by famous chefs. Some celebrity chefs are well-loved and others, well, aren't. It seems America loves to hate some celebrity chefs. Think Guy Fieri, Gordon Ramsay, Anthony Bourdain — they've practically built careers on being controversial.
There are plenty of new chefs champing at the bit to get their turns in the spotlight — and they will eventually replace the old ones. Take a look at these up-and-comers and then keep an eye on them — get ready to hate or love them as they rise to chef stardom.
1. Rosio Sanchez
Rosio Sanchez, owner of Hija de Sanchez — a taqueria stand in Copenhagen's Torvehallerne market — was born in Chicago. Previously, she worked as the pastry chef at Noma, a two-Michelin-star restaurant run by chef René Redzepi in Copenhagen, Denmark, according to Condé Nast Traveler. The Mexican-American decided to specialize in the food she knows best, saying, "Everyone always tries to cook other people's food. The older you get, you realize you should be looking into your own culture." Watch for Sanchez — she's in for the long haul.
Next: This chef is serving very strange food.
2. Louis Tikaram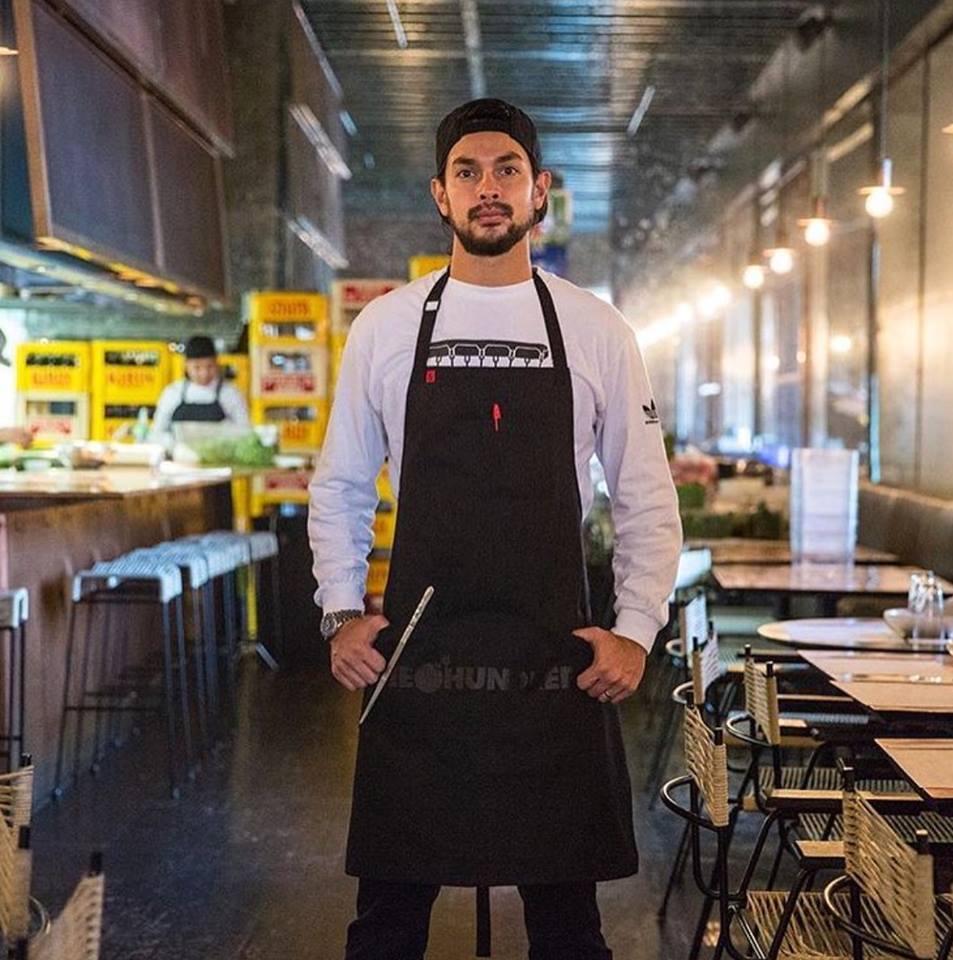 This 30-something Aussie serves as executive chef at E.P. & L.P., a Los Angeles restaurant known for its Thai-Fijian-Indian-Chinese menu, according to the Los Angeles Times. The restaurant is divided into areas: the private rooftop bar, which serves Asian-themed snacks, is upstairs — and the restaurant is below it.  Dishes that Tikaram has made a name for himself with include Nama sea pearls paired with fresh coconut milk and black sticky rice with Szechuan cotton candy.
Next: This chef serves "ghetto grub"
3. Malcolm Livingston II
Malcolm Livingston II was the pastry chef at the famous Noma n Copenhagen, Denmark — considered one of the world's best restaurants, according to Eater New York. He brought his pedigree stateside in 2012 to work at Ghetto Gastro, which Livingston called a "culinary collective" designed to "bring the Bronx to the world, and the world to the Bronx," in an interview with Grub Street. According to Travel + Leisure, the ever-changing menus might include things like "crab and cornbread," a crab velouté with beluga caviar, and "swerve and turf," a piece of Kobe beef alongside a lobster tail poached in saffron butter.
Next: An Asian-influenced, Parisian bistro
4. Katia and Tatiana Levha
Katia and Tatiana Levha are from the Philippines and they were raised in France, among other places. They run Le Servan, a 40-seat bistro located in Paris's 11th arrondissement. The Levhas bring a multicultural flair to the place, and in an interview with Munchies, Tatiana said, "We lived in Asia for a long time so more than Filipino cuisine, which is very simple, where we lived in Asia influenced a lot of how we liked to eat. From that, the way we cook is influenced by how we like to eat. The cockles we do at the restaurant are something that was very influenced by the shellfish we ate in Bangkok when we were younger."
Next: At last, a chef who thinks wine is as important as food.
5. Cara Stadler
Chef Cara Stadler is truly a rising star. According to Condé Nast Traveler, in 2014 she was nominated for the James Beard Foundation Rising Star Chef Award and she was named in Food & Wine Best New Chefs. Stadler and her mom own Tao Yuan in Brunswick, Maine, and Bao Bao Dumpling House in Portland, Maine. According to the Portland Press Herald, she has another restaurant in the works and has chosen Ian Driscoll as her co-chef. The new restaurant, Lio, will focus on the wine as much as the menu, according to Stadler.
Next: This chef was overwhelmed at first.
6. Fabián von Hauske Valtierra
Chef Fabian von Hauske Valtierra hails from Mexico City — he owns and runs two critically acclaimed New York City restaurants, Contra and Wildair. "It was a big shift, being 23, and opening a business and kind of just figuring out everything that came with having a business and not just cooking and coming up with dishes," von Hauske said in an interview with Forbes. Contra features a tasting menu that highlights local and seasonal ingredients, and Wildair is a wine bar that features a big variety of natural wines.
Next: This chef closed her Michelin-star restaurant.
7. Elise Kornack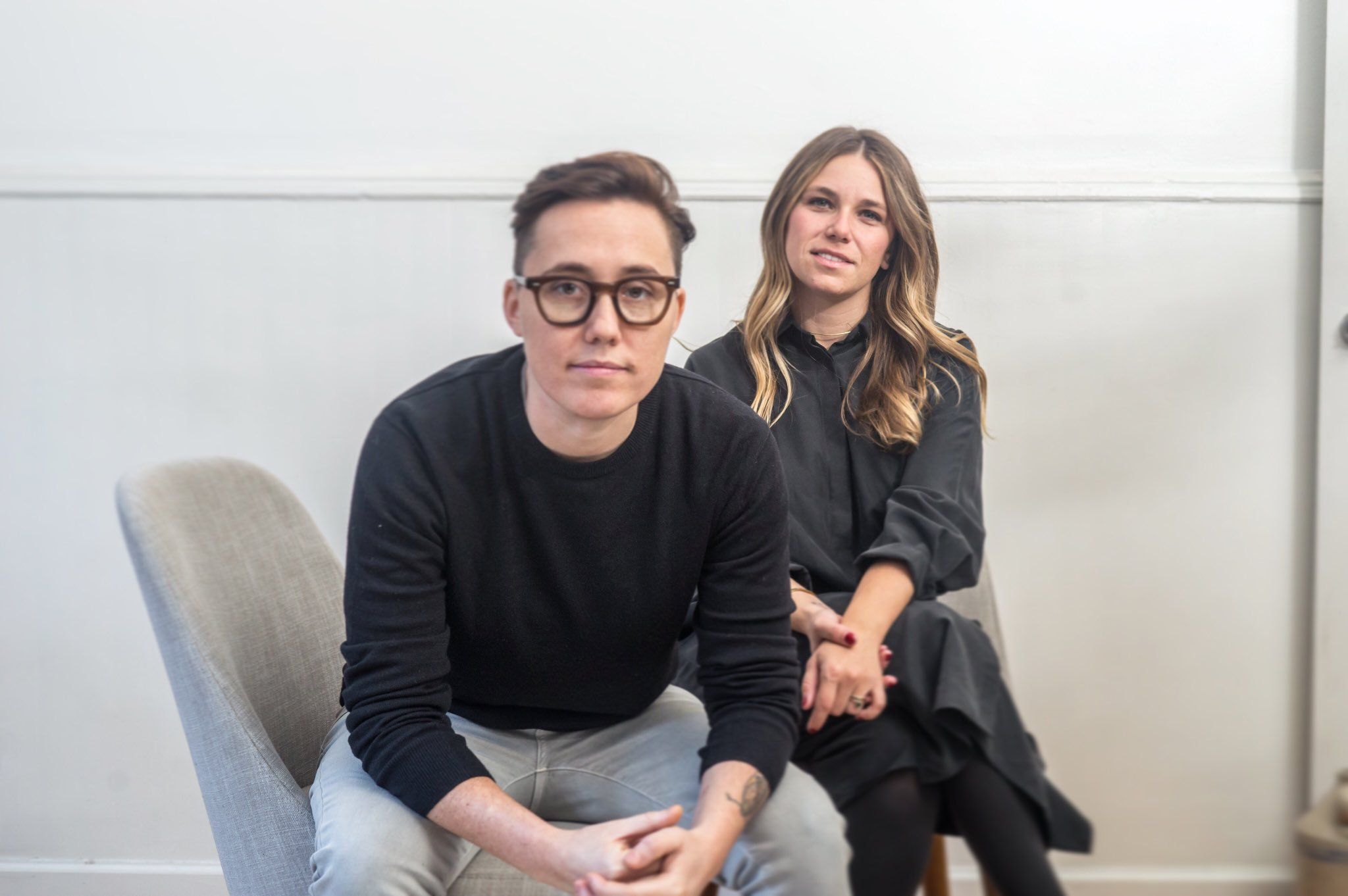 The Brooklyn restaurant Take Root had only 12 seats and served only one dinner on Thursdays, Fridays, and Saturdays, according to Condé Nast Traveler. Elise Kornack and her wife, Anna Hieronimus, ran the place, where Kornack prepared the vegetable-heavy, 12-course tasting menu. Take Root was awarded a Michelin star, but in February 2017 Kornack announced she was closing the place. The pair moved to upstate New York, and they say a new restaurant might be on the horizon. That seems likely — so keep an eye out for this duo.
Next: This chef keeps it real, home-style.
8. Emily Yuen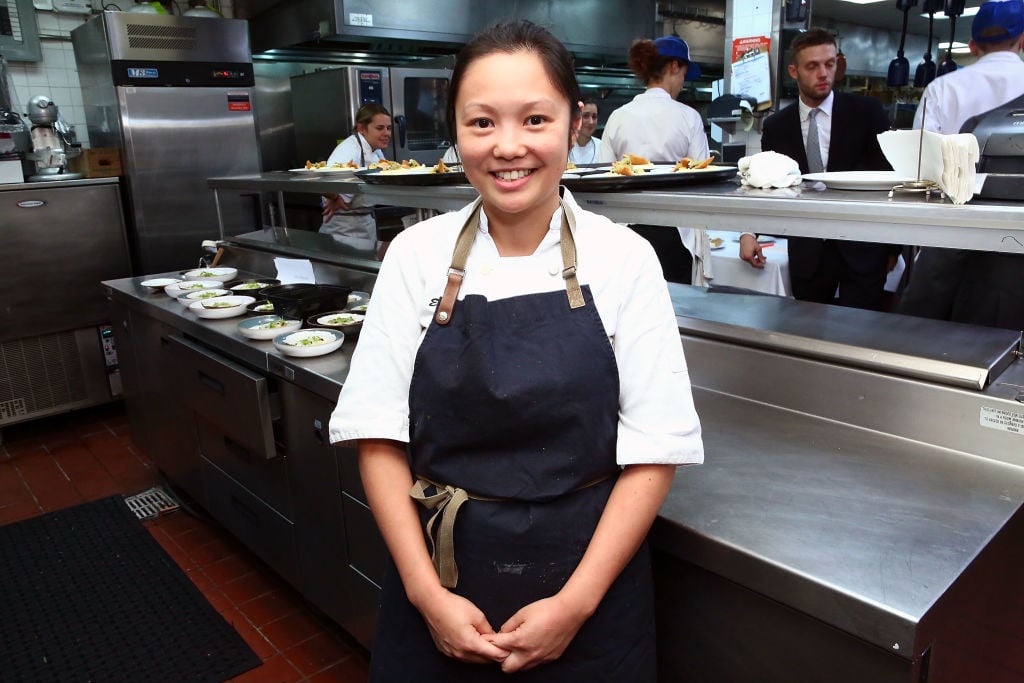 New York's Bessou is a modern take on the Japanese restaurant. Chef Emily Yuen's straightforward home-style cooking features dishes like littleneck clams with bamboo shoots and  kabocha squash shakshuka, according to the website Tasting Table. Yuen serves breakfast, brunch, and dinner, and all are supposed to be great. Her homemade ice cream is a legendary among her customers.
Next: A chef who swears by fried bologna sandwiches.
9. Mason Hereford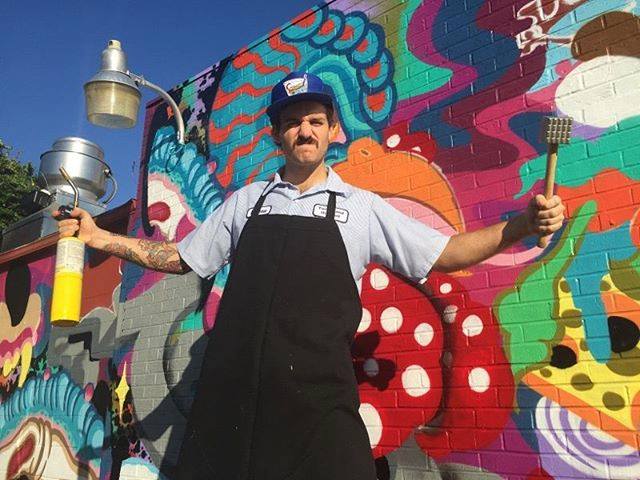 Turkey and the Wolf is a New Orleans sandwich shop that has gotten a lot of buzz. There, Mason Hereford — chef, co-owner, and recipient of a James Beard Best New Restaurant nomination — cooks up fried bologna sammies with potato chips inside and double-decker collard green melts. According to Tasting Table, the deviled eggs, which are topped with crispy chicken skin, are a must have.
Next: From almost minister to top chef
10. Rawlston Williams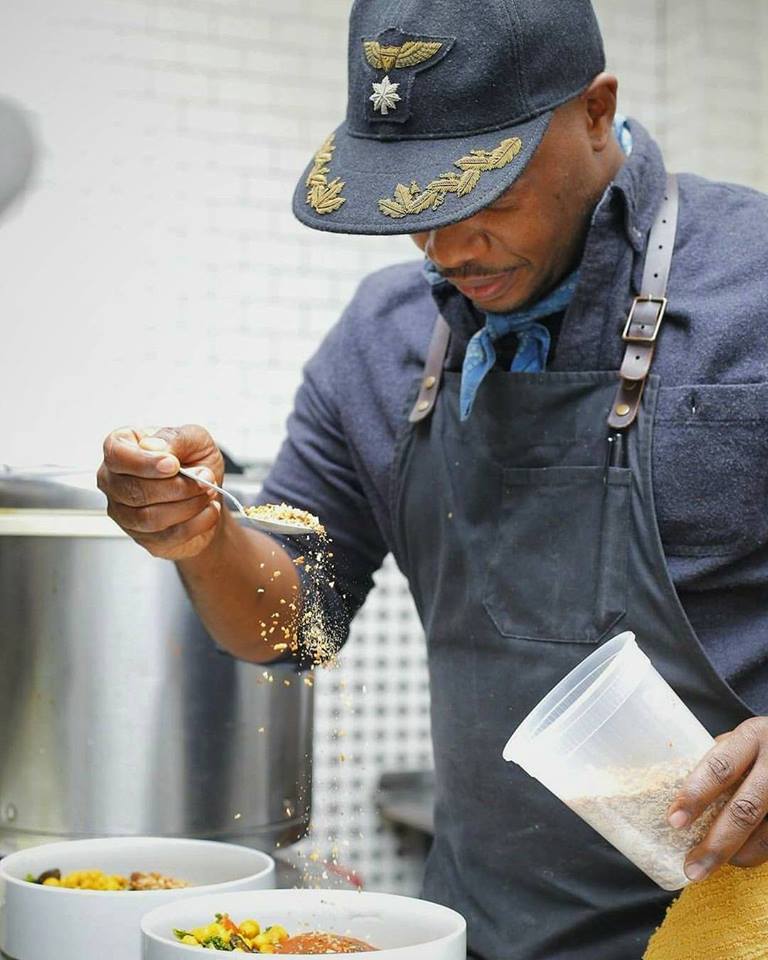 Chef Rawlston Williams of The Food Sermon nearly became a minister, hence his comment in an interview with Tasting Table, "Whatever people are into, that's their sermon." For Williams' sermon, he serves food in his Brooklyn, N.Y., restaurant like he grew up with in Saint Vincent and the Grenadines, such as braised lamb shank cooked with Caribbean spices. Williams serves no alcohol at the restaurant, but chances are you won't even miss it.
Next: This chef ran out of places to work.
11. Ryan Lachaine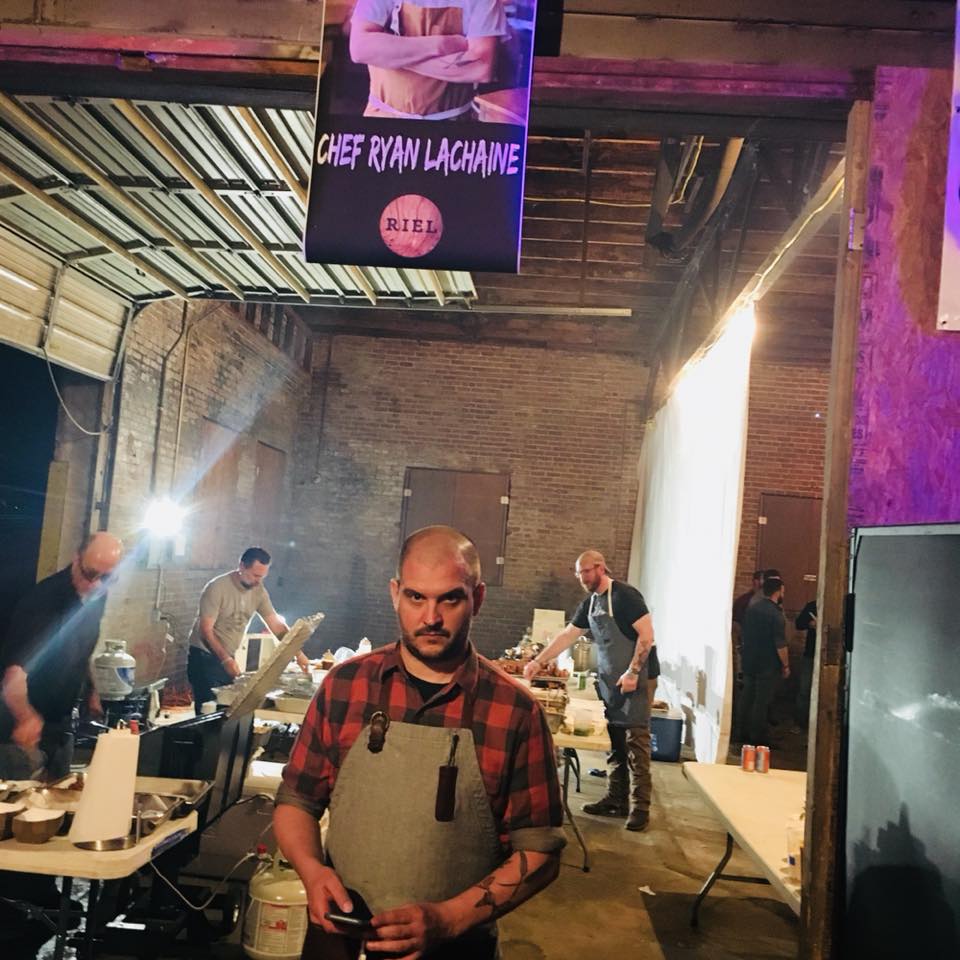 Before Ryan Lachaine opened his own Houston restaurant, Riel, he worked in some of the city's best places, including Reef and Underbelly. Regarding opening his own place, Lachaine told Tasting Table, "You run out places to work." His menu relies on his Manitoba, Canada, roots and his family's Ukrainian heritage. The borscht sour cocktail and Montreal-style smoked meat are standouts, according to Tasting Table.
Next: A chef teaches history through his food.
12. Jerome Grant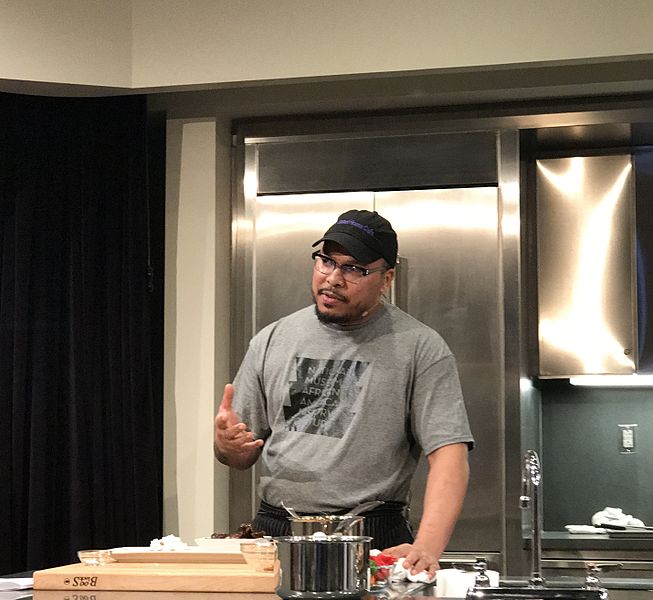 Washington, D.C.'s Sweet Home Café is located in the National Museum of African American History & Culture. Grand told Tasting Table that he looks at the place like an edible art exhibit and uses it to teach history through food. To tell the story of African Americans, Grant features dishes like oxtail pepper pot and oyster pan roast. Grant also wants to expand his guest chef program, which he launched during Black History Month.
Next: Bringing Malaysia to the U.S.
13. Ange Branca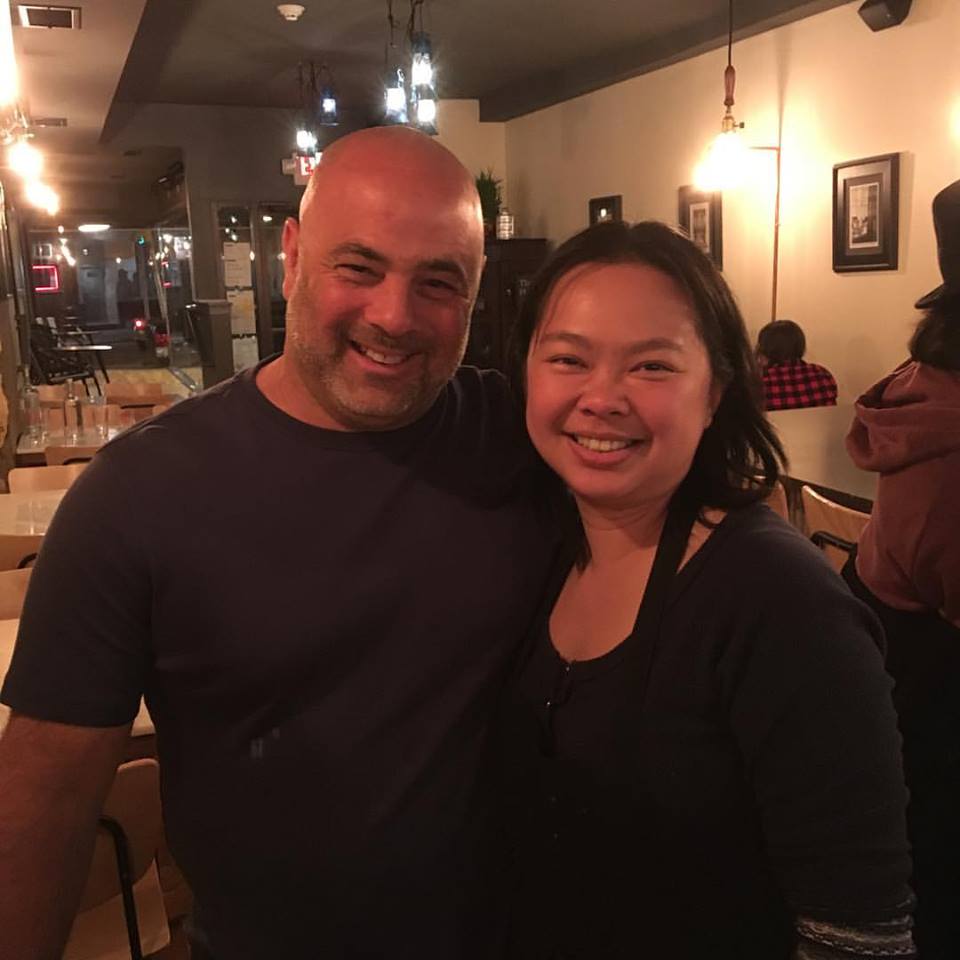 Ange Branca moved from Malaysia to the U.S. 16 years ago, according to Tasting Table. Homesick for the food she grew up eating, she opened Philadephia's Saté Kampar, which focuses on Malaysian skewer meals. Going forward, Branca wants to incorporate more Malaysian dishes, and she plans to concentrate on its diverse array of street food.
Next: Korean food — the next big thing?
14. Junghyun Park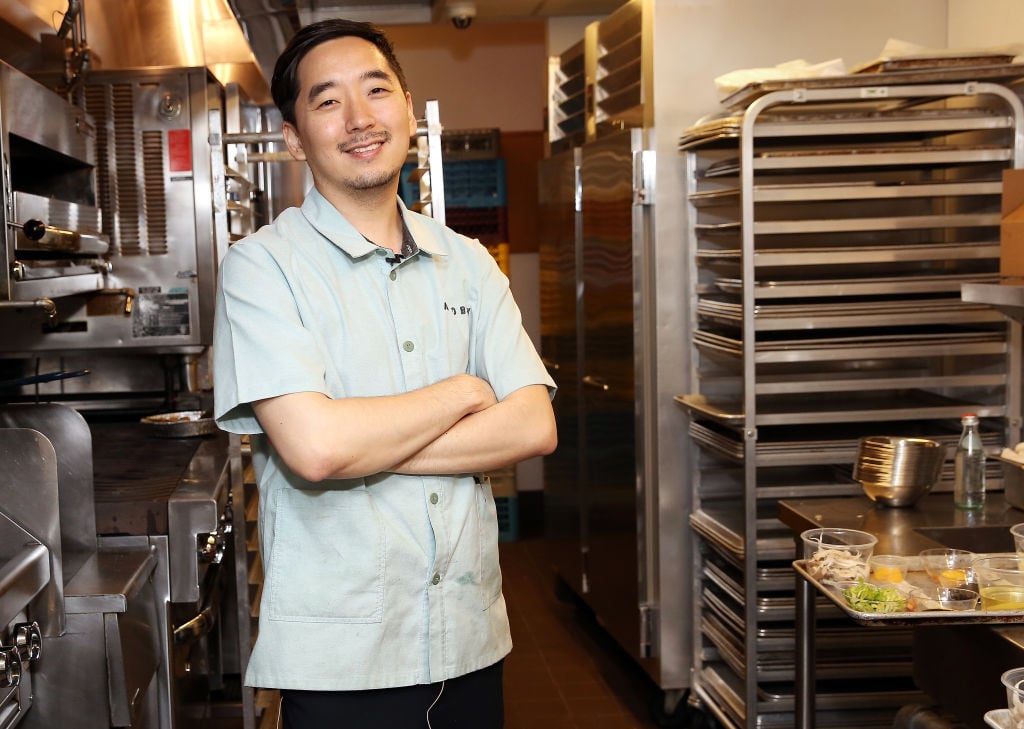 Junghyun Park decided to bring a new concept of Korean food to America in his New York City eatery Atoboy. According to Tasting Table, the menu focuses on the small plates that come first in a Korean meal. Park's take on those include eggplant with Dungeness crab and tomato-lemon gelée. He also wants to invite South Korean chefs to collaborate at his restaurant.
Next: From pop-ups to brick-and-mortar
15. Josh Lewin
Josh Lewin is executive chef and co-owner of Juliet, a restaurant located in Somerville, Mass. After he hosted a string of fancy pop-ups, Lewin settled into his brick-and-mortar restaurant with his parter Katrin Jazayeri. The kitchen sits in the middle of the room, so dinner theater is the name of the game at Juliet. The menu is constantly evolving and theme menus crop up about four to six times per year.
Next: A fresh take on dessert
16. Marianna Reynolds
Marianna Reynolds serves as executive pastry chef at the Chicago-based, Argentine restaurant El Che Bar. She told Tasting Table that she wants her desserts "to provoke a sense of curiosity." A spicy, flaming marshmallow cake and her take on an affogato definitely fit the bill.
Next: A bombshell of a restaurant
17. Callie Speer
Callie Speer used to craft fancy pastries at high-end restaurants, but she told Tasting Table that, "It got to the point where I was tired of doing fancy food. I wanted to do the food that I want when I go out to eat." She opened the casual eatery Bombshell in Austin, Texas — but remained true to her pastry roots. Everything on the menu has something to do with pastry, whether it's cake batter pancakes, a brisket biscuit, or just a plain, ole egg sandwich.
Next: A new take on Indian food
18. Manish Tyagi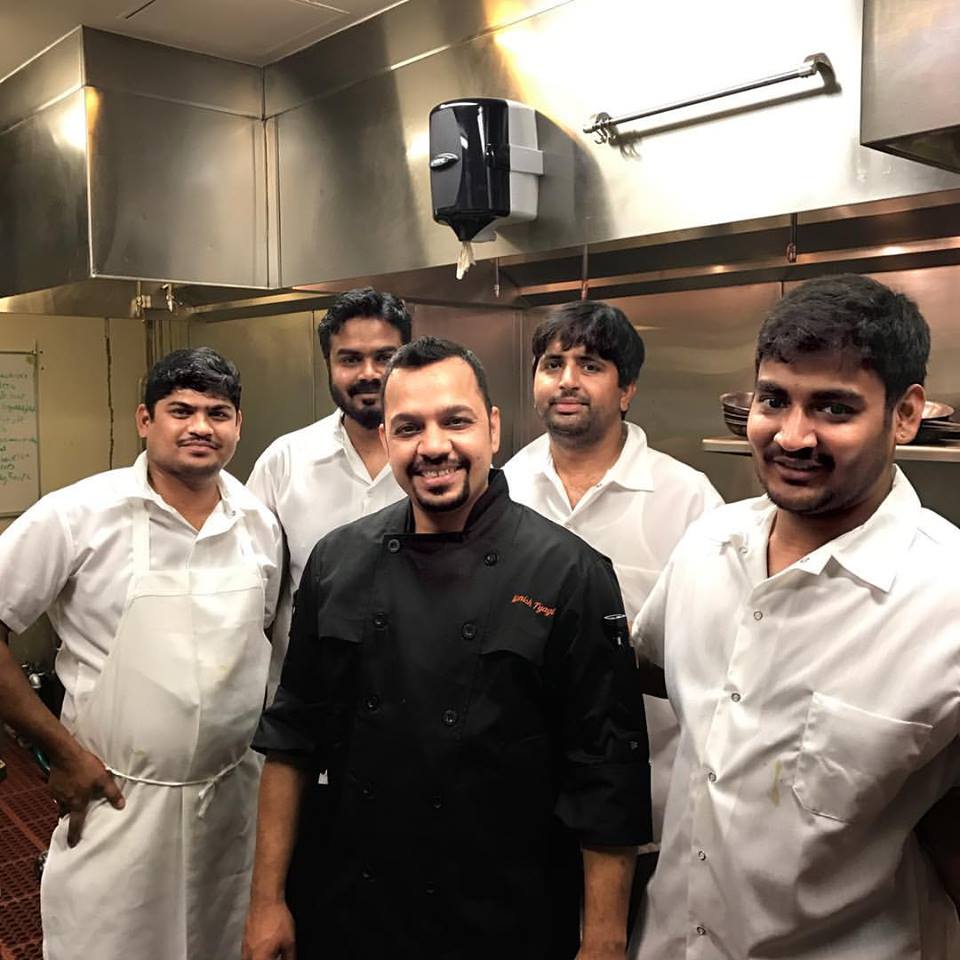 Manish Tyagi is executive chef at San Francisco's August 1 Five, where he presents a new take on Northern and Central Indian food. For example, he updates the popular Indian street food gol guppa by adding flavored waters, like mint cilantro and fruit punch. Tyagi told Tasting Table the restaurant "is named for the date commemorating India's independence from British rule, while also signifying our independence from mainstream Indian restaurant food, such as the omnipresent 'curries.'"
Next: This chef went home to cook.
19. Greg McPhee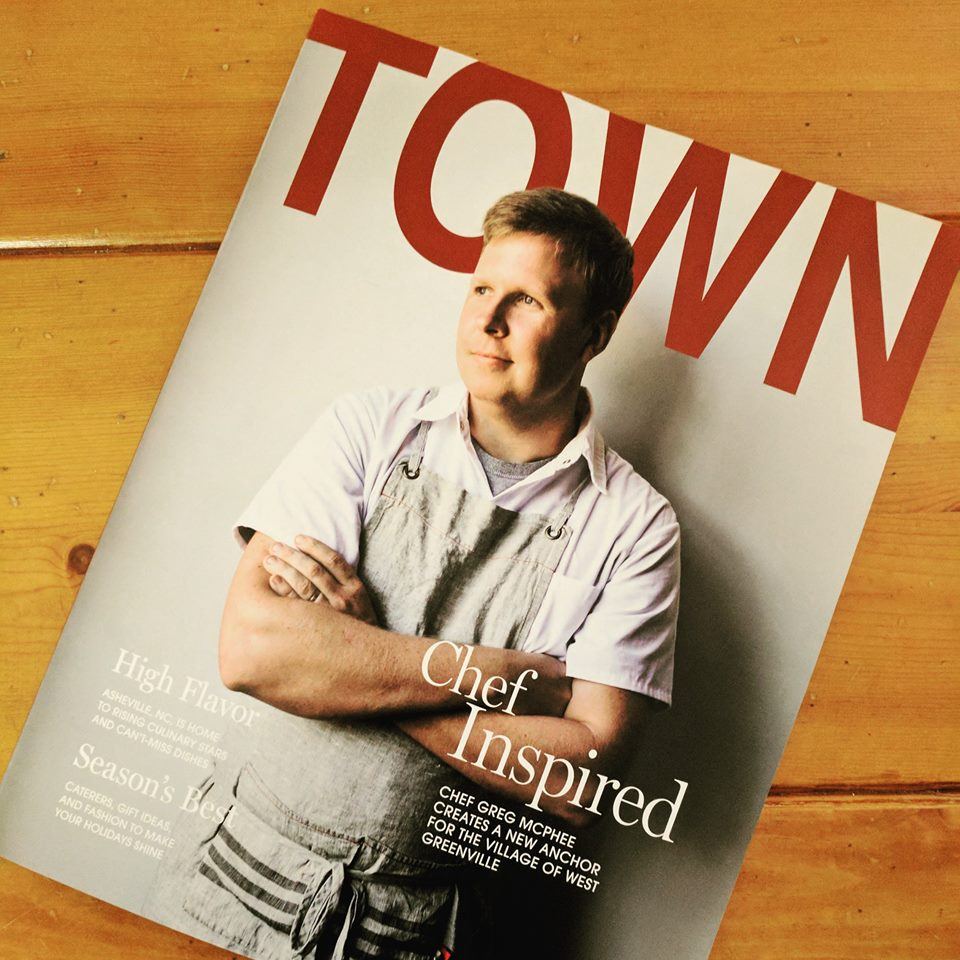 Greg McPhee grew up in Greenville, S.C., according to Tasting Table, where he returned to open The Anchorage after working away from home for years . At his restaurant, he focuses on small plates featuring fish and vegetables with elements of Southern cooking in them. McPhee plans to host special events, like a beer supper in conjunction with Blackberry Farm's brewery.
Next: Hawaiian classics, updated
20. Sheldon Simeon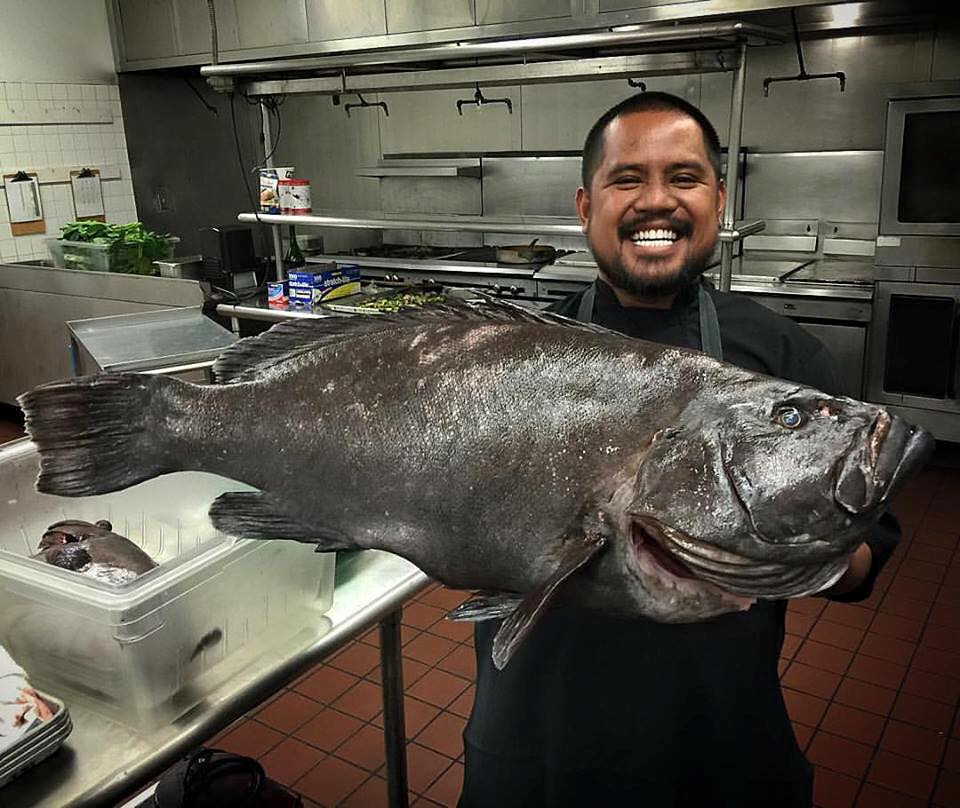 Simeon was a "Top Chef" contender before he opened TinRoof in his home state of Hawaii. He upped the ante with the the Hawaiian plate lunch, adding items like pork belly, poke, and traditional saimin noodles. Simeon enjoys feeding the community and the tourists on Maui and plans to open Lineage in the island's Wailea resort section, according to Tasting Table.
Read more: 15 of the Worst Celebrity Chef Restaurants in America
Check out The Cheat Sheet on Facebook!