The Real Reason There Are So Many Mattress Stores in Your Town
With brick and mortar stores suffering their painful deaths as we speak, have you ever wondered how so many mattress stores manage to survive — or even thrive — when they're all situated within a five mile radius of one another?
Think about it. A mattress isn't something you buy every day or even every year. Yet somehow strip malls often include stores devoted to nothing but mattresses. These retail destinations often face one or two other stores selling the exact same thing just a stone's throw away.
According to one source, there are 9,000 specialty bed and mattress stores nationwide. That's a lot of stores for something people only purchase every ten years on average. So why are there so many mattress stores, and how do they cut it in today's world? The answer may surprise you.
1. Mattresses are high-margin items
In the grand scheme of retail, you don't need to sell as many mattresses to make a huge profit. At grocery stores, profit margins hover right around 5%. Meanwhile, a $3,000 mattress costs about $300 to make — giving mattress stores a whopping 9,000% profit when they sell one.
Next: This is why you only see one salesperson there all the time.

2. They don't need many employees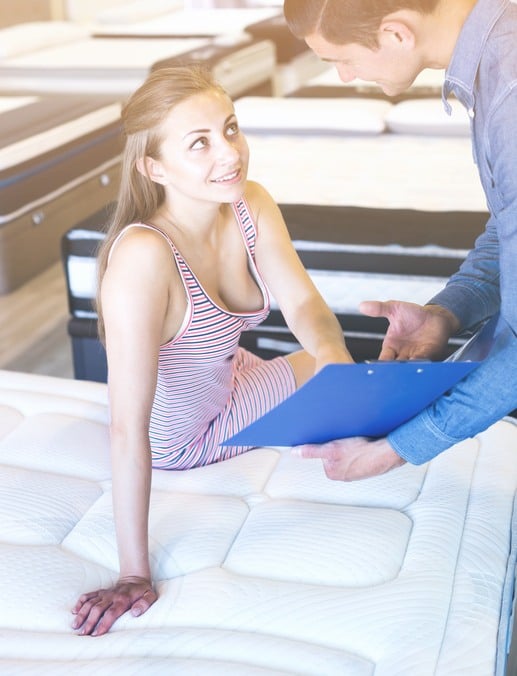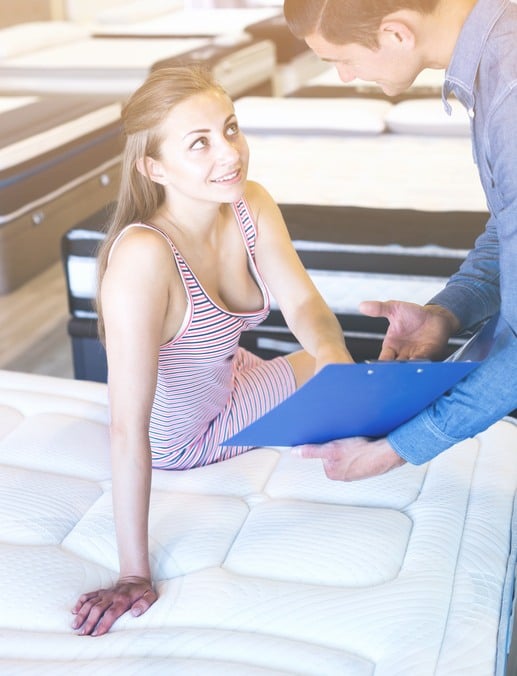 Unless they're having an 80% off sale, you won't typically find mattress store swarming with customers. Less foot traffic means fewer employees, and fewer employees means less overhead for the store.
Plus, the stock isn't constantly changing like it is at clothing retailers or grocery stores, so it's cheaper to keep the store stocked.
Next: Here's the reason online sales aren't dominating.

3. People want to touch them
You may know someone who ordered their mattress online. Companies like Casper and Leesa are popping up left and right, hoping to cut the middleman out of mattress selling and offer mattress-in-a-box offerings at cheaper prices.
But like a few other things, mattresses are a hard sell for the internet. People like to touch them and test them out, which is something they can only do at — you guessed it — brick and mortar mattress stores.
Next: The one place mattress store owners don't spend money.

4. Stores are their own advertisement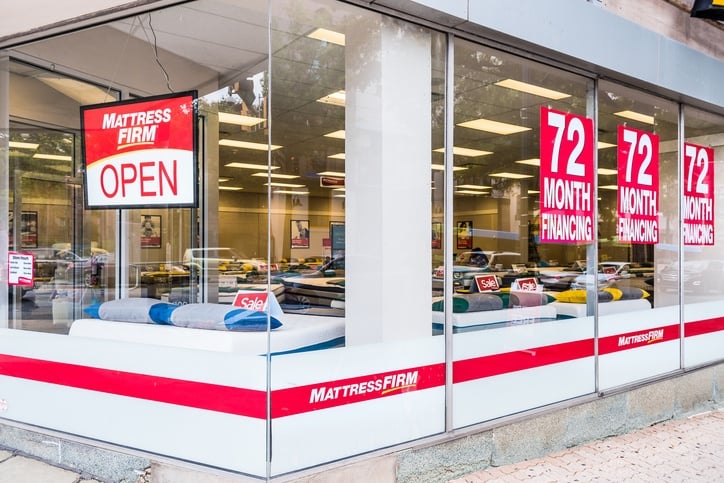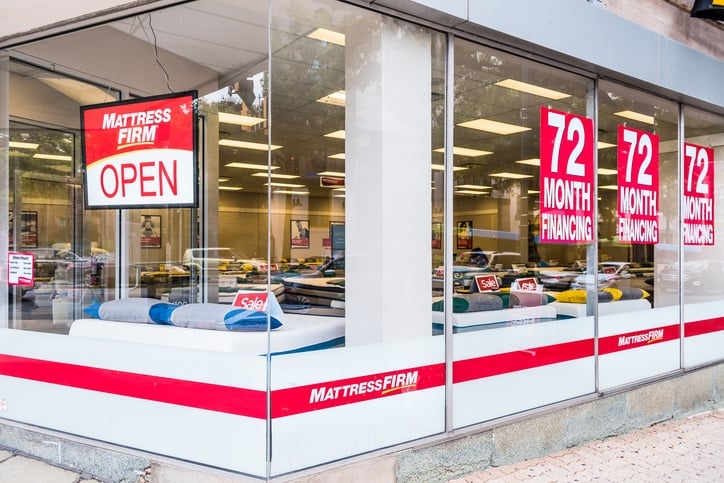 Mattress store owners don't have to spend tons of money on radio or newspaper advertisements or billboards. With their gigantic neon signs lit up 24 hours per day, plus their self-explanatory store names, mattress stores advertise just by existing.
Next: This is the weird thing about competition.

5. They steal each other's customers
Ever notice how McDonald's usually has two or three other competing fast food restaurants nearby? The concept of multiple mattress stores in a small area is similar.
Once someone decides to buy a new mattress, they usually want to shop around and make sure they're getting the best deal. Mattress store owners know that shoppers will typically visit several stores before breaking out their credit card. It's simply a matter of staffing the best salespeople and having the lowest prices in town.
Next: Here's why so many people buy mattresses at the same time.

6. The recession created demand
Mattresses are expensive. During a recession, people put off buying new mattresses, creating a sort of mattress store boom once the economy started to turn around. This happened between 2008 and 2012, and the bubble resulted in supply meeting demand in the form of more and more mattress stores.
People typically purchase new mattresses when they move or get married, or every eight years on average.
Next: Buying a mattress is special for this reason.

7. People care about mattresses
At the end of the day, most people put a lot of thought into purchasing a new mattress. They ask their friends where they bought theirs, they solicit Facebook opinions, they read reviews, they shop around. For such a large, expensive item that you'll use almost every day, that kind of meticulous planning makes sense.
The reason mattress stores may survive the retail apocalypse is that people care about the product. After all, a good night's sleep is worth the cost.
Read more: These U.S. Retailers Are Completely Failing to Attract Customers
Check out The Cheat Sheet on Facebook!