10 of the Worst Cities in America to Save Money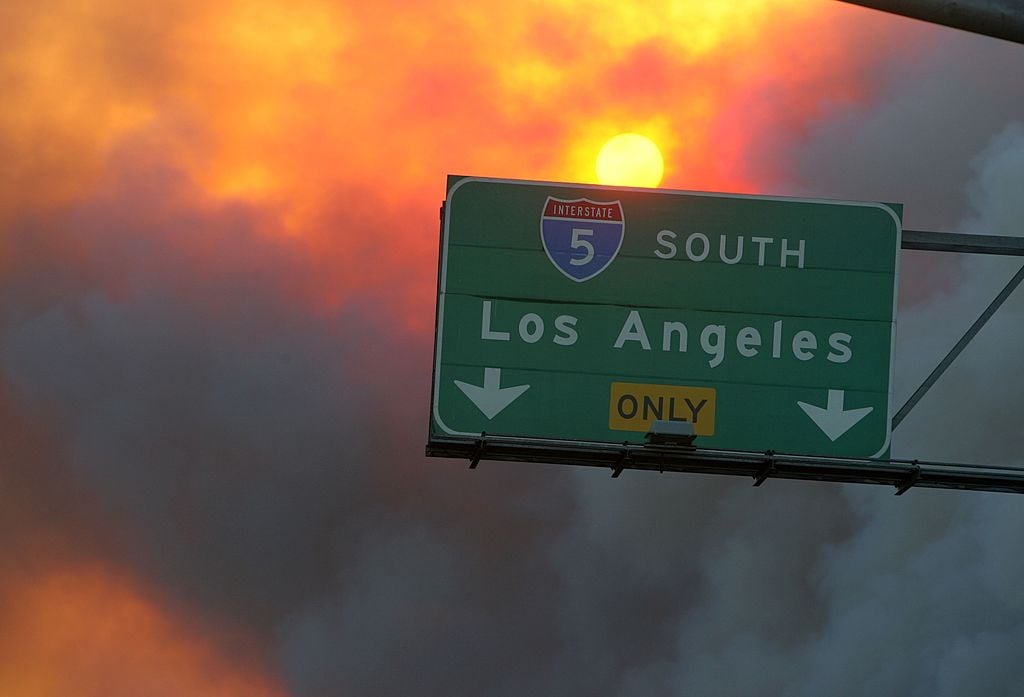 Want to save more money? Don't move to California. Eight of the 10 worst cities in America for savers are in the Golden State, according to a new study by GOBankingRates. The best cities to increase your nest egg are clustered in Texas, the Southwest, and the Midwest.
To determine the cities where it was easiest and hardest for people to build their bank account, the study looked at five factors affecting people's finances: median income, median home listing price, median rent, the unemployment rate, average gas price, and average cost of a basket of 15 common grocery items. Though median incomes were often higher in the worst-ranked cities than those in the saver-friendly towns, bigger paychecks weren't enough to balance out the effect of high taxes, steep housing prices, and more expensive gas.
"If you're looking for an affordable place to live that will leave enough money in your budget to stash in savings, consider the South, Southwest or Midwest," Cameron Huddleston, Life + Money columnist for GOBankingRates, said in a statement. "Most of the best cities for savers are in these regions, where housing costs and everyday expenses are relatively low."
According to GoBankingRates, the worst cities for saving money are:
San Francisco
Los Angeles
Oakland, California
Irvine, California
Anaheim, California 
New York City
Santa Ana, California
Miami
Fresno, California
San Diego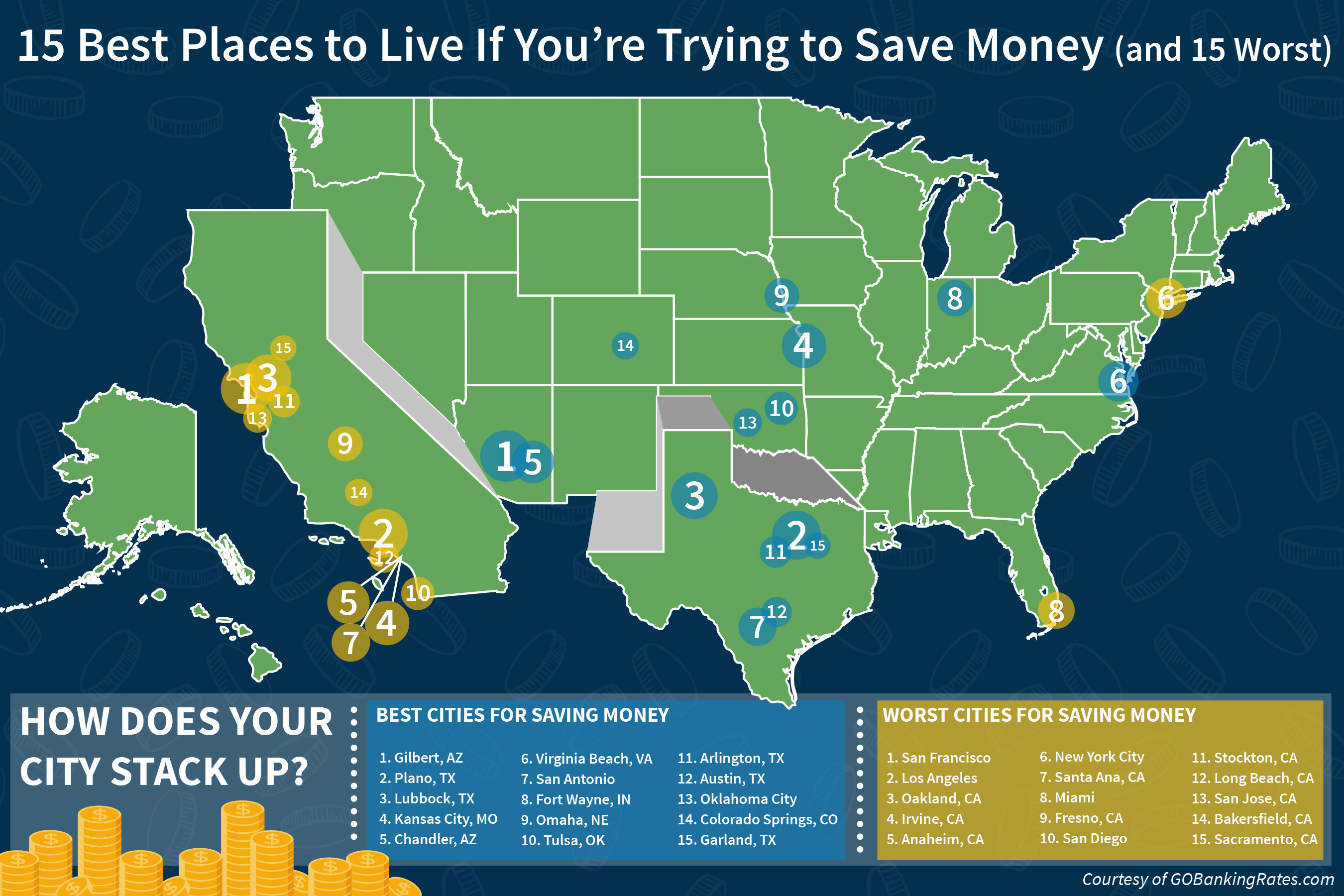 The 10 best cities for savers are:
Gilbert, Arizona
Plano, Texas
Lubbock, Texas
Kansas City, Missouri
Chandler, Arizona
Virginia Beach, Virginia
San Antonio, Texas
Fort Wayne, Indiana
Omaha, Nebraska
Tulsa, Oklahoma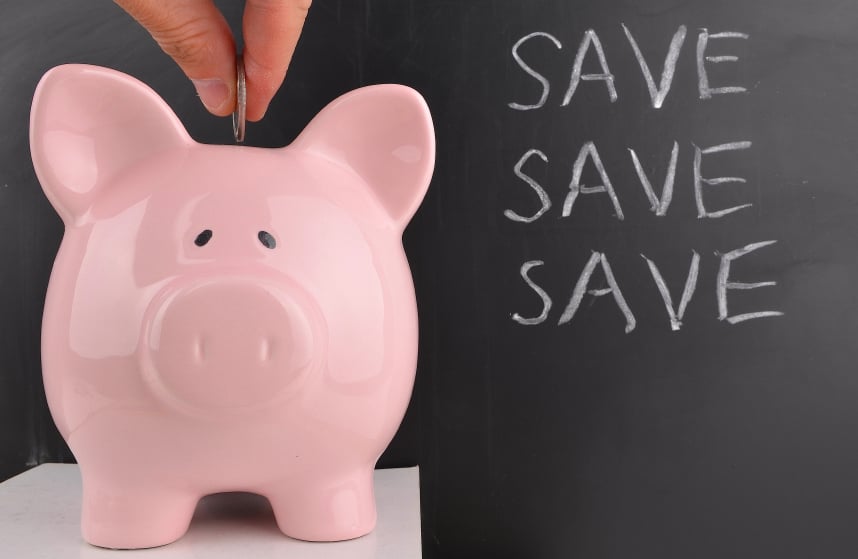 Saving money is already a challenge for most Americans, whether they live in San Antonio or San Francisco. The personal saving rate in the United States is a paltry 5.4%, according to the Federal Reserve Bank of St. Louis. Over half of American households don't have enough in money in cash or their checking and savings accounts to replace one month of lost income, a study by the Pew Charitable Trusts found.
What's behind our inability to save? Too much debt, low wages, periods of unemployment, and other economic challenges all conspire to make setting aside cash difficult for many Americans. When the Employee Benefit Research Institute asked people why they weren't saving for retirement, unemployment, low wages, the need to pay off debt, and having to pay for education were all common excuses. But the biggest roadblock, cited by 40% of respondents, was not having any money left over after meeting day-to-day expenses to save for the future.
Making room in already tight budgets for saving is an issue for people across the country, but it's a particular strain on people who live in more expensive areas, as the GOBankingRates survey highlights. Gilbert, Ariz., the best place for savers, and San Francisco, the worst, have similar median incomes. ($81,485 and $78,378, respectively). But the average San Francisco home costs nearly $1 million, and the median rent is $4,650 per month. Compare that to Gilbert, where the median home listing price is $300,000 and the median monthly rent is $1,400. Gas costs almost a $1 more per gallon in the City by the Bay than in Gilbert, a suburb of Phoenix, where residents also save on groceries and sales tax.
Of course, tiny paychecks are still a factor in some cities where it's hard to save. In Miami, where the median income is $30,858, residents benefit from a relatively low sales tax rate of 7%, moderate prices for gas and groceries, and no state income tax. But housing is expensive – the median home price is $459,000 – and the 5% unemployment rate was higher than in the cities where it's easier to save. Combined with low wages, those factors make it harder for residents to set aside cash. High unemployment also dragged down the savings prospects for residents of Fresno, where more than 10% of the population is out of work.
Despite the high cost of living, many of the worst cities for savers are also the places where many people want to put down roots. When the Harris Poll asked more than 2,300 U.S. adults what city they'd most like to live in, New York, San Diego, Los Angeles, and Miami were among the top five responses. With the exception of Phoenix, none of the best cities for savers made the top 15. Omaha, Lubbock, and Fort Wayne may all be good for your wallet, but they don't seem to inspire the same excitement as their flashier (and more expensive) kin.
Follow Megan on Facebook and Twitter
More from Money & Career Cheat Sheet: