These 6 Healthy Thanksgiving Recipes Are Easy to Cook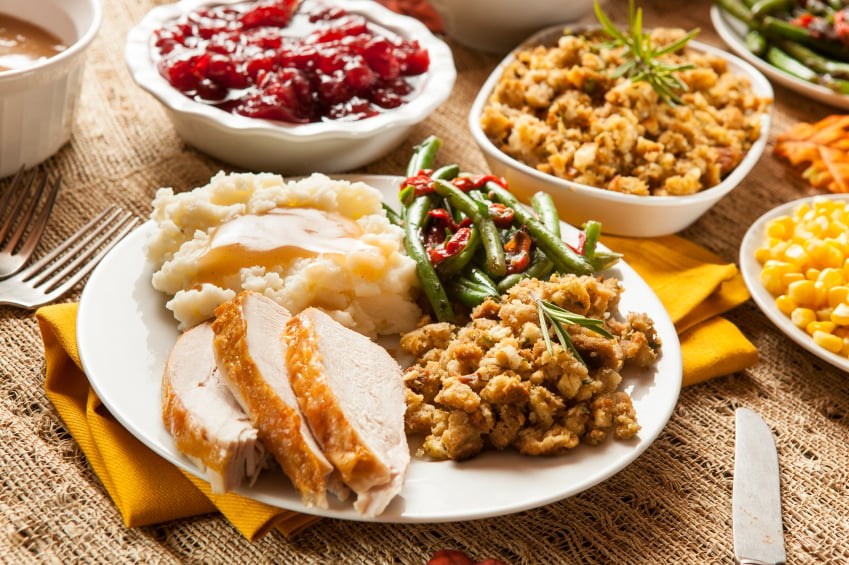 Thanksgiving is all about the food. Whether you're heading home for the holidays, going to a friend's Thanksgiving dinner, or hosting your own Thanksgiving, you'd better have some dish ideas under your belt. It can be easy to pick up a pre-made cherry pie at the grocery store, but if you don't want to blow your diet with processed, sugary foods you can utilize even the most limited kitchen skills to create a healthy dish that is sure to impress.
Cooking isn't hard when you have a foolproof recipe. Follow the recipe, put in minimal effort, and watch magic happen. From salads and starters to sides and desserts, there is an easy, healthy option for whatever dish you have in mind.
1. Butternut Squash Soup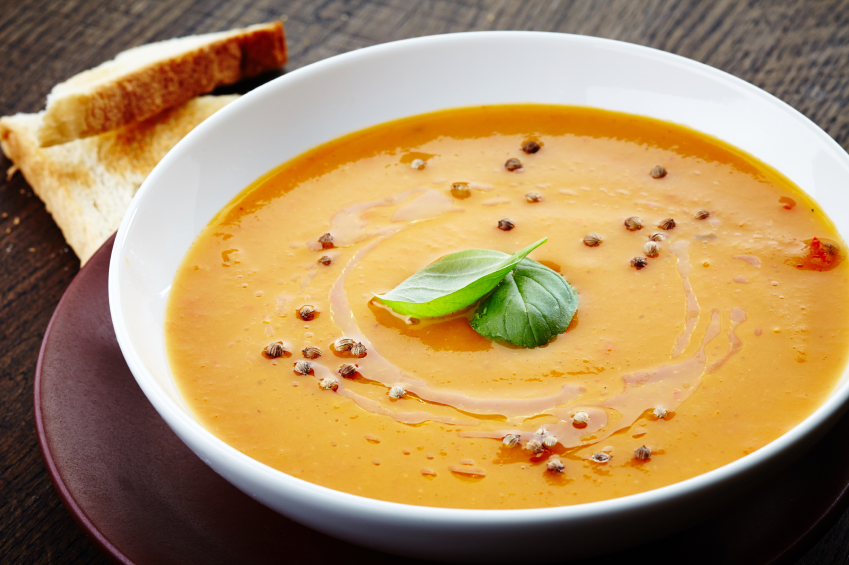 This cold weather classic is the perfect way to start a Thanksgiving meal. From the pros at the Food Network, this easy, six-ingredient recipe takes 20 minutes of prep work and 40 minutes to cook. The hardest part of the recipe is the prep work of peeling and cutting the squash. Make sure you have a sharp knife and a good blender available.
Ingredients:
1 butternut squash (2 to 3 pounds), peeled and seeded
2 tablespoons unsalted butter
1 medium onion, chopped
6 cups chicken or vegetable stock
Nutmeg
Salt and pepper to taste
Directions: Peel and cut the squash in half, removing the seeds from the middle. Cut the squash into 1-inch chunks. In a large pot, melt butter. Add onion, and cook until translucent, about 8 minutes. Add squash chunks and stock. Bring to a simmer, and cook until squash is tender, about 15 to 20 minutes. Remove squash chunks from the mixture, place in a blender, and puree. Return blended squash to pot. Stir and season with nutmeg, salt, and pepper.
2. Fall Salad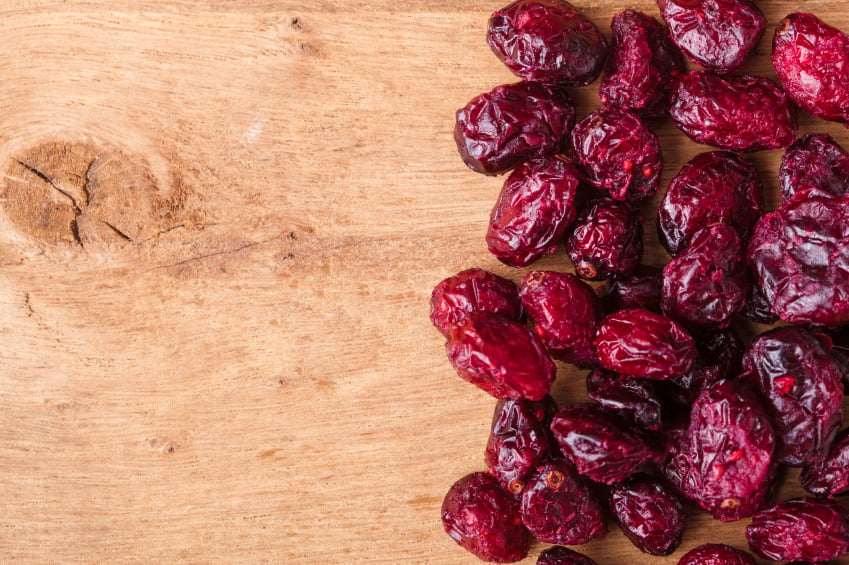 There is nothing simpler and more packed with nutrients than a simple salad. Not only does this dish from Martha Stewart provide plenty of vitamins, but its use of cranberries and nuts fits with the Thanksgiving theme. Have to get out the door in 10 minutes with a dish in your hand? This recipe is perfect for you. If you don't have time to make the homemade vinaigrette (which will impress to no end) you can always buy a bottle of Newman's Own Olive Oil & Vinegar or Brianna's Real French Vinaigrette to take along with you. Like cheese on your salads? Top with goat cheese for a bit of creamy indulgence.
Ingredients:
2 large carrots, chopped and shaved with a vegetable peeler
12 ounces of mixed greens
½ cup dried cranberries
½ cup slivered almonds
2 tablespoons plus 1 teaspoon of white-wine vinegar
4 teaspoons Dijon mustard
4 teaspoons olive oil
Salt and pepper to taste
Directions: In a nice serving bowl, toss carrots, greens, and half the cranberries and almonds. In a small bowl, whisk vinegar, mustard, and oil. Drizzle the salad with vinaigrette, and season with salt and pepper. Toss to combine, and garnish with remaining cranberries and almonds.
3. Maple Roasted Brussels Sprouts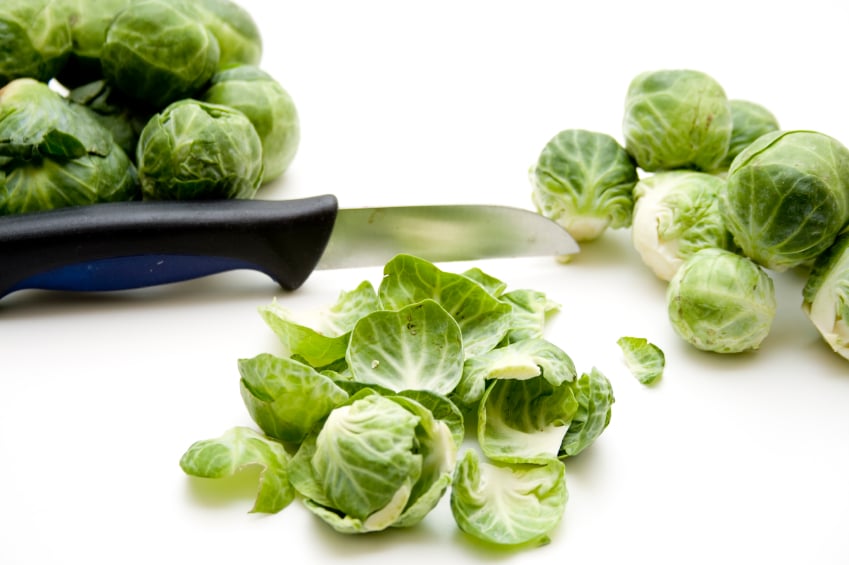 Thanksgiving is not complete without a Brussels sprout dish. While some have given these veggies a bad name, they are delicious when paired with something sweet and salty. This recipe from Say Yes serves 6 and includes maple syrup and pancetta. What's not to like?
Ingredients:
1½ lbs. Brussels sprouts
3 tablespoons olive oil
½ teaspoon salt and fresh ground pepper
3 tablespoons maple syrup
1 cup pancetta, diced
Directions: Preheat the oven to 375 degrees Fahrenheit. Cut the Brussels sprouts in half, and trim off the stem and any yellow or brown outer leaves. Combine Brussels sprouts, olive oil, salt, and pepper in a large bowl, and toss to fully coat. Spread Brussels sprouts on one large baking sheet (or two smaller baking sheets) in a single layer, and place in the oven. Bake for 15 minutes. Use a wooden spoon to stir sprouts around the baking sheet. Bake for another 15 minutes. Drizzle maple syrup over Brussels sprouts, and stir to coat. Bake for another 10 minutes.
While the Brussels sprouts are in the oven, cook the pancetta in a cast iron skillet (or large sauté pan) over medium-low heat, stirring occasionally, until crisp. Remove from the heat, and set aside. Remove Brussels sprouts from the oven. Add the pancetta to the pan, and stir to combine.
4. Orange Cranberry Sauce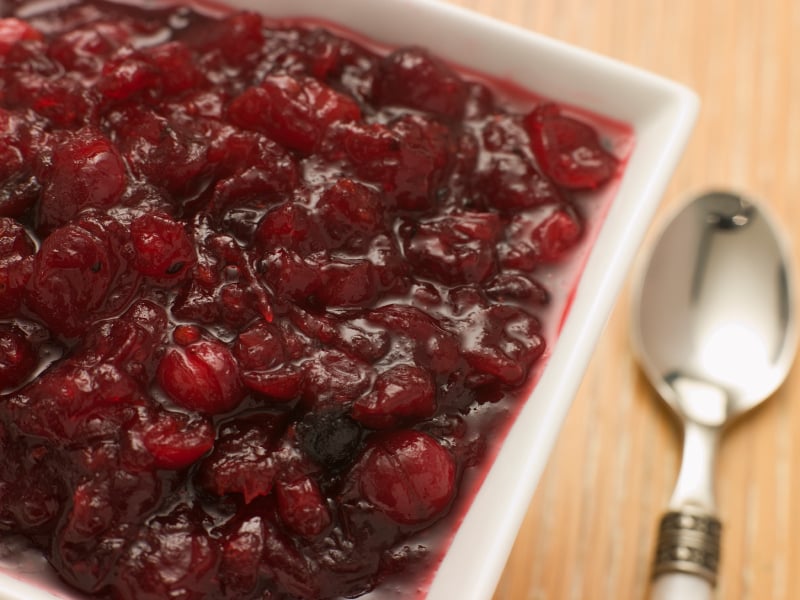 Once you try this recipe, you won't be able to return to the years of canned cranberry sauce. There is truly no comparison. The recipe uses whole, fresh cranberries and minimal sugar to keep this Thanksgiving favorite healthy without losing its trademark tart sweetness. At 90 calories per serving, this Whole Foods recipe makes approximately 2¼ cups.
Ingredients:
¾ cup sugar
½ cup orange juice
1 (12-ounce) package of fresh or frozen cranberries
1 tablespoon grated orange zest or orange peel cut into very thin strips with the white part removed
Directions: In a medium saucepan combine sugar, ½ cup of water, and orange juice. Bring to a boil, and add cranberries. Return to a boil. Reduce heat, and boil gently for 10 minutes, stirring occasionally. Stir in orange zest or peel. Cover and cool completely at room temperature. Refrigerate until serving time.
5. Cranberry Pecan Stuffed Pork Chops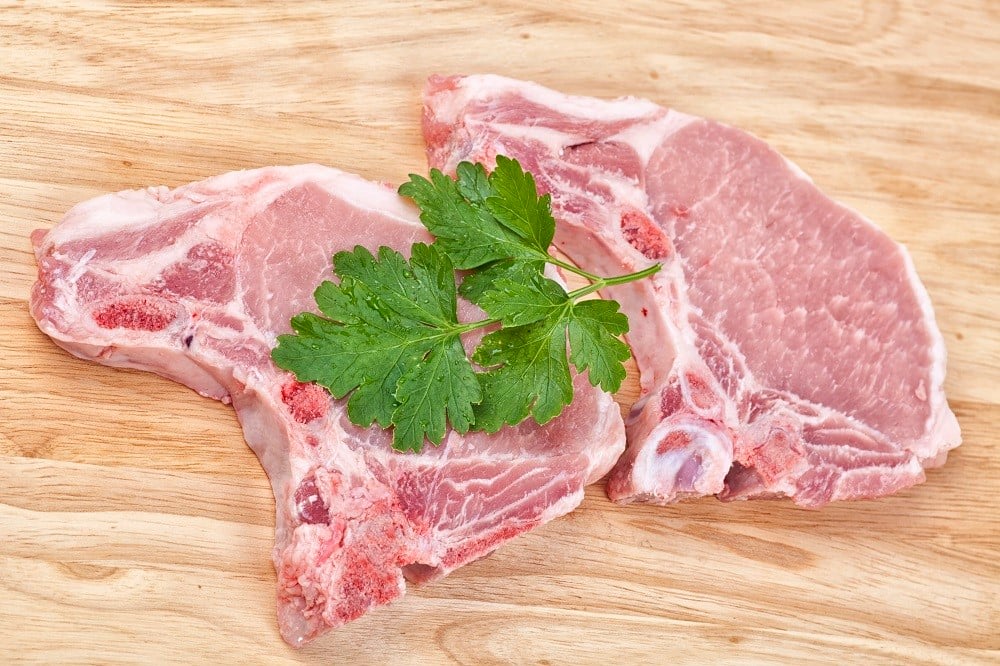 In charge of the main dish and don't want to spend an entire day cooking a traditional gigantic turkey? Give these festive pork chops a shot. This dish is hearty and cozy without giving you a feeling of over-indulgence. This recipe serves 4 and is paired with a parsnip mash on The Corner Kitchen.
Ingredients:
3 ounces dried cranberries
2 ounces chopped pecans
2 teaspoons dried thyme
2 tablespoons olive oil
4 bone-in pork chops (around 8 ounces each)
¾ cup chicken stock
¼ cup apple cider
2 teaspoons red wine vinegar
Salt and pepper to taste
Directions: In a small bowl, mix together cranberries, pecans, thyme, and 1 tablespoon of olive oil. Using a paring knife, cut a 2-inch slit into the side of each pork chop, cutting through to the bone to form a pocket. Fill each pocket with cranberry-pecan mixture, and press to flatten. Season pork chops with salt and pepper.
Heat remaining tablespoon of olive oil in a large skillet over high heat. Sear pork chops until browned, about 3 to 4 minutes on each side. Add ½ cup of stock. Reduce heat to low, and simmer until pork chops are cooked through, about 6 to 10 minutes depending on the thickness of the meat. Remove pork chops from the pan.
Add remaining stock, cider, and vinegar to skillet, and raise heat to medium-high. Simmer, scraping up brown bits from the bottom of the pan, until the sauce thickens, about 5 to 7 minutes.
6. No-Bake Pumpkin Custard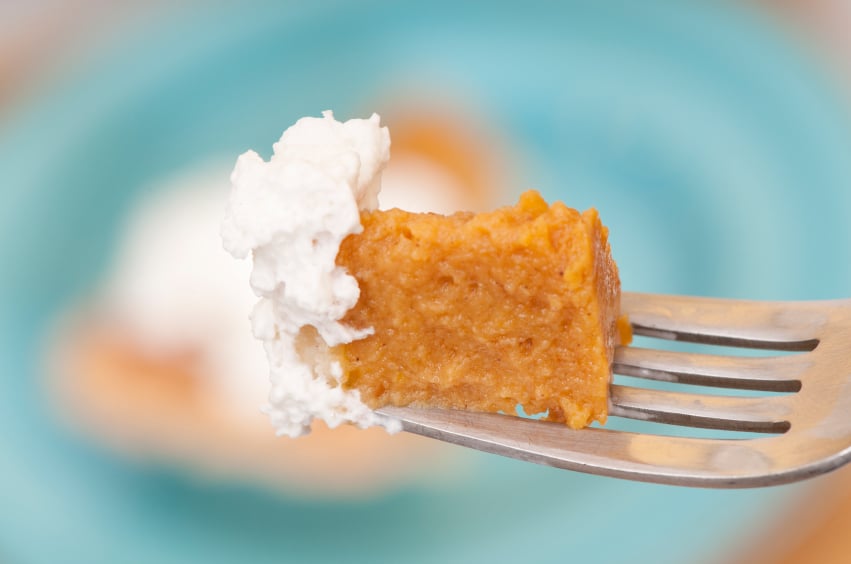 Thanksgiving just isn't Thanksgiving without pumpkin pie. Even the biggest pumpkin devotee cringes at all the work it takes to make a pumpkin pie from scratch. This easy no-bake recipe from the Greatist tastes just like pumpkin pie and takes less than an hour to prepare.
Ingredients:
1 jar (10 ounces) pumpkin butter (or 1 can pumpkin puree mixed with 2 teaspoons cinnamon)
1 package (8 ounces) reduced-fat cream cheese
1 cup pumpkin puree
1 cup non-fat Greek yogurt
½ cup chopped pecans
Directions: Mix pumpkin butter, cream cheese, pumpkin puree, and yogurt until combined thoroughly. Pour in a round serving bowl, and top with pecans. Chill in refrigerator for at least 2 hours before serving.
More from Culture Cheat Sheet:
Want more great content like this? Sign up here to receive the best of Cheat Sheet delivered daily. No spam; just tailored content straight to your inbox.