These Are the Best 'Fixer Upper' Moments in the Show's History
Fixer Upper is saying goodbye.
Fans fell in love with Chip and Joanna Gaines from the get-go when the show first aired in 2013. Chip, Joanna, and their kids are the quintessential, all-American family — with a twist. The Gaineses own a wildly successful remodeling and design business in Waco, Texas, where they turn run-down homes into beautiful houses designed to help breathe new life into some of central Texas's neighborhoods.
Country Living ranked every episode of the Fixer Upper, and The Cheat Sheet chose some favorites, presented here in order of airing. To find out why America loves the Gaines family so much, review these 15 treasured moments from Fixer Upper.
1. Season 1: "Looking Old But Feeling New"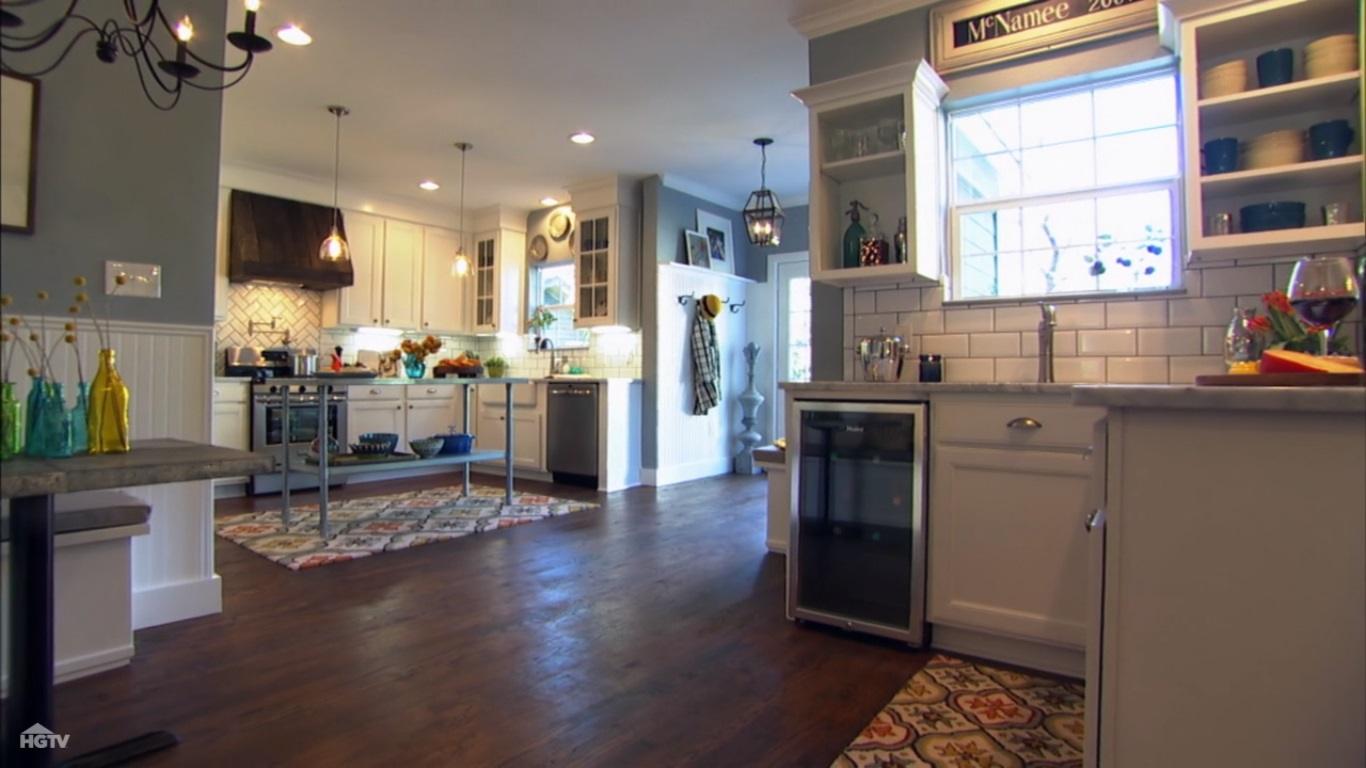 The Gaineses showed Doug and Lacy McNamee three homes in Castle Heights, Texas, and when they chose one, the Gaineses got to work creating an upgraded place in the old, charming neighborhood.
Clint Harp, the Gaineses' right-hand man and carpenter, built a custom hood from wood Joanna provided, and Chip added a set of French doors, which has become almost a signature item for the team. Chip, of course, delivered one of his classic lines, "To describe Joanna and my's [sic] relationship from a business standpoint, it's pretty simple: She's the brains, she's the beauty, she's the design expert, and I'm the muscle."
Next: Chip rocks a moonwalk.
2. Season 1: "Client Rebuilds After Tragedy"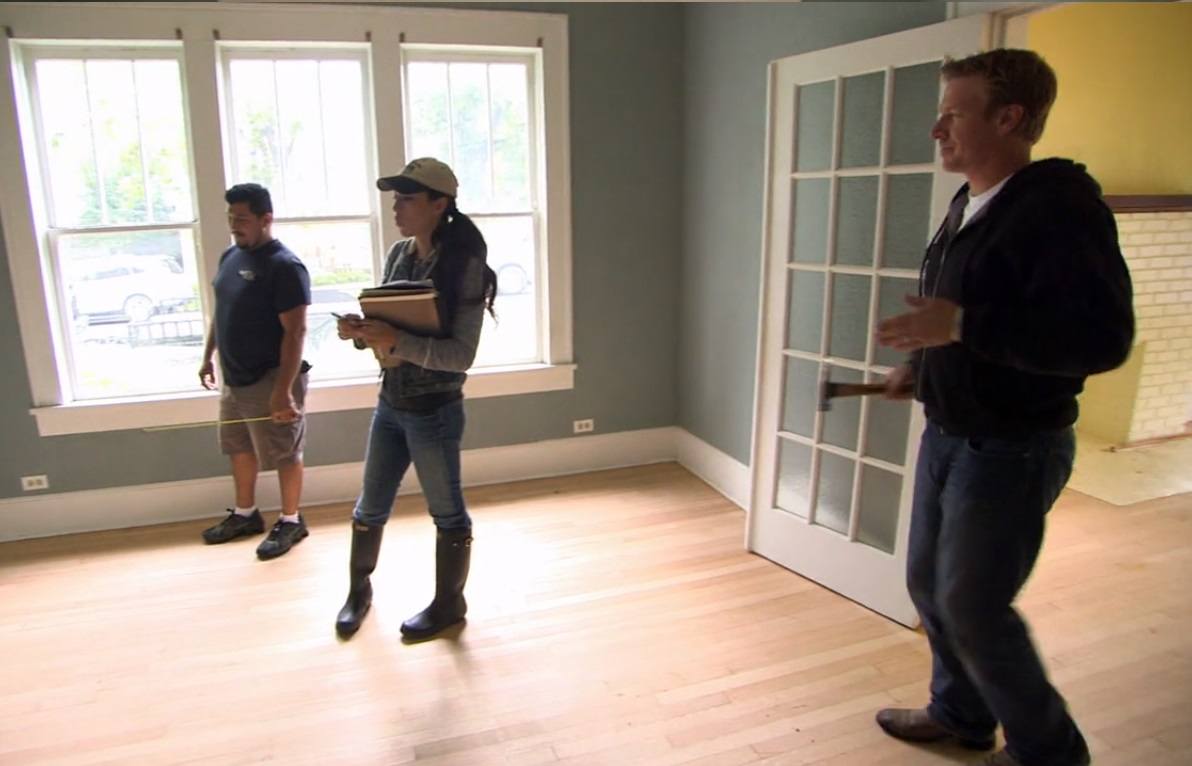 Carolyn Muska, who lost her husband and home in a tragic fertilizer plant explosion, consulted with the Gaineses to rebuild her life in West, Texas. True to his style, Chip remained upbeat. He lightened up demo day with his version of moonwalking. And, as always, he had something funny to say: "Baby, I am not 5-foot-9, I'm 6-foot. I'm 6-foot all day long baby. 6-foot easy, with my eyes closed."
Next: What in the world is "too buckaroo?"
3. Season 1: "Texan Family Returns to Roots"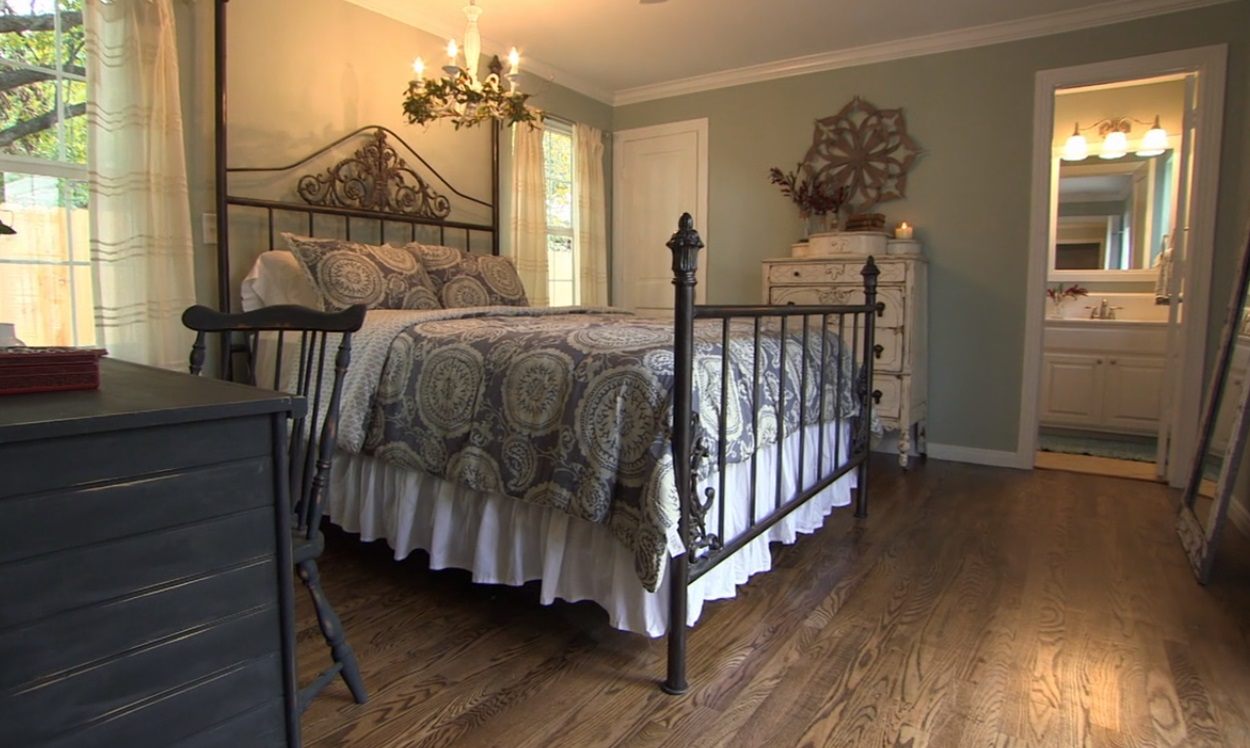 The clients, John and Margie Bowman, who recently returned to Texas from Oklahoma, were looking for a home outside of Waco in a neighborhood called McGregor. The Bowmans wanted a house with style, but John didn't want anything too "buckaroo" (whatever that means).
Unfortunately, the remodel unearthed some expenses that cost the Bowmans 10% more than they wanted to spend and created delays for the Gaineses. But, on a positive note, this episode featured an amusing beam knockdown competition between Chip and Shorty, a carpenter who worked with Chip. It also contained one of Chip's best lines: "You know, I got a call the other day from 1970, and they asked for their house back."
Next: Chip crashes his new Jeep.
4. Season 1: "New Home New Life for Mom"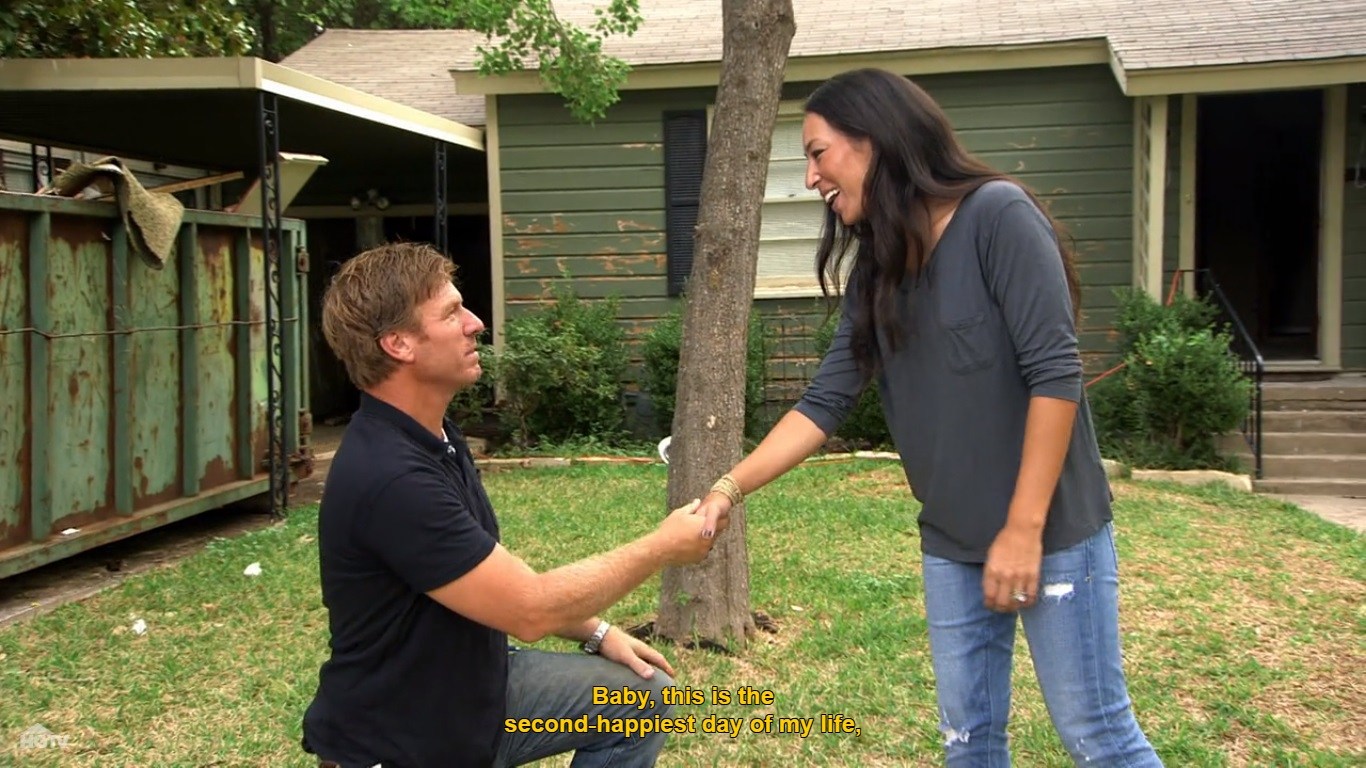 Because Joanna was always looking to place a giant clock in a home, she added one over the console table in the living room in this fixer upper. And Clint Harp added to the charm factor by building a lovely outdoor table. Chip contributed, too, when he said, "I like that mirror because it made my waist look really skinny, but it made my head look really fat."
But the best thing about this episode might be the moment that Chip got into the Jeep Joanna bought him for his 39th birthday and promptly rolled it into a van — after nearly clipping Joanna. Or is the best thing when Chip lifted up his shirt and showed Joanna his drenched-with-sweat undershirt? You decide.
Next: Joanna and those giant clocks
5. Season 1: "Couple Reach For Unreachable"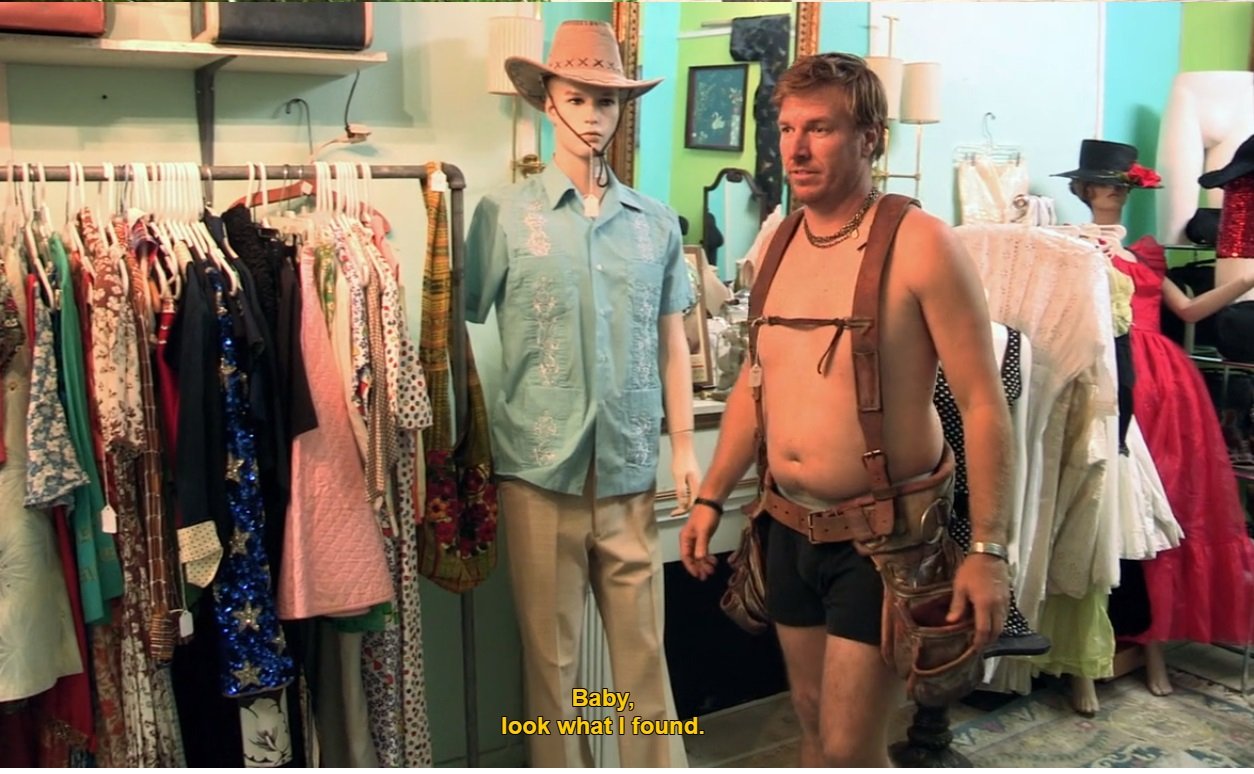 Andrew and Rachel Erwin asked Chip and Joanna Gaines to find them a home in the Viking Hills neighborhood near Waco, Texas. The problem? The hood almost never has homes for sale. The Gaineses rose to the challenge, however, and found the couple a house that cost $110,00 — and all it needed was $40,000 worth of work.
Chip got rather frustrated when they were trying to determine how many doors they needed to remove on demo day, which livened things up. The best Chip line of the episode was, "You know how strong daddy's tummy is? In college, I could wash my clothes with my tummy." And when he took off his clothes and donned his tool belt with only underwear? Priceless.
Next: Joanna kicks down a door.
6. Season 1: "Academics Seek Acreage"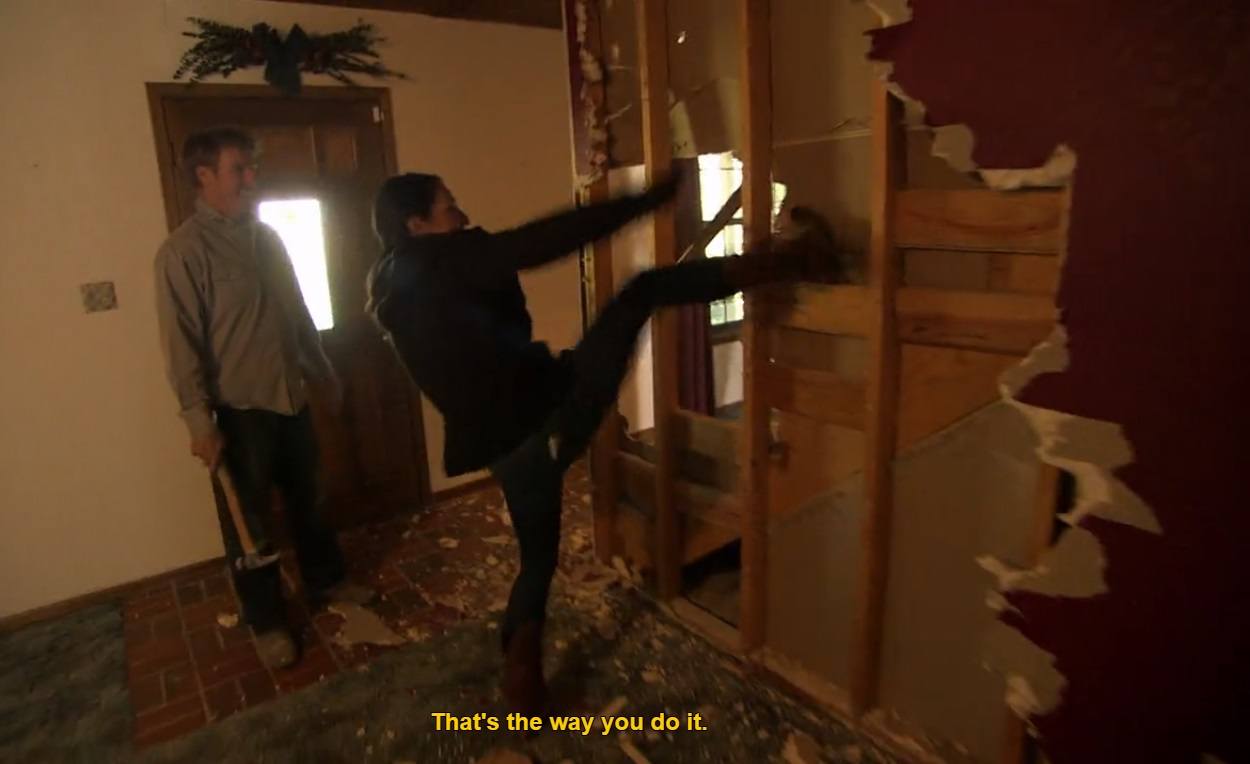 Biochemistry professor Devon Jonklass and his pregnant wife, Hannah, enlisted Chip and Joanna Gaines to help them find a fixer upper in Northern Waco, Texas. The couple's wish list included lots of land and a number of bedrooms for their growing family.
On demo day, Joanna got down and dirty: She huffed, and she puffed, and she basically kicked down a wall. Plus, Chip delivered a hilarious zinger, "It's hard to imagine when you're not a genius, but when you're me, it's like I could sell ice cream to an Eskimo, and that's just all part of the deal."
Next: Chip, ever the clown
7. Season 2: "Homebuilders Seek Fixer Upper"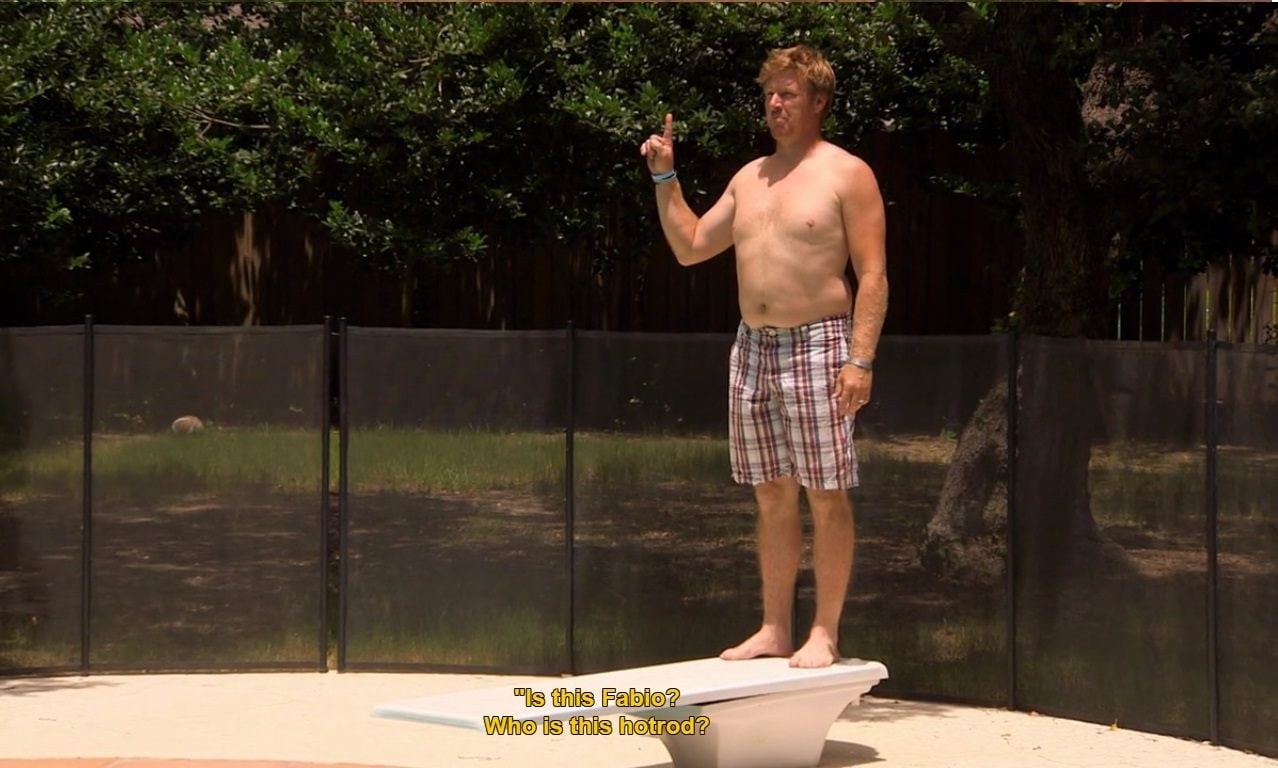 When Russ and Jenny Davis decided to buy a place in Woodway, Texas, their all-in budget was $345,000. Leave it to the Gaineses to find them a home for $235,000 — and spend the rest fixing it up.
Carpenter Clint Harp added his touch by building benches, planters, shelves, and an outdoor table. And Chip added some wisecracks to the episode, of course. The most memorable was: "Is this Fabio? Who is this hot rod?" The highlight of demo day was Joanna offering Chip a ham sandwich — while he was installing wood floors. Perhaps offering him a hand might have worked better?
Next: Sexy time for the Gaineses?
8. Season 2: "Young Couple Chooses Old Home"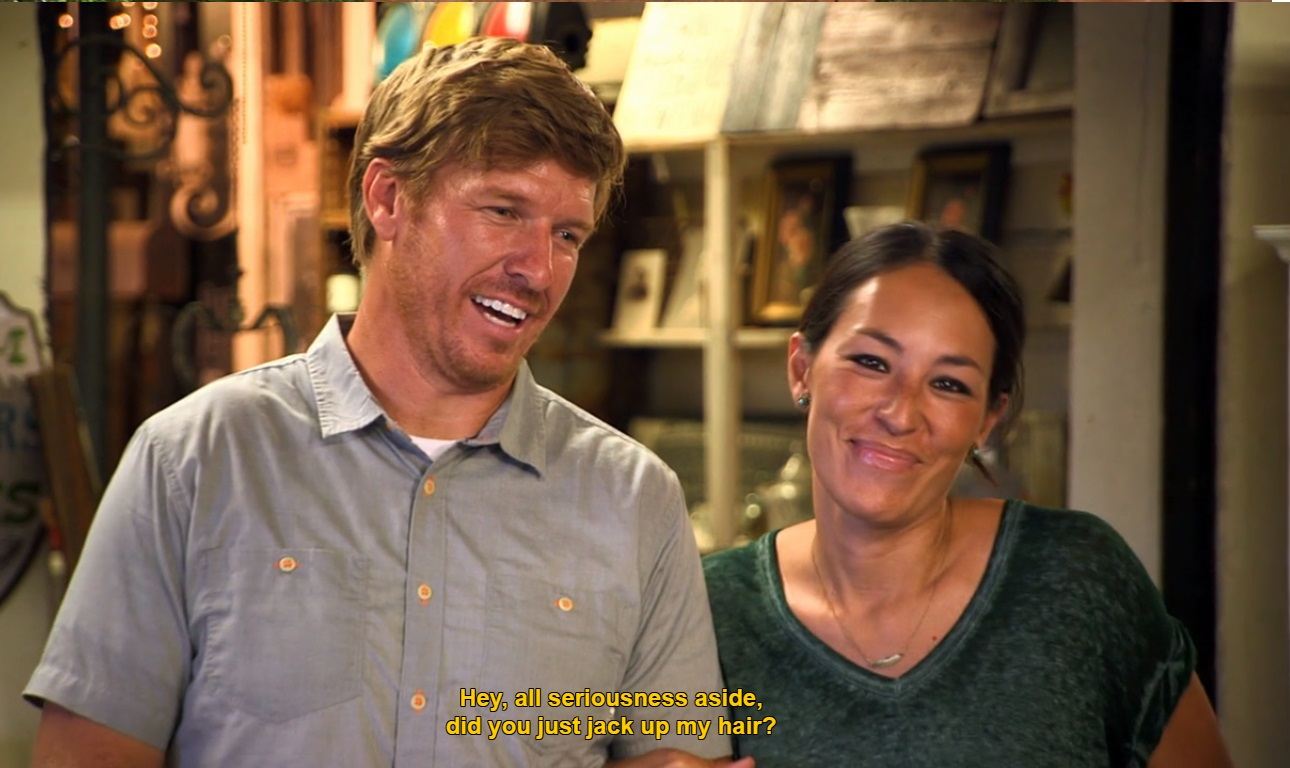 When the Gaineses took on the challenge of finding clients an elegant, old home that wouldn't break their bank, they presented them with three places in the established neighborhood of Dean Highland, Texas. When the couple chose their place, Chip and Joanna got to work — but first they competed to see who could throw the most bricks into a dumpster.
Clint Harp built the fireplace mantel and … wait for it … Joanna put one of her famous clocks on it. Best of all? Chip's line to Joanna: "I always like when you can walk in and the bed is the focal point." Joanna's comeback to Chip: "And now it's starting to make a whole lot of sense why we've got so many kids."
Next: That roof is totally fascinating.
9. Season 2: "New Homebuyers Prefer Fixer"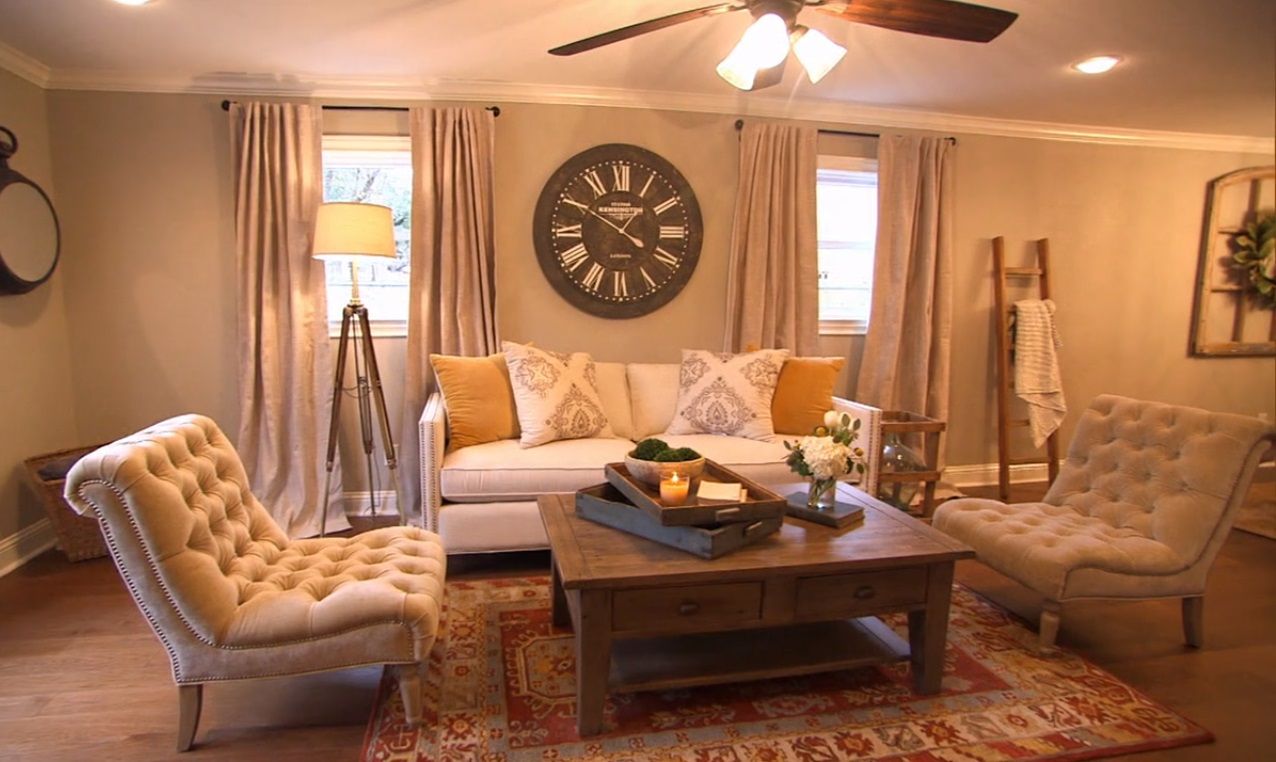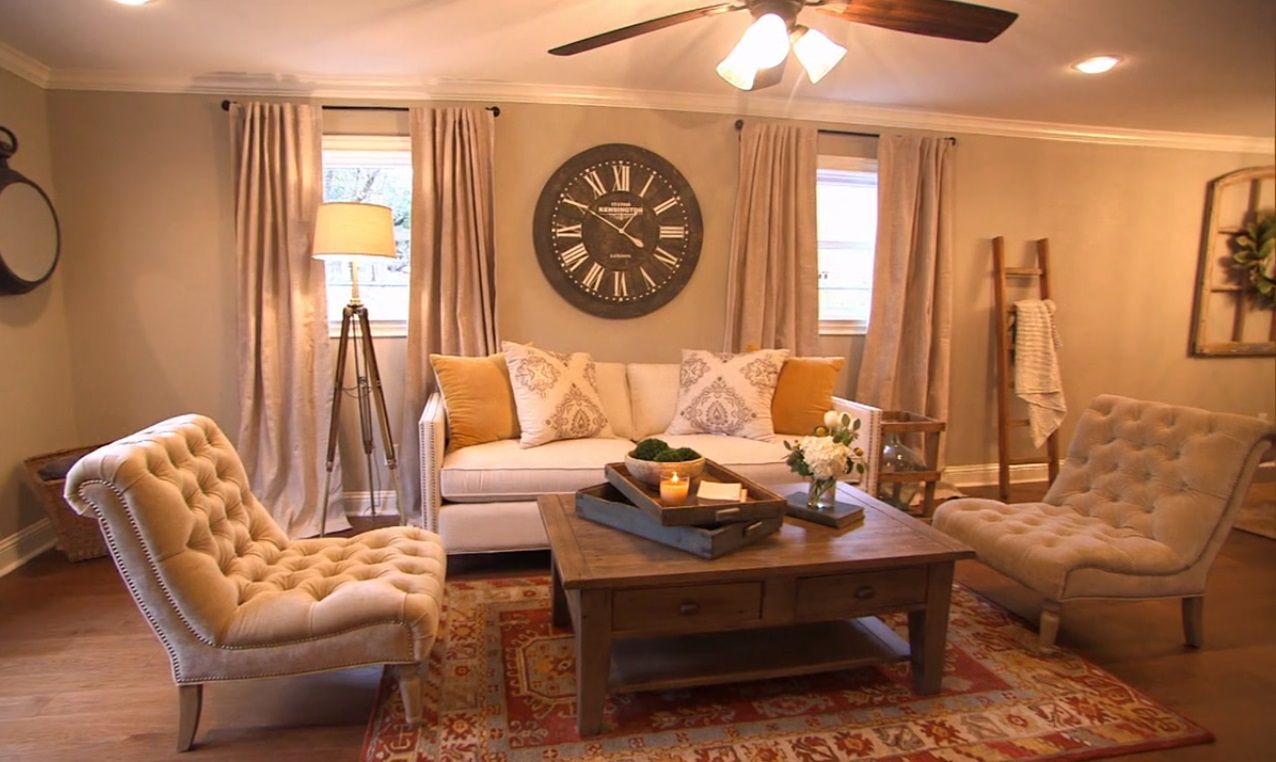 Brandon and Kristen Haire bought their fixer upper for $135,000. After the Gaineses added a farm sink and two French doors — and completed numerous other renovations — the Haires' all-in price was $210,000.
Joanna situated her giant clocks in the den and the formal living room, and Clint Harp custom built an entryway bench for the place. Another iconic moment? Chip got a big laugh when he said, "The roof is in fascinating shape." Now that's just something no homeowner in the world wants to hear.
Next: Chip says no to Speedo.
10. Season 2: "Country Couple Seeks Fixer"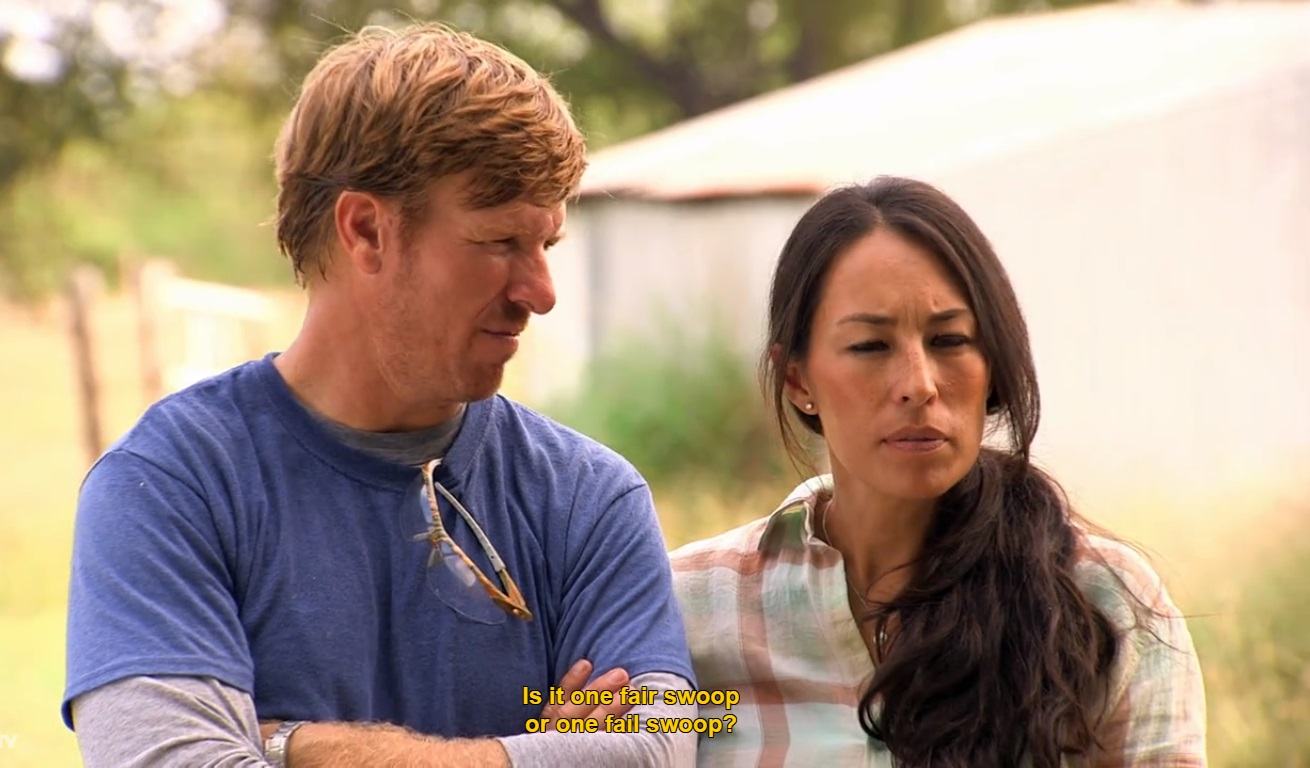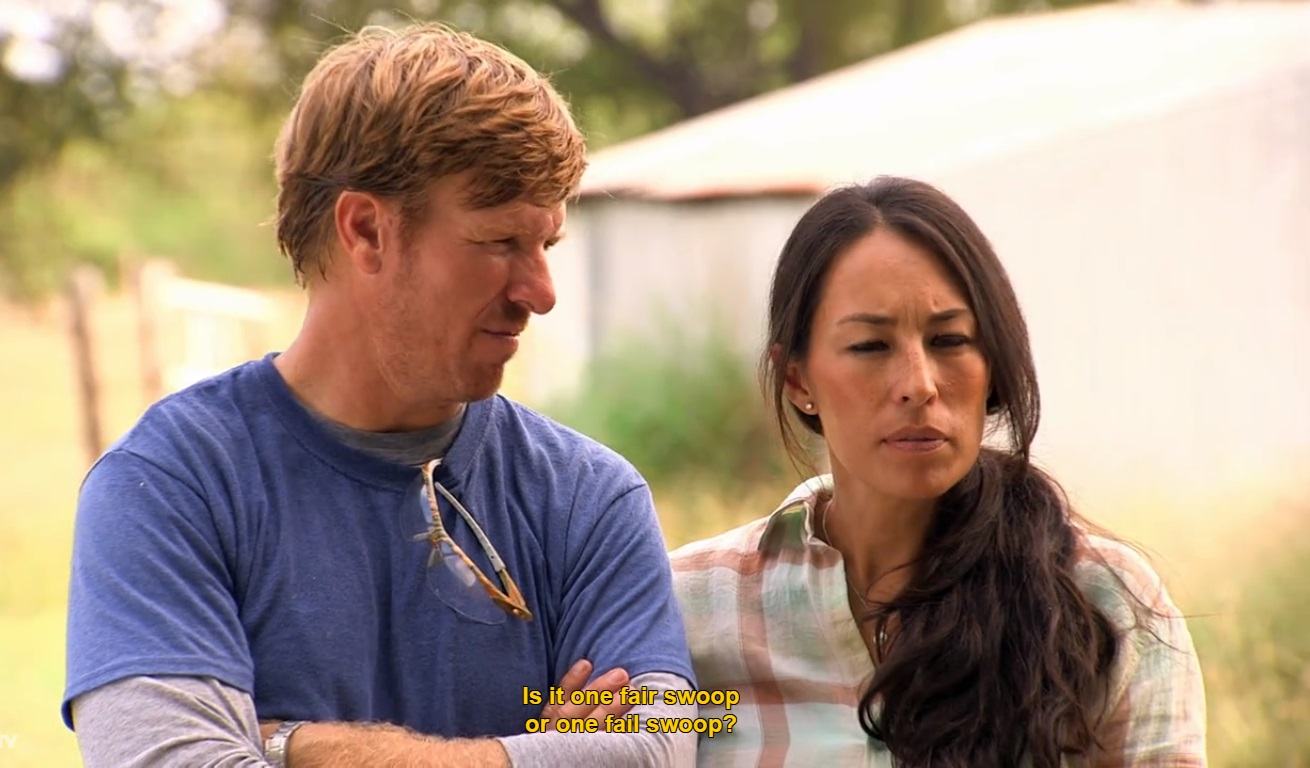 Paul and Deanna King called on the Gaineses to work their magic on an $80,000 fixer upper in Hubbard, Texas. About $120,000 later, the Kings had a beautiful ranch house with two French doors and a farm sink (not to mention, a Clint Harp-built kitchen island and bed).
On demo day, Chip asked if it's "one fair swoop" or "one fell swoop." That was funny, but his best line in the episode was clearly, "Some people look good, like in swimsuits, Speedos, kind of the less the better. But for me, it's the opposite. You know, I look good layered, with tool belts, lots and lots of clothing."
Next: Chip might poop his pants, even.
11. Season 3: "New Nest for a Growing Family"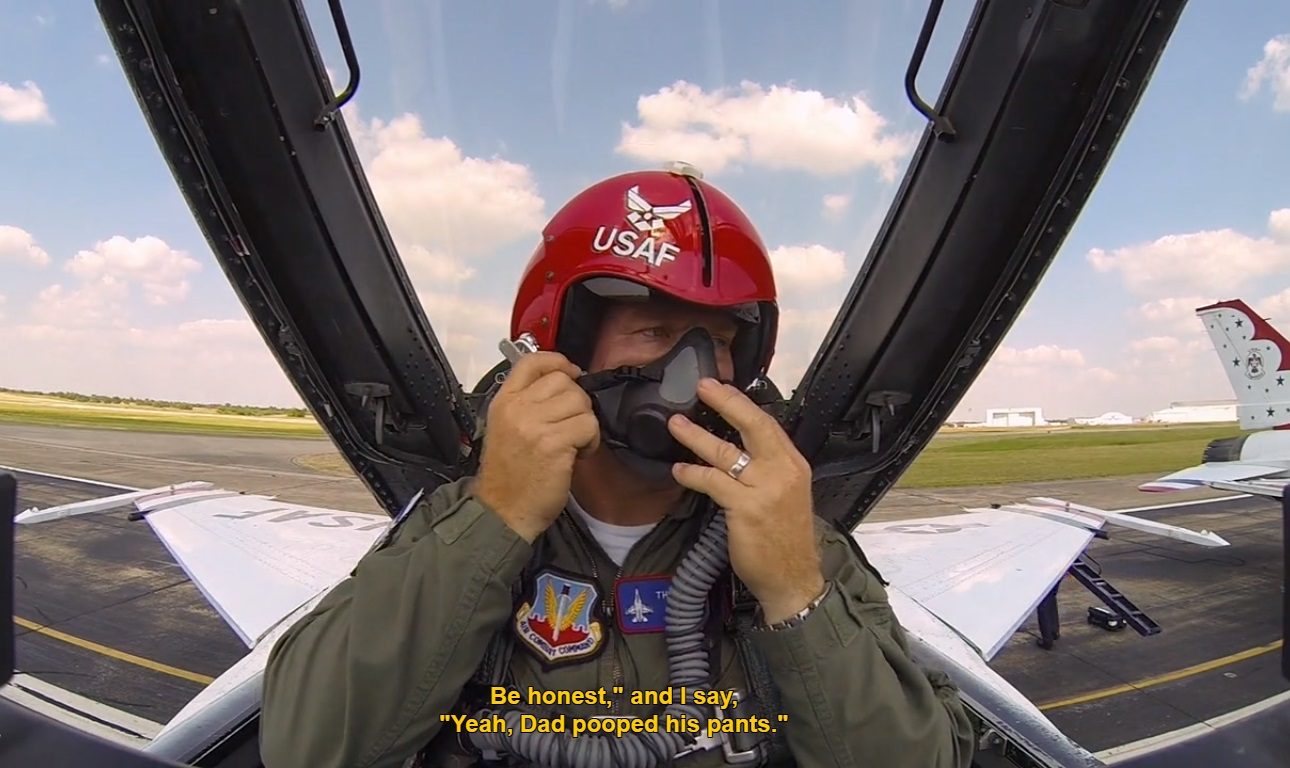 Luke and Rachel Whyte moved to Woodway, Texas, where they purchased their home for $187,000 and used the rest of their all-in budget of $277,000 to have the Gaineses fix it up. The couple gave it a signature farm sink and a set of French doors, plus a kids' table with benches courtesy of Clint Harp. Plus, there were Joanna's giant clocks in the dining room and entryway.
Chip, who flew with "Thunderbird" fighter pilots in the episode, according to Country Living, chimed in with his typical humor: "If I accidentally get up in this F-16 and poop my pants and have to come down and kiss the kids and they ask, 'Did you poop your pants? Be honest.' And I say, 'Yeah, Dad pooped his pants.' That's it. No, I will not be okay with that."
Next: Chip excels at "cowboying."
12. Season 3: "Coastal Calm in the Country"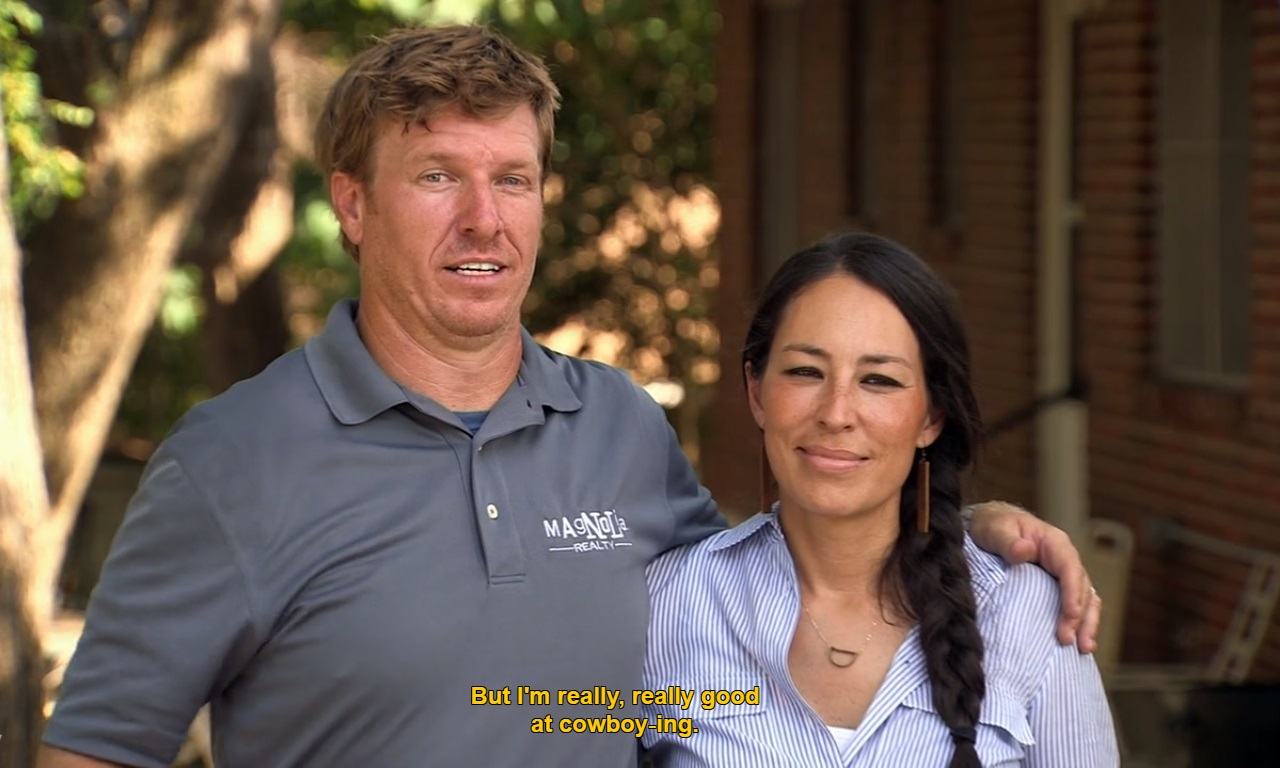 Chris and Lindy Ermoian likely never thought Chip Gaines would saw through their new fireplace or that Joanna Gaines would hose him down while he did a little dance routine after. It's part of the package when you hire the Gaineses.
Clint Harp built a custom bar for the couple and Chip added two French doors. Chip also added one of his funny lines, "I'm pretty good at construction, but I'm really, really good at cowboying." It was funny, regardless of what it means.
Next: Chip's impenetrable office
13. Season 3: "Foster Mom Finds Future Home"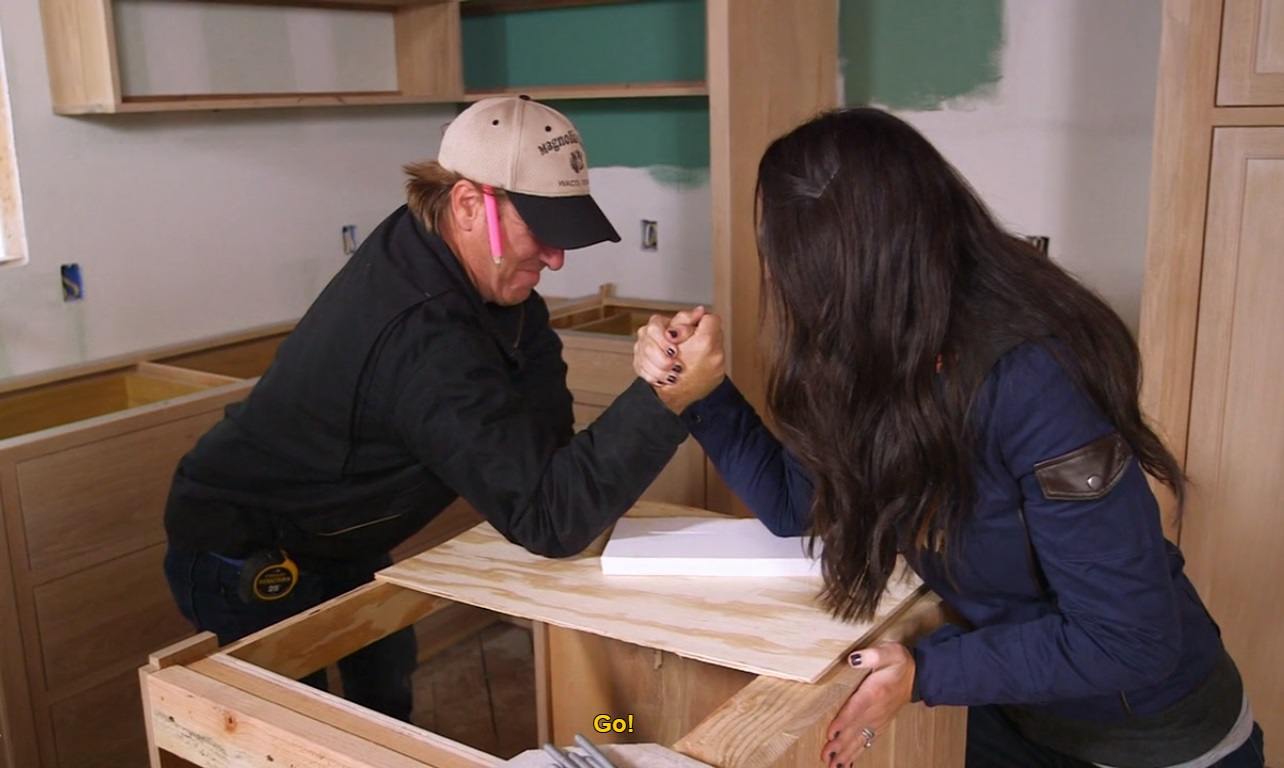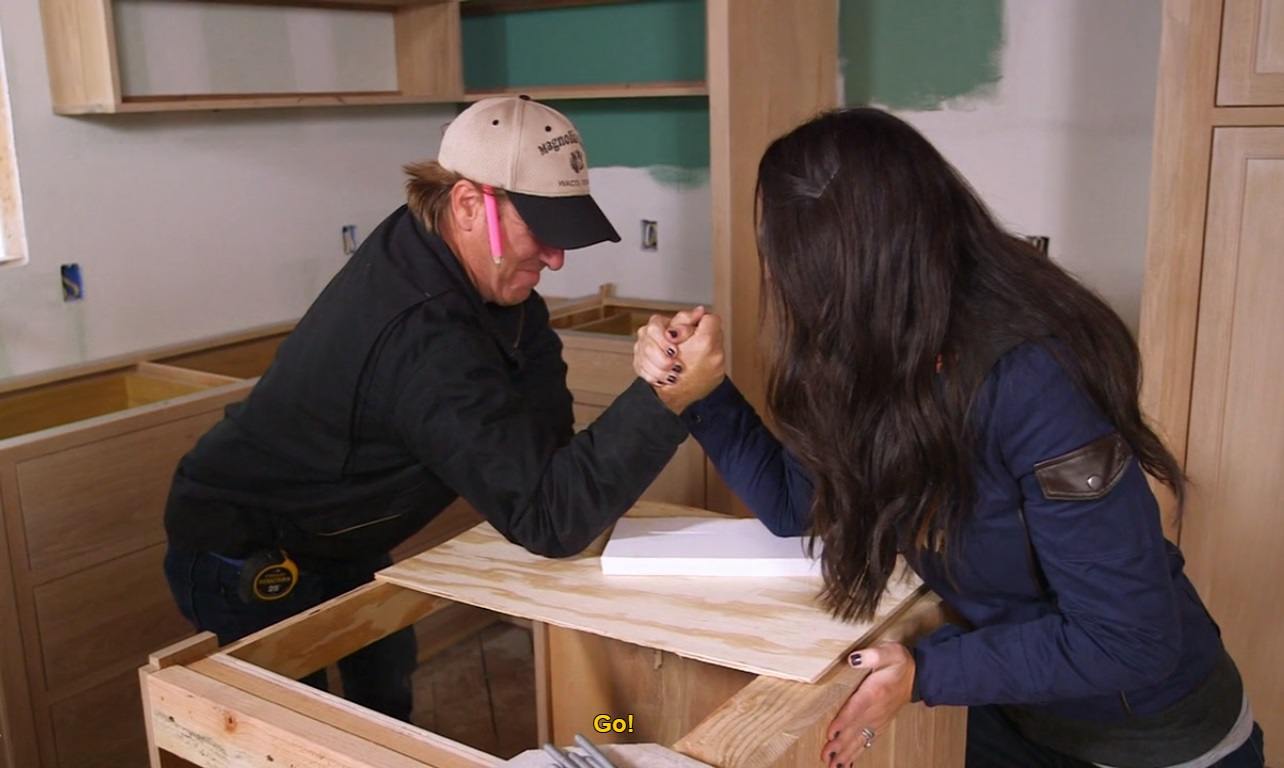 This episode pulled on viewers' heartstrings. Kaley Eggers, a foster mom caring for a small boy, wanted a home in which she could raise her son and take on more kids. To help her, Eggers' twin sister contributed $10,000.
Always the jokester, Chip's best line from the show was, "I strategically placed my office this way so in case anything quirky happens, anyone tries to attack us, you can actually take these huge vats of heated-up lard and you can pour it on the pillagers. And that makes this office almost impenetrable." We'd try to explain, but that's just Chip for you.
Next: Betting on shiplap
14. Season 3: "Home in the Heart of Waco"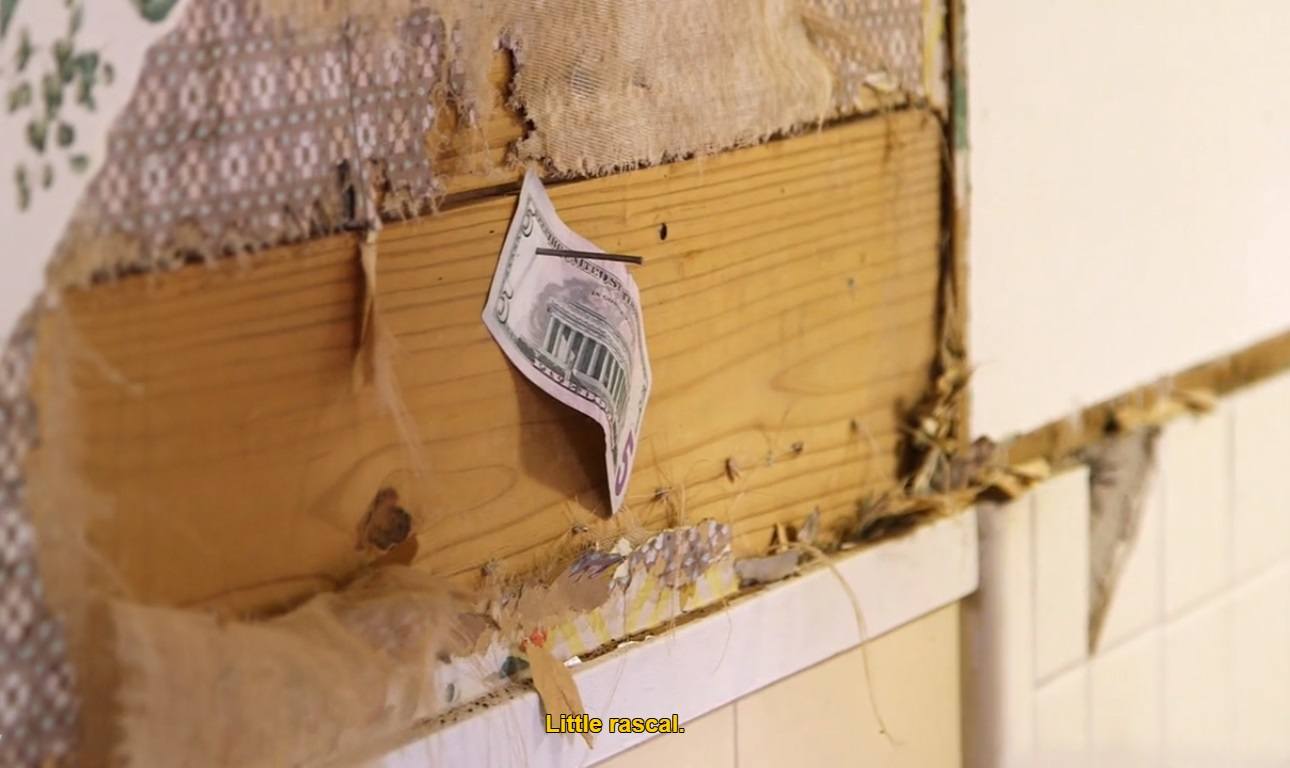 This episode featured Chip and Joanna at their best. As you might know, shiplap is a big thing on the show. The Gaineses love using this roughly sawed pine paneling in their renovations, which goes particularly well in historic homes and barns.
On demo day, Chip and Joanna bet $5 on whether or not there was shiplap under the walls. Joanna won, declaring she wanted to spend her money on a "double meat, double cheese, easy on the mayo." Not to be outdone, Chip worked in with one of his quips during the show, "I don't want to just be strong in odor. I want to be strong in physique."
Next: A family affair
15. Season 4: Chip and the Girls vs. Joanna and the Boys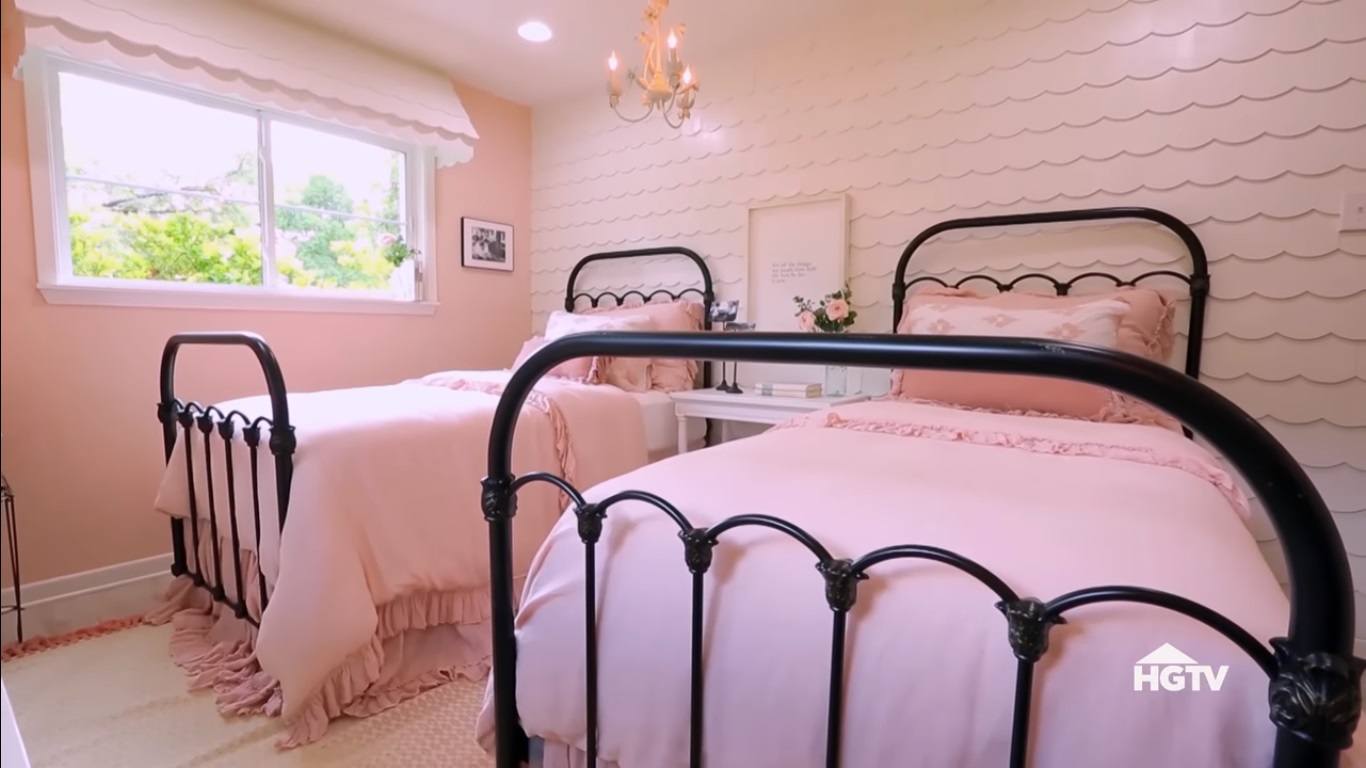 The website Leviathyn reviewed episodes of Fixer Upper and particularly liked the one in which the Morgan family, who had recently adopted two children and already had one son, worked with the Gaineses. The Morgans wanted a farm-style house with an open kitchen, three to four bedrooms and a big back yard. And they wanted it on their "all-in" budget of $175,000.
The Gaines family took a liking to the Morgans and wanted to do something special for them. They all chipped in on the project: Chip handled the girls' room with help from his daughters Ella and Emmie. Meanwhile, Joanna and the boys, Duke and Drake, tackled the son's room. The Morgans were touched by the Gaineses sweet gesture and thankful that their teamwork made their dream work.
Read more: These Are the Things Chip and Joanna Gaines Do in Every 'Fixer Upper' Episode
Check out The Cheat Sheet on Facebook!