These Are the Most Luxurious Airlines You Can Fly Around the World
Shoving your body into the crannies of an economy plane seat makes you green with envy of business and first-class brats — not to mention questioning ever traveling long distances again. The truth is air travel is hardly as fun as it used to be. And while some travelers may be tickled pink to be cooped up in their tiny little airplane seat, it's first-class passengers who are really enjoying the good times.
International airlines put their domestic counterparts to pure shame, especially when it comes to the higher-end accommodations. Luxury travel has never looked so good.
Qantas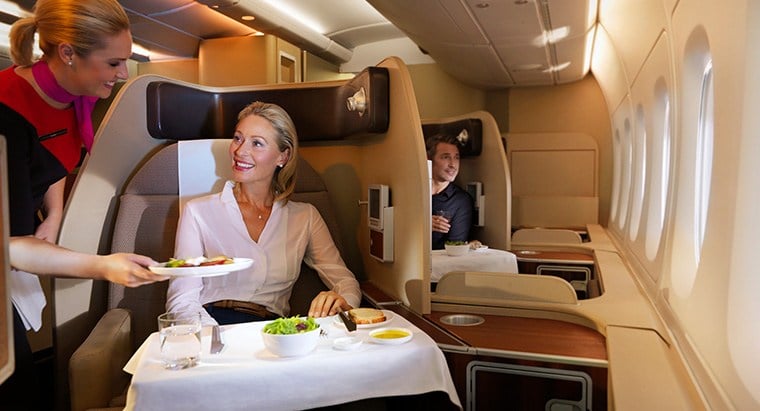 Roundtrip from Los Angeles to Sydney: $5,900
The price tag on a first-class Qantas flight means you'll receive the royal treatment the second you walk out of your front door. The airline's Chauffeur Drive picks you up at your home and delivers you to the concierge and First Host, who will guide you to the premium lounge — showers included. But it's the First Suite onboard you really want to know about. An extra-wide, fully-flat laying bed and a personal suite to enjoy your on-demand dining, cocktail, and entertainment service — not to mention pajamas for when you're ready for your slumber.
Next: This Asian airline invested almost $1 billion into its fleet.
Singapore Airlines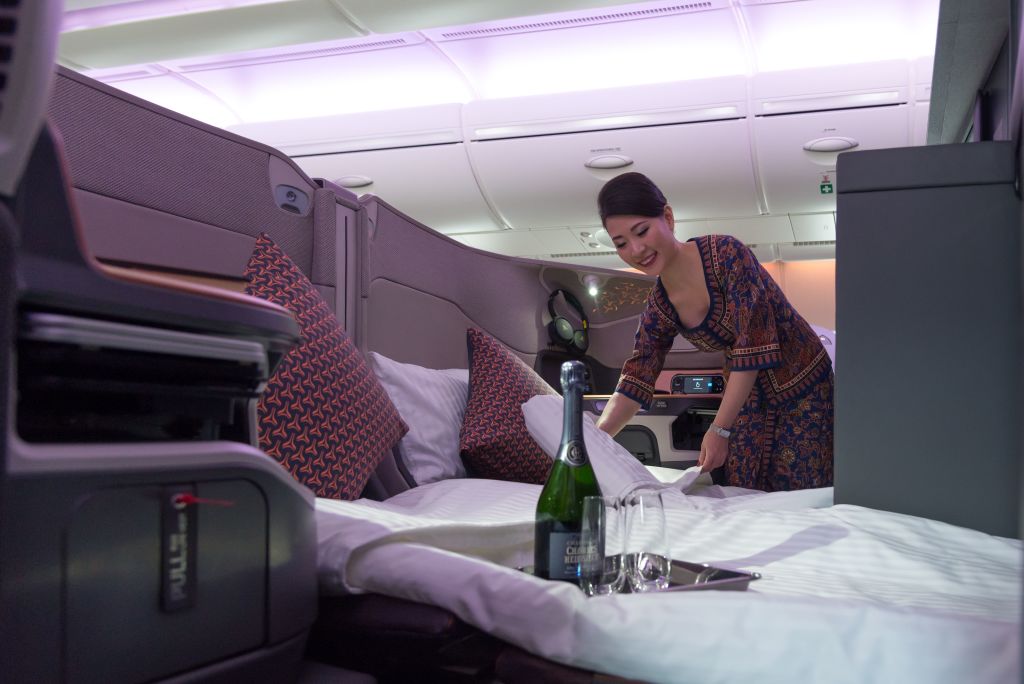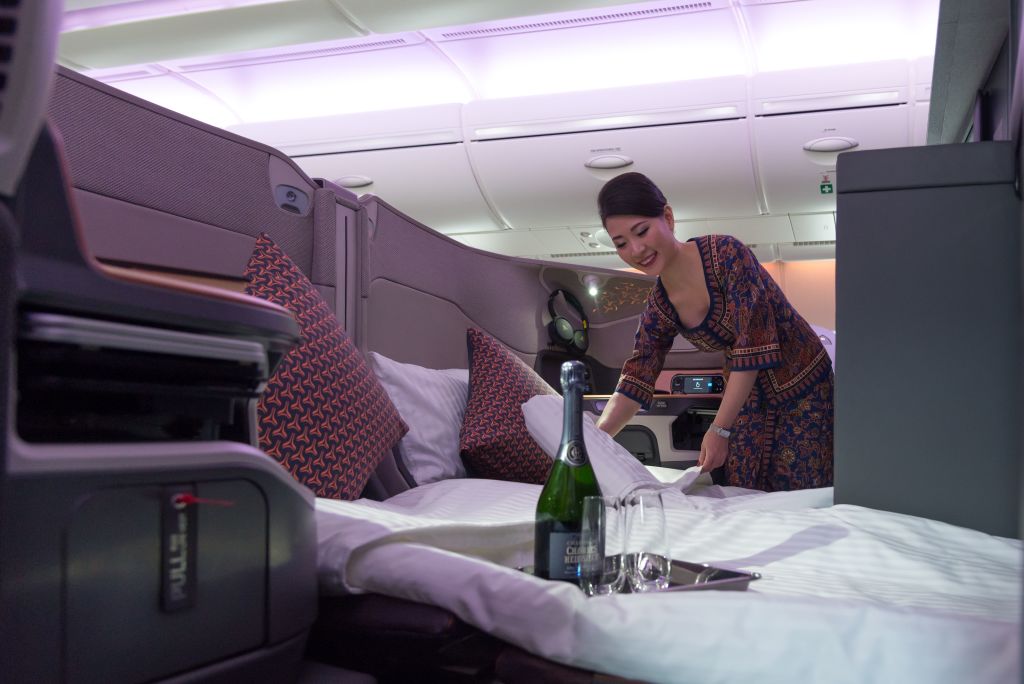 Roundtrip from London to Sydney: $13,000
When it comes to privacy and high-end service, look no further than Singapore Airlines. The New First Class unveiled fully-private suites with double beds and reclining seats. When the franchise invested $850 million into the operation, they made sure you'd be enjoying your bubbly out of Lalique crystal and eating your prawns off of Wedgewood dinnerware.  The bottom line? You may not want your flight to end.
Next: There's a reason this airline has celebrity endorsements.
Emirates
Roundtrip from Los Angeles to Dubai: $31,000
Emirates has come a very long way since the two-plane operation that started back in 1985. These days, the first-class cabins are designed by the one and only Mercedes-Benz and are fully private, plus its endorsed by Jennifer Aniston. Yes, that means you can shut the door and have the premium experience you so deserve. Plus, once you get that icky feeling of public transportation you're ready to wipe clean, you'll be able to take to the shower and return to turndown service for bedtime. Transatlantic transportation has never been so chic. And for just a small chunk of your yearly salary, an Emirates' experience can be yours.
Next: This suite is bigger than your apartment.
Etihad Airways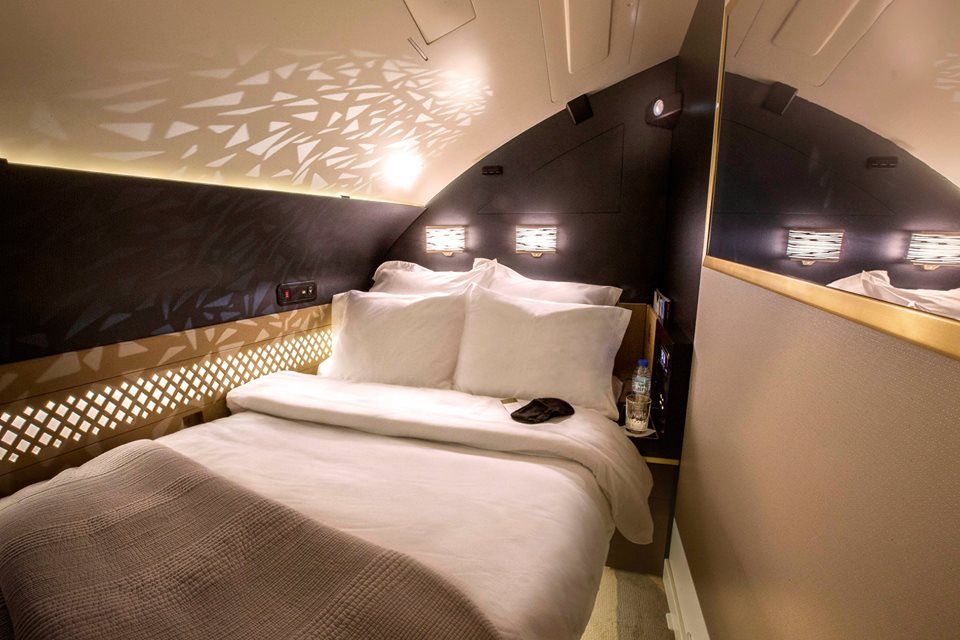 One way from New York to Abu Dhabi: $32,000
Etihad Airways has truly outdone themselves with its new three-room, apartment-style suite known as "The Residence." This is your transatlantic personal living room, en-suite bathroom, and of course bedroom. The VIP concierge handles all the details of your travel from the moment you book until the moment you depart the jet. Plus, a full-service, personal butler will be at your beck and call as soon as you step foot on the A380.
Next: The French take on luxury is quite lovely. 
Air France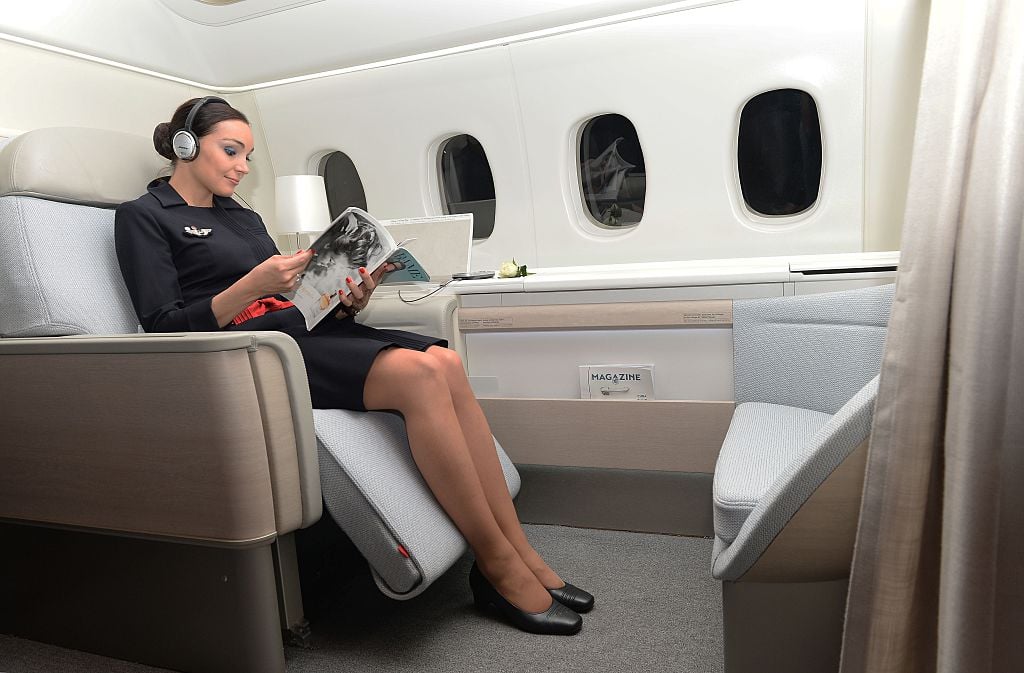 Roundtrip from New York to Paris: $7,300
The La Premiere experience of Air France's first-class is just as impressive as the airline's home country. Typically, guests are delivered to the aircraft by car to avoid any unwanted interactions with the common-folk. But it's the onboard experience that sets these guys apart from other airlines. After being introduced to each member of the first-class staff, you can draw the curtains of your suite to enjoy personalized on-call service to fulfill all of your travel needs and expectations.
Next: Keep it classy with the Brits.
British Airways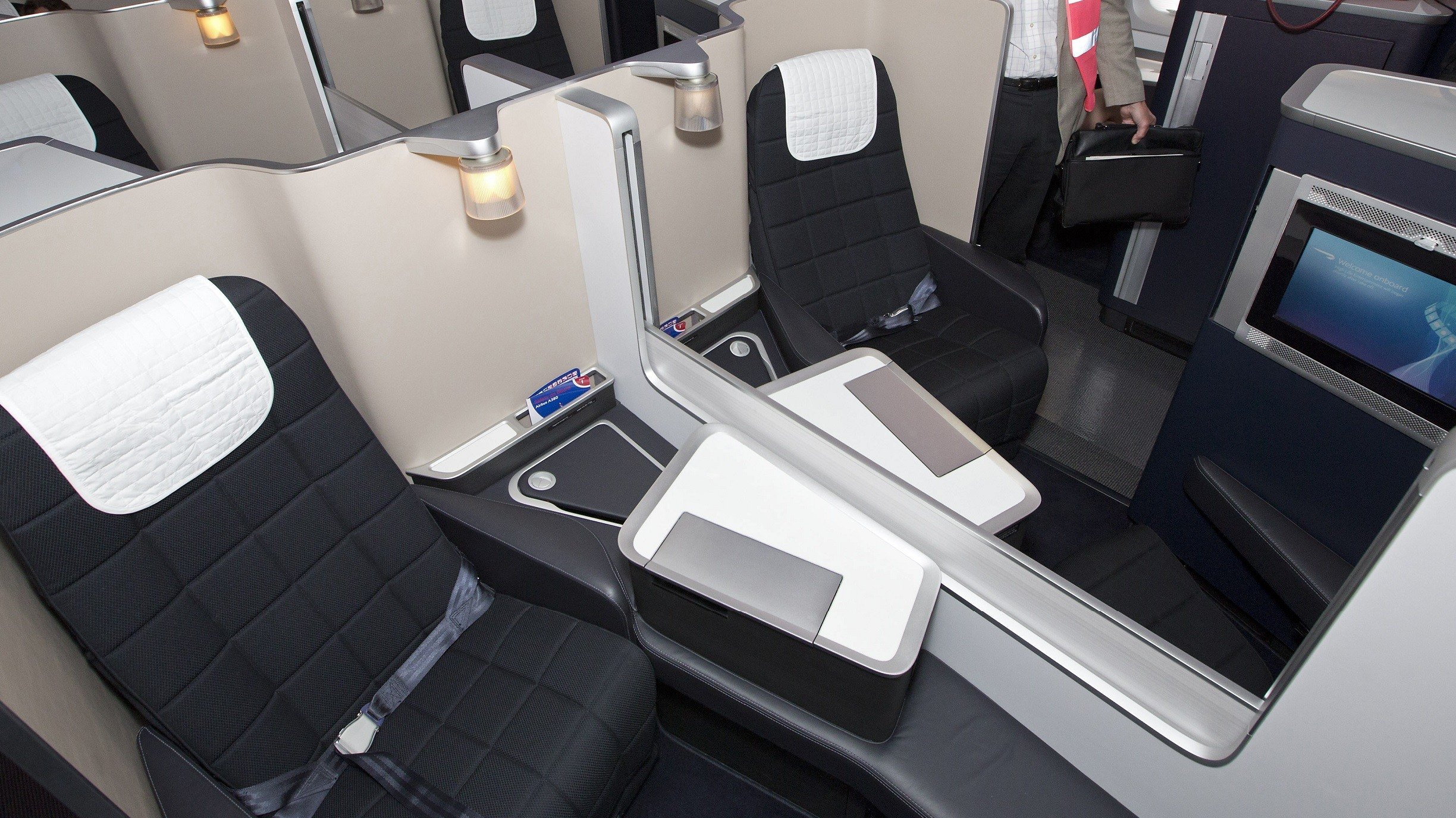 Roundtrip from New York to London: $7,000
A first-class experience on British Airways' Boeing 787-9 Dreamliner may not exactly be "The Residence," but rest assured the airline will be pulling out all the stops. From access to the airport lounge and priority boarding, an onboard suite equipped with lay flat seats, automatic controls, storage for your personal belongings, and an attentive in-flight crew, you'll be well-cared for.
Next: A well-known airline just spruced up its first class.
Lufthansa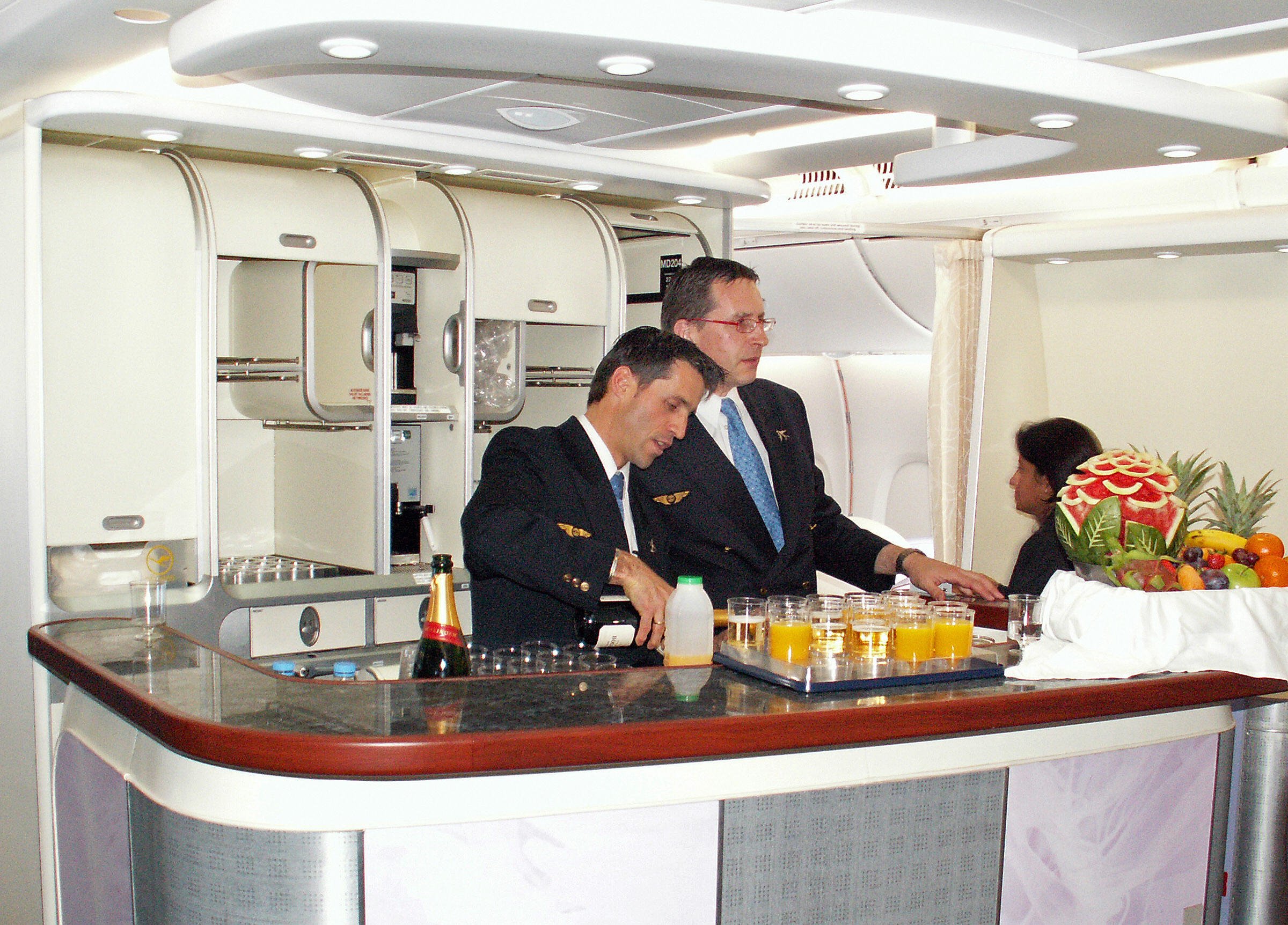 Roundtrip from Cape Town to Munich: $7,000
You'll be indulging in champagne and caviar at take-off, and truthfully whatever else you could conjure up to desire. Lufthansa's new first-class quarters are practically dripping in caramel-colored leather. And if you need to stretch your legs, you can do so as your sashay to the bar, where you'll receive top-shelf cocktails and artisan chocolates. As for the meals, they are prepared by renowned chefs. It goes without saying that the seats lay flat for when sleepy time comes a-knocking.
Next: Functionality sets this first-class cabin apart from the rest.
ANA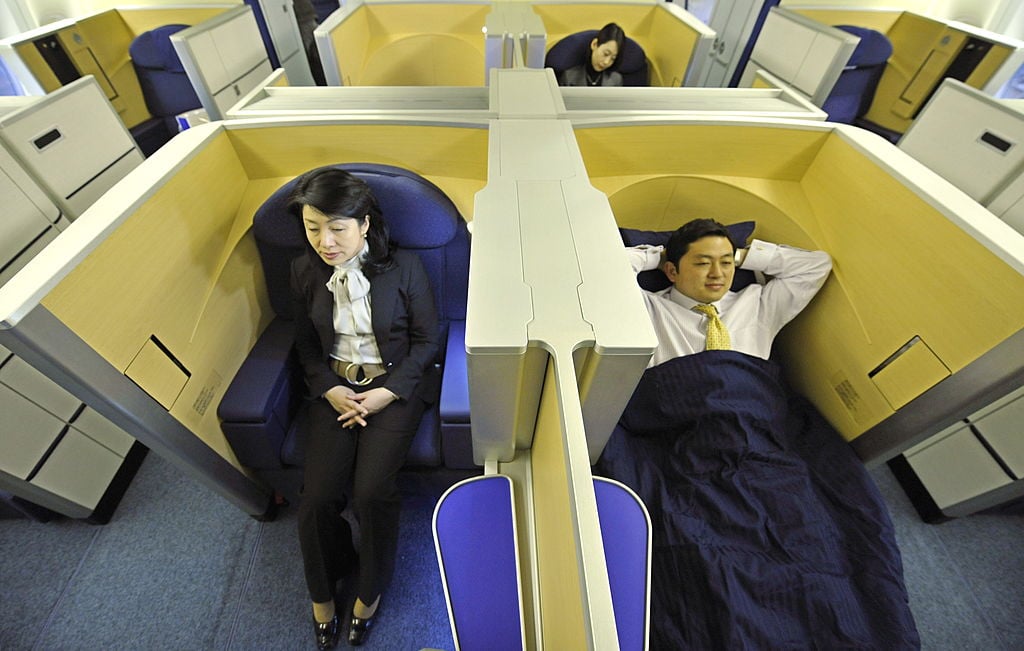 Roundtrip from Tokyo to New York: $10,700
This Japanese-based airline's first-class cabin is less about frills and more about high-end functionality. But not to worry, the more minimalist approach doesn't mean ANA is skimping. The more streamlined suites provide 30 percent more space for passengers. To boot, the bedding for the lay flat seats are laden with touches of cashmere and organic cotton.
Next: An airline living up to its cool reputation.
Virgin Atlantic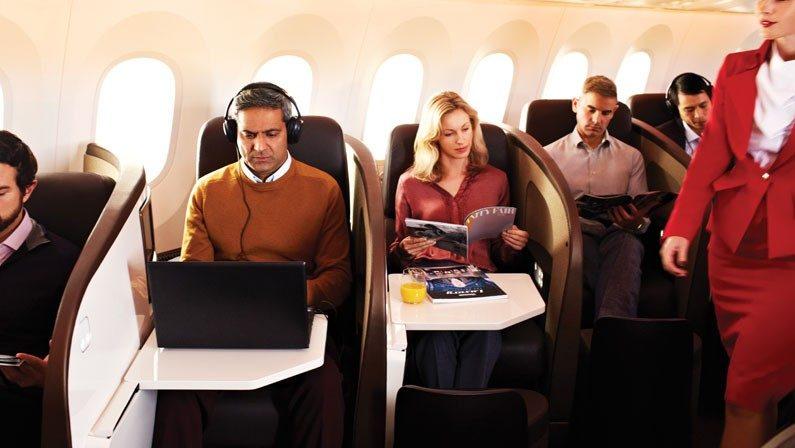 Roundtrip from New York to London: $6,900
After being received and delivered by your personal chauffeur, you'll literally "breeze through check-in" in order to make it to the Clubhouse in just ten minutes. This Clubhouse is far from run of the mill. With complimentary spa treatments and a fine-dining experience, you'll be ready to enjoy a more social environment onboard. The walk-up bar will have you meeting world travelers, and the lay flat seats will have you cozied up to enjoy impeccable in-flight entertainment and service.
Next: Four decades of pure profit
Thai Airways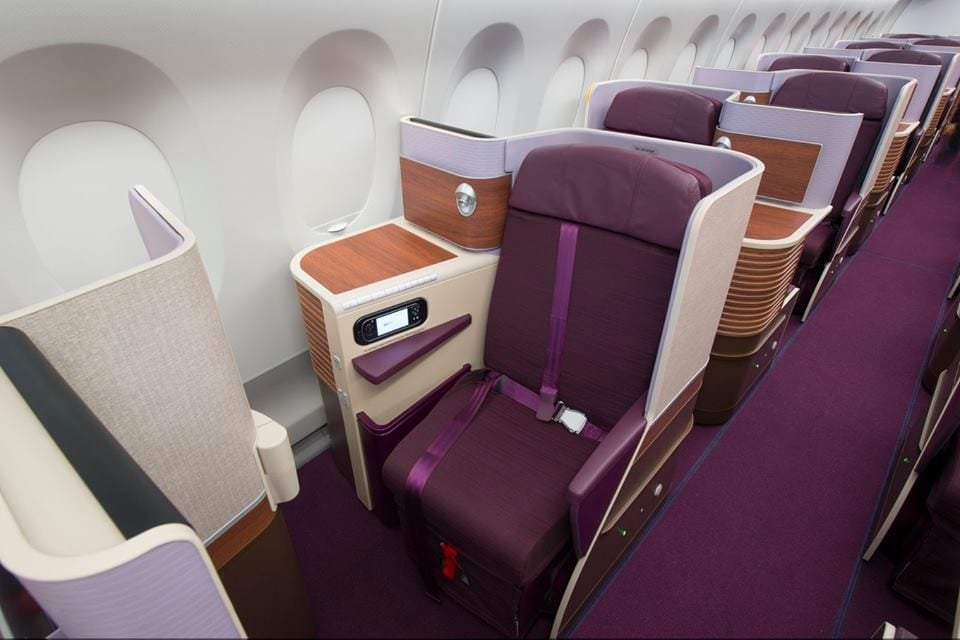 Roundtrip from Bangkok to Sydney: $3,200
Thai Airways is one of the only airlines to turn a profit year-over-year for the last four decades. And because of that accomplishment, the Bangkok-based airline is able to serve its guests with premium attention. The Royal Class passengers receive the gold-standard of service while onboard (some of the best wines and foods of any airline flying the friendly skies).
Next: Tech touches create a different experience in first-class.
Swiss Airlines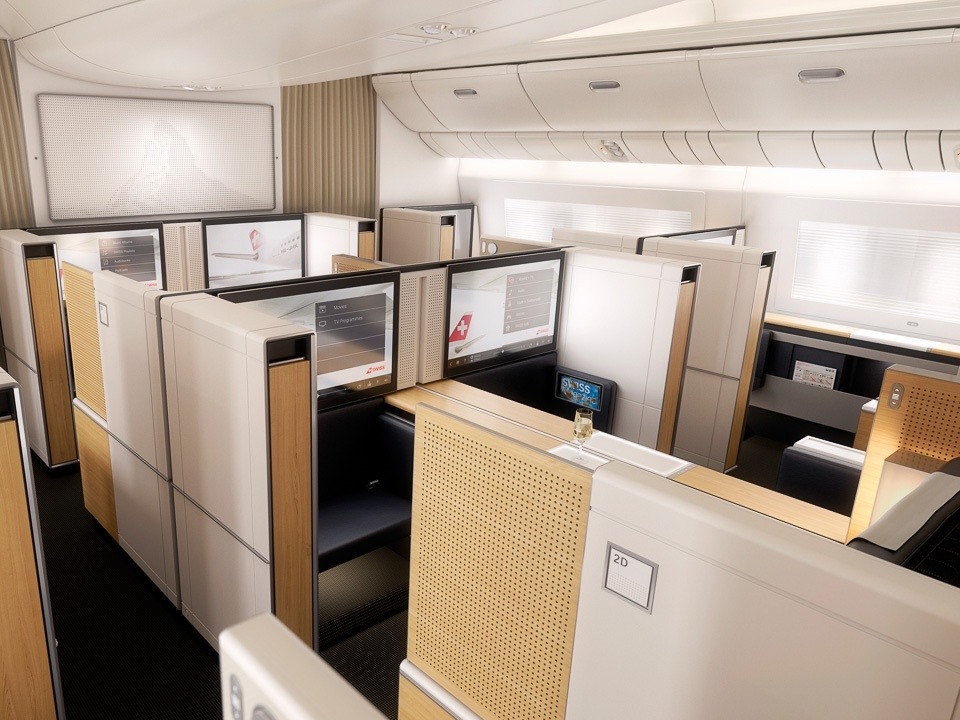 Roundtrip from London to New York: $14,000
With Swiss, passengers will not only receive high-end care and service, but also a high-tech experience. With camera access, first-class cabin passengers are able to see the scenery the pilot is taking in, not to mention what's below the jet. The seats lay flat, the food and wine are of premier quality, and the service is some of the best in the sky.
Next: Winning awards left and right, this airline is superb.
Air New Zealand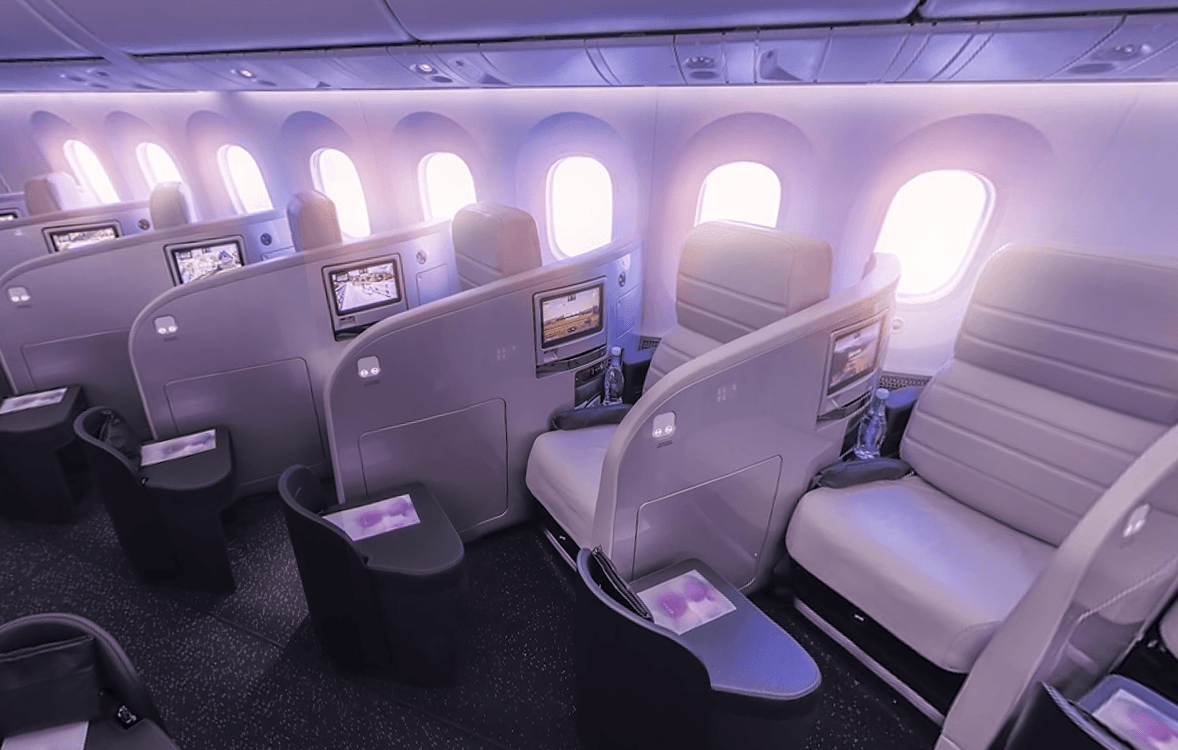 Roundtrip from Christchurch to Sydney: $2,100
Voted the 2010 world's 'Best Airline' and 2018 'Airline of the Year', it's no surprise that Air New Zealand knows what it's doing. The luxury treatment will be yours for the taking when you step onboard. The seats are extra-wide at 22 inches, and whether you're laying flat or not, you'll be able to thoroughly enjoy all the in-flight entertainment you can handle. And when your tummy rumbles, it'll be surf and turf on the menu.
Next: Reasonable pricing for high-end service
Japan Airlines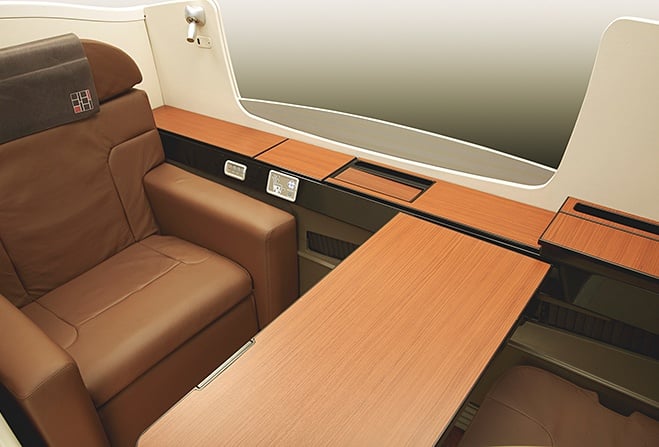 Roundtrip from Tokyo to Sydney: $800
Servicing nearly all of Japan's airports, Japan Airlines has been leading the charge in first-class accommodations since 1951. The airline's Skysleeper Solo suites are laden in leather, laying flat for each passenger's comfort. When it comes to choosing food, options for both eastern or western fare are available.
Next: The United States airline gets its foot in the door.
Delta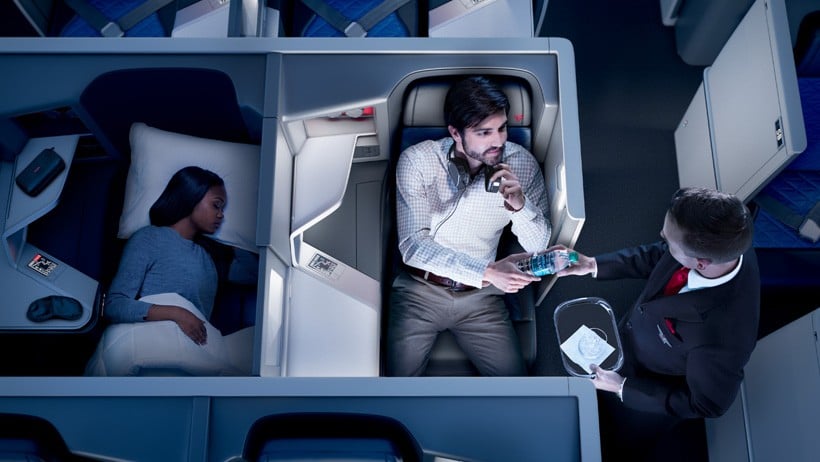 Roundtrip from Los Angeles to London: $10,000
This U.S. based airline has been flying commercially since 1924, and because of that, Delta has had ample time to fine-tune its operation. Internationally speaking, Delta offers first-class suites with lay-flat seats and the same high-end service of many rivaling airlines. Furthermore, Delta is considered one of the best domestic airlines here in the United States.
Next: Last, but certainly not least
United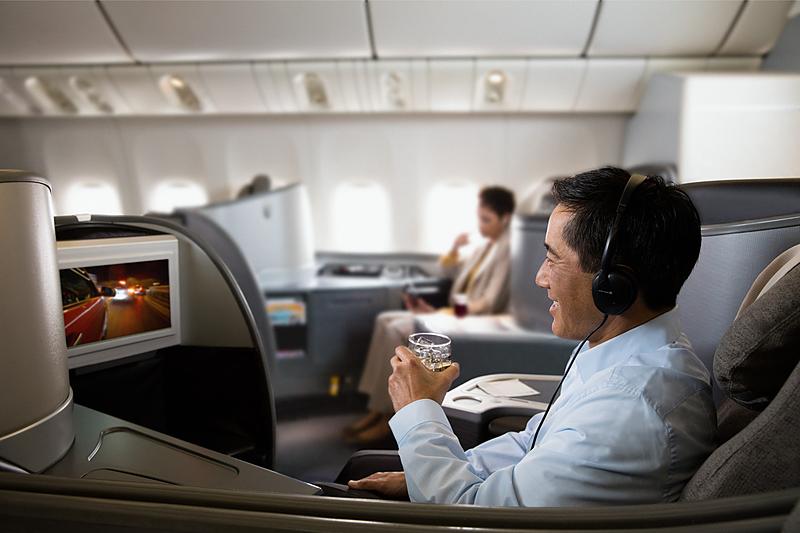 Roundtrip from Los Angeles to London: $8,200
United also has its hands in the cookie jar when it comes to offering a solid international business class experience. With linens by Saks Fifth Avenue, plenty of wine, cocktails freely flowing, and in-flight Wi-Fi and entertainment to keep you occupied for the entirety of the flight, it's doubtful you'll be missing out on any fun.