These Are the Real Brands Behind Your Favorite Trader Joe's Snacks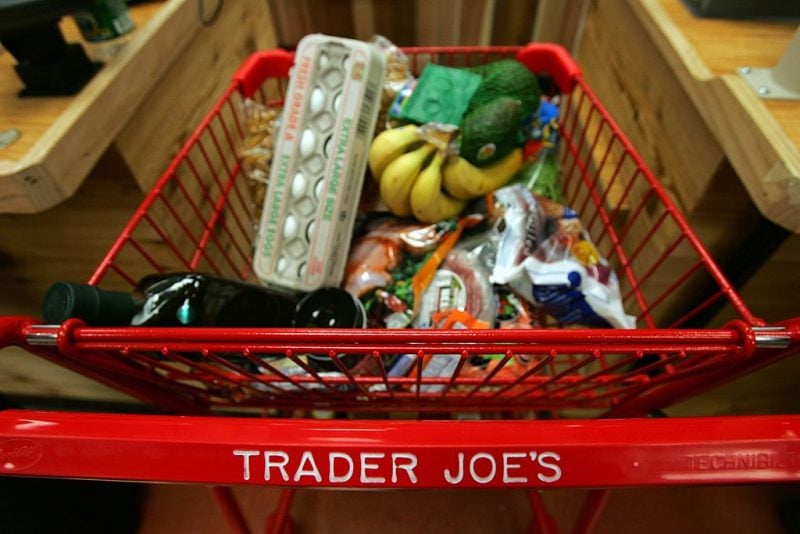 One of the easiest ways to save money at the grocery store is to skip the name brand and opt for store brand items instead.
Often, grocery stores will go out of their way to show consumers which items are comparable. Love Dr. Pepper soda? Then you should definitely sip on Dr. Bob for half the price. It even comes in similarly colored packaging.
But other than the silly names and strategic placement of knockoff food items, is there really a difference? In most cases, yes. The store brand item may have similarities to the national brand, but it also tastes vastly different … unless you happen to be shopping at Trader Joe's.
Trader Joe's offers branded products in disguise
It turns out that this popular grocery store chain stocks private label products that are identical to those big-name national brands, and they do it at a fraction of the cost by keeping quiet about what's really inside.
Next: The suppliers are kept secret.

Who's really making it?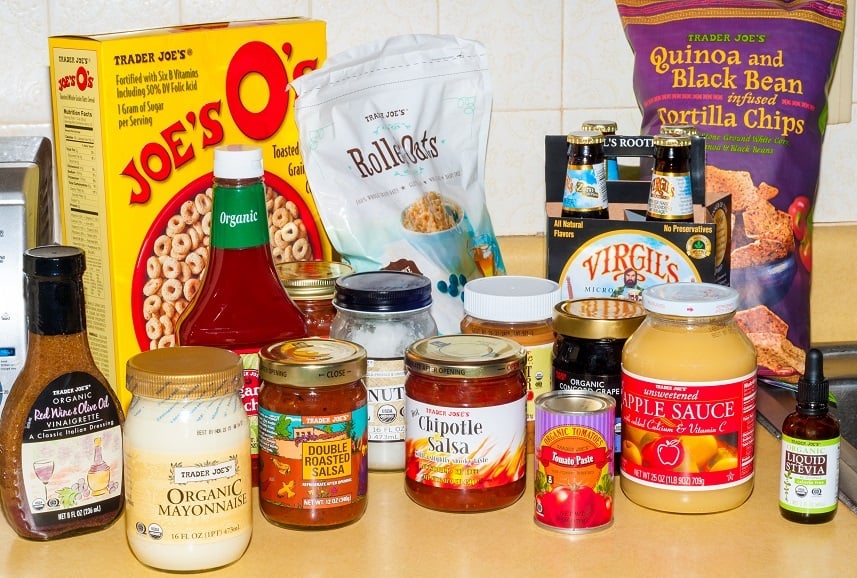 The suppliers for Trader Joe's are a closely guarded secret, but that doesn't mean we can't make a few educated guesses.
Eater recently conducted an extensive study on which suppliers Trader Joe's has in common with national brands, and the results will surprise you. The only difference for these tasty snack foods is the packaging — and the price.
Next: Product recalls were the key clue to figuring it out.

Solving the mystery of the private label foods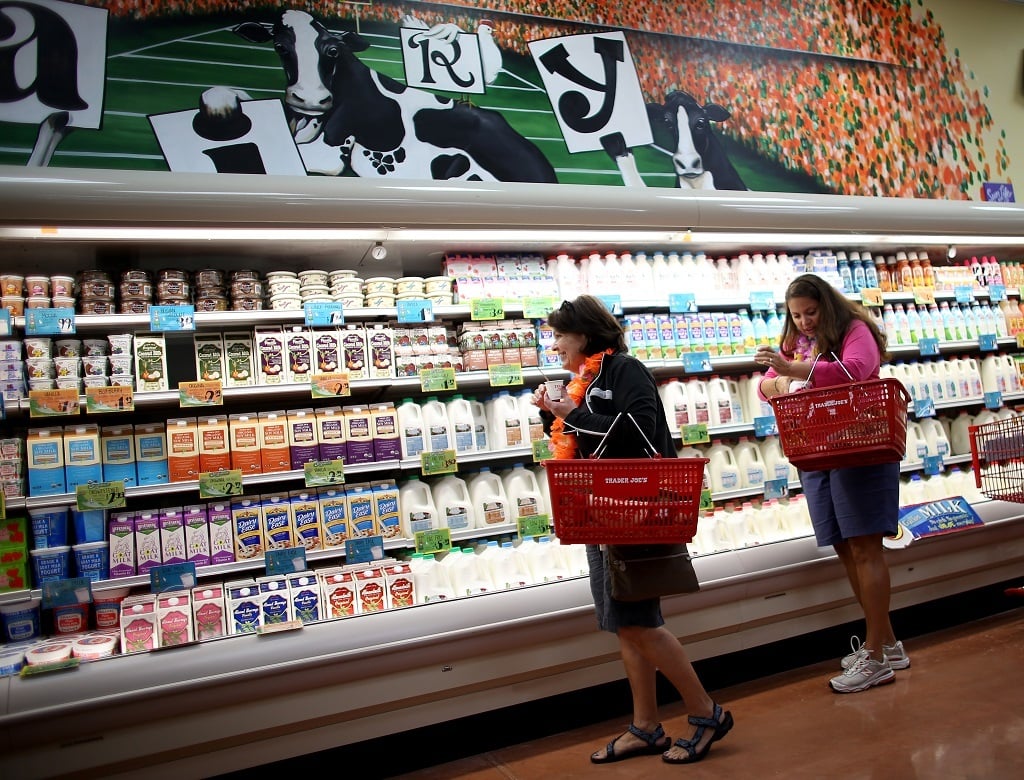 The Eater team was able to deduce which suppliers were selling to TJ's by using the Freedom of Information Act, which let them see when specific manufacturers were mentioned during product recalls and alerts. They also took the time to hunt down ingredients list for some popular snack items to compare them to the Trader Joe's versions.
Next: These popular dips taste identical.

Tribe hummus is just like Trader Joe's hummus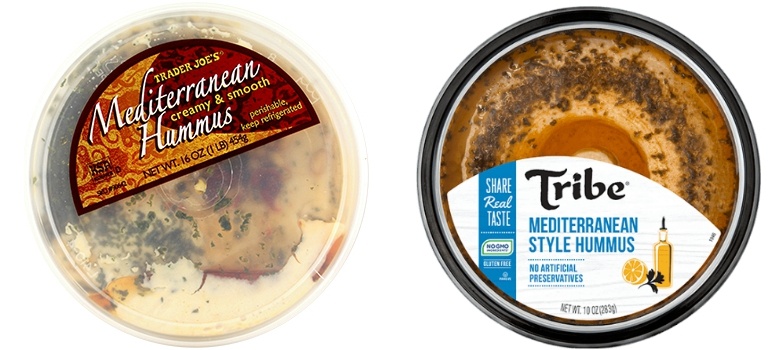 Tribe Mediterranean Foods has, at one time, also supplied Trader Joe's hummus, which could account for how smooth and creamy their store brand tastes. You'd do just as well with the TJ version of this tasty dip at your next party.
Next: You'd be nuts to overpay for this item.

You won't be able to tell their pistachios apart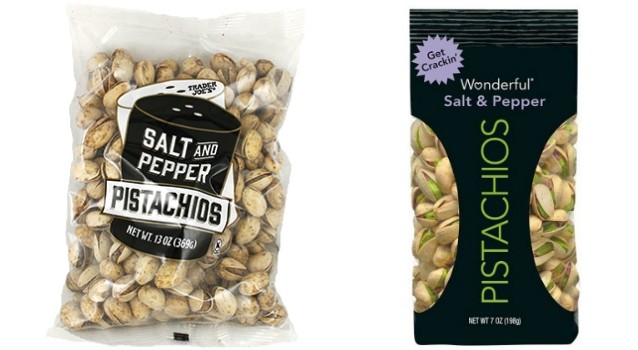 The Trader Joe's plain packaging may not be as sexy as Wonderful Pistachio's trademark black bag, but it's what's inside that counts. It turns out these nuts are essentially the same. A recall flag proves that the nuts for both brands come from the exact same supplier.
Next: This expensive drink tastes exactly the same as TJ's.

The Naked mango smoothie tastes the same, too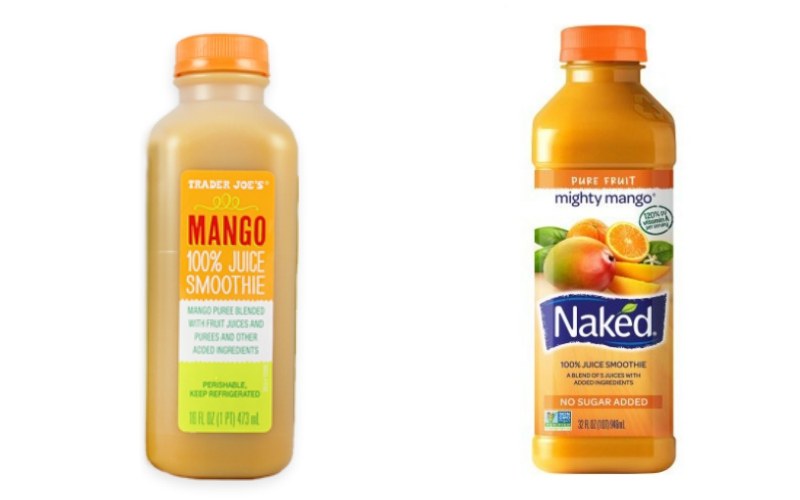 Here's a little-known fact: Naked Juice is a subsidiary of beverage giant PepsiCo. Even less well known? Both Trader Joe's and Naked Juice use the same third-party supplier to concoct their delicious fruit and veggie smoothie drinks. The only difference you'll encounter is the price.
Next: These popular chips have the same ingredients.

Stacy's Simply Naked pita chips are the same as TJ's store brand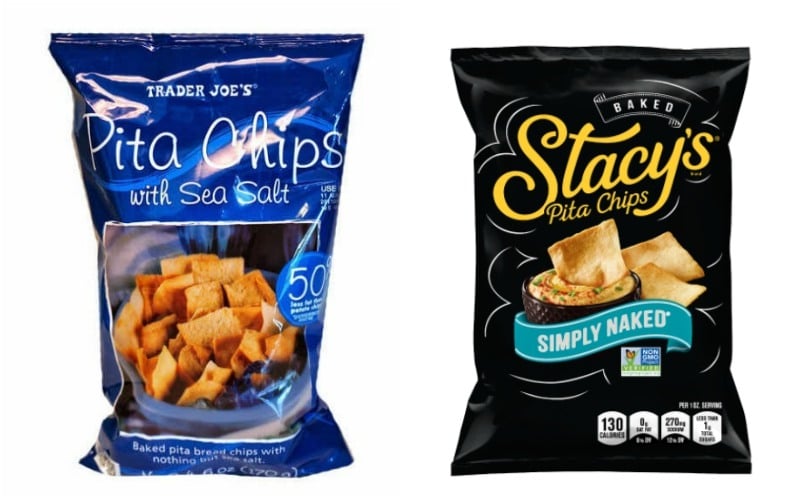 When the recall and alert method failed to turn up good intel, Eater investigators turned to the ingredients list. It turns out Stacy's pita chips and the TJ store brand version have the exact same ingredients and a remarkably similar taste, too.
Next: Gluten-free cookies are also identical.

Trader Joe's gluten-free chocolate chip cookies are similar to Tate's Bake Shop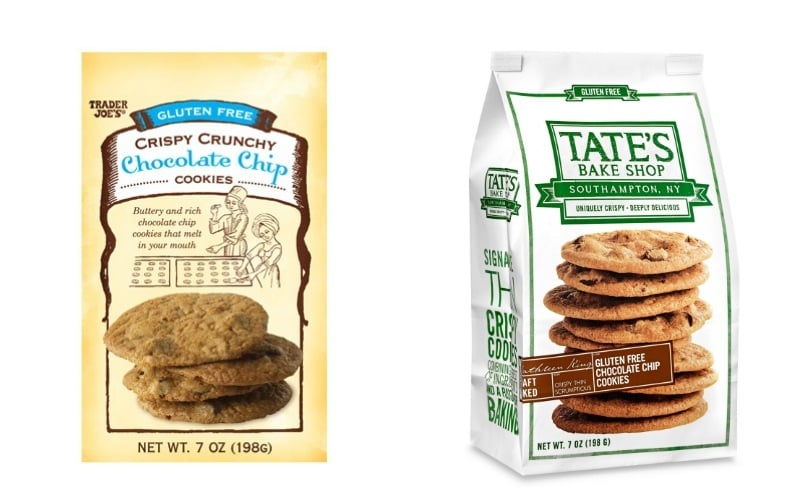 From the packaging to the ingredients to the taste, Trader Joe's Gluten-Free Crispy Crunchy Chocolate Chip Cookies are indistinguishable from Tate's Bake Shop. The only real difference is the price.
Next: You'd pay $2 more for the national brand of this item.

TJ's pretzel thins are just as crunchy
You'll spend almost $2 more for Snack Factory Pretzel Crisps than you will for Trader Joe's Pretzel Slims, but that would be a huge waste. The look, feel, and taste between the two salty treats is identical.
Next: The taste of this dessert food is identical.

Everyone loves Trader Joe's dark chocolate covered pretzels.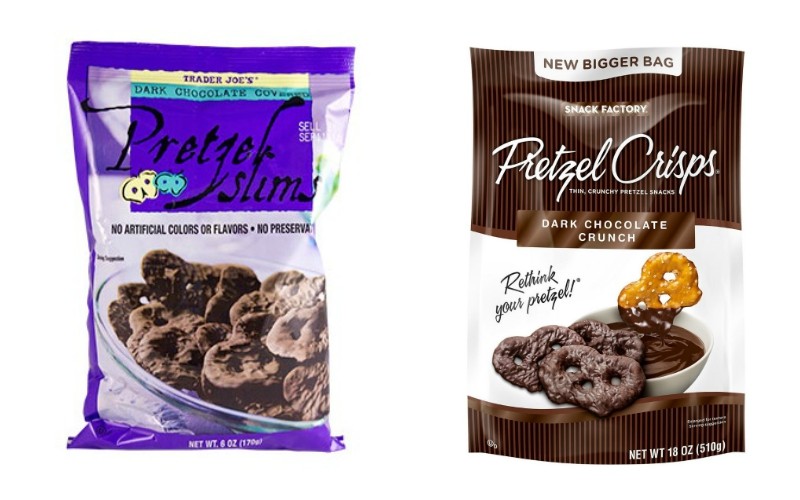 Snack Factory Dark Chocolate Pretzel Crisps taste just like Trader Joe's Dark Chocolate Covered Pretzel Slims. And for the record? They're both exceptionally tasty.
Next: This snack food is even better than the original.

Even the Trader Joe's organic animal crackers are the same.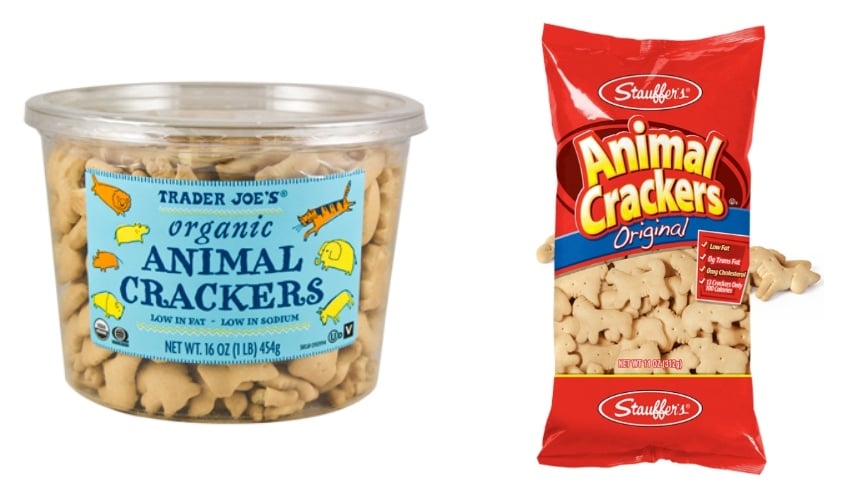 Stauffer's animal crackers have identical ingredients and the same cute animal shapes as TJ's organic animal crackers, except that the name brand ones are lacking lemon. The Stauffer's organic version does include lemon, though.
Next: This beverage is just as yummy at Trader Joe's.

Naked Juice green smoothie is reminiscent of the Trader Joe's version.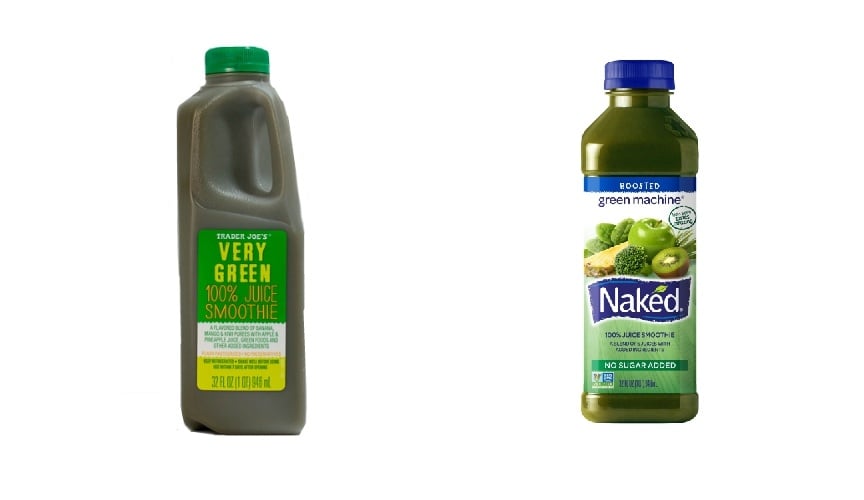 Just like with the Mighty Mango smoothie, the ingredients in Naked Juice's Green Machine beverage are very similar to the same item at Trader Joe's. While it's impossible to prove that both are bottled by the same supplier, it's definitely likely.
Next: Find out which brand tastes better.

Does one brand taste better than another?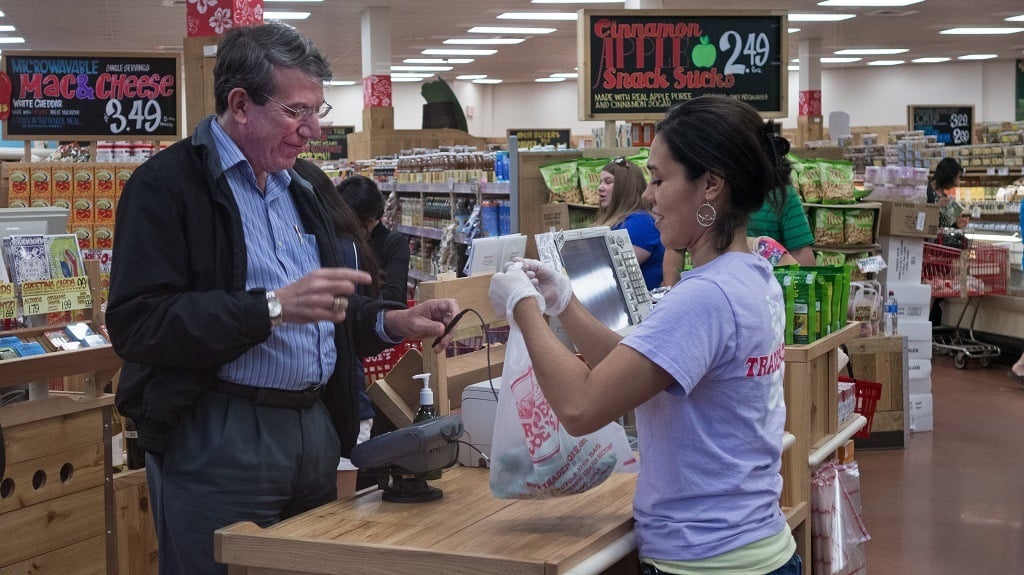 Eater also staged a blind taste test to see if participants could distinguish between the brands, and to see if one tasted better than the other. The panelists thought that the pita chips, pretzel chips, and animal crackers were identical. And for the others? They could tell the difference, but thought the Trader Joe's versions were actually tastier.
Next: Generic isn't necessarily negative.

Just don't call them generic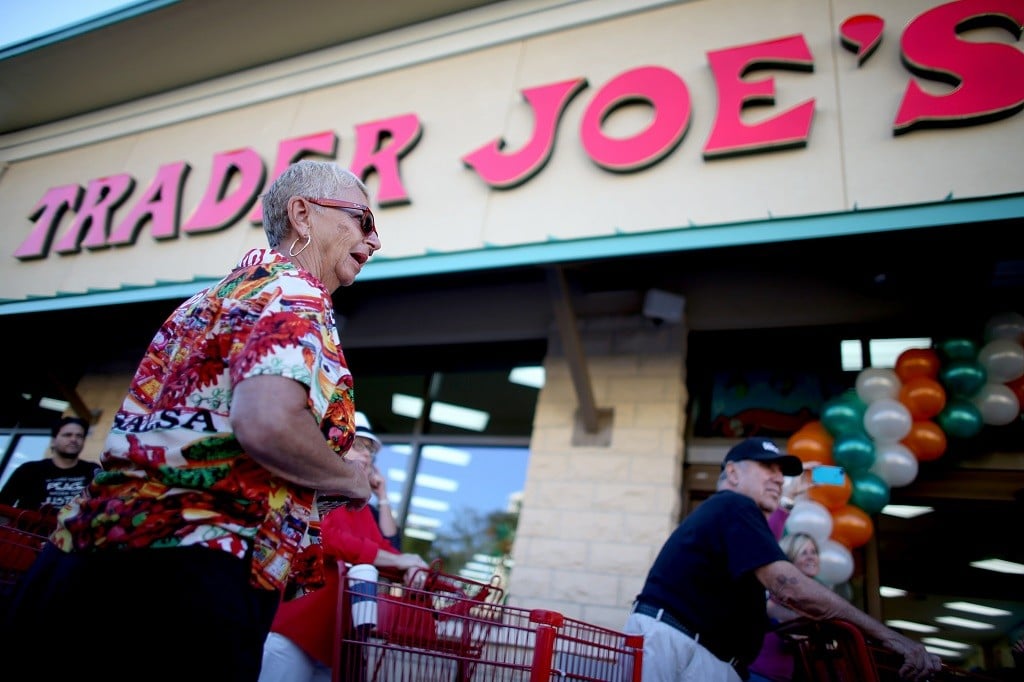 The concept of "store brand" is very different at Trader Joe's. While their private label brand is just that, the perception of the Trader Joe's name and image helps to elevate a potential negative into a positive. So while store brand generics such as Walmart's Great Value products may be looked down upon, a Trader Joe's equivalent does not suffer the same prejudices. In fact, Trader Joe's is so trendy that their brands are often more popular than national brands.
Next: Choose your foods wisely.

In the end, it all comes down to price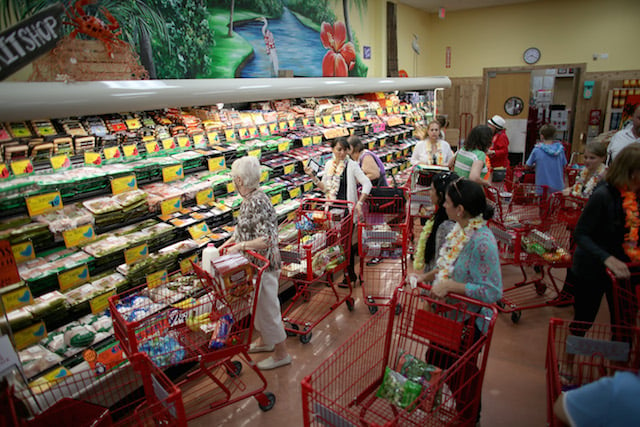 Whether you're trying to be cool or you just like the taste of TJ's snack foods, the real testament to shopping there comes when it's time to evaluate your grocery budget. On average, Trader Joe's products are about 37% cheaper than name brand versions.
And despite the compelling proof from the investigative report, Trader Joe's refused to comment on the findings. So is it worth buying Trader Joe's snack foods instead? That's up to you to decide.
Check out The Cheat Sheet on Facebook!