Bill Belichick and More Celebrities Who Are Members of Trump's Exclusive Mar-a-Lago Resort
You probably hadn't heard of it before Donald Trump became president. But Mar-a-Lago now appears in headlines all the time. The Palm Beach resort seems to be Trump's vacation spot of choice. He even refers to it as the "winter White House." There are currently almost 500 members of the private club. And as you might imagine for a club that charges $200,000 to join — if you even qualify for a spot — plenty of rich and powerful celebrities make the very exclusive membership list.
Read on to learn about which celebrities have become members of the exclusive and historic resort — or at least which ones have been spotted on its lavish premises.
Beth Stern
Politico reports that it obtained membership lists for Mar-a-Lago. On those lists, the publication "counted at least 25 current or former company CEOs, as well as dozens of lawyers, doctors, investors and philanthropists. There are bold-faced names that would draw mentions in pretty much every section of the newspaper, from the society page, to politics, sports, media and business." One of the first notable names the publication mentions? Beth Stern, the wife of outspoken radio host Howard Stern.
Forbes reports that the couple lives in Palm Beach, very close to Mar-a-Lago, in a cluster of homes belonging to the "famous and infamous." Donald Trump frequently appeared on Howard Stern's show during the 1990s and early 2000s, a time when Stern was making his reputation as a "shock jock." (NBC reports that Stern has "reportedly mellowed with age.") According to NBC, Trump and Stern have remained friends for decades. That's despite the fact that Stern "said he was a huge Hillary Clinton supporter, as well as pro-abortion rights, said he remembers when he and the president shared the same beliefs." 
Bill Belichick
Another of the most famous people on the membership list at Mar-a-Lago? Bill Belichick, head coach of the New England Patriots, according to Politico. Belichick considers himself a longtime friend of Donald Trump, who has attended several Patriots games. The Patriots coach made headlines by sending Trump a congratulatory letter after the Republican primaries. Belichick later explained, "Our friendship goes back many years. Anybody who spends more than five minutes with me knows I'm not a political person. My comments are not politically motivated. I have a friendship with Donald."
Belichick isn't the only notable sports figure whom Politico places among the ranks of Mar-a-Lago's members. Politico reports that Avram Glazer, part of the family that owns the Tampa Bay Buccaneers and controls the English soccer club Manchester United, has also joined the club. So has James Dolan, the CEO of Cablevision, owner of the New York Knicks, and chairman of the organization that owns the New York Rangers. 
William I. Koch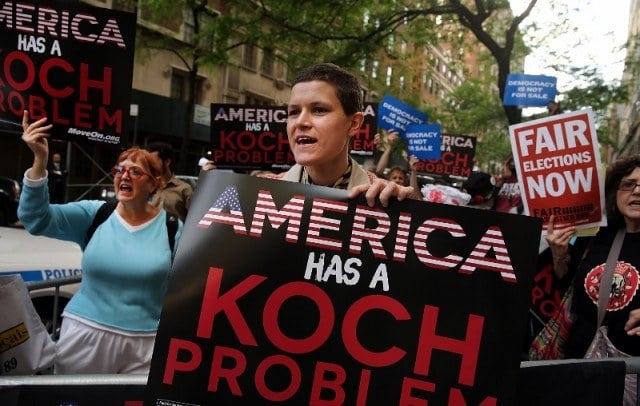 The New York Times reports that Donald Trump keeps company with many wealthy business executives at Mar-a-Lago. That includes William I. Koch, estranged brother of Charles and David, with whom Trump has also clashed. Other wealthy executives with memberships at the club? Thomas Peterffy, and George Norcross. Interestingly enough, it's not particularly unprecedented for a president to spend his leisure time around such executives.
The Times notes that Dwight D. Eisenhower, for instance, often spent time at the Augusta National Golf Club with "a group of affluent businessmen who became known as 'the gang.'" The group included Coca-Cola executives, oil company leadership, and an investment banker. However, the Times characterizes the situation with Mar-a-Lago as "unprecedented in American history, as it is the first one with customers paying a company owned by the president."
James Patterson
Politico also names best-selling author James Patterson as a member at Mar-a-Lago. The Palm Beach resident routinely tops lists of the highest-paid authors. And he has reportedly sold more than 300 million copies of his books. Patterson has lived in Palm Beach for years. In fact, in 2010, he sold his 11,000 square-foot Palm Beach home — just to move into a larger, 21,000 square-foot mansion.
As AOL reported at the time, Patterson's new neighbors included an estate once owned by John Lennon, and also the home of Ivana Trump. (Ivana reportedly owned a home just two lots north of Patterson's new property.) Reports indicate that Patterson's politics lean right. Nonetheless, Forbes reported in November 2016 that it was unclear whether the author was voting for Donald Trump or Hillary Clinton.
Richard LeFrak
When he vacations at Mar-a-Lago, Donald Trump may also spend time with Richard LeFrak, a fellow New York real estate developer. The New York Times characterizes LeFrak as one of Trump's closest friends. The publication also reports that LeFrak has recruited some of his own friends to join Mar-a-Lago as members.
Bloomberg reports that LeFrak's New York roots "mirror Trump's own." The publication characterizes both men as "scions of families that made fortunes owning apartment buildings on the outskirts of Manhattan." The LeFrak family business became one of the largest residential landlords in New York and New Jersey. LeFrak himself served as a Miss Universe judge in 2009. He also appeared on an episode of The Apprentice in 2010. And LeFrak had vacationed frequently at Mar-a-Lago as far back as 2007.
Fabio
Politico reports that Mar-a-Lago remains accessible to anybody who can get a member to invite them in, or can afford to host an event there. As Bloomberg puts it, "Anyone can party at the new Winter White House, as long as they can afford it." So we're not certain that the following celebrities are actually members at Mar-a-Lago. But we can't help but mention that they have at least visited Donald Trump's exclusive resort.
The Columbus Dispatch characterizes Fabio,"the golden-haired model who graced the cover of hundreds of romance novels," as one of the few celebrities in the entertainment industry "who not only support the president-elect, but are willing to do so publicly." The model has attended Thanksgiving dinner at Mar-a-Lago. Fabio also visited the club on at least one other occasion. And he expressed both support for Donald Trump's agenda and a desire to help the administration. 
Elton John
The Palm Beach Post names Elton John as another notable celebrity who has been seen at Mar-a-Lago. Again, that doesn't necessarily mean that the singer has paid for a membership to the exclusive club. But he certainly hasn't been shy about being spotted at Donald Trump's resort. In fact, Elton John even performed a concert at Mar-a-Lago in 2006.
But John doesn't agree with all of Trump's choices. As The Washington Post explains, John commented on Trump's use of a "Rocket Man" reference as an insult to North Korea's Kim Jong-un. "I've met Donald Trump, he was very nice to me, it's nothing personal, his political views are his own, mine are very different, I'm not a Republican in a million years." 
Woody Allen
Finally, the Post also points to Woody Allen as a celebrity who has made appearances at Mar-a-Lago. For instance, the filmmaker reportedly celebrated New Year's at Mar-a-Lago in 2014. Additionally, Allen directed Trump in the 1998 comedy Celebrity. As The Wrap notes, the film features a scene "that brings together Allen, Harvey Weinstein, and Donald Trump," a jarring tableau in the context of recent headlines about sexual misconduct.
Despite any previous ties to Trump, Allen has spoken critically of Trump's presidency. He reportedly said in an interview with the BBC, "I still don't know why he wanted the job. I never felt it was up his alley. It never occurred to me that he would win the presidency or that he was even interested in politics. There was never any hint of that." Allen added, "Right now we're in chaos. We have chaos in the capital. The administration isn't running properly; it isn't functioning well."
Check out The Cheat Sheet on Facebook!