These Politicians Knew Donald Trump Was Going Crazy Before We Did
A new poll by Politico and Morning Consult recently announced that voters consider President Donald Trump unstable, untrustworthy, and reckless. This confirms that the American people now realize what a number of lawmakers have said since the beginning of Trump's campaign. The new survey touches on topics from Trump's ability to govern, racism, sexism, and strength as a leader. It comes at a time when Trump has stirred controversy with Republican Sen. Bob Corker and Jeff Flake. Both have made statements that touch on Trump's own fitness to lead, political stances aside.
Despite his flaws, many Republicans approve of Trump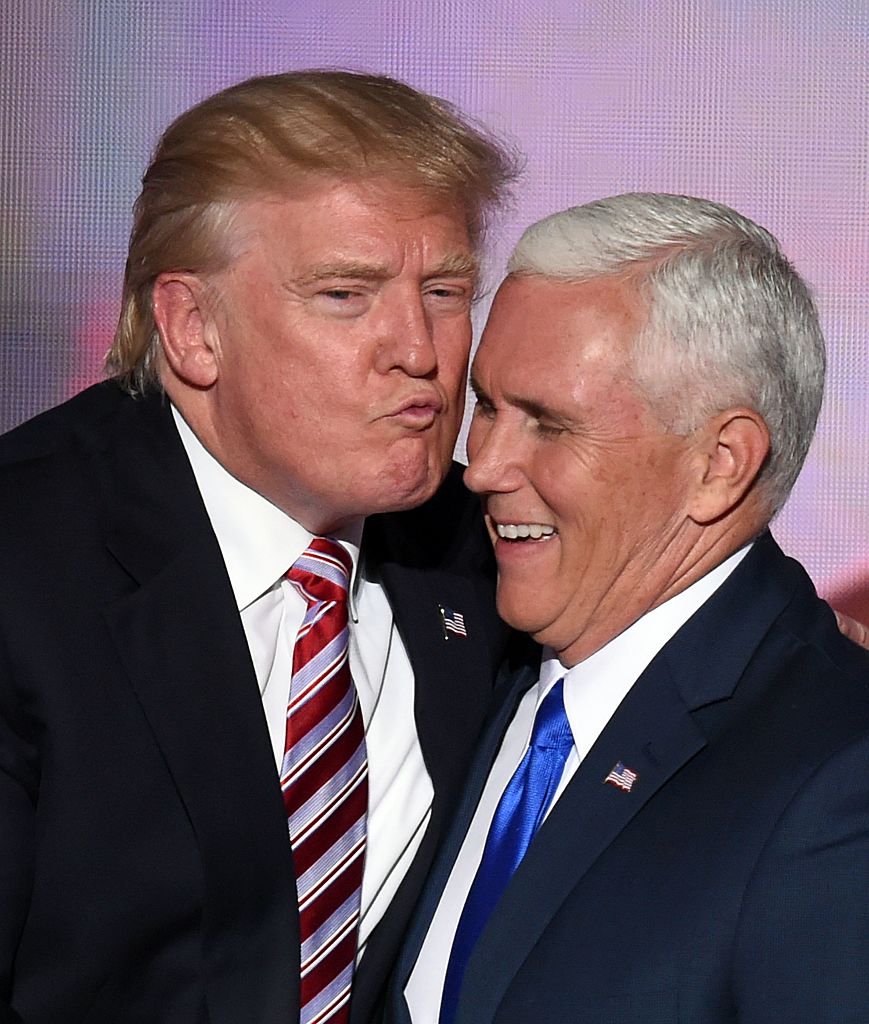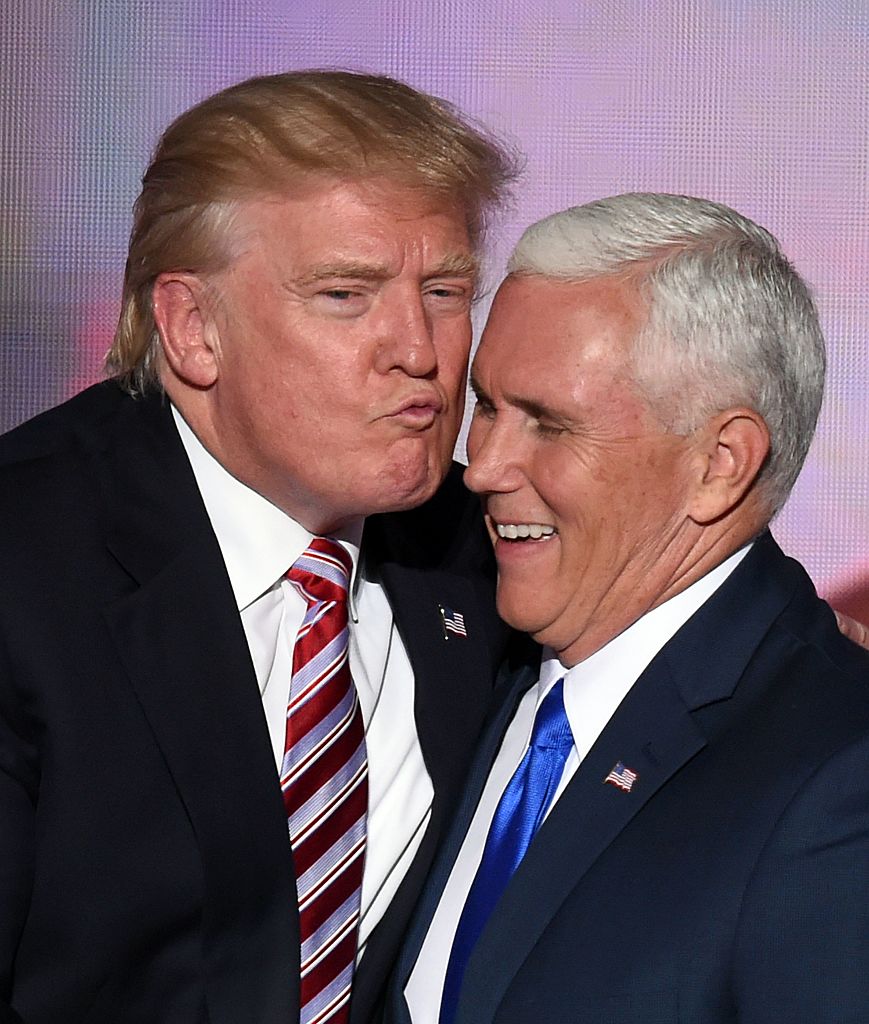 A full 77% of Republican voters approve of the job Trump is doing as president. Majorities of GOP voters side with Trump in the Politico poll, even though most voters takes a more critical stance. Researchers conducted the poll before both Flake and Corker criticized Trump, so those statements did not influence the responses. Even as they agree with him, many harbor reservations about his ability to lead.
"As we have seen in past polls, most voters, 56%, say President Trump is reckless, while 31% disagree," explained Morning Consult co-founder and Chief Research Officer Kyle Dropp. "Even among Republicans, 33% think this is an accurate characterization — notably higher than the percentage of Republicans that disapprove of the president overall, 20%."
Flake, in a Senate floor speech, alluded to Trump's "reckless, outrageous, and undignified" behavior. Many of Flake's statements echoed what voters believe. 
This retiring senator tore Trump apart in his exit speech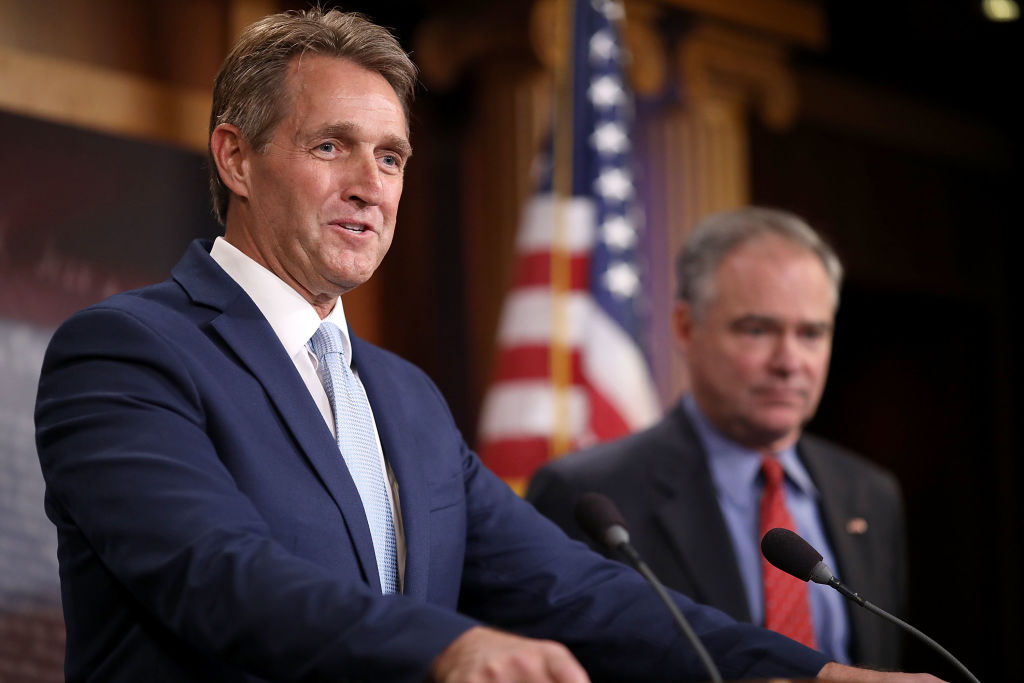 "Such behavior … projects a corruption of the spirit and weakness," Flake said in his speech. "When a leader correctly identifies real hurt and insecurity in our country and instead of addressing it, goes looking for somebody to blame, there is perhaps nothing more devastating to a pluralistic society," he continued. Voters agreed with Flake in that sense, according to the Politico poll.
Only 33% of voters called Trump compassionate, while 54% said he isn't. Flake also published an op-ed in The Washington Post to the same effect. He went even further there, directly calling out the most recent incidents in which the president demonstrated his lack of compassion and personal vulnerability.
"How many more disgraceful public feuds with Gold Star families can we witness in silence before we ourselves are disgraced?" he asked. "How many more times will we see moral ambiguity in the face of shocking bigotry and shrug it off? How many more childish insults do we need to see hurled at a hostile foreign power before we acknowledge the senseless danger of it?"
Trump has hurled insults at domestic powers as well, as his ongoing feud with Corker demonstrates. In that case, he really shows his true colors not just as a leader, but as a person. 
Corker and Trump continue their adult daycare feud

The senator called Trump an "utterly untruthful president" in a tweet. He later said in a CNN interview that Trump "has great difficulty with the truth, on many issues." Voters mostly agree with the second-term Tennessee senator. Only 35% call Trump honest, while 51% call him dishonest. Just a third say Trump can be trusted, compared to 53% who say he is not trustworthy.
Corker also said that he and many of his colleagues had tried to intervene and get Trump to "rise to the occasion." That aligns closely with voters' views, according to the poll results. Only 39% of voters consider Trump a strong leader; half say he isn't. That harms the nation, according to Corker.
"I think the things that are happening right now that are harmful to our nation, whether it's the breaking down of … relationships we have around the world that have been useful to our nation," he said. Trump quickly fired back. 
Trump attacks his critics — where else? On Twitter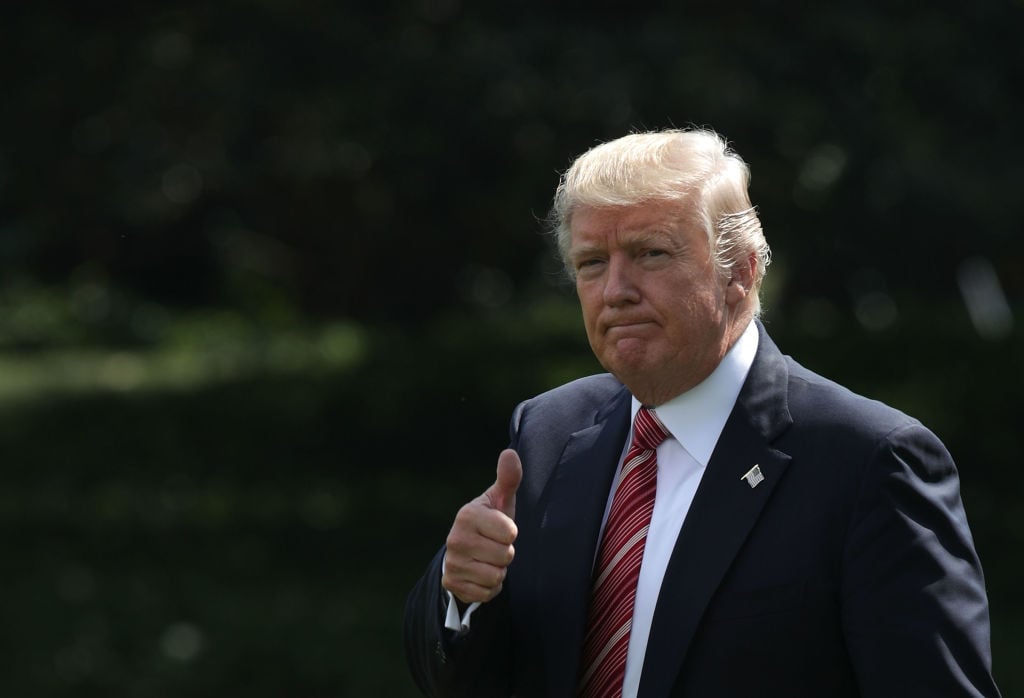 In a series of tweets, the president took Corker to task. "Bob Corker, who helped President O give us the bad Iran Deal & couldn't get elected dog catcher in Tennessee, is now fighting Tax Cuts," Trump tweeted. "Corker dropped out of the race in Tennessee when I refused to endorse him, and now is only negative on anything Trump. Look at his record!"
Trump previously went after Corker via Twitter saying he denied the senator's request for an endorsement. Corker's office denies that claim, as well. The senator, along with others, has often criticized Trump's speedy twitter fingers. He said, "It's a shame the White House has become an adult day care center. Someone obviously missed their shift this morning."
In a subsequent New York Times story, Corker said Trump treated the presidency like "a reality show." He isn't the only lawmaker who has warned us about Trump. 
Democrats want Trump professionally evaluated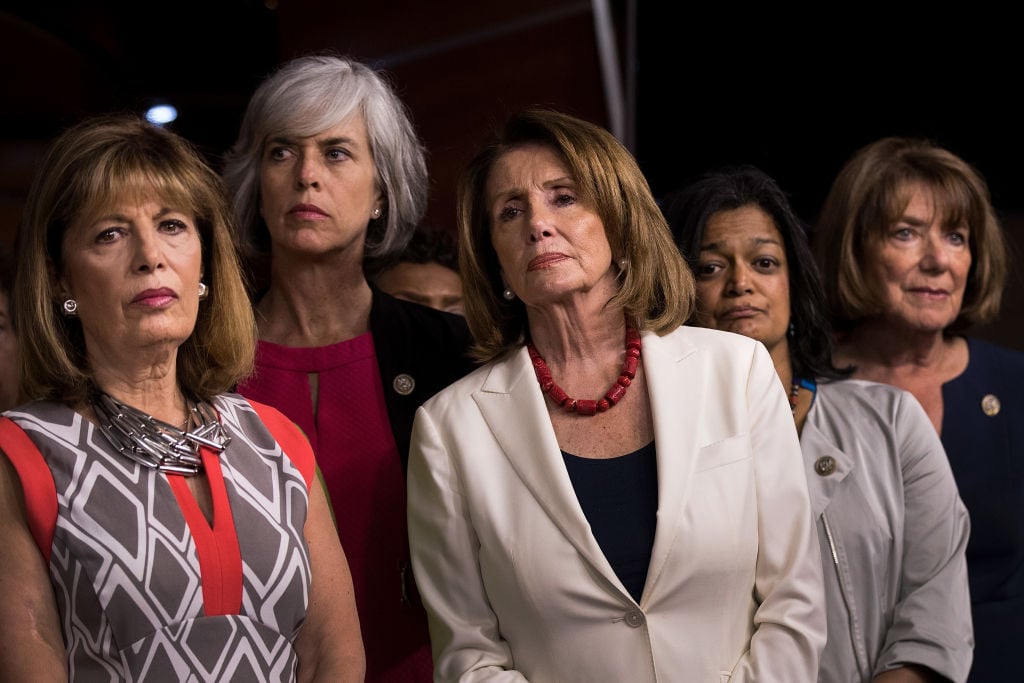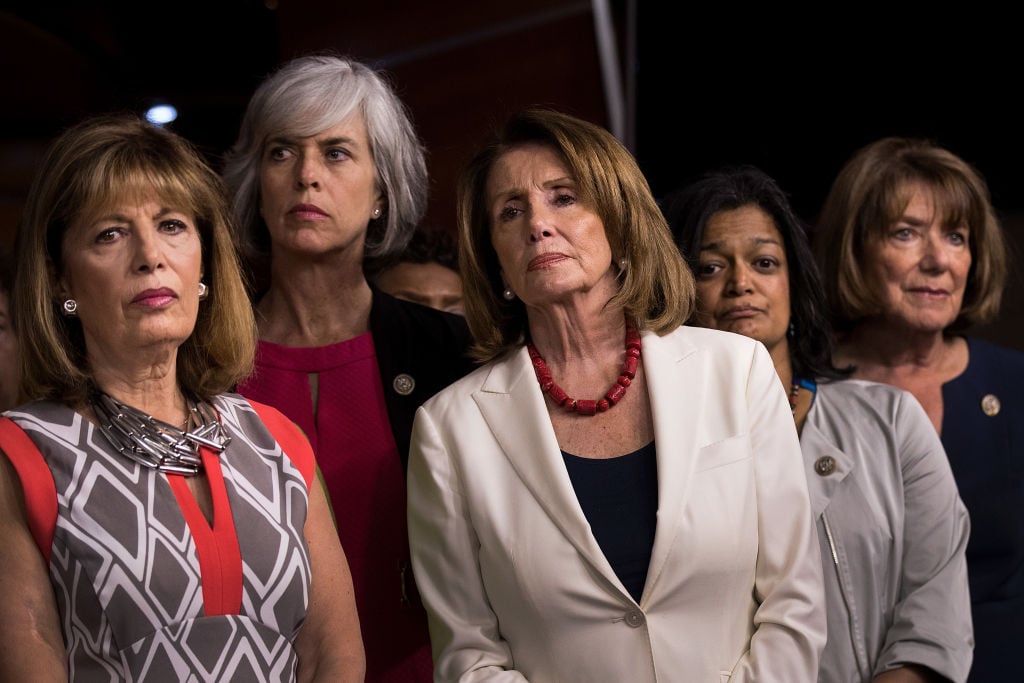 California Representative Jackie Speier wants Trump to undergo a professional psychological evaluation. A collection of mental health professionals have advocated for Trump's removal under the 25th Amendment. Under Section 4 of the 25th Amendment, the vice president and a majority of the executive branch can draft a written letter that the president cannot perform his duties. Congress must then vote with a two-thirds majority in both chambers in order to remove him from office. Just a third of poll responders called the president "stable," while a 54% majority consider him unstable.
"It's one thing from my non-professional, non-clinical standpoint [to] believe that someone does not have the capacity to do the job," Speier told Buzzfeed News. "It's another thing to talk to experts and [those] who can deal with mental psychosis on a daily basis."
She tweeted in August that he "is showing signs of erratic behavior and mental instability that place the country in grave danger."
Sources close to the president also think the 25th Amendment poses a danger to Trump's office. 
Steve Bannon doesn't think Trump will make it a full term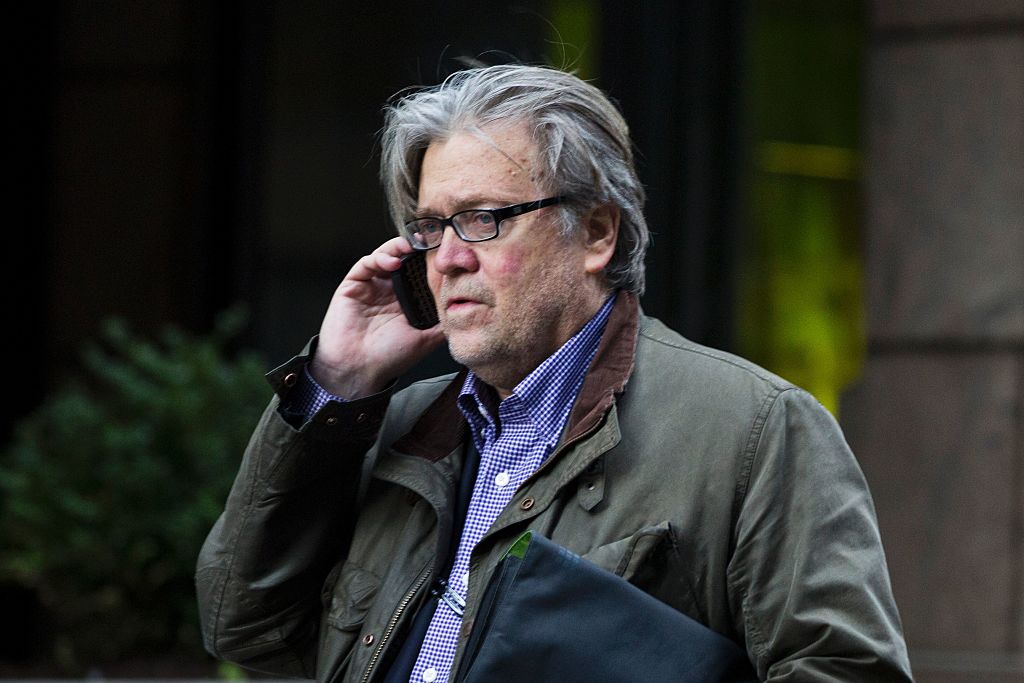 A Vanity Fair reporter spoke with a number of Republicans and Democrats who said the president is "unstable," "losing a step," and "unraveling."
West Wing aides also worry about Trump's public appearances, one Trump adviser told Vanity Fair. The adviser said aides expressed relief when Trump declined an appearance on the season premiere of 60 Minutes. "They don't want him doing adversarial TV interviews," the adviser explained.
Several months ago, according to two sources with knowledge of the conversation, former chief strategist Steve Bannon told Trump he did not consider impeachment a risk. He did worry about the 25th Amendment. Bannon thinks Trump has only a 30% chance of making it the full term.
A former lawmaker also called Trump "seriously sick." 
Trump critic blasts the president's ability to serve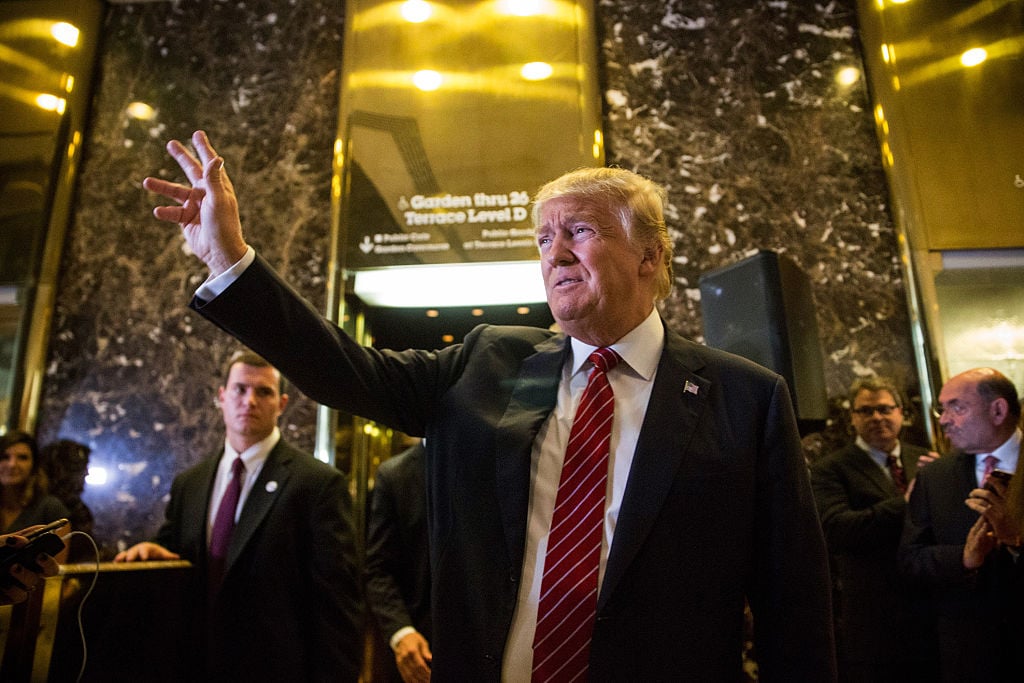 Former Republican Sen. Gordon Humphrey sent a letter to several lawmakers urging President Trump's prompt removal from office, according to The Week. The letter came after Trump threatened to meet North Korea's threats with "fury and fire."
"Donald Trump has shown repeated contempt for informed and wise counsel," he wrote. "He is sick of mind, impetuous, arrogant, belligerent, and dangerous."
Two other senators expressed similar concerns in a private conversation accidentally held in front of a hot microphone, the LA Times reported. Senators Susan Collins and Jack Reed were overheard expressing concern with Trump's grasp of reality and policy, among other things.
"I think he's crazy. I mean, I don't say that lightly and as a kind of a goofy guy," Reed said at one point, referring to Trump.
"I'm worried," Collins replied.
She's not the only one.
Trump scores poorly on other measures in the poll as well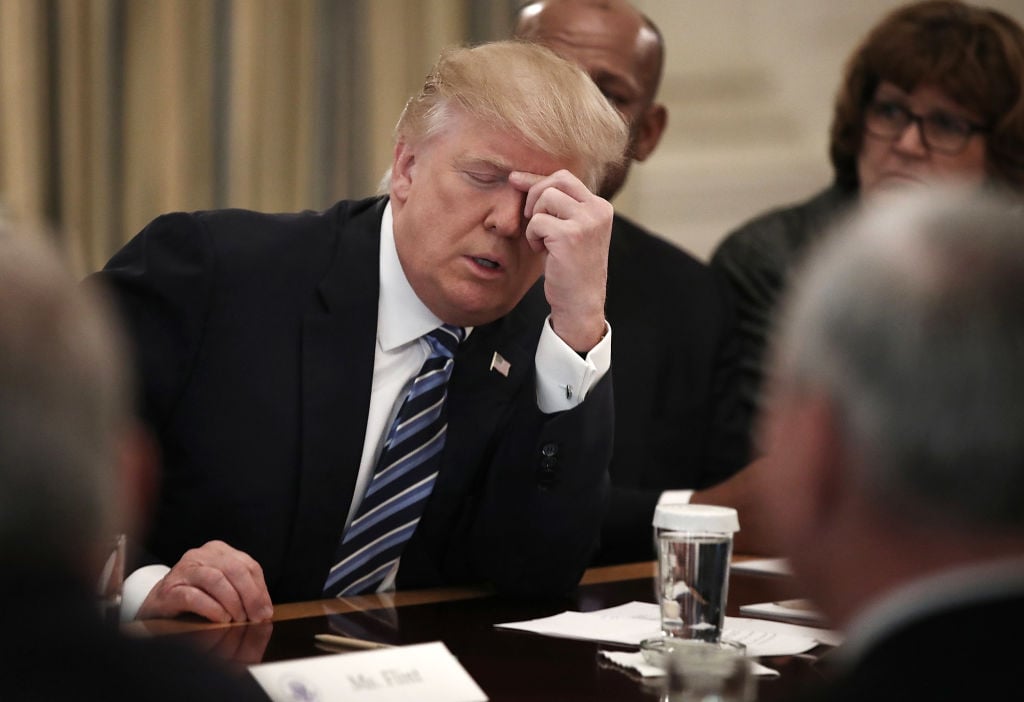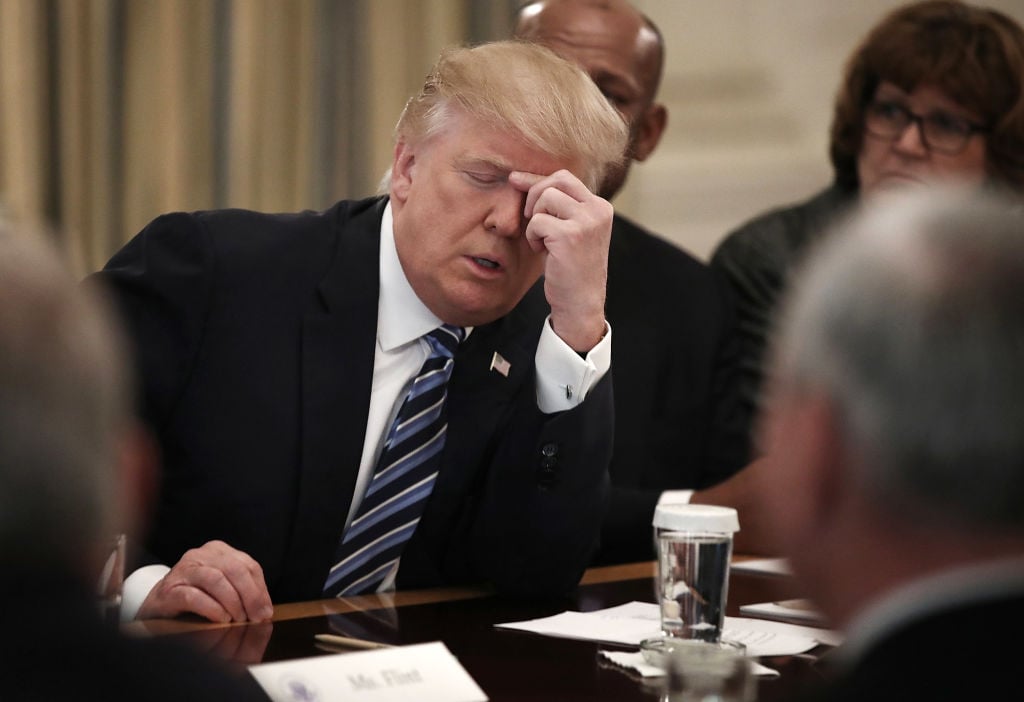 According to Politico, only 36% of voters say Trump's administration is running very or somewhat well. The majority, 56%, say it is running very or somewhat chaotically. "I know for a fact that every single day at the White House, it's a situation of trying to contain him," Corker told The New York Times.
According to two Vanity Fair sources, Trump vented to his longtime security chief, Keith Schiller. "I hate everyone in the White House!" he railed. "There are a few exceptions, but I hate them!"
Chief of Staff John Kelly does his best to sequester the president, and Secretary of Defense James Mattis has discussed "tackling him" if he tries to order a nuclear strike. Even Trump's friend Tom Barrack told The Washington Post he has been "shocked" and "stunned" by Trump's behavior.
If the president is truly unraveling, it's only a matter of time before lawmakers like Corker, Flake, and others put their actions where their words are.
Follow The Cheat Sheet on Facebook!