These Are the Things Chip and Joanna Gaines Do in Every 'Fixer Upper' Episode
We've loved watching Chip and Joanna Gaines work their magic on HGTV's Fixer Upper. But even the biggest fan knows these HGTV stars have to stick to a script. Whether it's shiplap walls, unexpected expenses, or adorable antics on Chip's part, you can expect to see a few things over and over on just about every episode of Fixer Upper.
Ahead, check out some of the things that Chip and Joanna do with every fixer upper.
1. They look at houses that are surprisingly inexpensive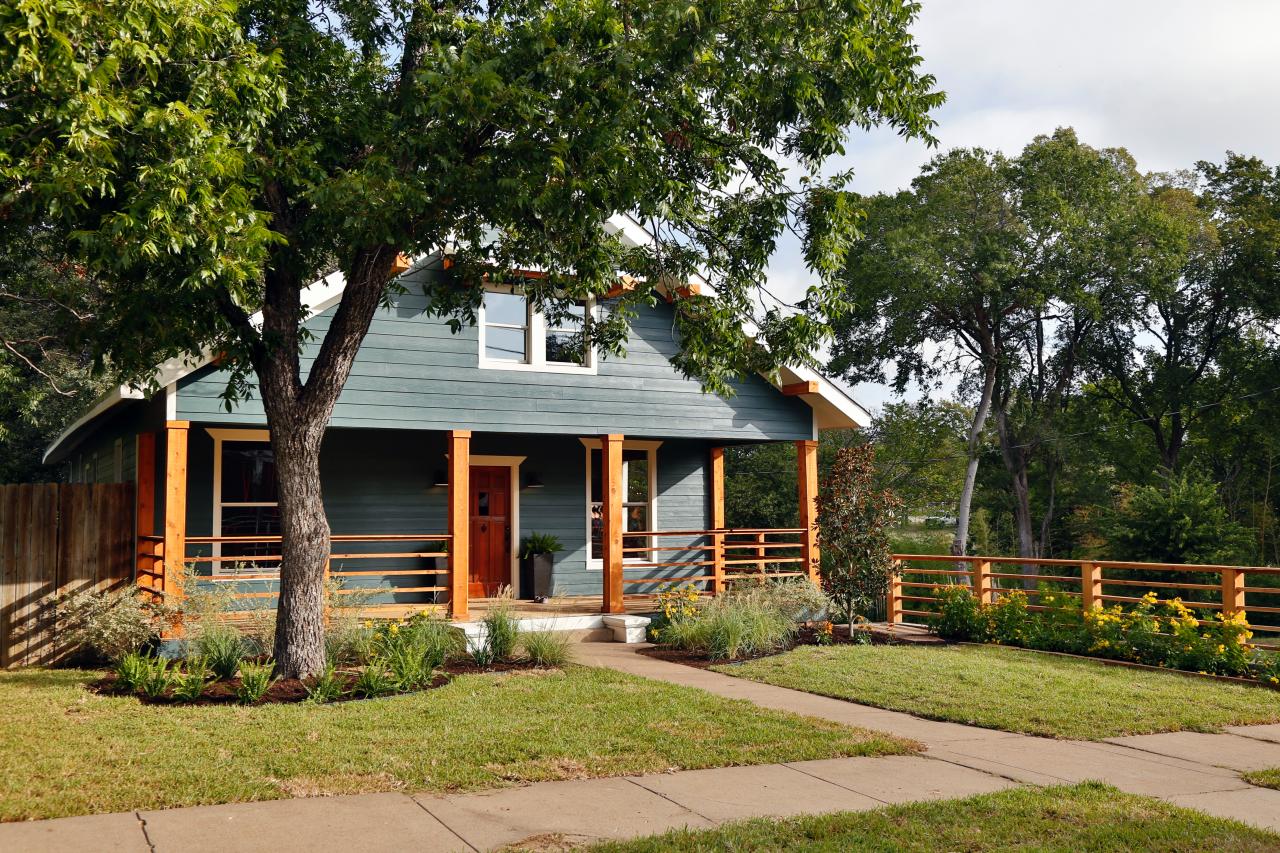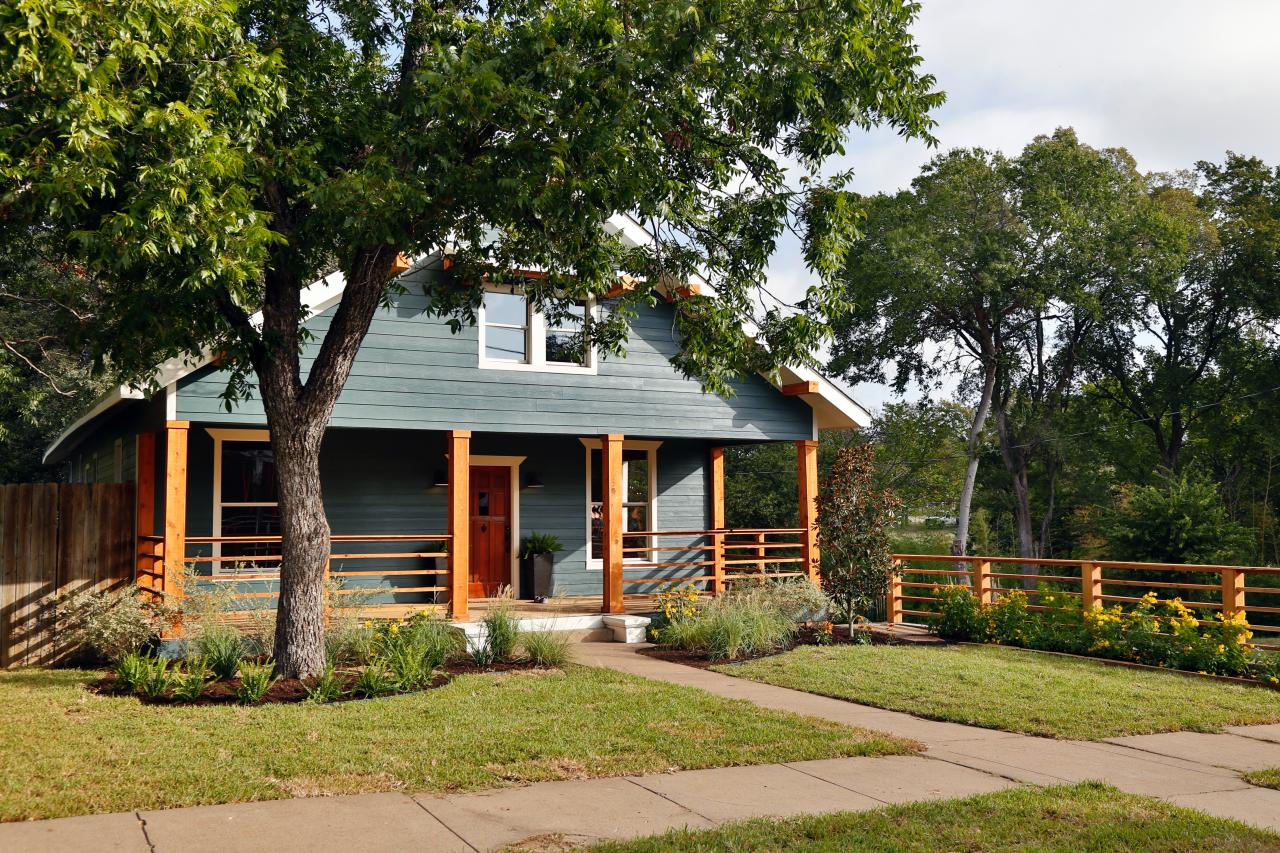 Each time Chip and Joanna take couples to look at houses they could buy, we're surprised by the prices. The cost of living in Waco, Texas, is less than the national average, so the reasonable home prices probably shouldn't surprise us. But every time a couple looks at a big house that costs less than $100,000, we get a little bit jealous. 
2. Joanna hopes the couple chooses the house in the worst condition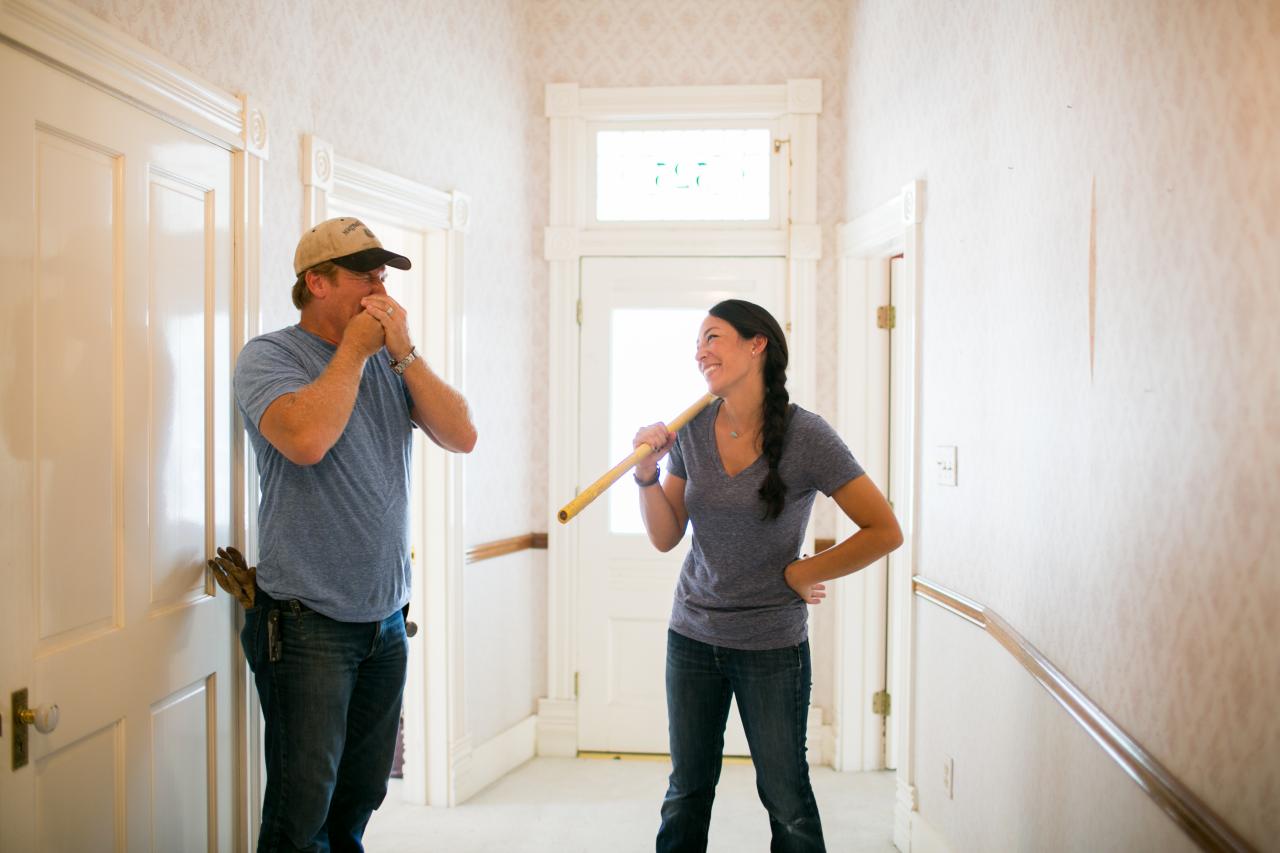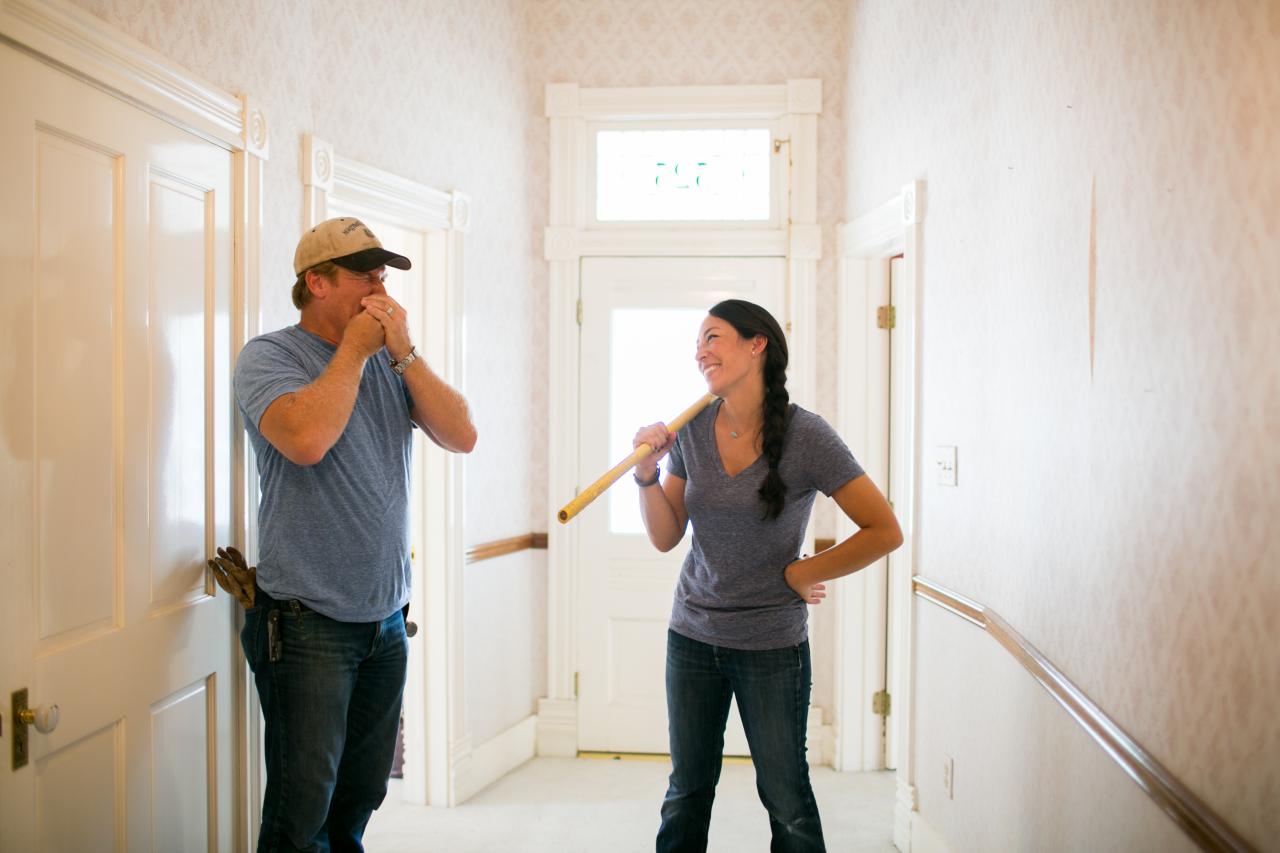 Usually, the lineup of houses that Chip and Joanna choose includes at least one house that's in obvious disrepair. Joanna often tells Chip in the car that she not-so-secretly hopes that the couple chooses this house, which is often the oldest and most interesting of the bunch. (They only sometimes do.) These houses are sometimes a bargain. But even better? They have plenty of original character and unique features that the Gaines' can play up in the renovation. 
3. They decide to tear out at least 1 wall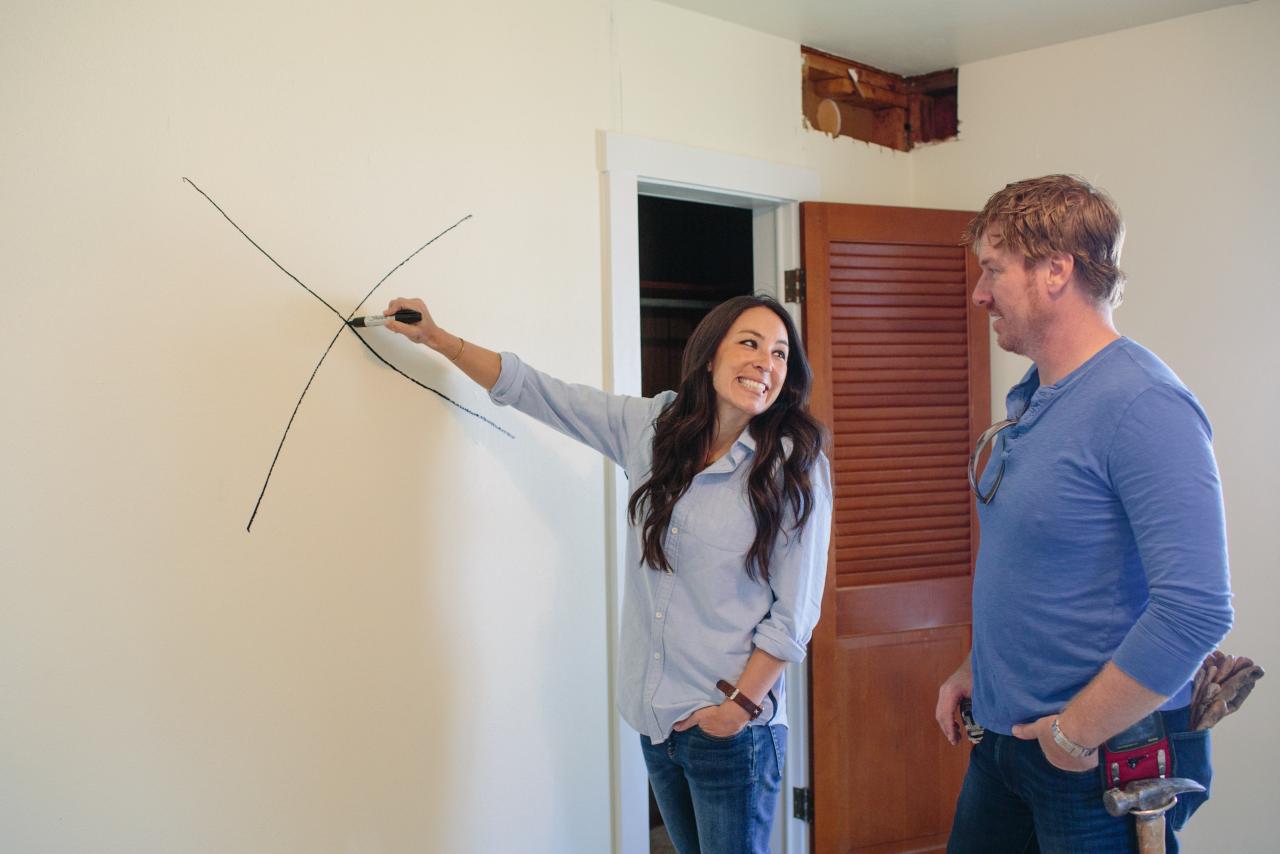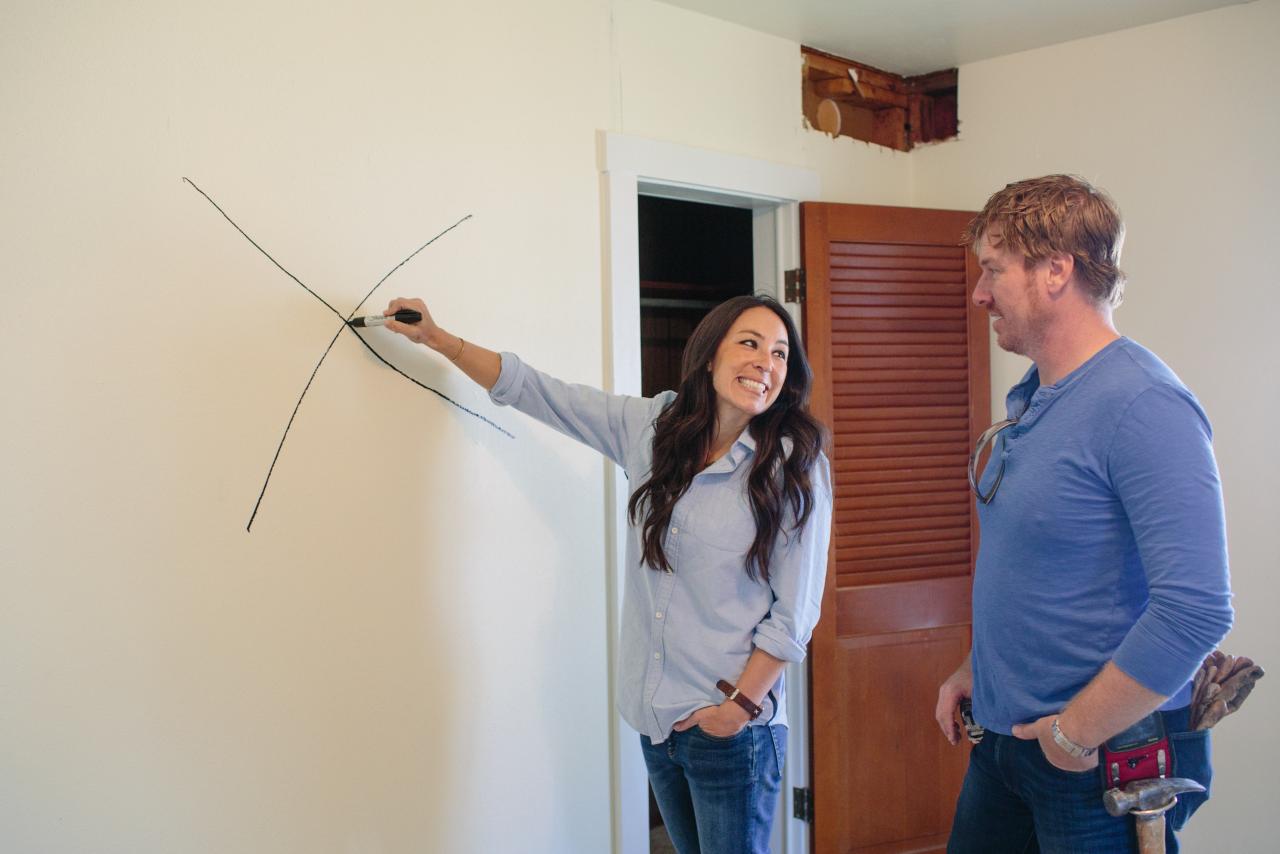 One of the first changes that Joanna recommends the moment they walk into a house is to tear at least one wall out. That's always an integral part of the plan if they want to achieve the open-concept living room, dining room, and kitchen that shows up in every Fixer Upper house. So, you can expect that Joanna will identify at least a few walls that need to come down. (Bonus points if Chip discovers that one of them is a load-bearing wall later in the episode.)
4. Joanna designs a huge kitchen with an over-sized island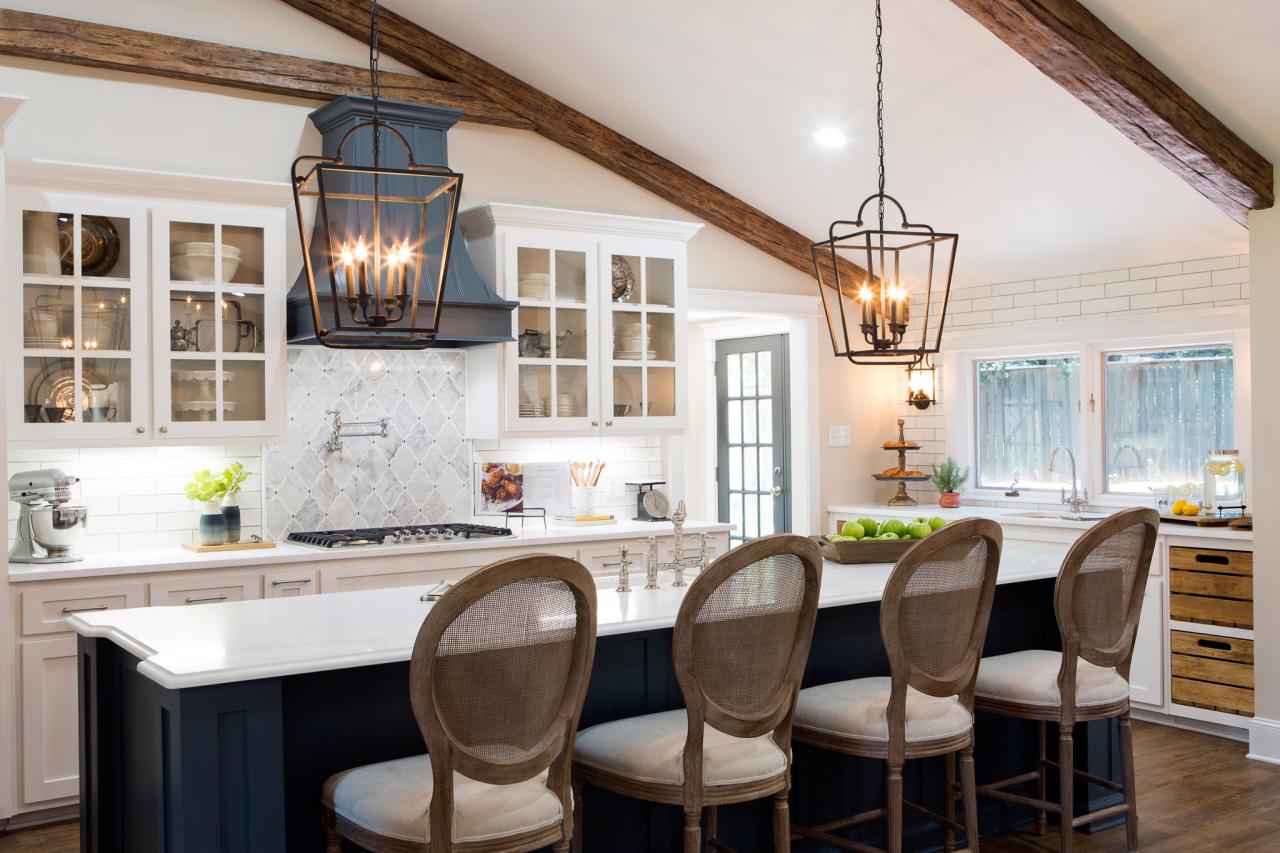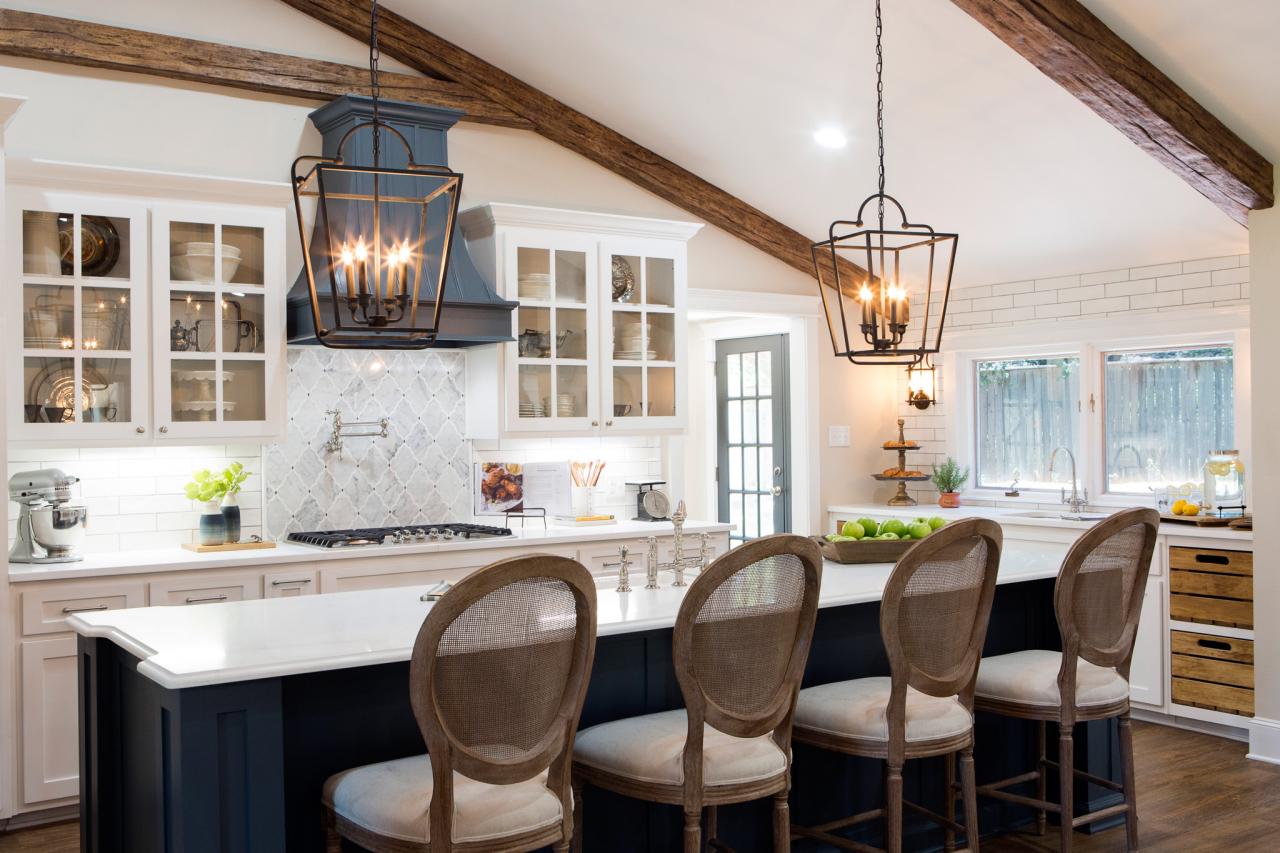 Another change that Joanna always wants the homeowners to imagine when they walk into a house? A brand-new kitchen with a big footprint and an over-sized island. For many families, the kitchen is one of the most important rooms in the house. Joanna wants to make it one of the best rooms, too, by sparing no expense in adding new cabinets, new countertops, plenty of prep space, and often new appliances and light fixtures.
5. The home-buying couple visits the farm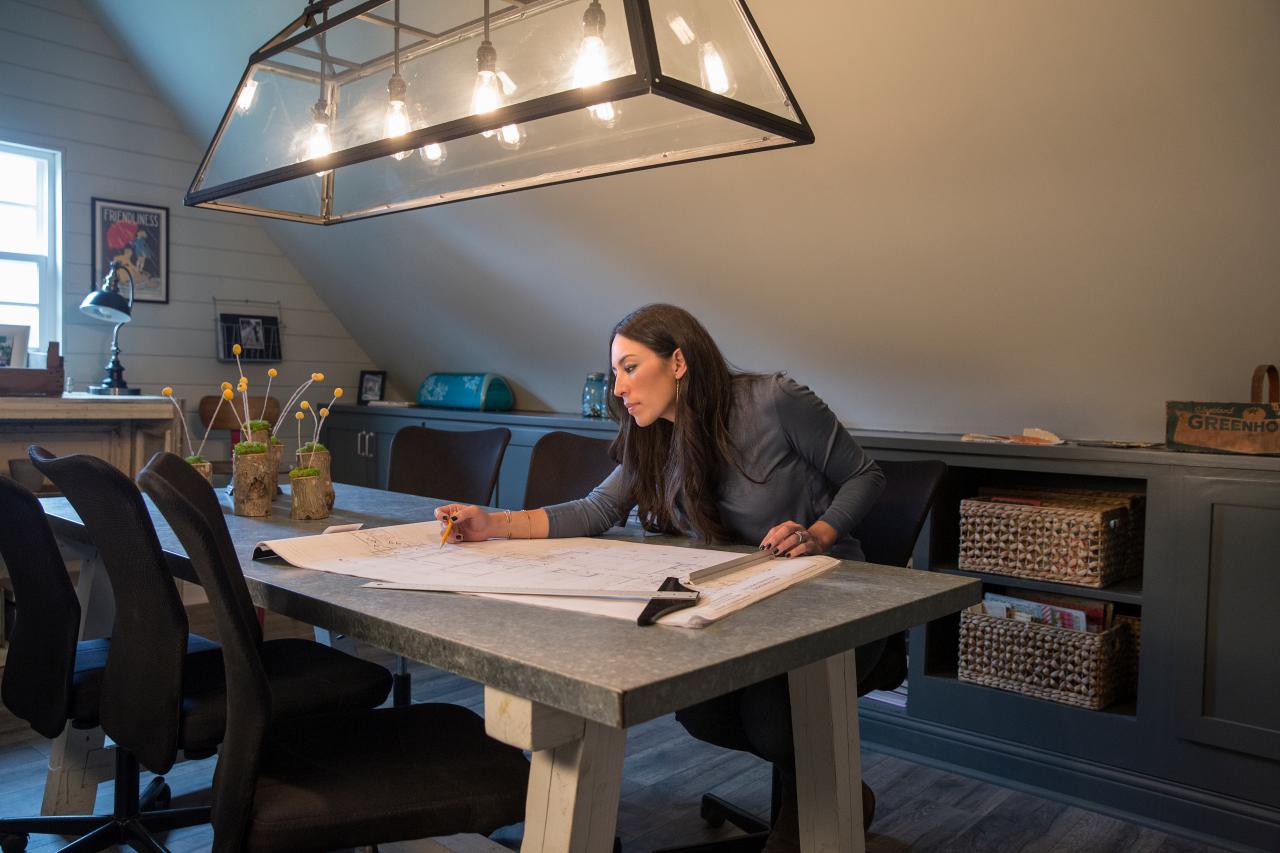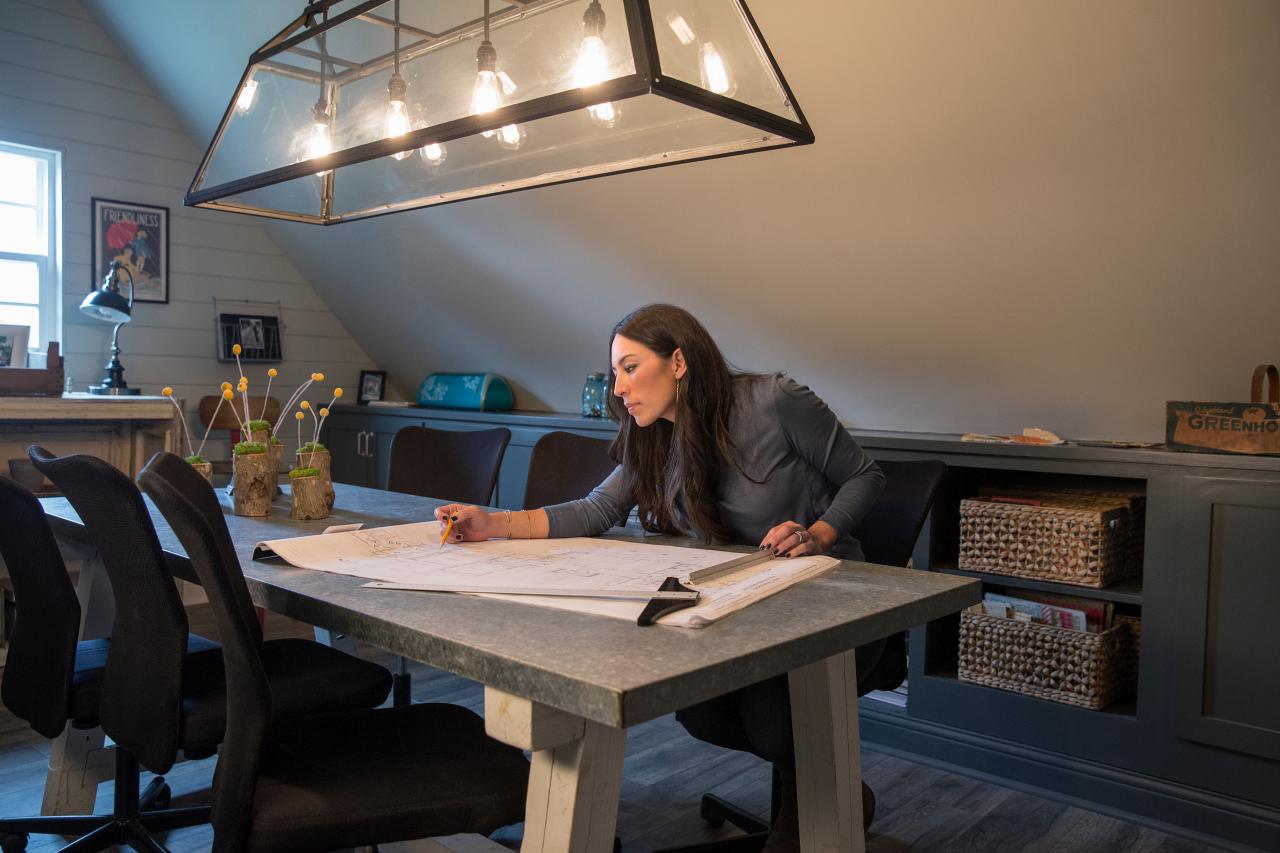 It wouldn't be an episode of Fixer Upper without at least a couple of scenes at the farm. One you can count on seeing in every episode? A scene where the couple visits the farm for their design consultation with Joanna. As the kids play in the background — or Chip tends to the newest animal he's brought to the property — Joanna goes over her floor plan and design choices for the house.
6. They choose a fun project to add to the renovation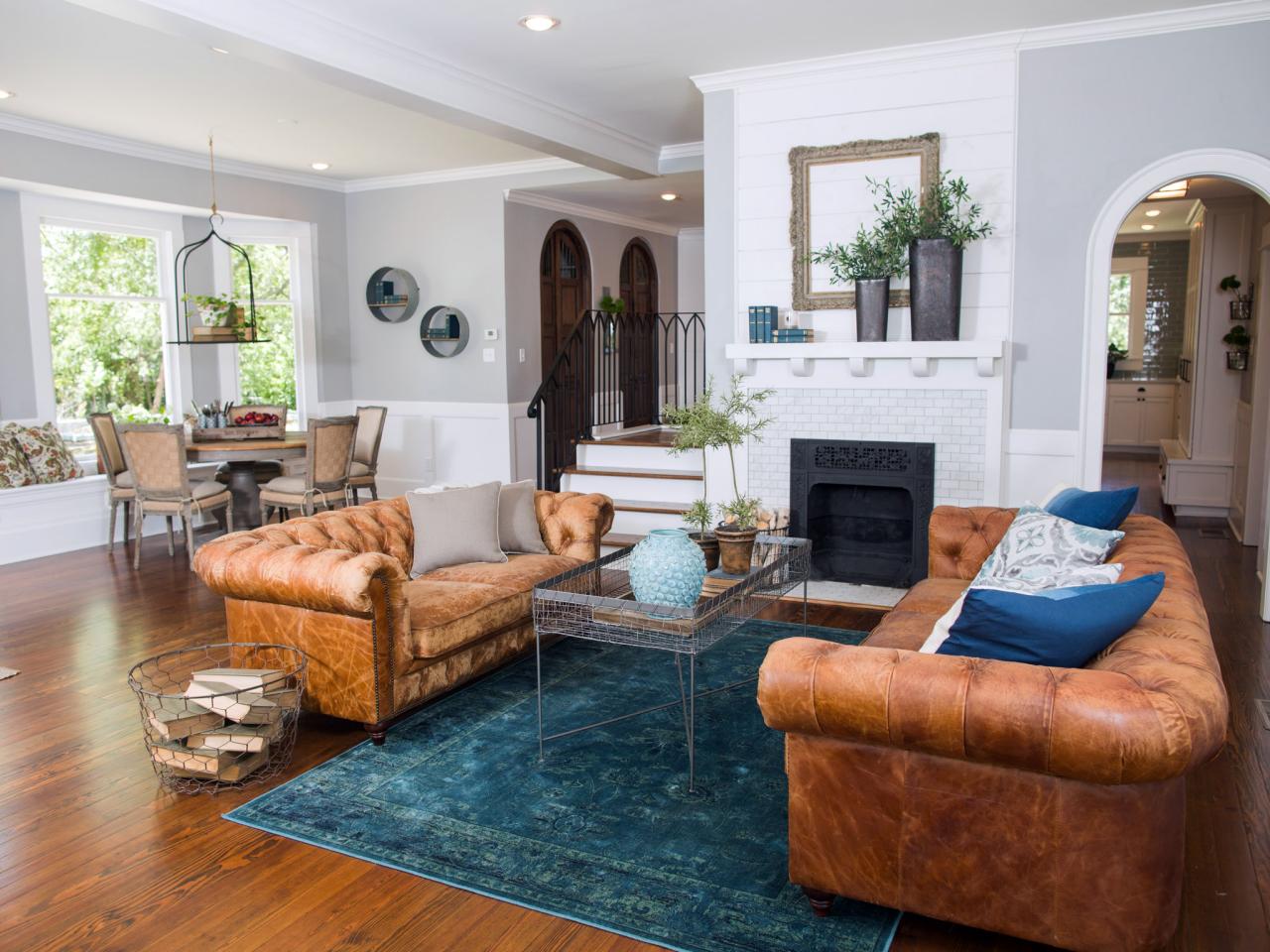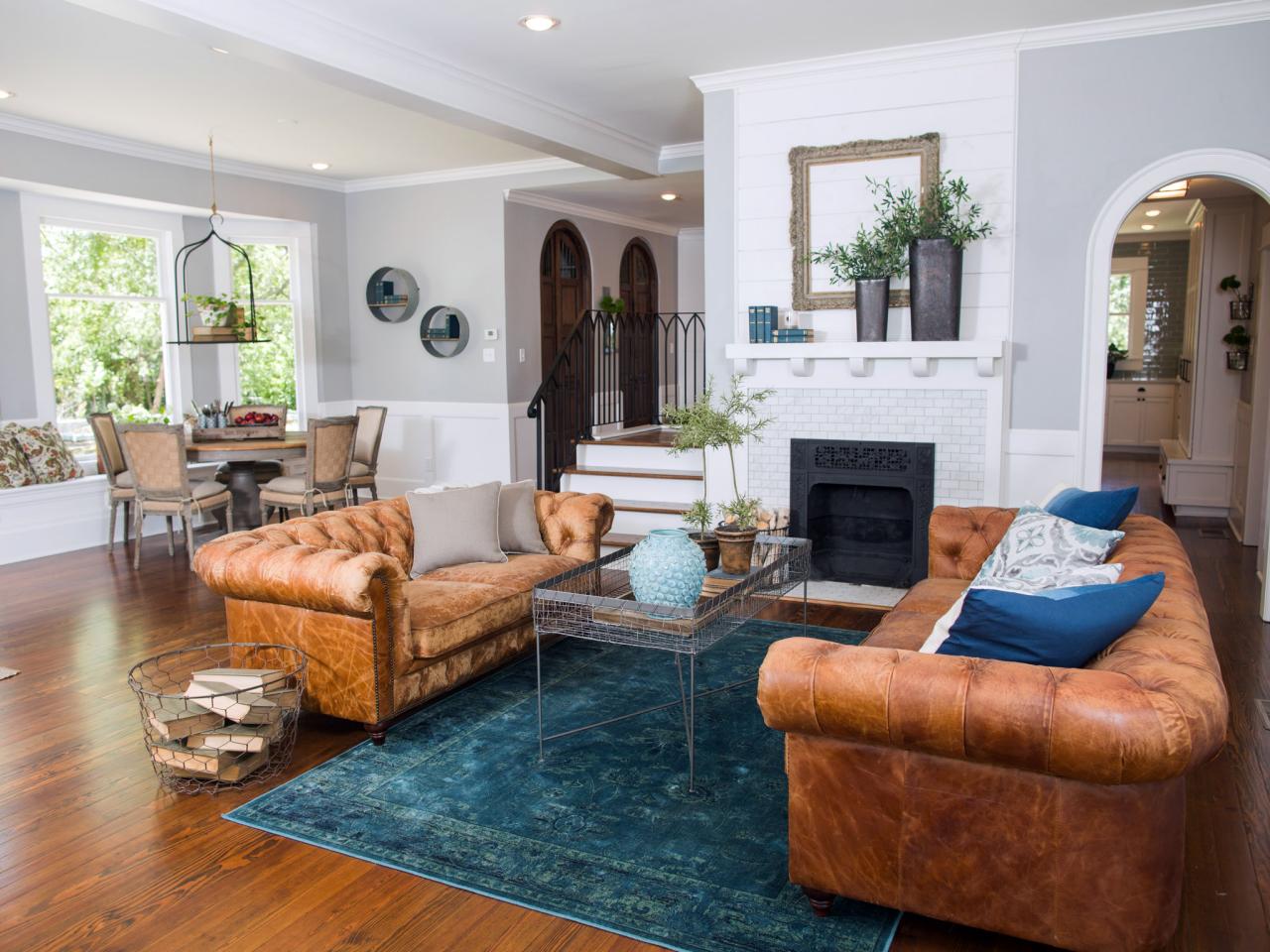 That design meeting with Joanna wouldn't be complete without this ending to the conversation. Joanna typically finds some "extra" room in the budget to add a fun project to the renovation. (Why the team doesn't just opt to save those dollars to deal with unexpected expenses, we'll never know.) The homeowners get to pick which project they want to add to the house: Maybe they go for a pergola in the yard or new siding on the house. Perhaps they want an upgraded home office.
7. Chip makes everybody nervous on demo day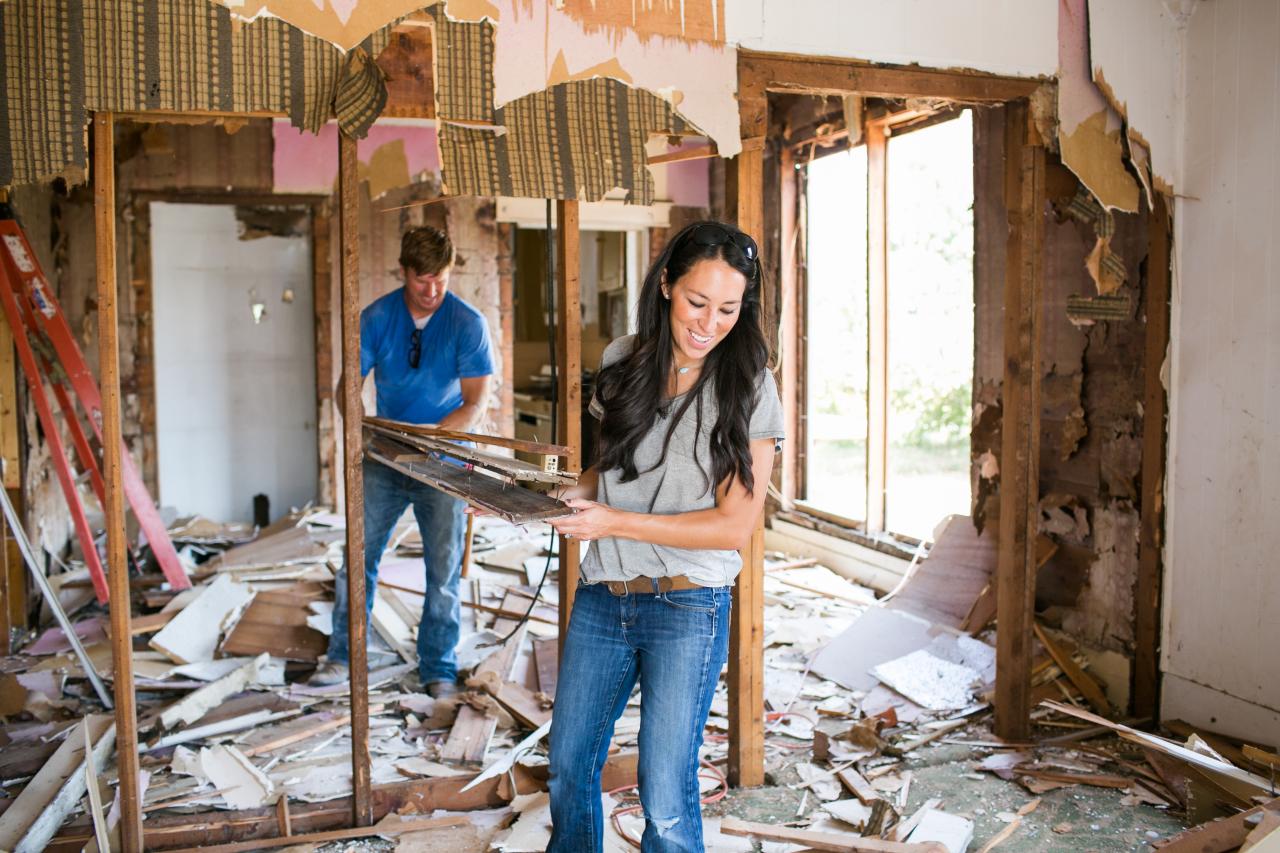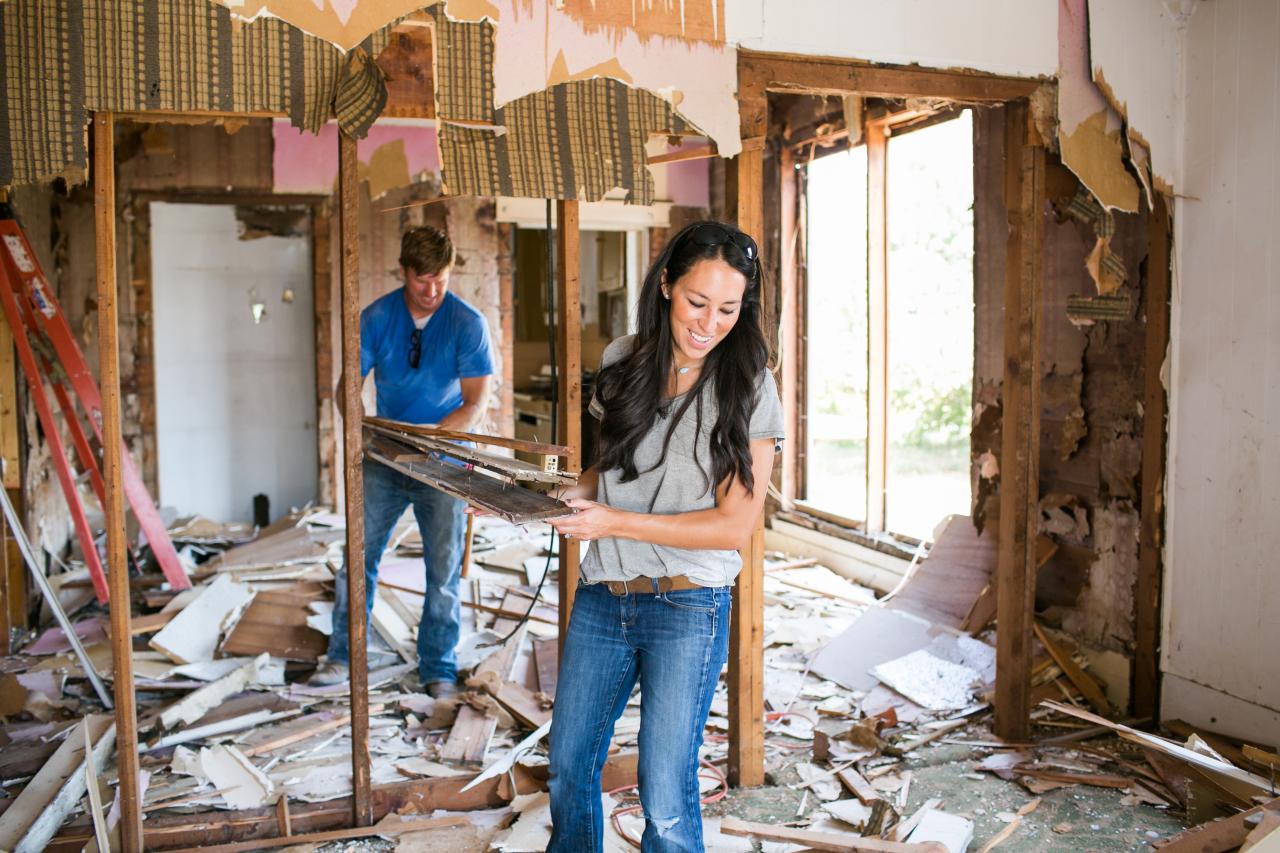 Finally, we get to the best part of the renovation for Chip Gaines, demo day. Chip typically does something at least a little bit dangerous to impress Joanna and maintain his goofy persona on camera. Whether he's swinging a sledgehammer, kicking a wall in, or karate chopping a cabinet that just doesn't want to move, you can bet that demo day will be entertaining.
8. Joanna uncovers shiplap, adds shiplap, or talks about shiplap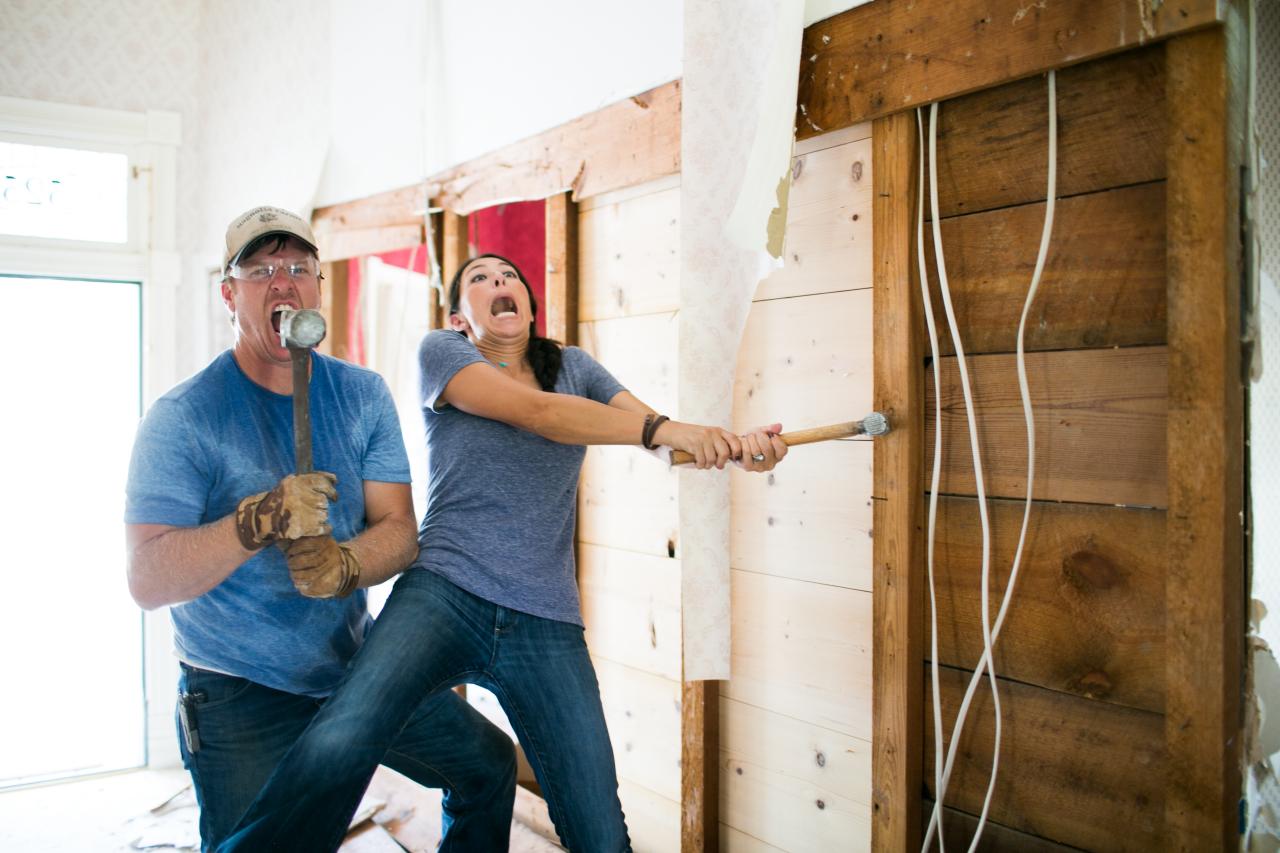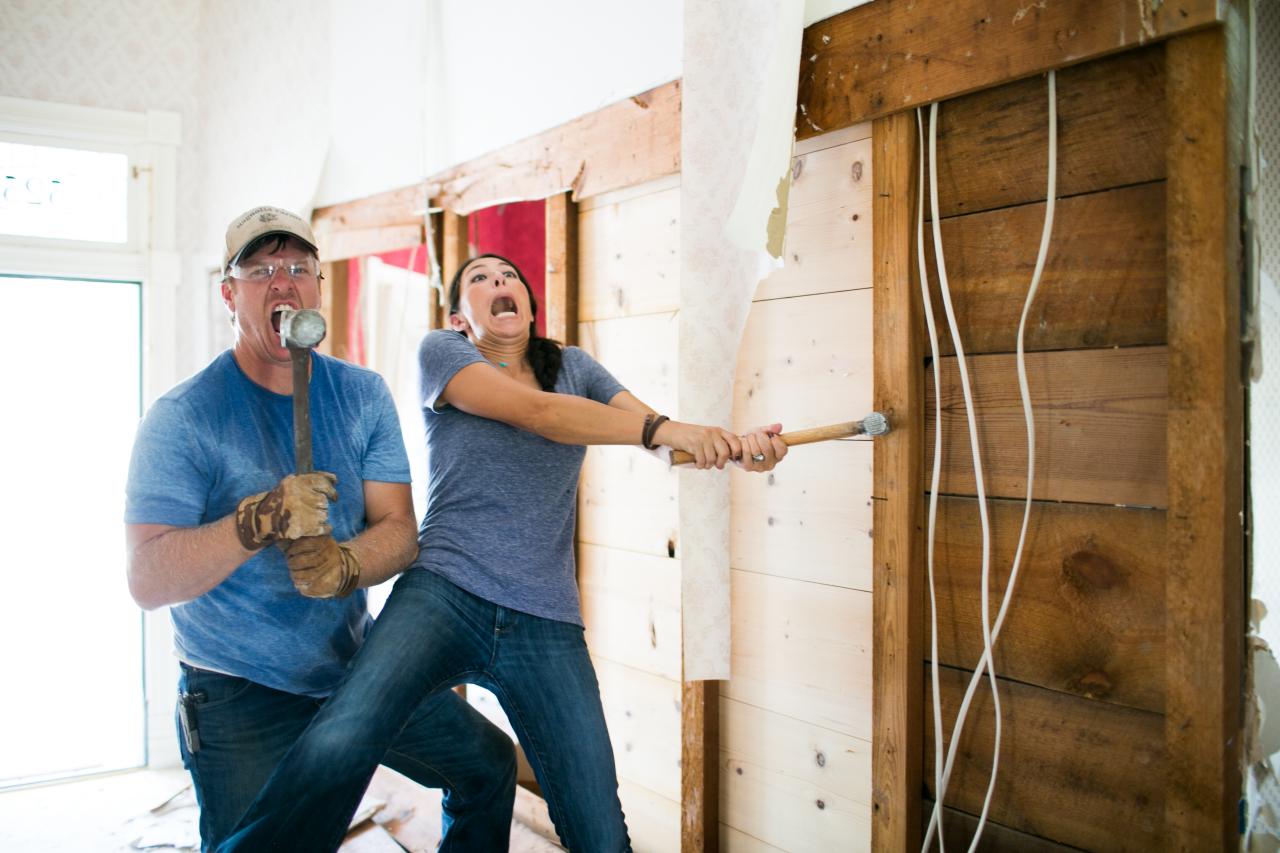 It wouldn't be demo day without Joanna talking about shiplap, her favorite design feature. This wooden paneling frequently appears in historic homes and barns in Texas. And Joanna is always excited to uncover it in a home. Sometimes, she even makes plans to add it to a home where it wasn't featured originally. 
9. Chip uncovers original hardwood floors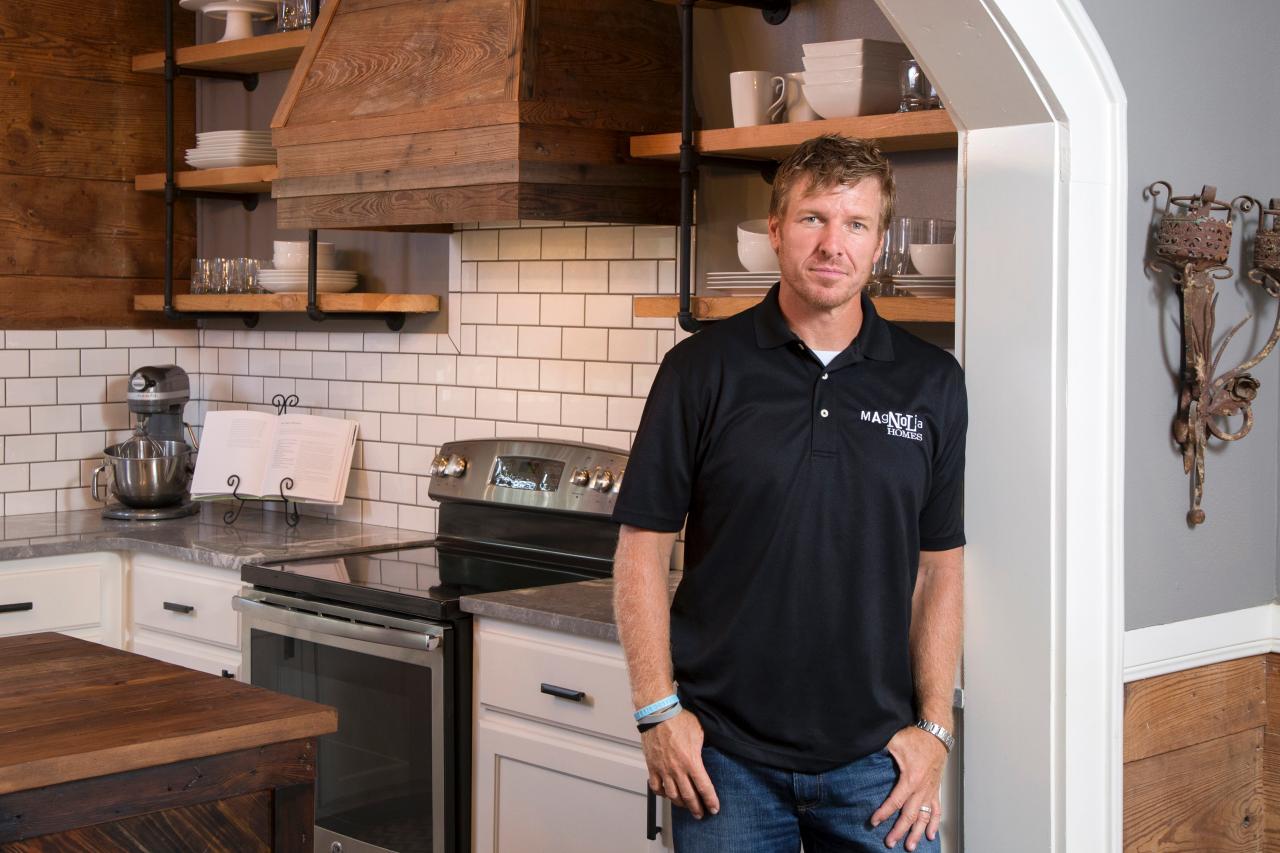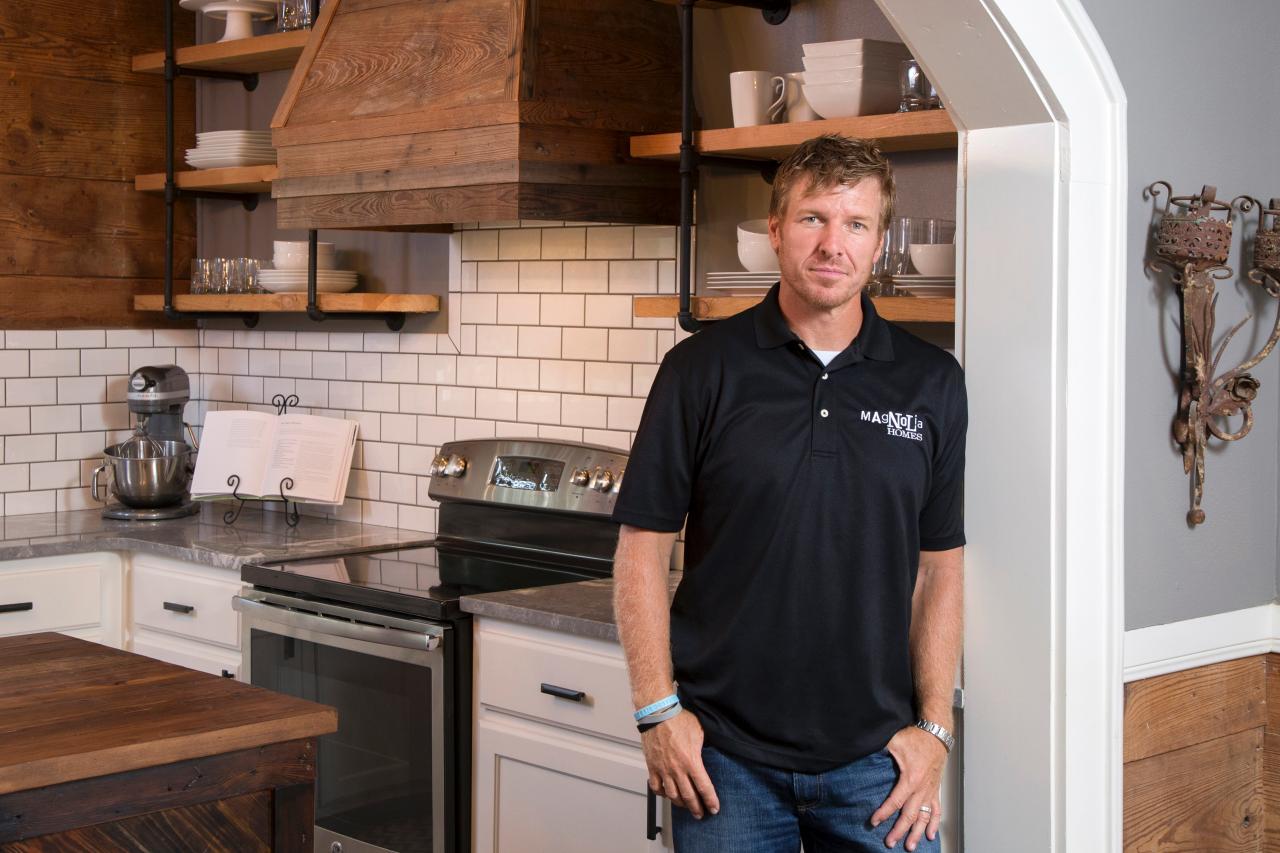 Another common occurrence on demo day? Chip uncovers some beautiful hardwood floors preserved under layers of carpet or linoleum. If you've ever considered buying a fixer upper, you probably get just as excited as Chip to learn that the original hardwoods are still in place (and salvageable!). After all, beautifully aged hardwood floors are pretty difficult to replicate.
10. They run into a minor (or major) issue and have to call the homeowners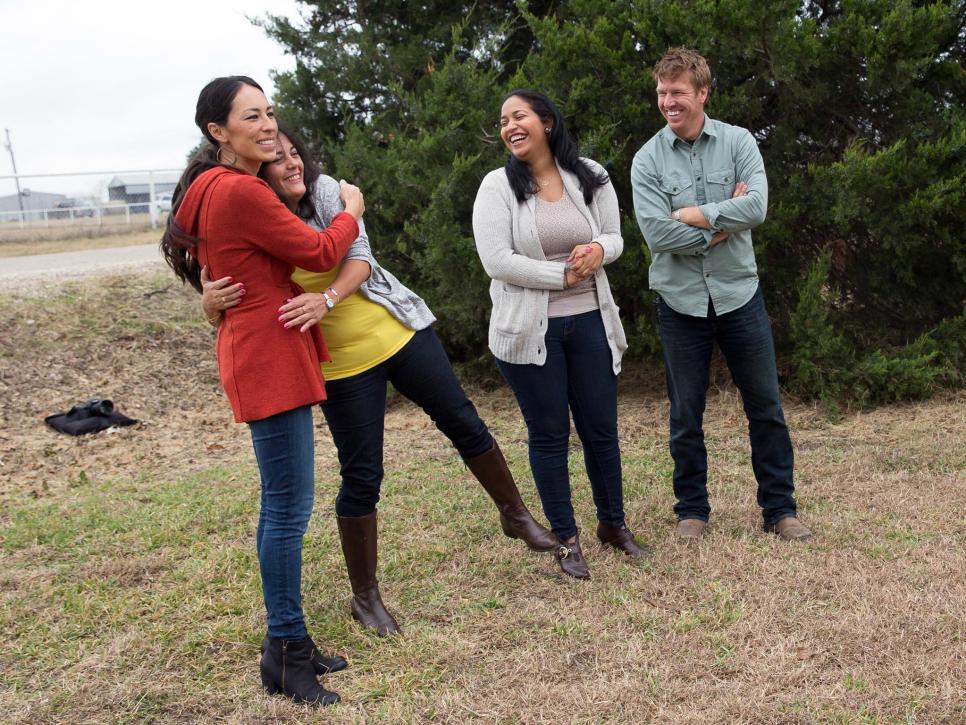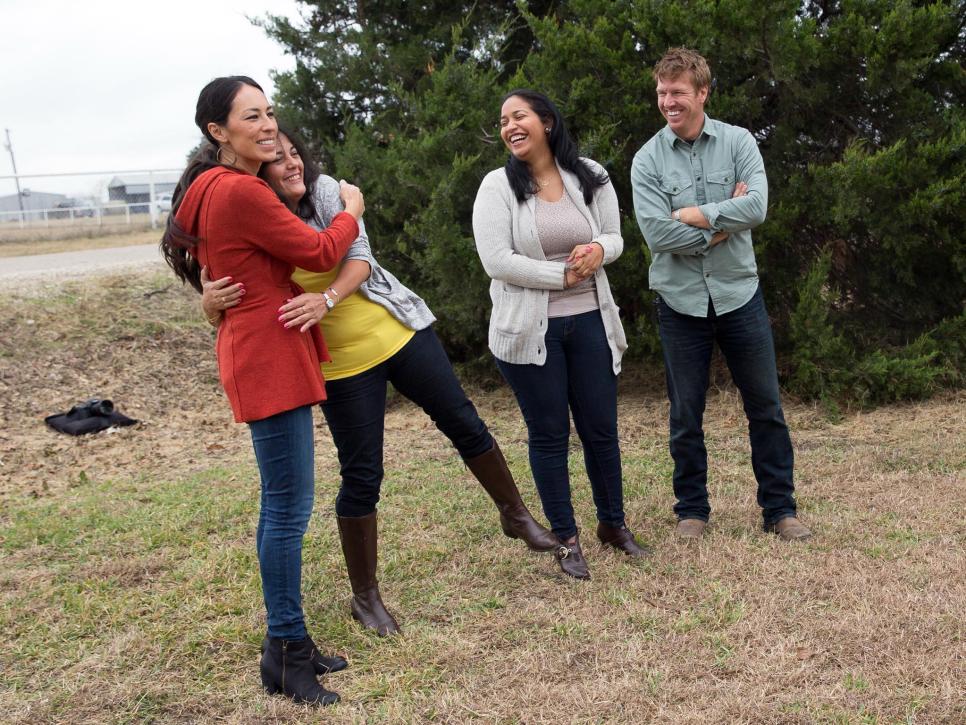 As the renovation gets underway, you can count on Chip or Joanna discovering an issue that necessitates some unexpected spending — and a nervous call to the homeowners. The homeowners always green-light the extra expense to fix the problem, whether it's an air conditioning duct they need to relocate or a roof that they have to repair. No matter the issue, the call appears on just about every episode of Fixer Upper.
11. Chip's antics sabotage an interview with Joanna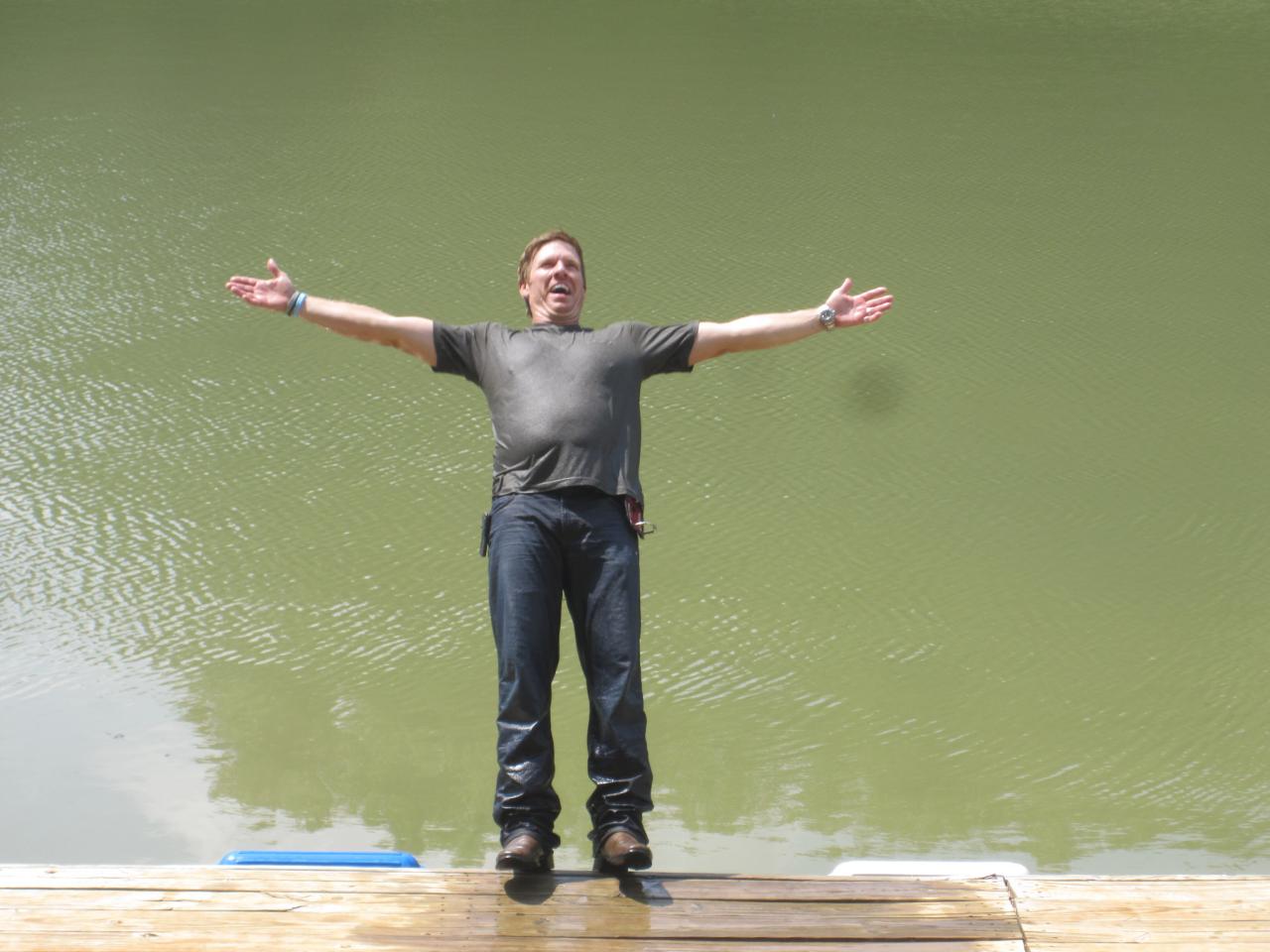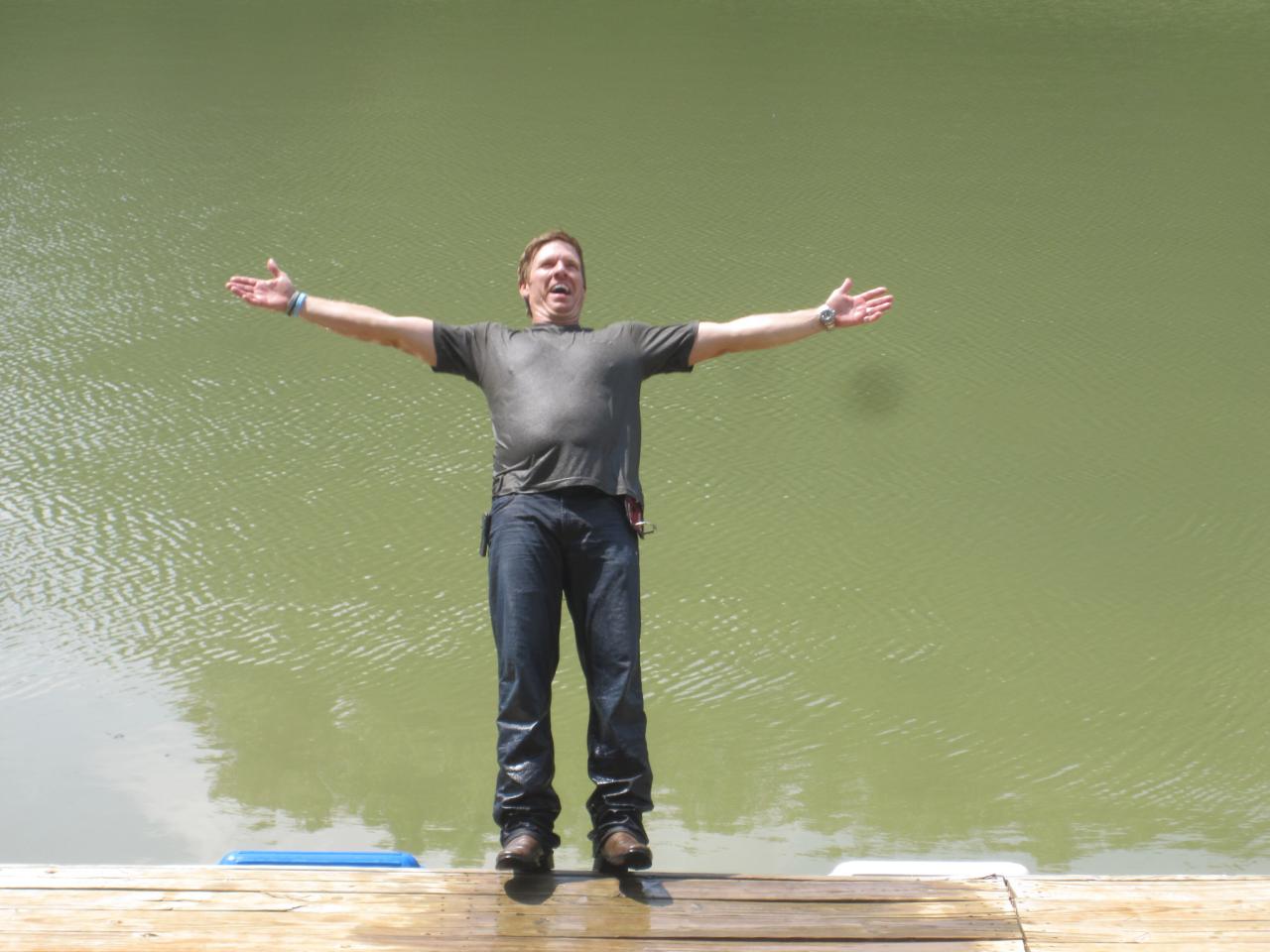 The producers interview Chip and Joanna throughout the episode, getting them to talk to the camera about how the renovation is going and what they still need to do to finish the project. Just as reliable? Chip's propensity for sabotaging Joanna's composure on camera with his antics. That's one of the reasons why so many Americans love this couple. They're sweet and adorable, with a healthy dose of humor to keep everybody laughing.
12. They give the outside of the house a face-lift by spotlighting an original feature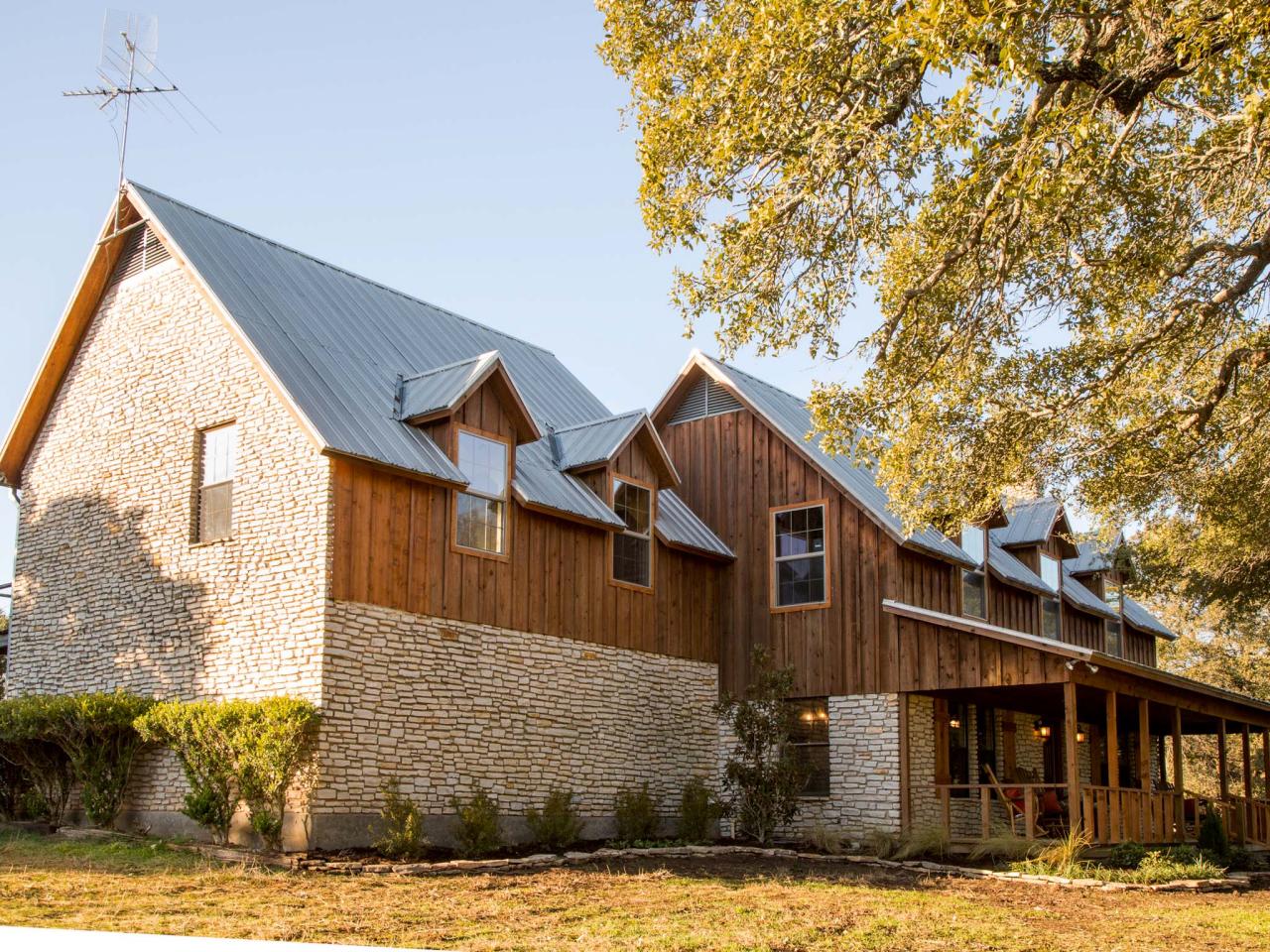 Not all the houses featured on Fixer Upper need major work done to their exteriors. Nonetheless, Joanna usually does give them a face-lift by spotlighting a feature that's original and unique to the house. Perhaps she plays up the detailed trim with a new paint job. Maybe she cleans up the lines of the porch to put an original front door on display. In any case, her goal is usually to bring the unique, authentic character of the house to the forefront to increase the property's curb appeal. 
13. Joanna takes Chip or the kids to an antique store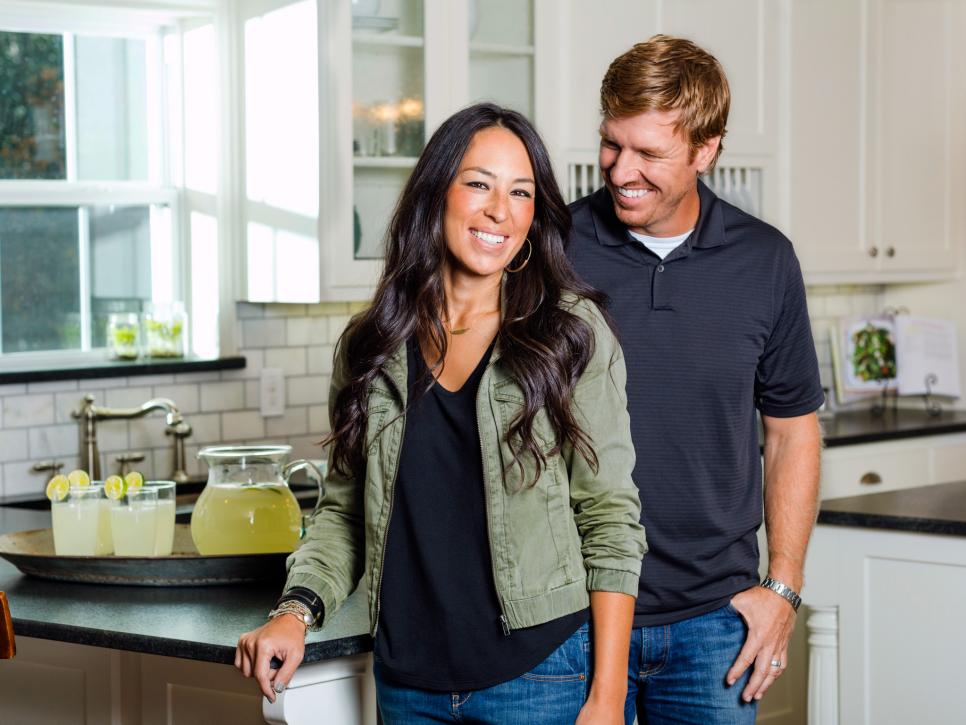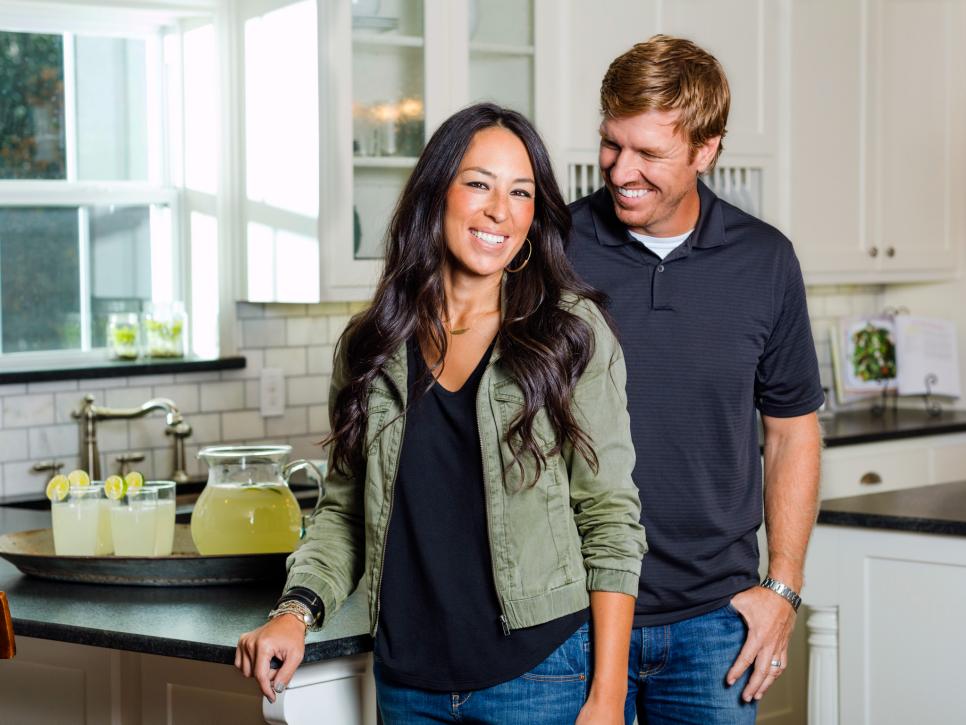 As the Fixer Upper crew rounds the corner on the structural renovations and starts thinking about decorating, Joanna usually makes a trip to the antique store. Sometimes, she takes the kiddos with her. Other times, Chip goes along for the ride. She usually finds something great, and the kids typically behave perfectly. Chip, on the other hand, always has to do something ridiculous.
14. Clint makes a piece of furniture for the house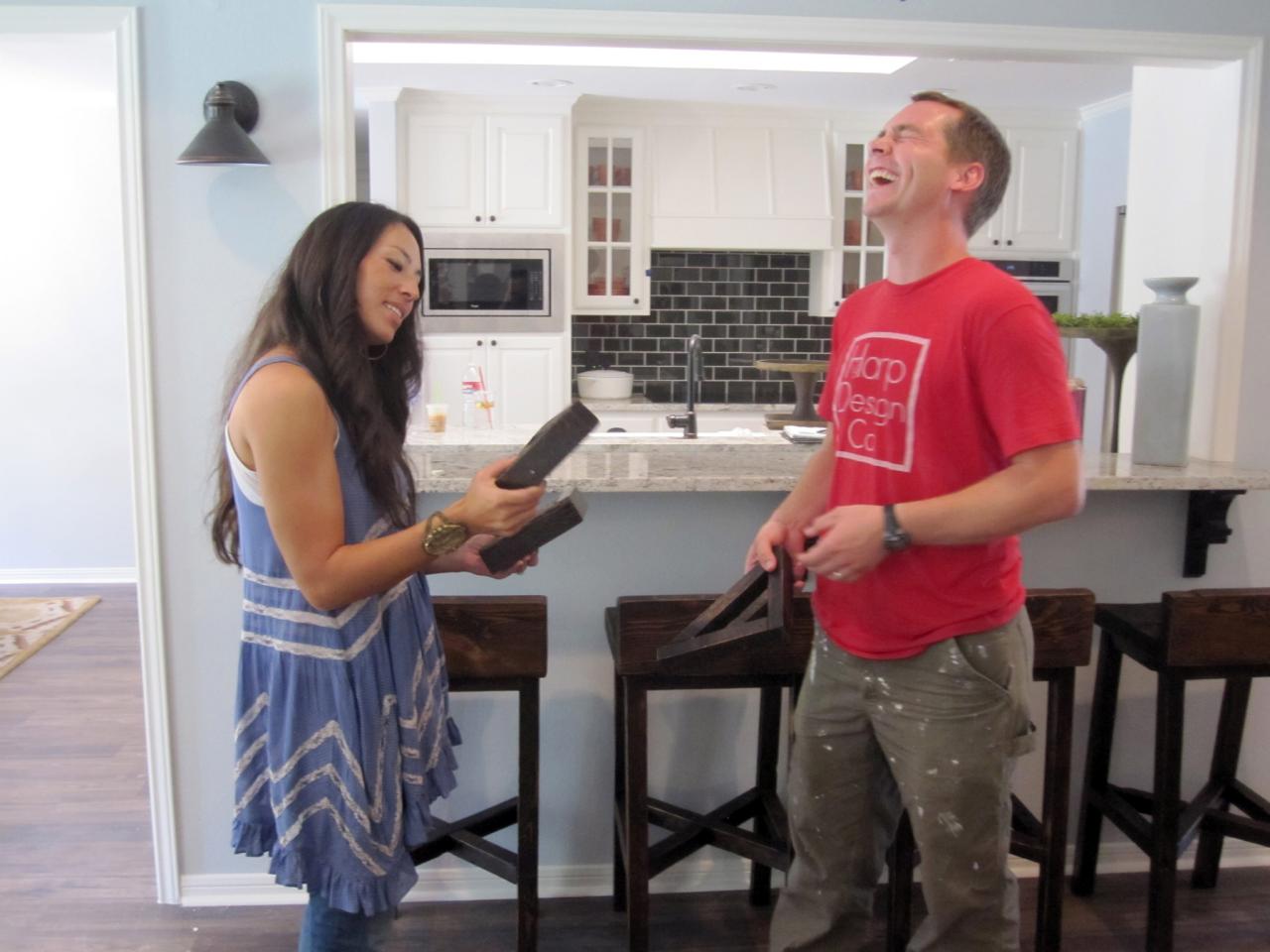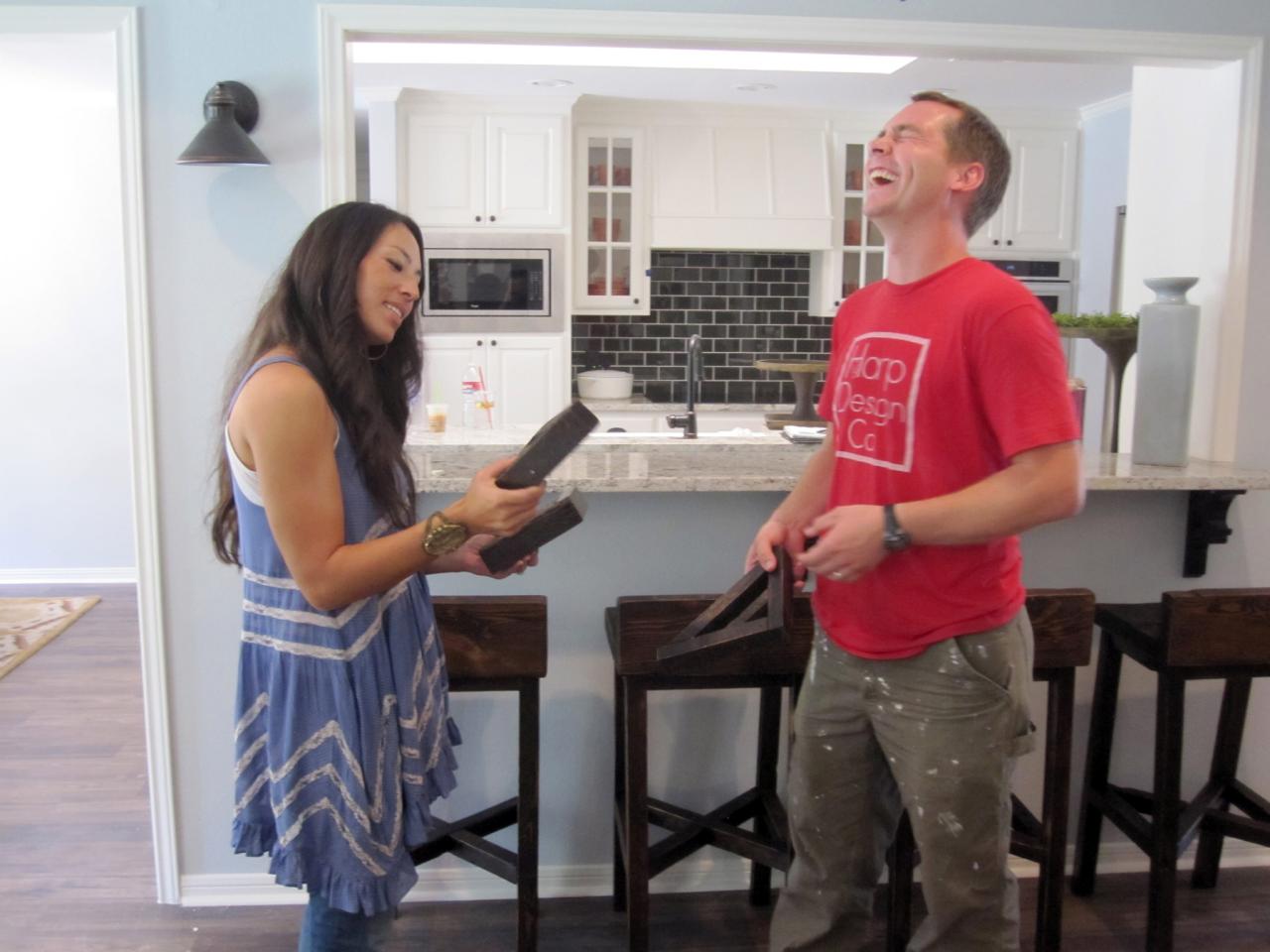 As she prepares to stage the house, Joanna also makes sure that she has a piece of furniture handmade by Clint Harp of Harp Design Co. She usually orders a dining room table or a kitchen island. However, she's also commissioned a bed for a master bedroom. She's even asked for a bench and, one time, a set of hand-turned candlesticks. Clint appears on just about every episode to contribute a piece that's featured prominently in the new house.
15. Chip takes the kids to visit Joanna while she's staging the house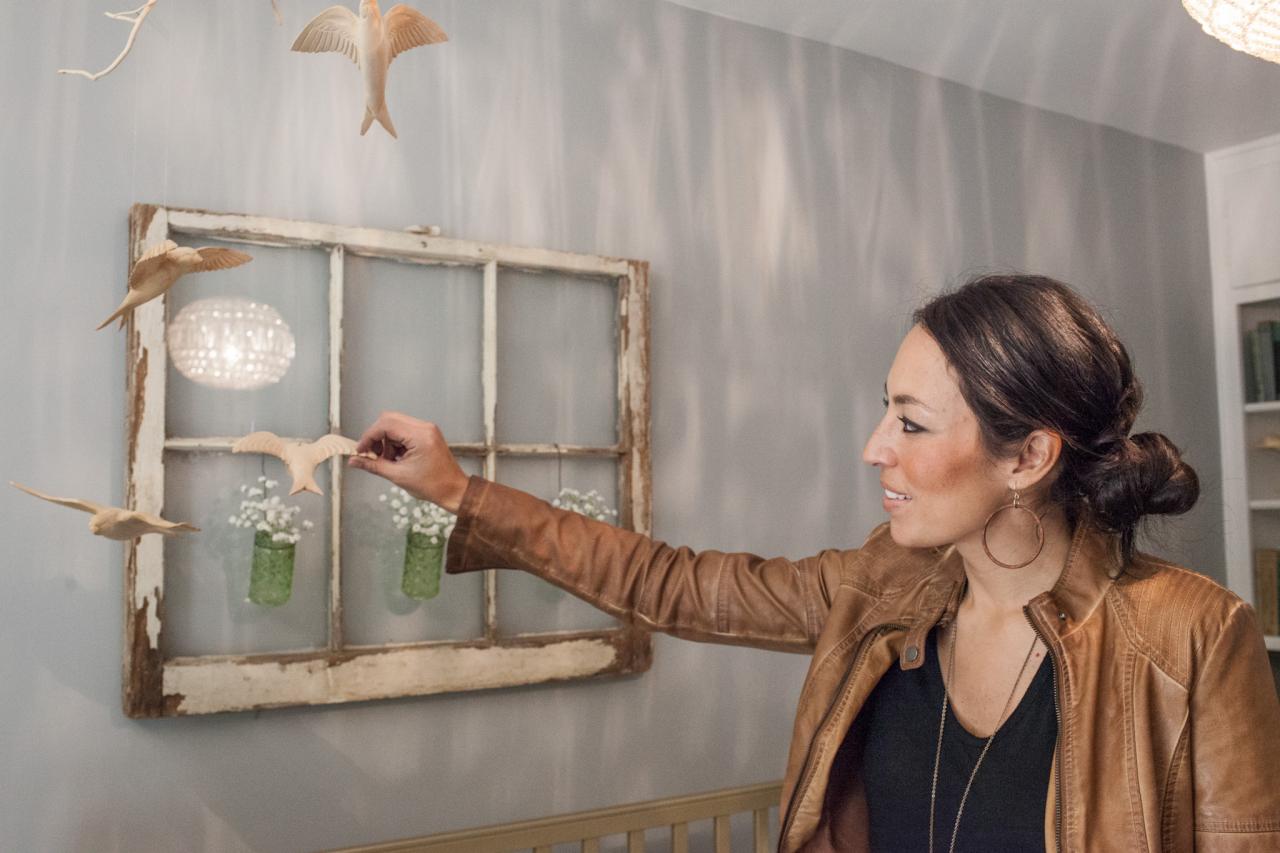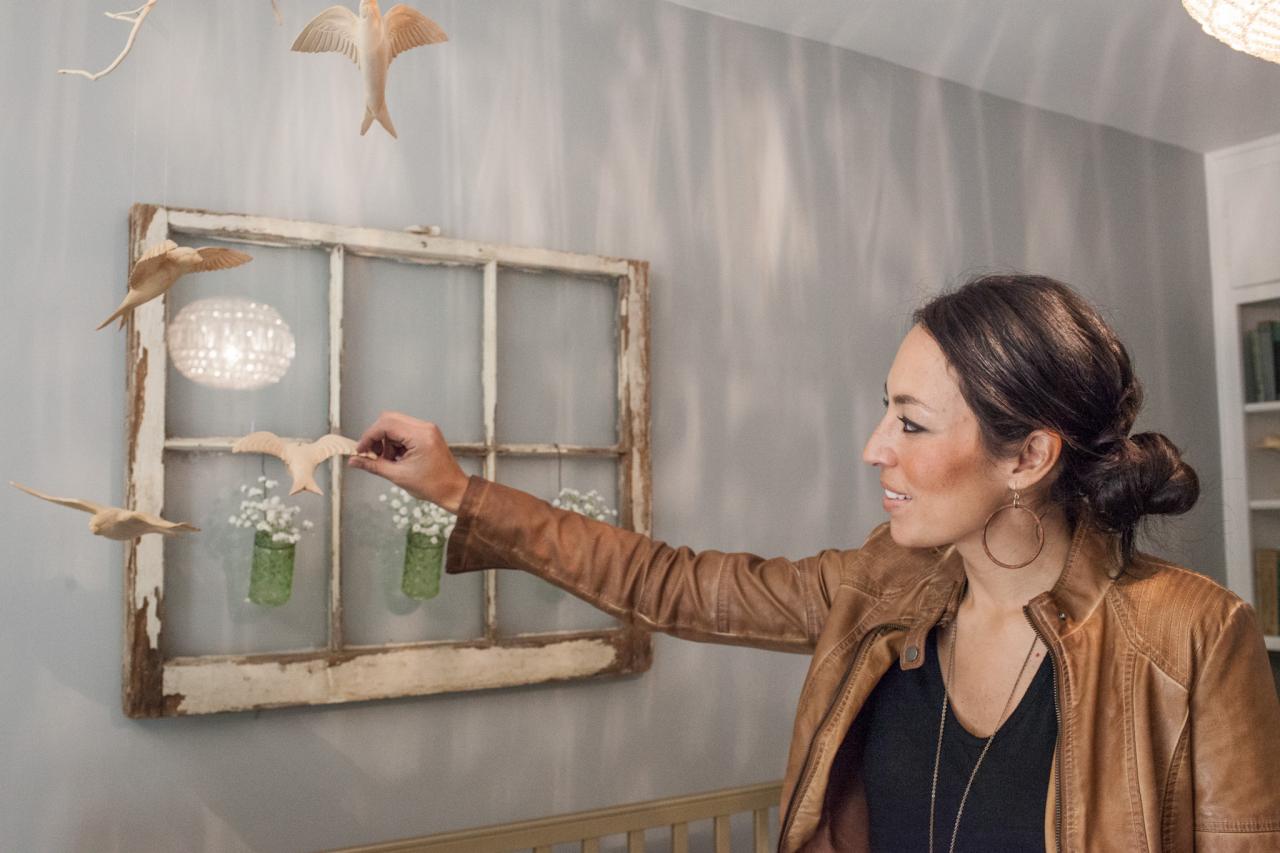 In the home stretch, Joanna usually works late in the evening to finish staging a house. And Chip usually stops by with the kids so that they can all share a meal or a snack with mama before she gets back to work. Sometimes, the kids even help out. They draw pictures, arrange books, and generally offer some adorable helping hands as Joanna prepares the house for its new family.
16. Chip and Joanna reveal the house from behind a giant poster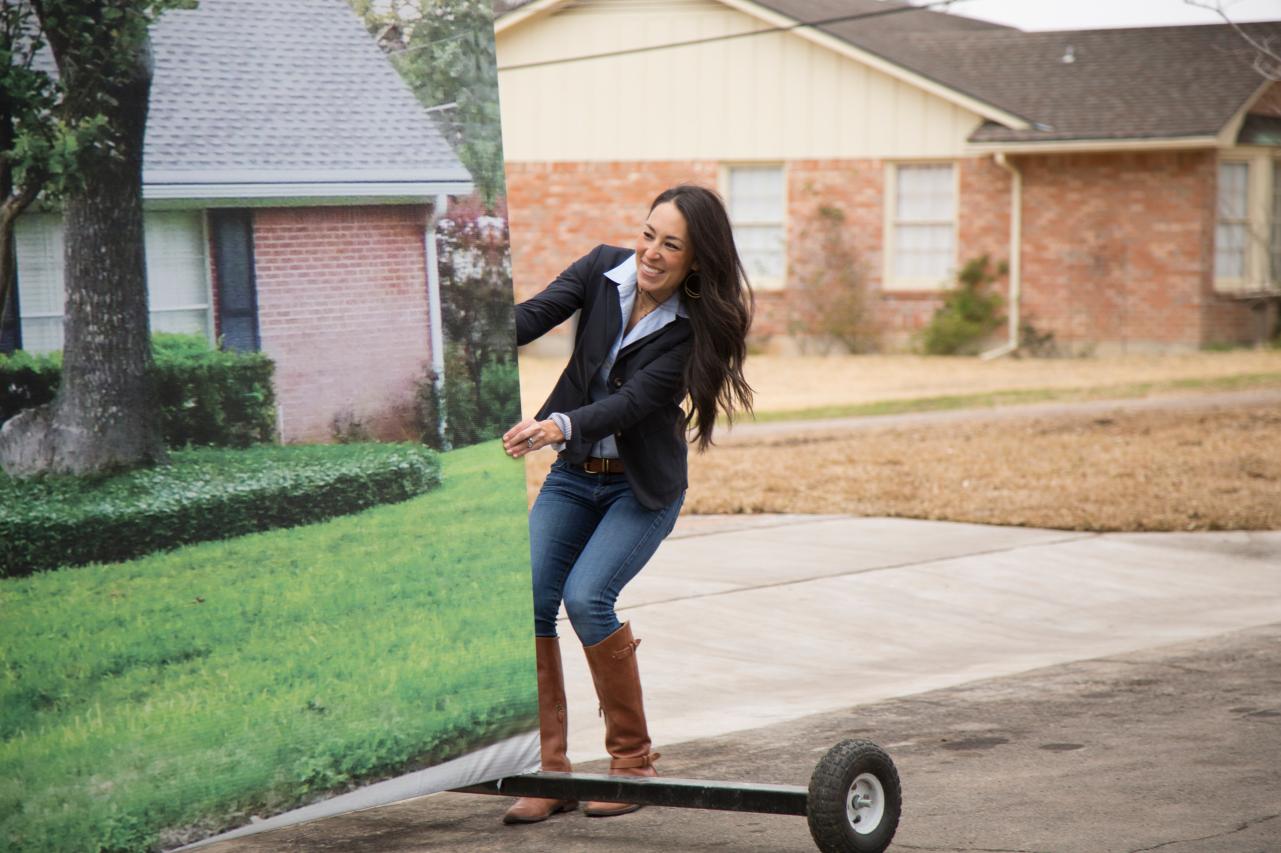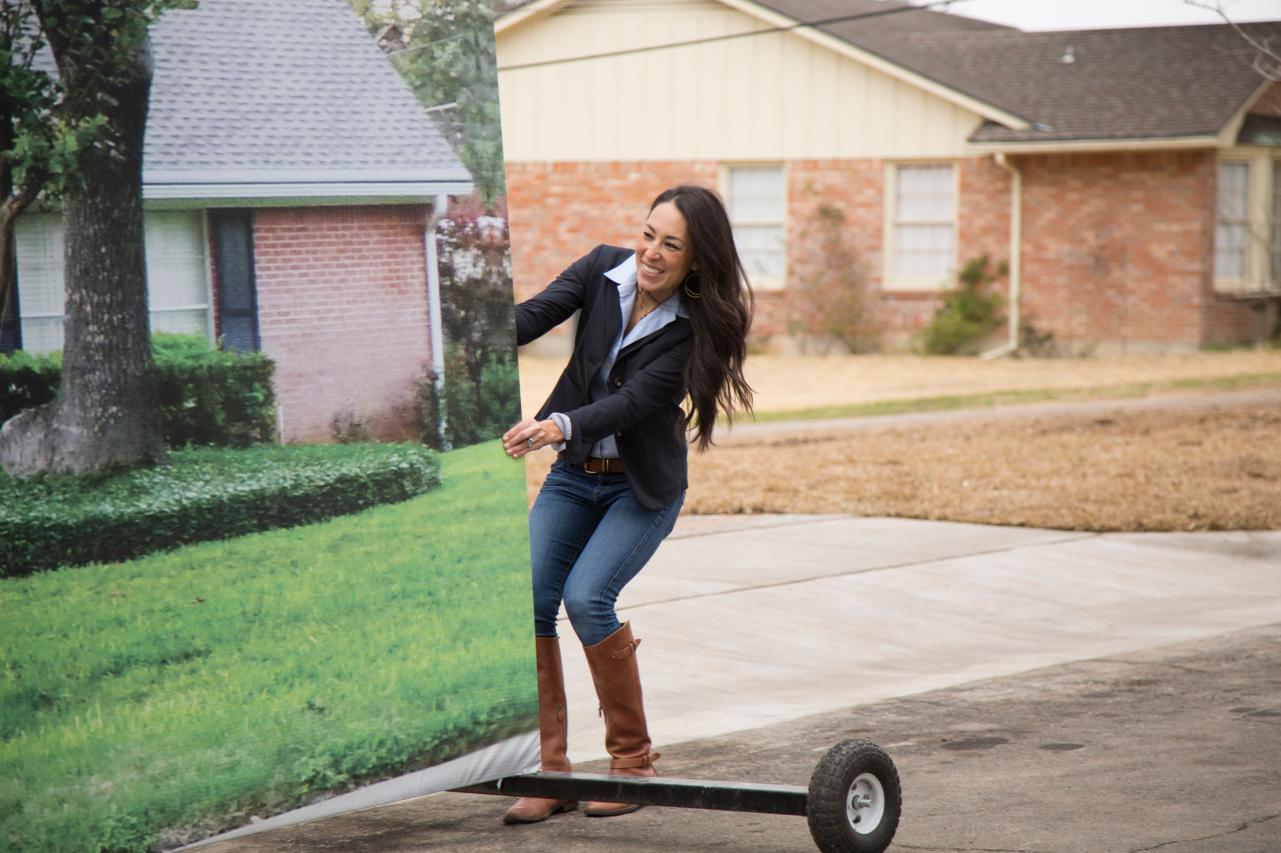 Another Fixer Upper signature is the way that Chip and Joanna reveal the newly renovated house to the homeowners. They set up a giant poster that shows the house as it looked before the renovation, and then roll it away to reveal the newly revitalized home.
17. The homeowners ooh and ah over Joanna's signature design details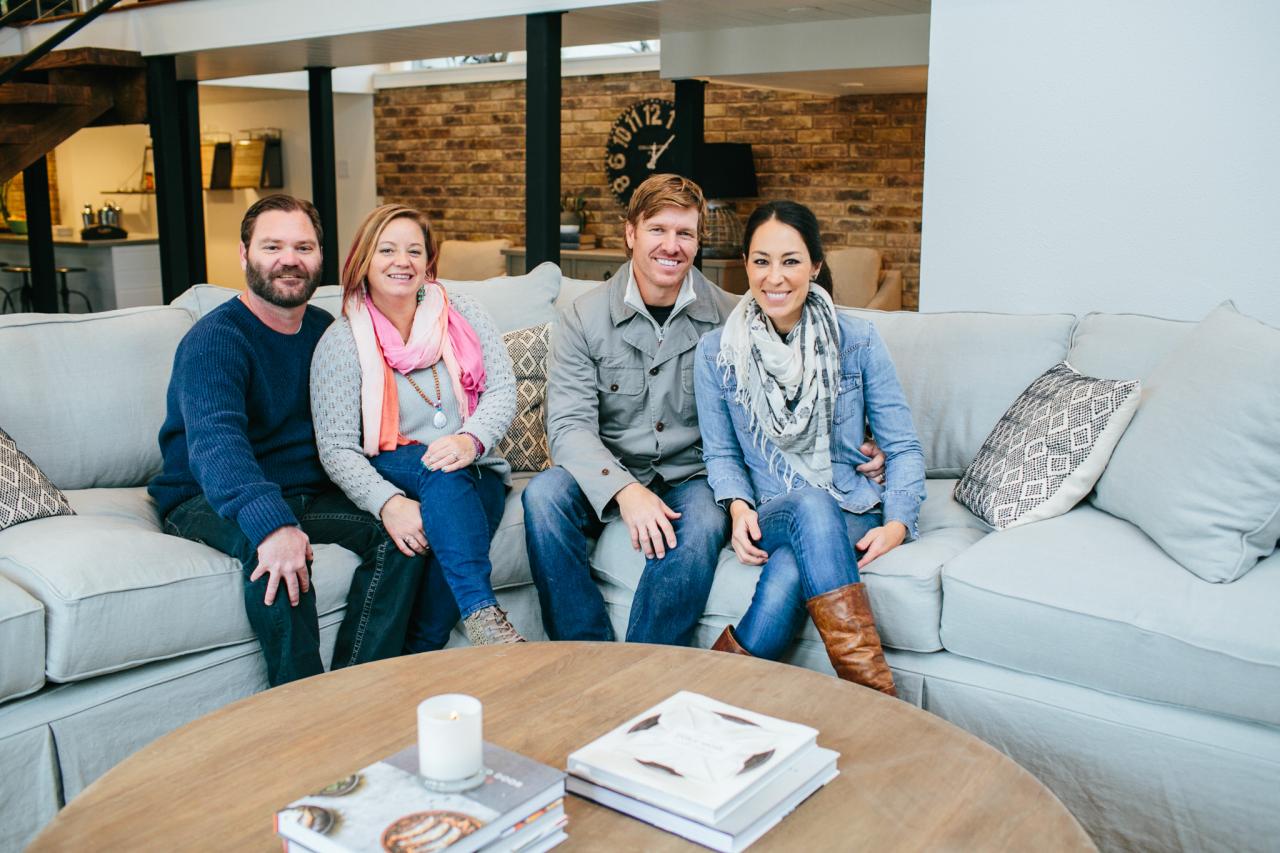 It wouldn't be an episode of Fixer Upper without the homeowners fawning over Joanna's design choices — most of which appear in every home featured on the show. You can expect to see plenty of shiplap and distressed woods. You'll also see plants, books, and antique furniture. There will be white cabinets and light-colored upholstery. And don't forget the metal signs, numerous chalkboards, Carrara marble countertops, and copious throw pillows.
Read more: Impractical Things Joanna Gaines Puts in Every 'Fixer Upper' House