This Is the No. 1 Biggest Fast Food Chain in the World (Hint: It's Not McDonald's)
There's no disputing that when it comes to brand recognition and overall revenue, McDonald's is the king of the quick service restaurant (QSR) industry. But that doesn't mean they have the most restaurant locations worldwide. In fact, there's another surprise player who has them beat — by a lot.
Fast food restaurants are more than just sodium-packed meals served via drive-thru in greasy paper bags. Restaurants that provide minimal table service and quickly prepared menu items qualify as QSRs. They may be operated by franchisee agreements or under shared corporate ownership, like McDonald's is. These restaurants are incredibly popular because of the convenience factor, and in today's lightning-paced world, time is invaluable.
So who managed to best the golden arches when it comes to sheer number of restaurants? Read on to find out …
15. Dairy Queen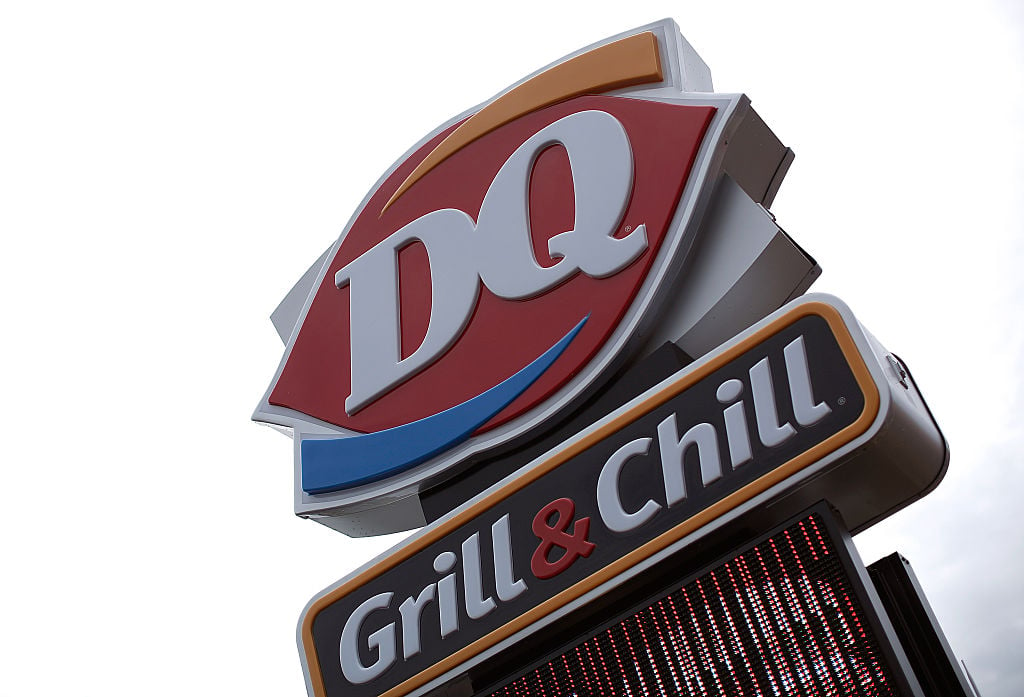 People really love their ice cream.
Coming in at 15th on the list, Dairy Queen boasts 4,800 locations worldwide. This summertime staple was developed in 1938 by John Fremont (who was adorably nicknamed "Grandpa") and Bradley McCullough in Illinois. With locations in 30 countries and enduring classics like the Blizzard, it's no wonder DQ is still going strong all these years later.
Next: This QSR lives at your local mall.

14. Orange Julius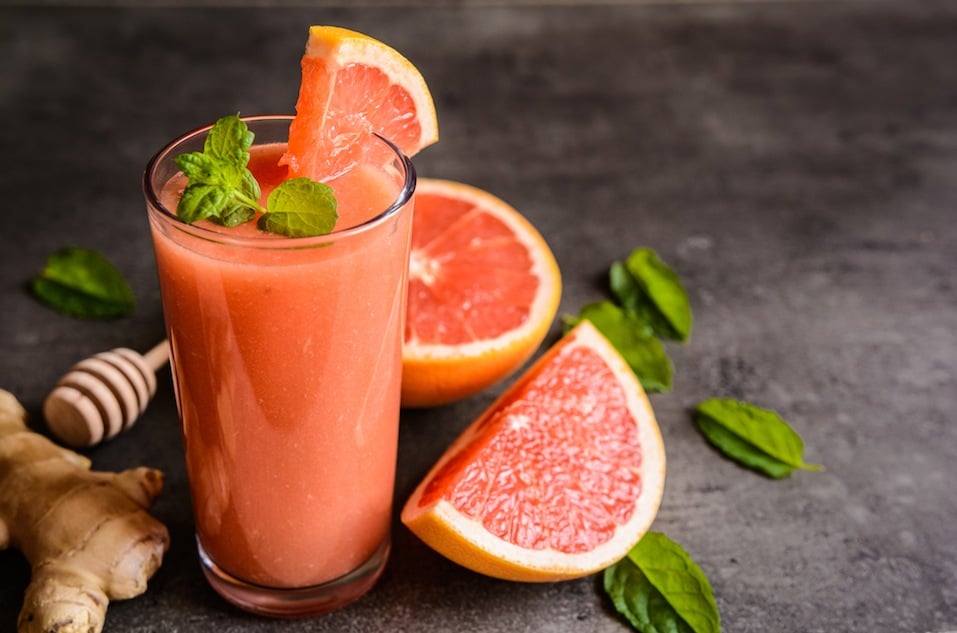 Ever been to a mall food court? Then you've probably seen an Orange Julius.
This QSR got its start in Los Angeles and yes, there really was a man named Julius, and he wanted to drink orange juice. In order to make his stomach stop hurting from the acidity of the citrus fruit, he added sugar, milk, egg whites, and vanilla to the juice, and with that, a legend was born.
You might notice that Orange Julius and Dairy Queen are often operated in the same space — that's because DQ owns OJ (and Berkshire Hathaway owns both of them). These days they operate 5,700 restaurant locations.
Next: This restaurant isn't allowed to exist in Canada.

13. Hardee's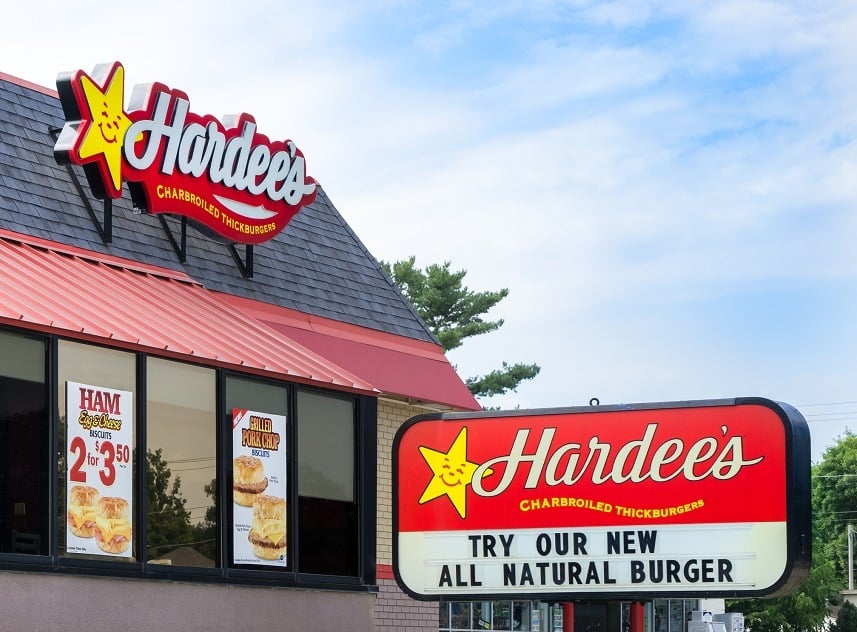 There aren't any Hardee's locations in Canada, but that doesn't stop this classic burger chain from taking home 13th place on the list. With 5,812 locations, it's one of the most numerous QSRs in the world. Some people may confuse Hardee's and Carl's Jr. or think they're the same thing. In truth, they're actually two distinct restaurants which are owned by the same company.
Next: The founder of this chain overcame a rough childhood to open a popular restaurant.

12. Wendy's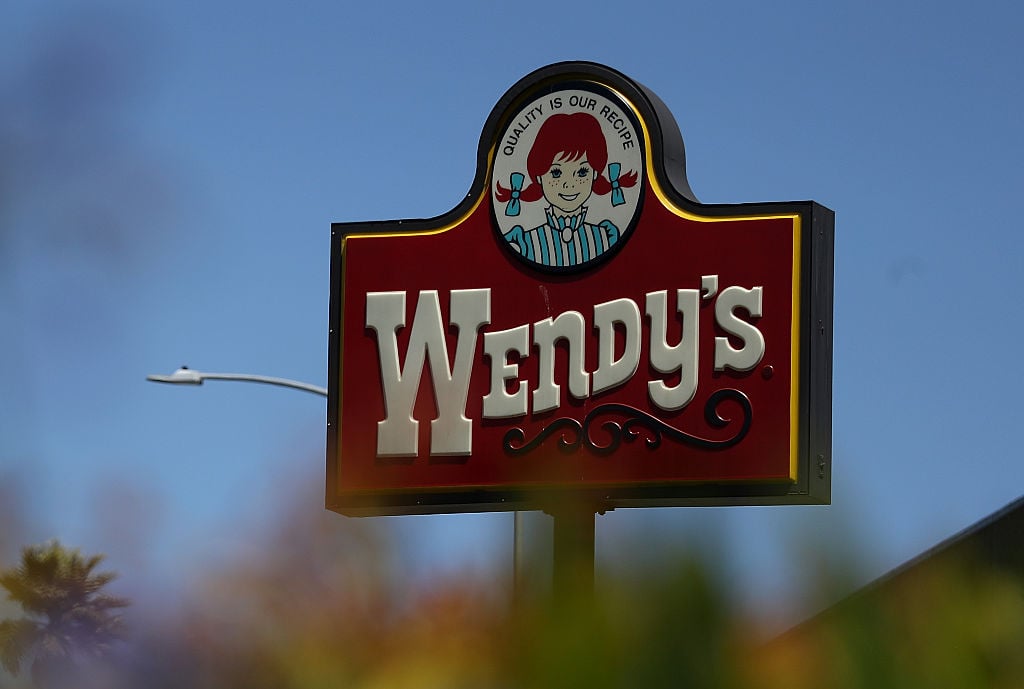 The first Wendy's opened in Columbus, Ohio in 1969 and they've been serving up their signature square burgers ever since. Started by Dave Thomas, a former employee of Colonel Sanders, this fast-food chain sells 300 million Frostys per year and was the first QSR to add a salad bar. It's also the 12th most numerous in the world, with 6,490 locations.
Next: Their product promotions are legendary.

11. Taco Bell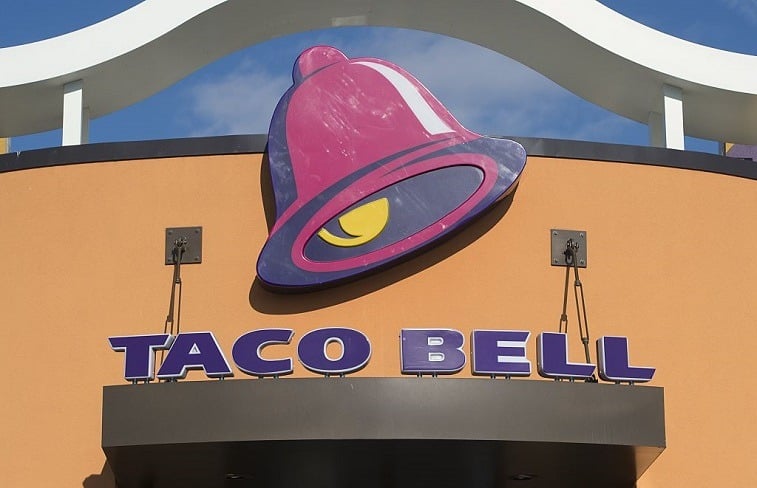 Named after founder Glen Bell, this Mexican-themed QSR is enormously successful thanks to their unique spin on fast food. Encouraging customers to "think outside the bun" has done wonders to promote their product and their late night drive-thru hours attract a distinct demographic of partyers and college students. These are all reasons that they take 11th place with 6,500 locations.
Next: They serve a whole lot of pizza.

10. Hunt Brothers Pizza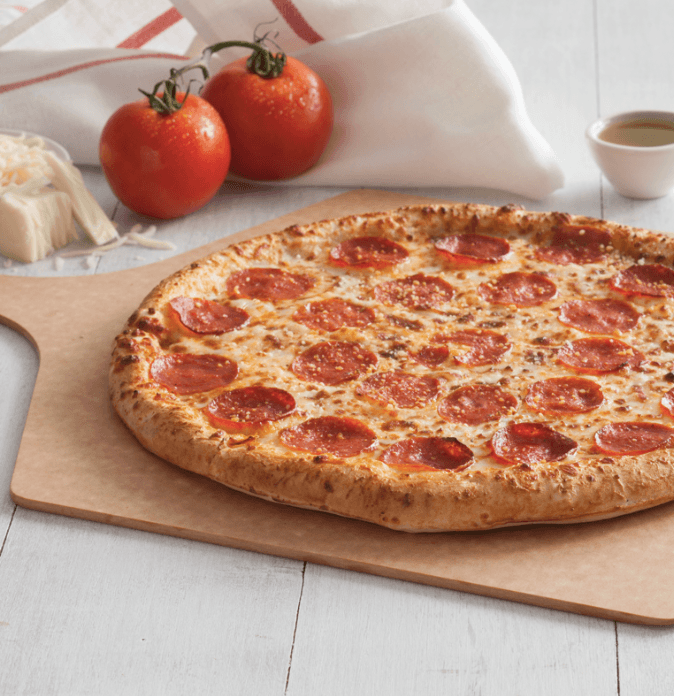 Hunt Brothers Pizza was started by — you guessed it — the Hunt brothers in 1990. Now it's the number one convenience store pizza brand in the world, with more than 7,500 locations in gas stations, country markets, sports arenas, and schools.
Next: You could go here every day of the month and never have the same thing twice.

9. Baskin-Robbins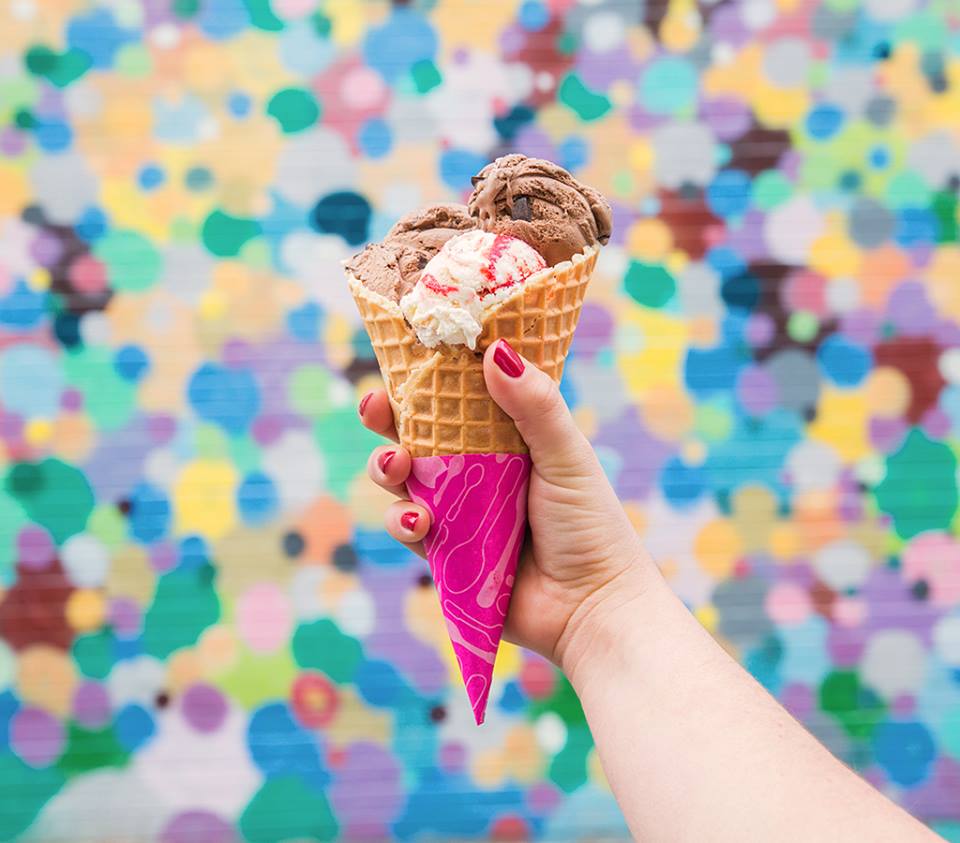 With a unique "31 flavors" concept (that's one for every day of the month), Baskin Robbins is one of the most popular ice cream chains in the world. It was founded in 1945 by Burt Baskin and Irv Robbins, and today it's the 9th largest QSR in the world with 7,300 locations worldwide.
Next: They're obsessed with innovation.

8. Domino's Pizza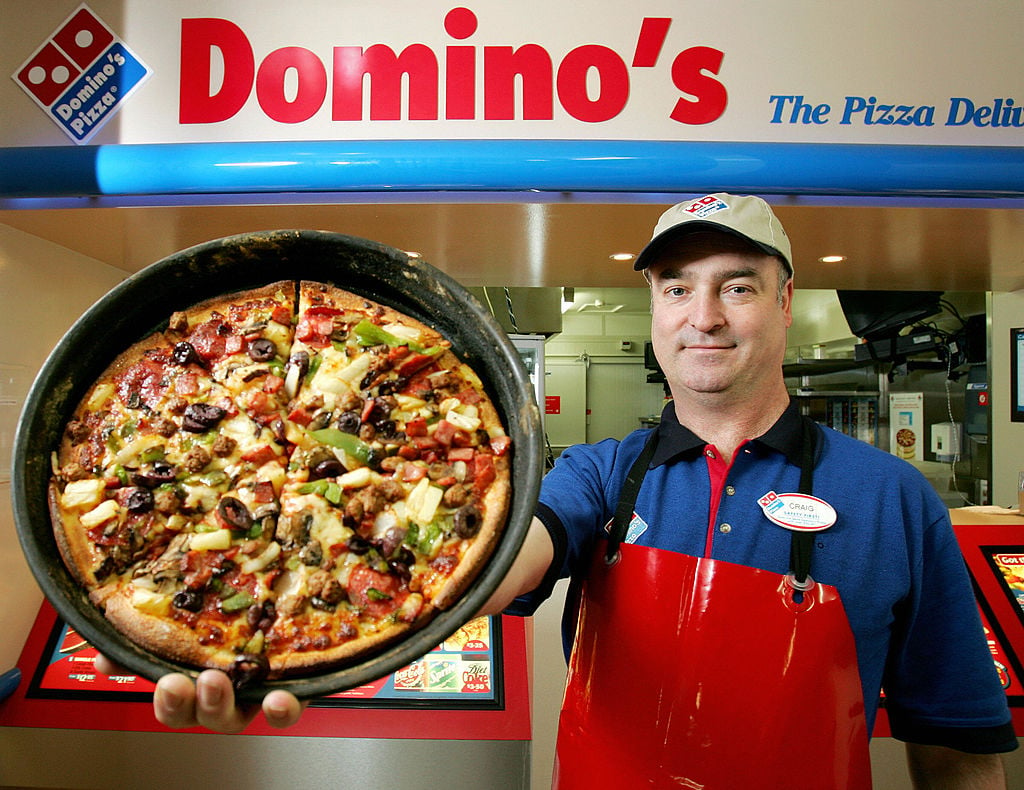 Here's a fun fact: with all the options available, there are 34 million unique ways to create a Domino's Pizza.
And fans certainly aren't getting bored of this popular pizza chain. With more than 10,000 stores worldwide and over 1 million pizzas delivered daily, they show no signs of slowing down. One reason for their success? Pure innovation. Over 70% of the menu at Domino's is new since 2008.
Next: They know how to do coffee.

7. Dunkin' Donuts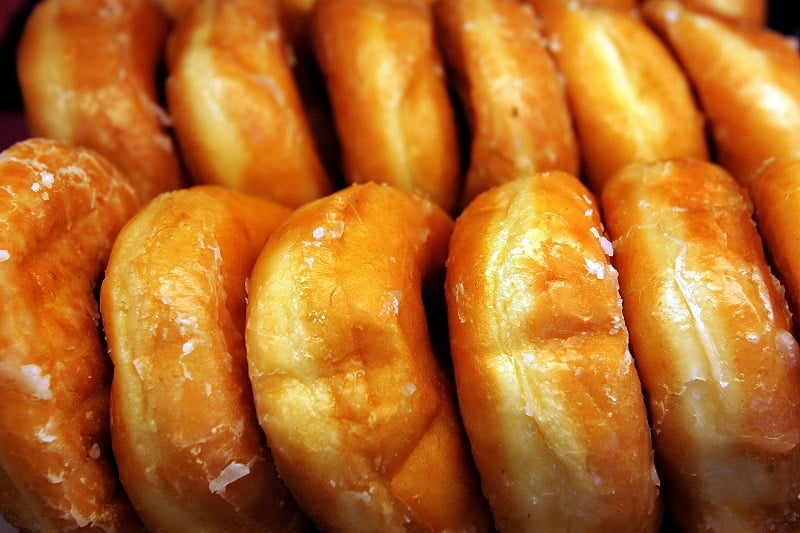 This doughnut and coffee destination boasts more than 11,300 location in 38 countries, earning it the 7th spot on the list. Originally named Open Kettle, this chain restaurant took off when they rebranded to focus on coffee in 2003. The "America runs on Dunkin'" slogan and a slew of new beverages on the menu led to a 66% sales increase. They now sell 30 cups of coffee every second.
Dunkin' Donuts is also credited with revolutionizing the QSR industry by being one of the first chains to offer franchise opportunities.
Next: Trump once promoted this worldwide brand.

6. Pizza Hut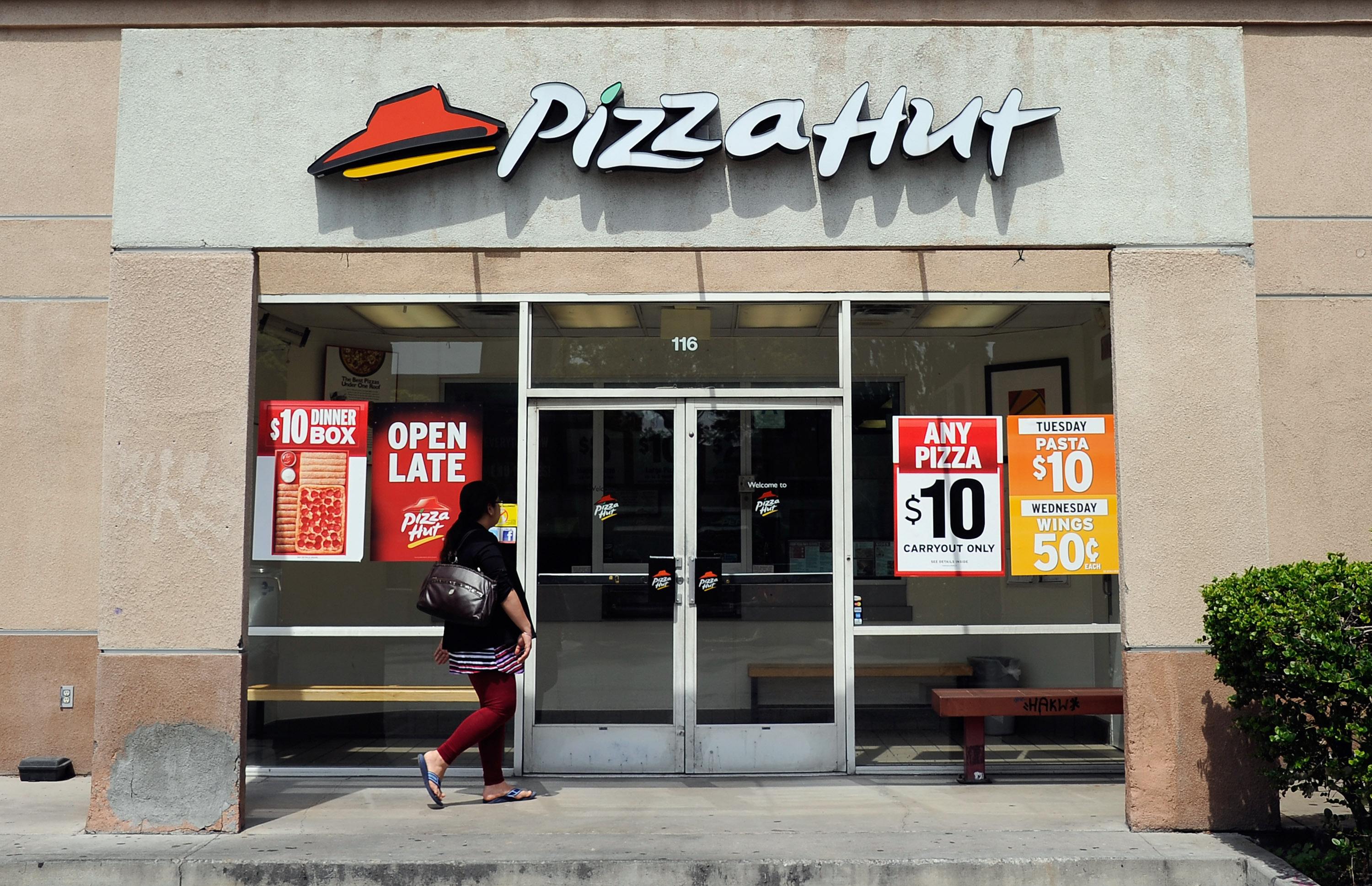 This well-known pizza chain was started by two brothers with a $600 loan from their mother. Now they have over 13,000 stores worldwide. And we'll bet you didn't know that President Donald Trump once starred in one of their commercials.
Next: A few lucky people get free burgers and fries for life here.

5. Burger King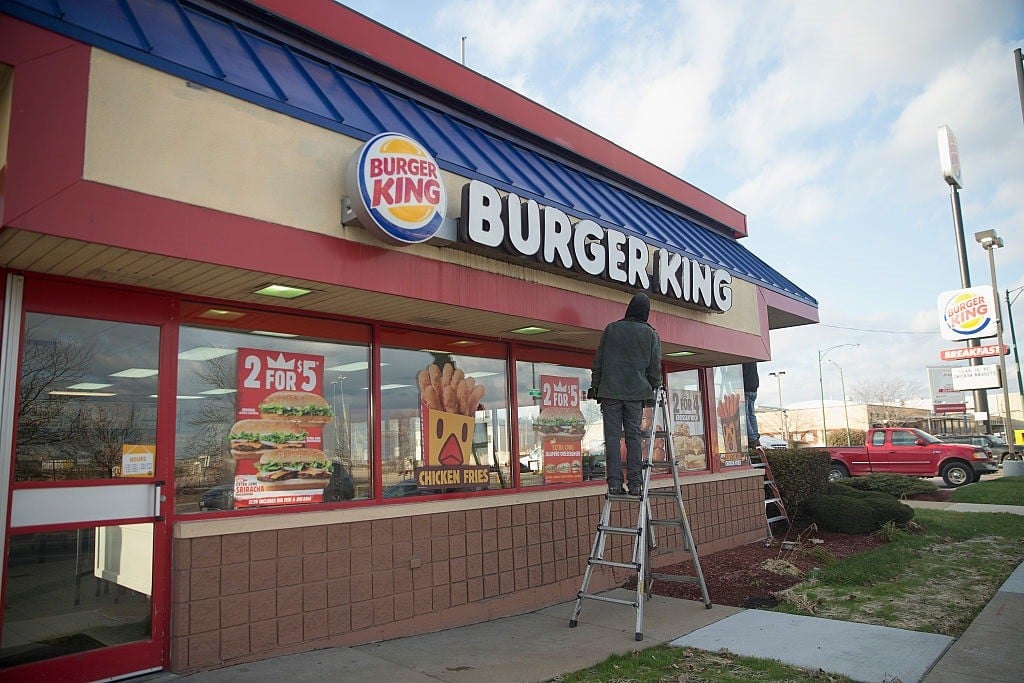 Legend says that anyone who possesses the coveted Burger King Crown Card gets to enjoy their fill of free burgers and fries for life. Celebrities like Hugh Laurie, Jennifer Hudson, George Lucas, Robert Downey Jr., and Jay Leno are all rumored to have one.
But BK must not hand out too many cards, because their sales are going strong and their restaurant locations are numerous. With over 15,000 locations in 79 countries, you're rarely far from a Whopper, even if you do have to pay for it.
Next: Their secret recipe is the stuff of legends.

4. KFC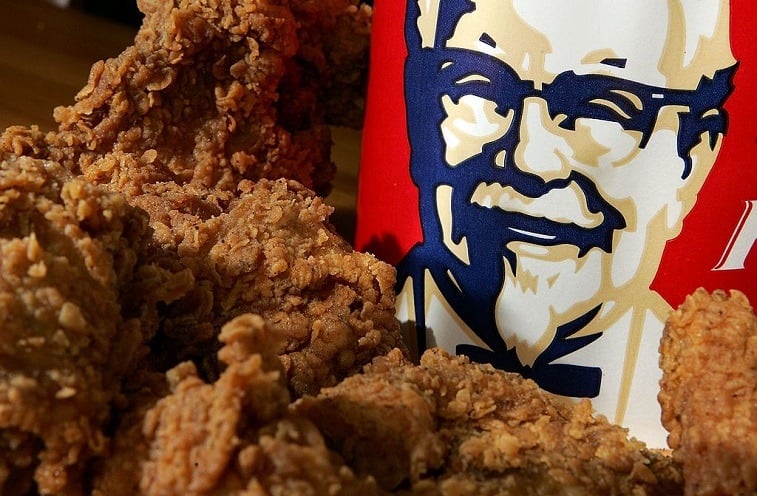 There's nothing like a bucket full of fried chicken.
This chain had humble beginnings in front of a gas station in Corbin, Kentucky and has grown to more than 19,000 locations worldwide. And even though Harland Sanders wasn't actually a colonel and the secret recipe is next to impossible to distinguish, this chain is still incredibly popular, especially outside the United States. In fact, it's a common tradition to eat KFC on Christmas in Japan.
Next: You'll find one on almost every corner.

3. Starbucks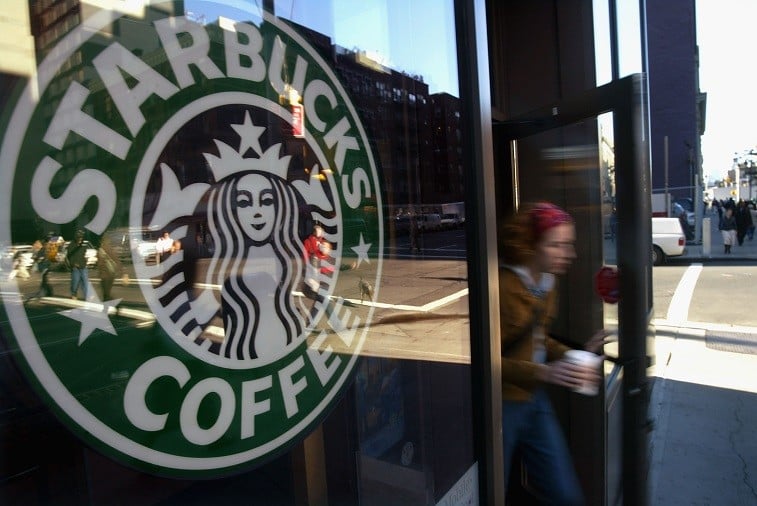 It may seem like there's a Starbucks on every street corner, but in reality, it's only the third most numerous QSR in the world. With the insane popularity of the PSL and their unlikely ability to get people to pay $5 for a cup of coffee, Starbucks boasts 23,768 locations worldwide.
Next: They have the most revenue of any QSR by far.

2. McDonald's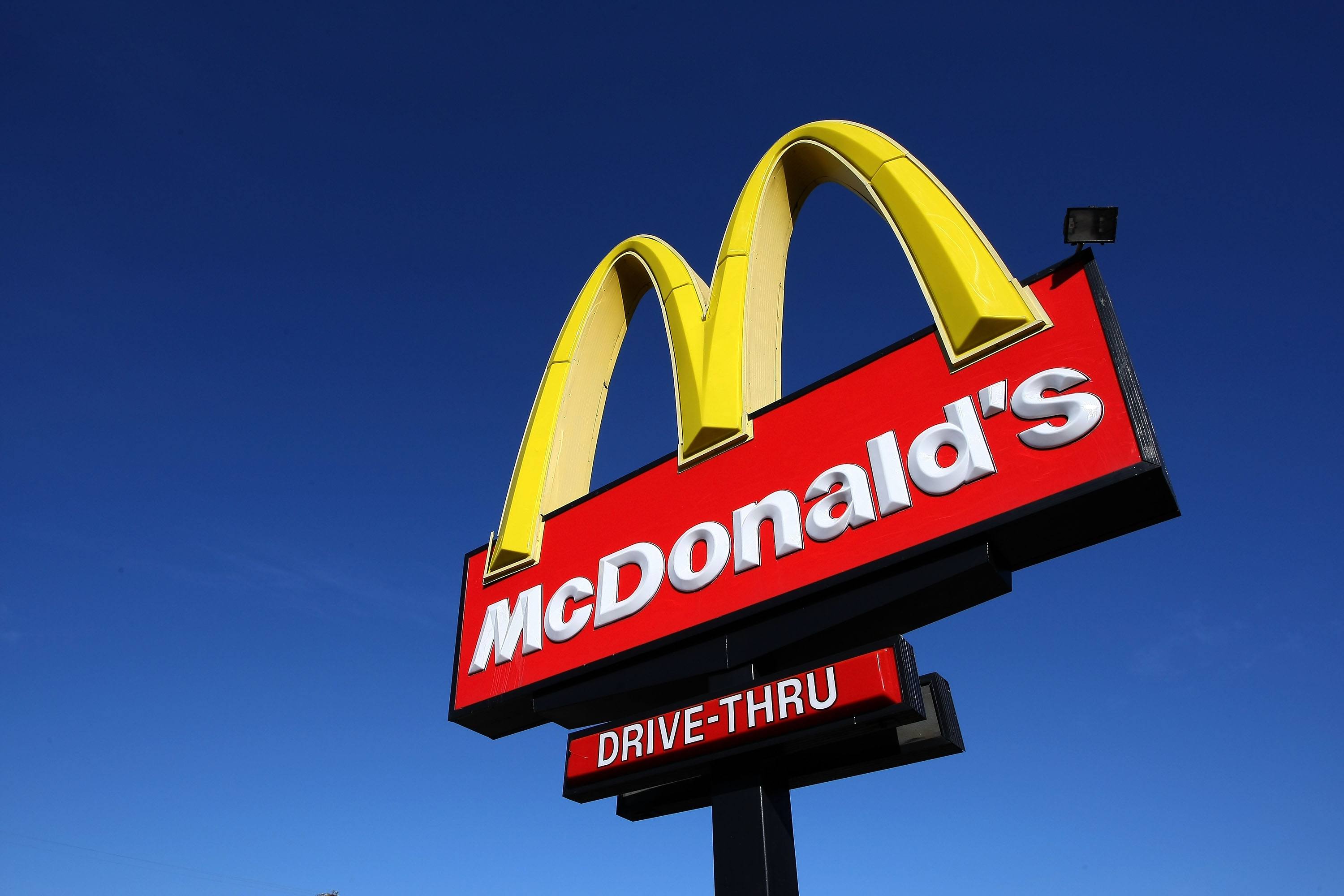 With more than 36,000 restaurant locations in 119 countries, McDonald's is the second biggest QSR in the world. The stats on McDonald's are truly astounding: They sell 75 hamburgers every second. One in eight workers in the United States has been hired by McDonald's. Their 70 million daily customers are more than the entire population of France.
But even though McDonald's makes the most money, they don't have the most restaurant locations.
Next: And the winner is…

1. Subway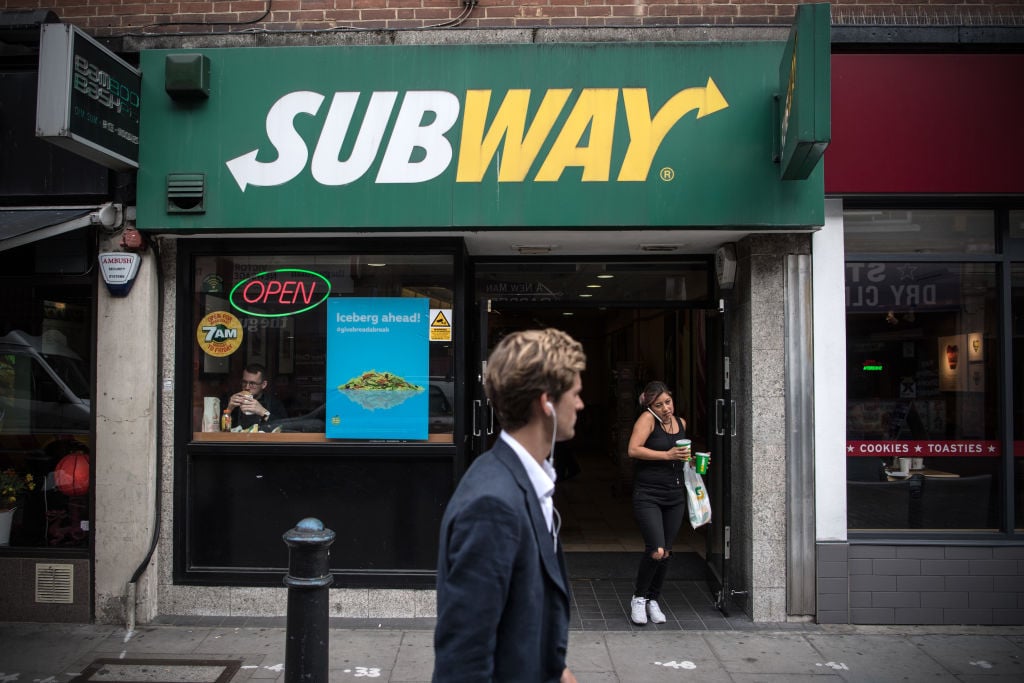 Yes, the home of the $5 footlong also happens to have the most worldwide restaurants. With more than 44,000 locations in 112 countries, this sandwich shop takes home first place.
But just because they have a lot of restaurants it doesn't mean they're doing great. Unlike McDonald's, Subway has been struggling with sales and was even forced to recently close more than 900 locations. They've endured negative publicity in the wake of the Jared Fogle child pornography scandal (he was their former spokesman) and they've also faced criticism in light of America's new obsession with health.
But Subway isn't going down without a fight. In the months ahead, they're planning new store designs, store remodels, and an improved customer loyalty program. Only time will tell if it's enough to keep them at the top of the heap.
Read more: McPizza and Other Fast Food Failures You Can't Order Anymore
Check out The Cheat Sheet on Facebook!