This is What the Average American Home Looked Like Over the Decades
What makes a home look outdated? Are any home décor trends truly timeless? Will faux wood paneling ever come back in style?
Home decorating has come a long way over the decades. Certain elements that began as necessities for survival – like fireplaces – have transformed into decorative elements in the modern age. Some retro styles (like midcentury modern) are still massively popular, inspiring copycat furniture that sells for thousands. Other trends (like wallpaper borders) are ignored or even ridiculed.
No one knows what home decor of the future will look like. But if we look back through history, we can guess which design elements will come back – and which will disappear forever. Most people don't know the major reversal kitchens did in the 1970s (No. 13).
1. A typical bedroom in the 1920s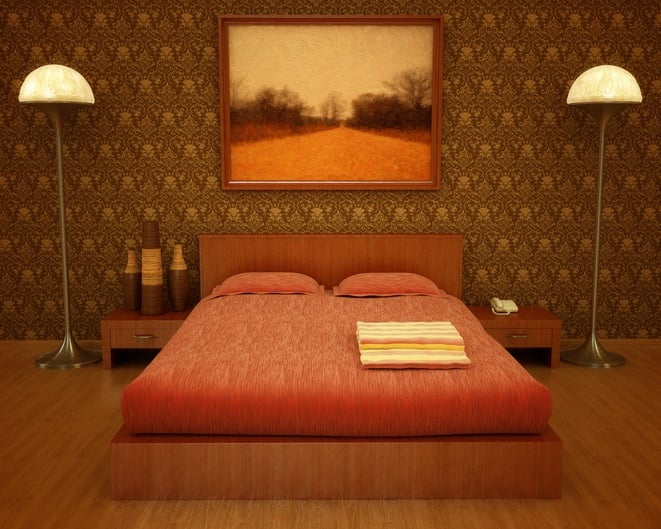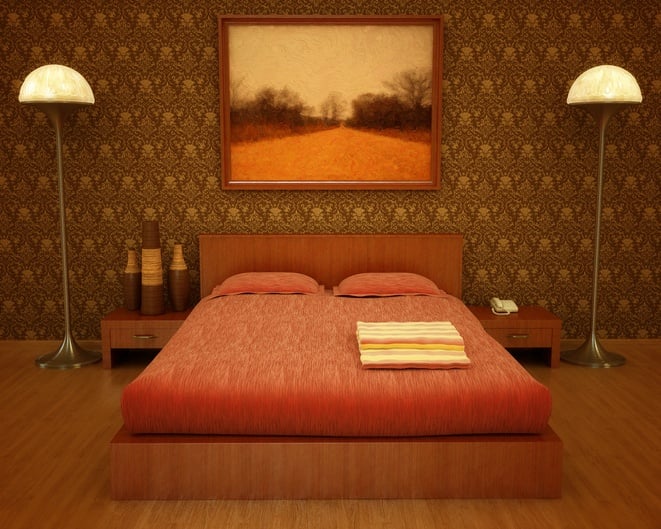 The Art Deco and Art Nouveau styles dominated in the 1920s. With curving shapes, deep hues, and rich color palettes, the Roaring 20s took cues from the sets of Hollywood. Geometric shapes and patterns also featured prominently in accessories such as wallpaper and other decorative accents.
Next: The 1920s

2. The Roaring 20s were all about glamour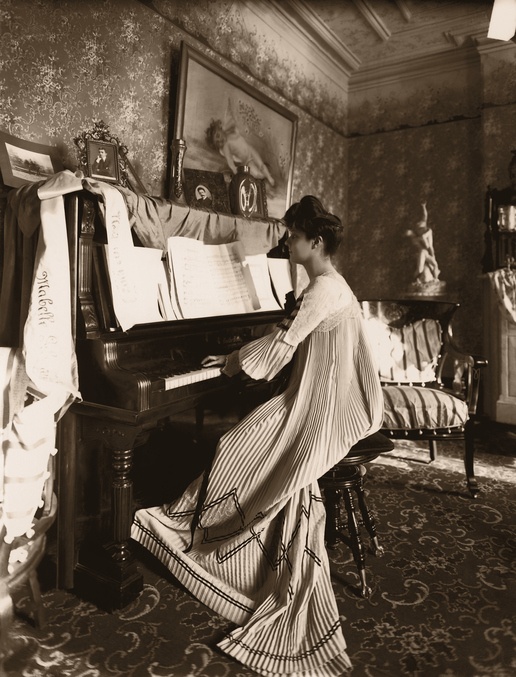 If you had to pick one word to describe the essence of the 20s, it would be "glamorous." Industrial designs made popular by the German Bauhaus movement included furniture sculpted from steel, graphic curves, and simple silhouettes. This is the beginning of what will eventually become modern minimalism — where ornamentation is stripped away and functionality matters most.
Next: The 1930s

3. A sitting room in the 1930s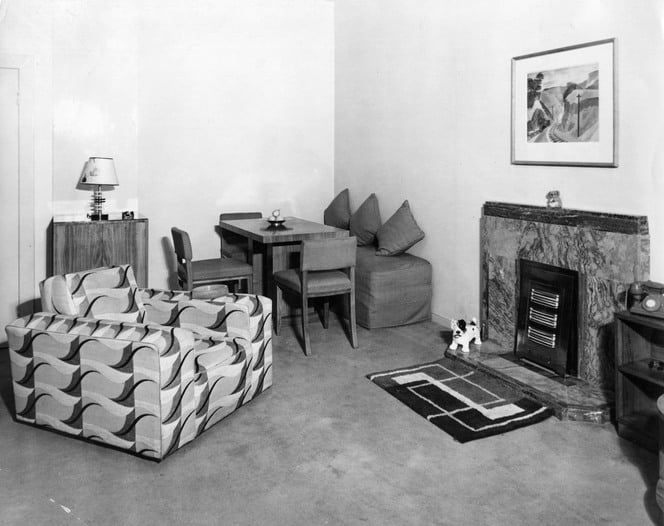 The Great Depression affected every aspect of American life — including decor. People were just trying to survive during the 30s, which didn't leave a lot of room for non-essentials. But that doesn't mean everyone gave up on making their homes look beautiful.
Florals and patterns in the Art Nouveau style featured here. A typical living room would have a few throw rugs in interesting patterns, too.
Next: Family dinner in the 30s

4. Family dinner in the 1930s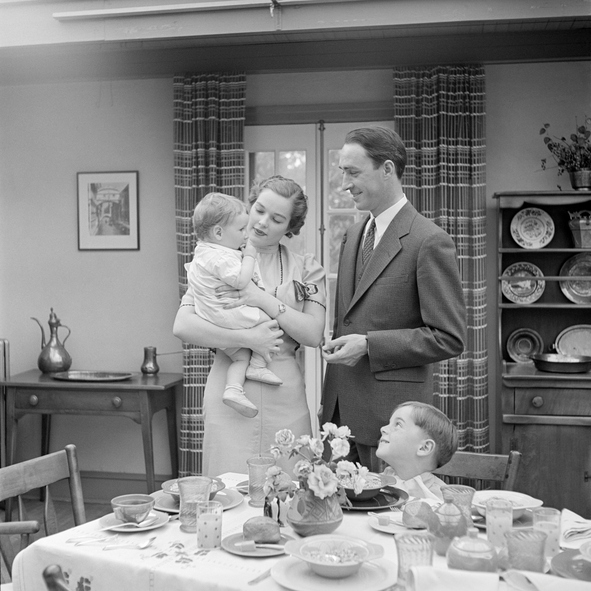 There was no one type of furniture that defined the 1930s — curved and straight line furniture still featured as the Art Deco style from the previous era was still popular. Plywood and plastic chairs, low backed sectionals, and wingback chairs all had a place in the 1930s home. People were also likely to use what they had and not care so much about matching or achieving a cohesive aesthetic.
Next: 1940s kitchen

5. In the kitchen in the 1940s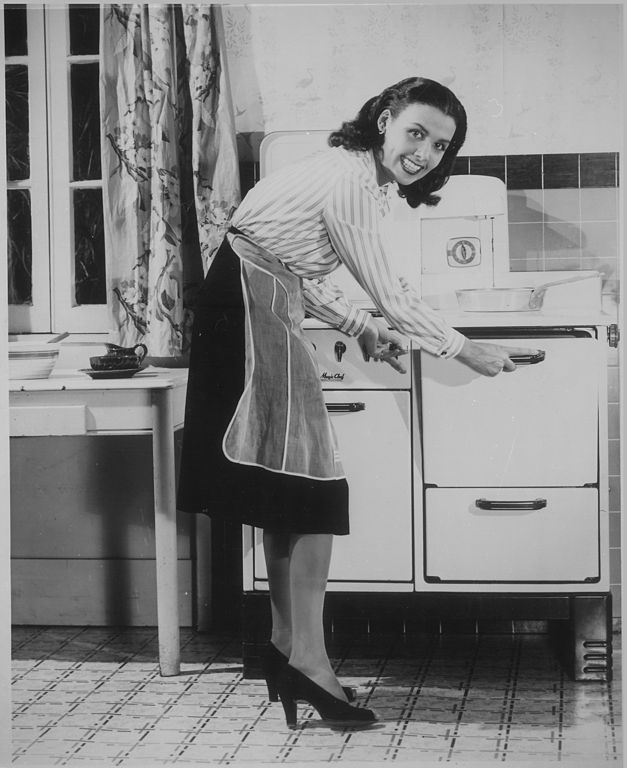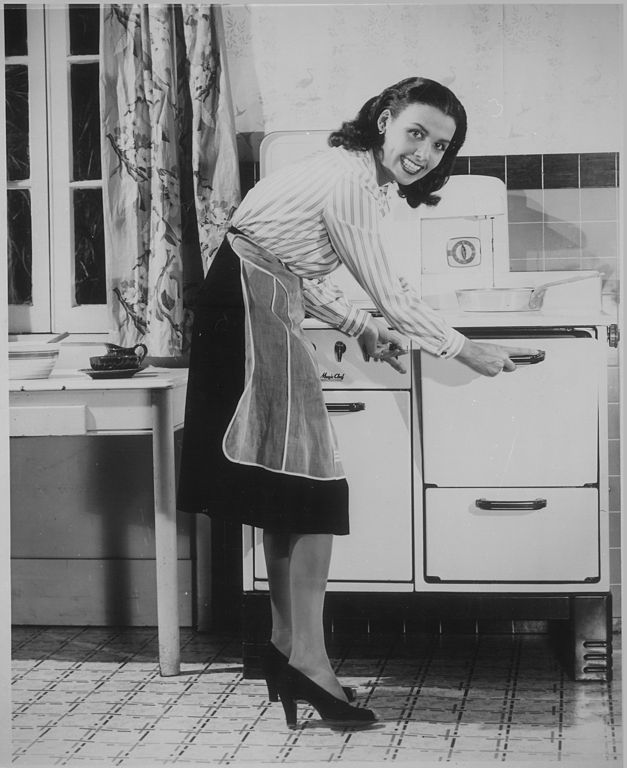 It's impossible to describe the 1940s without mentioning World War II. During the first half of the decade, home design took a backseat to aiding the war effort. The second half was much different. Returning soldiers had something new to look forward to: new kitchens with state-of-the-art appliances such as refrigerators, freezers, and dishwashers.
This time period also saw the installation of popular home design publications such as House Beautiful, Sunset, and Better Homes and Gardens. Home decorating enthusiasts finally had a place to find inspiration.
Next: A 1940s dining room

6. A look into the 1940s dining room
Traditional wood furniture in dark or blonde tones graced every room of the home. Some other key elements of 40s design include linoleum, wall to wall carpet, abstract art, colonial style, large scale floral, striped, and plaid wallpaper, built-in furniture, knotty pine, ruffled edges, and wood paneling.
Next: A 1950s kitchen

7. Welcome to a 1950s kitchen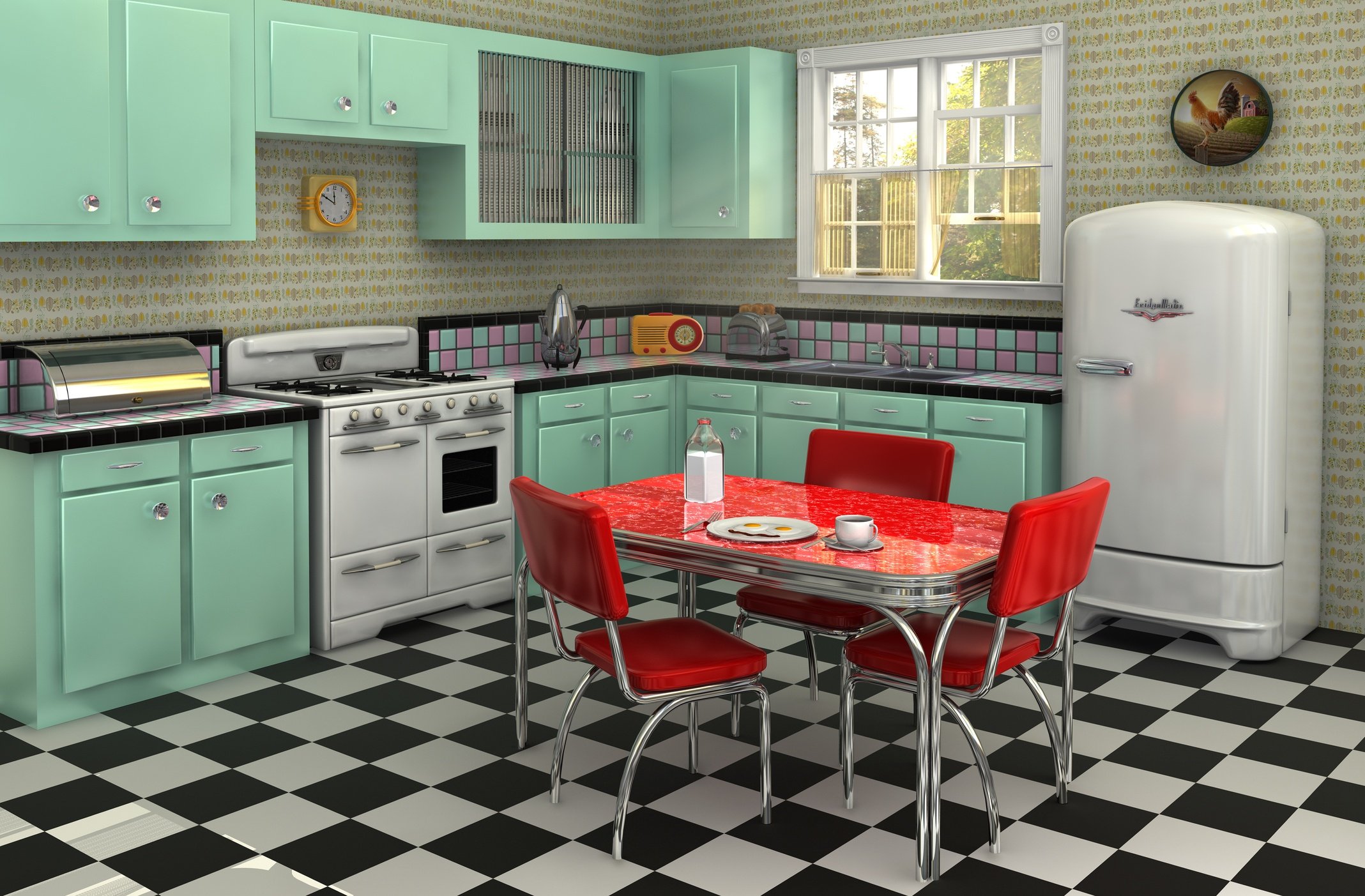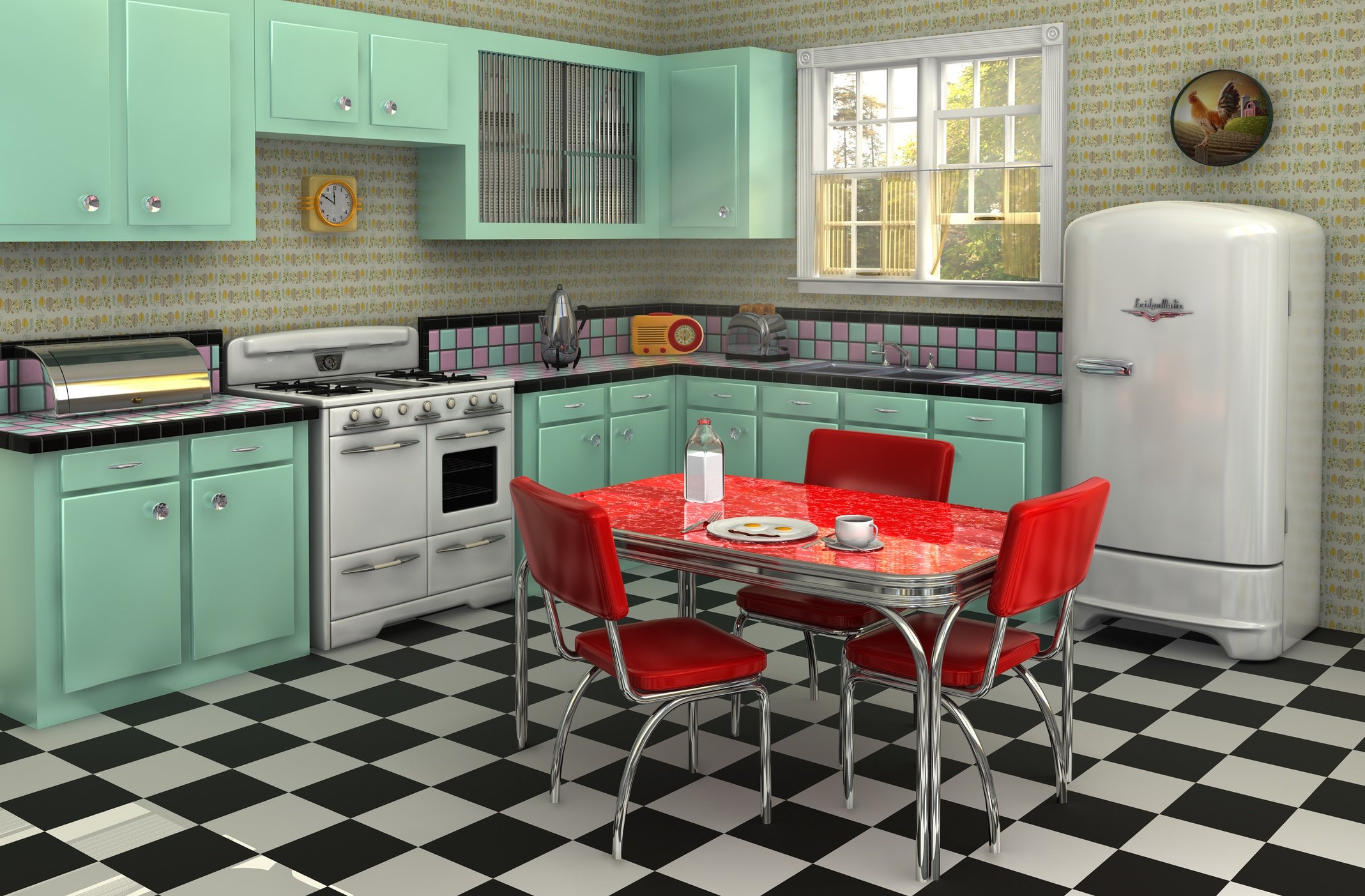 Post-war America was a lot happier and shinier than recent decades. With a prospering middle class and a healthy economy, people had more time (and money) to devote to new pursuits — like decorating their houses.
Mid-century design had distinct elements of futurism, which was influenced in part by a fervent interest in space exploration and science. Pastel kitchens and bathrooms combined with bold, high contrast flooring choices and gleaming chrome surfaces all expressed a distinctly 1950s appeal.
Next: A 1950s living room

8. Chilling out in a 1950s living room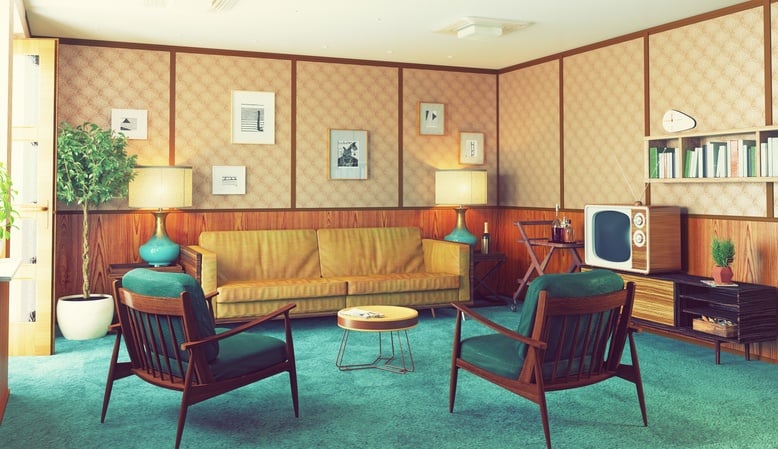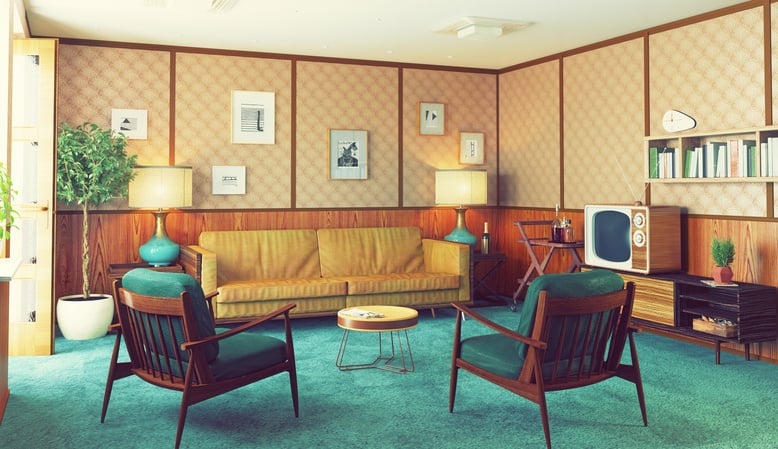 Not everything in the 50s was pastel, though. Some home decorators gravitated toward a more natural look with browns, taupes, and creams. But even these neutral color palettes usually featured a pop of color, like a brightly colored carpet or side chairs.
Next: A 1950s bedroom

9. Relaxation in a 1950s bedroom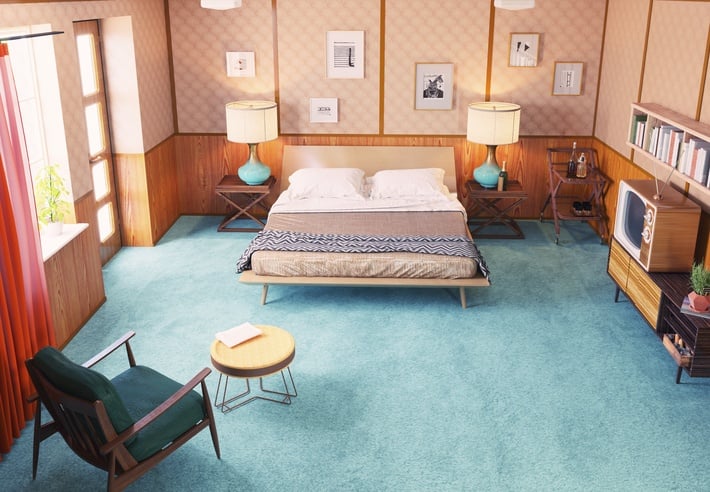 The clean lines and unfussy furniture made popular by Charles Eames started to dominate the American household. Everything was sleek, simple, and uncomplicated. Wall to wall carpeting became the most coveted type of flooring, especially in unique colors.
The introduction of the television during this era changed everything. No home was complete without one.
Next: A 1960s kitchen

10. Cooking in a 1960s kitchen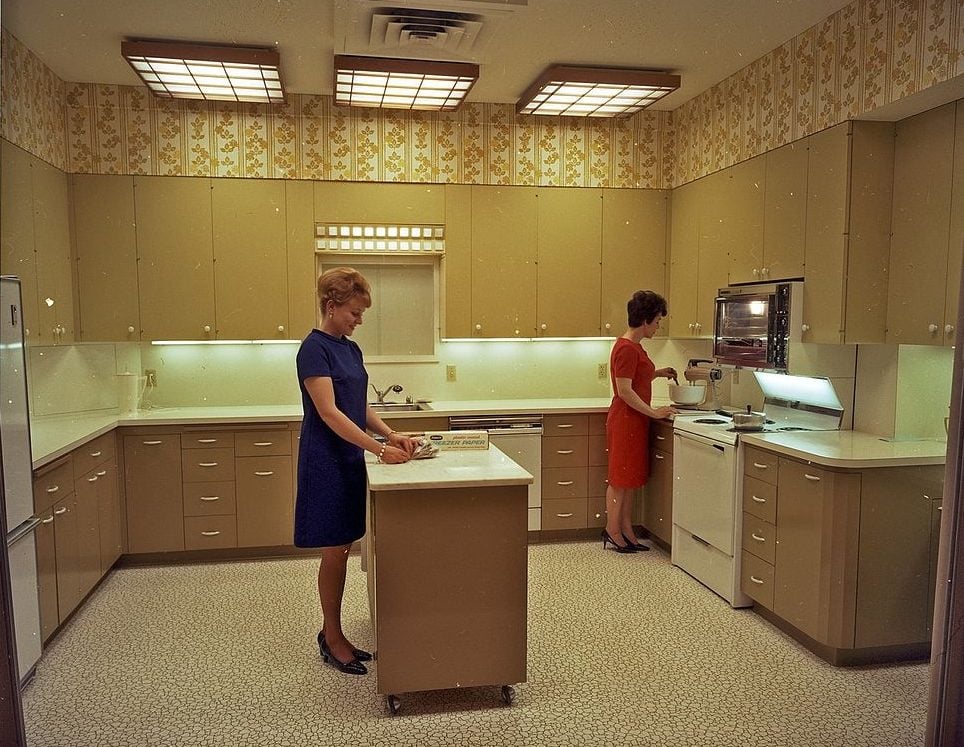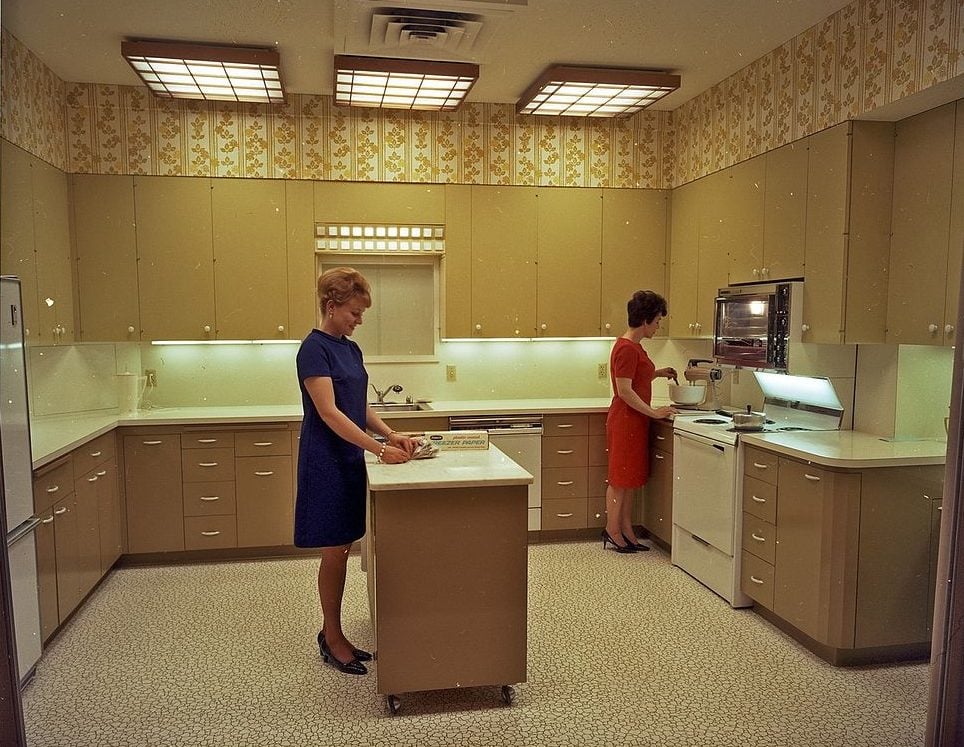 The 60s brought about many changes to American culture and home design was no exception. People wanted to show off their unique sense of style more than ever before. Homes weren't just seen as a mark of how successful you were — they were also a chance to let your personality shine through home decor.
Next: 1960s chairs

11. Sleek 1960s furniture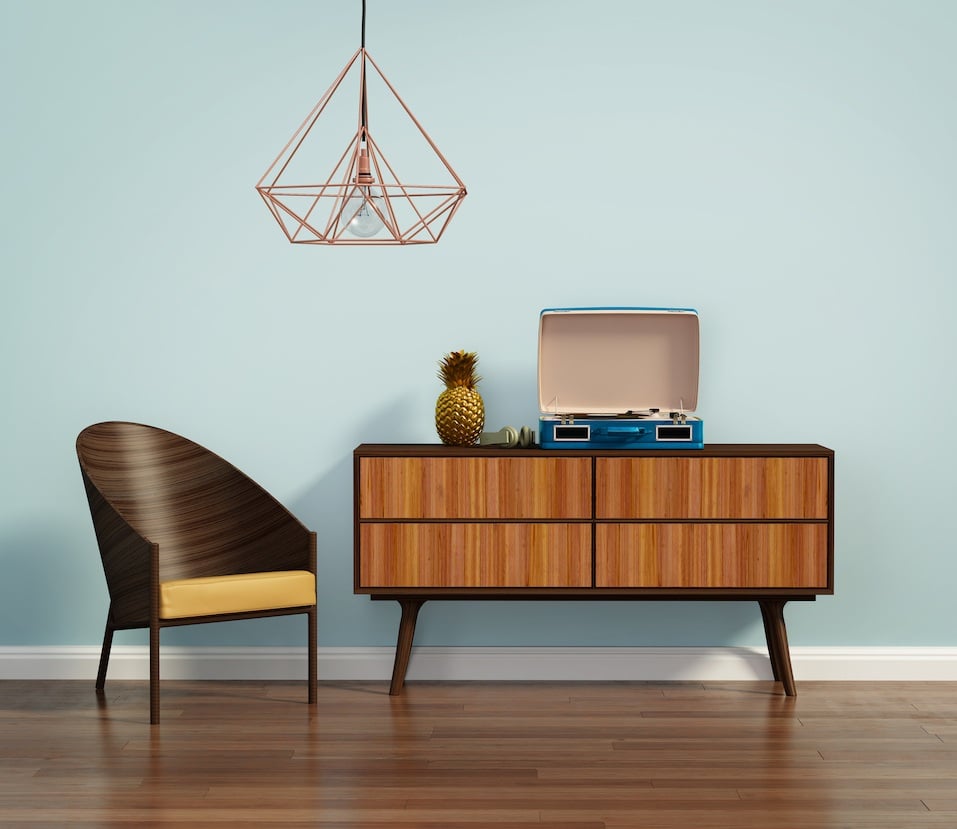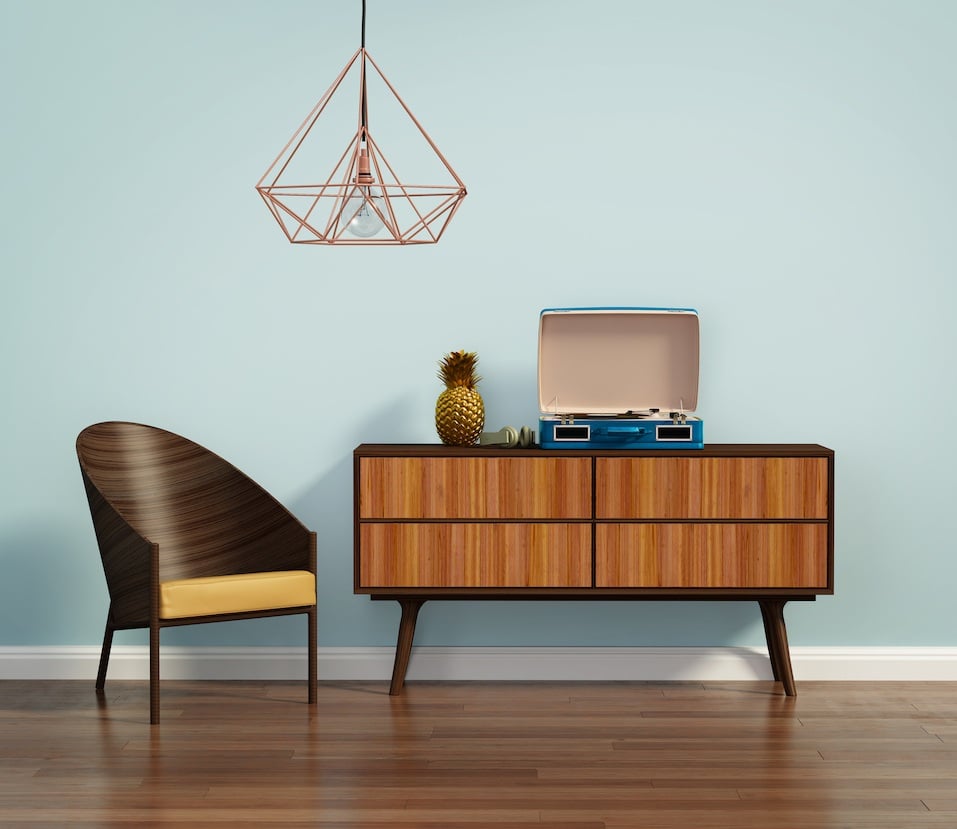 A few popular design elements from the 1960s include neon colors, textured carpets, wood paneling, wood veneer furniture, wallpaper, eye-catching accessories, lucite furniture, bright prints and patterns, and open shelving room dividers. This is also when Scandinavian-inspired furniture took center stage.
Next: A 1960s kitchen

12. Typical 1960s kitchen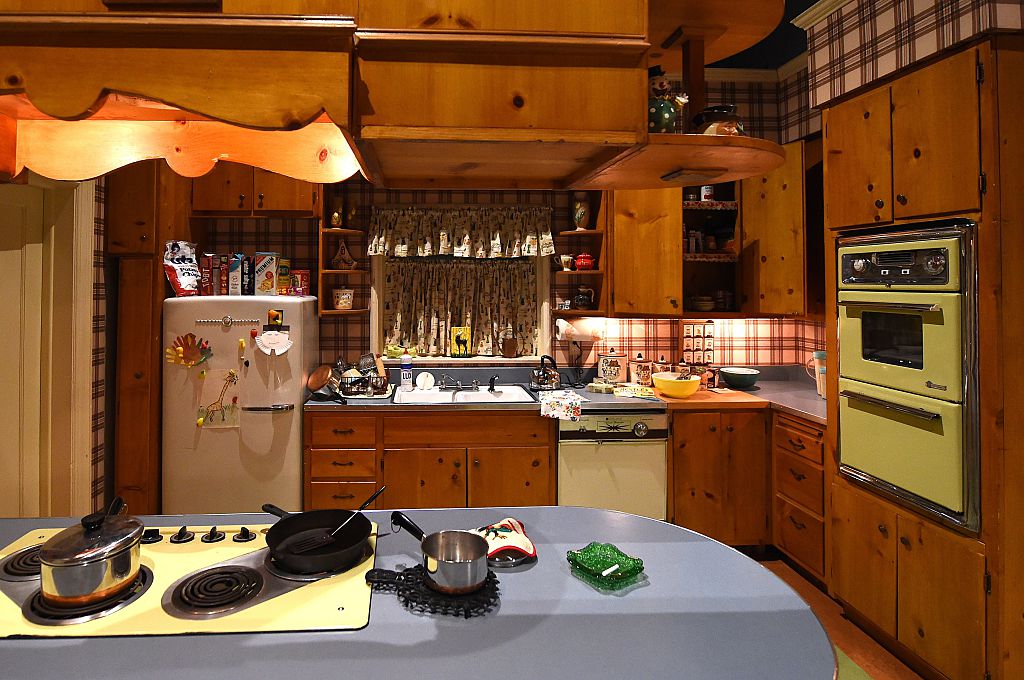 Elements of the 1960s still exist in modern times — like this well-equipped kitchen, which isn't too different than what you'd find on the market today. With great strides in technology during this time, people started to enjoy more and more time-saving conveniences in the home — especially in the kitchen, the heart of the home.
Next: A 1970s kitchen

13. A 1970s kitchen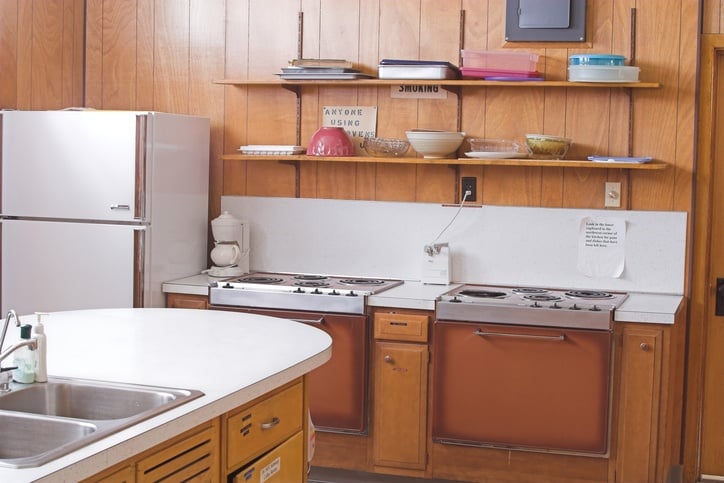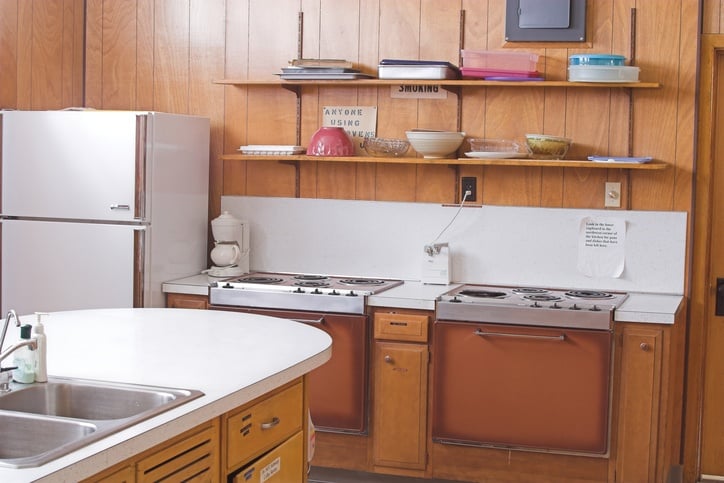 Interior design took a turn in the 1970s. While previous generations were all about showing off what you had, the 70s seemed to focus on paring down to the essentials. Muted earth tones became popular for everything from appliances to flooring, making the 70s home look slightly drab in comparison to the brightly colored hues of decades past.
Next: A 1970s living room

14. Welcome to a monochromatic 1970s living room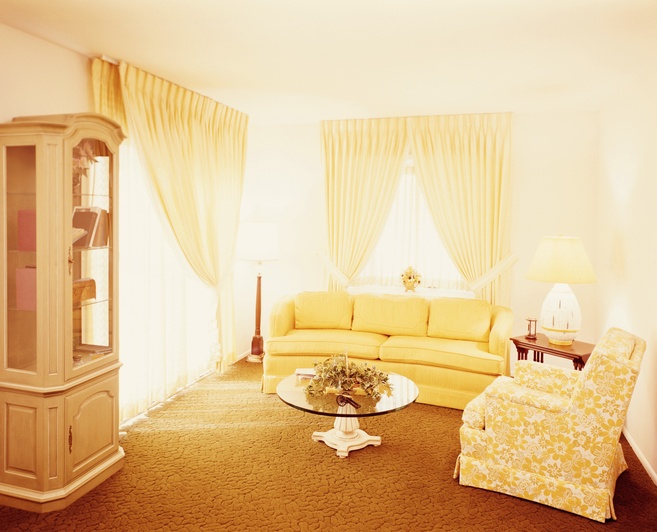 When the carpet, the chairs, the drapes, the furniture, and the walls all match, you're probably looking at a 1970s room. Some other popular design elements from the 70s include hippie accessories such as macramé, string art, embroidered wall hangings, and afghans along with design features like wood paneling, skylights, wall to wall carpeting, terracotta tiling, wicker furniture, and florals.
Next: 1970s accessories

15. A collection of 1970s accessories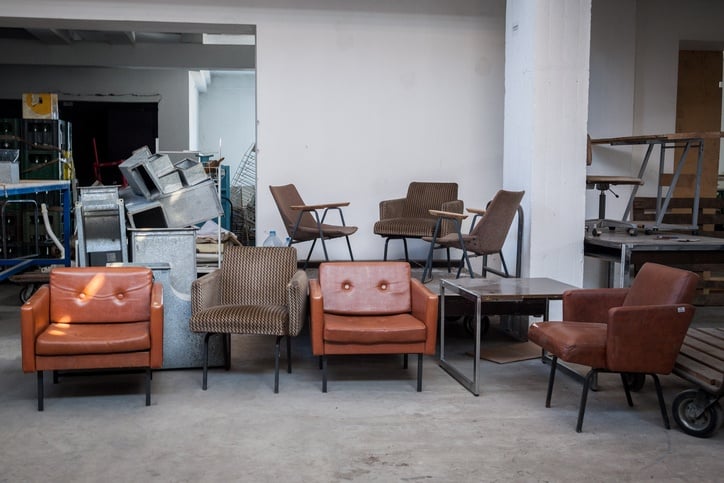 Chairs took a front seat in design during the 1970s. Designers started experimenting with ergonomic designs, especially in the office but also in the homes. A plethora of new materials such as tubular steel and polyurethane plastics in bright colors were utilized for these new chairs.
Next: 1970s living room

16. Typical 1970s decor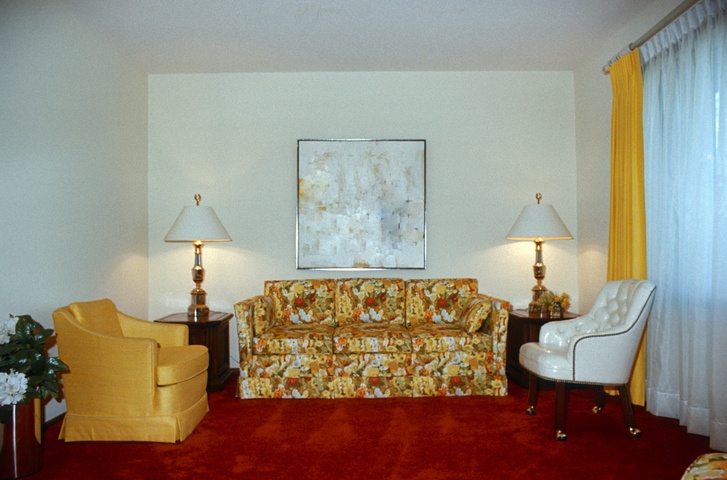 Design enthusiasts typically see the 1970s as a dark time in home decor history. From the questionable color palettes (harvest gold, anyone?) to the extensive wood paneling, it looks like there's not much to salvage in modern times. But even the 70s offered a few inspiring design tidbits — like the concept of decorating how you liked no matter what.
Next: 1980s kitchen

17. A 1980s kitchen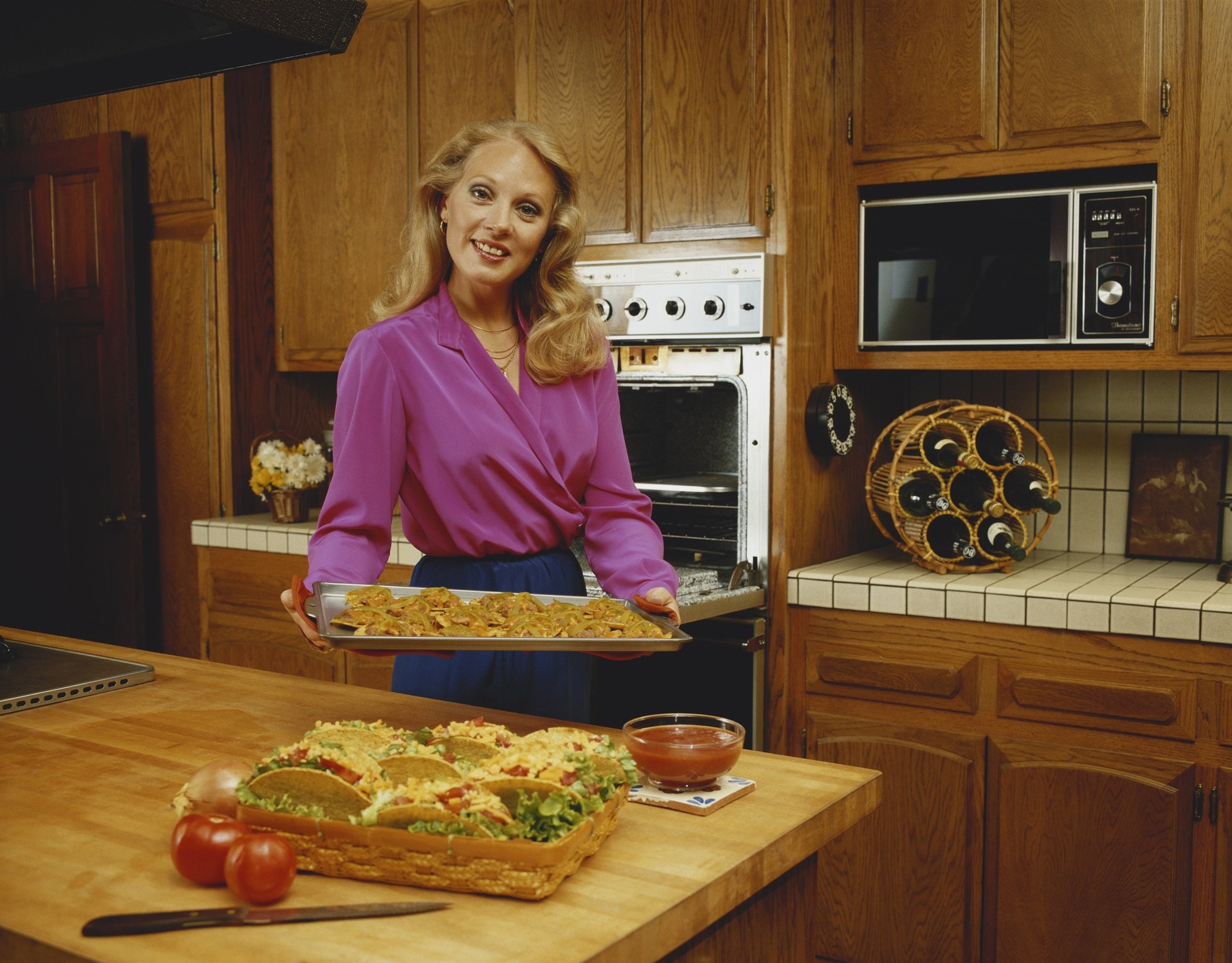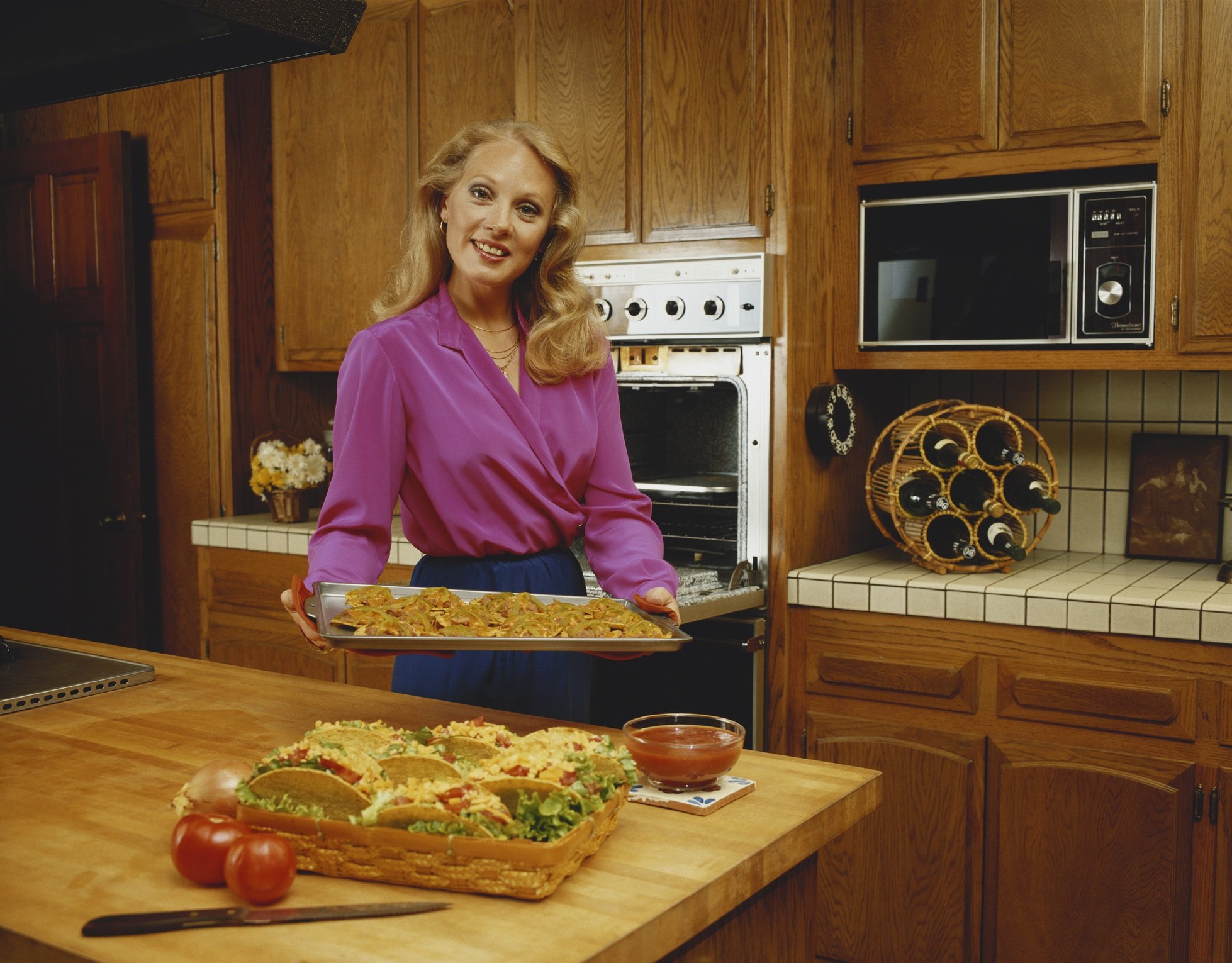 Tile countertops — they may seem smart in theory, but keeping the grout clean is next to impossible.
If the 1970s were the darkest days of home design, then the 1980s took a close second. A period defined by neon accents, wall to wall carpeting even in the bathroom, chintz, tiny florals, vinyl flooring, vertical blinds, and wallpaper borders makes the 80s a time that we probably won't be revisiting anytime soon.
Next: 1980s bedroom

18. Matching in the 1980s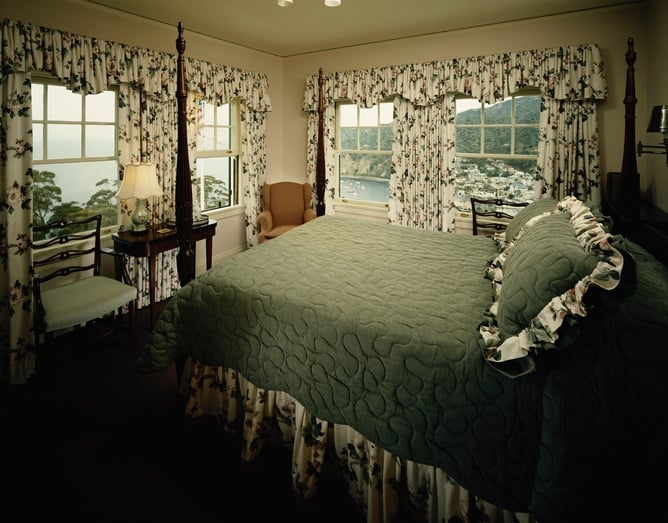 Why add one ruffle when you can add 100? The 1980s saw the rise of Laura Ashley patterns in all their feminine, floral glory. The bedding matched the drapes, the drapes matched the pillows, the pillows matched the nightgowns, and feminine stylings reigned supreme.
Next: 1980s decor

19. So much gold in the 1980s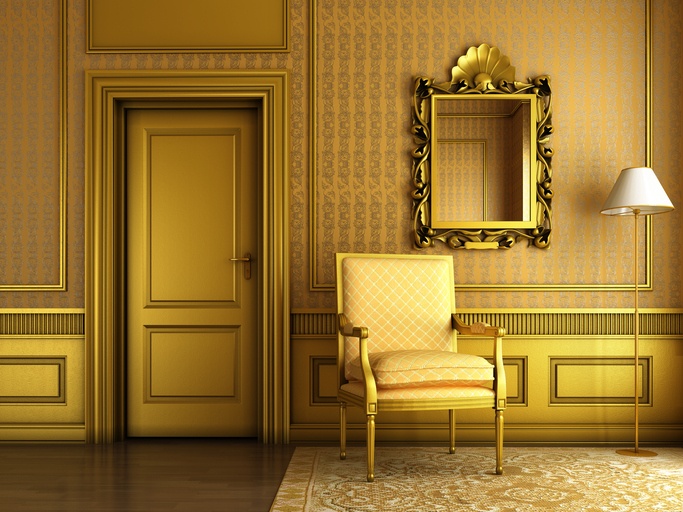 The 1980s was also a time for yuppies. Wealth and prosperity trickled down into home decor and gilded accessories become massively popular. Have you ever seen photos of Donald Trump's gold-plated penthouse? That home sums up the gold trend in the 1980s perfectly.
Next: 1990s kitchen

20. Here's a 1990s era kitchen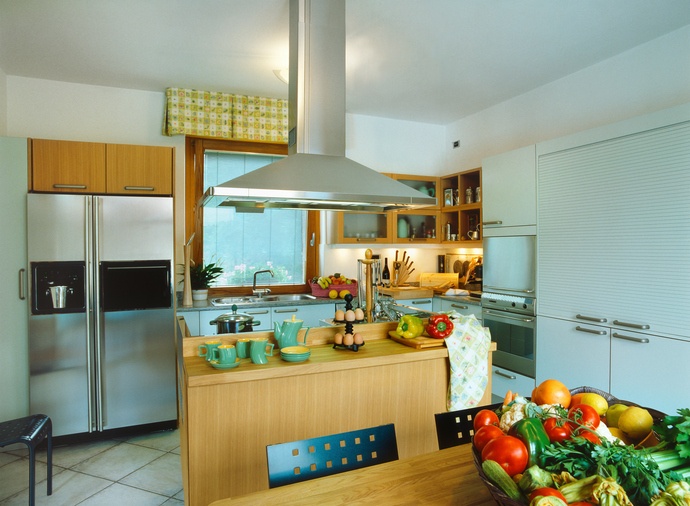 Everyone in the 1990s seemed to love pine, just like they treasured stenciling, faux finishes, silk floral arrangements, arches, ruffles, gingham, and country styles. The dot-com boom made the economy flush with cash, and people started spending even more on personalizing their spaces.
Next: Accessories in the 1990s

21. Heavy draperies in the 1990s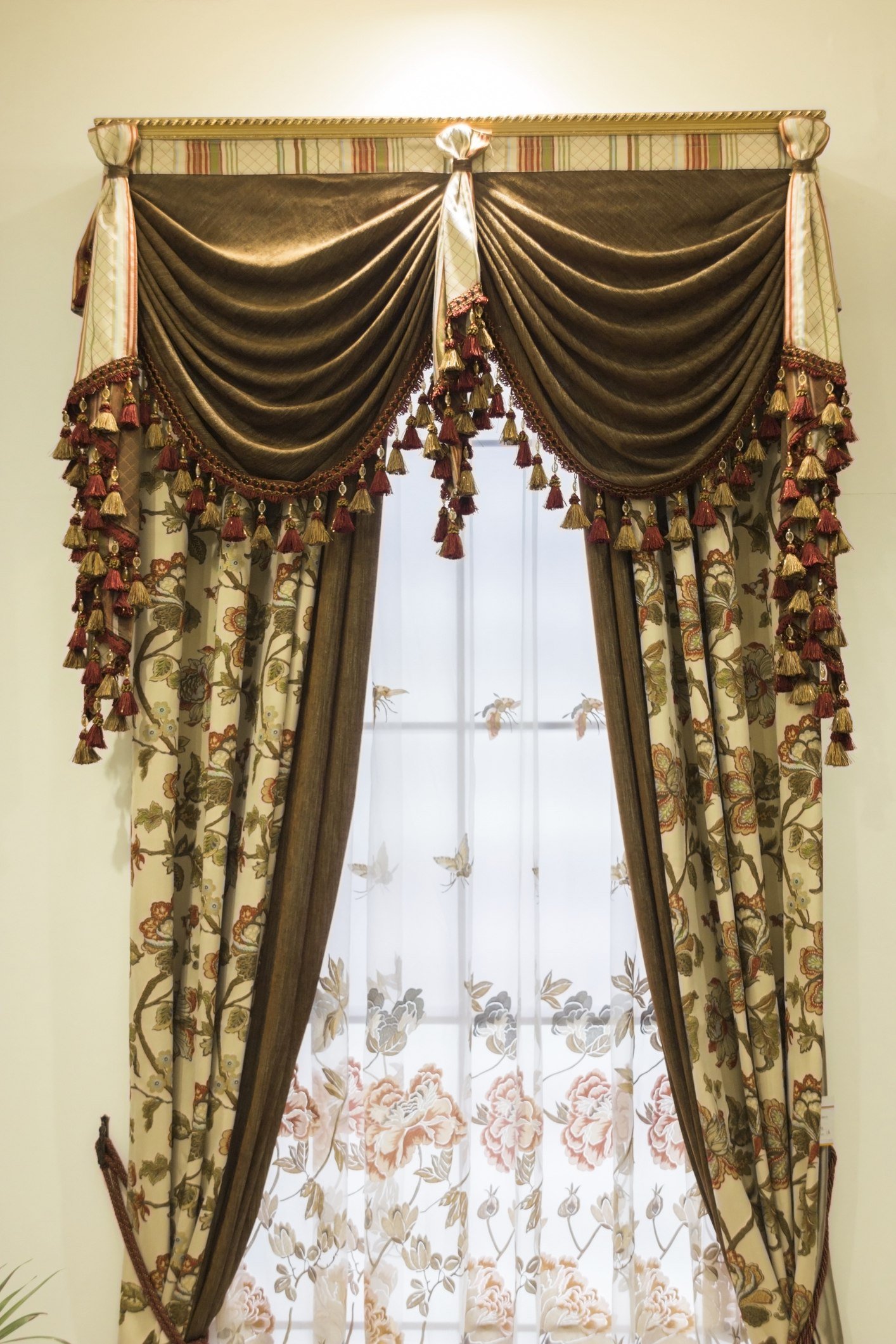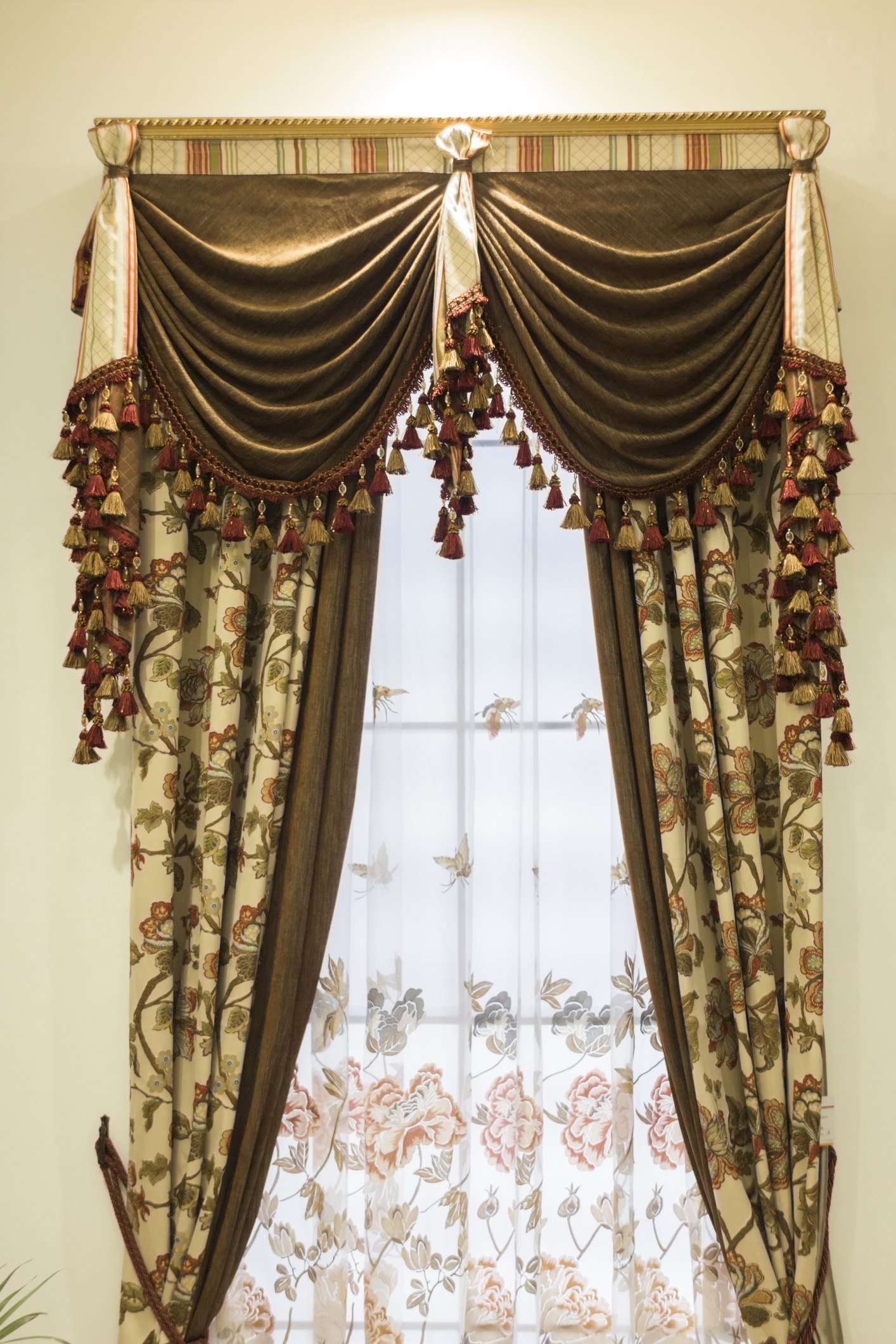 When it came to window treatments during this decade, overdoing became the norm. Intricate patterns, heavy window boxes, valances over sheers and lots of matching floral all made the windows of the 90s look like they were overdressed for a formal party.
Next: A 1990s bedroom

22. A shabby chic 1990s bedroom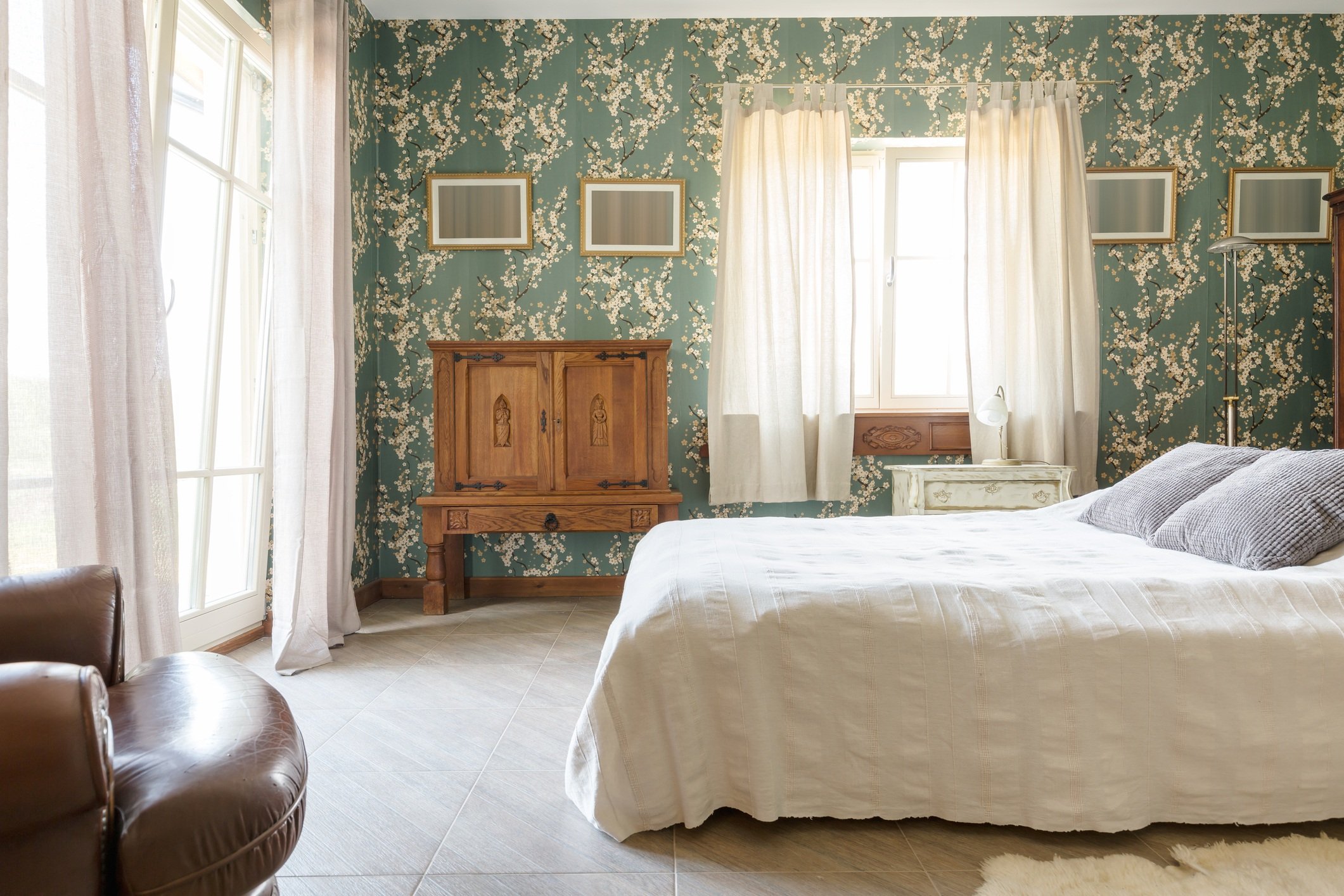 But the 90s weren't just about drapes and pine. Shabby chic became a preferred decorating style along with flea market finds, canopy beds, modern looking furniture, zen-inspired spaces, blonde wood furniture, wood beams, conservatory furniture, and old world accents.
Next: 2000s kitchen

23. A 2000 era kitchen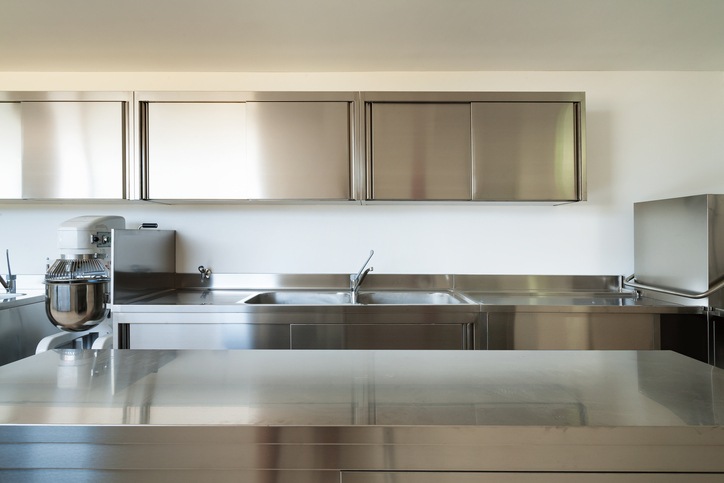 Some kitchens in the new millennium took an industrial turn. The extensive wood cabinetry from previous generations was replaced with stainless steel to create a room that looked sterile rather than inviting. This modern take on the classic kitchen was probably a lot easier keep clean, though.
Next: 2000s living room

24. A 2000s living room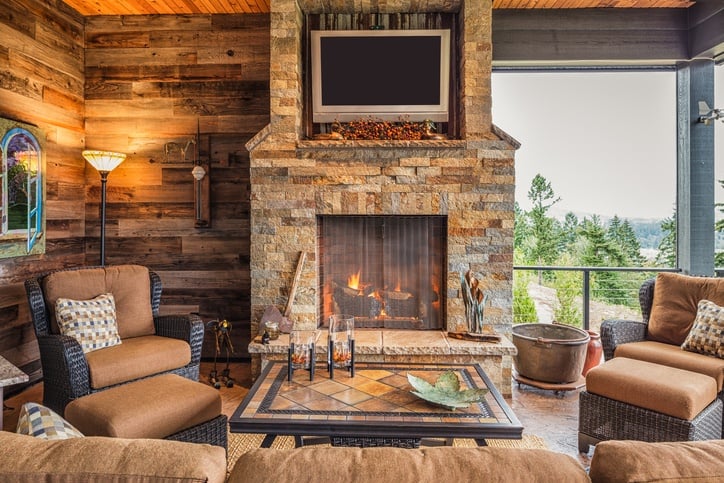 People had been situating their living room furniture around the television for decades at this point, but in the early 2000s someone got the bright idea to hang the TV over the fireplace and with that, an enduring trend was born.
Interior designers don't recommend this, however — it takes away from the beauty of the hearth and it can hurt your neck to always have to look up while watching television. Ideally, your television should be eye level when you're sitting on your couch or chair.
Next: 2000s decor

25. The most popular accent piece of the 2000s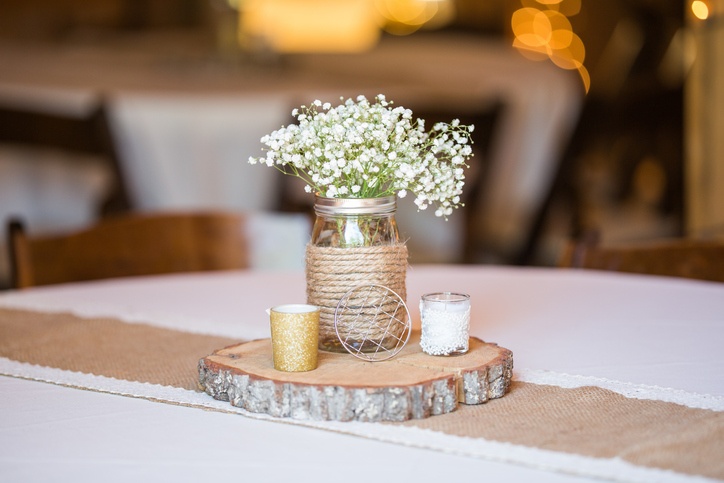 Mason jars. What was once a utilitarian item for canning quickly became one of the most popular (and overused) accent pieces of the decade. Mason jar lights, vases, storage containers, salad bowls, toothbrush holders, soap dispensers, and so much more quickly took over the American household. Chances are you have a mason jar somewhere in your house right now.
Next: 2000s bathroom

26. A 2000s shower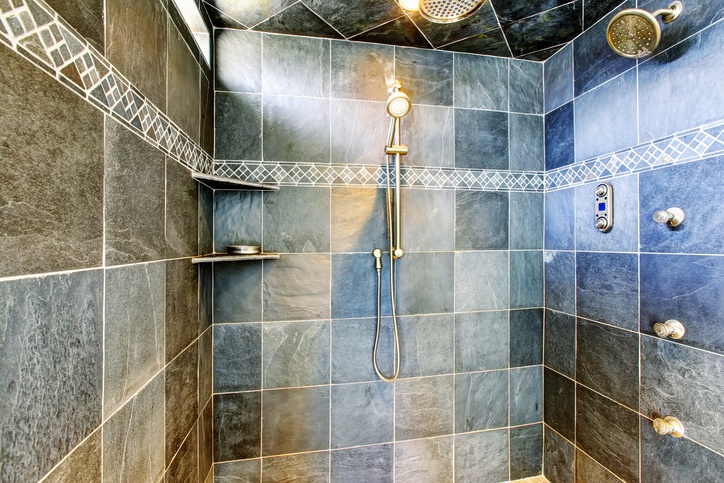 Yes, a gigantic shower like this one may seem like the height of luxury. But in reality, it just takes up a lot of space for no good reason. Who really needs that much room to stretch out while showering? Wouldn't it make more sense to devote that space to your closet? Probably. Overly equipped and gigantic showers were common in the McMansion era that started in the 2000s.
Next: A modern kitchen

27. A modern kitchen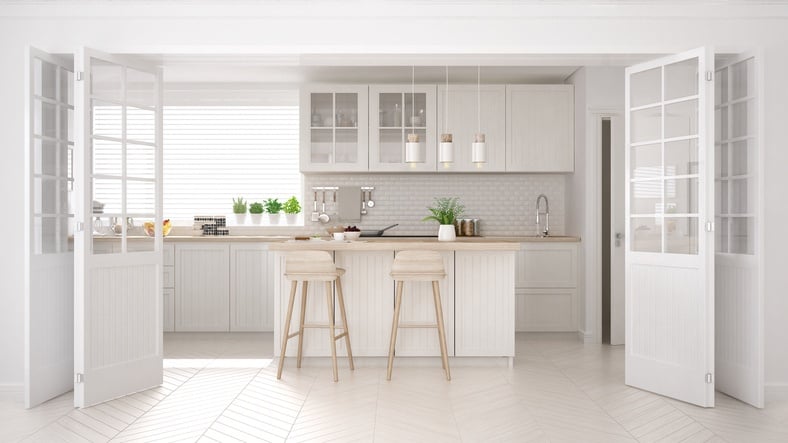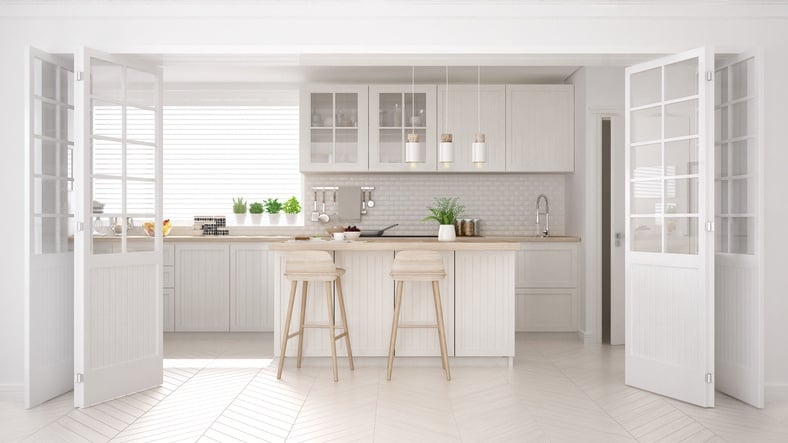 Right now white kitchens are all the rage.
Want to instantly update your kitchen? Take that blonde or dark wood and paint it white. This clean, airy look instantly brightens your whole space and makes it look bigger, too. Critics claim that white kitchens can look too stark and are hard to keep clean. But even with the downsides, white kitchens are dominating American homes right now.
Next: Modern living space

28. An open floor plan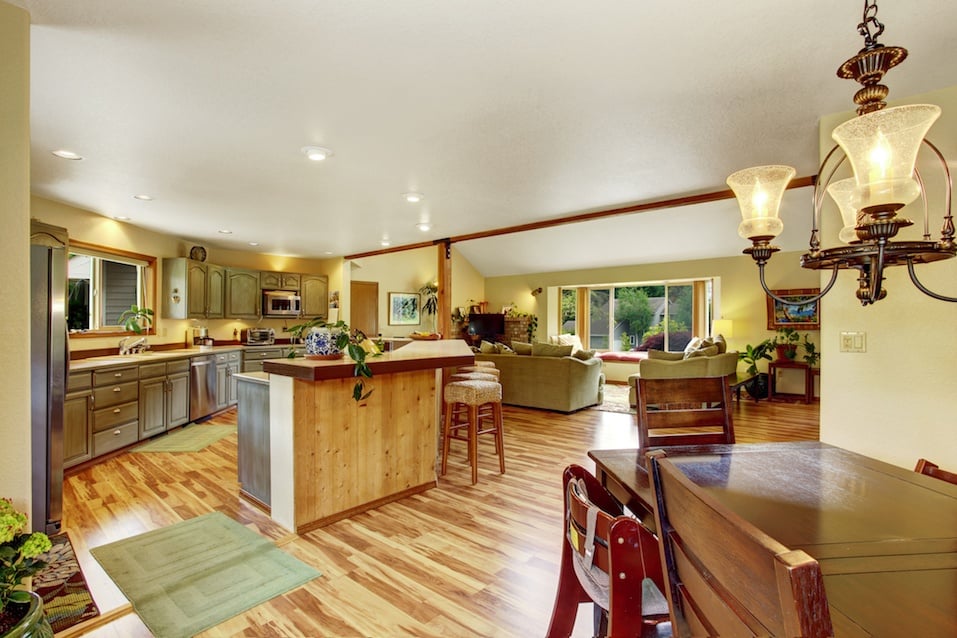 One thing that's not trending in the modern decade? Walls.
Open floor plans may not be a new concept, but they're certainly a popular one. Open concept kitchens, living rooms, and dining areas that flow from one room to the next with no defined separation are ideal for big families and for parties. Most people start renovations by "taking down a few walls" and eliminating defined spaces on the main level of the home.
Next: Modern dining area

29. A modern eating space
It's impossible to overestimate Joanna Gaines' influence on current design trends. The former queen of HGTV helped to popularize her specific version of "farmhouse chic," a style that's taken over the design world, Instagram, and the modern home.
Shiplap walls, rustic furnishings, neutral tones, and pops of pattern all feature in this uncomplicated and sophisticated aesthetic.
Next: This is what a modern home looks like.

30. Modern minimalism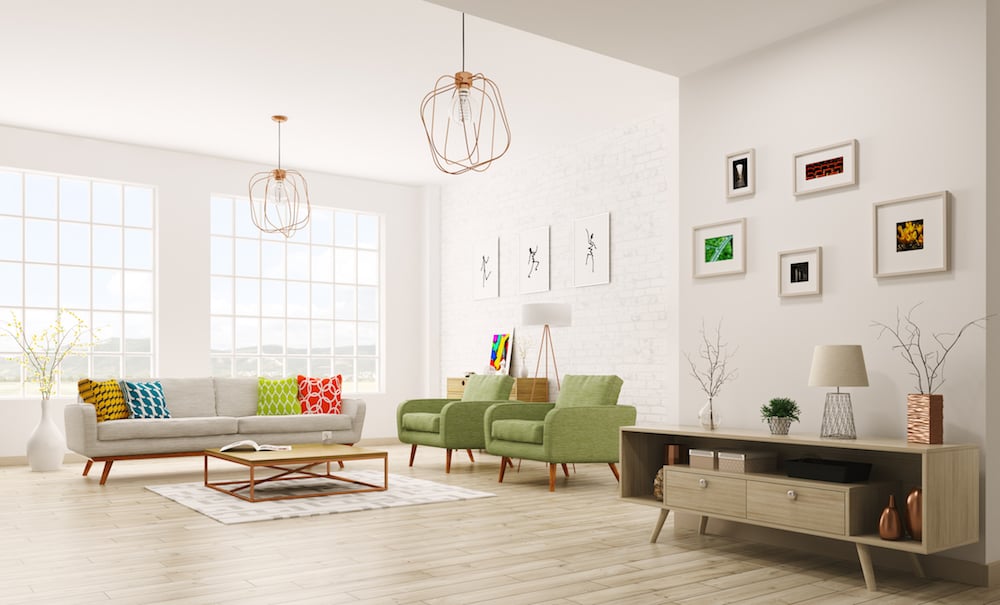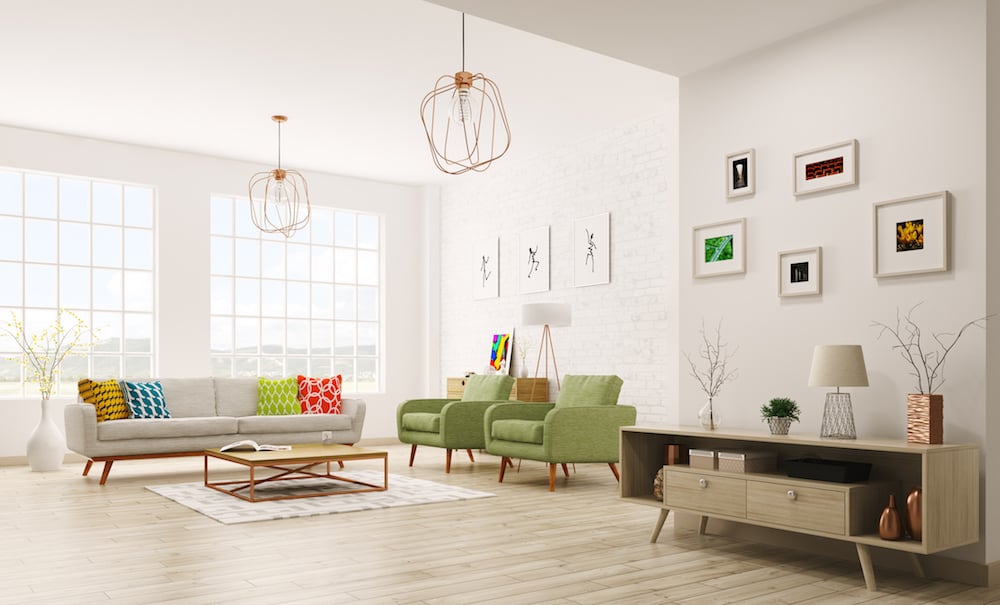 In modern homes, less is more. While previous generations believed in saving everything, a trend toward purging the excess and living simply has taken over. Marie Kondo helped popularize the notion of only keeping items that "spark joy" and now modern homes are sparse, clutter-free, and pared down.
What will the next decade bring? Only time will tell.
Read more: Most Hated Home Design Trends That Are Back in Style Now
Check out The Cheat Sheet on Facebook