Too Tired to Cook? Easy Recipes for Fast Meals
After an early workout at the gym, back-to-back meetings, a mountain of paperwork, and staying late to answer emails, cooking dinner is probably the last thing on your mind when you finally make it home. Even weekend lunch can be a challenge when you've completely loaded your social schedule. Ordering takeout is a logical choice, but the 30-minute wait can leave you feeling as if you might eat your own arm.
Put down the phone, because you can make a fast meal that requires hardly any work as long as you use some smart ingredients. We're talking pre-cooked meats, purchased flatbreads, and canned beans. These six dishes show you how to use these store-bought goods to put together a meal you can practically make in your sleep. Armed with these recipes, you can make food that's fast, healthy, and seriously delicious.
1. Tuna Salad-Stuffed Tomatoes with Arugula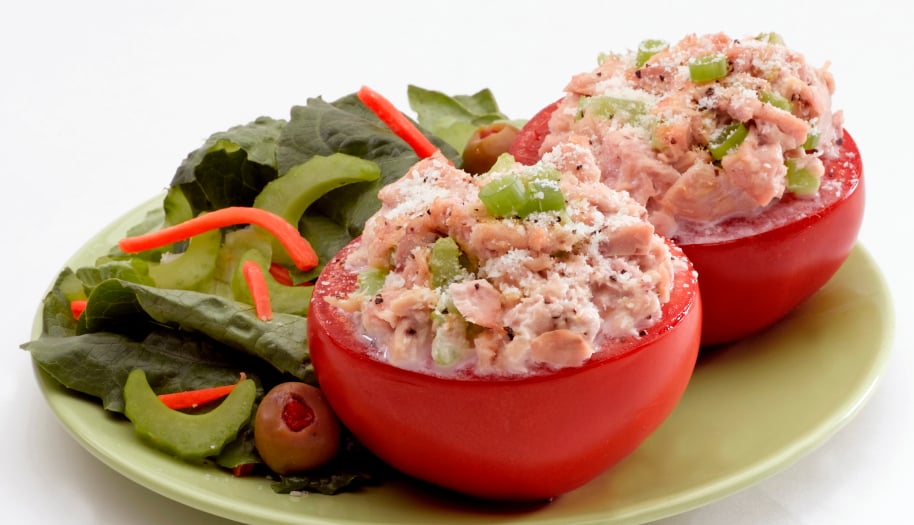 Canned tuna usually gets mixed with loads of mayo and piled onto some squishy bread. These stuffed tomatoes from Eating Well are just as easy as the sandwich and a whole lot healthier. If stuffing the tomatoes sounds too fussy, skip it. Just dice the tomatoes and toss them with the fish.
These tomatoes are just as good for lunch as they are for dinner, so make a full batch. To keep the greens from wilting, only toss in what you're going to eat right away. When you pack leftovers for the next day, store dressing in a separate container or zip-top bag, then drizzle it on when you're ready to eat. If you're able to muster 15 more seconds of energy, a little bit of grated Parmesan on top makes this meal even better.
Ingredients:
3 tablespoons extra-virgin olive oil
3 tablespoons sherry vinegar
¼ teaspoon salt
¼ teaspoon freshly ground pepper
4 large tomatoes
2 (5-ounce) cans chunk light tuna in olive oil, drained
⅓ cup chopped celery
¼ cup finely chopped red onion
¼ cup chopped Kalamata olives
1 teaspoon dried thyme
1 (15-ounce) can great northern beans, rinsed
8 cups baby arugula
Directions: In a medium bowl, whisk oil, vinegar, salt, and pepper to combine. Transfer 3 tablespoons dressing to a large bowl and set aside.
Slice tops off each tomato, and remove cores. Chop tomato tops, and add to medium bowl. Scoop out pulp, and discard.
Add tuna, celery, onion, olives, and thyme to medium bowl, and toss to combine. Fill hollowed tomatoes with tuna mixture.
Add beans and arugula to dressing in a large bowl, and toss to combine. Divide salad among 4 plates. Top each with a tomato, and serve.
2. Super-Speedy Chicken Tacos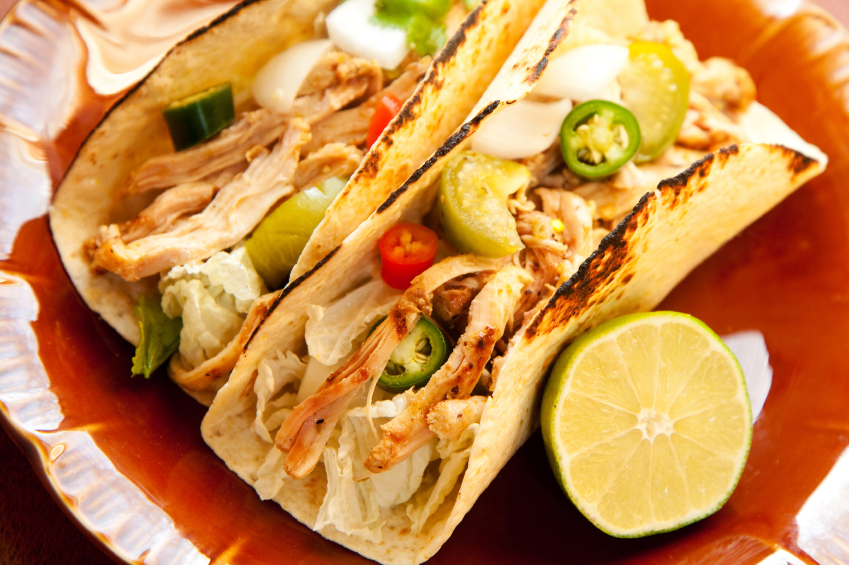 Tacos aren't something you usually think to make when you're wiped, but a few shortcuts make it doable. Good Housekeeping's recipe uses canned beans, rotisserie chicken, slaw mix, and jarred salsa for a meal that's full of flavor and remarkably fast. There isn't really much cooking. Just warm the beans, corn, and chicken, then pile into tortillas with a slaw made from the bagged mix and salsa. This dish is so easy, you can have a Mexican feast even on nights when you work late.
Ingredients:
3 cups cabbage slaw mix
1 cup shredded carrots
1 cup loosely packed fresh cilantro leaves
1¼ cups red or green salsa, divided
1 (15-ounce) can black beans
⅔ cup frozen corn
¼ teaspoon ground cumin
Salt and pepper
2 cups shredded chicken breast meat from a rotisserie chicken
8 small tortillas
Directions: In a large bowl, toss slaw mix, carrots, cilantro and ¾ cup salsa. Set aside.
In a 3-quart saucepan, combine beans, corn, cumin, and a pinch of salt and pepper. Heat over medium heat 3 to 5 minutes, or until hot, stirring occasionally. Gently fold in chicken.
Wrap tortillas in damp paper towels. Microwave on high for 1 minute, or until warm. Serve chicken mixture in tortillas, and top with slaw. Serve remaining slaw and salsa on the side.
3. 15-Minute Margherita Flatbread Pizza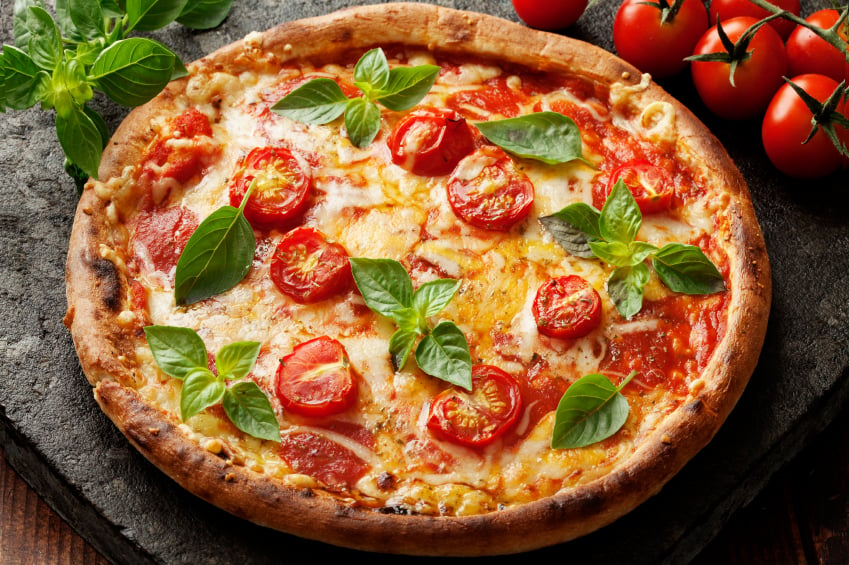 Pizza's usually a fast meal because you're dialing a phone number. If you make this quick pizza margherita from Let the Baking Begin, inspired by a recipe from Natasha's Kitchen, you can be chowing down long before a delivery guy would ever make it to your place. The secret is using a purchased flatbread to speed up the cooking time.
Just top the flatbread with garlic oil, mozzarella, and tomatoes. Bake until it gets bubbly, spoon on a simple balsamic dressing, and sprinkle with basil. With this simple method, your topping choices are endless, so consider adding a bit of shredded chicken for more heft.
Ingredients:
1 naan bread
3 (⅓- to ½-inch-thick) slices fresh mozzarella
1 tomato, thinly sliced
5 to 6 basil leaves
3 garlic cloves, minced
1½ tablespoons olive oil
1½ tablespoons balsamic vinegar
Salt and pepper
Directions: Preheat oven to 350 degrees Fahrenheit. Mix oil and garlic, and brush half of mixture over bread. Bake until beginning to crisp, about 5 minutes.
Remove from oven, and top with cheese, season with salt and pepper, top with tomato, and sprinkle with salt and pepper once more. Bake another 5 minutes, then broil 2 to 3 minutes.
While pizza bakes, mix remaining garlic mixture with vinegar, whisking to blend. Chop basil.
Remove pizza from oven, top with dressing, and sprinkle with basil. Serve.
4. Couscous Salad with Shrimp and Mint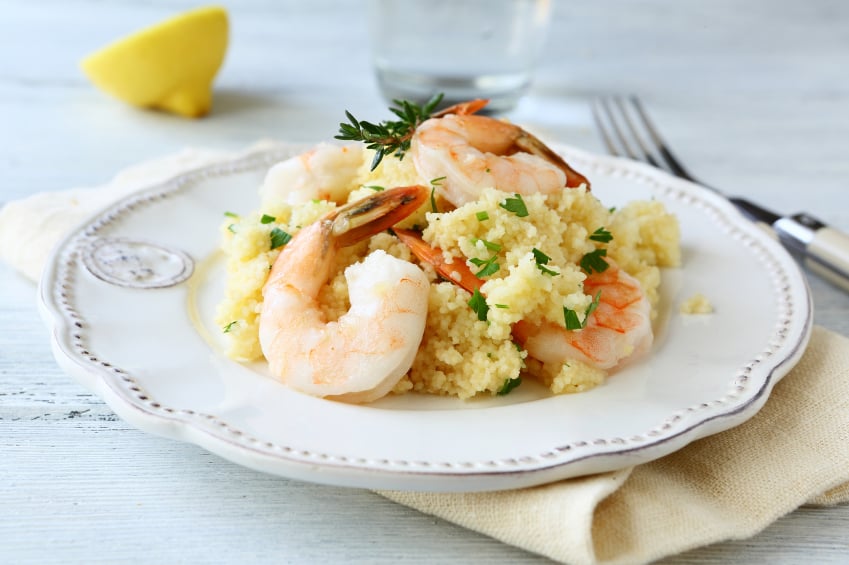 While Epicurious' couscous and shrimp toss isn't a no-cook dish, it's pretty close. The couscous is tiny enough that it doesn't even have to spend any time on the stove. Just pour the boiling water right over the top, and let it sit for about 10 minutes. From there, stir in a simple dressing, some veggies, and shrimp, which you can buy already cooked at the store.
Though it's easy to mistake couscous for a grain, it's actually a tiny pasta-like product. If you're looking for something with a bit more fiber, it's usually easy to find whole-wheat varieties right next to the traditional kind. Though this recipe calls for 30 minutes of time in the fridge, it'll also taste great right away.
Ingredients:
½ cup olive oil
¼ cup fresh lemon juice
1 large garlic clove, minced
1 teaspoon celery seed
Salt and pepper
2 cups couscous
2¼ cups boiling water
1 pound peeled, cooked shrimp
1½ cups chopped, seeded tomatoes
1 cup diced celery
½ cup chopped green onions
⅓ cup chopped fresh mint
3 tablespoons drained capers
Directions: Whisk first four ingredients in a small bowl. Season with salt and pepper, to taste.
Place couscous in a large bowl and pour boiling water over top. Cover, and let stand until water is absorbed, about 10 minutes. Fluff with a fork. Add shrimp, tomatoes, celery, green onions, mint, and capers. Add dressing, and toss to combine. Chill 30 minutes to 2 hours. Serve.
5. Corn and White Bean Soup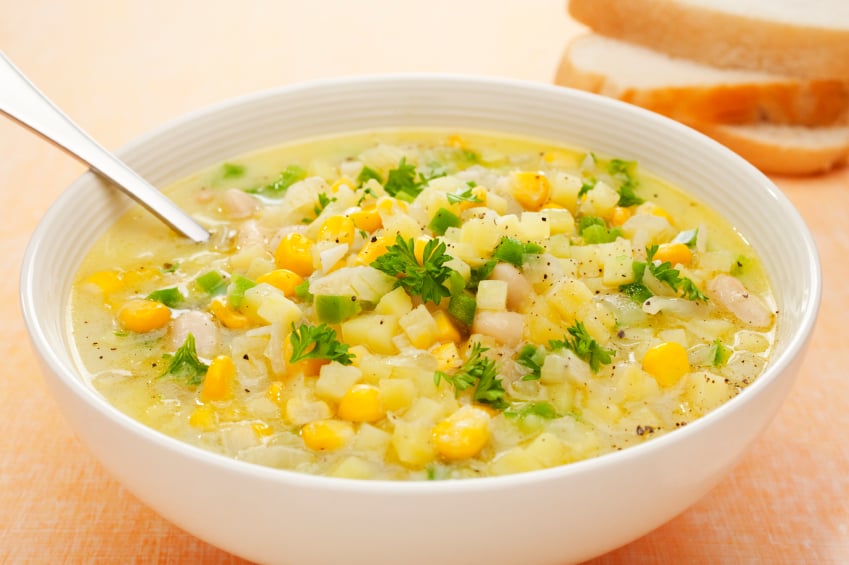 Soups are usually projects that take an entire afternoon of simmering, which isn't ideal for days when you feel fried. Cooking Light gives the meal a speedy makeover with canned beans, chiles, and cooked ham. Fresh corn and green onions give just enough fresh flavor to make the soup taste like you made it from scratch. You can boost the flavor even more with a squeeze of lemon juice and a sprinkle of parsley.
Ingredients:
1 tablespoon canola oil
1 cup sliced green onion
¾ cup chopped cooked ham
3 cups fresh corn kernels
½ teaspoon salt
2 (15-ounce) cans navy beans, rinsed, and drained
2 (14-ounce) cans reduced-sodium chicken broth
2 (4.5-ounce) cans chopped green chiles, undrained
Directions: Heat canola oil in a Dutch oven or large pot over medium heat. Add onions and ham, and cook 3 minutes, stirring frequently. Stir in corn and remaining ingredients. Bring to a boil, and reduce to a simmer. Let simmer 5 minutes, or until hot. Serve.
6. Cheesesteak Subs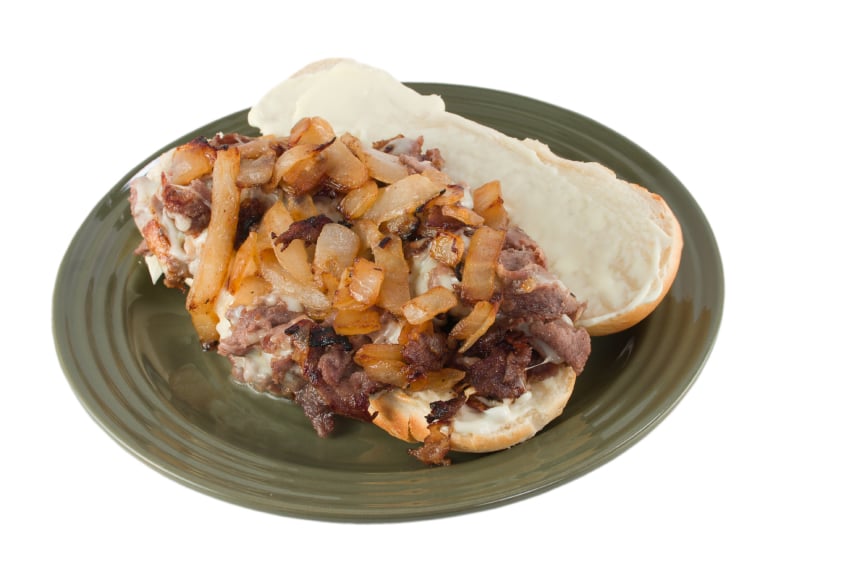 Sandwiches are a great go-to meal for busy days, but the same turkey and Swiss concoction gets old pretty fast. This cheesesteak sandwich from Mel's Kitchen Cafe, adapted from a Cook's Country recipe, delivers a satisfying sandwich nearly as fast thanks to some deli roast beef. Just sauté some onions, then add some garlic, steak sauce, and the roast beef. Pile the mixture onto buns, top with provolone, and broil just to melt the cheese. It might not be the Philly original, but it definitely tastes good.
Ingredients:
2 tablespoons butter
1 onion, halved, and thinly sliced
2 garlic cloves, minced
¼ teaspoon dried oregano
2 tablespoons steak sauce
1 pound deli roast beef, cut into 2-inch-wide strips
Salt and pepper
4 (6-inch) sub rolls, partially split
8 slices provolone cheese
Directions: Preheat broiler, and adjust rack to upper-middle position. In a large skillet, melt butter. Add onion and cook until softened and golden, about 8 minutes. Stir in garlic and oregano. Cook about 1 minute, until garlic is fragrant. Add steak sauce and beef. Cook, stirring to coat and heat through, about 2 minutes. Season with salt and pepper.
Place sliced rolls on a rimmed baking sheet. Divide beef mixture among rolls. Top with cheese, and broil until melted, about 2 minutes. Serve.