These Are Trader Joe's Most Popular 50 Products of All Time
The secret's out — Trader Joe's is pretty much the best. Or, at least it's in our top three. From Hawaiian-shirt-clad clerks to dirt cheap prices to Two Buck Chuck wines, this hipster-loving, farm-fresh-feeling, socially conscious grocery store is tough to beat. And the store's popularity doesn't seem to be losing steam any time soon.
In celebration of Trader Joe's 50th anniversary, this month's Fearless Flyer is treating us to something special — the top 50 products of all time! And because there are so many to choose from, we're highlighting 15 of our absolute favorites, followed by the rest of the items that made the list.
1. Unexpected Cheddar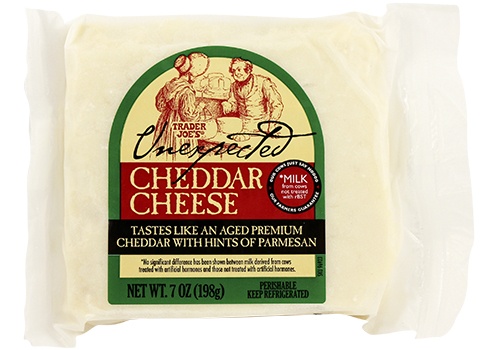 Cost: $3.99 for a seven ounce piece
You might be wondering what could possibly be so unexpected about this Unexpected Cheddar. But the truth is, it really does have a lot to offer. It's been a best-seller ever since it hit the shelves back in 2011, and people love it for a reason. The creamy texture is sprinkled with hints of Parmesan, delivering an explosion of cheesy flavors both expected and unexpected with every bite.
More favorites from the cheese category: 
Next: Nothing goes better with cheese than a bottle of wine, right?
2. TJ's Petit Reserve Meritage Paso Robles 2014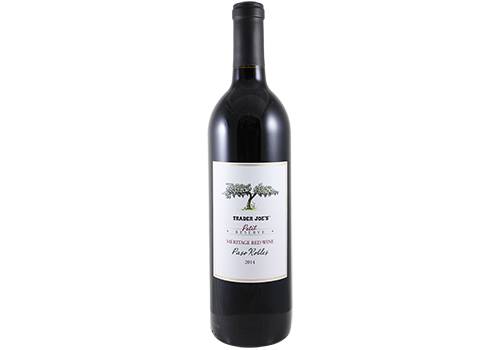 Cost: $7.99, plus taxes, for a 750 ml bottle
It pairs perfectly with the Unexpected Cheddar, so you'll want to stock up on equal parts of each. This wine is a blend of Merlot, Malbec, and Cabernet Sauvignon, all of which have been grown in the Bordeaux-like climate of the Paso Robles American Viticultural Area. But enough of that hoopla. Basically, we can't get enough of it thanks to the fact that it's super tasty — and oh-so-cheap.
More favorites from the wine & beer category: 
Drive Thru Red Dry Hopped Red Ale
Secco Mango Mangocini
TJ's Grand Reserve Chardonnay Santa Lucia
TJ's Highland Single Malt Scotch Bourbon 
Wish Flower White Wine
Next: Fresh from the bakery, everyday
3. Pita Bread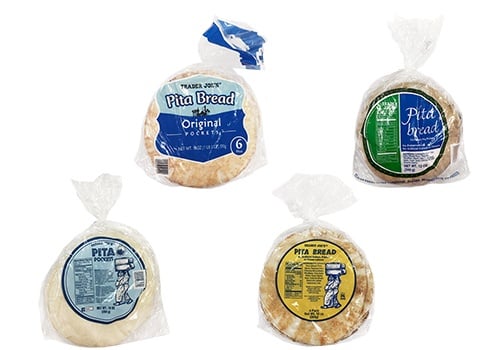 Cost: Price varies by region
One bakery product made the list, and it's well-deserved. Not only are the "Pockets o'Pita" delicious and always fresh, but they're multi-functional, too. Better than bread? We'd say so. Every piece of pita can make two sandwiches, and the stuffing possibilities are endless. Pack it with lunch meat, dip it in tzatziki, or smear it with hummus. Whatever you do, it's a good decision.
Next: Speaking of hummus…
4. Mediterranean Hummus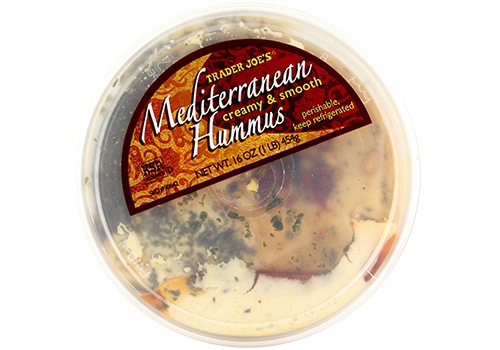 Cost: $3.99 for a 16-ounce tub
"Super smooth and creamy, a bit more 'whipped'" than others, TJ's Mediterranean Hummus ranked in the top 10 by the Trader Joe's crew. Crunchy pine nuts, oils, and spices top off this creamy creation. The result? A combination of flavors all packed into one tasty tub of goodness.
Next: Your newest favorite on-the-go lunch option 
5. Mozzarella and Tomato Salad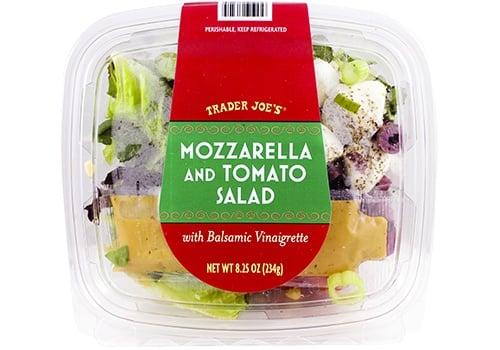 Cost: $3.49 for an 8.25 container (prices vary by region)
No, a Caprese salad doesn't sound like the most interesting of entrees, but TJ's version is so, so special. Mainly, Trader Joe's scores major points with its super low price point. When it comes to delicious, healthy lunches on the go, it can be hard to find one that's not riddled with days-old lettuce. Not to mention, most options will cost you an arm and a leg. Thankfully, that's not the case at Trader Joe's.
Next: This dinner dish comes pre-seasoned to perfection. 
6. Spatchcocked Chicken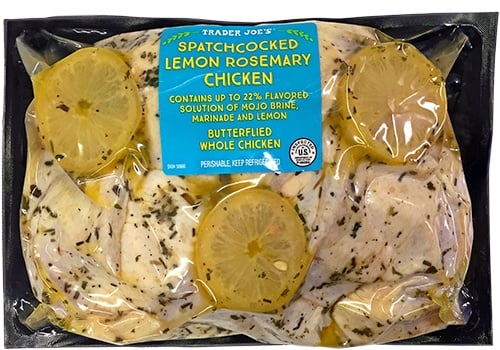 Cost: $3.99 a pound
The word "spatchcocked" refers to how the chicken is prepared. (Basically, it's split and flattened to increase the amount of bird that hits the heat.)
But enough of that; let's get down to just how tasty TJ's Spatchcocked Lemon Rosemary Chicken is. It's brined with orange and lime juice, then marinated with olive oil, vinegar, garlic, rosemary, parsley, and lemon slices. Say no more, Trader Joe's. We're already hooked.
More favorites from the refrigerated products category: 
All Natural Boneless, Skinless Chicken Thighs
Bruschetta Sauce
Carne Asada Autentica
Whole Milk Mango Kefir
Next: More chicken coming your way
7. Mandarin Orange Chicken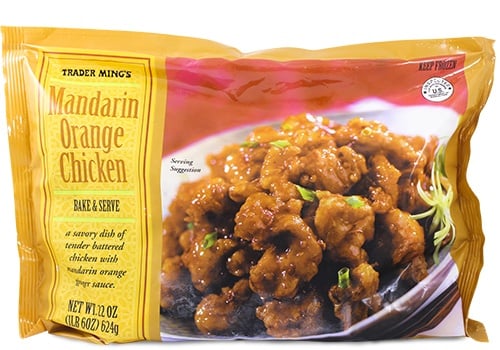 Cost: $4.99 for a 22 ounce package
Trader Joe's was so confident in this product, they featured it in a Fearless Flyer before it even came out. Clearly, they knew what they were doing, because it's been flying off the shelves ever since its debut in 2004. This favorite features juicy chicken in a crispy breading, tossed in sweet and spicy orange sauce. It's all packed into one bag before being delivered to the freezer section, where it'll be waiting for you to pick it up.
Next: Who can resist this frozen sensation? 
8. Gluten Free Cheese Pizza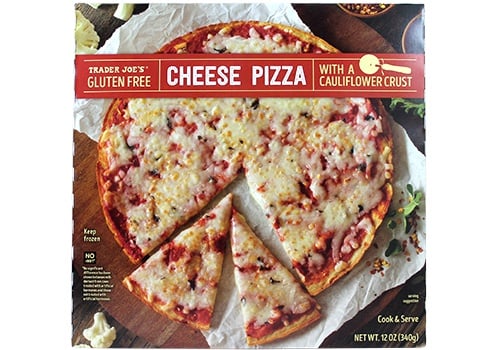 Cost: $4.99 for a 12 ounce pizza
Frozen pizza is a necessary evil (unless you're Ted Allen). If you fall into the former category, you'll be happy to know just how much folks absolutely love TJ's take on the freezer staple. If you're going to eat pizza and want it to be somewhat healthy, you might as well go for the gluten free version.
Ever since Trader Joe's began slinging its famous cauliflower crust pizza — which came before the gluten free one — the store's Italian supplier has had a tough time keeping up with demand. And we understand why!
More favorites from the frozen category: 
Chicken Tikka Masala
Hold the Cone!
Mango & Sticky Rice Spring Rolls
Premium Wild Salmon Burgers
Sublime Ice Cream Sandwiches
Next: This jar is full of flavor.
9. Corn and Chile Salsa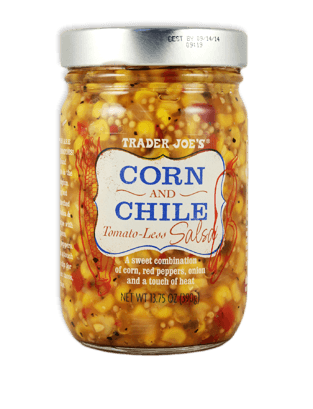 Cost: $2.49 for a 13.75 ounce jar
Everyone loves a good salsa. At Trader Joe's, the crowd favorite comes in the form of corn and chile. The key to the not-so-secret sauce starts with a hefty base of sweet corn. Then, diced red bell peppers, onions, jalapeño peppers, and a touch of sugar come together to complete this pantry staple.
And quite frankly, people can't get enough of the stuff. In fact, TJ's has sold so much of its signature Corn and Chile Salsa, it amounts to more than 41,313,173 ears of corn.
More favorites from the grocery category:
Green Dragon Hot Sauce
Organic Midnight Moo
Organic Purple Maize Flakes
Organic Sriracha & Roasted Garlic BBQ Sauce
Organic Toaster Pastries
Premium Extra Virgin Olive Oil
Seasoning Salt
Next: This mixture adds a little crunch to your salad. 
10. Organic Broccoli Slaw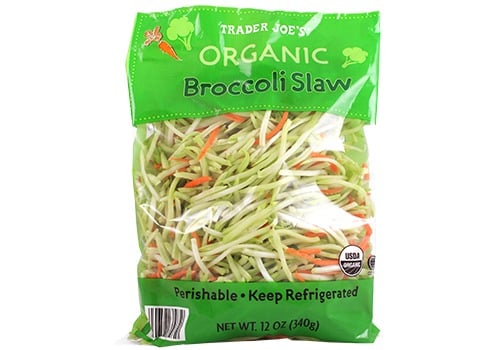 Cost: $1.69 for a 12 ounce bag (prices vary by region)
It's tough to make salad exciting, but Trader Joe's does just that with their Organic Broccoli Slaw. This bag of sliced broccoli stems and shredded orange carrots make the perfect addition to any dinner dish. Because let's face it, we could all use a little more greens in our life.
More favorites from the produce & flowers category:
13 Roses
Kohlrabi Salad Blend
Orchids
Plumcots
Next: And now, onto some dessert. 
11. Dark Chocolate Peanut Butter Cups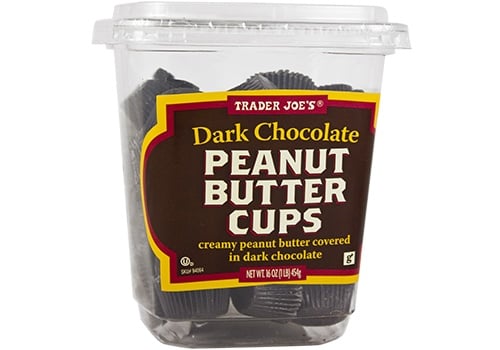 Cost: $4.29 for a 16 ounce tub
Sweet tooth or not, there's no denying the sheer popularity of peanut butter cups. And Trader Joe's rids each batch of artificial flavors and preservatives. Rich dark chocolate with a smooth peanut butter filling? We'll take two — or five. Thankfully, the tub of Dark Chocolate Peanut Butter Cups comes with a resealable lid, just in case you're tempted to keep going back for more (not that everyone can be deterred by a lid alone).
Next: Do you prefer sweet or salty?
12. Kettle Corn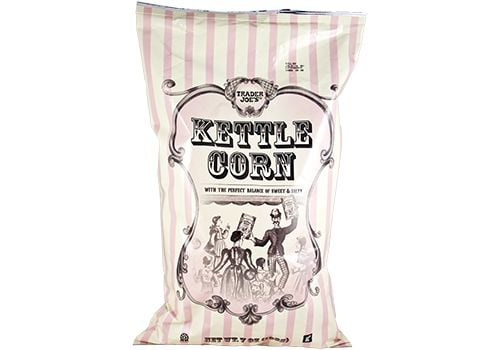 Cost: $2.29 for a seven ounce bag
If you're more into salty snacks, then Trader Joe's Kettle Corn is right up your alley. And yes, we're referring to the alley at the summer carnival; one taste of these kernels, and you'll be transported back to a simpler time when all you had to worry about was which ride you'd go on next. At least you have TJ's Kettle Corn right on the grocery store shelves, all year round.
Next: Not your ordinary pretzels
13. Everything Pretzel Slims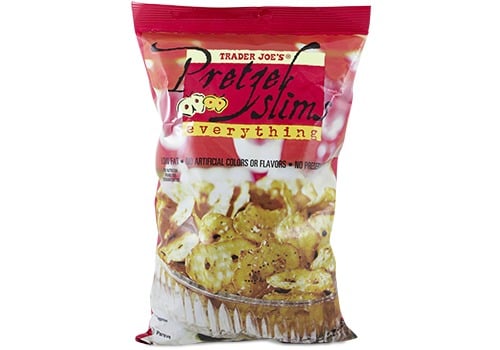 Cost: $2.39 per eight ounce bag
The name says it all — almost. Yes, these snacks are flat. They're also pretzels. And of course, they're covered in everything. Well, a lot of things, that is. They're the perfect pretzel, minus all the extra dough that typically comes with a pretzel. And to top it all off, these slims are smothered in seasonings that will make even the most seeded of everything bagels jealous. Sesame seeds, poppy seeds, onion, garlic, caraway, seeds, and salt make TJ's Everything Pretzel Slims the midday kick you've been looking for.
More favorites from the snacks & sweets category:
Dress Circle Crispy Crunchy Chocolate Chip Cookies
Five Seed Almond Bars
Gochujang Almonds
Just Mango Slices
Organic Corn Chips
Peanut Butter Pretzels
Restaurant Style Tortilla Chips
Sea Salt & Sugar Dark Chocolate Almonds
Triple Ginger Snaps
Next: There's a better way to get your greens.
14. Super Green Drink Powder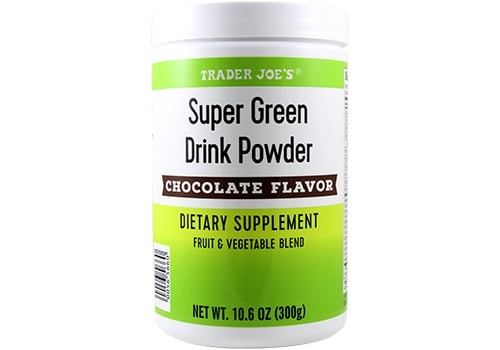 Cost: $19.99 for a 10.6 ounce canister of 30 servings each
Trader Joe's is no stranger to healthy staples, so the fact that the Super Green Drink Powder made the "most-loved" list is no surprise. It boasts a bevy of plant-based ingredients, such as organic broccoli head powder, organic carrot root powder, and organic spinach leaf powder, in powder form, which means you can consume it however you'd like. Getting your greens has never been so easy.
More favorites from the supplements & such category:
Next: The best cold brew around
15. Organic French Roast Cold Brew Coffee Concentrate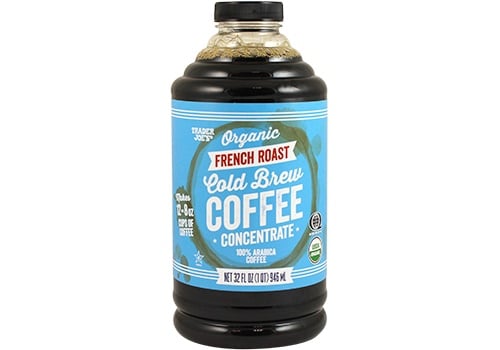 Cost: $9.99 for a 32 ounce bottle
If you want to save some dough on something you'd otherwise buy five times a week, here's your chance. Just grab a bottle of Trader Joe's Organic French Roast Cold Brew Coffee Concentrate, and voila. Simply pour one part concentrate and two parts water or milk over ice, and you're set. And the best part is, each cup contains 50% less acid than it's hot counterpart.
More favorites from the beverages category:
Brewed Ginger Beer
Cold Pressed Matcha Green Tea Lemonade
Organic Tea & Lemonade
Red Refresh Herbal Tea
Unsweetened Golden Oolong Tea